Here is a full guide with answers to your most frequently asked questions about Disney Genie, Disney Genie Plus, and Lightning Lanes. We have been spending day after day testing Genie and are ready to share all of our tips and recommendations.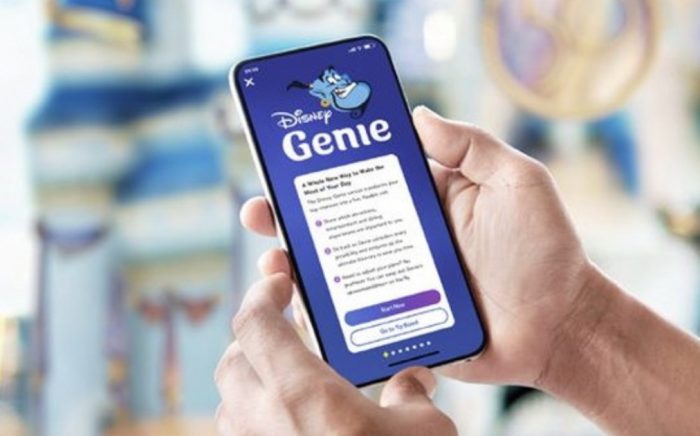 Is Disney Genie Plus actually worth the cost? Follow along with Molly as she breaks down the best and worst of Disney Genie in each Walt Disney World Park. 
Frequently Asked Questions About Genie+
What is Disney Genie and Genie Plus?
Disney Genie is a part of the My Disney Experience (Disney World) or Disneyland app that helps guests plan their day. It is free to use, but offers no access to shorter lines.
Genie+ is a paid service that allows guests to choose return times for most attractions and bypass much of the standby line. If you knew FastPass+, this will sound familiar.
Individual Lightning Lane is a separate charge to skip the standby line for one specific ride. These can be purchased separately from Genie+.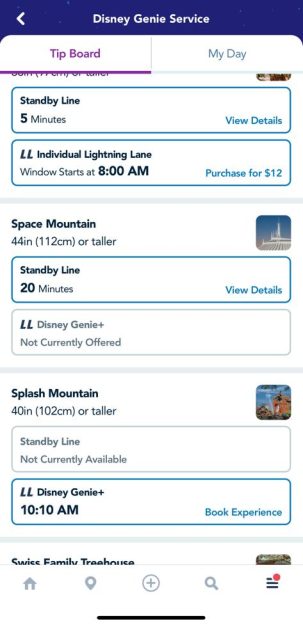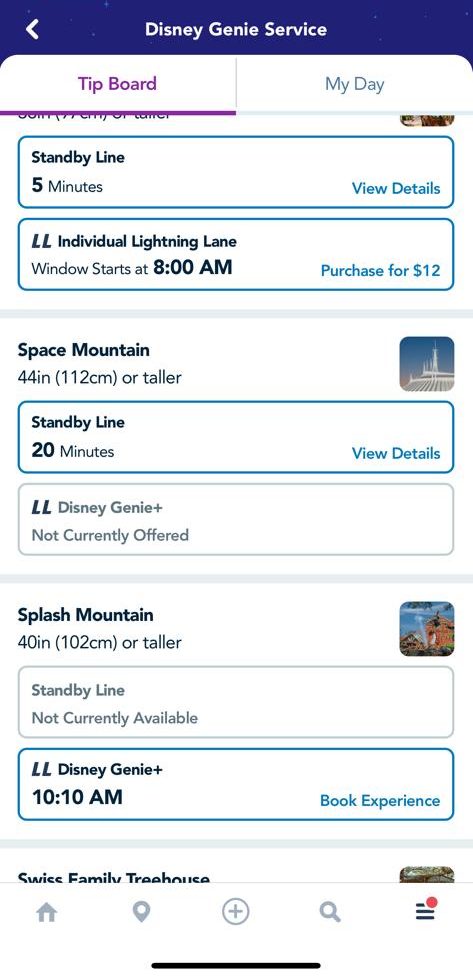 How much does Genie Plus Cost?
Genie Plus costs $15 per person, per day in Disney World and $20 per person, per day in Disneyland
Do I have to use Genie Plus to visit a Disney park?
No. You can still use the standby lines for free at any attraction.
How do I buy Genie Plus?
Genie+ can be purchased in the My Disney Experience or Disneyland app as long as your tickets are linked to your account.

Starting June 8th, 2022, Genie+ will ONLY be available for purchase day-of in Walt Disney World, and is subject to availability. Note that this only applies in Disney World, and not Disneyland.  
How does Genie Plus work?
Genie Plus reservations can only be made one at a time. You can make your next reservation when 1) you've tapped into your first Genie Plus attraction -OR- 120 minutes have passed since you've made your last reservation (the two-hour countdown starts at park OPEN if you made your first selection at 7AM)

You can make two Individual Attraction Selections reservations per day

You cannot select your return time for Genie Plus reservations (you will receive the next available window), but depending on availability, you CAN select your window for Individual Attraction Selections
Genie+ Sign at Disneyland Parking Lot

Lightning Lane reservations for attractions can sell out. Additionally, starting June 8th, 2022, Disney World has noted that Genie+ is "subject to availability".  

You can make your first Genie Plus selection at 7AM day of visit in Disney World, but you must enter the park before you can make your first Genie Plus selection in Disneyland

Disney World Guests staying at Disney-owned hotels can book their first Individual Attraction Selection time at 7 AM day of visit. If you're staying off property, you can select your first Individual Attraction Selection time at park open. 

Disneyland Resort hotel guests do not have an advantage in making Individual Attraction Selections- you must enter the park before you can purchase.

You can use Disney Genie Plus and Individual Attraction Selections in multiple parks during the day if you are park hopping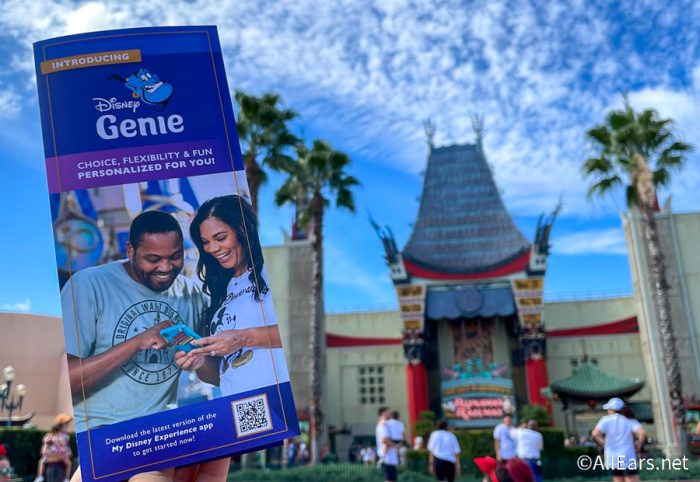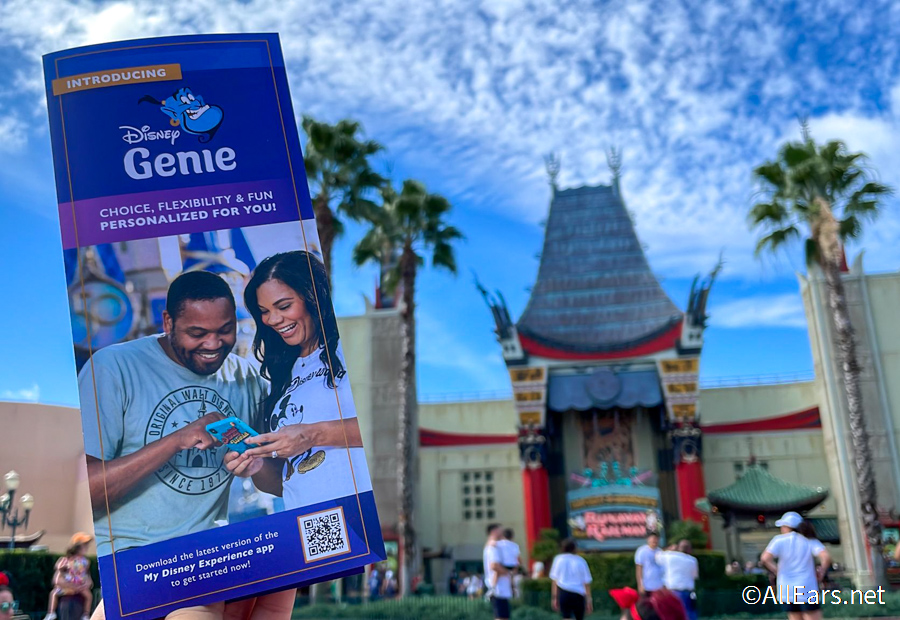 We know that it can be a little confusing at times to figure out an entirely new system in the theme parks, so we've been doing our best to break down everything that you need to know before you head into the parks on vacation. After testing it out for ourselves, we're giving you a close look at how Disney Genie works in Disney World and Disneyland!
Now, let's break it down even further. Remember, with Disney Genie there are actually THREE different components to it —
Disney Genie

is a

FREE service that everyone can use. The service will ask about your preferences when planning your trip, and from that, it will create a personalized itinerary for you. Basically, you can just tell the Genie what you want to do, and it will do the planning for you.

Disney Genie Plus

is essentially the new PAID FastPass and MaxPass system. You can pay to skip the standby lines and secure the next available return window for more than 40 attractions in Disney World and more than 15 attractions in Disneyland (depending on availability). 

Individual Attraction Selections or Lightning Lane Selections

 are for high-demand rides that are NOT included in the Genie Plus service. You can select an arrival time for up to two attractions per day that you will pay separately for to use the Lightning Lane entrance.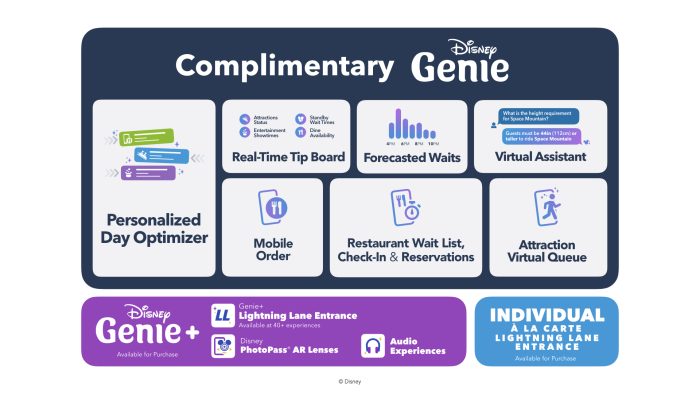 Let's break these down even further!
Disney Genie
Like we mentioned before, Disney Genie is completely FREE for every Disney World guest and is available in the My Disney Experience app. The new features should show up at the top of your home screen.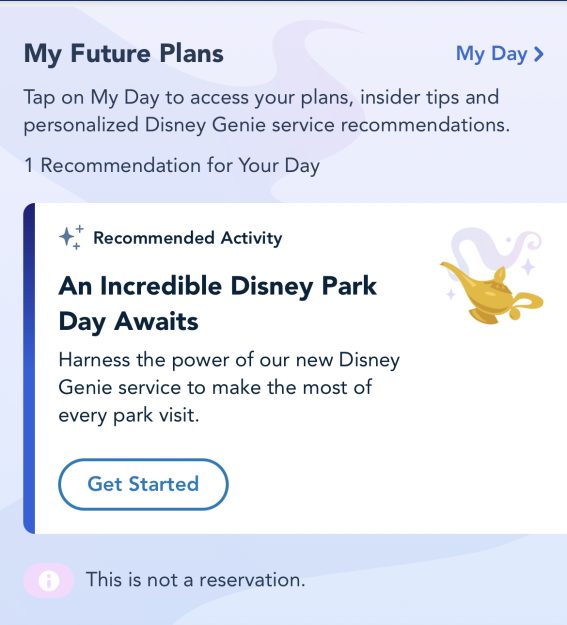 The purpose of the feature is to personalize and simplify the guest experience by providing guests with suggestions throughout their day that match their interests and maximize their time in the parks.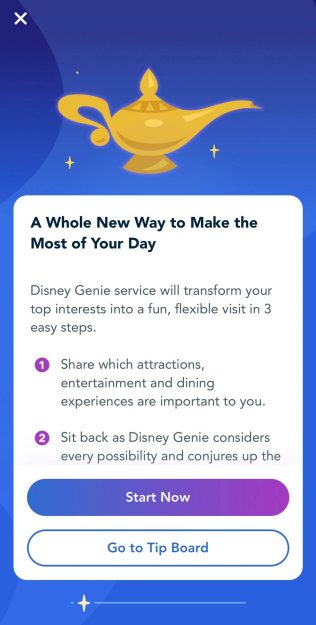 Here's a quick run-down of how it works. When you first arrive at Disney World, Disney Genie will already have all of your hotel, dining, and park reservations populated into the feature (you'll just need to be sure that you're logged into your My Disney Experience account). When you open the app, you can choose the day you'd like to plan for and which park you'll be visiting.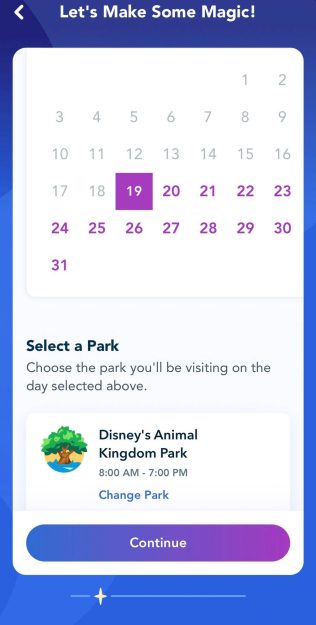 Then, you'll be able to select what your interests are. So, for example, you can select broad categories like "Disney Princesses" and "Pixar," or you can get more specific and select specific attractions you'd like to ride, shows you'd like to see, locations you'd like to dine at, and even enter the heights of people in your party so that it only suggests attractions you can ride.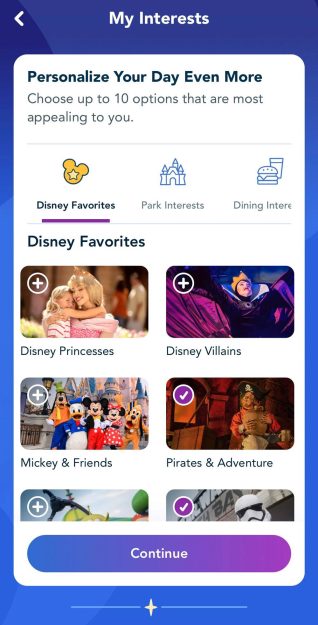 Disney Genie will then take all of that into account and create a custom itinerary for your day in the park under "My Day." And, it won't randomly create your day — instead, it will create a plan that ensures you take the least amount of steps and waste the least amount of time.
Of course, you're not locked into that necessarily. Within the app, you'll be able to edit and remove recommendations from your itinerary. You can continue to modify the suggestions based on your personal preferences.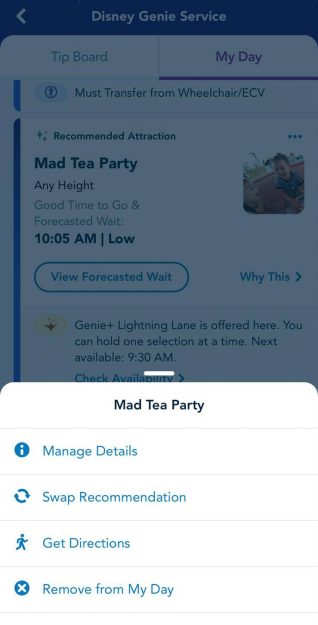 When you go to swap out plans, Genie will suggest alternatives based on proximity or what fits into your schedule. You can then select the offering you'd like to do instead.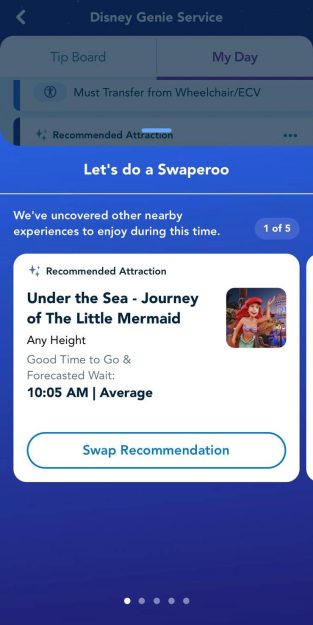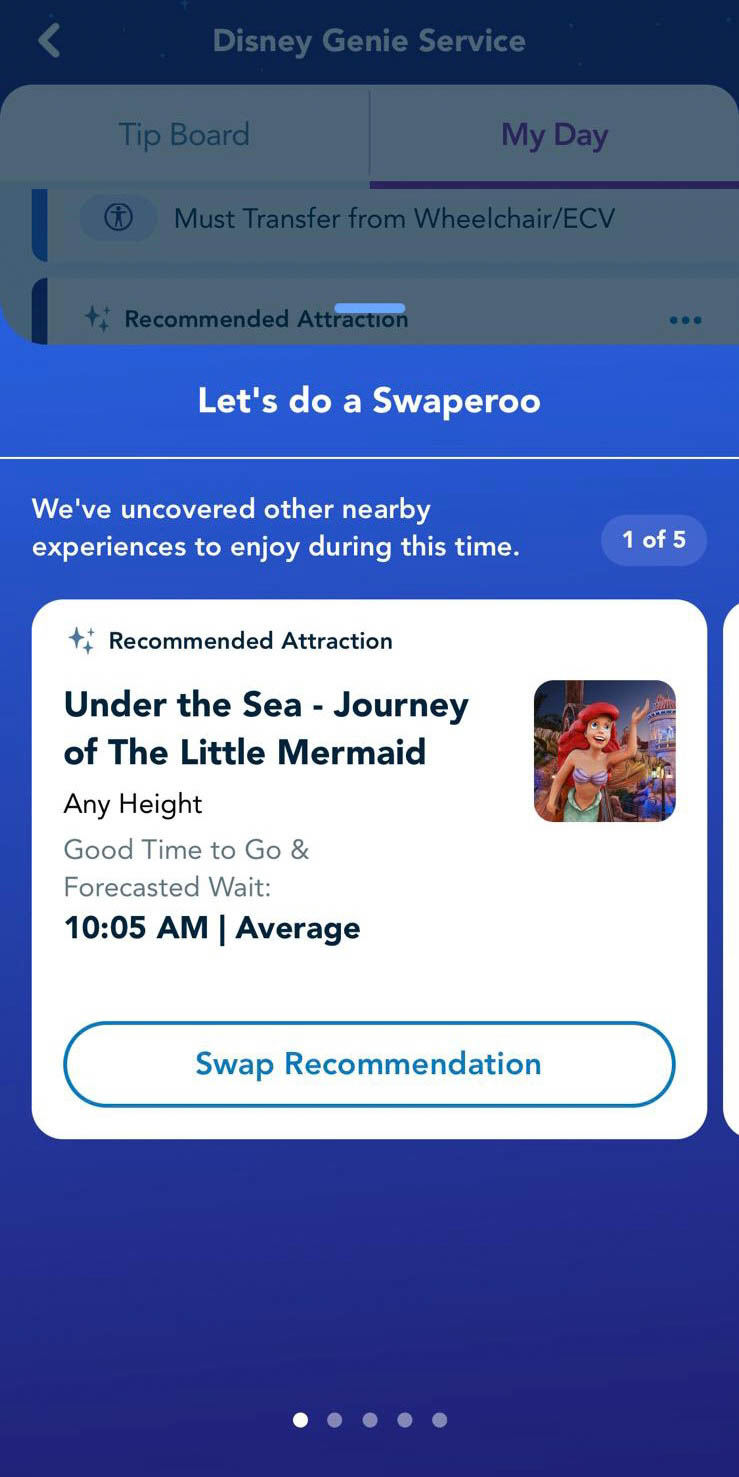 While "My Genie Plans" is the place that you'll find your custom itinerary, the "Tip Board" will be another helpful tool for planning your day. For the first time in the My Disney Experience app, guests will be able to see ALL of the available Mobile Order pick-up windows, Dining Reservations, wait times, and even forecasted wait times in one place.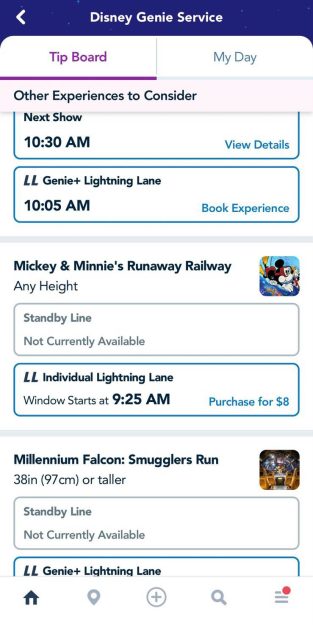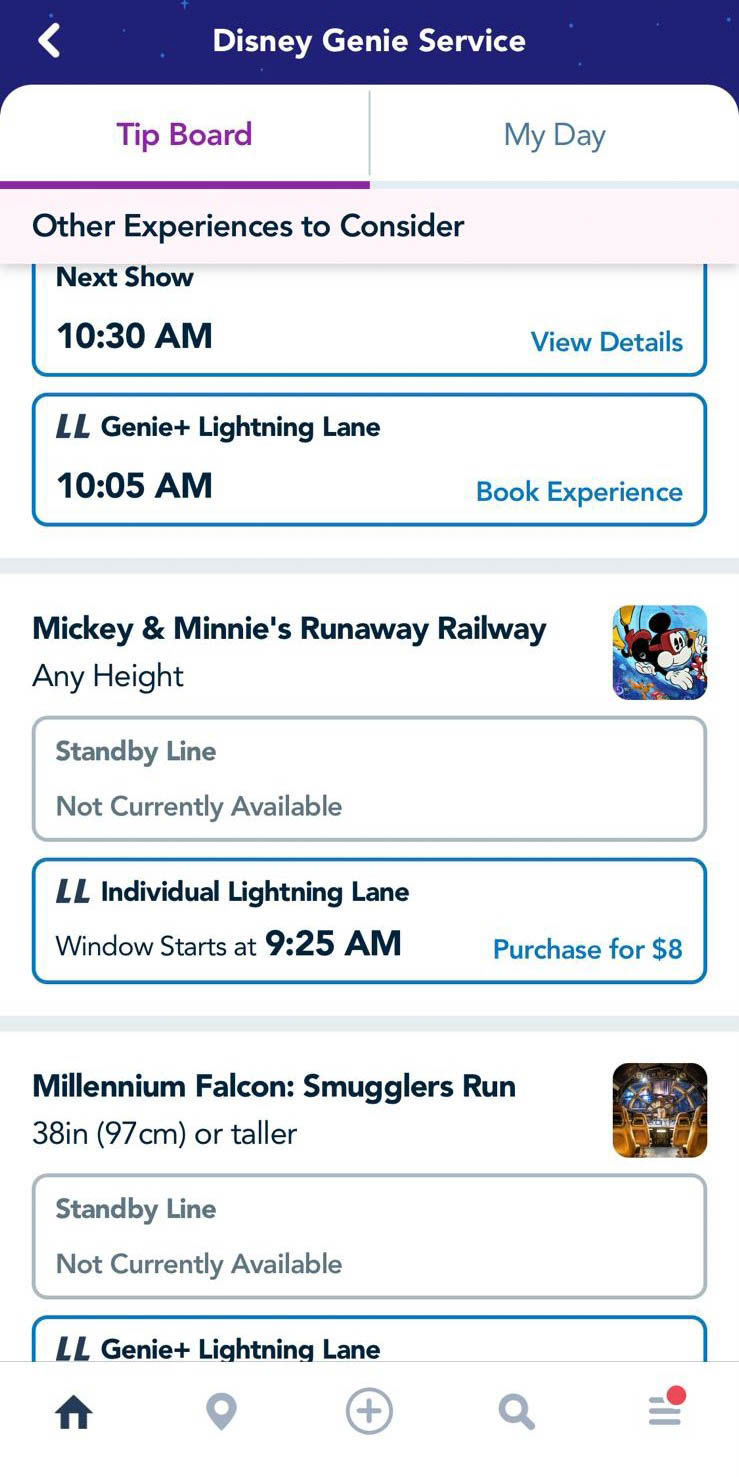 The Tip Board is sorted by park (you can switch the park at the top of the screen) and divided into an "Experiences" category and a "Dining" category. Experiences show Lightning Lane options, showtimes, and standby wait times, while Dining shows Walk-Up List options, dining reservations, and Mobile Order windows.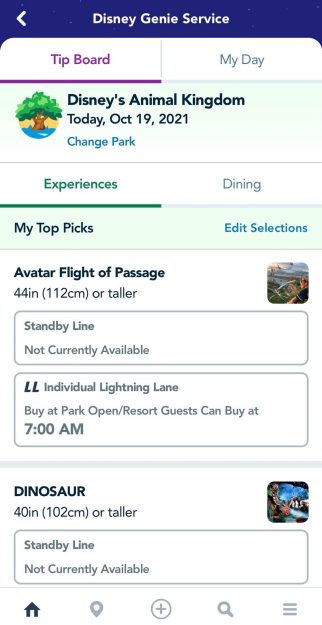 And if you're park hopping, you can even schedule your plans to include a second park, going through the same process of putting in your preferences as you did for the first one.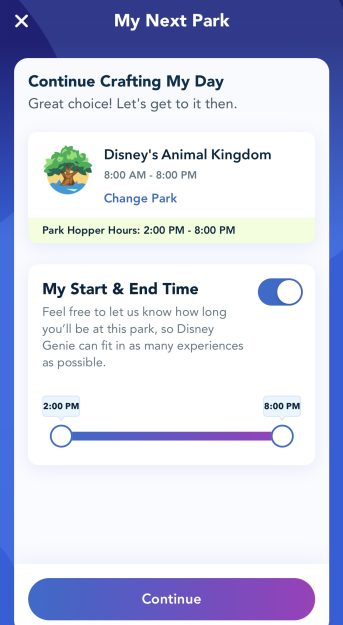 So, you can think of Disney Genie as your personalized one-stop-shop for planning your ENTIRE day in Disney World.
Disney Genie Plus
Disney Genie+ is one of the new PAID features in the My Disney Experience app that is replacing the old FastPass+ system in Disney World and MaxPass in Disneyland.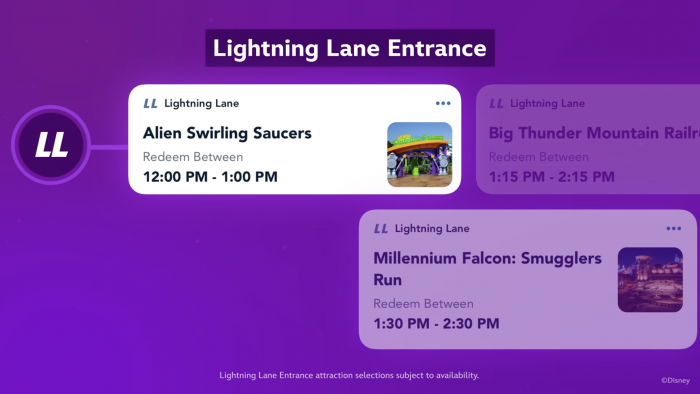 With Disney Genie+, guests will have access to new Lightning Lanes (aka the old FastPass lanes) and be able to bypass the standby lines at 46 different attractions in Disney World and 19 different attractions in Disneyland. But, it's not free like Disney Genie, instead, it costs $15 per person, per day in Disney World (and $20 per person, per day in Disneyland). Don't forget to factor in the tax!
Here's the full list of Disney World attractions whose Lightning Lanes you can use with the Disney Genie+ purchase:
Magic Kingdom
EPCOT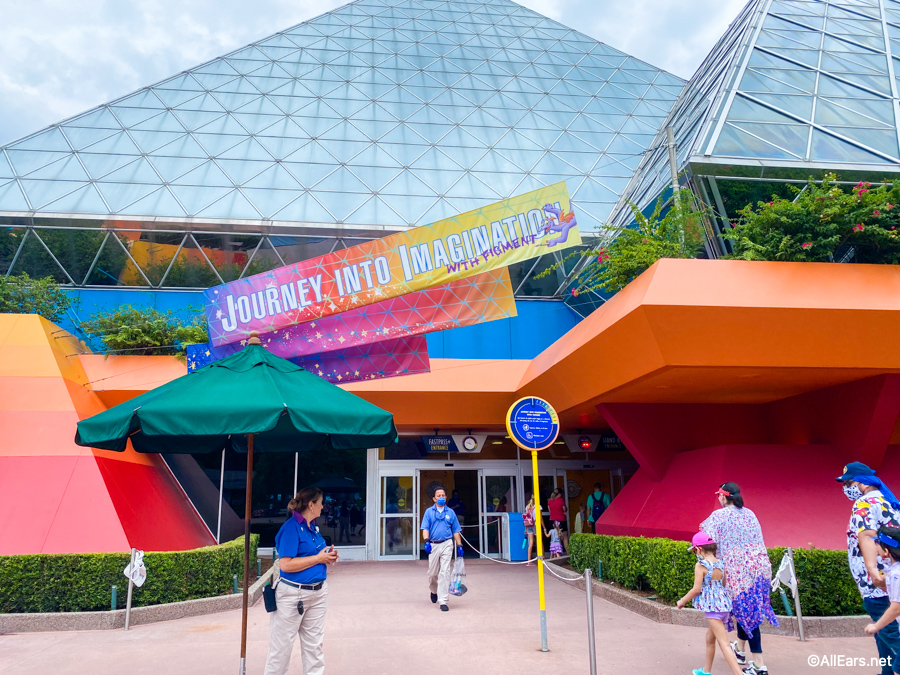 Disney's Hollywood Studios
Disney's Animal Kingdom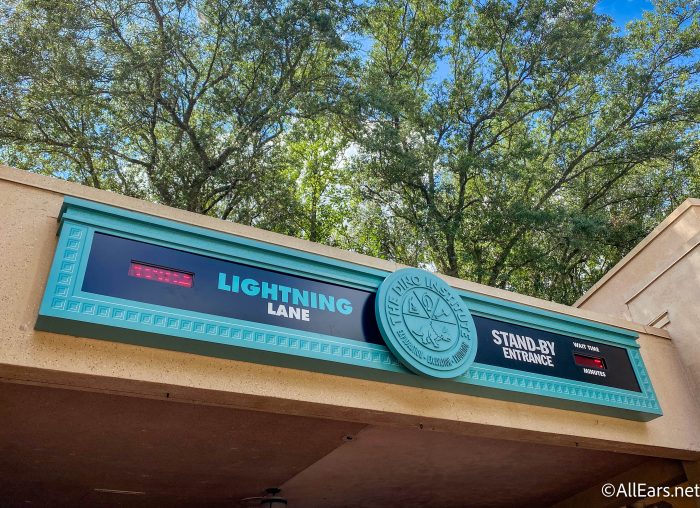 At Disneyland, there are 19 rides whose Lightning Lanes you can use with the purchase of Genie+.
Disneyland Park
Disney California Adventure
Disney World Guests can choose to purchase Disney Genie+ on the day of their trip (it goes on sale at midnight), or they can purchase it in advance (just keep in mind that those who purchase in advance will need to buy Disney Genie+ for every day of their visit and cannot select only certain days). It can be added to a package, or you can modify your park tickets to include the option. Disney Visa cardholders may also use Disney Visa Rewards Dollars to pay for Genie+. Payment using Visa Rewards can be completed online or over the phone.
Once Disney Genie+ is purchased, you'll be able to make your first Genie+ Lightning Lane choice at 7AM on the day of your visit in Disney World. This is the case no matter which park you're visiting and whether you're staying onsite or offsite.
Disneyland guests must enter the park before they can purchase Genie+ and make Lightning Lane selections. This is the case no matter which park you're visiting and whether you're staying onsite or offsite.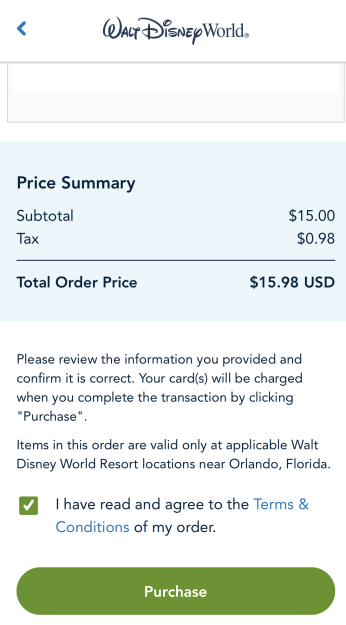 And, unlike FastPass+, Disney Genie+ Lightning Lane selections will need to be booked one ride at a time for a single-use pass. You can book a second Genie+ Lightning Lane selection two hours later, or after you've used your first one, whichever comes first.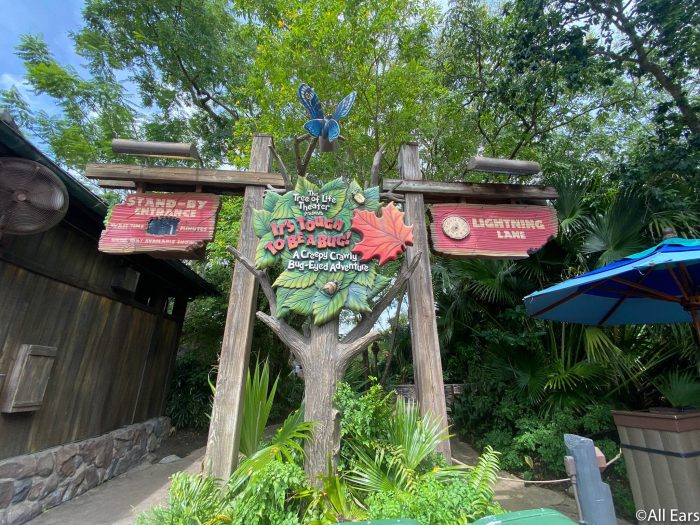 This gets a little more complicated if you make your Genie+ selections when they drop for the day at 7AM. In that case, the two-hour countdown to book your second Genie+ choice begins at the park opening time. For instance, if you book a Genie+ pass for Jungle Cruise at 7AM that doesn't start until 1PM, you can make a second Genie+ pass for a different ride 120 minutes after Magic Kingdom opens. With this rule, you'll be able to hold multiple Genie+ reservations at once — which can be advantageous if you were able to snag a hard-to-get ride for later in the day!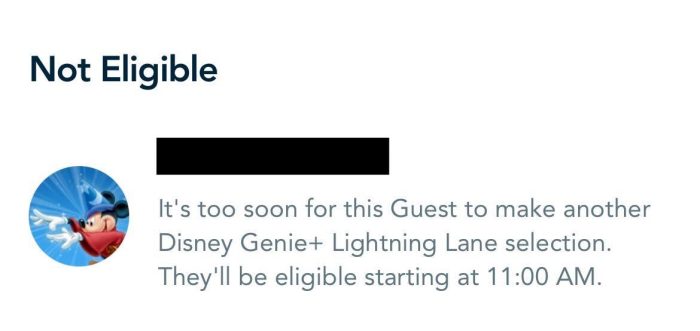 Another thing to keep in mind about Disney Genie+ is that you will ONLY be able to ride each attraction once using Genie+ (though you can ride a second or third time through the standby line). Each ride only has a limited number of Genie+ windows per day, and they might run out. Although, if you can't find the ride you're looking for, we encourage you to keep checking for more Genie+ passes throughout the day — we've seen some rides disappear and then pop back up again.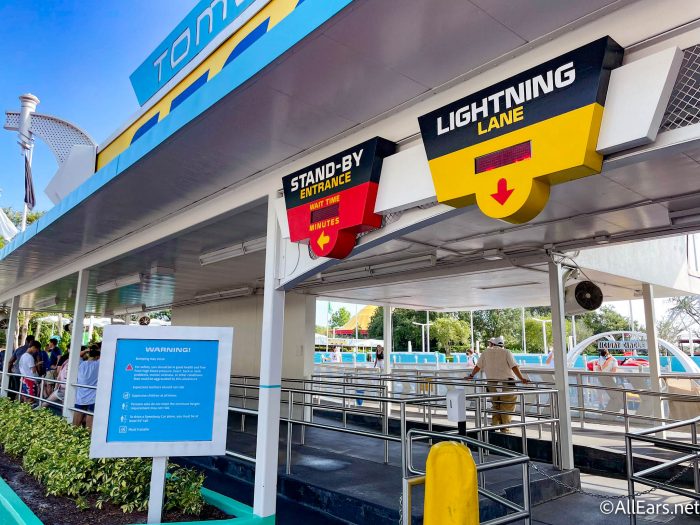 Genie+ will work with your Park Hopping as well. In the app, you'll be able to book Lightning Lane times for other parks and view availability throughout the day. Just make sure to let the free Genie tool know that you're hopping so it can continue formulating suggestions!
But, access to Lightning Lanes aren't the only things you'll gain access to with Disney Genie+! Disney World Guests who purchase Genie+ will unlock new AR PhotoPass filters in the My Disney Experience app on the day of their trip. Some of these photo lenses can even be used at home after you leave the parks. It's a great way to keep the Disney magic going once your vacation is over.
At Disneyland, guests do not have access to these and instead receive unlimited PhotoPass downloads from the day. Both Disney World and Disneyland guests who purchase Genie+ receive access to  new exclusive audio experiences with behind-the-scenes details from Imagineers.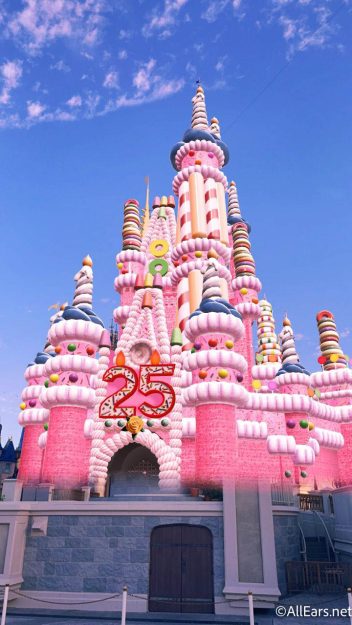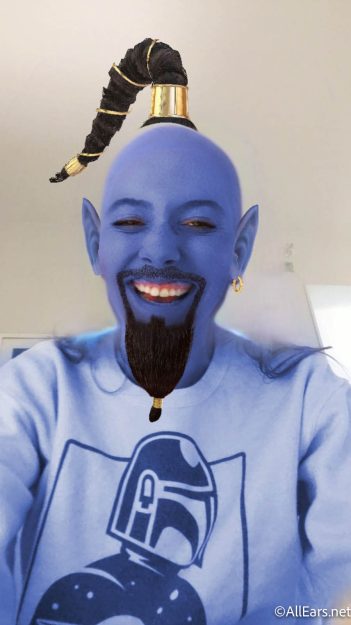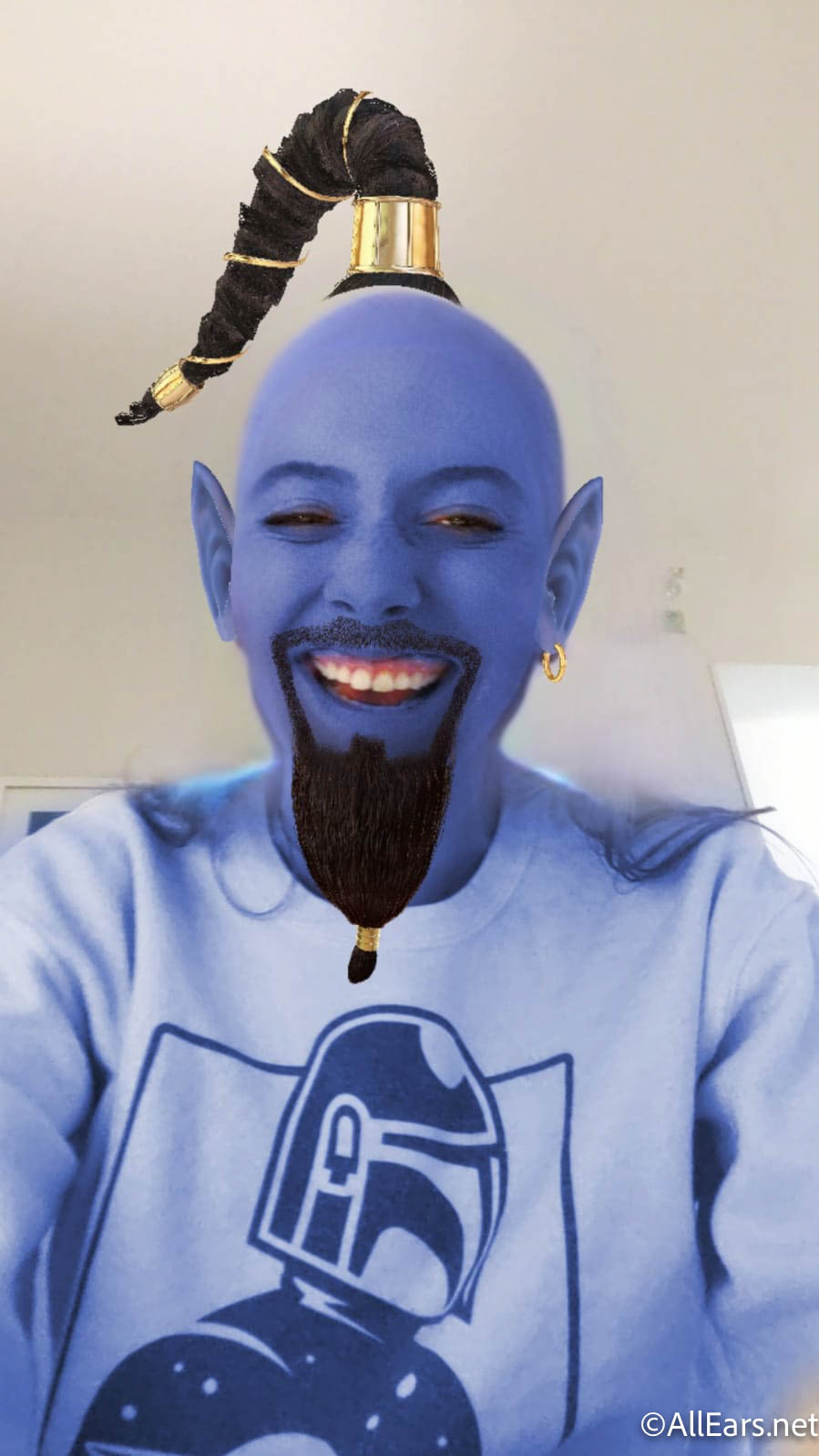 Individual Attraction Selections
The other new PAID service that is replacing FastPass+ in Disney World and Disneyland  is Individual Attraction Selections. This will provide guests with access to Lightning Lanes (bypassing the standby line) at 8 popular attractions in Disney World and 3 attractions in Disneyland that are NOT included in Disney Genie+.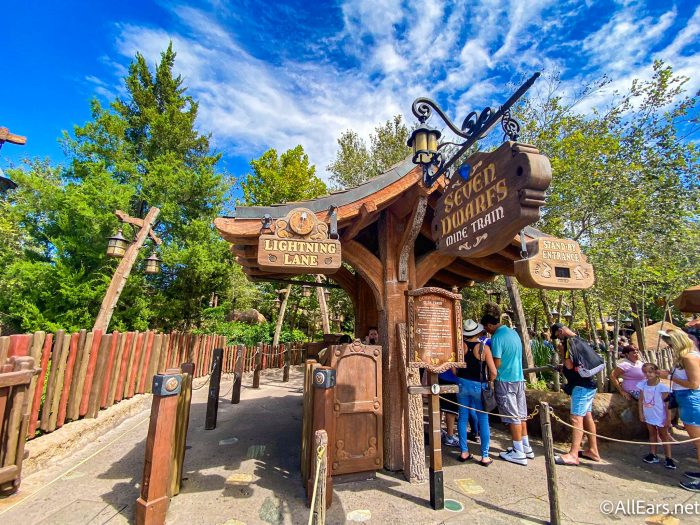 The Individual Attraction Selections (or Individual Lightning Lane Selections, whatever you'd prefer to call it) include:
Magic Kingdom
Space Mountain (included as a Genie+ selection through August 7th, 2022)
EPCOT
Disney's Hollywood Studios
Disney's Animal Kingdom
Disneyland Park
Disney California Adventure
And, unlike Disney Genie+, each Individual Attraction Selection will cost a different price that will vary by date, attraction, and park.
Though keep in mind that this can (and will likely) change, with costs increasing during peak times of the year and decreasing during less busy times of the year.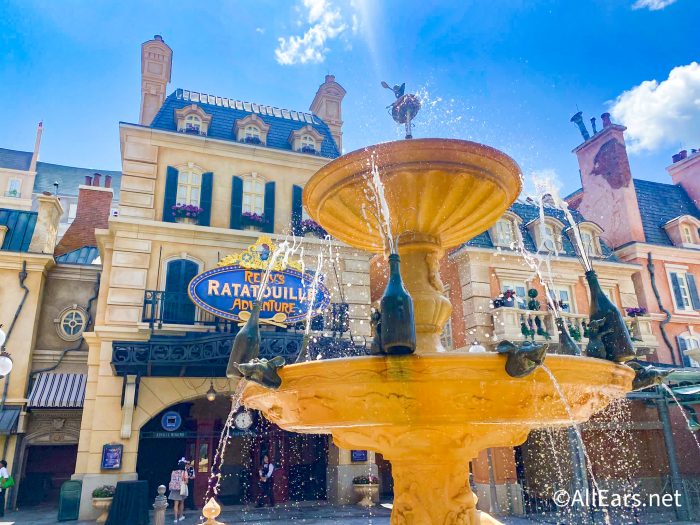 Each guest will be limited to making up to two Individual Attraction Selections per day and they can be purchased as early as 7AM for Disney World Resort hotel guests or as soon as you enter the park as a day guest on the day of your visit. Disneyland guests must wait after they enter the park to pay for Genie+ and make their first Lightning Lane Selection.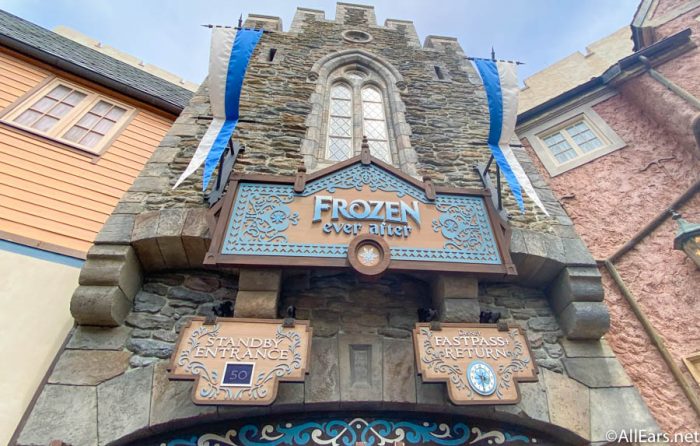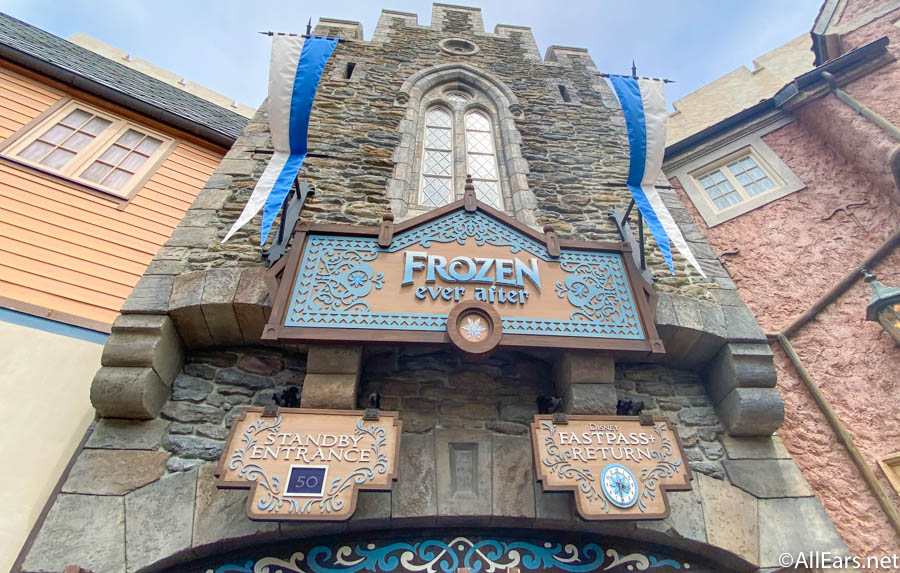 To purchase these attractions, head to the Tip Board section of Genie and select your chosen park, then scroll down to find the right attraction. Your two Individual Lightning Lanes do not have to be in the same park, and you don't have to buy them in the morning — you can wait until later to purchase Lightning Lane access if it's still available.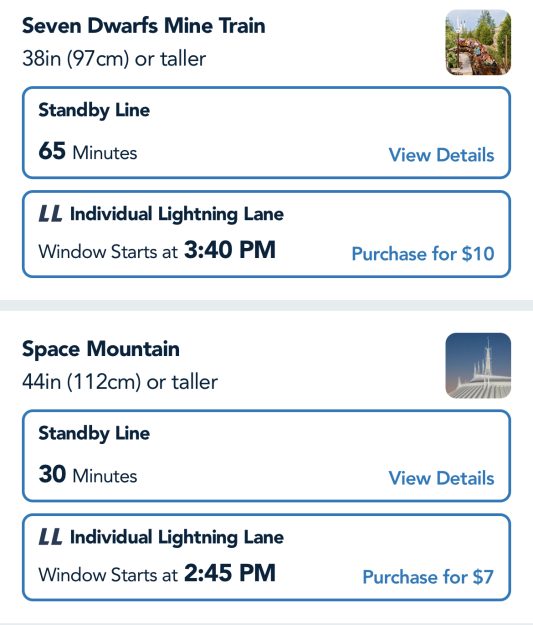 But, you'll want to be sure that your selected 1-hour Lightning Lane return window will work with your plans for the day. Disney has confirmed that guests will NOT be able to modify or cancel their Individual Attraction Selections after they have purchased them that day.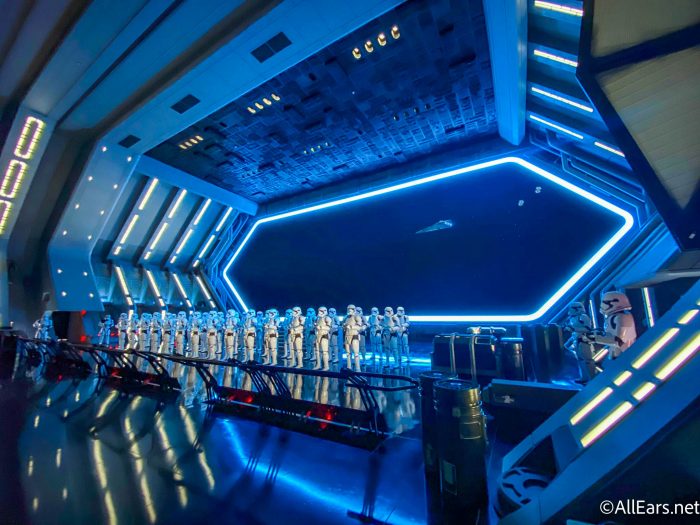 If something happens during your Individual Lightning Lane window (like a ride goes down), your return pass will convert into an "Experience Redemption" pass that can be used whenever the ride reopens.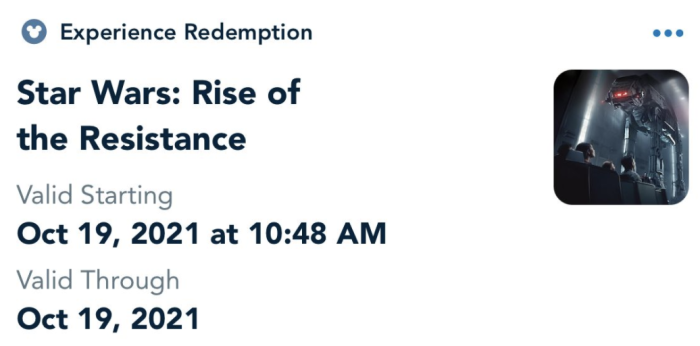 Well, that sure is a whole lot of information to process about Disney's newest planning feature! We'll continue testing out all the angles of this new feature and sharing our thoughts and discoveries with you, so stay tuned to AllEars!