My Disney Experience App and Online Tool
Planning and embarking upon a Walt Disney World vacation means keeping a lot of balls in the air, but My Disney Experience (which is both an app and an online feature) can help you manage all of your plans.
Here we take you through everything you need to know about this useful vacation tool.
What is My Disney Experience?
Walt Disney Parks and Resorts introduced My Disney Experience as a way to help guests plan their Disney World vacations, saying the program "is using technology to make it easier than ever before for guests to make the most of their Walt Disney World visit." Essentially it's a collection of technologies that guests use to plan almost all aspects of a Walt Disney World vacation. This includes both the online DisneyWorld.com feature called My Disney Experience and the My Disney Experience app.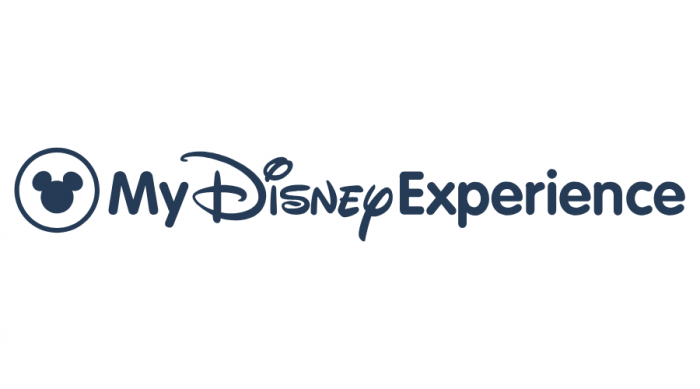 The My Disney Experience app interfaces with plans made on DisneyWorld.com (or by phone) and provides a one-stop-shop for all things Walt Disney World throughout every phase of a guest's vacation.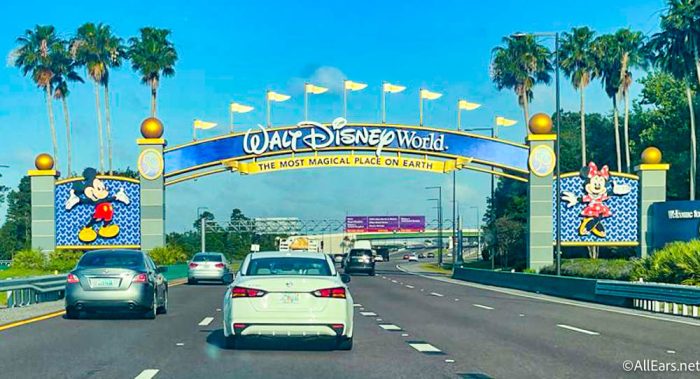 Most of the features on My Disney Experience are available through both the online tool and the app (such as making hotel and dining reservations), but some are only accessible in the app (such as using the Digital Room Key). For that reason, we suggest having the Disney World app downloaded on your phone before you arrive at the parks.
What can you do with My Disney Experience?
Almost every part of planning a Disney World vacation is accessible with My Disney Experience. Here's an overview of all the features, and we'll go into detail on each one of these features on this page.
Get more information on all Walt Disney World Resort has to offer, from resort hotels and attractions to dining and merchandise.
Connect with family and friends to coordinate plans and share photos.
Make hotel reservations and Park Pass Reservations.
Check in and check out of your Disney World hotel room, and use your phone as a Digital Room Key.
Purchase Genie+ and make Lightning Lane selections during a trip.
Join virtual queues for any Disney World ride using that feature.
View your PhotoPass photos.
Mobile Order food from select Quick Service and snack locations.
Check-in for Table Service reservations using Mobile Dine Check-In.
Join the walk-up waitlist at select Table Service restaurants.
Use maps to navigate the World.
Access MagicMobile services.
Virtual chat with Guest Services.
Purchase collectible items from ShopDisney or use Mobile Check-Out at some Disney World stores.
My Disney Experience Features — Setting Up
Create Your Account
To begin, you must create a My Disney Experience (MDE) account. If you have a DisneyWorld.com account already, you're set to go. Just head to the website, click on the "My Disney Experience" option in the main toolbar, and use that username and password to log into My Disney Experience.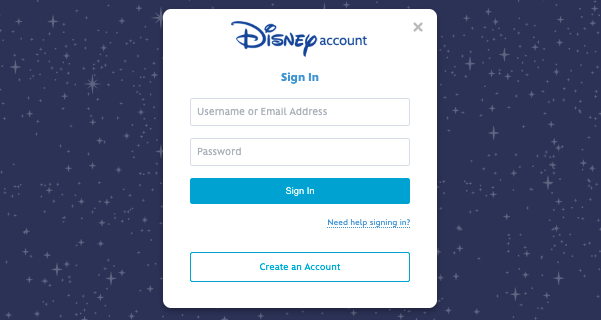 If you don't have an account, click "My Disney Experience" and then choose "Create an Account." Follow the prompts to create a username and password, and you'll be up and running soon.
Link Friends and Family
Once you have created your MDE account you can then create a Family & Friends list so that you can share vacation plans with those you are traveling with. (This is also helpful if you're looking to score a Boarding Pass for a super popular ride — you'll all need to be linked together.)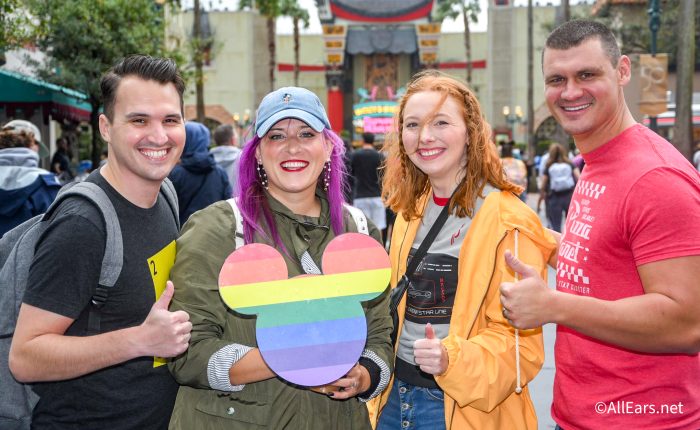 Go to the main menu page of the MDE app (the 3 horizontal lines at the bottom of the screen) and scroll down to the horizontal list (below the squares). At the top of this list is "My Profile."
Click this and then click "Family & Friends List."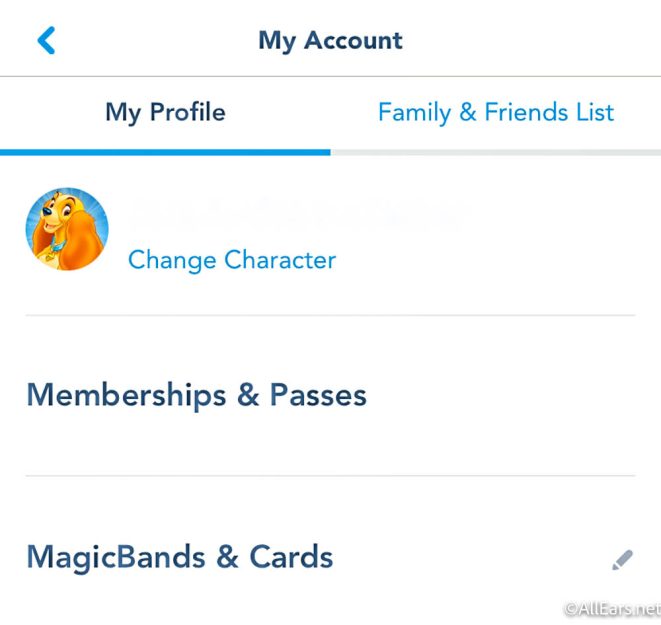 You can add people to the list by entering their name and age or scanning their linking code. More details about how to find the linking code will pop up if you choose that option.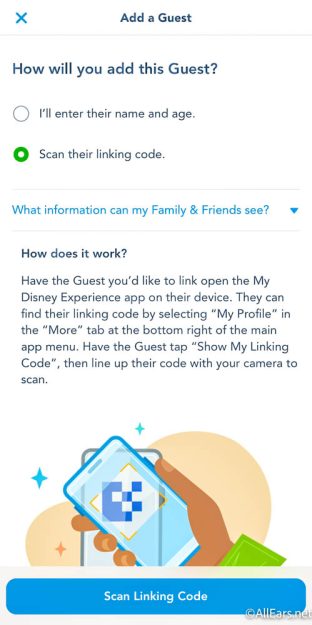 Once you're linked, you'll be able to see everyone's plans and photos!
Link Park Tickets
If you've purchased park tickets that aren't showing up on your MDE plans, you may need to link them to your account. On the main menu of the app, scroll down to "Link to Account." From here, you can link tickets, park passes, dining reservations, and more.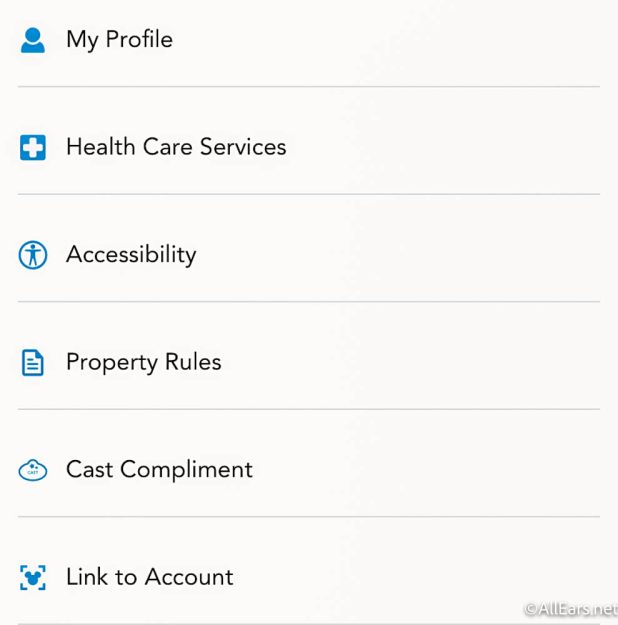 You'll need the ID code of your ticket or the confirmation number of your hotel reservation in order to link the plans to your account.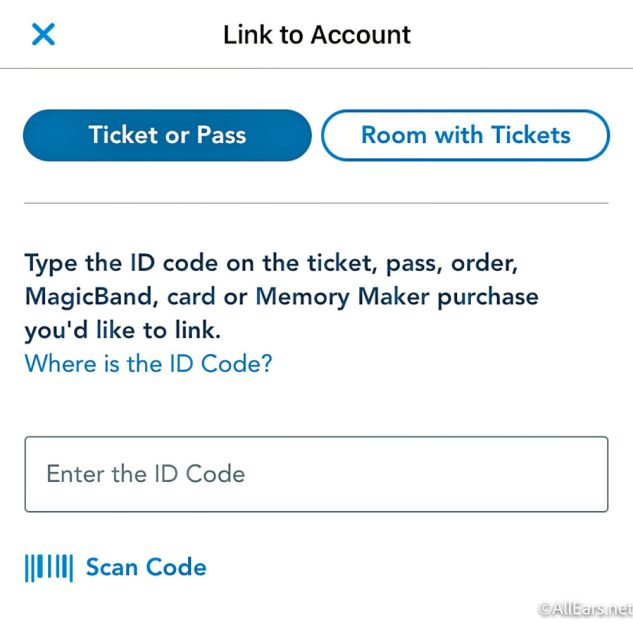 Once you link these, you should see your plans pop up on the home screen of the MDE app (the little house at the bottom of the screen).
View Your Plans
You can see all of your future plans (park tickets, park pass reservations, hotel reservations, and dining reservations) by clicking on the main menu and choosing "Future Plans."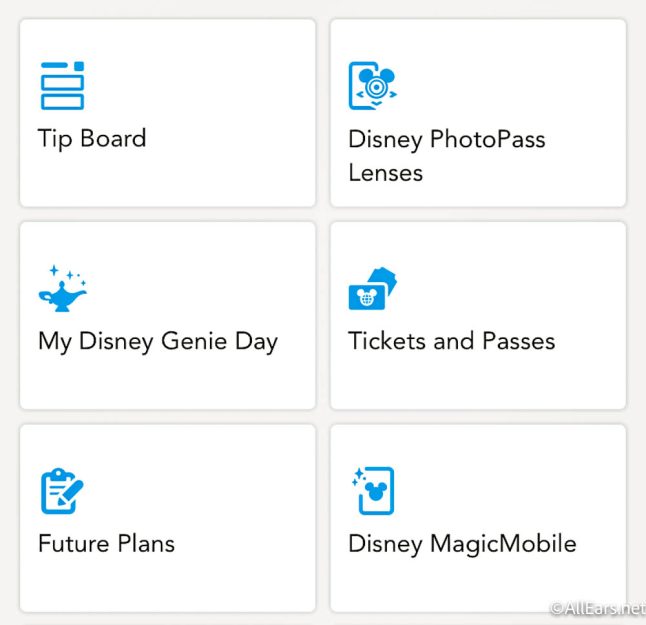 This list will show the plans for you and anyone on your Family & Friends list.
Make Reservations
You can make park pass reservations and dining reservations from the app or the online My Disney Experience tool. (This feature is available before or during your trip, but we recommend making reservations as far in advance as possible in order to ensure you get into the parks and restaurants you want.) For the app, click the plus sign at the bottom of the screen to find options for reservations.
The app will redirect you to the online tool for park pass reservations. From there, you'll select the date and park you want and confirm your choice. It should then be added to your plans!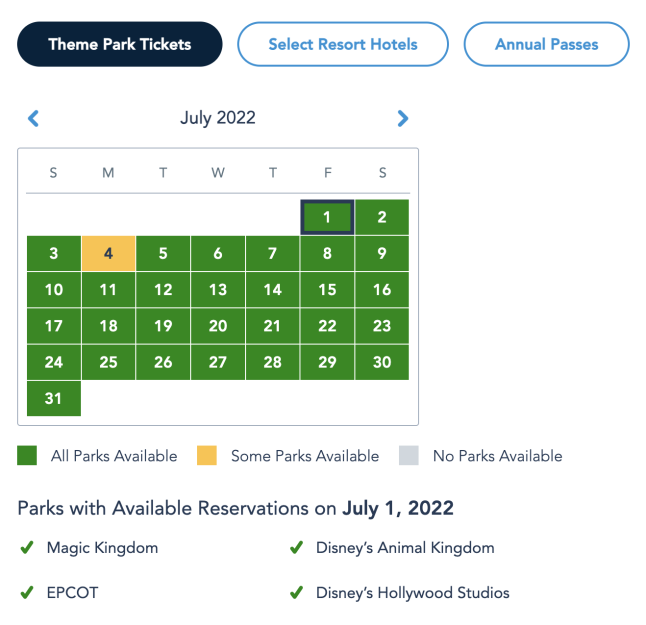 For dining reservations, use the search feature to find the restaurant you want to visit. Alternatively, you can click the plus button at the bottom of the screen and click "Check Dining Availability." Enter your party size, the date, and what meal you're looking for, and it'll tell you which restaurants have availability at that time.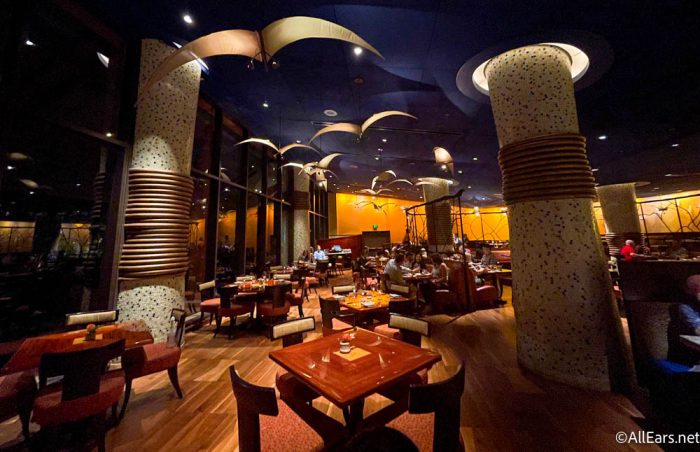 Once you have found the restaurant you want, you'll enter your party size, select the date and time you want, and then confirm your reservation.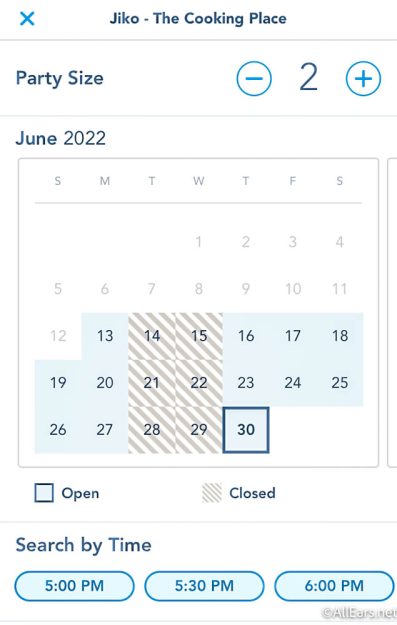 Once your reservation is finalized, it should appear in your plans. Remember that you can start to make dining reservations 60 days before your trip, and reservations at the most popular restaurants do run out!
My Disney Experience Features — At Your Hotel
Checking In
On the home page or in your plans, you'll see your Disney World hotel reservations. From either location on the app, you should be able to click "Start Check-In Now." Check-in is available up to 60 days before your trip starts.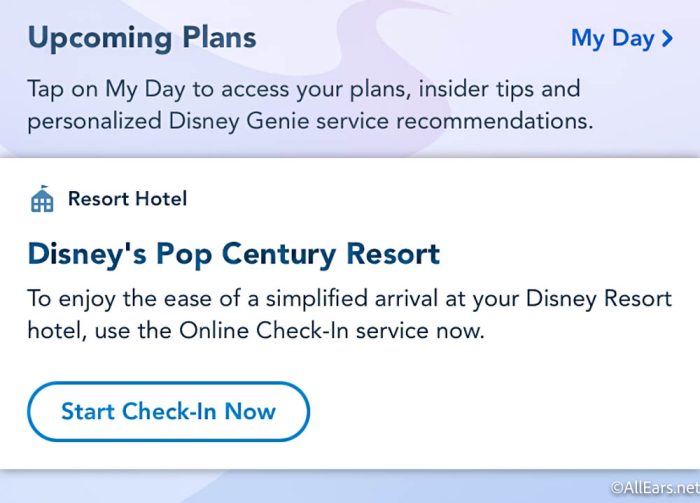 If you check in via the app, you can skip the front desk and head straight to your room when you arrive! You should get a notification when your room is ready.
Digital Room Key
Your MagicBand can serve as your Disney World hotel room key, but your smartphone is also able to do this with the MDE app. Make sure Bluetooth is enabled on your device, and then find your hotel reservation in the MDE app. From there, click "Unlock Door."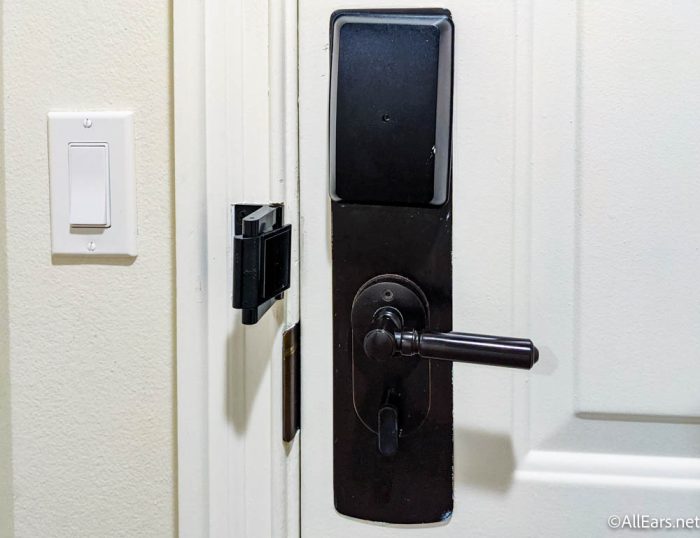 Follow the prompts to set up this feature, and then you should be able to unlock your hotel room just by holding your phone up to the door's lock.
Checking Out
You can choose to be automatically checked out of your hotel room at 11AM on the last day of your hotel reservation, or you can check out on the MDE app. To use the app, you'll need to have either a credit card on file or a zero-dollar balance on your hotel room.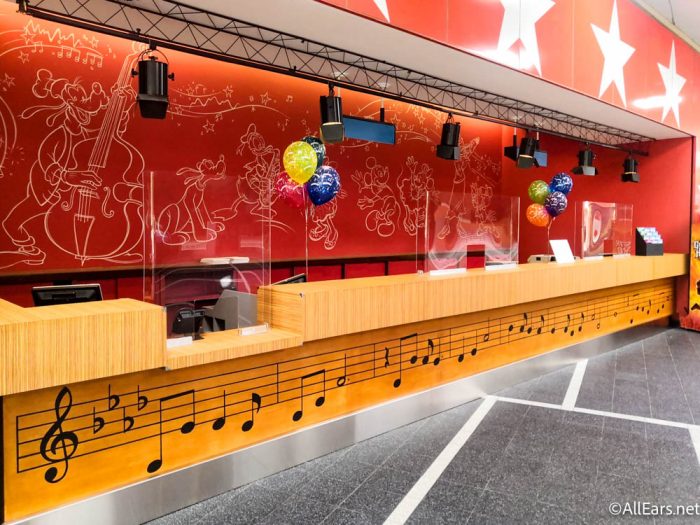 As long as you meet those qualifications, you can click "Check Out Now" in the "Mobile Resort Checkout module." Follow the prompts to complete the check-out process. Then you can just leave your room (bringing all your belongings) and bypass the front desk once again.
Transportation Wait Times
The mobile app has a bus wait times feature, which is enabled when you check into your Disney World hotel.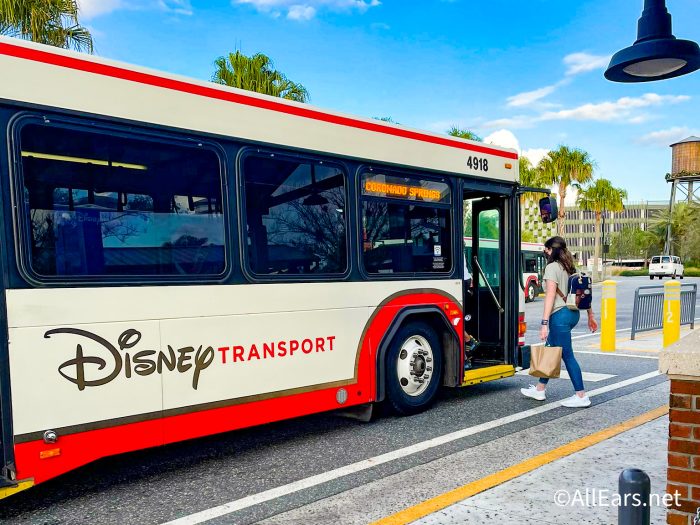 With this feature, you can see when buses are expected to arrive at the hotel and at their respective destinations, including the 4 theme parks, Disney Springs, and the water parks.
Note that you can also see the wait times on digital screens at bus stops.
My Disney Experience Features — In the Parks
Disney Genie
The Disney Genie is the new way to skip the line in Disney World. The system actually has 3 options: Genie, Genie+ and Pay-Per-Ride. Genie is the free service that can plan itineraries for your day and make recommendations based on your preferences.
Genie+ is $15 per person, per day, and it allows you to make Lightning Lane selections throughout the day to skip the standby lines at many Disney World attractions. (The Lightning Lane is the line you'll use to skip the standby line — it's the new name for the FastPass Lane.) More than 50 attractions are included with Genie+. You can see which attractions are included and make your Lightning Lane selections on the MDE app.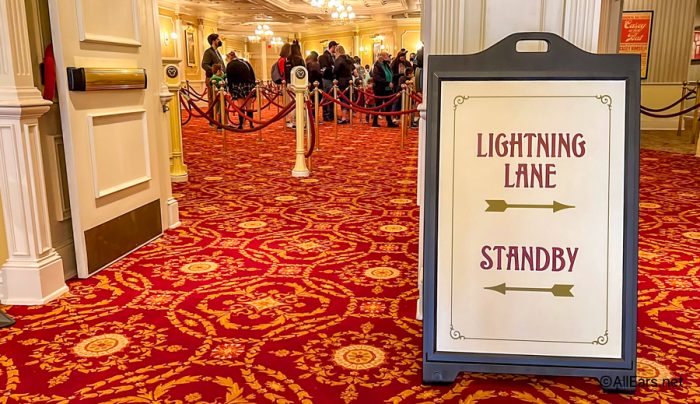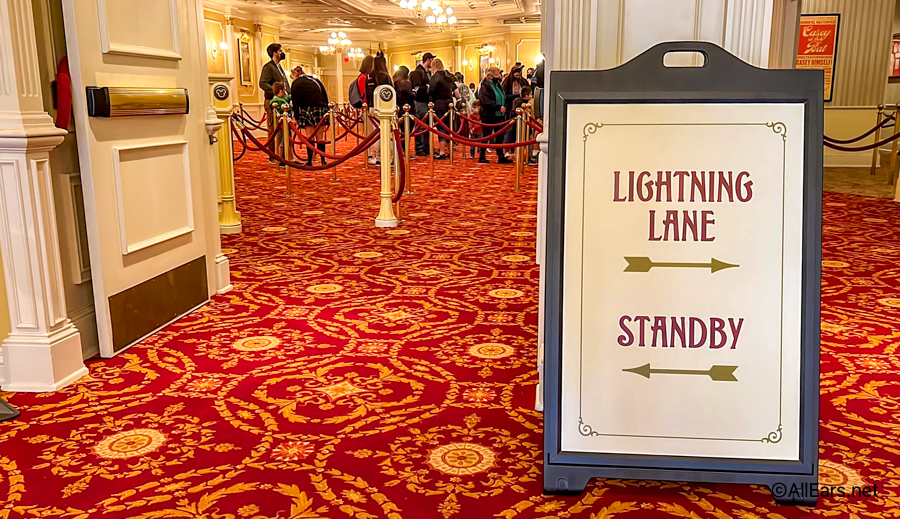 For Disney World's most popular rides, you can use Pay-Per-Ride. Pay-Per-Ride attractions are NOT included with Genie+. You'll pay a separate fee to skip the line at these attractions, which is usually between $7 and $15 per person. You can see which attractions are available, view how much they cost, and purchase Lightning Lane reservations on the MDE app.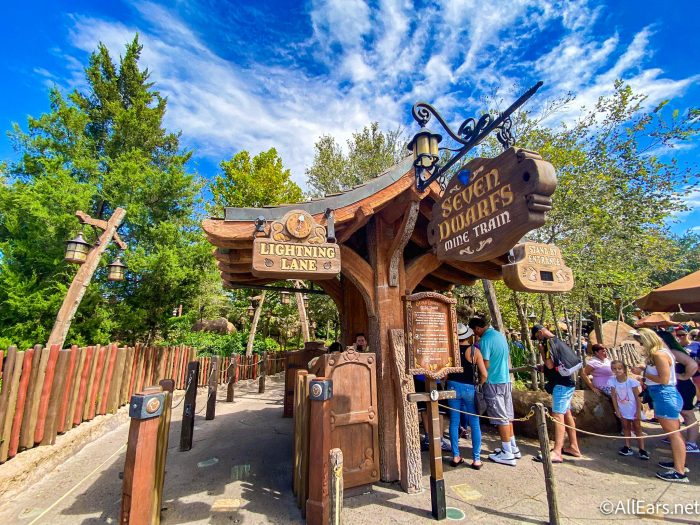 The main place you'll go to use Disney Genie on the MDE app is "My Disney Genie Day" from the main menu. The Tip Board is a great resource whether or not you purchased Genie+. You can view all the rides in a park and their wait times, see the times for shows and other entertainment, find the next available Lightning Lane, and purchase Pay-Per-Ride attractions.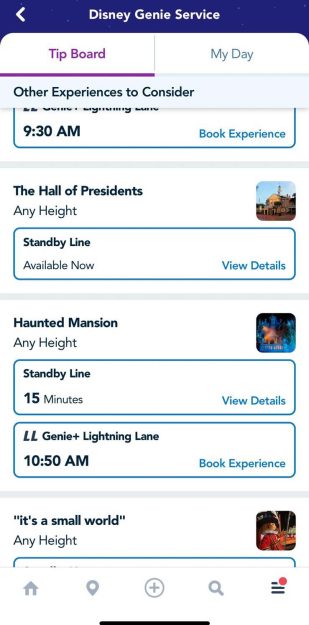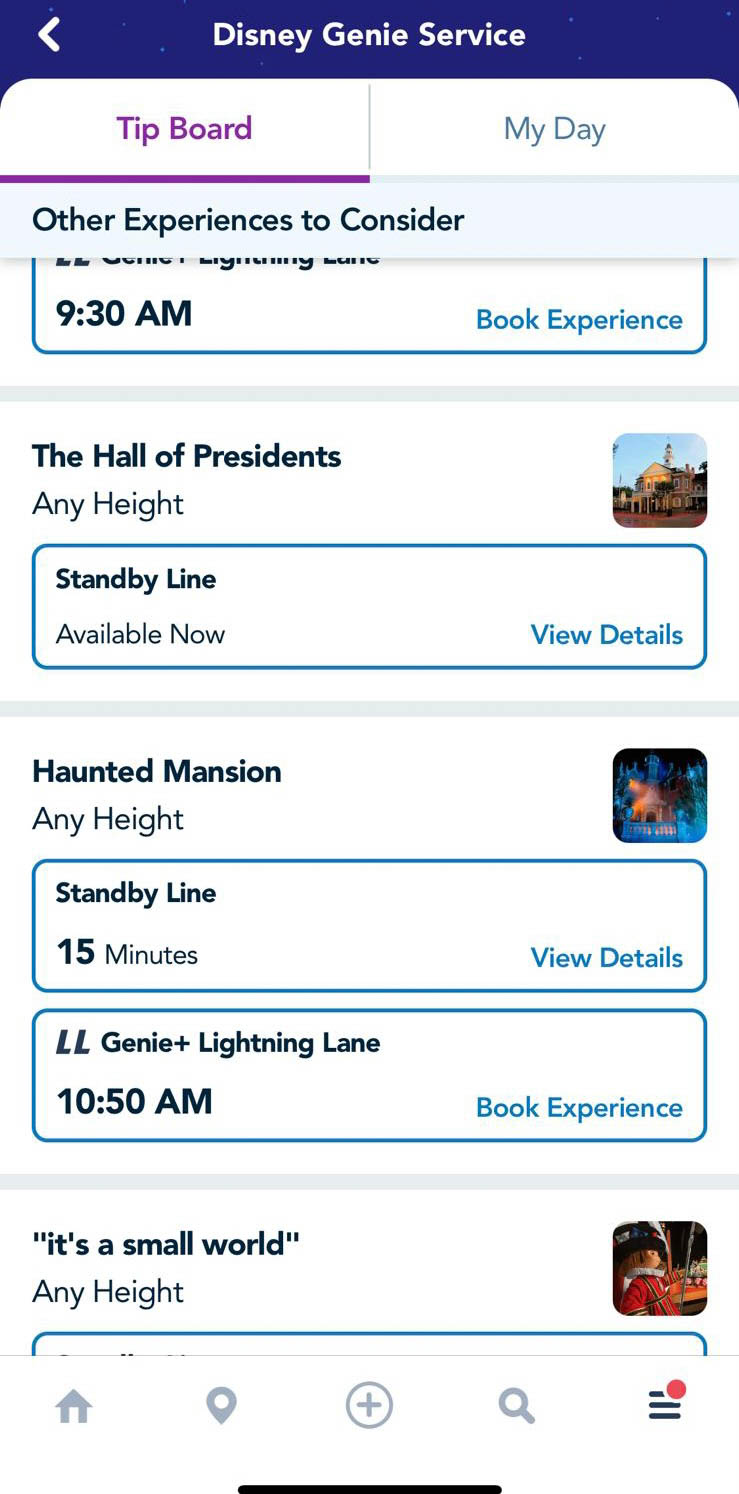 There's a LOT to learn about using Genie, Genie+, and Pay-Per-Ride in Disney World. Check out our full guide here!
Theme Park Maps
Disney World is BIG, so having a map to help you navigate is a must! You can access virtual maps on the MDE app. Click the little circle in the bottom menu (the one that looks like a "You Are Here" symbol) to access these maps. Click "Filter" in the top lefthand corner to choose which park you're in. Then you can see all the attractions, restaurants, and more in that park.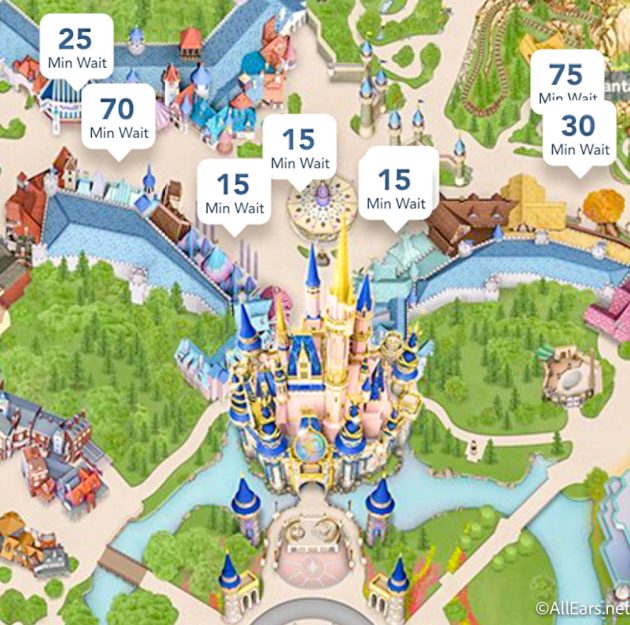 The default map shows the wait times for all attractions in the park, but if you hit the arrow next to "Wait Times" at the top of the screen, you can find more options.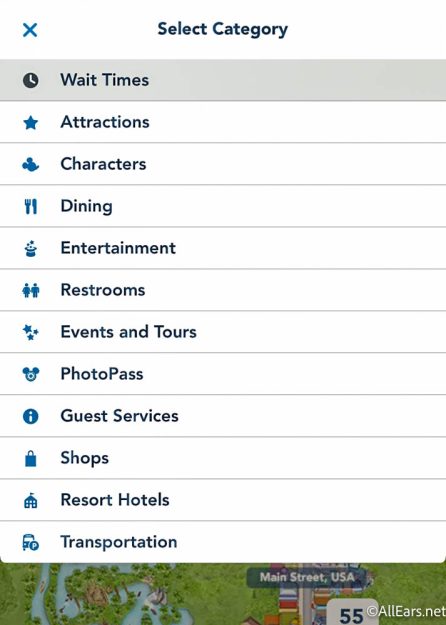 You can search for attractions, characters, dining, entertainment, restrooms, shops, Guest Services, and more.
Virtual Queues
Disney uses virtual queues for new or especially popular attractions. For example, Guardians of the Galaxy: Cosmic Rewind (which opened in May 2022) utilizes a virtual queue. With virtual queues, you'll join on the MDE app, which gives you a "boarding pass" to use at a specific time later on in the day. You'll return at that time and then be allowed to join the physical queue.
To access this feature, search for the attraction you want to visit in the MDE app. On the attraction's page, there will be an option for a Virtual Queue. You can click "Join Virtual Queue" here to begin the process.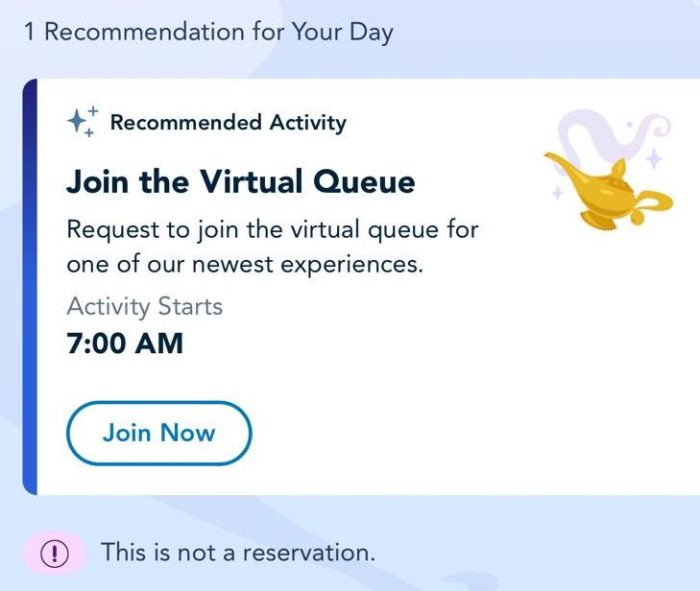 Note that these queues tend to fill up FAST (as in, within seconds or minutes of the queue opening). Learn all about how they work and find some tips for securing your spot in the virtual queue in our guide here.
Guest Services
To access Guest Services, head to the theme park maps and filter for Guest Services at the top. Click "Show List" to see all the options available.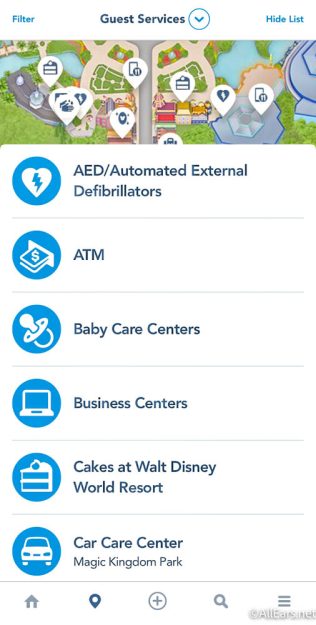 Here you can find information about baby care centers, ATMs, car rentals, designated smoking areas, disability access services, and more.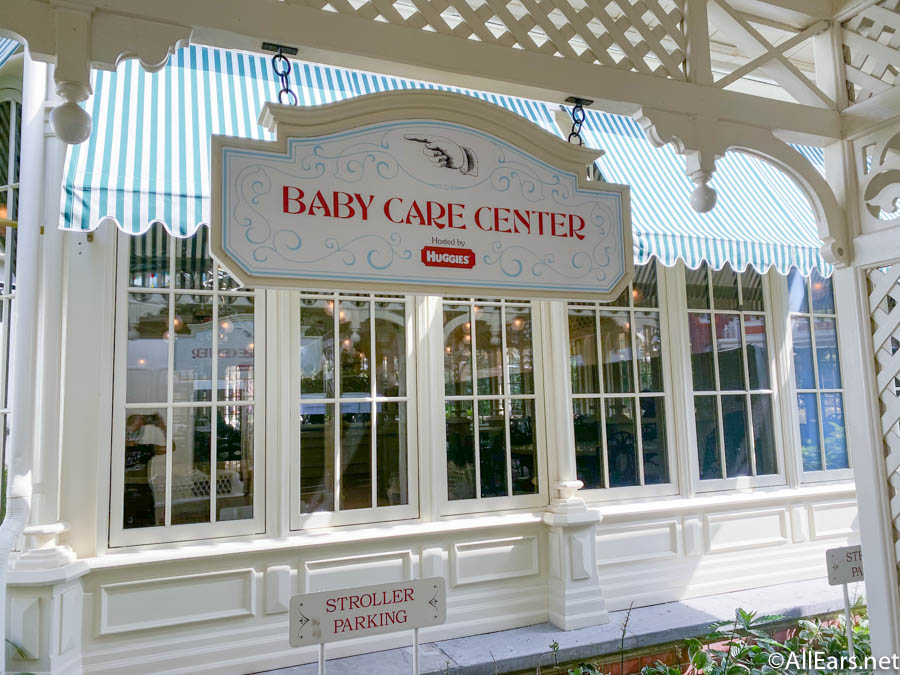 You can also find Guest Healthcare Services in the main menu, towards the bottom. Click here to find information about video visits, urgent care centers, prescription delivery, medical equipment rental and delivery, and more.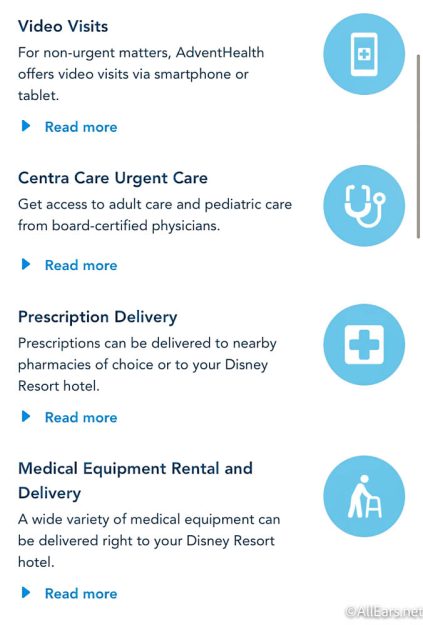 There is also more information here about Disability Access Services.
PhotoPass
You might see PhotoPass photographers around the parks during your trip, especially near park icons or around character meet-and-greets. These photographers will take your group's pictures for free, and those pictures will upload to the MDE app.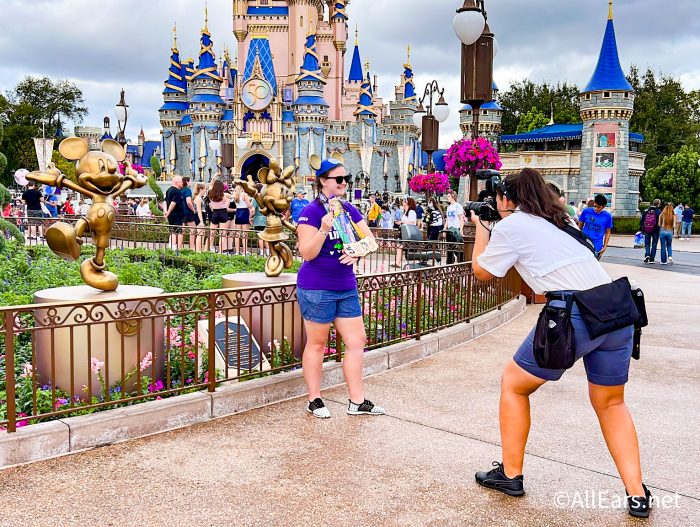 On-ride photos will also upload automatically to the MDE app.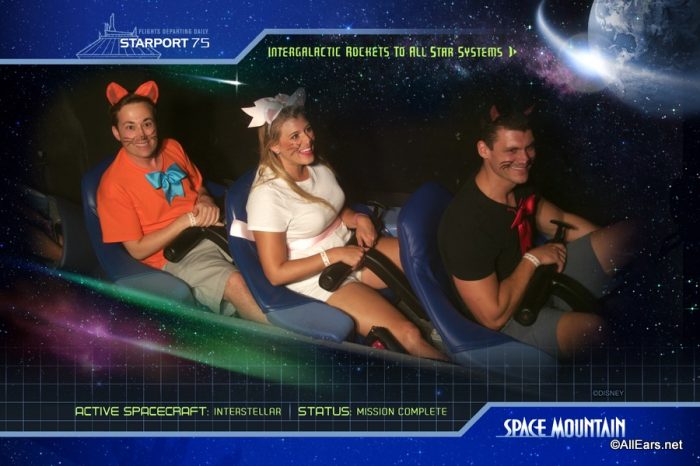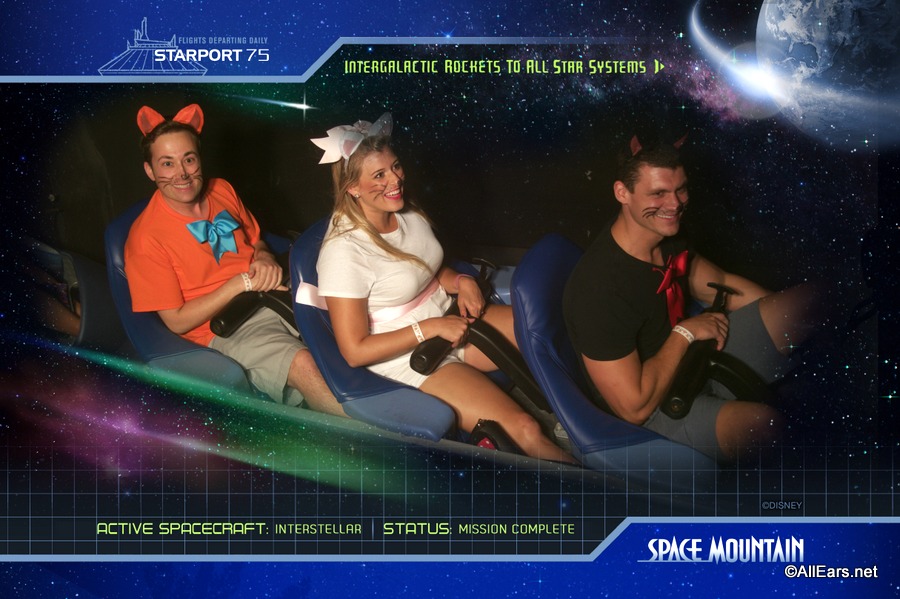 You can see the pictures by going to the main menu and clicking "Photos."  From there, you can purchase the pictures individually.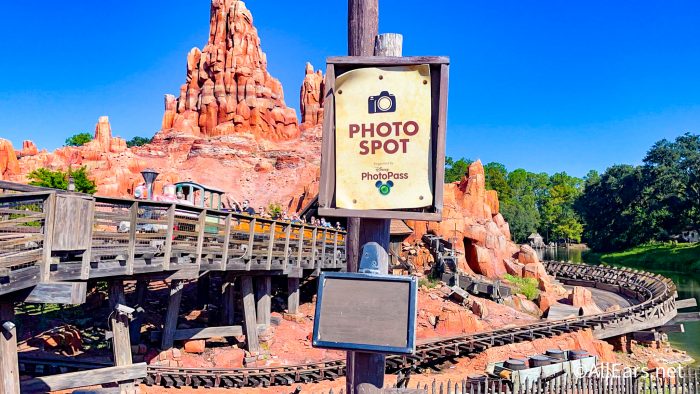 If you'd prefer, you can buy Memory Maker for your trip, which means you'll get unlimited downloads of all your PhotoPass pictures and videos. This costs $199 (or $169 if you buy it in advance).
Mobile Check-Out
Some Disney World stores have Mobile Check-Out now, which means you don't even have to go to the cash register to buy souvenirs. Instead, hit the plus sign at the bottom of the screen on the MDE app and select "Shop in Store."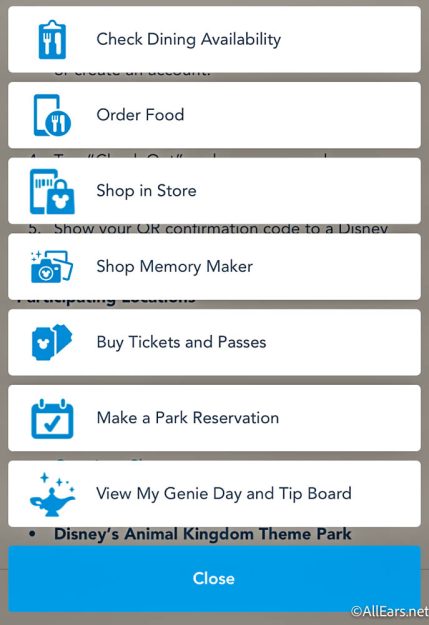 Then you'll scan the barcodes of any items you wish to purchase, tap "Check Out," and pay on your phone.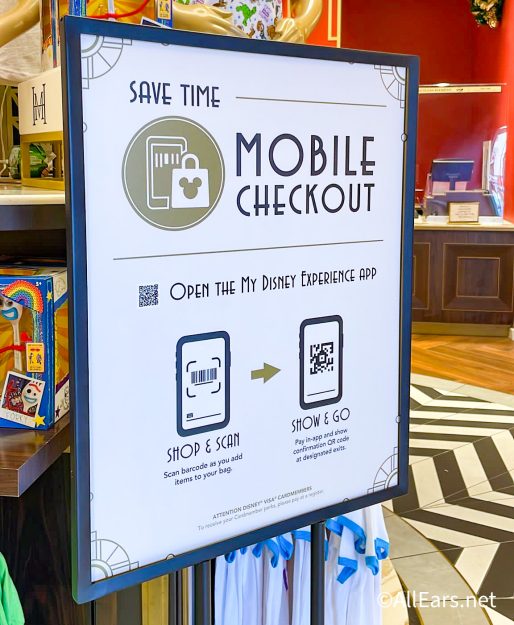 You'll show the QR confirmation code to a Disney Cast Member before you exit the store, and you'll receive a receipt via email.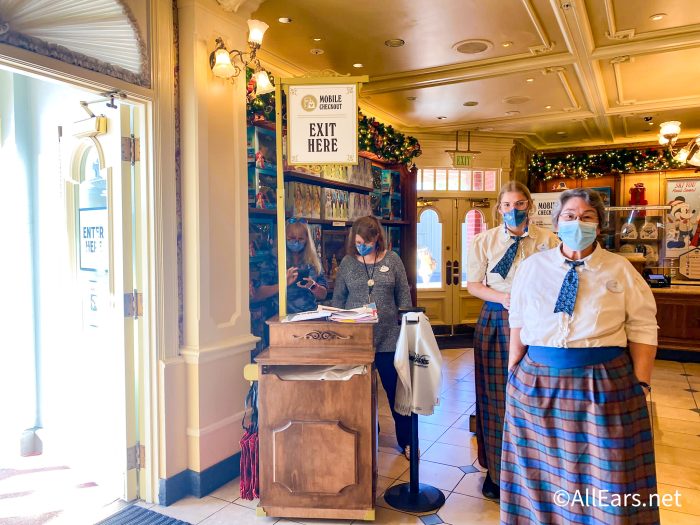 Here are the stores where you can use Mobile Check-Out:
Magic Kingdom: Emporium
EPCOT: Creations Shop
Disney's Hollywood Studios: Mickey's of Hollywood
Disney's Animal Kingdom: Island Mercantile
Disney Springs: World of Disney
Cast Member Compliments
If there's a Cast Member who made your trip especially magical, you can leave a Cast Member Compliment on the MDE app! Search for "Cast Member Compliment" to find this feature. From there, you can enter what the Cast Member did that made your trip better and where the Cast Member is located in the parks.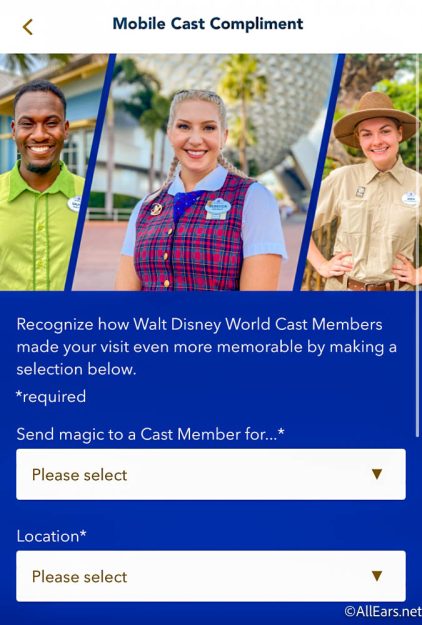 If you have the information, you can also leave the Cast Member's first name, hometown (listed on their nametags), and the date of your interaction.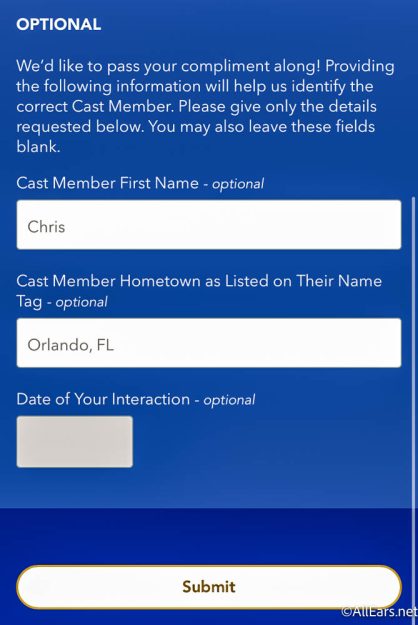 Disney will pass your compliment along to the Cast Member and their supervisors!
Special Events
On the home page of the MDE app, you can scroll down to see various special events happening in Disney World. This includes current and upcoming events.
From here, you can learn more about the events and book tickets for some of them if you want to.
My Disney Experience Features — Dining
Mobile Order
The MDE app allows you to order food from select counter service restaurants around the theme parks in a process called Mobile Ordering. Essentially, you'll order whatever food and drinks you want, pay for them on the app, and skip the line when you go to pick up your food.
You can either search for a specific restaurant and click "Order Food" on that restaurant's page or click the plus button at the bottom middle of the screen and click "Order Food."
You'll then select an arrival time, place your order, and pay! Payments for Mobile Order made via My Disney Experience include credit card, debit card, Disney gift card, ApplePay, and other dining cards.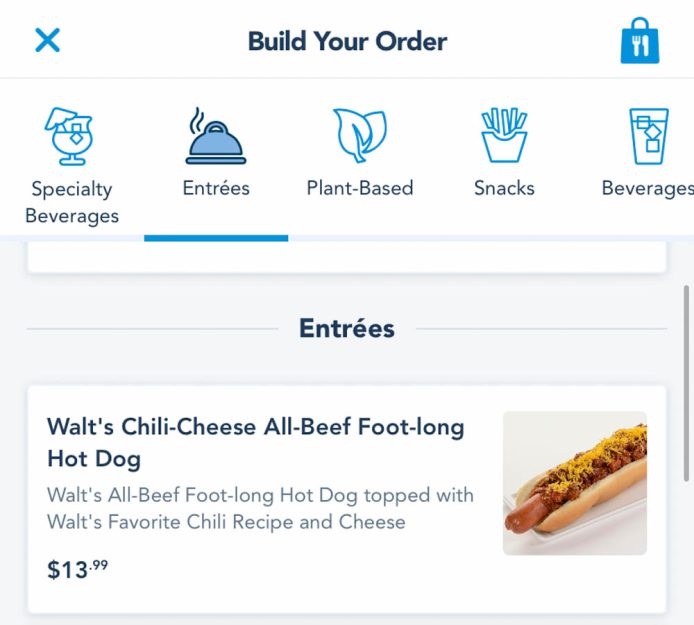 Once it's your arrival time, click "I'm Here" on your Mobile Order, and you'll be notified when your order is ready to be picked up. (You can see all of your Mobile Orders by going to the main menu and clicking "Mobile Food Orders.")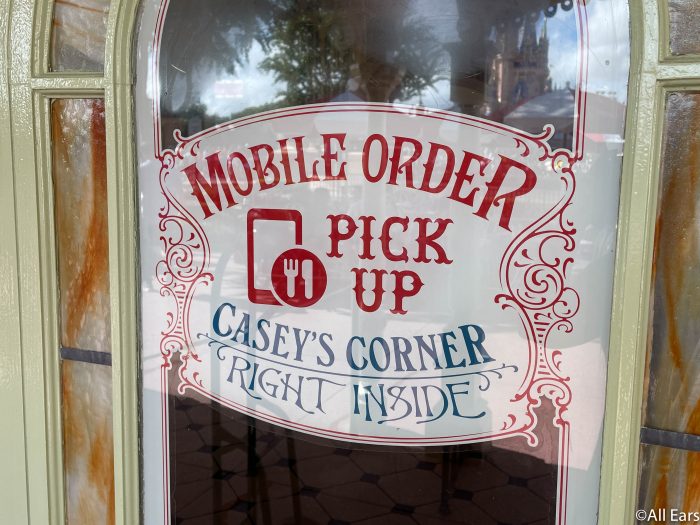 We highly recommend using Mobile Order in Disney World — it can save you a lot of time!
Table Service To Go
In September 2020, Disney added Table Service To Go to the My Disney Experience app. This feature allows guests to order from select Table Service restaurants, select an arrival window, and pick up Table Service eats without dining in the restaurant at all!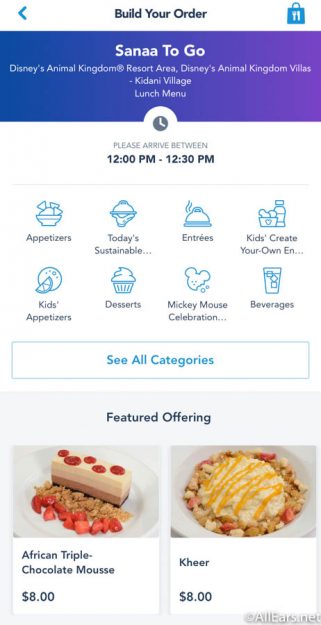 Learn more about Table Service To Go here.
Mobile Dine Check-In
If you have restaurant reservations, you can check in on the MDE app and skip the host(ess) stand.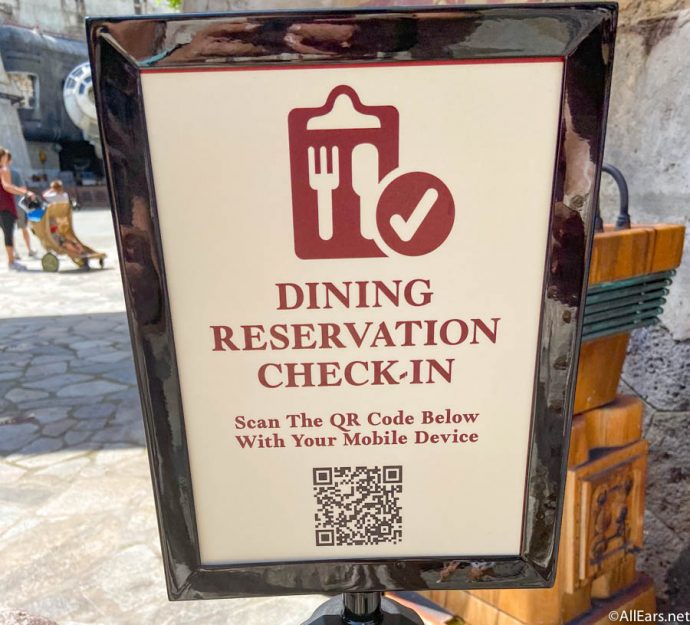 Just find your dining reservation under "Future Plans" and click "Check In" to begin the process.
Walk-Up Waitlist
For those looking for Table Service dining opportunities without an Advance Dining Reservation, My Disney Experience has a Walk-Up Waitlist feature for select restaurants.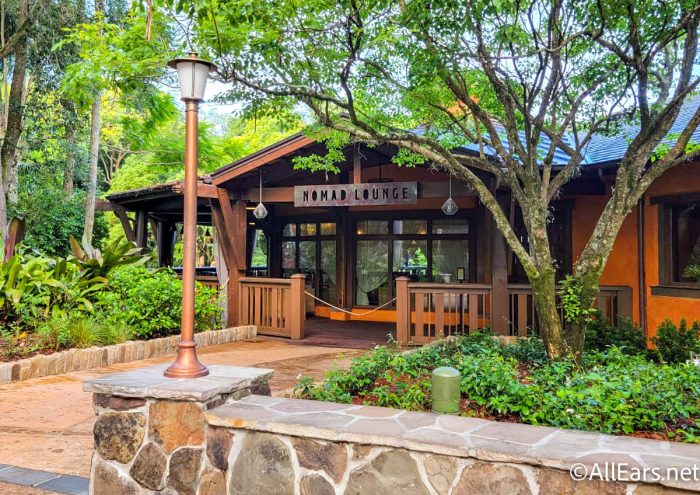 Search for the restaurant you want to visit and click "Join Walk-Up List." Follow the prompts from here to secure your spot on the waitlist. When your turn arrives, you'll be notified and asked to return to the restaurant.
MagicMobile
Guests can create and manage MagicMobile accounts on the MDE app. Head to the main menu and click "Disney MagicMobile" to access this feature.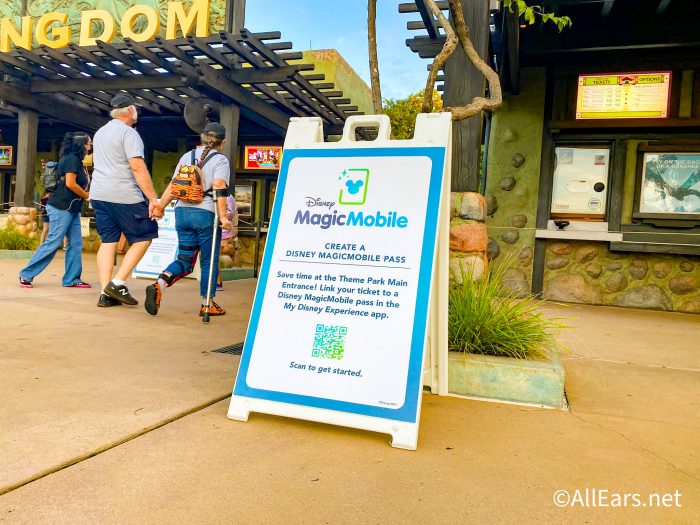 MagicMobile allows you to use your smartphone to…
scan into the theme parks,
enter Lightning Lanes with Genie+ and Pay-Per-Ride,
connect PhotoPass to your MDE account,
and charge food and merchandise purchases to your card on file.
And that's everything you can do with the My Disney Experience online feature and app! It's basically essential to use these programs both to plan your vacation and while you're in the parks, so it's best to familiarize yourself with them ahead of time.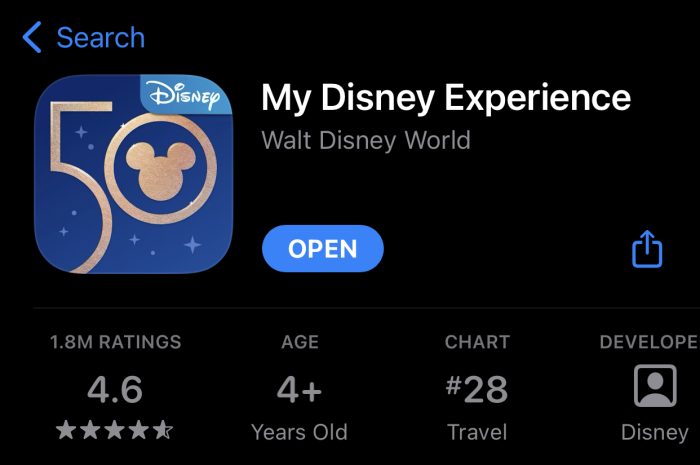 If you need more help with the new technology in Disney World, check out our guide here! And stay tuned with AllEars to get updates on any changes that could affect your upcoming vacation.
Join the AllEars.net Newsletter to stay on top of ALL the breaking Disney News! You'll also get access to AllEars tips, reviews, trivia, and MORE! Click here to Subscribe!