My Magic+ and My Disney Experience
WHAT IS MyMagic+?
Walt Disney Parks and Resorts introduced the concept of "MyMagic+" in January 2013, saying that the program "is using technology to make it easier than ever before for guests to make the most of their Walt Disney World visit."
From Disney's initial statement on the program:
MyMagic+ has the ability to connect nearly all aspects of the guest experience and make it better, at no additional charge.
MyMagic+ entails:
1. A website and mobile app called My Disney Experience, which provides a one-stop shop for all things Walt Disney World throughout every phase of a guest's vacation. It will enable guests to:
• Get more information on all Walt Disney World Resort has to offer, from resort hotels and attractions to dining and merchandise.
• Design the overall experience they want, planning as much or as little as they wish.
• Make dining and other reservations and FastPass+ selections.
• Connect with family and friends to coordinate plans and share photos.
2. Disney FastPass+ service. Guests will be able to select FastPass+ attractions and entertainment experiences through My Disney Experience before they leave home and make changes on the go.
• For the first time, guests will be able to reserve firework and parade viewing areas, shows, Disney Character Greetings and more, in addition to their favorite attractions.
• Disney FastPass+ service is included with Theme Park admission.
3. MagicBands. Initially worn on the wrist, the colorful MagicBand is an all‐in-one device that effortlessly connects all the vacation choices guests make online with My Disney Experience. Guests can use their MagicBand to enter their Disney Resort hotel room, buy food and merchandise, and enter Walt Disney World theme parks and water parks. Plus, the MagicBand provides FastPass+ access to all the experiences selected and serves as the connection to Disney's PhotoPass.
The phrase "MyMagic+" is not used as much as it was originally, as most Disney World visitors have embraced the My Disney Experience mobile app and website, and it is really the heart of the new technology that is being used.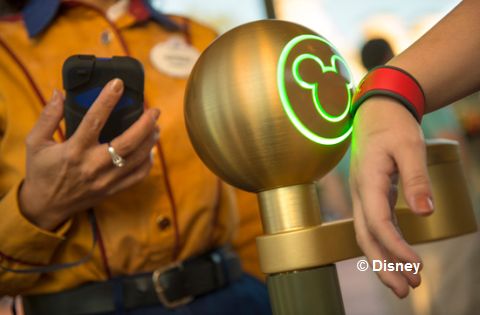 HOW DO I USE MY DISNEY EXPERIENCE?
To begin, you must create a "My Disney Experience" (MDE) account. MDE is an application that you can access on the Walt Disney World website or via a mobile app that you can download to your smartphone or other mobile device. See Walt Disney World's official site HERE for how to create an MDE account.
Once you have created your MDE account you can then create a Family & Friends list, so that you can share vacation plans with those you are traveling with. You can also then link your admission tickets to the account, which will allow you to make FastPass+ selections and plan your vacation.
Using MDE, you can also make online hotel and dining reservations that will be linked to your account.
When you are in the parks, the My Disney Experience mobile app helps you keep track of all of your plans, including your dining reservations and FastPass+ selections. Plus, it gives you easy access to information, such as show times, attraction wait times, character greeting locations and GPS-enabled maps that let you see what is happening near you at that moment.
In August 2017, the My Disney Experience app was updated to include the ability to track your Disney Dining Plan credits, as well as the expenses charged back to your Disney hotel room. You can also now renew your annual pass directly through the app. READ HERE for a closer look at the enhancements.
The MDE app has also been updated to allow you to order food from select counter-service restaurants around the theme parks in a process called Mobile Food Ordering.
And as of June 2018, the mobile app has been redesigned to provide you with bus wait times when you are using it during your vacation stay.
If you are staying at a Walt Disney World Resort Hotel, you will also be able to use MagicBands, plastic wristbands that can store all of your personal vacation data and can be used to access your hotel room, as well as to pay for your purchases. For more on MagicBands, visit our MagicBands page.
If you use FastPass+, My Disney Experience, or MagicBands please take a minute to share your thoughts in our Rate and Review section.