Universal Studios Orlando
Universal Studios Orlando is the original and flagship theme park of the Universal Orlando Resort.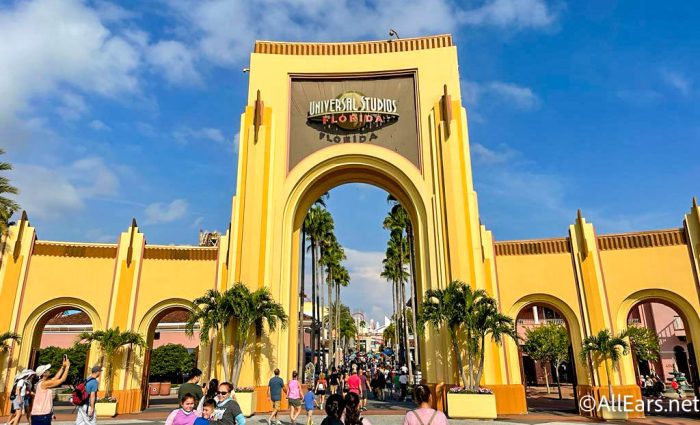 This Park — which is an ode to Hollywood that in recent years seems to be all about immersing guests in the movies they love — offers a slew of attractions and experiences for everyone in the family.
INTRODUCTION
Universal Studios opened in Orlando, Florida, on June 7, 1990. The success of its sister location, Universal Studios Hollywood, in the 1980s, fueled the desire to build a similar park in the Orlando area to compete with Walt Disney World. Two of its early projects were partially developed by famed Hollywood director Steven Spielberg, and many themed attractions over the years were developed in close collaboration with the directors, producers, and actors of the films they are based on. An early layout and design of the park also incorporated active production studios, similar to the Hollywood location, which provided guests with a behind-the-scenes look at film and television. When the interest in film production in the Orlando area quickly faded, the park's design transitioned to a more immersive, first-person perspective.
Universal Studios Florida hosts the spookiest event during the fall season called Halloween Horror Nights, where the park transitions to a Halloween theme featuring haunted houses and scare zones on select nights. Some of Universal's most popular attractions include E.T. Adventure, debuted on the park's grand opening in 1990, along with Men in Black: Alien Attack, and roller coasters Revenge of the Mummy and Hollywood Rip Ride Rockit.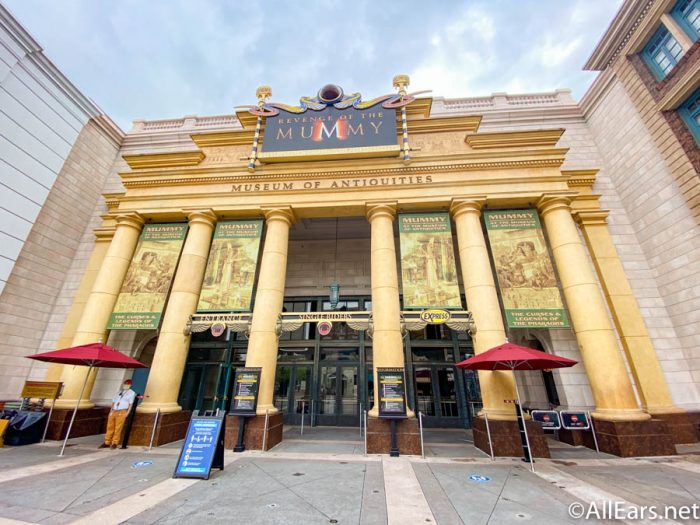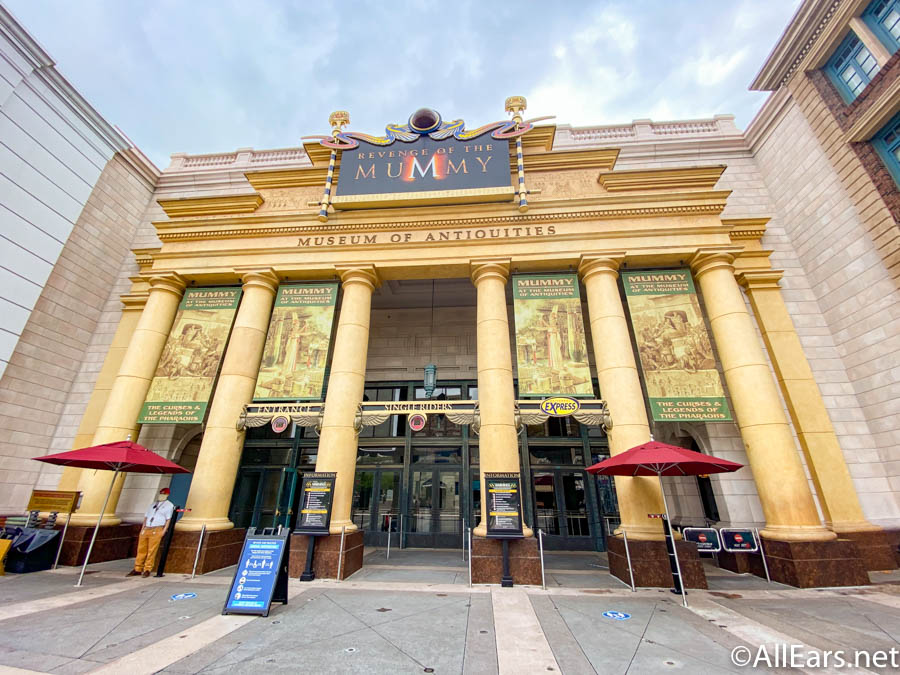 One of the biggest expansions and most popular areas occurred in 2014 with the opening of Diagon Alley, a Harry Potter-themed portion of The Wizarding World of Harry Potter that opened in 2014. This area features the iconic shopping district of the wizarding world of London, complete with some of its more immersive experiences, like the wand-choosing ceremony at Ollivander's and dodging Death-Eaters at Harry Potter and the Escape from Gringotts.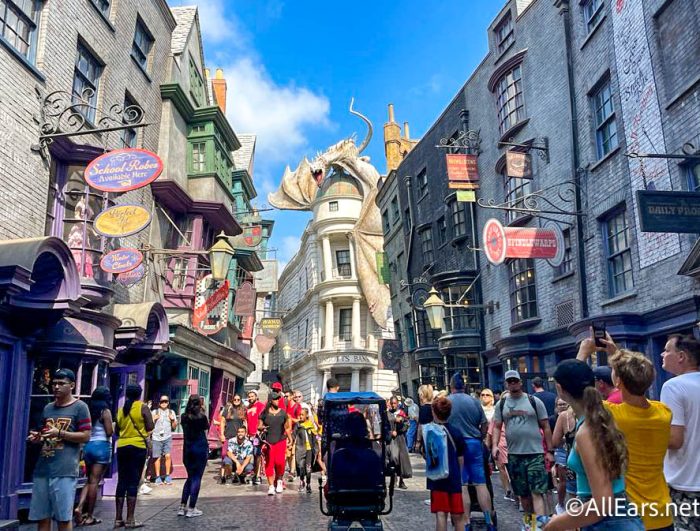 WHAT'S NEXT
2023 will see the most recent expansion at Universal Studios with the addition of Minion Land. This new land will include the new ride, Villian-Con Minion Blast, an immersive restaurant at Minion Cafe, and a bakery with sweet treats.
LAY OF THE LAND
The nine surrounding themed areas, clockwise from the entrance, are Minion Land on Illumination Ave, Production Central, New York, San Francisco, London/Diagon Alley, World Expo, Springfield USA, Woody Woodpecker's KidZone, and Hollywood. Each area features a combination of rides, shows, attractions, character appearances, dining outlets, and merchandise stores. The newest area, Minion Land, is based on Despicable Me, will be added to the park in the summer of 2023.
MINION LAND ON ILLUMINATION AVE
At Universal Studios, guests enter the tapstiles onto Illumination Ave in Minion Land. This new area will encompass the existing Despicable Me Minion Mayhem attraction and Super Silly Stuff store, as well as the new Illumination's Villain-Con Minion Blast attraction, Minions' Cafe, Pop-a-Nana popcorn stand, Freeze Ray popsicle stand, Bake My Day sweets shop, and an Illumination Theater facade for character meet-and-greets.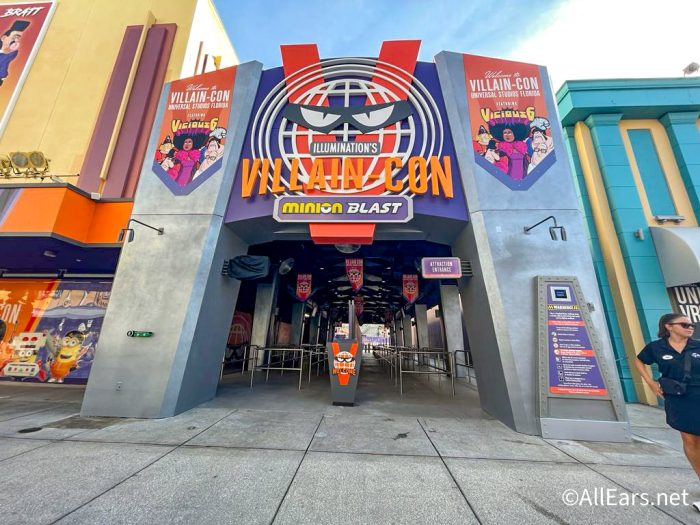 Minion Cafe is the big dining option in this land, and it offers what Universal calls "inventive, family-friendly fare." While you're eating, you're immersed in the world of the Minions. This restaurant has lots of different options for guests — pork sandwiches, salads, pizza, and a few other delicious-sounding desserts.
PRODUCTION CENTRAL
As you continue past the Minion area, you'll come into Production Central, which used to be the front of the park, until it donated some of its acreage to the Minions and Despicable Me crew.  The area is also home to a variety of dining outlets and shops for merchandise, including Hollywood Rip Ride Rockit (which is a looming presence you can see from beyond the park walls!).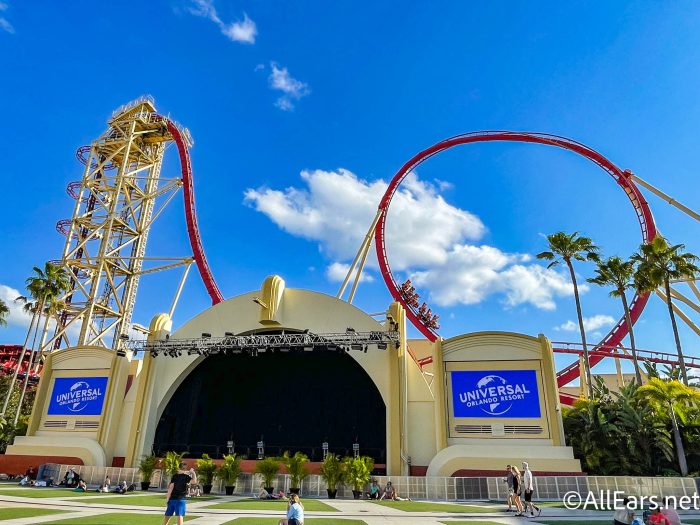 Production Central is also the home of Transformers: The Ride-3D, the Transformers Meet and Greet location, and the Universal Music Plaza amphitheater in front of Hollywood Rip Ride Rockit. You can watch some great concerts in the amphitheater, which holds up to 8,000 people!
HOLLYWOOD
If you take a right from Minions Land, you'll find yourself in Hollywood. Step behind the camera and backstage and explore the industry and adventure behind your favorite shows and films. You know you've made it to Hollywood when you see the TODAY Cafe. Hang a right there, and welcome to Hollywood!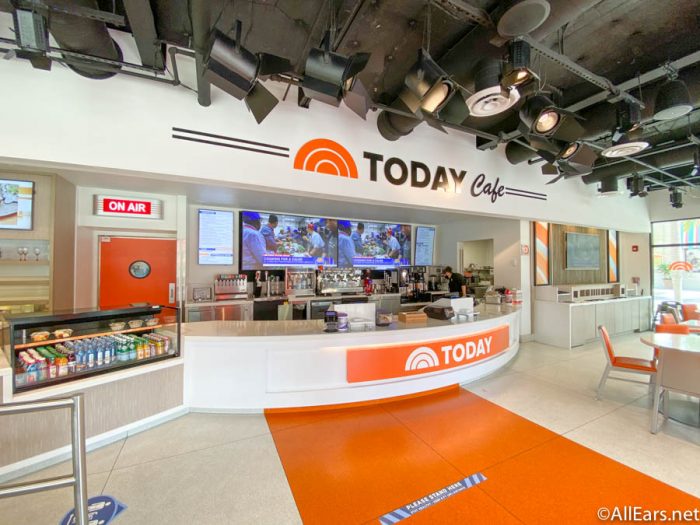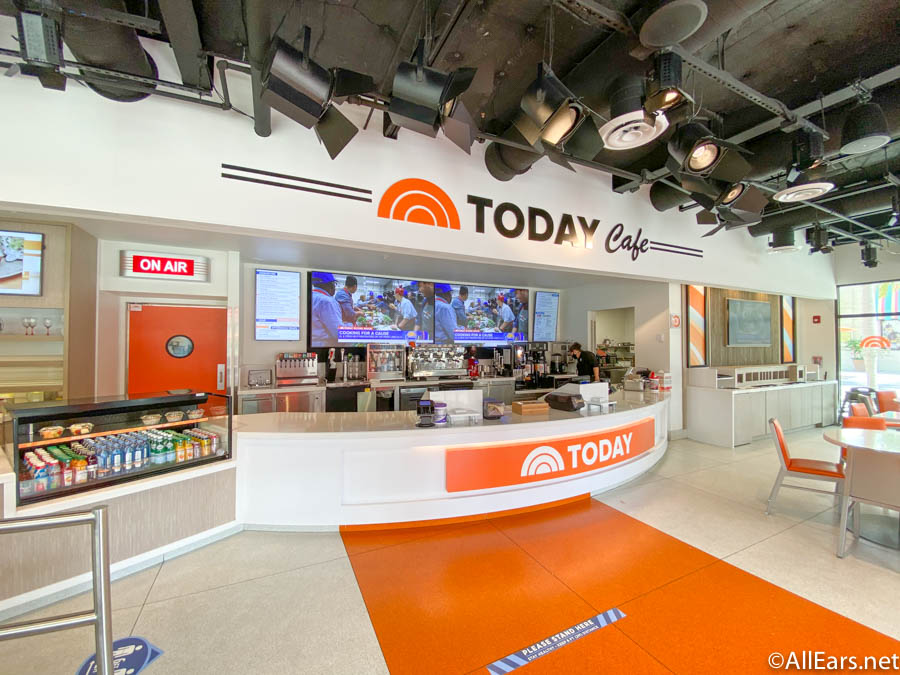 Hollywood is the neighborhood where you'll find some of the iconic Universal Studio shows, like Universal Orlando's Horror Make-Up Show and the thrills at The Bourne Stuntacular.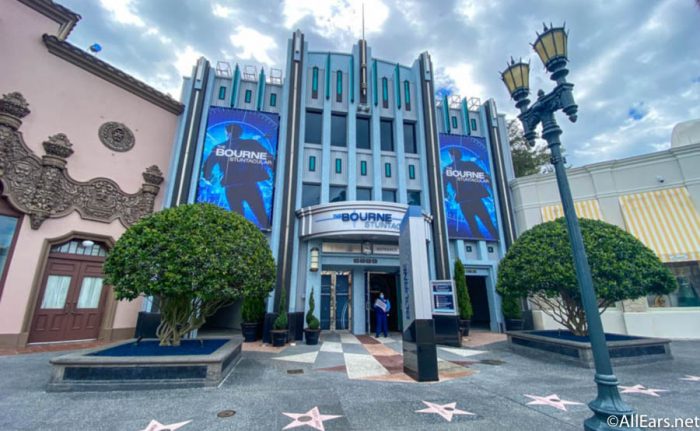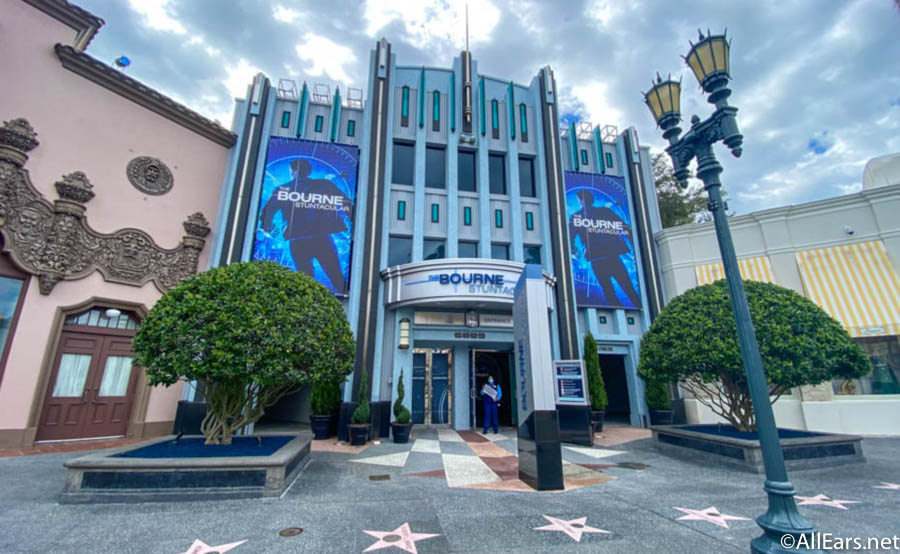 Hollywood's two dining outlets are recreations of actual Hollywood outlets. Schwab's Pharmacy and Mel's Drive-In offer guests a variety of food and beverage options.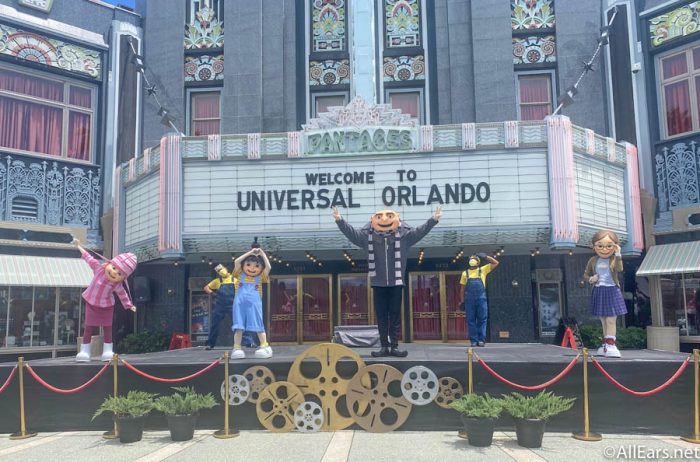 Throughout the day, you'll find some fun Hollywood character interactions. Meet some classic Hollywood characters like Scooby Doo, Marilyn, Woody Woodpecker, Betty Boop, and more!
DREAMWORKS LAND
In Summer 2023, Universal announced that a new DreamWorks Land will arrive at Universal Studios Florida in 2024. Universal shared that the new DreamWorks land will feature beloved characters from several animated films like Kung Fu Panda, Trolls, and Shrek.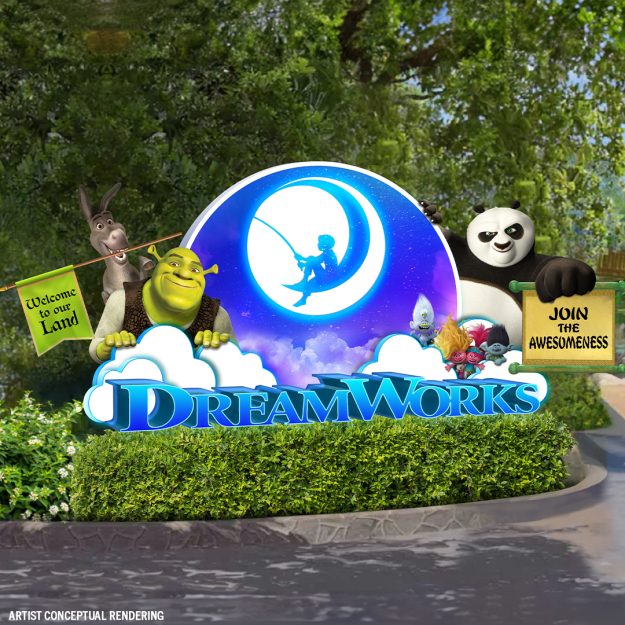 This family-friendly area will replace the Woody Woodpecker KidZone area in Universal Studios. Look out for special meet-and-greets with characters from Gabby's Dollhouse and more! While under construction, guests will still be able to experience the classic attraction, E.T. Adventure.
The personal pet project of Steven Spielberg himself, E.T. Adventure is a bizarre excursion with everyone's favorite extra-terrestrial. Give your name to the team member at the entrance and walk through the forest, board your bicycle to evade capture, take to the skies to rescue E.T., and meet all the unusual pals on his home planet. Listen carefully as E.T. gives you a personalized "goodbye" at the end of the ride.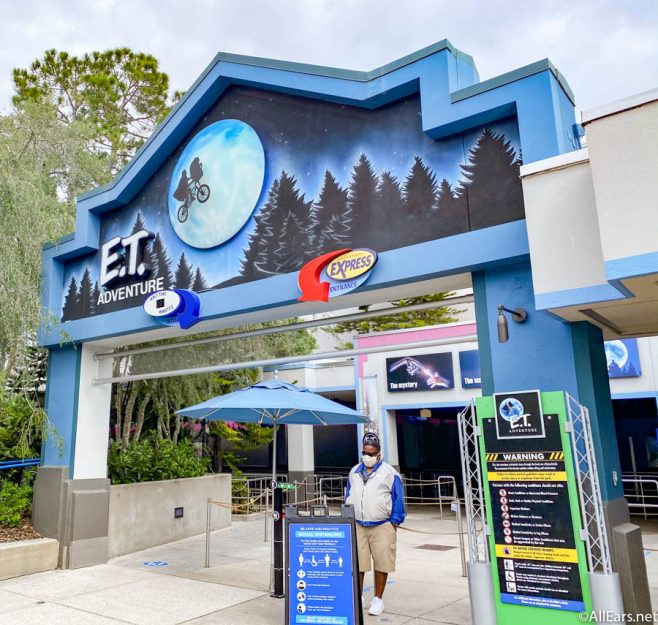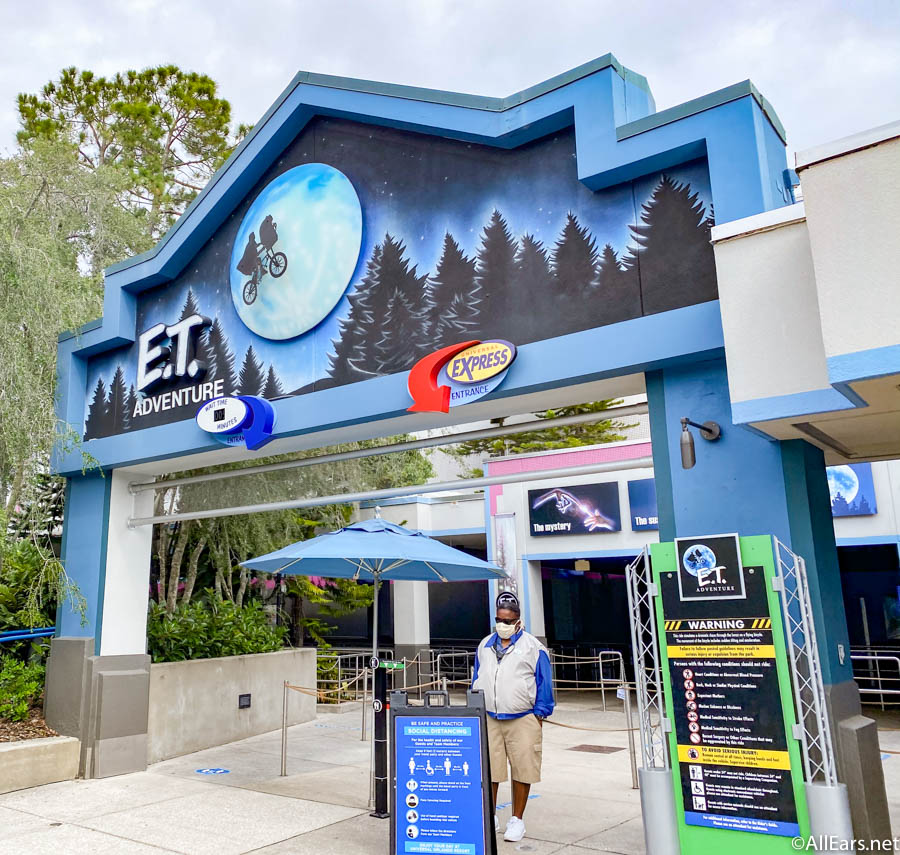 The other big draw in this neighborhood is the Animal Actors on Location! show. If you've ever wondered how directors get such excellent performances out of their animal movie stars (well, before CGI became omnipresent), you won't want to miss Animal Actors on Location!, where a variety of furry friends and their trainers will take you behind the scenes to show off some tricks and training techniques in a mix of skits, demonstrations, audience participation, and film clips.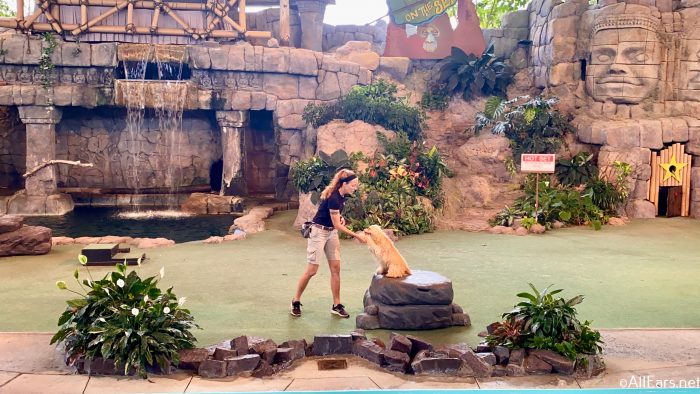 On January 15, 2023, the majority of Woody Woodpecker's KidZone, including its rides Woody Woodpecker's Nuthouse Coaster and Fievel's Waterslide, the play areas Curious George Goes to Town and Fievel's Playland, and the Shrek-themed meet-and-greet style attraction which was opened the year before after the closure of Shrek 4-D, was permanently closed to make room for an unannounced area rumored to be themed to DreamWorks Animation. E.T. Adventure and Animal Actors on Location were kept, as well as SpongeBob StorePants, a SpongeBob SquarePants-themed merchandise store, and KidZone Pizza Company, a seasonal pizzeria located by the area's entrance.
SPRINGFIELD, U.S.A.: HOME OF THE SIMPSONS
Springfield used to be classed as a part of the World Expo until 2017, but now it's where you can find TV's longest-running sitcom family and all of the Simpson's gang.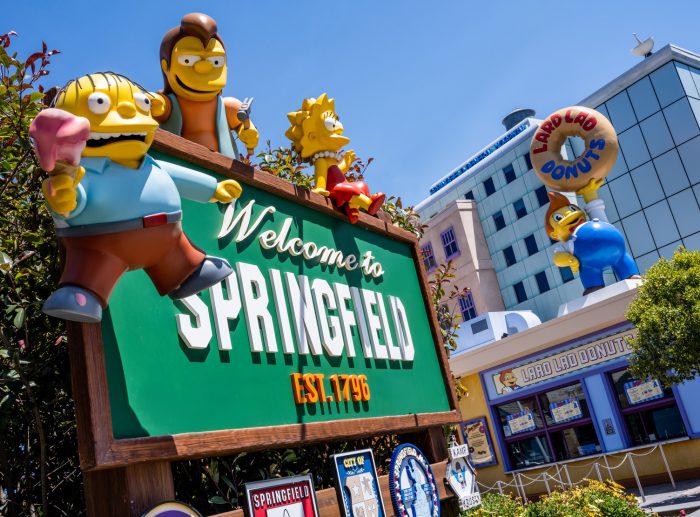 You'll also find the popular Simpson's Ride, delighting young and old. And right next to it is the other Simpson's attraction, Kang & Kodos' Twirl 'n' Hurl, which, as the name suggests, will spin ya around until you're a little loopy.
The primary dining area in Springfield, U.S.A. hosts a collection of favorites from the sitcom. Duff Brewery is THE spot to grab a pint of that famous Duff Beer that Homer and all of his pals love so much. Fast Food Boulevard is the spot where you can find several Springfield eateries like Lard Lad Donuts, Krusty Burger, and Cletus' Chicken Shack. And, of course, Moe's Tavern, where fans of the Flamin' Moe will need to stop in to try the iconic beverage.
We just advise that you treat yourself to a Flamin' Moe or a Duff Beer AFTER you get off of Kang and Kodo's Twirl 'n' Hurl.
WORLD EXPO
There's a nice tuft of land that only holds one attraction, MEN IN BLACK Alien Attack.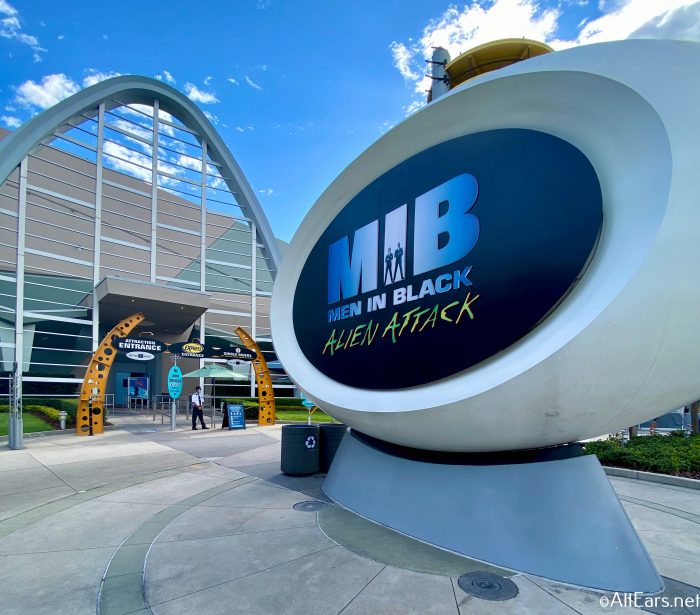 Even though there's not a lot going on here year-round, it really picks up during the fall season when Halloween Horror Nights are in full swing, and many of the space here is used for scare zones and haunted houses.
THE WIZARDING WORLD OF HARRY POTTER: DIAGON ALLEY
Once upon a time, Universal Studios was primarily known for its studio lot tours, thrilling stage shows (though you can still find those!), and rides featuring some of our favorites from the 80s, 90s, and even 2000s, like Jaws, Back to the Future, and Twister. But that all changed when Univeral won the rights to create a theme park area after the bestselling book series and smash hit film franchise, Harry Potter.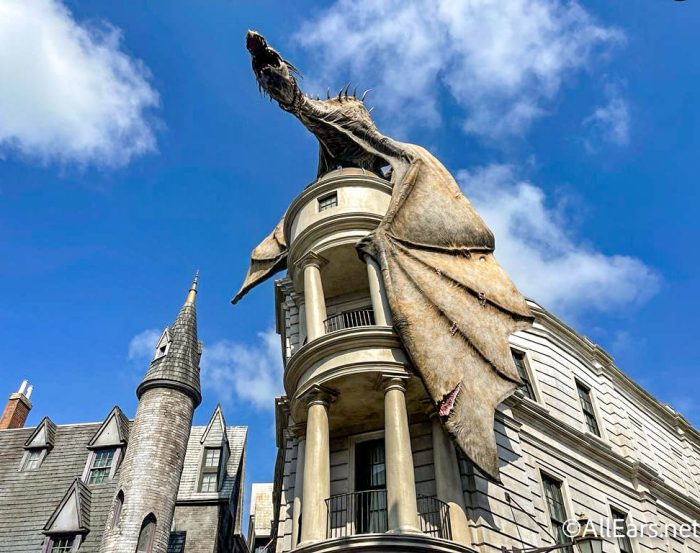 On July 8, 2014, The Wizarding World of Harry Potter – Diagon Alley/London opened and featured two attractions, several shops and dining experiences lifted from the pages of the beloved books and the scenes of cherished films. Now, muggles can walk into this magical world and see if they have what it takes to be chosen by a wand at Ollivanders, hold their own when they barter with the goblins at Gringrott's, or indulge in a butterbeer.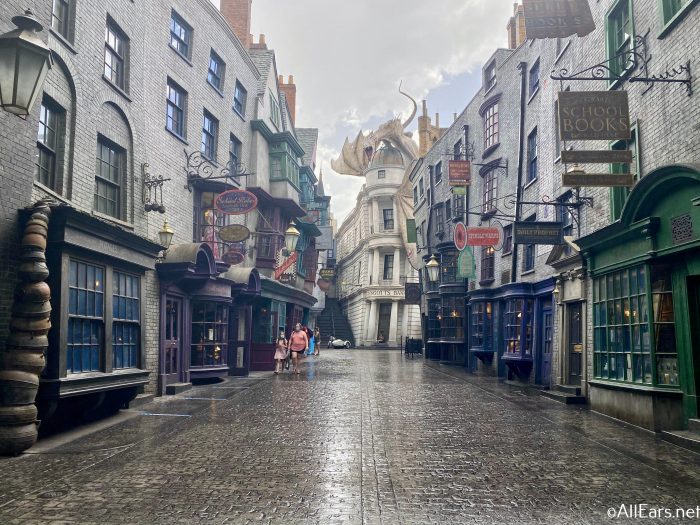 Before entering this magical world, guests will walk around London and have the chance to visit with the driver of the Knight Bus and see if they can spot number 13 Grimmauld Place. Then they can pass through the shifting brick wall onto Diagon Alley.
Once you pass through to the magical world of Diagon Alley from the muggle realm of London, you can explore all of the shops and dining locations, like Ollivander's wand shop, the Leaky Cauldron, Florean Fortescue's Ice Cream Parlour, The Fountain of Fair Fortune, and the Hopping Pot.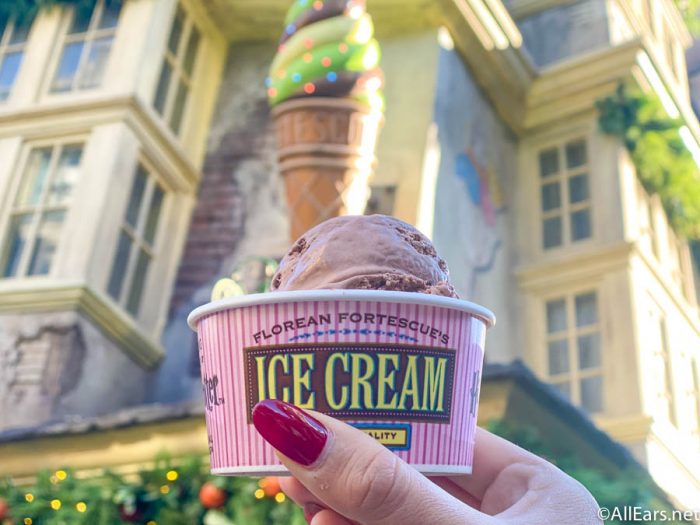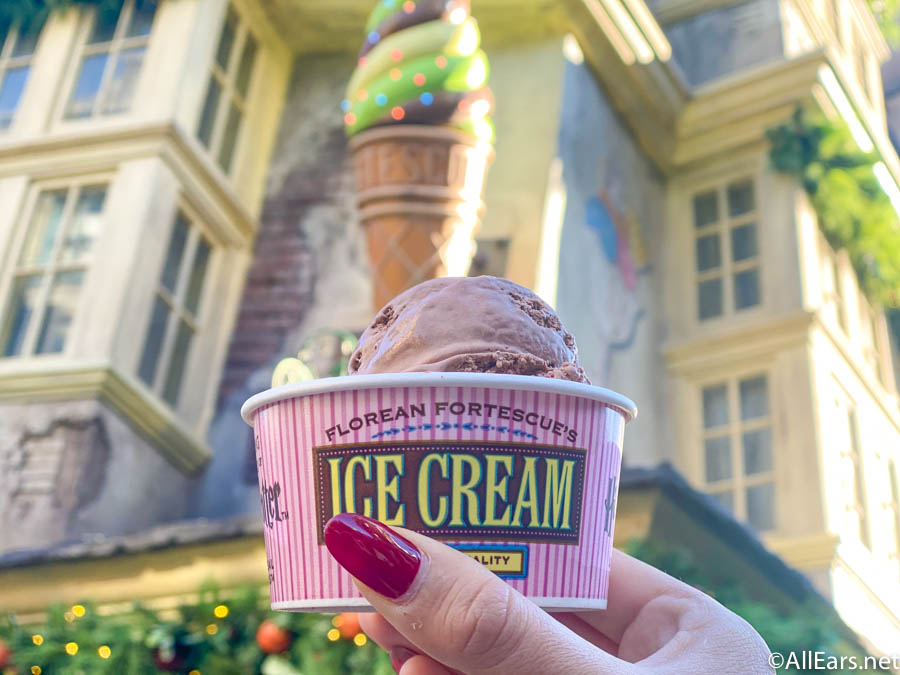 If you happen to be chosen by a wand that is magically enchanted, you can explore Diagon Alley, and its notorious counterpart, Knock Turn Alley, to try out some spells and make mysterious situations occur around the shops and buildings.
But no visit to Diagon Alley is complete without venturing into Gringotts!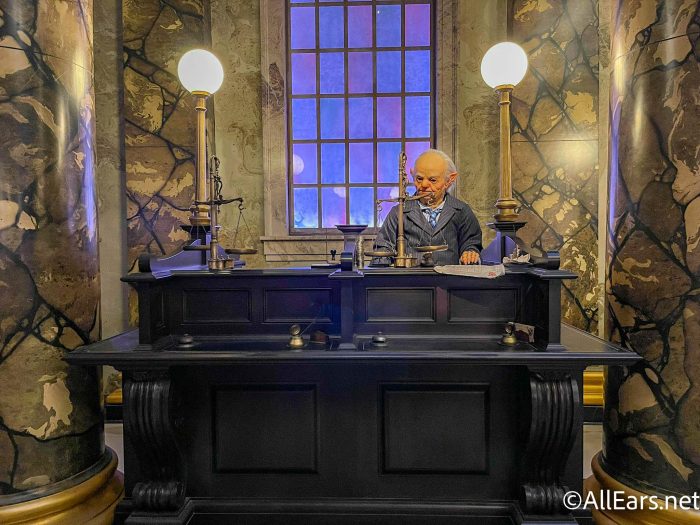 This is not only where you can exchange your muggle money for the currency used in the magical world (what is the exchange rate for a galleon, again?), but where you can ride one of the two rides in Diagon Alley, Harry Potter and the Escape from Gringotts.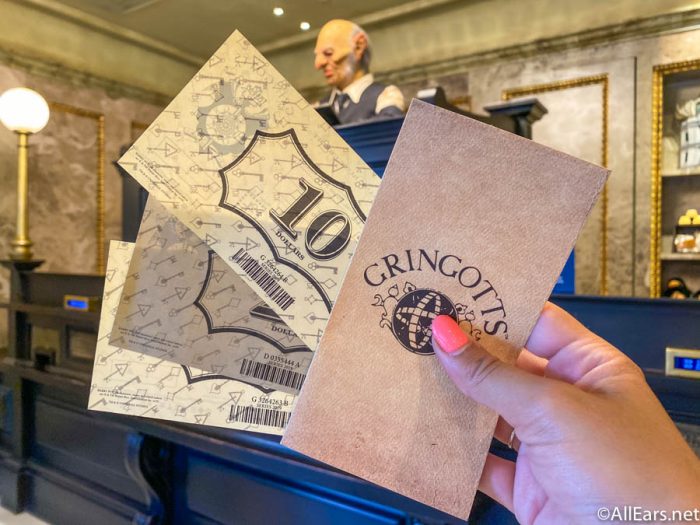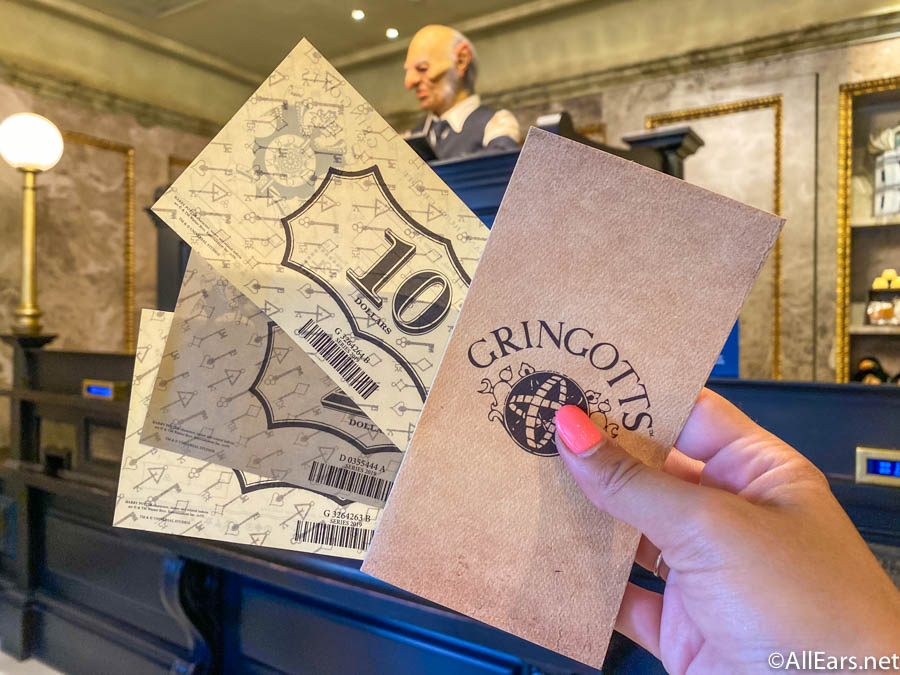 Harry Potter and the Escape from Gringotts is an indoor roller coaster with motion-based 4D effects and will take you on the thrilling adventure of when Harry, Ron, and Hermione escaped from Gringotts on the dragon back!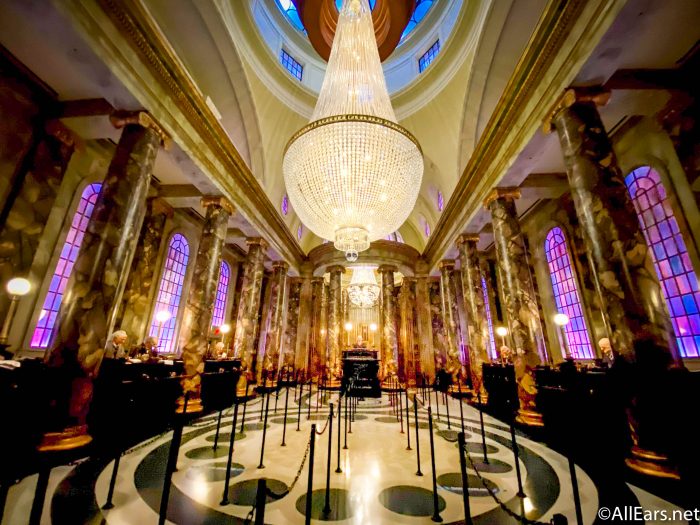 And if you have a park-to-park ticket, you can board the Hogwarts Express at King's Cross station over to Hogsmeade station. King's Cross is impeccably themed, and if you ask the train attendants where to find platform nine and three-quarters, they'll be mystified, like any muggle would be — check for yourself!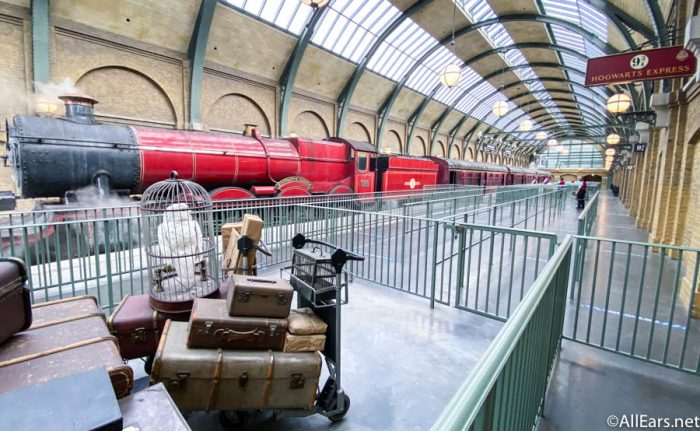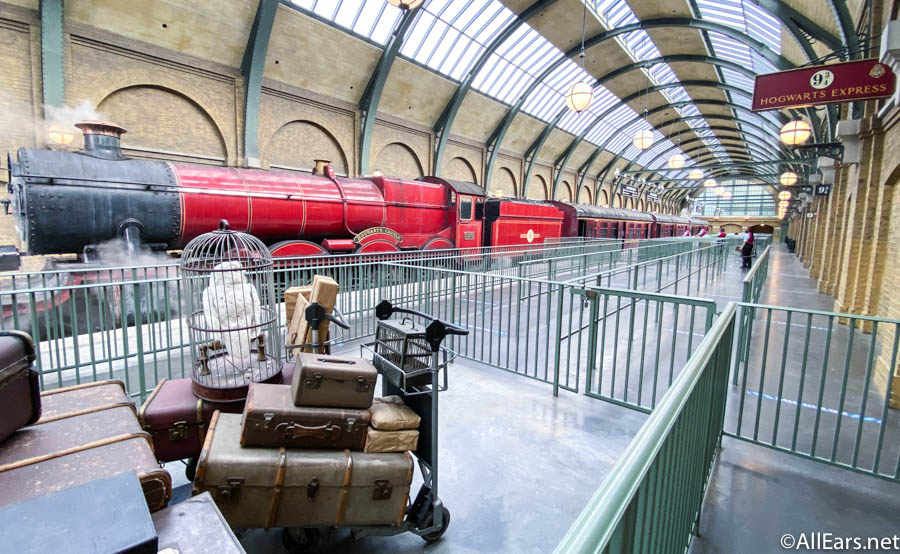 SAN FRANCISCO
San Francisco is your spot for speed, family, and food. San Francisco is where you can find Fast & Furious – Supercharged. This is a dark simulator ride that takes you on high-speed car chases with the supercharged cars and characters from the Fast & Furious film franchise.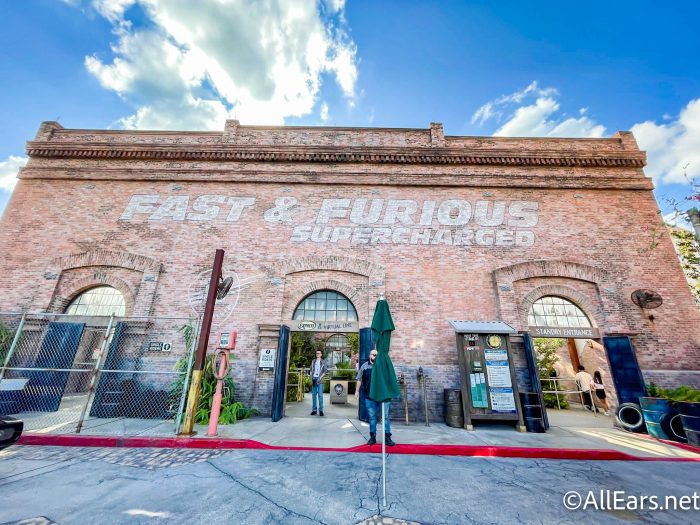 Once you finish racing around the city with Dom Torreto and the family, you can explore some supped-up cars, and then explore the rest of the dining and shops around San Francisco. Here is where you can dine at Lombard's Seafood Grille, Chez Alcatraz, the San Francisco Pastry Company, and Richter's Burger Co.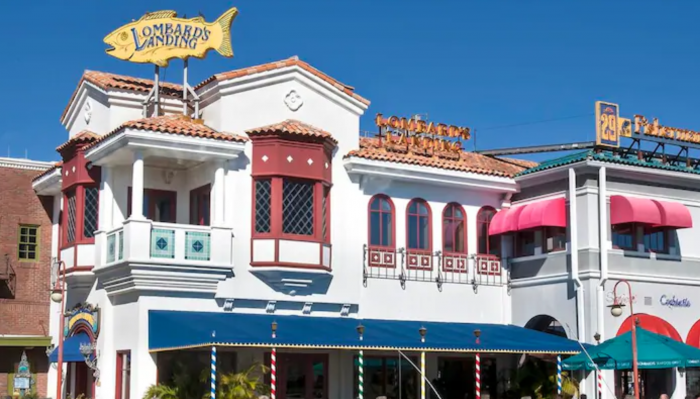 Before you leave San Francisco, you can catch the Beat Builders show and their percussion beats and rhythm in a live show which you can catch throughout the day.
NEW YORK
Two big attractions, two big shows, and tons of dining options fill New York. The headliner attractions in New York are Race Through New York Starring Jimmy Fallon and Revenge of the Mummy.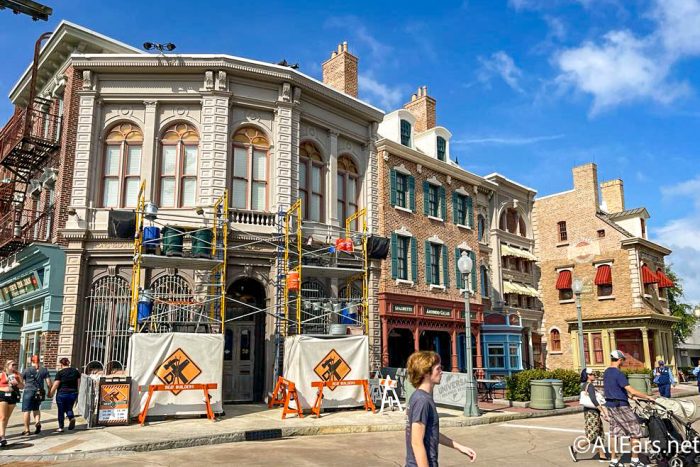 Race Through New York Starring Jimmy Fallon is pretty much self explanatory. You're racing through New York City…. with Jimmy Fallon (mindblowing, right?).  In this motion simulation 3-D ride experience, Jimmy Fallon challenges you to race him through New York City aboard his race car, The Tonight Rider. The competition starts inside the corridors of Studio 6B's backstage and heads through iconic New York landmarks.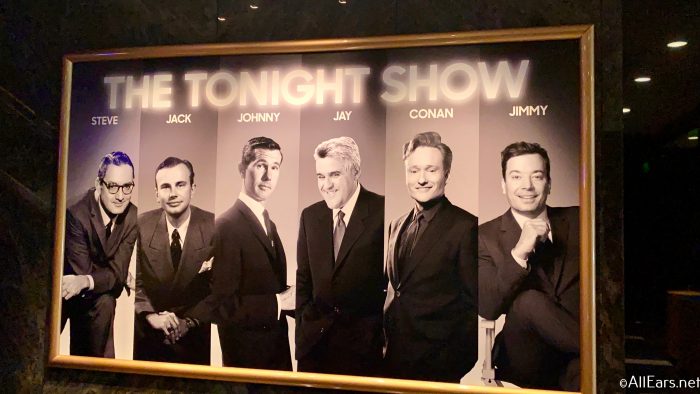 Revenge of the Mummy is part thrill ride, part horror movie, and all fun! This ride takes you on a tour of the set of the next Mummy film being filmed on location in Imhotep's tomb, but the curse is real, and you have to find a way to survive!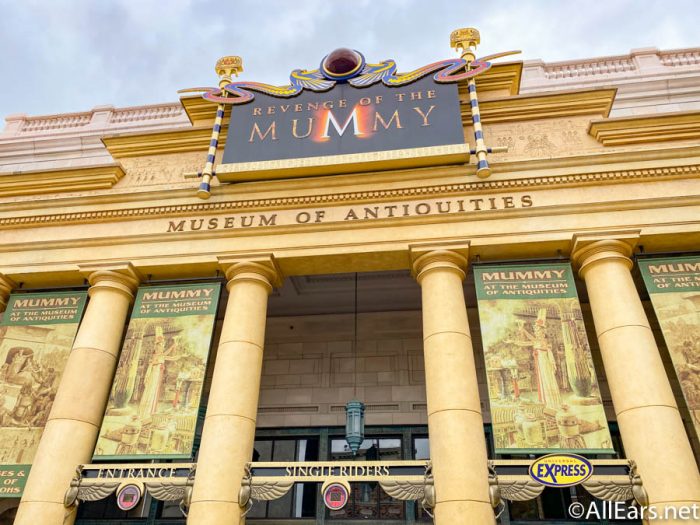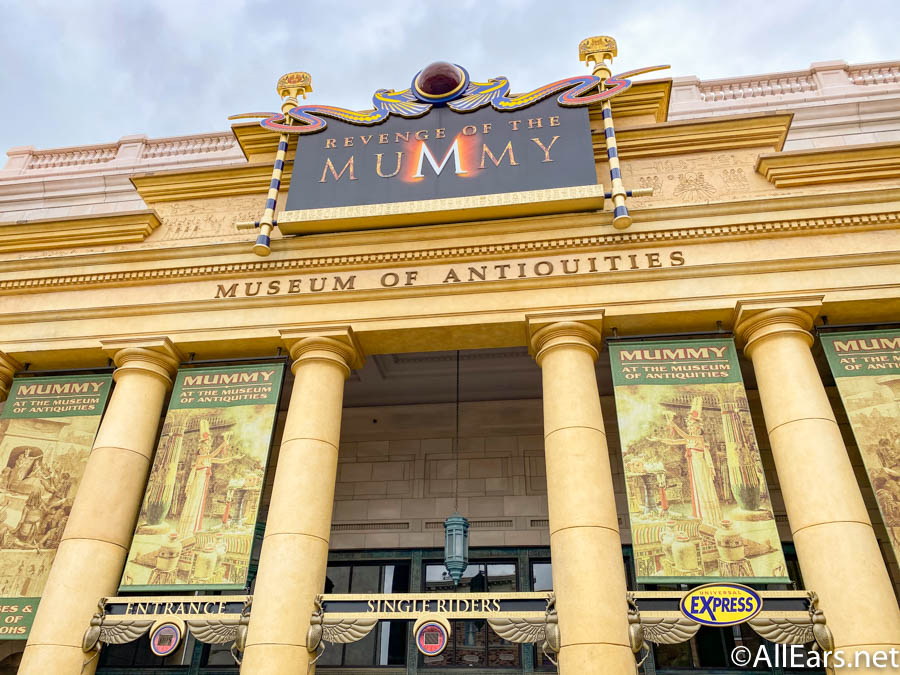 You're launched at high speeds through dark tunnels and dense fog, navigating several sharp turns and steep drops, all the while being taunted by Imhotep.
New York is also home to some of Universal Studio's dining staples. Here you can find Starbucks, Auntie Annie's Pretzels, and Haagen-Dazs for some quick hits of familiar favorites. You'll also find some dining favorites here, like Finnegan's Bar & Grill and Louie's Italian Restaurant. Family-friend spots to grab a pint or twirl some pasta with your crew. And we can't miss at least watching The Blues Brothers at least once!
TOURING TIPS
Universal Studios typically opens daily at 9AM and closes at 9PM. Sometimes closing times vary according to the season, with the Park often staying open later during summer months and holiday times. But it can also close early for special ticketed events like Halloween Horror Nights.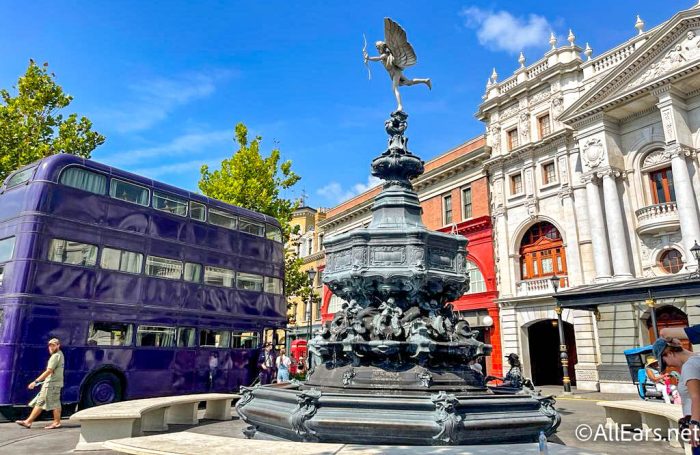 Plan to arrive at the Studios about half an hour before Park opening. Universal resort guests get early entry into the Wizarding World. So, if you're staying at Universal, head to Diagon Alley before the rest of the park opens. If you're not staying at Universal, you can bet that Diagon Alley will already be pretty full with resort guests, so you may want to prioritize other rides like Revenge of the Mummy or the new Villain-Con Minion Blast attraction.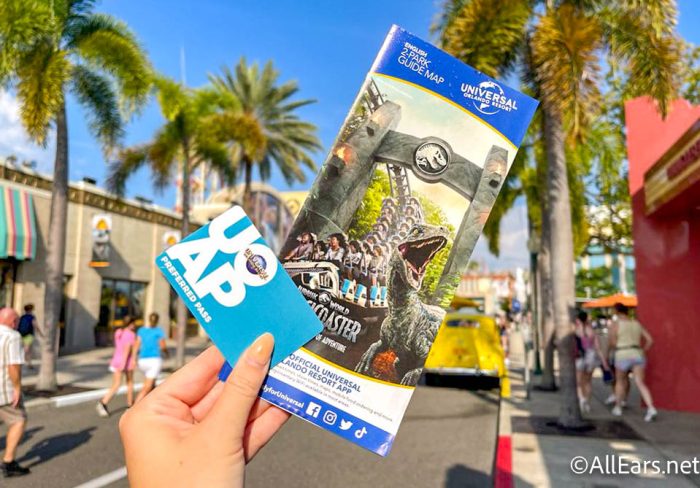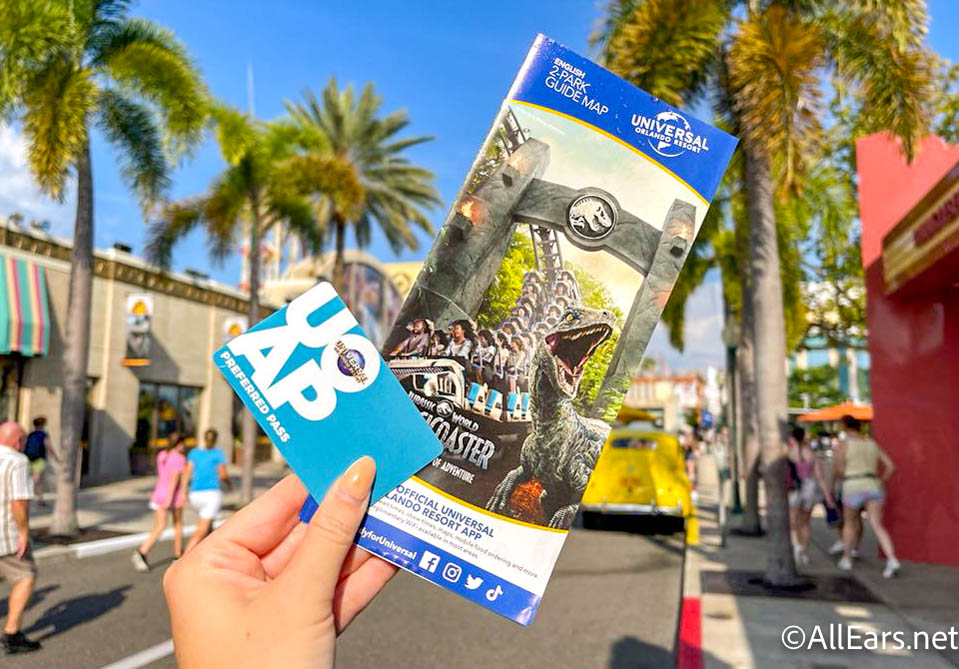 With the new addition of Minion Land and the coming addition of DreamWorks Land, this will be a popular park for families and kids, so you'll want to make sure to dedicate plenty of time to the whole park and broaden your scope beyond just Diagon Alley.
SHOPPING
Visit Shopping the Studios At-A-Glance page for info on the various stores around the park.
DINING
Visit Dining at the Studios At-A-Glance for an overview of the main dining options at the park.
KIDS AND CHARACTERS
Universal Studios has several opportunities for children to meet and greet their favorite characters.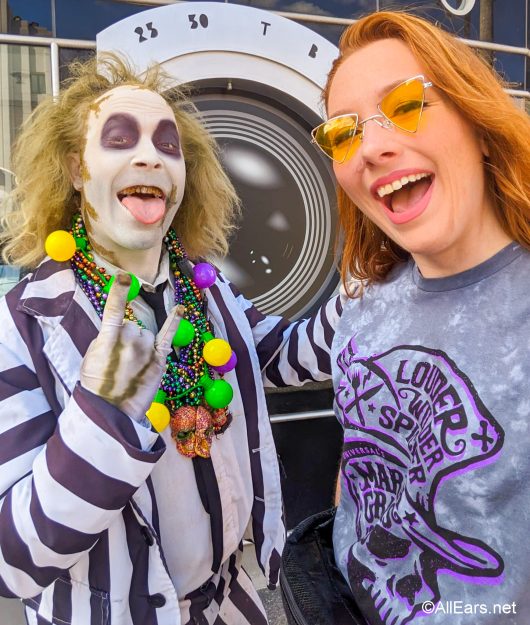 DreamWorks Trolls
Minions
The Simpsons
Krusty the Clown and Sideshow Bob
Knight Bus Conductor
Transformers (Optimus Prime, Bumbleblee and Megatron)
SpongeBob SquarePants, Patrick Star, Squidward
Scooby Doo, Shaggy, Velma, Fred, Daphne
Doc Brown
Shrek, Donkey, Fiona
HashTag the Panda
Marilyn Monroe
Beetlejuice
Hello Kitty
Revenge of the Mummy Characters
Dora, Boots, Diego
Penguins from Madagascar
Kung Fu Panda
Puss in Boots
King Julien
INTERESTING FACTS
If you model your outfit in the mirror at Madam Malkin's Rodes for All Occasions, you might just get some fashion advice directly from the mirror!
Keep your eyes peeled for references to retired attractions throughout Universal. There are several nods to Jaws throughout Diagon Alley as that location is where the shark-infested town of Amity used to reside.
The Hollywood Rip Ride Rockit is an intense roller coaster that plays music through speakers in your chair as you travel up 90 degrees and then hurtle down the track at 65 mph. There's a selection of 30 songs you can choose as your personal soundtrack, but if you hit the right button at the right time, you can access a secret list of another 62 songs, offering up everything from "Free Bird" by Lynyrd Skynyrd to "The Rainbow Connection" by the Muppets.
As you journey through the queue at Revenge of the Mummy, take a close look at the Egyptian hieroglyphics on the walls. Many of them spell out real warnings.