Universal Epic Universe
Epic Universe is the new theme park being built by Universal Orlando Resort and is scheduled to open in 2025.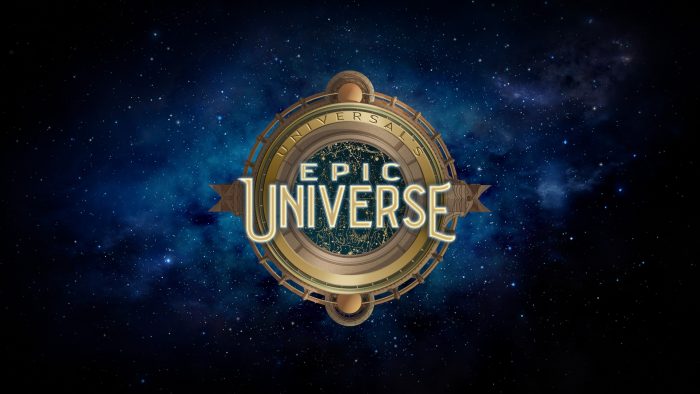 It's set to feature four new lands, new rides, a new hotel, and MORE.
INTRODUCTION
In 2021, NBCUniversal's CEO, Jeff Shell, indicated that attractions at the park would be based on "some of the Illumination and DreamWorks content but especially Nintendo." Illumination worked on films like Despicable Me, and DreamWorks is behind properties like Shrek and How to Train Your Dragon.
It has been reported that there could possibly be a hotel inside the theme park that could give guests direct access to the park. This is reportedly a 500-unit, full-service hotel set to be completed by Q4 of fiscal year 2023. Another hotel is also set to be built for Epic Universe, which would be a 750-room hotel that will be built along Universal Boulevard.
Regarding its location, the new park won't be attached to Universal Orlando's existing theme parks. Instead, it'll be located closer to the Orange County Convention Center, about 2 miles from Universal Orlando Resort.
Details on how individuals could get from the existing resort to/from Epic Universe are still pending. But we know that a Brightline train station is set to be built here, connecting this general area to the Orlando Airport.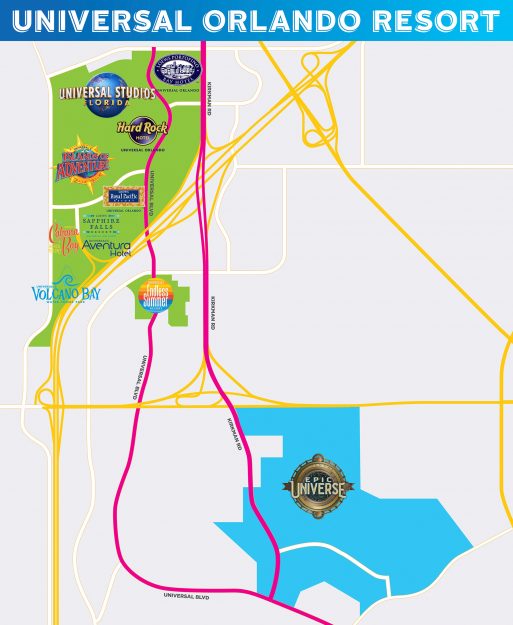 Now that we've reviewed the basics, we can look at the concept art and construction.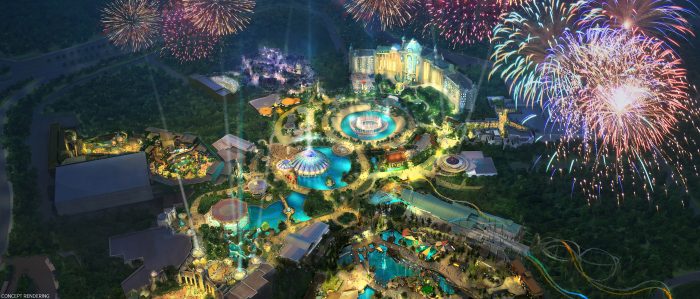 The above is the concept art originally shared for Epic Universe a number of years ago. Let's break down the potential areas and secrets hidden within!
So far, Universal has confirmed one of the lands we can expect in Epic Universe, Super Nintendo World. But the other areas are still considered rumors and, though layden with probability, have yet to be officially confirmed by Universal.
The heavily rumored Epic Universe Lands are:
Wizarding World of Harry Potter – Ministry of Magic
Dark Universe (Universal's Classic Monsters)
How to Train Your Dragon
Celestial Themed Central Hub
LAY OF THE LAND
Entrance/Center Fountain Area
We start our dive at the entrance to the park! You can see the front entrance in the concept art below. It looks like there are some buildings near it with domed, circular tops and rock forms on the bottom. It gives us a very Mythos Restaurant-vibe, and really ties into the rumor of the Celestial Themed Central Hubs. The front appears to have a dome of its own in the center, with smaller curved arches to each side.

It reminds us of the entrance to Universal Studios Florida, though the entrance to Epic Universe seems a bit more elaborate and grand.
From that entrance, we enter a central plaza area. Here, it looks like there is a general space for guests to congregate in and ultimately decide whether they'd like to follow the path to the left of the water features or hang a right and visit other lands.
The designs on the floor feel like they would almost be inspired by old astronomers and those who charted the stars, or almost like something out of a DaVinci invention.
We can also see a huge show building near the front (on the left-hand side). It appears to be attached to an overhang with some more domes. From a ride standpoint, the hub's two main attractions are rumored to be a massive dueling coaster titled Starfall Racers, and a double-decker carousel-style attraction known as the Constellation Carousel.
If you continue just a bit more to the left of that large show building, you'll find a smaller structure with a fountain in front of it. It gives us the vibes of being a small hotel, given what appears to be its multiple floors. But there's another building that more likely will be the large hotel with in-park access that has been previously discussed.
Could this be an elaborate restaurant? Show? There's a lot that remains to be seen.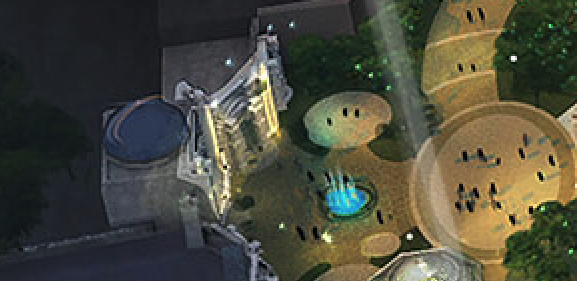 If we look directly across from this structure, past the little center portion of the path in front of it, there's an octagonal building located on a bright blue lake. The building looks like it could house some kind of spinning attraction (like a carousel). But it could also be home to a store, restaurant, or a number of other things. The bright lights from it seem to suggest that it'll be worth checking out — especially with those water views!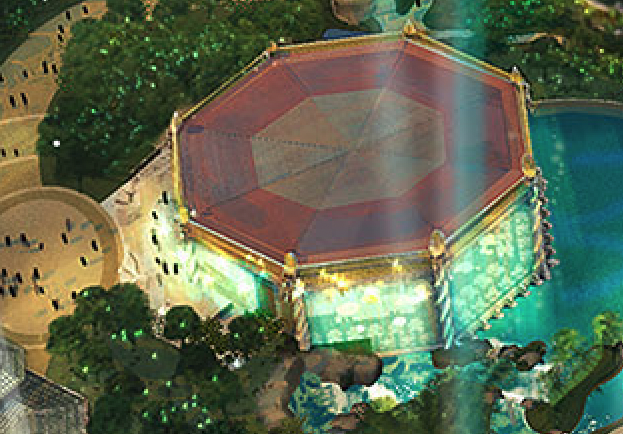 To the right of this octagonal structure, there is more water with some green structures within it. At least some structures appear to have bridges connecting them to the main path. It looks like these will likely be lookout or relaxation points, but is anyone else also getting mini golf vibes? 😂
In this general area, it also looks like there are some small buildings (see that little circular building to the right?), trees or other vegetation, some little bridges, and even potentially little ponds or water features.
Backing up a little bit from that green area toward the front entrance again, on the right-hand side of the entryway, there appears to be another building structure with more of those domed tops.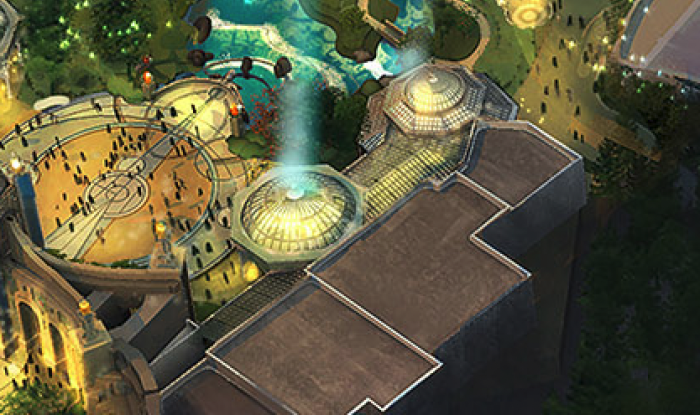 All of the domed roofs and what appear to be more glass/window-based tops remind us a bit of the Gaylord Palms Resort & Convention Center in Orlando, which has a central area with a sort-of greenhouse/atrium feel.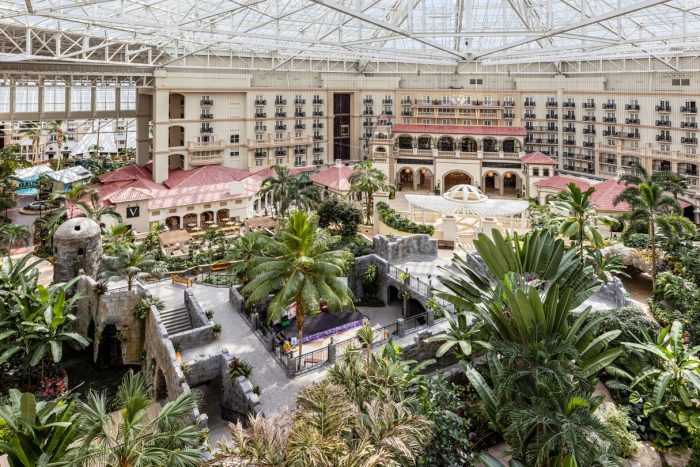 We also want to point out that the waterways here appear to have bridges connecting guests from the left side of the park to the right side, making it easier to walk around without having to do a FULL loop.
Even these bridges appear to have themed elements, with colorful trees or water features making them more interesting.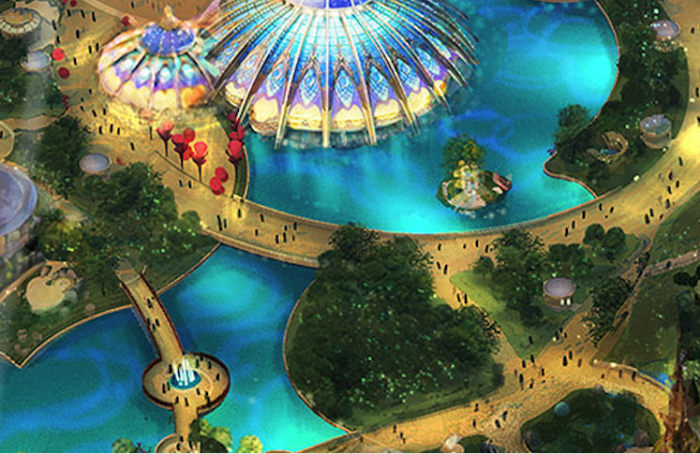 For purposes of this deep dive, we'll make a loop around the park to the left. Once you go past that octagonal structure, the concept art shows a path that takes you past another circular building (you can see the theme here) and over to another circular structure closer to the lake.
It looks like there is a path leading to this circular building and another path on the other side of it that leads to the bridge across the water. What exactly this circular building could be, however, is unclear. Maybe a shop? A restaurant? An event or entertainment space? There are a lot of possibilities.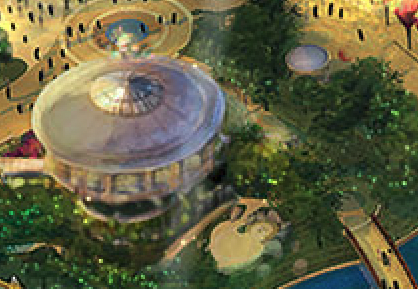 If you continue going up the path from this circular building, you'll hit a larger space with a BRIGHT and beautiful circular (again) structure. Again, details haven't exactly been shared as to what this will be. It looks like this would be a strong draw for guests though, given how well it is illuminated in the concept art and how bright and colorful it is. This could house some kind of attraction (perhaps water-based) or be home to an elaborate restaurant on the water. There are a lot of possibilities here.
Another interesting thing in this space is that little structure in the bottom-right-hand corner that looks like a little floating island. It appears to have some greenery and perhaps some structure or design, but it doesn't look like a space guests can access.
There is also a LARGE area to the left of the big circular structure with a light tower of some kind in the center and lots of people all around. And on the far side of the concept art, you can see a circular outcropping that extends a bit into the blue water. That could be an area for guests to sit and relax in, but it is prime real estate, so it could be home to much more.
There are also little circular structures dotting the greenery on the right-hand side. Could those be food or merchandise kiosks? There are more little circular buildings somewhat similar to those scattered elsewhere in the concept art.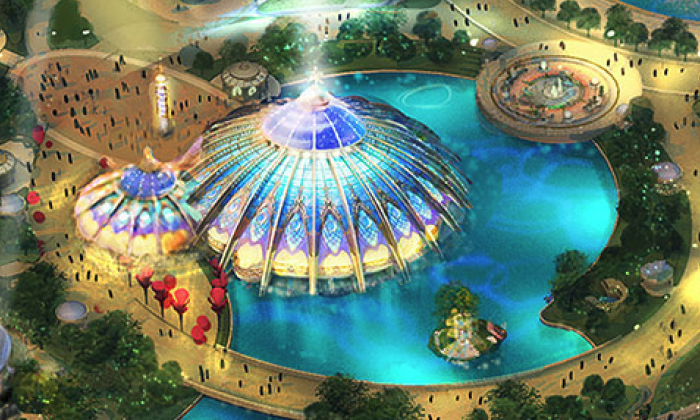 Now, let's backtrack a little bit and enter the first of this park's themed lands.
Super Nintendo World
Super Nintendo World is heading to Epic Universe, and many expect that the land to the left of the large, colorful, circular building could be its home. Super Nintendo World Florida will be the newest Nintendo Land coming to Universal parks following the original in Japan and Super Nintendo World Hollywood. Guests can currently visit the Universal Studios Japan version. Universal Hollywood's version opened on February 17th, 2023. If you're a fan of the popular, nostalgic video game franchise of Mario, then Super Mario World Orlando will be perfect for you. You will find components from the Super Mario Bros, Mario Kart, and Yoshi franchises to bring back all of those memories from our childhoods. The Super Nintendo World rides are also some of the only new rides confirmed for EPIC Universe!
The front entrance to this land seems to have some structures similar in shape to a pipe and an entrance at the bottom that could be used for guests walking "through a pipe" and into the land.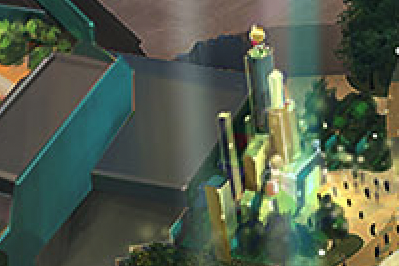 So, what rides will Epic Universe's Super Nintendo World contain? To answer that, one only needs to look at the other versions of the land. The headlining ride will almost definitely be Mario Kart: Bowser's Challenge. This AR dark ride uses practical sets and augmented reality images shown in glasses to bring guests directly into the world of the popular spin-off video game series. In addition, all signs point to the Florida version of the land featuring clones of Japan's Yoshi's Adventure (a slow-moving family omnimover ride that brings guests around the land's second level) and the upcoming Donkey Kong mine cart attraction (a revolutionary "boom coaster" style ride that will allegedly feature the illusion of jumping over sections of missing and broken track), both of which are absent from the Hollywood version.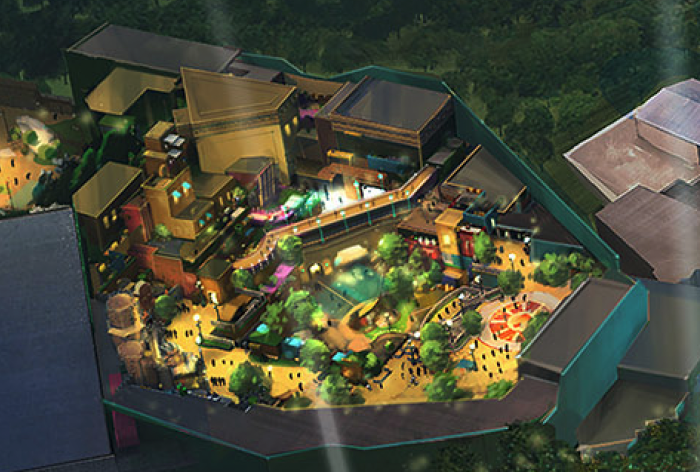 This could be the entrance to the world and the load/unload area for the Yoshi's Adventure ride. The land is also expected to feature a Mario Kart attraction, which appears to be under construction.
But that's not all. A back area is expected to house a Donkey Kong-themed space and potentially a roller coaster. You can see that in this back part of the concept art. Some have speculated that this area's theming (which looks a bit more natural and green) would be the Donkey Kong-themed space. You can see what appears to be a ride track leading out and around a central show building.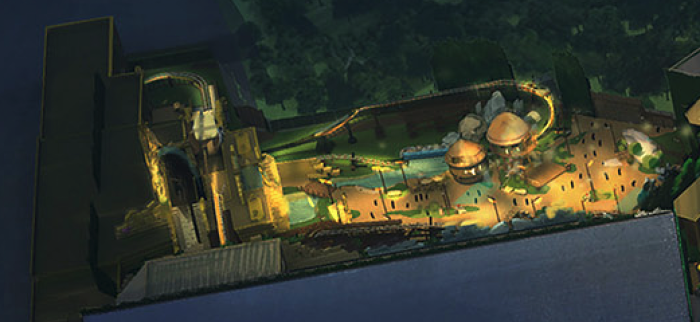 Central Areas and Unknown Spaces
If you exit the Nintendo space and come out to the main walkway, you'll pass a large building with what appears to be its own separate entrance on the right-hand side, so it doesn't look like it would be tied to Nintendo.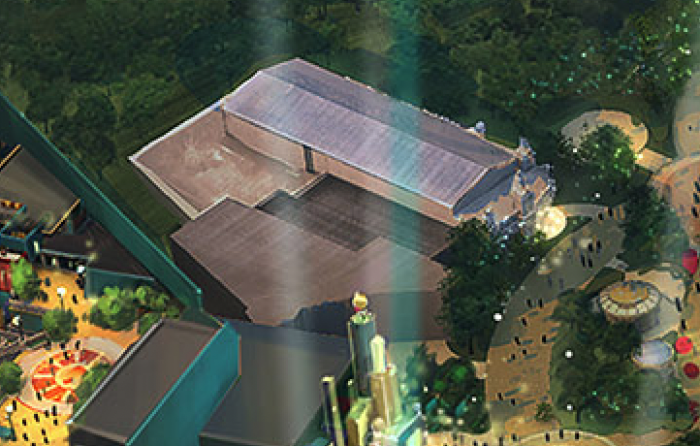 Past that is that central circular area we saw with the sort-of light tower. If you keep walking past that, you enter another area with more circular buildings and a central light with some greenery all around.
To the left, is a large building with some orange circles in front. In the front, it looks like there is a large structure with some figures and a potential flame or firey element behind them. This area could be the location for the rumored How to Train Your Dragon land.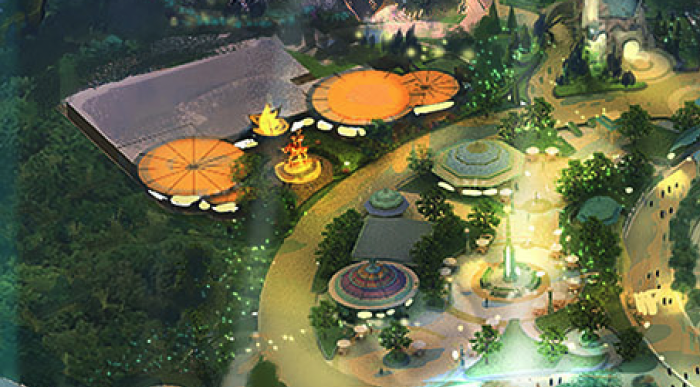 According to bioreconstruct photos, this could be a large quick-service restaurant facing the center of the park.

 

You'll see a MASSIVE fountain if you continue walking from there and look to the right of the concept art. It has what appears to be stadium-like seating, with rows that go down toward the fountain, all around it. That would indicate that this could be home to some pretty spectacular shows, particularly at night when the fountains could have some beautiful lighting effects.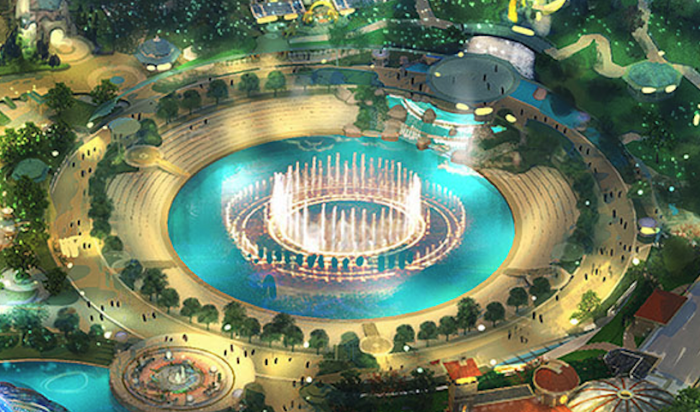 From this fountain space, we'll stick to the left and enter a NEW land.
Universal Classic Monsters (Rumor)
This next land is rumored to be a Universal Monsters land, and yeah, we totally get spooky vibes from this concept art! We could see Frankenstein or Dracula absolutely loving this space.
The land's main attraction will supposedly be a massive dark ride set in Frankenstein's Manor, which will allegedly feature many of the titular Universal Monsters, and utilize the Kuka Arm ride system popularized by Harry Potter and the Forbidden Journey.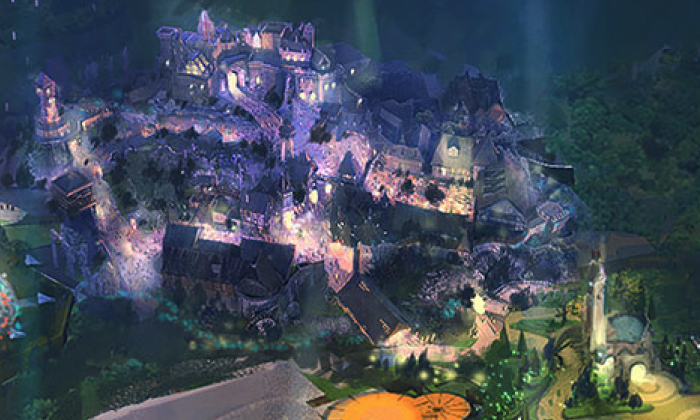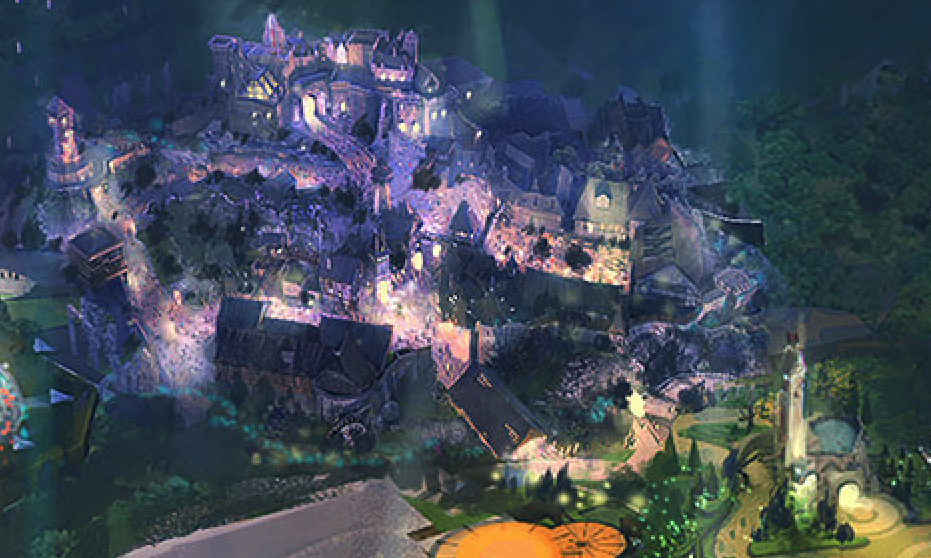 To the left of this space, there is what appears to be a LARGE arena. This could be really helpful given the concerts Universal Orlando sometimes holds for special events. But it could also be home to some kind of in-park show for regular park hours — perhaps themed to the classic monsters since it is right near that space. This also appears to be right on or near an access road.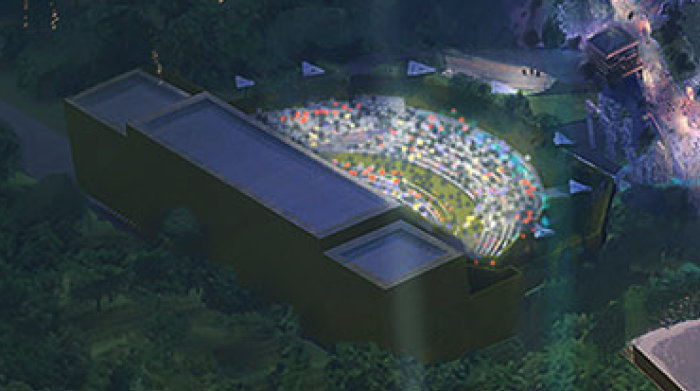 Now, let's leave the realm of monsters behind and continue our virtual park walk.
Hotel
If you continue to the right of the park you'll hit that large fountain, and behind it are several buildings/structures. One is a smaller building that has a bright red banner on the top.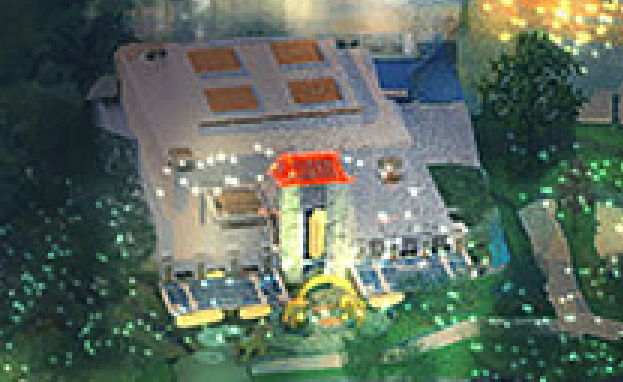 There's also a yellow sculpture or figure in the center.
And that leads to the LARGE hotel that would provide guests with in-park access. There appear to be access roads behind it, allowing individuals to drive up to the back, park their cars, and then head inside the hotel and go from there directly into the park.
The hotel rooms would provide some truly spectacular views of the park itself and any entertainment that might be organized at that large fountain.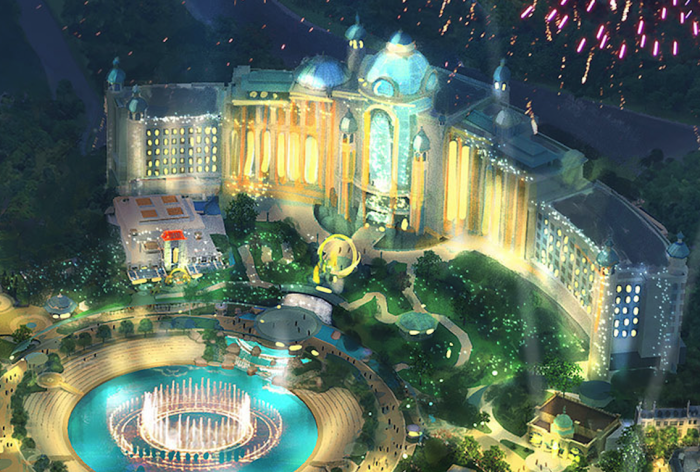 Trademarks have been filed for names of the coming hotels:
Universal Helios Grand Hotel
Universal Stella Nova Resort
Universal Terra Luna Resort
One of these is likely to be the one practically built inside the Epic Universe park!
Wizarding World of Harry Potter (Rumor)
From there, you can take a path around the fountain, past the hotel, and over to what is rumored to be a new Harry Potter land featuring the Ministry of Magic (and perhaps themed more to the Fantastic Beasts and Where to Find Them part of the franchise).
You first encounter a building outside the main entrance to the land.
Then, you step further into the land and walk past what looks like older buildings — perhaps set somewhere in Europe or from some other big city? You can see these buildings lining part of a street, which then spills into another street, running perpendicular with some greenery at the end and more buildings all around. Some have theorized that the large building more toward the back could be a Harry Potter ride with guests entering through the Ministry of Magic.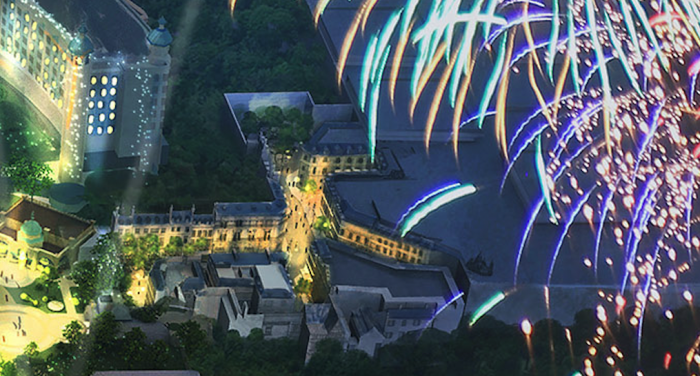 The focal point of the land — and arguably the most anticipated attraction rumored for the park — is to be a massive dark ride that will take guests through the Ministry of Magic, including encounters with the villainous Dolores Umbridge and numerous animatronic creatures from the series. Allegedly, the ride will use an updated version of the SCOOP ride vehicle used on The Amazing Adventures of Spider-Man and Transformers attractions. 
More General Spaces
After the rumored Harry Potter land, a path leading down to the right appears to pass more large structures. These could be restaurants, shops, or other general buildings.
Across the path, to the right of these buildings, is a building that gives us planetarium vibes. It has a circular design on top and some unique design elements.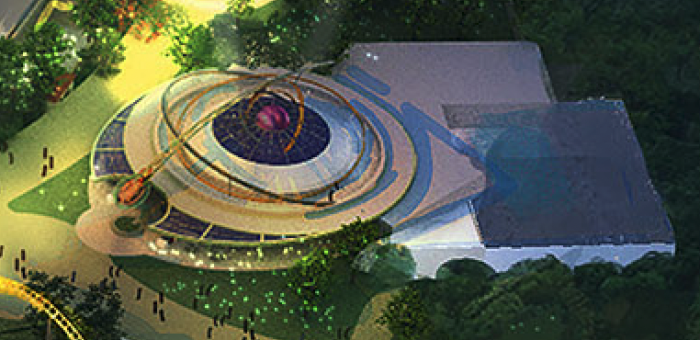 From there, we get to our last land and a potential stand-alone ride.
Roller Coaster
Next, we get to a dueling roller coaster that could be a separate ride, totally unrelated to the rumored How to Train Your Dragon land below it.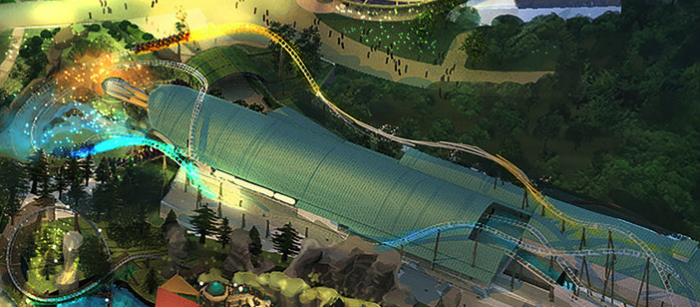 The roller coaster has two sides (much like the old Dueling Dragons), with a yellow/red side going one way and a more blue path going another way. The roller coaster appears to make some elaborate turns and more paths that then go near the rumored How to Train Your Dragon land and over some more tree-filled areas.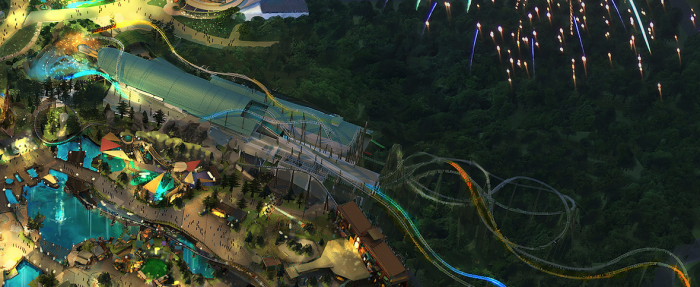 How to Train Your Dragon (Rumored)
Then we get to what is rumored to be a How to Train Your Dragon-themed land. It looks like the entrance is just to the side of that big coaster, and guests walk under a themed area and into the space, with water all around.
There are a bunch of smaller areas within this space. One area has some colorful awnings around it and could be the entrance to a smaller coaster or ride that circles around part of the land (you can sort-of see the track for this in various parts of this lower concept art design).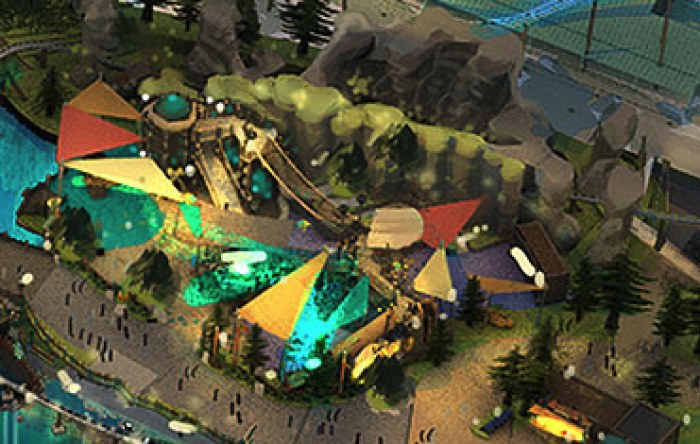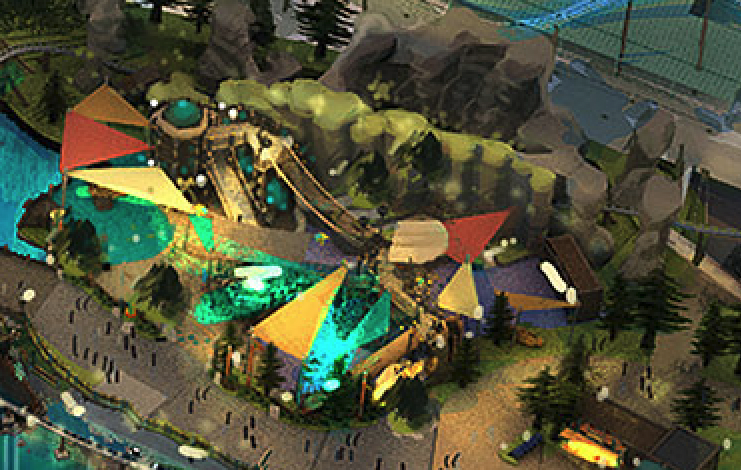 From there, you head down a path to what appears to be more of an entertainment stage or space. Or it could potentially be a restaurant or some other more interior space.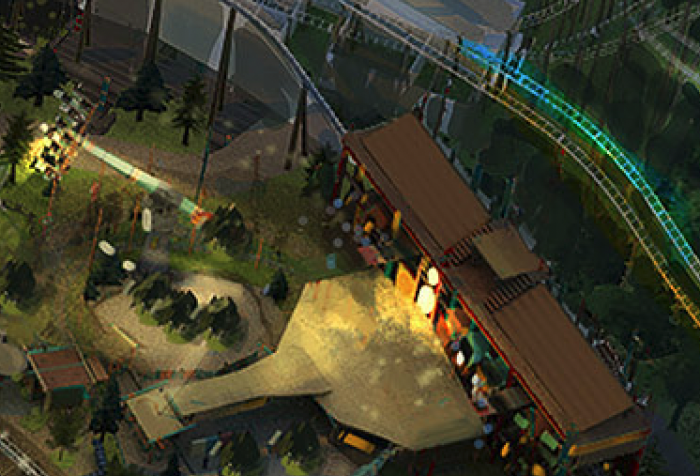 More areas along the bottom of the concept art seem to show smaller buildings/spaces guests can enjoy — possibly restaurants or shops.

Then you move past a water feature, and over to the left, there's a central space that is more open. Perhaps this could be more of an entertainment-based space or just a space for families to sit back as kiddos run around.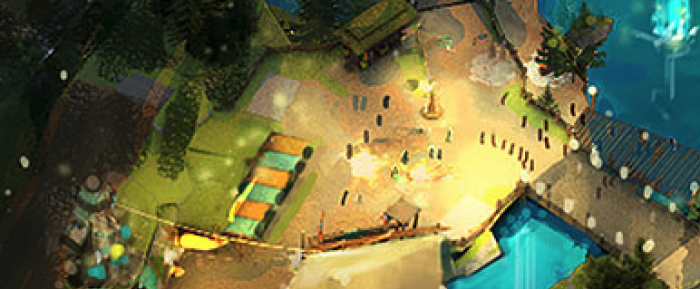 The Great Hall is expected to be built in this space, putting fans within the film. We end our loop around the park by exiting the How to Train Your Dragon land and finding another building of some kind. It appears to face the water.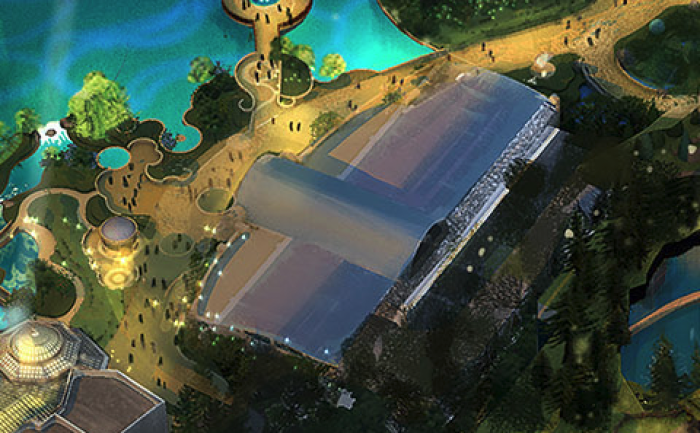 And that's a current look at the Epic Universe concept art and construction!
TOURING TIPS
As we learn more about the coming Epic Universe, we'll update this section, so keep checking back for all our tips and Universal Park news!
SHOPPING
As we learn more about the coming Epic Universe, we'll update this section, so keep checking back for all our tips and Universal Park news!
DINING
As we learn more about the coming Epic Universe, we'll update this section, so keep checking back for all our tips and Universal Park news!
KIDS AND CHARACTERS
As we learn more about the coming Epic Universe, we'll update this section, so keep checking back for all our tips and Universal Park news!
INTERESTING FACTS
As we learn more about the coming Epic Universe, we'll update this section, so keep checking back for all our tips and Universal Park news!
There's a lot under construction here that has yet to be confirmed and a lot to look forward to.
https://www.youtube.com/watch?v=6XOdAoLkCok