Accommodations In and Around Walt Disney World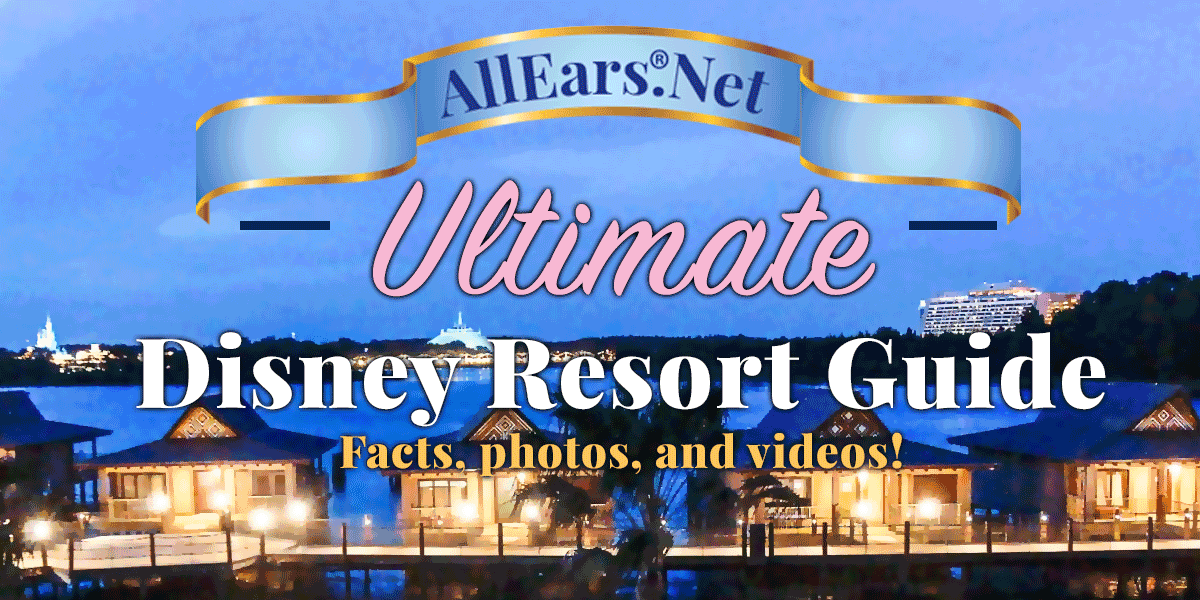 A Walt Disney World resort hotel can almost be as much fun to visit as one of the theme parks! Each resort has its own theme and the details are carried out to near perfection. But with 20 or so WDW resorts to choose from, not to mention all the off-site hotels and vacation homes, which resort is the best one for you?
Disney resorts are divided into price categories with amenity levels to match. Each of the WDW resorts is examined in more detail in its own fact sheet, as well as in a selection of interior and exterior photos, but the resorts are broken into:
Value Resorts | Moderate Resorts | Deluxe Resorts |
Disney Vacation Club Resorts | Pet-Friendly Resorts |
Off-Site Accommodations | Vacation Homes
Fact Sheets for each of the hotels are presented here as a guide to help you decide where to stay during your Walt Disney World vacation. Information includes types of accommodations, current room rates, amenities included, and contact information. The column on the left of this page lists each of the Walt Disney World resorts, plus a few that are on Disney property but operated by other companies. To see the Fact Sheet for a resort, just click on the appropriate link. We have also compiled guest comments on some resorts — you'll find the link to these under the resort names as well.
Each Fack Sheet has links to videos of both interior and exterior tours as well as pictures of rooms in various categories, as well as the pool areas and the grounds of each location.
Value Resorts: Amenities at value-priced resorts include food courts, pizza delivery, luggage service (hourly), swimming pools, bus transportation. All-Star Movies, All-Star Music, All-Star Sports, Pop Century and the Art of Animation resort. Family suites are available at All-Star Music and Art of Animation.
Moderate Resorts: Amenities at moderate-priced resorts include full-service restaurants, food courts, room service (limited), luggage service, swimming pools with a slide and hot tub, on-site recreation, bus or boat transportation. Caribbean Beach, Coronado Springs, Port Orleans Riverside, Port Orleans French Quarter and Ft. Wilderness Cabins.
Deluxe Resorts: Amenities include full-service restaurants, room service, luggage service, valet parking, swimming pools, beach access, on-site recreation, monorail, boat or bus transportation. Animal Kingdom Lodge, BoardWalk Inn, Contemporary, Grand Floridian, Polynesian Village, Wilderness Lodge, Yacht Club and Beach Club, and the Walt Disney World Swan and Dolphin. Coming in the future is an immersive Star Wars-themed resort.
Disney Vacation Club Resorts: Amenities at these resorts offer full-service restaurants, kitchen facilities, pizza delivery, luggage service, swimming pools, on-site recreation, front-door parking, flexible room arrangements, bus or boat transportation. Old Key West, BoardWalk Villas, Boulder Ridge Villas at Wilderness Lodge, Saratoga Springs Resort and Spa, Beach Club Villas, Animal Kingdom Villas, Kidani Village at the Animal Kingdom Lodge, Treehouse Villas at Saratoga Springs, the Villas at the Grand Floridian, Bay Lake Tower at the Contemporary Resort, Polynesian Village Resort Villas and Bungalows, and Copper Creek Villas and Cabins at the Wilderness Lodge. Disney Riviera Resort is slated to open in 2019!
As of October 15, 2017 Walt Disney World made four hotels pet-friendly: Disney's Yacht Club, Port Orleans Riverside, Art of Animation and Fort Wilderness Resort and Campground. Read our page on Pet-Friendly Hotel Rooms for more details.
Pets may also be boarded at the Best Friends Pet Care kennel across from Port Orleans Riverside.
AllEars.Net offers Reader Reviews on all Disney Resorts (and restaurants and tours, etc). Here are the favorite resorts of our readers in each category:
Featured Off-Site Accommodations: AllEars.net presents sponsored information on a number of other off-site accommodations, many of which often offer special rates (see below) to readers.
---
Walt Disney World Swan and Dolphin Resort — SPECIAL Rate code: ALL EARS offers a 5% discount off the best available rate, on any given day based on hotel availability. The code can only be used via telephone bookings. To make reservations for the Swan or Dolphin call: 888-828-8850.