AllEars® Newsletter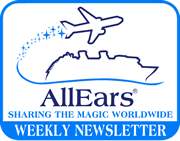 WELCOME TO THE HOME OF AllEars®, an unofficial electronic newsletter about The Walt Disney World Resort in Orlando, Florida, published weekly in conjunction with AllEars.Net.
Established September 1999
Library of Congress ISSN:1533-0753
AllEars® is delivered FREE each week to about 110,000 subscribers who share an interest in the Walt Disney World resort in Orlando, Florida. You should be one of them! Sign up today!
Each AllEars® newsletter is chock full of facts, helpful tips and, of course, the latest Walt Disney World news, as well as restaurant and resort reviews, previews, interviews, snippets of timely information and insightful, entertaining guest columns.
Once you've subscribed, don't forget to set your preferences to receive our special promotional mailing called EARS THE DEAL™. A few times each month, we'll send you a bonus email with money-saving offers and promotions for Walt Disney World and the Orlando area, exclusive to you, our AllEars® subscribers! (Click HERE for instructions on subscribing to Ears the Deal™!)
To get a taste of what AllEars® has to offer each and every week, click on the links below — these tidbits are from our August 2019 "WDW Bits and Bites" issue:
---
STEP BACK IN TIME
by Joan L. Feder
AllEars® Staff Writer
Join us on our monthly journey into the past as we explore the history of Walt Disney World and the Walt Disney Company. This time we take a closer look at Bay Lake Tower, which is about to celebrate its 10th anniversary.
From the very beginning in 1991, Disney Vacation Club members yearned for a property on the monorail line. For several years, the closest timeshares were The Villas at Disney's Wilderness Lodge. They opened in the Magic Kingdom resort area in 2000, but did not have access to the monorail.
In November 2006, there was a glimmer of hope, but no official confirmation. Disney filed construction plans to replace the North Garden Wing at the Contemporary Resort. In January 2007, the demolition began. Florida approved Disney's sale of timeshare units at the "Kingdom Tower at Disney's Contemporary Resort", in February 2007. By April 6, the Contemporary's North Garden Wing was just a memory. But it was not until September 16, 2008, that Disney finally announced what they were building. It was a freestanding DVC property that would share the theme and feel of the nearby Contemporary. By then, the project had a new name: Bay Lake Tower at Disney's Contemporary Resort. The sales of timeshares began later that same month.
Bay Lake Tower opened its doors on August 4, 2009. It was the ninth DVC location, and the seventh at Walt Disney World. Standing 16 stories high, it contains 295 units ranging from studios to two-story, three-bedroom Grand Villas. A walkway connects the fourth floor of the Contemporary to the fifth floor of the Tower. This gives guests easy access to all the features of the Contemporary Resort. However, only those staying at Bay Lake Tower have access to its amenities. These private facilities include a separate check-in area, the Bay Cove Pool with its water slide, and a community hall.
Guests do not have to be part of the Disney Vacation Club to stay at Bay Lake Tower, but one of its biggest perks is only available to members. The Top of the World Lounge has a spectacular view of the Magic Kingdom's fireworks. Members and their guests can get access by checking in at a special desk in the lobby, and then taking the dedicated elevator to the lounge. The Top of the World Lounge is ordinarily open to all DVC members staying at any Disney owned and operated hotel. There are several blackout dates during the busiest times of year, however, when only DVC members staying at Bay Lake Tower are admitted.
Reservations can be made for Bay Lake Tower just like any other Disney resort. Whether you use DVC points or cash, there is one benefit of staying at Bay Lake Tower that everyone can enjoy, and that is its LOCATION. The Magic Kingdom is just a short walk or monorail ride away. You could not get any closer unless you were staying in Cinderella Castle!
RELATED LINKS

Reader Reviews of Bay Lake Tower
---
MAGICAL MOMENTS
Each month, we like to share a few heart-warming Magical Moments brought to us by the amazing Disney cast members!
From: Carla N.: We recently had a magical moment while visiting Saratoga Springs. We were in the process of switching resorts one morning (which has never gone smoothly for us), when we called for Bell Services. While Mark, from Bell Services, was in the process of getting our luggage loaded, he happened to ask what our plans were for the day. When we told him we were switching over to Old Key West and were going to the main building to hail an Uber, he said, "Would you like me to just take you over there now (in his cart), if you don't mind taking a scenic route?" We spent a lovely 10 minutes or so on a path we had never been on before, chatting and talking Disney with him. What a wonderful magical moment and what superb customer service. Thank you, Mark!
Melissa D.: My family visited Walt Disney World last month to celebrate my being in remission for Stage 4 ovarian cancer, along with my granddaughter's first visit to the World and we had several magical moments. I was given a "Celebrate" button that they wrote "Cancer Remission" on, so I received a lot of congratulatory comments during our trip. Several times I would go to purchase a bottle of water or an ice cream bar and the cast member would simply say, "This one's on Mickey!" My granddaughter even received a stuffed Dumbo from a cast member while we were just browsing through a shop. She is only 19 months old and she was overjoyed! Disney sure made our special trip extra magical!
-=-=-=-=-=–=-=-=-=-=-=-=-=-=-=
We just bet you have a story to tell about an unforgettable moment during your Disney vacation! Please send your favorite memory for inclusion in a future AllEars® to our Contact Us page.
Thank you all for sharing!
---
ARCHIVES
Feature Archives
Missed the last issue of AllEars®? Or just want to re-read that feature on cruises again? You'll find a listing of past AllEars® newsletter features here.
Tips Archives
We have a searchable database of all the tips that appear in our newsletters. Take a look at the archive of our helpful ideas here!

If you want to receive the rest of the AllEars® news and other juicy bits of timely WDW information, you must be a subscriber! Why not sign up now?
---
Copyright – Disclaimer – Reprint – Contact
©1999-2019, All Rights Reserved. AllEarsNet LLC.
AllEarsNet LLC owns and operates AllEars.Net (allears.net), the AllEars® weekly newsletter and its promotional newsletter Ears the Deal™. AllEars.Net, AllEars® and Ears the Deal™ are not affiliated with, authorized or endorsed by, or in any way officially connected with, The Walt Disney Company, Disney Enterprises, Inc., or any of their affiliates. For official Disney information, visit http://www.disney.com

For prompt replies to questions or comments about this newsletter or info that appears on AllEars.Net, send a query using our feedback form.
NOTE: No parts of this newsletter may be reprinted without prior written permission from AllEarsNet LLC and AllEars.Net.
Advertisements appearing in AllEars® are paid advertisements and are not meant as an endorsement by AllEarsNet LLC, AllEars® or AllEars.Net.
---
READER FEEDBACK
We are nothing without our readers! Please drop us a line and let us know what you're thinking! We can't wait to hear from you. Use our handy Feedback Form to reach us. See what others are saying about us here!
Want to write for us? Please take a minute to read our Writer's Guidelines!