Walt Disney World Dining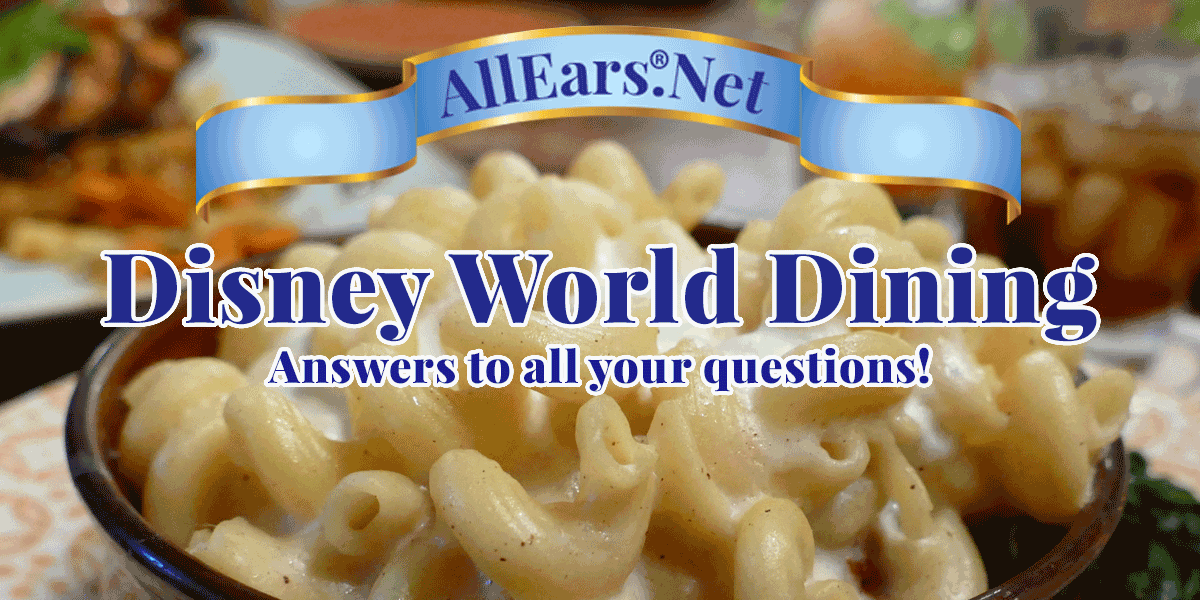 Dining at Walt Disney World can be an experience in and of itself. From pot roast to pot luck, from luxurious fine dining to eating on the fly — Walt Disney World has it all. Feeling exotic? The African/Indian restaurant Sanaa at the Animal Kingdom Lodge might be to your tastes, or maybe you'd like the Middle Eastern experience at Marrakesh in Epcot's Morocco pavilion. How about something tasty and healthy? Head over to the Wave at the Contemporary!
Need to treat someone special to a fancy "event"? That's what the Grand Floridian resort's Victoria and Albert's is for. Want some good, old-fashioned home cooking? Try the fried chicken or pot roast at the '50s Prime Time Cafe at Disney's Hollywood Studios. In a hurry? Then grab a burger at the Backlot Express or a grilled cheese at Beaches and Cream. All the ins and outs of Disney dining can be found here! We even have an assortment of your favorite Walt Disney World restaurant recipes!

WHAT'S ON THE MENU?
One of the best ways to tell if the restaurant is right for you is to take a look at the menu. Luckily, AllEars.Net has current menus with the prices, from almost every eating establishment on Disney property to help you make your decisions. All of the major sit-down restaurants are represented, as well as most counter service and snack spots.
WHAT KIND OF RESTAURANT IS IT?
Want to know a little bit more than just what's on the menu? You can find restaurant reviews that include tips and ideas for making your Disney dining experiences memorable. You'll also find photos of the locations' interiors and exteriors, so you can get a feel for the place's ambience. And, even though nearly every place at WDW loves children, we also offer advice on spots that are especially kid-friendly.
DO I NEED ADVANCE DINING RESERVATIONS? In a word, YES! At one time you only needed reservations for busy/peak seasons, but that is no longer true. With the Disney Dining Plan, it has become very difficult to get walk-up or even same-day reservations at the majority of the restaurants (especially in the theme parks).
For table service restaurants, Walt Disney World offers Advance Reservations. You are told to check in at the restaurant's podium at least 5-10 minutes prior to your seating time, and will receive the next available table for your party size. To find out more about Advance Reservations, read the FAQ. Make your Advance Reservations for Disney restaurants by calling 407-WDW-DINE (939-3463) 180 days in advance. Disney's Central Reservation Office, or CRO (407-W-DISNEY), can also make your Advance Reservations, as can Lobby Concierge at your Disney hotel. Phone lines open at 7 a.m. Eastern time. (Swan and Dolphin Restaurant reservations can also be made through WDW's Dining number at 407-WDW-DINE.)
NOTE:
All Disney Restaurants are nonsmoking.
Other Disney restaurants and special dining events require reservations that must be guaranteed with a credit card. For more details, refer to the Advance Reservations FAQ.
WHAT IS THE DISNEY DINING PLAN?
Many restaurants now participate in the Disney Dining Plan, which is part of a vacation package offered by Walt Disney World. Periodically this is offered as a "Free" add-on during off-peak times. For a detailed explanation of the program, and a list of the restaurants that participate, visit our Magic Your Way Dining Plan page. Read what others say about the Disney Dining Plan.
WHAT DOES THIS SYMBOL 

(DISNEY CHECK) MEAN WHEN I SEE IT ON A MENU?
The Disney Check symbol is found next to items for children on a menu to indicate meals that meet Disney Nutrition Guidelines. Kids' menu items that meet Disney Nutrition Guidelines will feature the Disney Check icon positioned directly before the kids' meal on the menu. An information card is available at all food and beverage locations that feature the Disney Check on their menu. Guests can request an information card at the food and beverage location, and cast members who have access to a printer can print a reference sheet. You can find more information about the Disney Check and Disney Nutrition Guidelines online at www.disneymickeycheck.com
WHERE ARE THE CHARACTERS?
Children (and adults!) love dining with the Disney characters. We highly
recommend Advance Reservations for character meals to avoid disappointment.
To find out where Mickey makes an appearance, and where the rest of
your favorite characters are, refer to these pages:
CAN MY KIDS EAT FOR FREE?
Walt Disney World Resort Restaurants consider a child to be ages 3-9. Most restaurants have a separate children's menu with selections geared to children's tastes. Most children's meals are priced under $8, although some restaurants may have higher-priced offerings.
At table service restaurants, there is no charge for children under 3 who share from an adult's plate. However, if you order from a menu for a children under 3, you will be charged the menu price.
At buffet and "all-you-care-to-eat" restaurants, there is also no charge for children under 3 who share from an adult's plate. However, if you order from a separate children's or ala carte menu for a child under 3 (rather than eating from the buffet or all-you-care-to-eat offerings), you will be charged the price reflected on the menu.
At counter service restaurants, you will be charged the menu price if you order a meal for a child under 3.
NOTE:
When making your Advance Reservations, be sure to include all children
in your count of members of your party, even if they will be seated
in a highchair.
ARE THERE SPECIAL DINNERS OR DINING EVENTS?
Whether you want a fun-filled evening of hootin' and hollerin' or anexotic Polynesian luau, WDW offers several different dining experiences.
Check out some of these pages:
WHAT
IF I HAVE SPECIAL DIETARY CONSIDERATIONS?
When you make your Advance Dining Reservations be sure to indicate what special dietary needs you have. Read up on a variety of ways that your special needs can be met at Walt Disney World. We also have a range of guest comments as well as suggestions by noted vegetarian authors:
CAN I GET ANY DISCOUNTS? There aren't many, but there are a few programs or memberships that can save you a few dollars when you're dining at Walt Disney World:
WHAT IF I FORGOT TO ASK FOR THE RECIPE?
You just had the most wonderful meal at your favorite Walt Disney World restaurant… but you forgot to ask how to make it! Check our recipe section to see if we've picked up that special recipe for you!