Starting Monday, October 5, you can see the Magic Kingdom's Wishes fireworks in a whole new way — on Ferrytale Wishes: A Fireworks Dessert Cruise.
The cruise, which sets sail from the Transportation and Ticket Center ferry dock, is on the General Joe Potter ferry, and makes a circuit around the Seven Seas Lagoon while guests nosh on an assortment of sweets treats. The cruise comes to a halt in front of the Magic Kingdom, affording a perfect view of the Wishes fireworks, then returns to the dock.
I had the opportunity to take this new cruise last week in advance of its official start date, so I thought I'd share some photos and video.
As I said, the cruise starts at the Ferry Dock at the Transportation and Ticket Center, where you check in with a Disney cast member.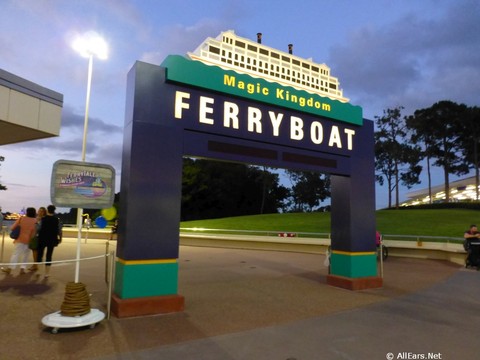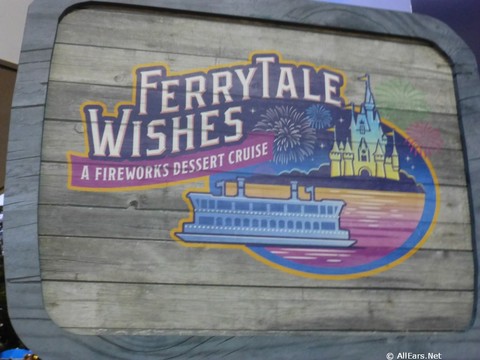 Your boarding time varies according to when Wishes will be performed that night. The evening of my cruise, Wishes was going to start at 9 p.m. We had to check in at 7:45 for an 8 p.m. sail time. For 10 p.m. Wishes, everything shifts an hour later.
After checking in, you're welcomed with a glass of sparkling cider or champagne in a glowing plastic flute.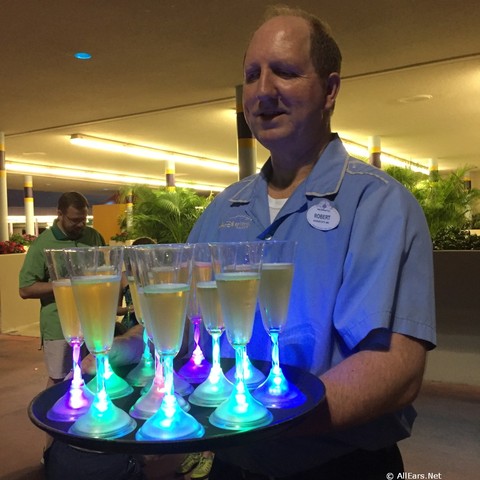 About an hour before the fireworks, you board the General Joe Potter, named for the Disney legend who developed the canals and underground utilities that made the operation of Walt Disney World possible. There are only about 150 guests sailing with you, so boarding wasn't rushed, nor was there a crush of people — a nice change after a day in the crowded theme parks.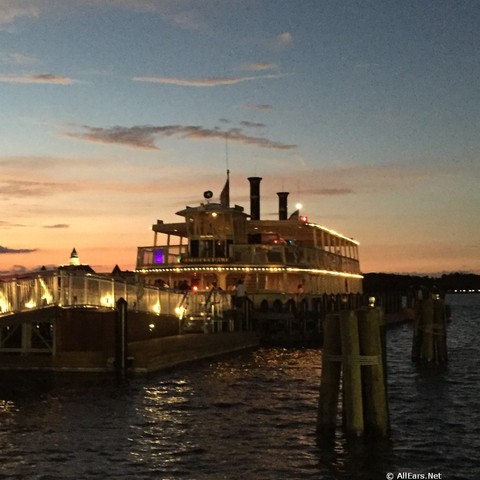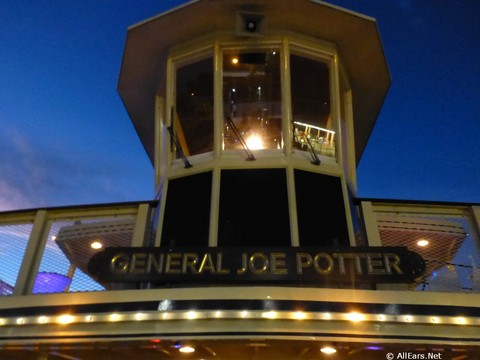 As you board you're given a menu and a souvenir plate that's notched to hold your beverage, which definitely comes in handy. Beverage stations along the walls are stocked with coffee, ice water and soft drinks, while at the far end are stations with alcoholic beverages: beer, wine, and two versions of a spiked pink lemonade, one with prosecco, the other with vodka.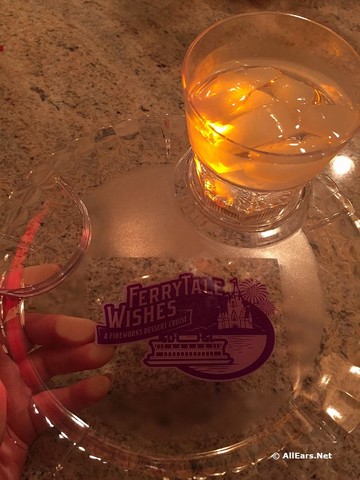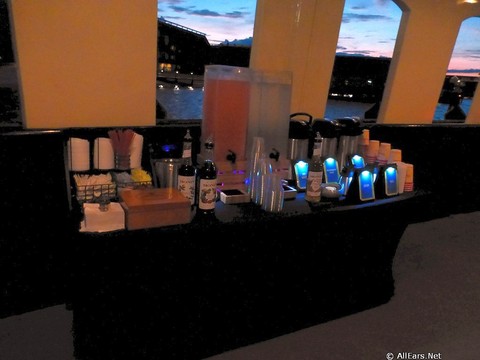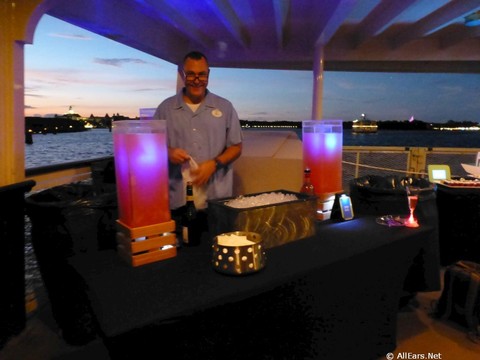 Both high and low cocktail tables are scattered around the lower deck, the latter to accommodate children and guests in wheelchairs or ECVs. There is also a table with some desserts, and even more can be found on the upper deck.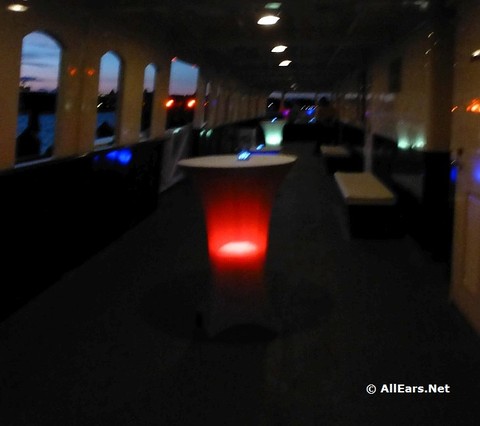 Tables are loaded with desserts made by and themed to the resorts and theme park that encircle your cruise route. They're a departure from the usual Disney dessert party fare, showing a bit of whimsy and imagination. You have:
"The Grand" Key Lime Tart from the Grand Floridian…
Contemporary "Traditional with a Twist" Spiced Flourless Chocolate Cake…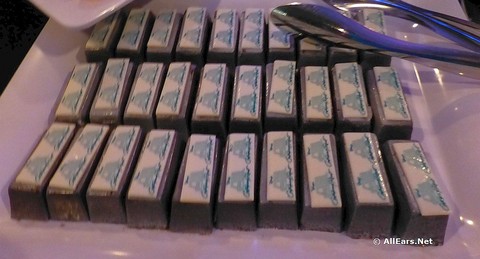 Polynesian De-constructed Pineapple Upside Down Cake (that's it in the middle; sorry, didn't get a photo of it on its own)…
"Main Street" Mickey Balloon Tarts in a variety of flavors…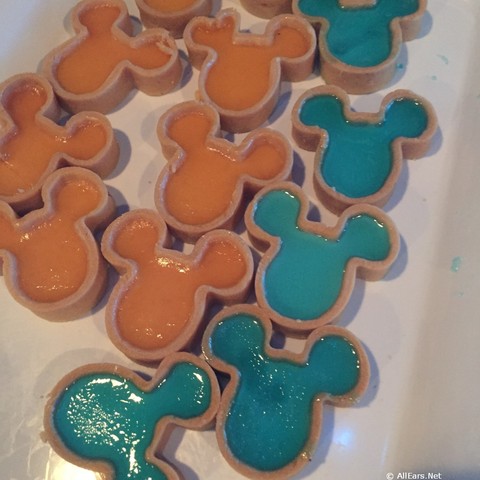 Mini "Firework" Cupcakes with a Pop…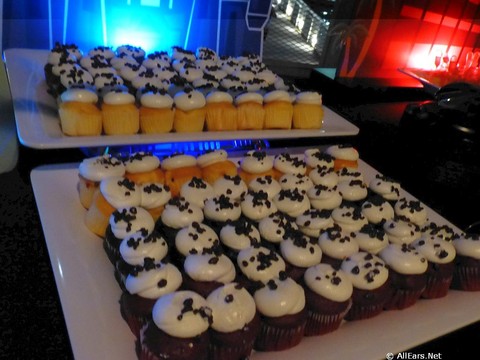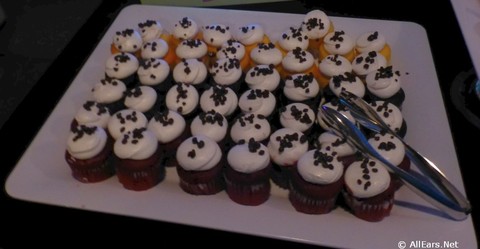 No Sugar Added Florida Mango Panna Cotta…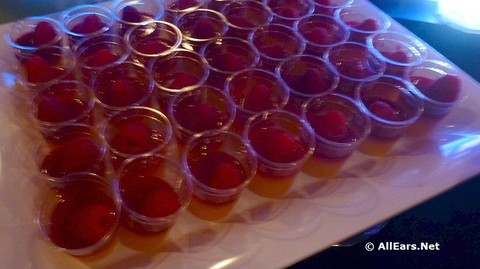 and the showstopper — at least it was to me: Cinderella's Sugar Slipper with Orange Financier (which is a …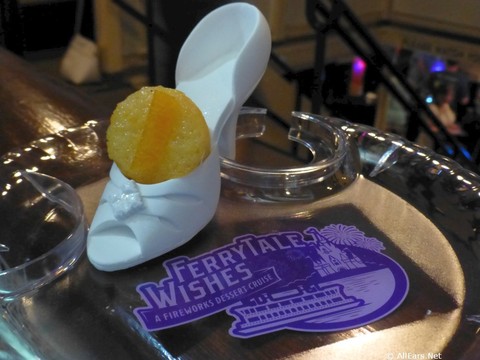 How beautiful are those slippers? I wanted to try one on, they were so perfect. They are pure sugar, though, so while you COULD eat them, you really wouldn't want to. Such a shame.
A nice inclusion on the buffet is the Fruit, Cheese and Cracker spread, for those who may prefer a little less sugar that late at night…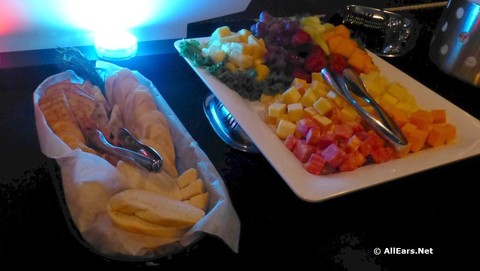 The ferry slowly cruises past the Magic Kingdom resorts for about an hour, allowing you plenty of time to take in the beauty of the illuminated grounds while sampling all the sweets. Trays are replenished frequently — in fact, I never saw a tray less than half-full at any point during the evening. Periodically cast members circulate with other treats, such as Mickey bars and ice cream sandwiches. There's definitely no skimping and no shortage of treats on offer.
Shortly before fireworks time, the boat "weighs anchor" at the Magic Kingdom, so that you're positioned right in front of Cinderella Castle. (We noticed that we were also right in front of the new bungalows at the Polynesian Village Resort — probably obscuring the view of the guests in those rooms.) As the show begins, I realized that the music and voices I was hearing were not coming from the park, but were being piped in via the boat's sound system so that we could hear everything perfectly.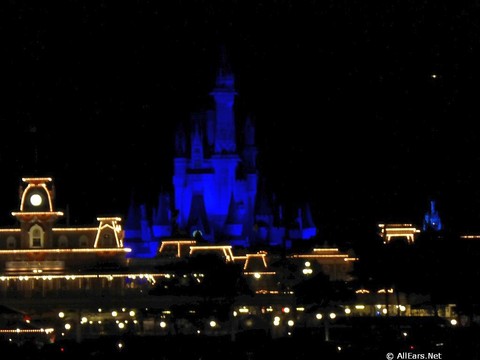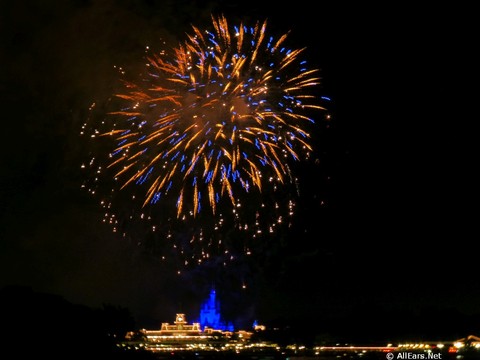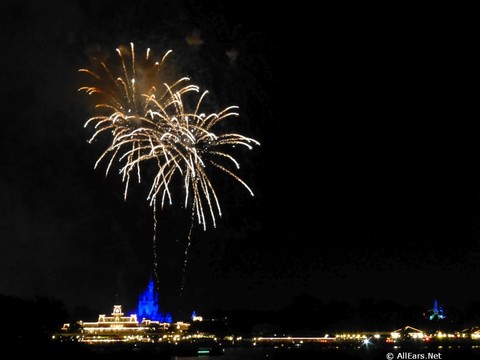 Once the fireworks conclude, the ferry makes a fairly speedy return to the dock. I didn't check my watch, but others said we were back at the TTC by a little after 9:30 p.m.
As you disembark, cast members offer a tart but refreshing frozen Olaf strawberry-lemonade ice pop. Certainly made me pucker, but was a nice way to cleanse the palate after all that sugar!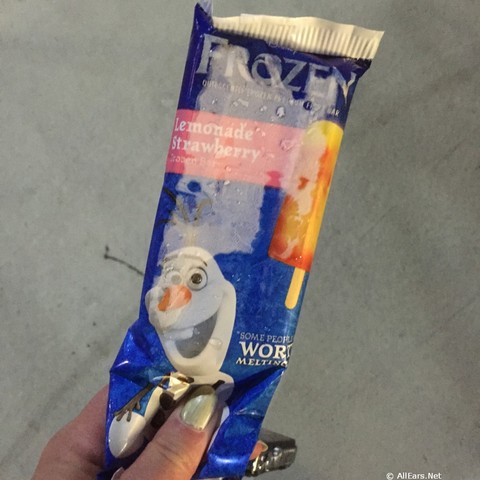 The price for the cruise is $99 for adults, $69 for ages 3 to 9, including tax and gratuity. While the desserts and beverages are plentiful, I have to say I think that is a little steep, especially for children who probably shouldn't be eating $70 worth of sugary snacks right before bedtime. Having said that, though, it is a fairly exclusive event — a limited number of guests, unlimited desserts and beverages (even alcoholic ones), and a terrific view of one of the best fireworks displays I've ever seen. As an added bonus, a cast member told me that on nights when Wishes is performed at 10 p.m., you'll also get to see the Electric Water Pageant as it makes its way around the lagoon. (We noticed it waiting to set off as we were pulling into the TTC dock.) The cruise could be a nice splurge for a birthday or anniversary, for example, or an ideal new thing-to-do for the frequent Disney-goer who has done it all before.
To give you a little more insight to the cruise, here's a video with highlights from the evening:
A few practical notes: As I mentioned earlier, the ferry can accommodate those in wheelchairs and ECVs, but only on the lower deck — there are only stairs to the upper deck. There are, however, low cocktail tables available, and cast members are more than happy to assist with whatever is needed. Also, some of you regular ferryboat riders might be thinking, "Hey! There are no restrooms on board! That's not good." Rest easy: The General Joe Potter now has two restrooms to accommodate guests.
If you're interested the Ferryboat Wishes dessert cruise, you can make reservations by visiting DisneyWorld.com/DINE or by calling 407-WDW-DINE.
(Author's Note: I was an invited media guest of Walt Disney World on this dessert cruise, but this did not affect my review. My opinions are my own.)