Epcot International Festival of the Holidays Holiday Kitchens
Celebrate holidays around the world through the beloved culinary traditions of different nations.
With a lucky 13 Holiday Kitchens plus additional locations throughout the park, there are festive dishes., treats, sweets, and drinks around every corner.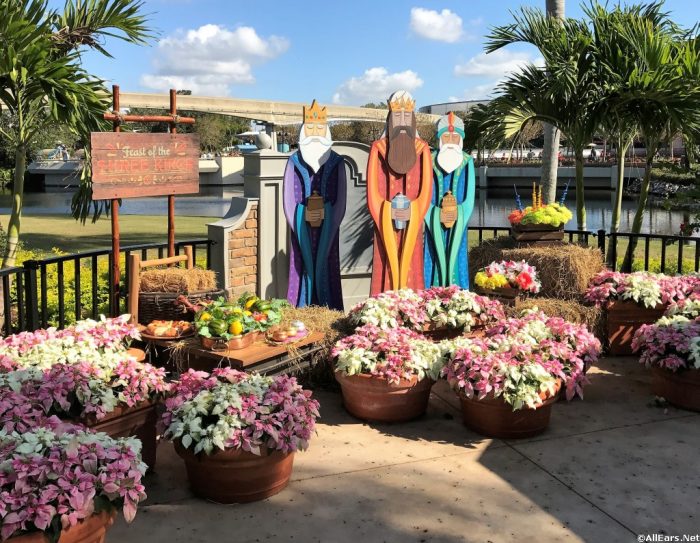 Most Marketplace food items will be one snack credit on the Disney Dining Plan.
Most kitchens offer bottled water in addition to their drink menus below. 


Bavaria Holiday Kitchen (Germany)
Food Items:
Potato Dumpling with Mushroom Sauce (kid-approved)
Pork Schnitzel with Mushroom Sauce and Spaetzle
Cheese Fondue in a Bread Bowl with Fresh Steamed Baby Vegetables and Marble Potatoes (kid-approved)
Black Forest Roulade with Cherry Whipped Cream
Linzer Cookie
Select dishes feature Melissa's Produce.
Beverages:
Possmann Pure Hard Apple Cider, Frankfurt, Germany
Possmann Pure Hard Black Currant Apple Cider, Frankfurt, Germany
Schöfferhofer Pomegranate Hefeweizen, Frankfurt, Germany
Regional Riesling
Glühwein: House-made Hot Spiced Wine
Cider Flight also available

Prost!
M.I.A. Beer Company White Christmas IPA, Doral, FL
3 Daughters Brewing 70 Degree Winter Weizen, St. Petersburg, FL
Shipyard Candy Cane Coffee Porter, Clearwater, FL
Anchor Brewing Christmas Ale, San Francisco, CA
Barrel of Monks Brewing Figgy Terno Boca Raton, FL
Castle Church Brewing Here I Stand Stout, Orlando, FL
Beer Flights also available

American Holiday Table
Food Items:
Slow-Roasted Turkey with Stuffing, Mashed Potatoes, Green Beans and Cranberry Sauce (kid-approved)
Hand-carved Smoked Ham with Green Beans and Sweet Potato Casserole (gluten-friendly and kid-approved)
Chocolate Pecan Tart with Whipped Cream and Whisky-caramel Sauce (vegetarian)
Gingerbread Cookie
Beverages:
Hot Cocoa (non-alcoholic) (kid-approved)
81Bay Brewing Company Cinnamon Cranberry Orange Wheat Ale, Tampa, FL
Shipyard Eggnog White Porter, Clearwater, FL
Playalinda Brewing Co. Peppermint Chocolate Porter, Titusville, FL
Cocoa Candy Cane: Hot Cocoa with Peppermint Schnapps
Holiday Beer Flight also available

Yukon Holiday Kitchen (Canada)
Food Items:
Seared Verlasso® Salmon with Crown Maple Whisky Glaze, Parsnip Silk, Apple Chutney and Hazelnut Croquant
Canadian Wild Rice and Ham Soup with Almonds served with a Pretzel Roll
Maple Bûche de Noël: Maple Mousse rolled in Gingerbread Chiffon Cake with Cranberry Sauce and Pecan Crumble (kid-approved)
Peppermint Pinwheel Cookie
Beverages:
Frozen Coffee (non-alcoholic)
Unibroue Éphémère Cassis
Inniskillin Riesling Icewine
Inniskillin Pearl Vidal Icewine
Inniskillin Gold Oak Icewine
Frozen Coffee with Tap 357 Whisky
Icewine Flight also available

Feast of the Three Kings (Caribbean)
Food Items:
Pastelón: Sofrito-marinated Beef with Sweet Plantains and Olives (gluten-friendly)
Queso Fresco-stuffed Arepa topped with Shrimp, Crushed Avocado Aji and Tomato Sauce (gluten-friendly)
Arepas topped with Melted Queso Fresco (gluten-friendly and kid-approved)
Tres Leches Rice Pudding with Pumpkin Seeds (gluten-friendly)
Chocolate Crinkle Cookie
Beverages:
Coquito: Tropical Eggnog (non-alcoholic) (kid-approved)
M.I.A. Beer Company Tres Reyes Mango Golden
Coquito: Tropical Eggnog with a Bacardi Gold Dark Rum Floater

Holiday Sweets & Treats
Food Items:
Peppermint Sundae: Chocolate Ice Cream, Whipped Cream and Peppermint Candy (gluten-friendly and kid-approved)
Beverages
Hot Cocoa (non-alcoholic) (kid-approved)
Chocolate Peppermint Shake Featuring Twinings® Peppermint Cheer Tea (non-alcoholic)
Shipyard Eggnog White Porter, Clearwater, FL
Hot Cocoa with Assorted Cordials (Baileys Irish Cream, Frangelico Liqueur or Fireball Cinnamon Whisky)
Chocolate Peppermint Shake Featuring Twinings® Peppermint Cheer Tea and Whipped Cream Vodka

L'Chaim! Holiday Kitchen
Food Items:
Pastrami on Rye with House-made Pickles and Deli Mustard
Smoked Salmon Potato Latkes
Potato Latkes with Sour Cream (kid-approved)
Sufganiyot: Mini Jelly-filled Donuts
Black and White Cookie
Select dishes feature Melissa's Produce.
Beverages:
Egg Cream: Milk, Chocolate Syrup and Seltzer (non-alcoholic)
Shmaltz Brewing Company Chanukah Hanukkah Pass the Beer, Clifton Park, NY
Blue Cosmo Cocktail

Le Marché de Noël Holiday Kitchen (France)
Food Items:
Rillette de Saumon: Salmon Spread with House-made Bread
Bouchée à la Reine Traditionnelle: Turkey and Mushrooms in a Veloute Cream Sauce served in a Light Puff Pastry
Bûche de Noël au Chocolat "Christmas Log": Chocolate Cake with Dark Chocolate Caramel Ganache (kid-approved)
Beverage Items:
Sparkling Rose Veuve Dubarry Cuvée Prestige
Syrah, Grand Vallon, Charles Brotte
Kir Imperial: Sparkling Wine and Chambord Liqueur
Frozen Hot Chocolate Martini: Grey Goose Vanilla Vodka and Chocolate Milk

Sapphire Holiday Kitchen (Morocco)
Food Items:
Grilled Lamb Kefta Kebab and Grapes with Euro Cucumber, Red Pepper, Pickled Pearl Onions and Harissa-Cilantro Dressing
Confit of Chermoula Chicken Drum with Cinnamon Granny Smith Apple, Toasted Almonds, Brussels Sprouts and Pinot Noir Glaze
Sfenj: Warm Beignets, Cream with Cinnamon Sugar, and Chocolate Sauce
Beverage Items:
Casa Beer
Bonassia Red Wine
The Andalusian "Poinsettia" Cocktail: Sparkling Wine, Orange Liqueur and Cranberry Juice topped with Orange Blossom Water
Walnut Spiced Coffee with Walnut Liqueur and topped with Cinnamon and Whipped Cream

Tuscany Holiday Kitchen (Italy)
Food Items:
Bianca Neve: Italian Flatbread, Mozzarella and Parmesan (kid-approved)
La Genovese: Rustic Flatbread, Vidalia Onions, White Wine Braised Beef Tenderloin Tips and Mozzarella
Collezione Barilla: Pennette Pasta, Sweet Sausage, Caramelized Onions and Creamy Sauce (kid-approved)
Crespelle di Mele: Cinnamon Apple Fritters and a Vanilla Sauce Drizzle with Confectioners Sugar
Bacio al Cioccolato: Warm Hazelnut Chocolate Cake with Caramelized Berry Sauce
Panettone Mignon: Miniature Traditional Italian Christmas Fruitcake
Beverage Items
Peroni Nastro Azzurro Pilsner
Pinot Grigio, Santa Marina
Chianti, Gabbiano
Prosecco, Villa Sandi
Corbinello, Montegrande
Moscato Fior D'Arancio, Montegrande
Italian Margarita with Limoncello and Tequila

Shanghai Holiday Kitchen (China)
Food Items:
Pork and Vegetable Egg Rolls (kid-approved)
Mongolian Beef Bao Bun and a Fortune Cookie
Celebration Barbecue Pork with Steamed Rice and a Fortune Cookie
Chengdu Street Fries
Beverage Items:
Tsingtao Beer
Firework: Jose Cuervo Tequila Gold, Vodka, Mango Syrup, Orange Juice and Soda Water
Marco Boba: Amaretto, Iced Coffee, Milk and Boba
The Lucky Mo: Peach Schnapps, Peach Syrup, Orange Juice, Pineapple Juice and Coconut Milk

Shi Wasu Holiday Kitchen (Japan)
Food Items:
New Year Celebration Soba: Buckwheat Soba Noodles in Hot Dashi Soup with Kakiage (Vegetable Tempura) and Chopped Green Onion
Chirashi Sushi Tree: Sashimi-grade Tuna, Salmon, Ikura and Yellowtail with Vegetables decorated on a bed of Rice
Matcha Crème Brûlée: Creamy Green Tea Custard with a Caramelized Sugar Crust topped with Mochi, Red Bean Jam and Strawberry
Beverages:
Ichigo Milk Boba: Strawberry Cream Drink with Japanese Calpico and popping Strawberry Boba Pearls (non-alcoholic)
Sapporo Draft Beer
Tsubaki Whiskey Sour: Plum Wine with Whiskey, Cranberry Juice, Sugar and Lemon

Las Posadas Holiday Kitchen (Mexico)
Food Items:
Giant Tostada de Puerco: Braised Pork served on a Giant Tostada with Chipotle Black Bean Spread, Guajillo Sauce, Queso Fresco, Crema Mexicana, Pickled Onion and topped with Chicharron Dust (gluten-friendly)
Tamal de Pollo: Braised Chipotle Chicken served in a Corn Masa with Yellow Mole and topped with Toasted Pumpkin Seeds, Queso Cotija and Crema Mexicana (gluten-friendly and kid-approved)
Horchata Cheesecake: Creamy Rice Cheesecake served with Cajeta Sauce
Beverages:
Holiday Cider: Hard Apple Cider with Cinnamon-infused Tequila
Mexican Fruit Punch: Mezcal, Red Wine and Blackcurrant Liqueur infused with Star Anise, Cinnamon, Clove, Ginger and Orange Peel (served warm)
Horchata Margarita: Tequila, Horchata Rum, Cinnamon Whisky and Agua de Horchata, served on the rocks
In addition to the holiday kitchens, select food and beverage locations will feature seasonal treats.
More Culinary Delights
Les Halles Boulangerie-Patisserie
Bûche de Noël au Chocolat: Chocolate Christmas Log with Chocolate Orange Cream Mousse and Chocolate Crunch Biscuit (kid-approved)
Canada Popcorn Cart
Pecan Maple Bark with Maple Sugar
Fife & Drum Tavern
Holiday Apple Pie Sundae with Soft-serve Ice Cream, Caramel Sauce and Crunchy Streusel Topping (kid-approved)
Funnel Cake
Pumpkin Spice Funnel Cake
Joffrey's Coffee & Tea Company
Future World East: Choco-Latte: Latte with Chocolate Sauce and Baileys Irish Cream Liqueur
Canada: Ginger Chai Madness: Chai Latte with Baileys Irish Cream Liqueur and Gingerbread Syrup
Showcase Plaza: Coconut Snowstorm: Latte with RumChata and Coconut Syrup
The American Adventure: Toffee Coffee: Latte with Baileys Irish Cream Liqueur and Sea Salt Caramel Toffee Sauce
Kringla Bakeri Og Kafe
Traditional Holiday Rice Cream
L'Artisan des Glaces
Glace au Pain d'Epices: Gingerbread Ice Cream with Gingerbread Pieces (kid-approved)
Refreshment Outpost
Food Items:
Warm Caramel-Stuffed Salted Pretzel with Soft-Serve Ice Cream and Chocolate Sauce (kid-approved)
Beverage Items:
Shipyard Eggnog White Porter, Clearwater, FL
Refreshment Port
Food Items:
Turkey Poutine: Sweet Potato Fries with Turkey Gravy, Cranberry Relish and Crispy Onions
Beverage Items:
T.G. Lee Eggnog (non-alcoholic)
T.G. Lee Eggnog with Spiced Rum
The Tea Caddy
Twinings Iced Christmas Toddy: Twinings Iced Christmas Tea with Honey (non-alcoholic) (kid-approved)
Twinings Iced Christmas Toddy: Twinings Iced Christmas Tea with Honey and Drambuie
UK Beer Cart
Mulled Cider: Strongbow Hard Apple Cider, Twinings Orange and Cinnamon Herbal Tea, Pimms No. 1 and Apple Juice with Star Anise (served warm)