Candlelight Processional at EPCOT's Festival of the Holidays
What is the Candlelight Processional?
A Disney tradition in its 53rd year (2023), the Candlelight Processional is a moving presentation of the Christmas story in readings by a celebrity narrator and music by a mass choir and 50-piece orchestra.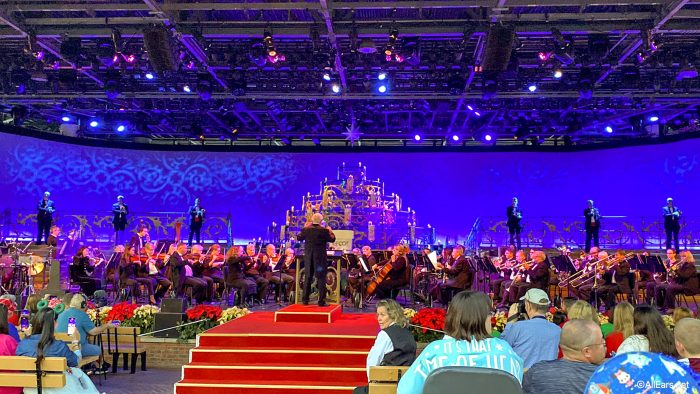 Where and when does it take place?
This event takes place in the America Gardens Theatre in World Showcase in EPCOT. It is an outdoor (uncovered) setting and is not canceled due to inclement weather. It is recommended you dress accordingly.
This year Candlelight Processional begins November 24th, 2023. Shows are approximately 40 minutes long. Each evening there are usually three shows — 5:15PM, 7:00PM, and 8:30PM.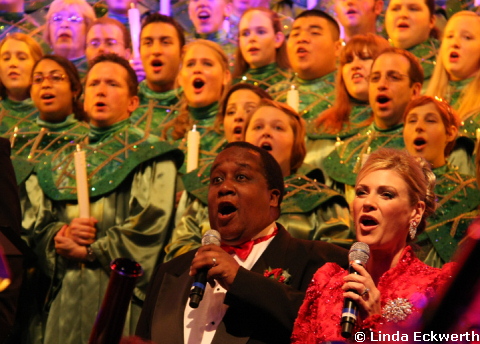 Who are the narrators?
The following is the list of narrators for 2023:
November 24th and 25th, 2023: Chrissy Metz *NEW
November 26th to 27th, 2023: Luis Fonsi *NEW
November 28th to 29th, 2023: Ann-Margaret *NEW
November 30th to December 2nd, 2023: Simu Liu
December 3rd to 5th, 2023: John Stamos
December 6th to 8th, 2023: Neil Patrick Harris
December 9th to 11th, 2023: Marlee Matlin
December 12th and 14th, 2023: Brendan Fraser *NEW
December 15th to 16th, 2023: Eva Longoria *NEW
December 17th and 18th, 2023: Joey McIntyre *NEW
December 19th to 20th, 2023: Sterling K. Brown *NEW
December 21st to 23rd, 2023: Jordan Fisher *NEW
December 24th and 26th, 2023: Steven Curtis Chapman
December 27th and 28th, 2023: Audra McDonald *NEW
December 29th and 30th, 2023: Lisa Ling
*Narrators and entertainment are subject to change without notice. EPCOT admission is required and not included in the dining package price.
Logistics
Candlelight Processional performances are included in your admission to EPCOT. There is, however, typically a dining package available for purchase that includes a ticket to Reserved Seating for the Candlelight Processional. You can also usually get a dining package at select restaurants on a first-come, first-serve basis on the day of your visit. That costs extra and is optional.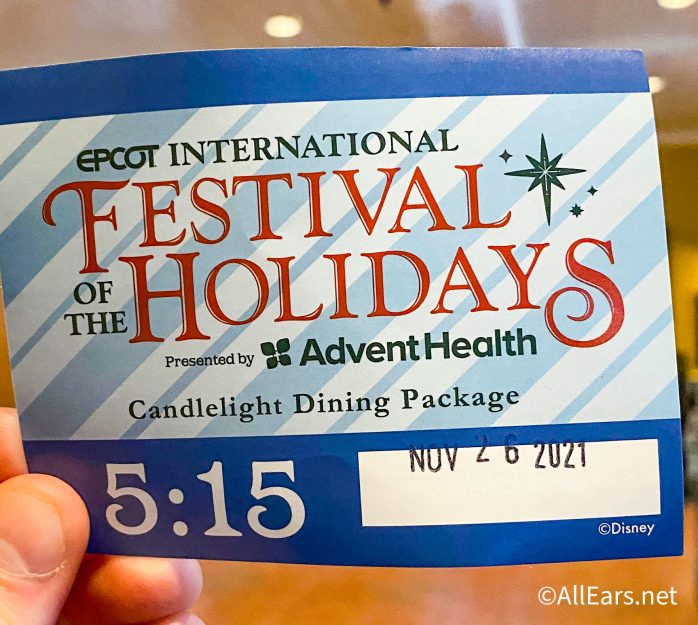 Seating without the dining package is on a first-come, first-serve basis for each show. Folks line up 45 minutes (longer as you get closer to Christmas) before showtime. Generally, fifteen minutes prior to the show, seating is then opened up to those in line. Also, keep in mind if you wait in line for the second or third show of the night, that you will be hearing the show before yours as it is performed.
You can always stroll by the America Gardens Theatre in the World Showcase to listen to the music and wonders of Christmas if you prefer not to wait in line or to sit for a full 40-minute show.
If you wish to purchase the dining package (explained below) with reserved seating, there is a charge.
Candlelight Processional Dining Package
Candlelight Dining Packages typically include lunch or dinner at a select EPCOT restaurant, plus guaranteed general seating at the America Gardens Theatre during the Candlelight Processional. Packages typically include a three-course meal (appetizer, entree, dessert, and non-alcoholic beverage) OR one full buffet, where applicable.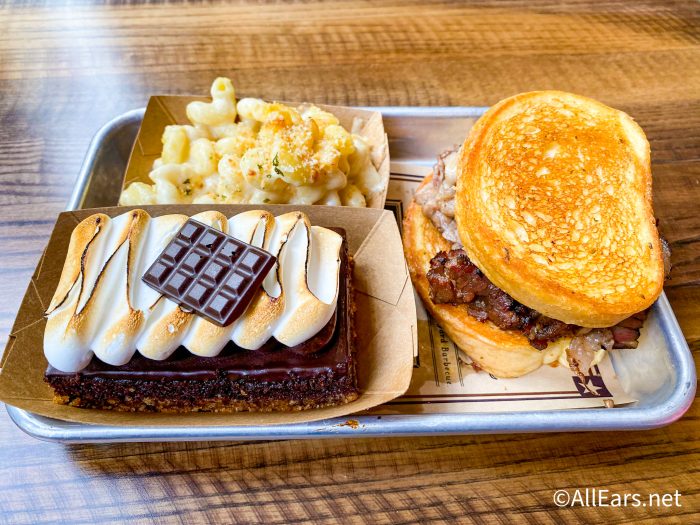 There are eight restaurants announced for Dining Packages in 2023.
In 2023, Advance Dining Reservations for Candlelight Processional Dining Packages can be booked online starting October 5th, 2023.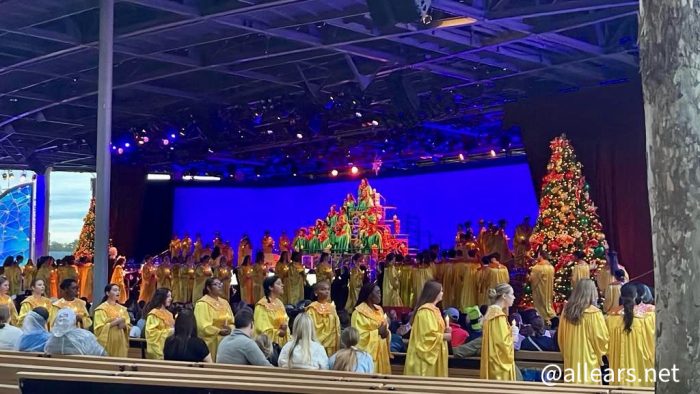 Candlelight Processional Dining Package Locations

In 2023, Disney announced the following locations for Dining Packages:
Akershus Royal Banquet Hall Restaurant — Adults B: $71, L&D: $83 / Kids  B: $45, L&D: $53
Biergarten Restaurant — Adults $65 / Kids $37
Coral Reef Restaurant — Adults $78 / Kids $32
Garden Grill Restaurant — Adults B: $63, L&D: $78 / Kids B: 40, L&D: $50
Le Cellier Steakhouse — Adults $104 / Kids $42
Spice Road Table — Adults $55 / Kids $24

2 small plates and one nonalcoholic beverage per person, plus a tagine and dessert platter for your party to share

Rose & Crown Dining Room — Adults $66 / Kids $29
Regal Eagle Smokehouse offers Dining Packages. These are day-of, first come/first serve options — read more here.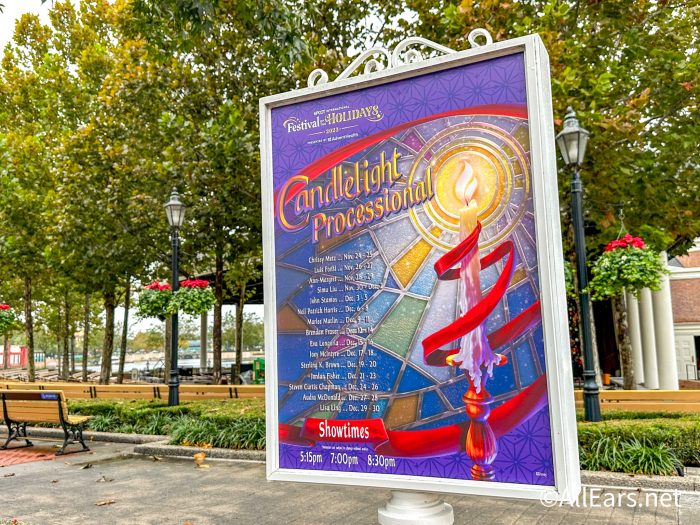 For more information about the EPCOT International Festival of the Holidays or to book a Candlelight Processional Dining Package, visit EPCOTHolidays.com or call 407-WDW-DINE (939-3463).
*Narrators and entertainment are subject to change without notice. Theme park admission is required.
Packages are paid for at the individual restaurants. Guests are asked to arrive at least 15 minutes prior to their reservation to check–in. Guests will receive Candlelight Seating badges at the restaurant for guaranteed seating at the America Gardens Theatre for the booked show time.