Walt Disney World Transportation Vehicles
At nearly 40 square miles, Walt Disney World is huge, and getting around on your vacation almost always requires at least one form of Disney transportation. Here we've got a run-down on the World's various transportation vehicles PLUS tips for making the most of them!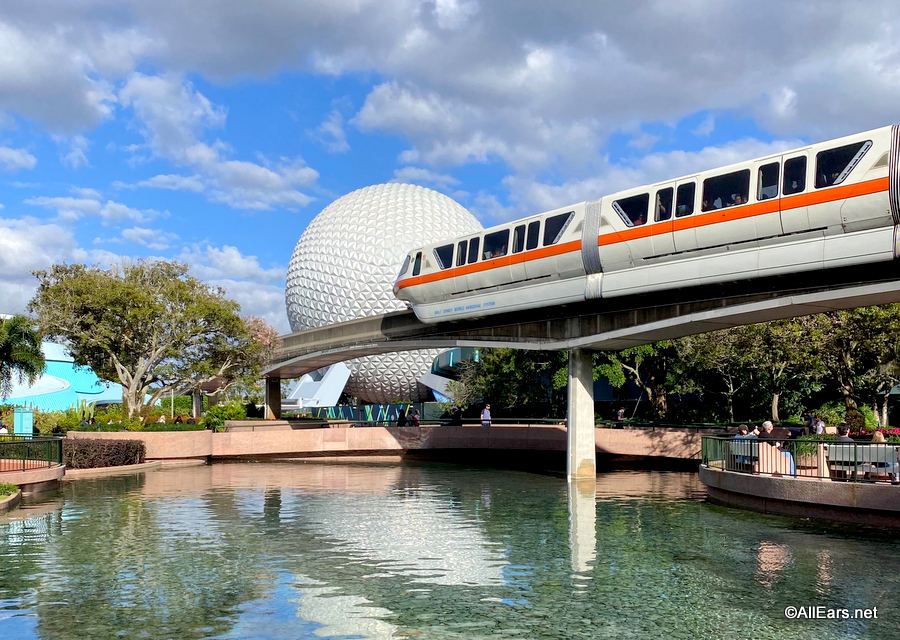 Watercraft & Boats
Ferry Boats
Three different ferry boats run from the Transportation and Ticket Center to Magic Kingdom and back. These boats are one of two ways to return to your parked car after a day at Magic Kingdom or to connect to the Epcot Monorail line. (The second way is via Monorail.) The three boats are named the Richard F. Irvine, the Admiral Joe Fowler, and the General Joe Potter.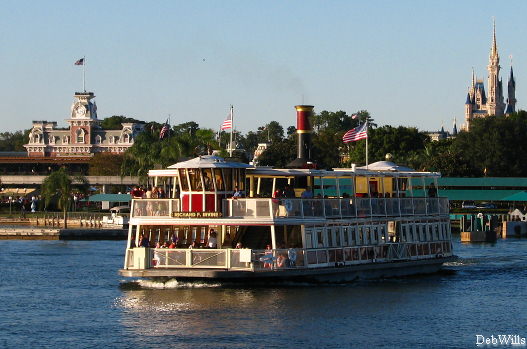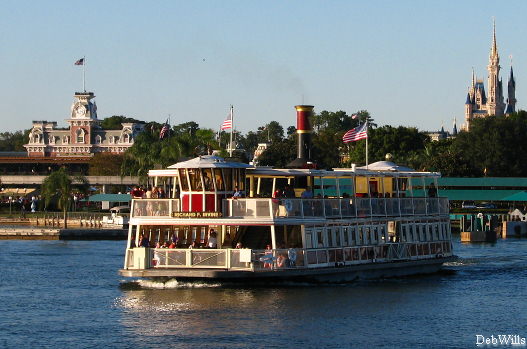 These are free floating boats with upper and lower levels connected by two interior stairways. Depending on the time of day, one to three ferry boats may be operating. Ferry boats typically run from 8:30AM to 45 minutes after Magic Kingdom closes.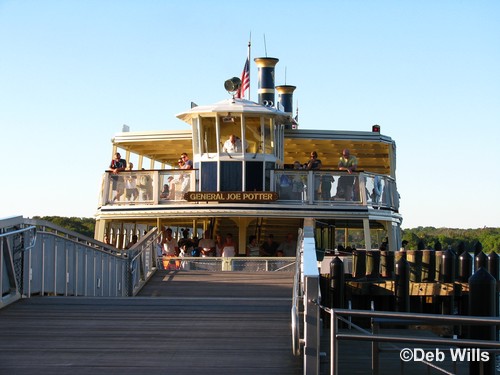 Limited upper deck seating is available on all three boats. Wheelchair and Stroller access is on the lower deck. Each Ferryboat has a maximum capacity of 600 passengers.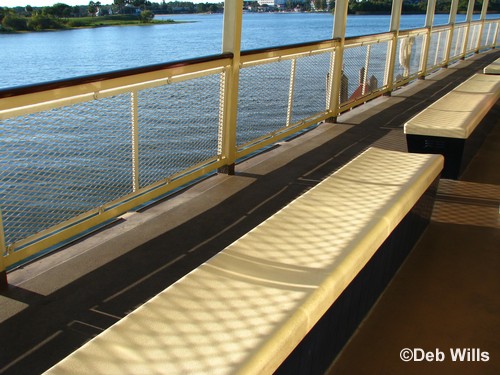 Water Launch or Water Taxi
Water launches or water taxis provide transportation between Magic Kingdom and several Resorts.
Two Gold Flag water taxis run on Seven Seas Lagoon from Magic Kingdom to the Grand Floridian and Polynesian Resorts and back. Times for these vary depending on Park hours. These boats typically are not wheelchair accessible. Guests with disabilities would need to transfer from the wheelchair and go down two steps to board.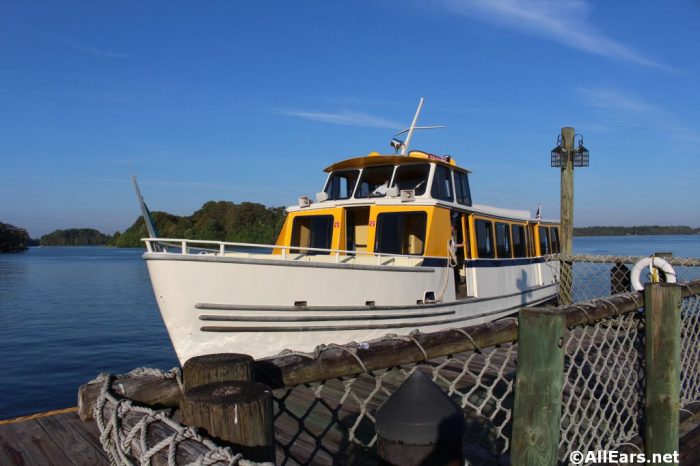 Two Blue Flag water taxis run on Bay Lake from the Contemporary, Fort Wilderness, and Wilderness Lodge Resorts. These launches typically begin earlier in the day and cease operations depending on Park hours. These boats typically are not wheelchair accessible. Guests with disabilities would need to transfer from the wheelchair and go down two steps to board.
One Red Flag water taxi runs from Wilderness Lodge Resort to Magic Kingdom depending on Park hours (including Extra Magic Hours). This route uses two different types of boats; one accommodates wheelchairs and ECVs, the other requires a transfers and two steps down.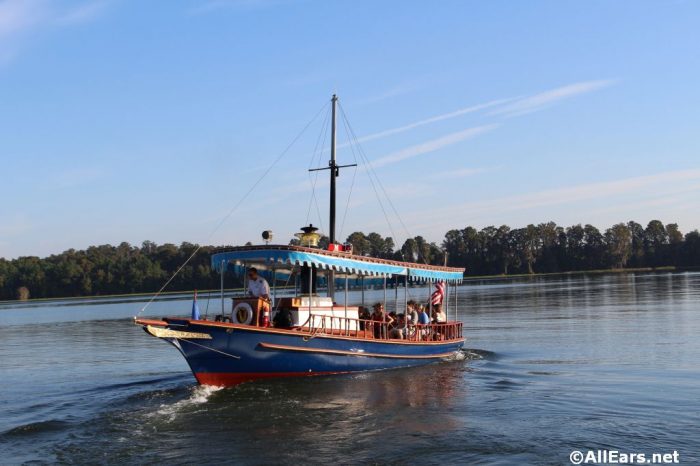 One Green Flag water taxi runs from Fort Wilderness to Magic Kingdom. The cruisers used for this route are wheelchair and ECV accessible. Timing for this route is dependent on Park hours. The Green Flag route tends to be busy; Fort Wilderness does not operate a bus to Magic Kingdom, so all guests going to the Park are required to use the Green Flag water taxi or drive to the Park. Visitors to Fort Wilderness (i.e. those with Hoop Dee Doo Musical Revue Advance Dining Reservations) will also use the Green Flag boats.
Water taxis require guests to fold their strollers for boarding even if it's a boat that can accommodate wheelchairs and ECVs.
Friendship Boats
Friendship Boats run on Crescent Lake in the Epcot Resort area to five Resorts, Epcot's International Gateway, and Disney's Hollywood Studios. They also run on World Showcase Lagoon, connecting World Showcase countries in two separate routes.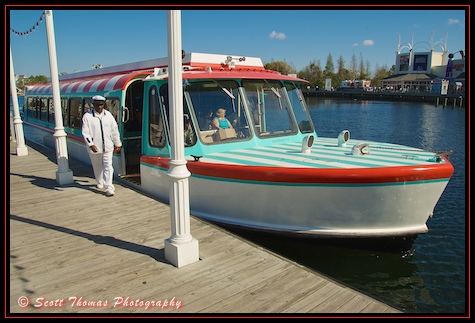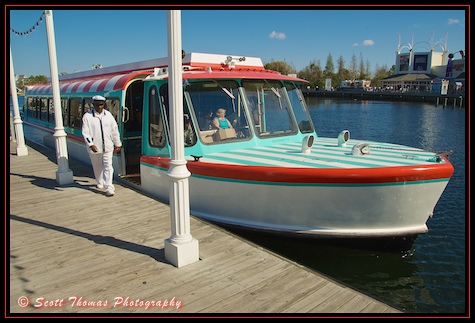 The Friendship Boats on Crescent Lake connect Yacht and Beach Club Resorts (shared dock), BoardWalk Inn and Villas, Swan and Dolphin hotels (shared dock), Epcot's International Gateway, and Disney's Hollywood Studios.
The Friendship Boats on World Showcase Lagoon run between Canada and Morocco and between Mexico and Germany. These are slow ways to navigate World Showcase, but the views and the opportunity to sit and rest are welcome.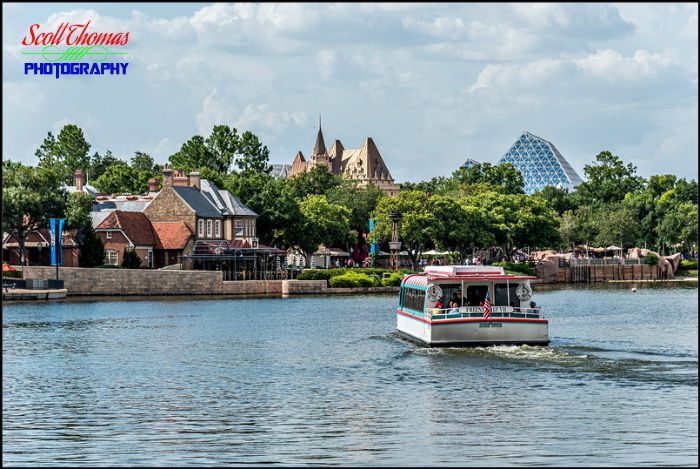 Friendship Boats are wheelchair and stroller accessible when water levels are normal. Changes in water levels may require passengers to step up or down into the boat, and in these conditions the loading ramps may not be usable. A sign will be posted on dock to alert potential passengers to this change. Rough winds may also make boarding via wheelchair/stroller impossible.
Also note: Friendship Boats are a slow mode of travel, and a walkway connecting the Resorts to Epcot and Hollywood Studios may be preferable to the Friendship Boats as they can be more efficient. This is particularly true at Park closing time when lines for the boats tend to be very long.
Sassagoula River Ferry Boat
A lesser-known ferry boat shuttles Resort guests at Port Orleans Resort — French Quarter and Riverside, Old Key West Resort, and Saratoga Springs Resort & Spa to Disney Springs. Known as the Sassagoula River Ferry Boat, this open-air water taxi is a relaxing way to travel to the dining, shopping, and entertainment district.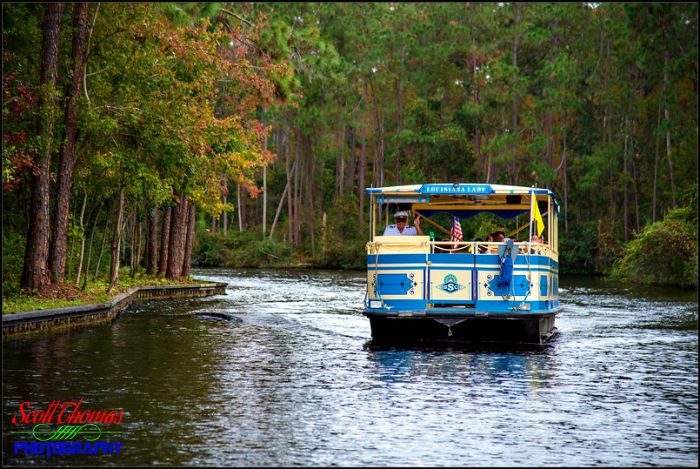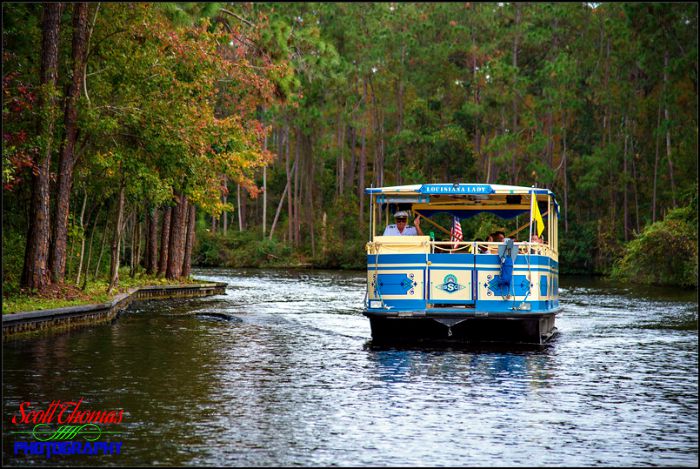 These ferries offer five routes:
Port Orleans –French Quarter to/from Disney Springs Marketplace (Purple Flag)
Port Orleans — Riverside to/from Disney Springs Marketplace (Yellow Flag)
Saratoga Springs Resort and Tree Houses to/from Disney Springs Landing (Blue Flag)
Old Key West Resort to/from Disney Springs Landing (Green Flag)
Disney Springs Marketplace to Disney Springs West Side and back via Disney Springs Landing (Red Flag).
There is a sixth flag: Yellow/Purple is flown when the Disney Springs/Port Orleans route is servicing both Resorts.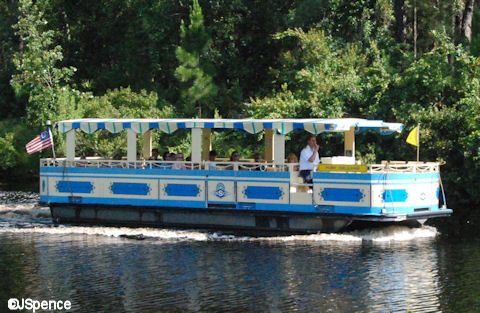 These boats may accommodate strollers. Wheelchairs usually have to be folded.
Buses
Disney Buses are the most common form of transportation at Walt Disney World. These large motorcoach-style buses can transport dozens of guests both seated and standing. The largest of the Disney buses is double-length and can carry over 100 passengers at a time.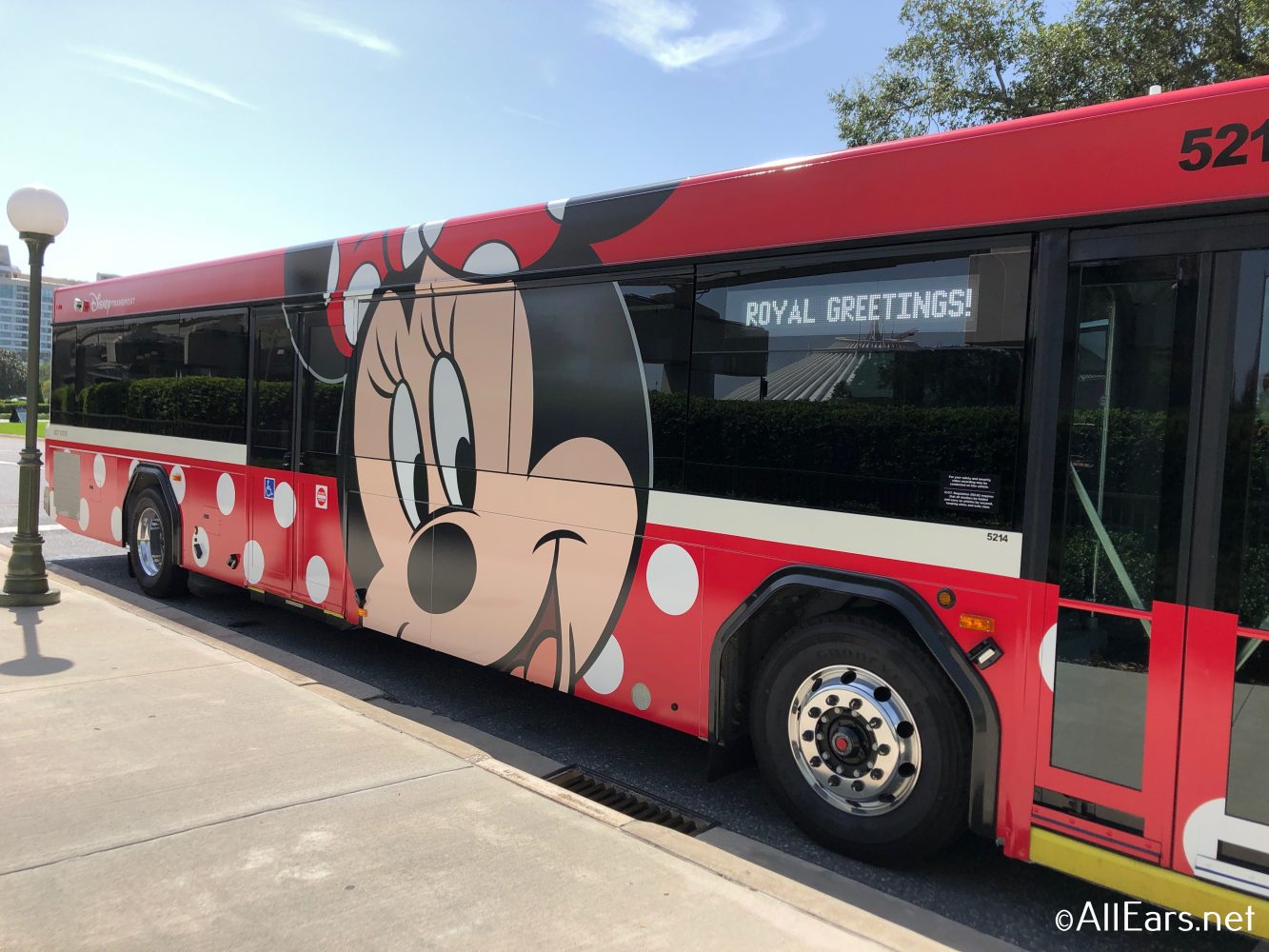 Disney buses connect Disney Resort hotels with the Parks, water parks, and Disney Springs. In some cases, Disney buses also connect Parks with each other and with Disney Springs. Essentially, you can get almost anywhere on a Disney bus.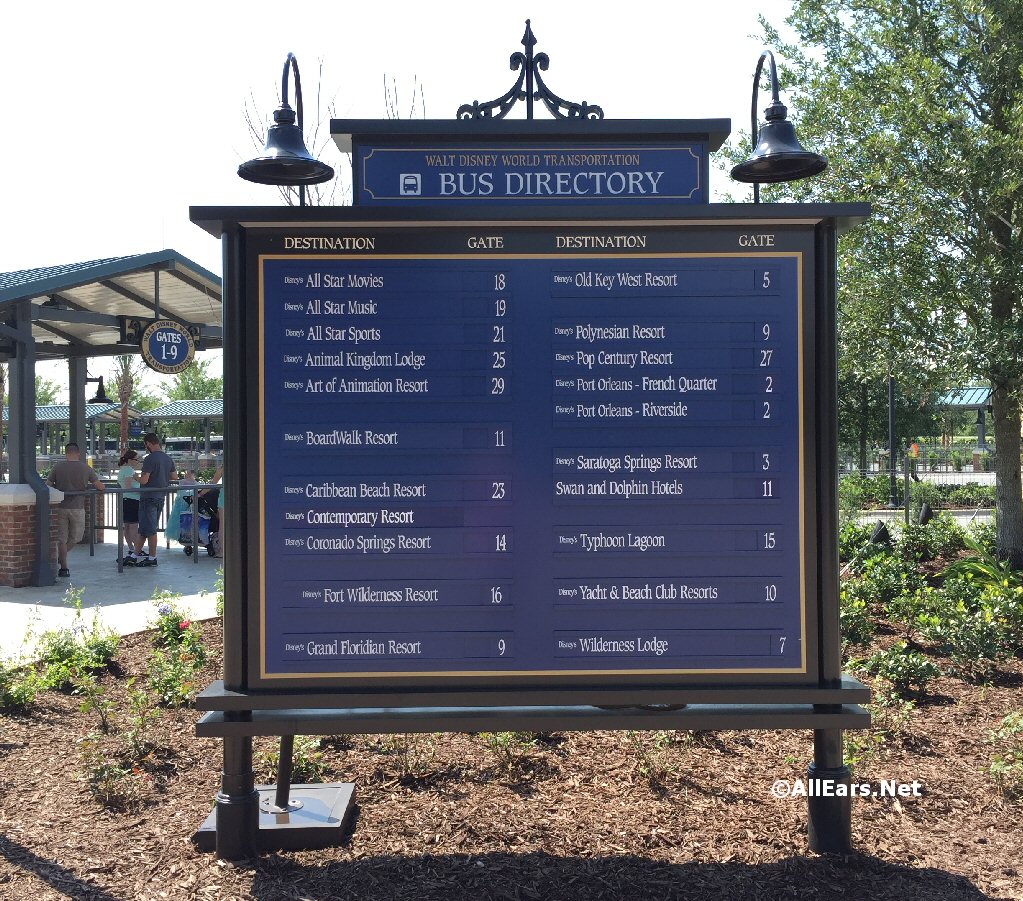 A 2019 upgrade to Disney buses introduced new exterior wraps, new interior design (with laminate flooring and new seats), and USB ports for charging electronic devices.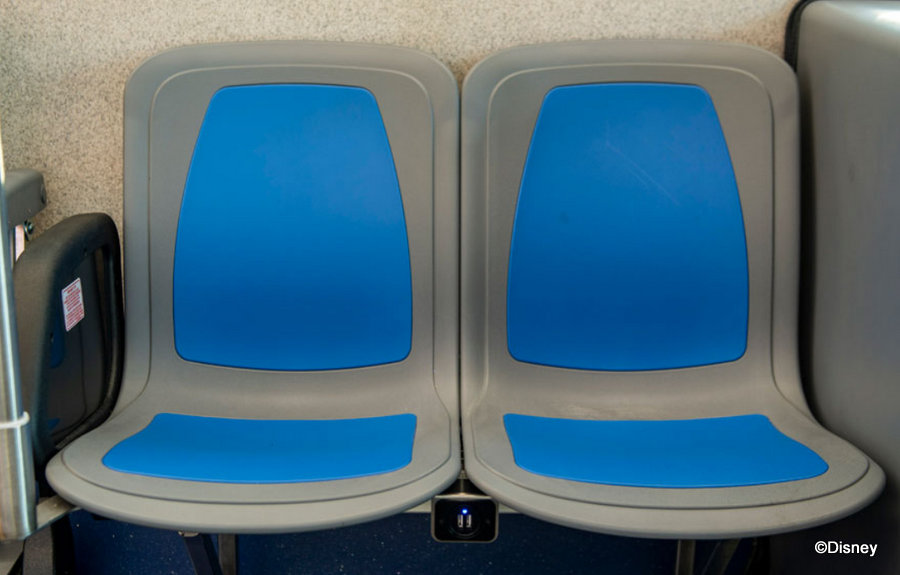 Wheelchairs and ECVs are able to drive into Disney Buses. Buses will lower to the level of the waiting area in order to board these vehicles. There are limits to the number of wheelchairs and ECVs that can fit in a single bus (two is the max). Strollers must be folded in order to be brought on board.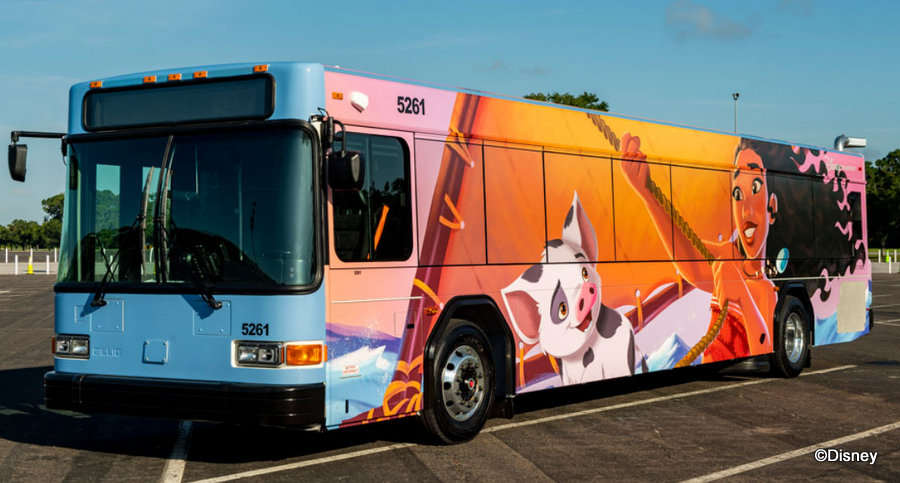 While Disney buses are ubiquitous at Walt Disney World, they are also hit-or-miss in terms of reliability. While Disney purports that buses are spaced a maximum of 20 minutes apart, buses are susceptible to issues on the road including traffic, accidents, and construction. Disney has wait time boards at many bus stops, and the My Disney Experience app does include Bus Wait Times for Resort bus stops. Still, these times can fluctuate up or down, and they do not guarantee a bus will arrive exactly as listed.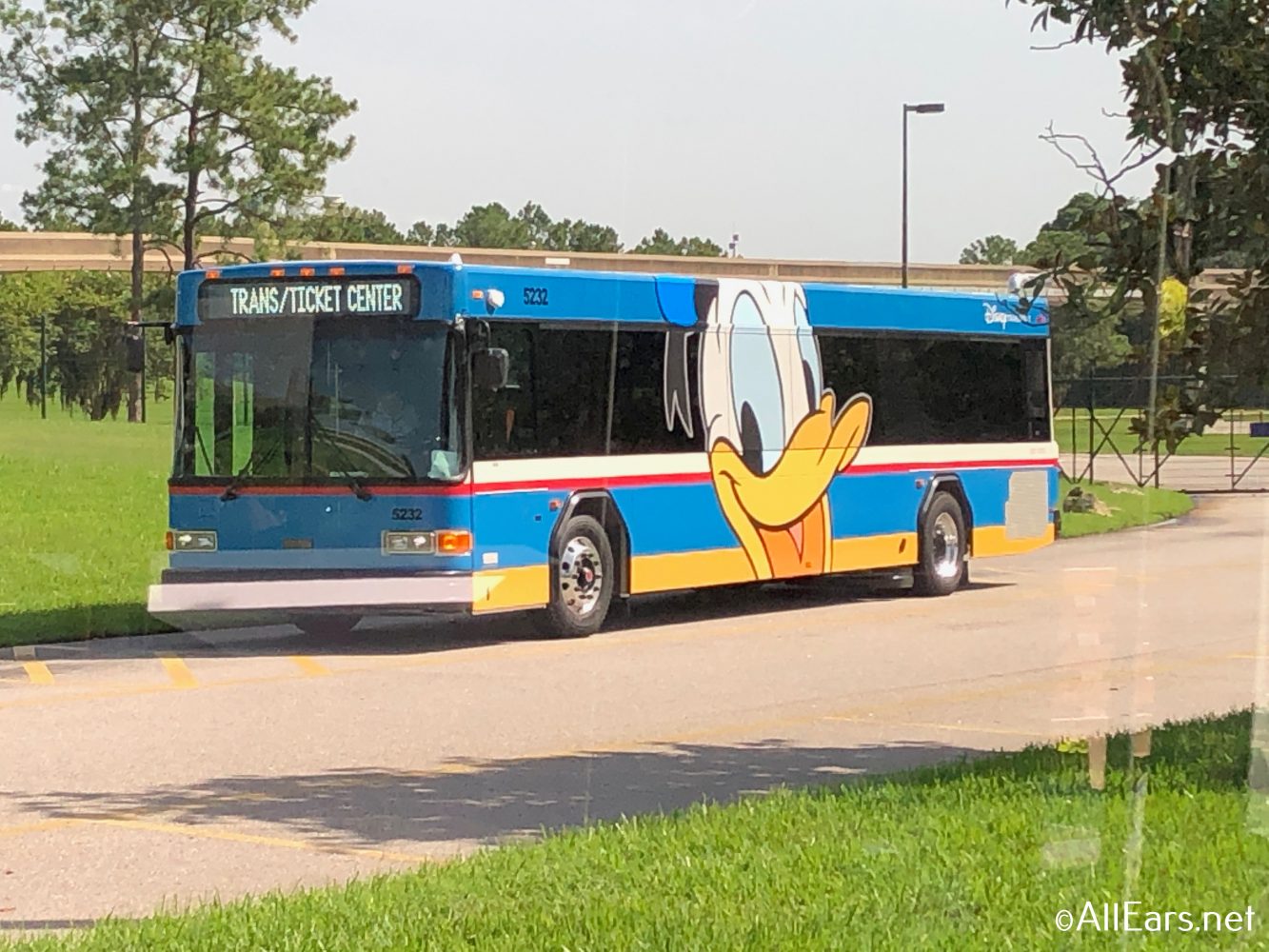 In addition to internal Disney World buses, Disney's Magical Express is a bus service that takes you and your luggage from Orlando International Airport to your Disney Resort. It can be used either one way or round-trip. Your airport return time is set by Disney and can require you to leave your Resort 3-4 hours before your flight.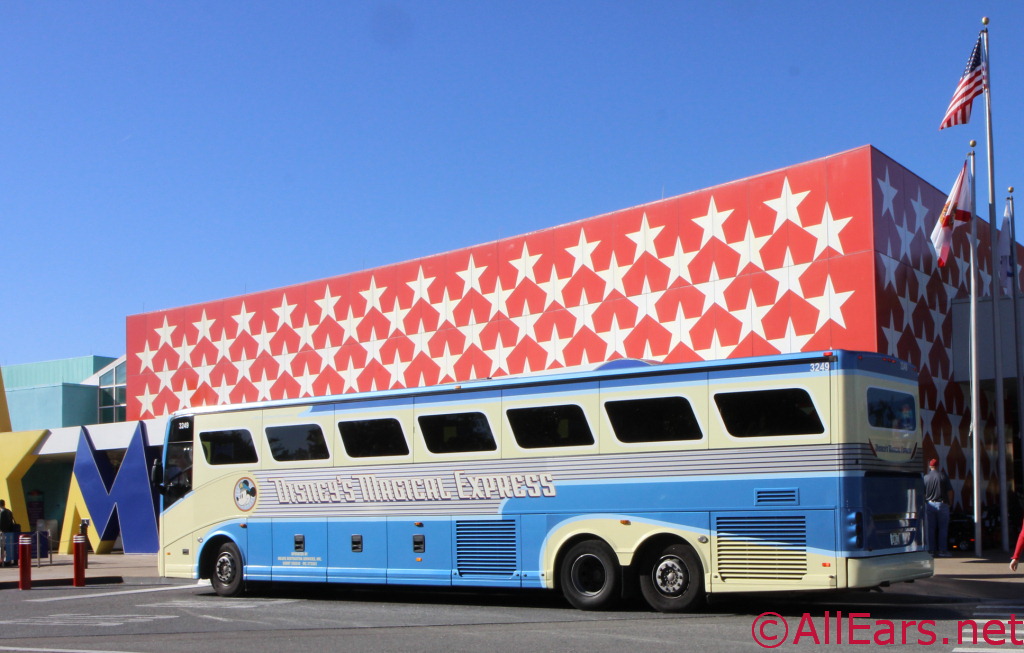 Monorail
There are three monorail routes at Walt Disney World. They all intersect at the Transportation and Ticket Center (TTC), which means you can connect to any one of them from there.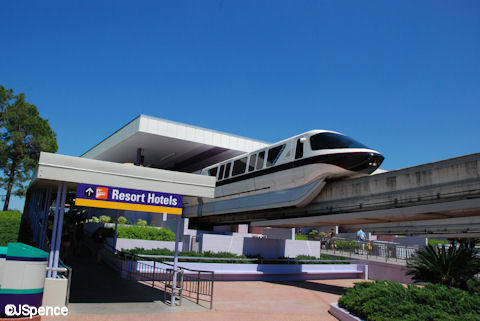 The Express Monorail runs between the TTC and Magic Kingdom ONLY, without making any stops. This is the line you'll want to use if you've parked your car at TTC and want to get to Magic Kingdom straight away!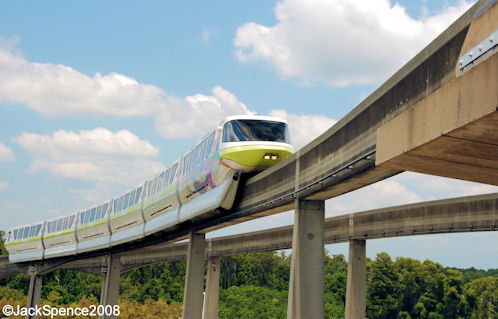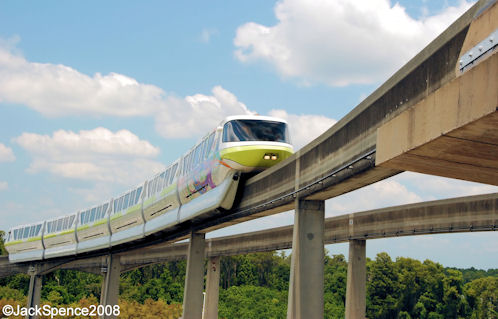 The Resort Monorail stops at all stations on the loop, including Disney's Polynesian Village Resort, Disney's Grand Floridian Resort & Spa, Magic Kingdom, Disney's Contemporary Resort, and TTC. This is a fun way to explore the Monorail Resorts or dine around the Monorail! And if you just need to get away from Magic Kingdom for an afternoon break, riding the Resort Monorail loop can be a great way to do that.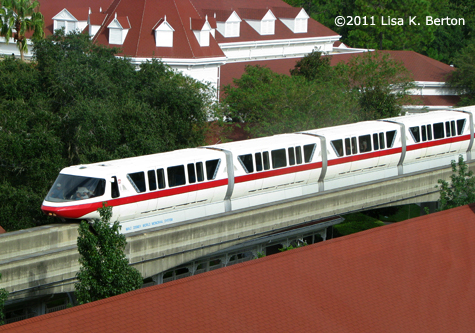 The Epcot Monorail runs between the TTC and Epcot ONLY, so this is the route you want to take if you're trying to get from TTC to Epcot or if you're Park hopping from Magic Kingdom to Epcot. Epcot Monorail offers the added bonus of gliding through the Park on its route, giving riders a great view of the Park before you even go through the gates!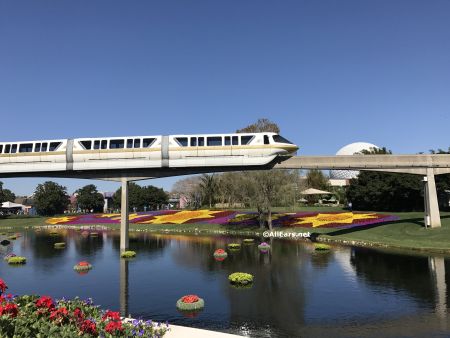 Monorails are both wheelchair and stroller accessible. Look for wheelchair signs for ramped areas. Cast Member will need to set up temporary ramp.
Trains
There are two trains operating at Walt Disney World.
Walt Disney World Railroad
The Walt Disney World Railroad circles the perimeter of Magic Kingdom and makes three stops: Main Street Train Station at the entrance of the park, Frontierland next to Splash Mountain, and Fantasyland near Goofy's Barnstormer.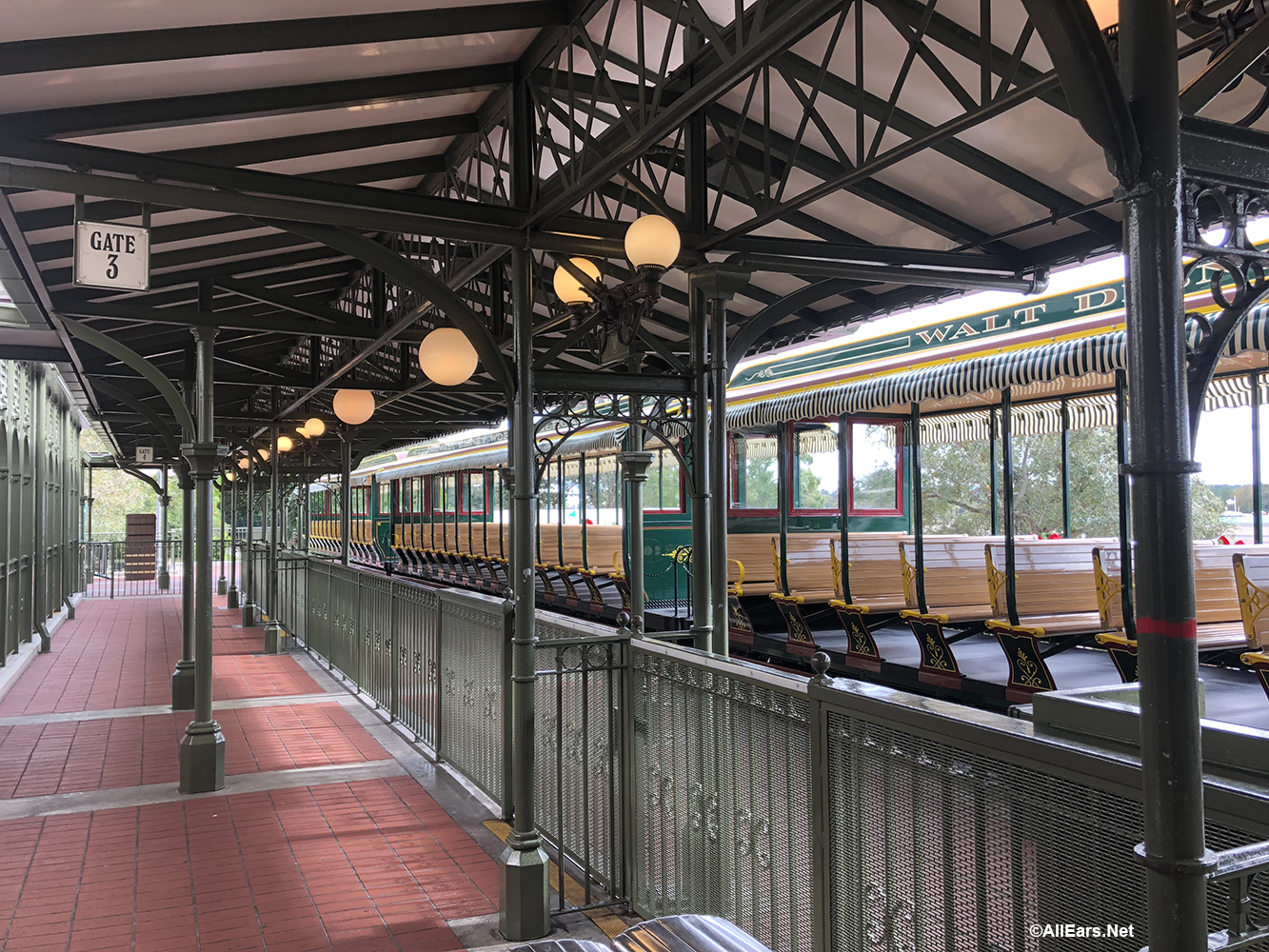 Personal strollers must be folded prior to passing through station's turnstiles. No rental strollers are allowed. If you leave your rental stroller behind at the station, keep your stroller nametag — a replacement stroller may be available at the other stops. Wheelchairs/ECV users will need to see Cast Member for loading.
Wildlife Express Train
The Wildlife Express Train operates in Animal Kingdom, shuttling guests to and from Rafiki's Planet Watch. It makes no stops along the way. This train has seats that face outward, so that guests travel sideways and can see some views of animal enclosures during their ride.
Trams
All four theme parks operate parking lot trams. These vehicles pick you up at the end of your parking row and take you to the Park entrance.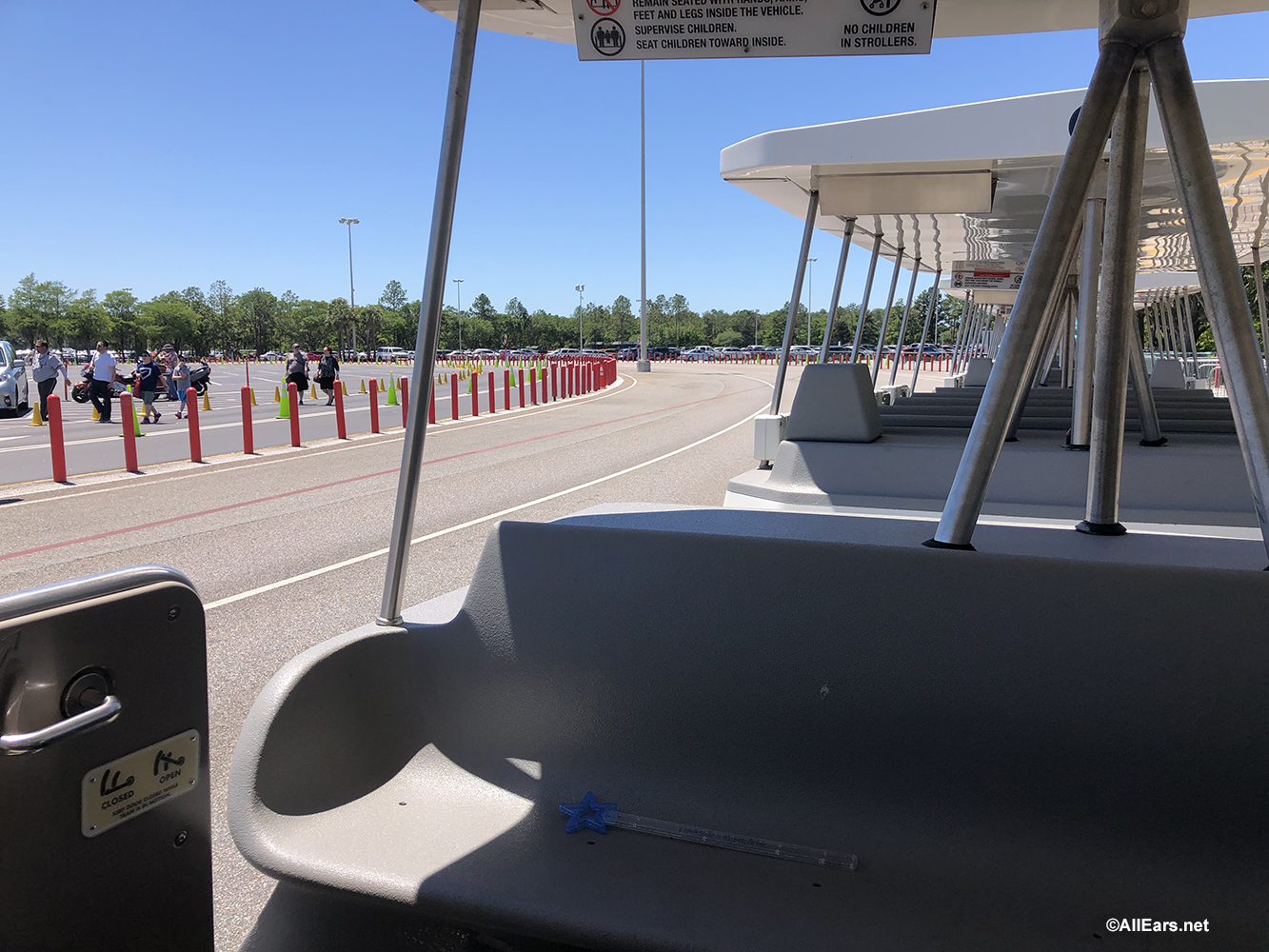 Magic Kingdom parking lot trams take you to the TTC, where you will take a Ferry Boat or the Monorail over to Magic Kingdom.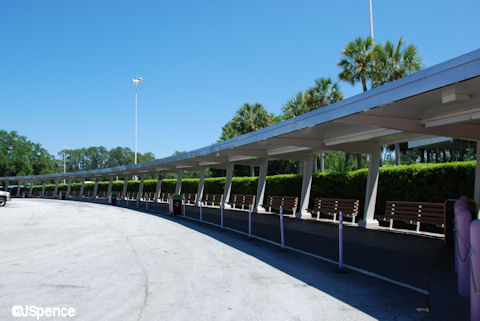 Strollers and wheelchairs must be folded. If you must remain in your wheelchair you will be unable to board the tram. Trams do not stop in designated wheelchair parking areas. Limited wheelchairs may be available in the wheelchair parking areas to help transport you to Park entrance.
Disney Skyliner
On September 29, 2019, Walt Disney World celebrated the grand opening of the Disney Skyliner gondola system. This airborne, cable-propelled system consists of over 300 enclosed gondolas that come in eight colors and may feature colorful character wraps.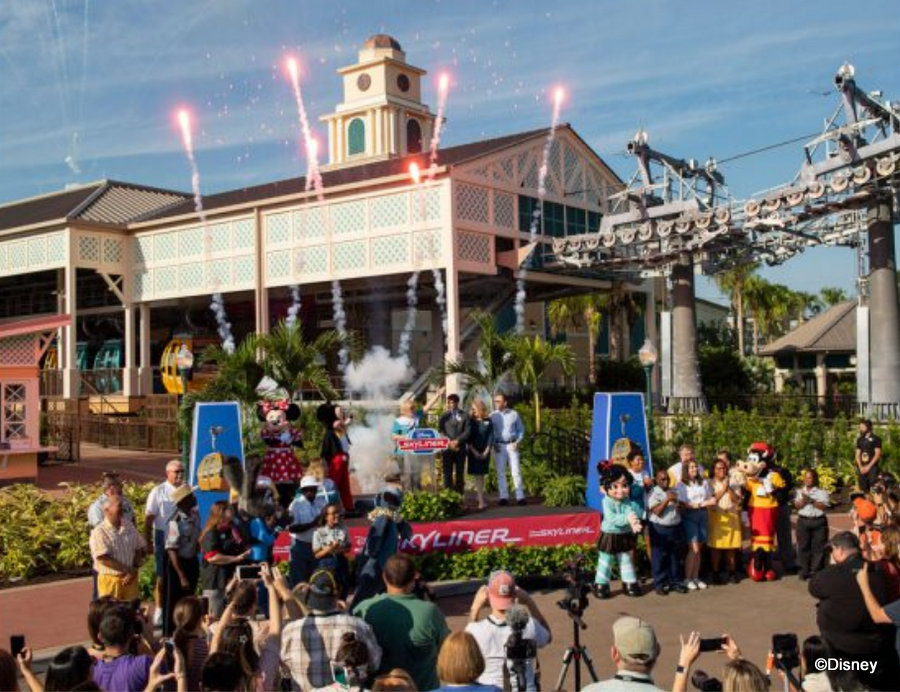 There are five Skyliner stations. Caribbean Beach Resort station is the hub of the three-lined system. The first line glides 4-5 minutes to Disney's Hollywood Studios station.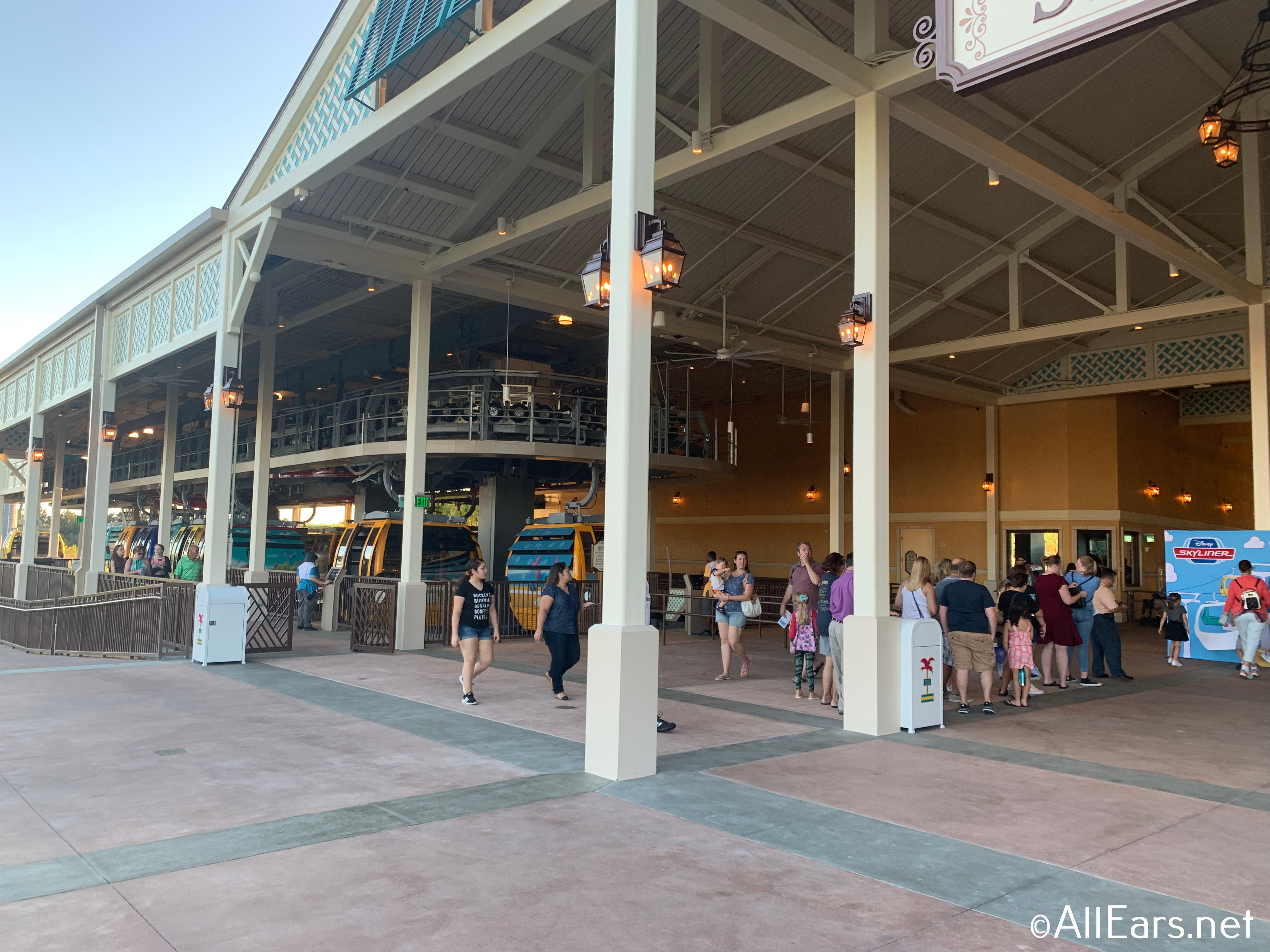 The second line glides 2-3 minutes to Riviera Resort station and then through 9-10 minutes to Epcot's International Gateway station.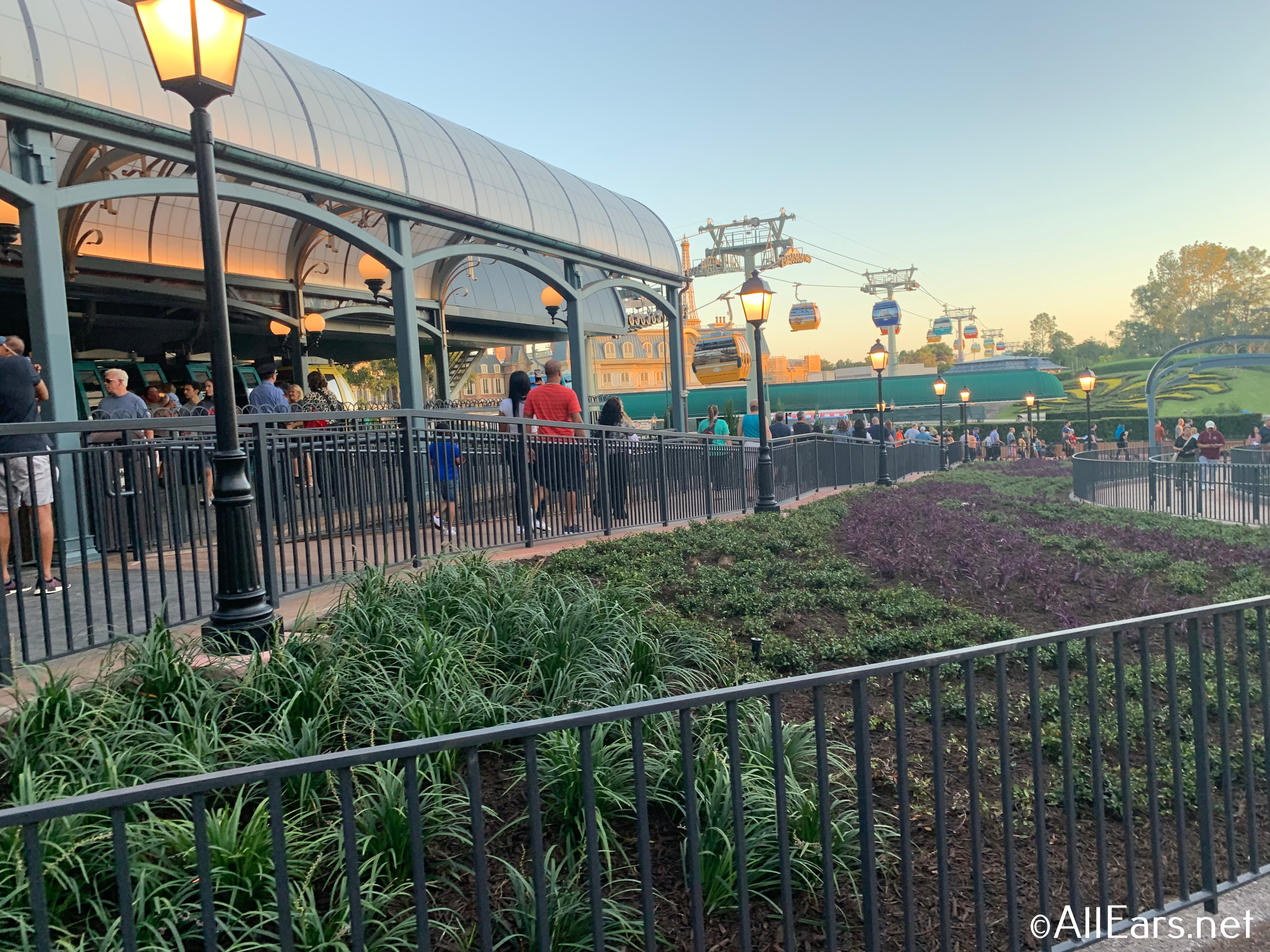 The final line is a 5-minute ride to Disney's Art of Animation and Pop Century Resorts that share a station on Generation Gap bridge.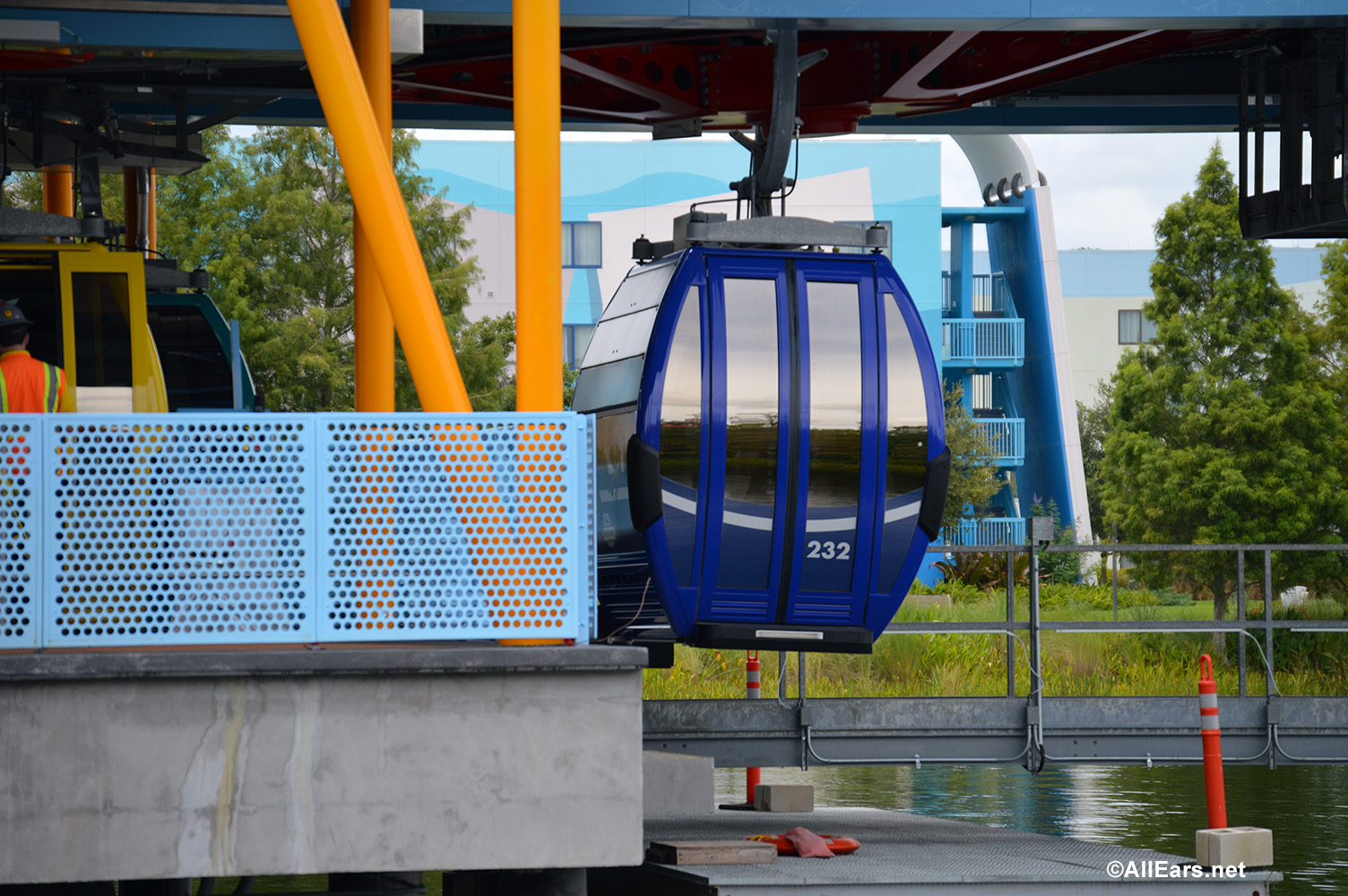 Wheelchairs and ECVs can be rolled or driven into a gondola. When a gondola travels with one of these vehicles, a maximum of 6 passengers can ride. Strollers 30″x48″ and smaller can also roll into a gondola. Children may remain in the stroller for the ride. Strollers also reduce the total capacity from ten to six. Children in the stroller count as passengers.
Miscellaneous
There are several modes of transportation available at Walt Disney World that do not fit in the major headings.
Golf Carts
There are golf carts available for rent for Fort Wilderness guests to use around the vast Resort. These carts cannot leave the Fort Wilderness Resort campgrounds.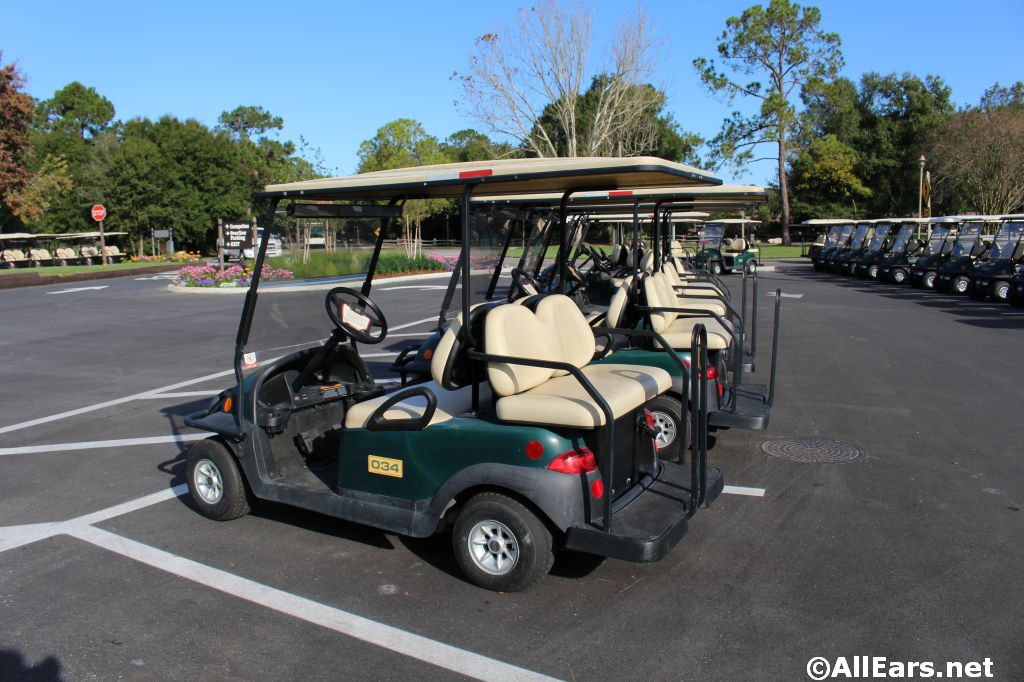 Taxis
Taxi cabs and town cars that can take you almost anywhere on property are available for hire. Inquire at the front desk of your Resort or at Guest Relations at the Parks and Disney Springs for more information.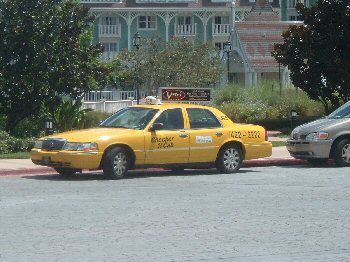 Minnie Van
Disney's Minnie Van rideshare program uses established company Lyft to request and pay for a ride anywhere on property. Minnie Vans are an added cost (pricing varies depending on mileage). Minnie Vans can also be hired to take guests to Orlando International Airport and Disney Cruise Line's terminal a Port Canaveral.