Disney's PhotoPass at Walt Disney World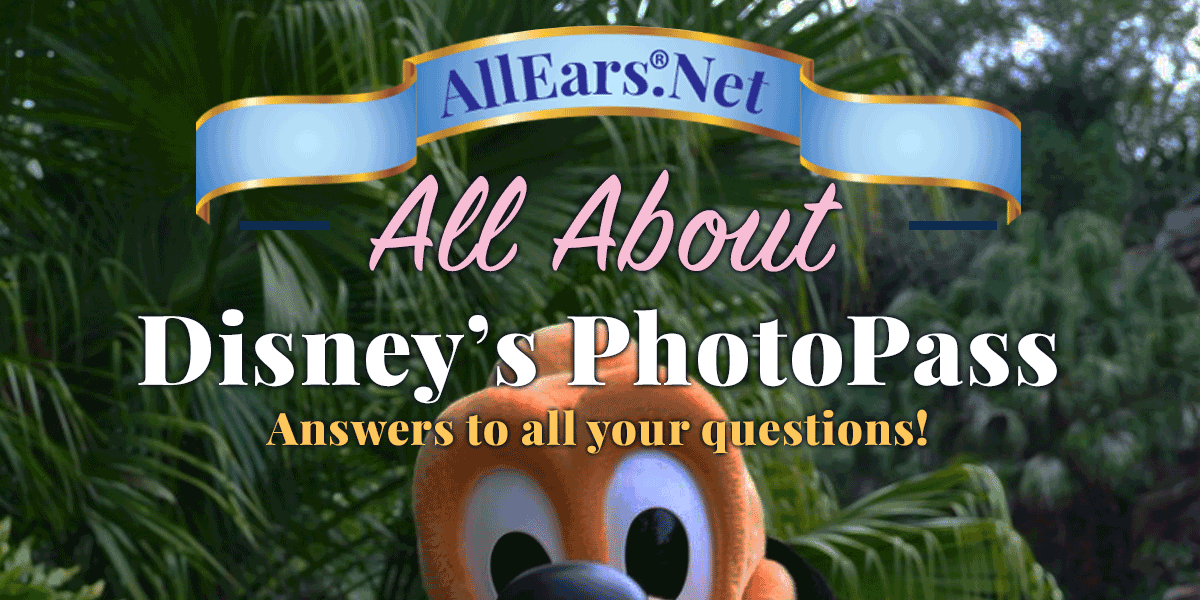 MAY 2018: Disney PhotoPass Service has recently launched a number of new Magic Shots around Walt Disney World Resort. These are special enhancements added to your photos taken by the PhotoPass photographers. Many of these Magic Shots are only offered periodically, so if you happen to see a photographer in these locations, be sure to stop by and ask for these Magic Shots:
At Magic Kingdom:
— in front of the Casting Agency door near Disney Clothiers on Main Street, U.S.A.
— near Dumbo the Flying Elephant
— near Mad Tea Party
In Epcot:
— the United Kingdom Pavilion
At Animal Kingdom
— Maharajah Jungle Trek
— near UP! A Great Bird Adventure
— Rafiki's Planet Watch
What is Disney PhotoPass?
PhotoPass is a photography service available around the Disney theme parks. Disney PhotoPass photographers are stationed throughout Walt Disney World Resort to take digital pictures of your vacation. You can claim your photos any time online for up to 45 days after the date the photo is taken. You can view your photos, order prints, and create photo keepsakes using Disney PhotoPass online.
NOTE: Enhancements to the My Disney Experience mobile app now allow you to view all your Disney PhotoPass vacation photos and videos, including photos from select attraction and dining locations.
PhotoPass downloads are now included FREE for Disney Premier Passport, Platinum, Platinum Plus and Gold Annual Passholders. Photos and other digital content linked to the qualifying Passholder's Disney account will expire 365 days from the date of capture.
What is Memory Maker?
In 2012, Disney introduced PHOTOPASS+, a package that included all your PhotoPass photos PLUS select attraction photos AND Dining Print Packages. In 2013, PhotoPass+ was rebranded as Memory Maker. Like its predecessor, Memory Maker allows you to receive unlimited digital Disney PhotoPass photos captured at hundreds of locations throughout Walt Disney World Resort — including attraction and Character Dining photographs. The photos are conveniently connected to your online Disney account with a touch of your MagicBand or PhotoPass/Memory Maker card. There's no need to purchase each photo individually.
You can view your photos online and download the high resolution images plus a limited license agreement, which allows you to print photos at any local photo processing center. In addition, you are able to purchase Memory Maker through the My Disney Experience app, and use the app to download Memory Maker photos and share them to other social media apps.
How does PhotoPass Work?
Taking Photos: Disney PhotoPass photographers can be found throughout Walt Disney World's four theme parks and two water parks (from Memorial Day to Labor Day), as well as some resorts and various other locations, and at the ESPN Wide World of Sports and runDisney events. (PhotoPass photographers are also located at Disneyland's two parks, and New York City's World of Disney, and Disney's Aulani, in Hawaii.)
If you do not have a MagicBand linked to your My Disney Experience (MDE) account, the first photographer you encounter will give you a plastic PhotoPass card with an ID number on the back. Hang onto that card and use it for the duration of your trip, and future trips, too. Each time you see one of the roving photographers and want a photo taken, just wait your turn and they'll get you situated, snap the pose, scan your card or MagicBand and off you go — and you can do this as often as you like. Don't worry if you end up with more than one card; your online PhotoPass account allows you to enter multiple cards.
NOTE: If you're using a PhotoPass card, be sure to write down your ID number or take a clear digital photo of it. Cards can get lost or mixed up with another guest's. If you have your number, you have your photos. (People also write their family name on the back or put an address label on the card, so they make sure to get the right card back.)
Water parks give you a special card that you wear around your wrist. Since the bracelet has a snap, it can be clipped to something like a lanyard or a backpack, or keep wearing it on your wrist wherever you go in Disney.
View: You can view your pictures in a few different ways:
In the parks: Go to a Photo Center like the station pictured HERE. You can find these stations at the parks and at these resort and Disney Springs locations:
— Grand Floridian
— Polynesian Village
— Beach Club
— Wilderness Lodge
— Animal Kingdom Lodge
— Disney Springs Marketplace
At home: Go to MyDisneyPhotoPass.com for Walt Disney World, register for free, and enter the ID number on your card.
On your mobile device: Link your PhotoPass card or MagicBand to your My Disney Experience account and you will be able to view your photos on the MDE app.
Disney will break down your photos in different views: All of your photos, and then one category for each park and other locations/events. The number of photos that you have for each category is listed right next to its name.
You can create prints, customized photobooks, mugs, greeting cards, and more.
What are the special "magic" character poses?
The photographers may ask you to do some fun poses. For example, they'll have you cup your hands or have you put them in the air like you're lifting something. When you view your photos, you'll perhaps see something magical added to your photos. Keep in mind the special pose photographs are not available at all locations.
Animated Magic Shots were introduced in 2015 and add moving elements to your digital photos.
Where are the Photographers?
PhotoPass photographers can be found throughout the theme parks, often stationed in front of the park icon's or other popular photo spots. PhotoPass Cast Members have a standard costume: blue shorts or pants, white shirt, khaki photographer's vest. On Main Street in the Magic Kingdom, look for blue and white pinstripe shirts, with white pants and oversized beret-type hats.
Photographers can also be found at the Disney World water parks (from Memorial Day to Labor Day) and at ESPN Wide World of Sports. PhotoPass photographers will also be along runDisney race routes.
In addition, PhotoPass cameras are positioned in a number of popular attractions, so that you can get photos from aboard the rides. Also, The Twilight Zone Tower of Terror and Seven Dwarfs Mine Train have a PhotoPass video that is automatically associated to your MDE account when you ride if you are wearing a MagicBand.
PhotoPass is available at select dining locations for character meals. Previously, photos were offered tableside for purchase at most character meals (a few had the price of the photo included with the cost of the meal). Beginning in 2015, all tableside sales were discontinued and printed photos were no longer available at the meals.
Character photos at dining locations function in the same manner as any other PhotoPass photo. You will receive the opportunity to purchase the photo(s) later individually or it is included in your Memory Manager package.
You will find PhotoPass photographers at the following character meals:
— Cinderella's Royal Table at Magic Kingdom
— Princess Storybook Dining at Akershus, Norway in Epcot
— Tusker House at Disney's Animal Kingdom
— 1900 Park Fare at the Grand Floridian Resort & Spa
— Chef Mickey's at Disney's Contemporary Resort
— Spirit of Aloha Dinner Show at Disney's Polynesian Village Resort
— Mickey's Backyard BBQ and the Hoop Dee Doo Musical Revue Dinner show at Disney's Fort Wilderness Resort
Resorts such as the Polynesian Village Resort, the Grand Floridian, Beach Club, and Animal Kingdom Lodge have PhotoPass photographers in their lobbies periodically throughout the day. The PhotoPass Photographers in the resort lobbies wear a white button-down shirt and blue slacks. This is also true for the photographers at Disney's Fort Wilderness Resort.
For a complete listing of PhotoPass photographer locations, consult the MDE app on your mobile device.
More PhotoPass locations are added during special times, such as for the Holiday Decorations, Mickey's Very Merry Christmas Party, and Mickey's Not So Scary Halloween Party. Like the regular locations, these can change.
Mickey's Not So Scary Halloween Party locations
The hearse outside the Haunted Mansion (a ghost driver will appear in the photo)
Pirates of the Caribbean
In front of Cinderella Castle
The path from Cinderella Castle to Tomorrowland
Town Square Character meet
Adventureland Character meet
Mickey's Very Merry Christmas Party locations
Tomorrowland
Fantasyland, adjacent to Many Adventures of Winnie-the-Pooh
Storybook Circus – Donald Duck
In front of Cinderella Castle at the Hub
Fantasyland, near Small World
Other holiday locations
Select resort lobbies in front of Christmas trees
Santa's Christmas Chalet in Disney Springs
Meet Santa Claus and Mrs. Santa in a special section at the American Adventure in Epcot
Disney's PhotoPass Costs
PhotoPass downloads are included FREE for Disney Premier Passport, Platinum, Platinum Plus and Gold Annual Passholders.
For non-Passholders, each Photo Download includes a high-resolution .jpeg file of the selected image, as well as a copyright release document so that you can print the image(s) at any other photo printing retailer. Your image will also contain any edits you made including crops or the addition of Disney artwork. Each download is a .zip file containing a .jpeg file as well as the copyright release for your records. If you order multiple downloads, all of the images and releases will be in a single .zip file. The .zip file is named for the order number. PhotoDownloads will be available in the download center (which can be accessed from the "My Account" tab) for 10 days from the date of purchase. You can download each file up to 10 times within the 10 days. After the 10th download or the 10th day (whichever comes first), your downloads will no longer be available unless you buy them again. If images expire from your account, you will still be able to access and download purchased PhotoDownloads from the download center within these guidelines.
Photo Prints:
| | |
| --- | --- |
| Two 4″ x 6″ prints of a single picture | $16.95 |
| One 5″ x 7″ print | $16.95 |
| One 8″ x 10″ print | $20.95 |
Memory Maker: If you purchase Memory Maker in advance it will cost $149, and you can begin to use it three days after purchase. Memory Maker's regular price is $169. If you purchase it at this price, you can begin to use it immediately. Each Memory Maker digital download includes:
Unlimited digital downloads of all your Disney PhotoPass photos and videos
Select Attraction photos and videos
Select Character dining photos
Discounts on prints of your photos
Magic Shots – featuring Disney Characters and more, added to your photos
Digital borders and stickers to personalize your photos
Copyright release so you can print your photos at home or through any retailer for cheaper than the online prints.
Photo Deadline Extensions: You can purchase an extension for the expiration date of your photos. The only option will be for an extra 15 days and it only can be done once. So, for $19.95, your photos will be accessible for 60 days rather than 45 days.
Forms of Payment: If you do place an order, they accept Visa, MasterCard, and American Express credit cards for payment, as well as the Disney Gift Card and the Disney Rewards Card. Debit cards that carry the Visa or MasterCard logo and do not require a PIN number are also accepted.
Disney PhotoPass Products
There are a variety of photo souvenirs available to you online. Full details for each of the products and current prices can be found on the official PhotoPass site. Remember, check out their Special Offers page, too.
Disney's PhotoPass Money-Saving Tips
Save money on Memory Maker! Simply go to Memory Maker page to take advantage of the savings. If you purchase Memory Maker in advance it will cost $149, and you can begin to use it three days after purchase.
Save more money with specials! Visit the Disney PhotoPass page to see what specials are currently being offered.
FREE photo for Disney Visa Cardholders! Go to the Character Connection in Epcot, show your Disney Visa and your family will be escorted to a private area where you will meet some Disney characters. Then stop by the Camera Center on your way out and get your free 5 x 7 photo. One All Ears.Net reader noted that guests can actually go back every day of their trip and get one. You get a voucher for every card you have and get to choose your free pics at the photo shop in the front of Epcot. Since the characters change frequently and they do autographs for the kids, the line is well worth the wait even when it looks long. Especially with the things to do around the line for kids. There is a similar free photo available for Disney Visa Cardholders at Star Wars Launch Bay in Disney's Hollywood Studios.
Save with the Calendar: If you have several Disney PhotoPass photos that you want to order, but shy away from the Print prices, consider the Photo Calendar. You'll get 13 of your best pictures (one on the cover and the 12 months). Readers report that the quality is good and it's an affordable way to have a memorable keepsake from Disney's PhotoPass.
No need for multiple Memory Maker packages: If you have multiple PhotoPass cards (for example: your family went on a group trip and each person has a card), enter all of their numbers under one account. That way, all the photos are together.
Important note: To include any photos that are added directly to MagicBands or are automatically linked on attractions, all family and friends must be linked on My Disney Experience.
Disney's PhotoPass General Tips
Save your ID number(s): If you're using a PhotoPass card rather than a MagicBand, write down your card's ID number or take a digital picture of it. If you have your ID, you have your photos, no matter what happens to the card.
Get lots of photos: Start capturing the memories early in your stay. Let the Disney PhotoPass photographers help position your party for a variety of poses.
Easy Card Access: If you're not using a MagicBand, keep your Disney PhotoPass card in a clear plastic holder on your lanyard. It avoids having to fumble for the card and it can be scanned without having to take the card out.
Strollers: Take children out of the stroller before taking pictures with the PhotoPass photographers. Pictures come out so much better so the canopy doesn't shade their faces or hide their heads in the photos. Well worth the effort for great pictures.
Rember that adults are just as welcome to have their photo taken by a PhotoPass photographer as children.
Don't forget night photos: When getting a picture with the park icons, get lots of pictures. Also make sure to go back and get additional photos after dark. The same pictures of those places after dark make for a completely different photograph.
During the evening and busy times of year, PhotoPass photographers often can get busy and have lines. Do not just set your family up in front of the camera; say something to the photographer.
Your Camera: PhotoPass photographers are happy to use your camera, even if you don't want PhotoPass. However, you still need to wait in line with everyone wanting the photographer to snap a picture.
Courtesy for Other Guests: When you enter a meet and greet line, and start talking about how great an actress Belle is or how hot Donald must be, remember that if the photographer hears you, they may gently remind you to keep the magic alive. If your child doesn't believe, the child behind them may still believe, so for the sake of innocence, keep the magic alive.
Photographers are NOT commissioned. It truly does not make a difference in their pay how many
photos they take/sell. If a photographer approaches you, it may be to ask you to scoot your stroller out of the way or just to say "Hi!" Please don't yell "we dont want a photo!"
Check your PhotoPass pictures before you leave a park: If something has unfortunately happened with the photos, often something can be done to fix the situation. Cast Members (if time allows) may be able to help search for lost photos; if not, the online center will help recover them. If you don't like how the pictures came out, you don't have to wait until you get home to find out, and you may be able to get a replacement taken before you leave. If you want to be extra safe, you can have the photographer take a picture with your own camera.
Missing Photos: If you have any pictures missing, contact Disney's PhotoPass. They will ask you for the day, time, and place where your picture was taken. If you have a digital picture of someone in the missing photos, you can send it to them making it easier and faster for them to find your pictures.
Editing Photos: As a precaution, make sure to save in the format you want (4×6 or 5×7, etc.) when doing any edits such as borders. Otherwise, you might be causing trouble for later printing when you think it's a 4×6 later, but you actually saved it as a 5×7.
Pay attention to the dates! Each photo is online for 45 days from when it was taken, with an option to purchase a 15-day extension for $19.95. Make sure you claim your photos or buy the extension before the 45 days are up. They will be deleted from the system and can't be restored.
Check The Status Of Your Order: Select the "Check Order Status" link in your order confirmation email. You can also check your order status online by clicking on the "Check Order Status" link on your "My Account" page.
Disney's PhotoPass: Tips on Posing
Get creative! Some photographers come up with great ideas, and you can come up with your own.
— Surrounded by balloons on Main Street. When a balloon cast member isn't busy, this makes for a colorful, unique background, and the photographer can work it so it looks like you're holding the balloons (but don't really!).
— Taking advantage of other Disney icons: A photographer noticed a Main Street trolley coming towards them in the background and had a couple move to the side. Their photo now has them, the castle, and the trolley all framed in the shot. Another couple had a banner announcing a new attraction as their background. The closer you are to the park icon you want a photo of, the better the icon will come out (And yes, the photographer will get the whole icon!)
— Toasting is not just for champagne! One family toasted each other with their favorite Disney treat: Mickey ice cream bars!
Newlyweds and for your anniversary: A closeup of Mickey and Minnie's hands (gloves) laying on top of each other, palm up, and the guests' hands laying on top of theirs to display their wedding rings. In a pinch, if both Mickey and Minnie aren't available, one of them can use both their hands to lay underneath the couple's.
Use each other as props! A photographer had one wife ride piggyback on her husband, pointing out the direction they should take next on their adventure!
Getting autographs makes a nice candid as you talk to a character.
If the PhotoPass photographer asks you to do funny things, go with the flow – these ideas can make the best photos & you'll laugh at them years from now.
Other Guests: The PhotoPass photographer is not allowed to ask other guests to move out of your photo.
No-Nos: Profanity or inappropriate clothing or too much exposure in photos will most likely be deleted or photographers will not take the photo.
Contacting Disney's PhotoPass
You can reach Disney's PhotoPass by calling Guest Support at 407-560-4300 (9am to 9pm EST) or by emailing disneyphotopass_ [email protected]
If you want to check the status of your order, select the "Check Order Status" link in your order confirmation email. You can also check your order status by clicking on the "Check Order Status" link on your "My Account" page.
If you have any PhotoPass tips that you would like to share, please send them by using the feedback form and choose the "Submit Tips" option.