Disney's Pixar Place Hotel – Coming Soon
Disney's Paradise Pier Resort is becoming a brand new hotel that will be called Disney's Pixar Place Hotel! It will officially open under the new theme and name on January 30th, 2024.
Along with this announcement, Disney shared a first look inside the new hotel rooms! There are so many fun Easter eggs in the rooms including pillows inspired by the Pixar ball, Pixar lamps, and headboards with artwork from Pixar movies! Some of the art was created specifically for the hotel by Pixar Animation Studios artists. How cool?!
Disney also shared a look at the new lobby with this concept art.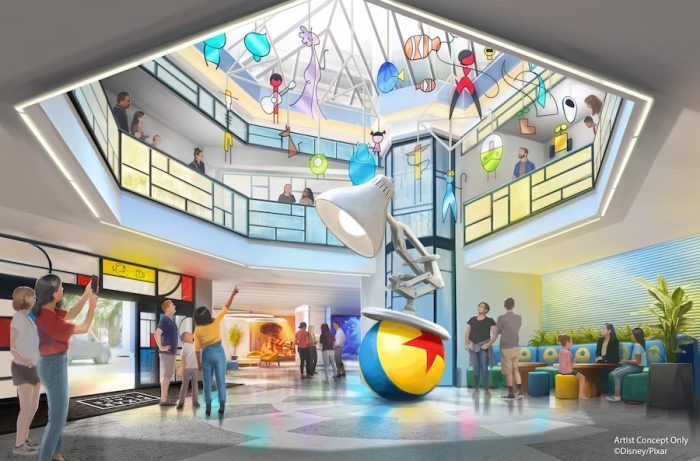 We've been inside the lobby while it's under construction, and seen some of the artwork that has been installed. However, we can't wait to see the finished product!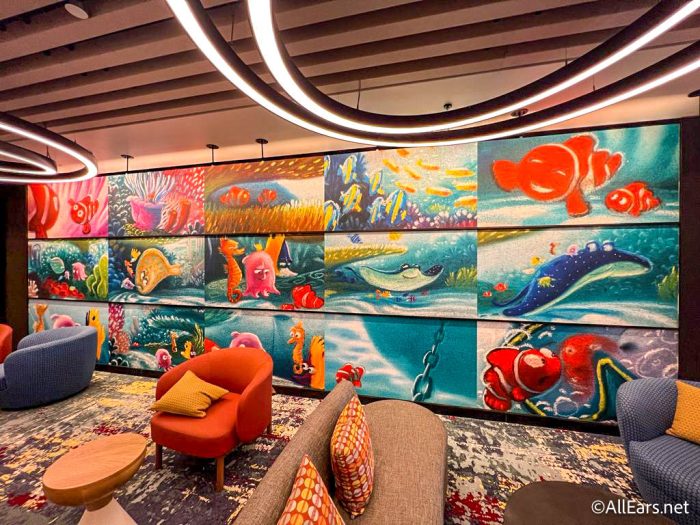 Stay tuned to AllEars and we'll keep bringing you more details as we get closer and closer to the opening in January!
Tell me about the Pixar Place Hotel.
The Pixar Place Hotel (PP) is located across Disneyland Drive from Disney California Adventure and next to the Disneyland Hotel. The hotel is contained in a single high-rise tower with an attached parking structure. Within the hotel are dining, shopping, pool and recreation areas, as well as convention facilities. The hotel was built in 1984 by a Japanese company and was originally known as the Emerald Hotel. When Disney purchased the property in 1995 the name was changed from the Pan Pacific Hotel to the Disneyland Pacific Hotel, and in 2000, it became known by its current name. And in 2024, it has reopened with a new name and new theme as Disney's Pixar Place Hotel
Pixar Place Hotel will be the ONLY fully Pixar-themed hotel in the United States. The lobby will feature images from Pixar movies at the front desk, as well as larger-than-life artwork of Pixar characters. All of that will be mixed in with the hotel's contemporary vibe.
What type of accommodations are available?
The Pixar Place Hotel has 481 rooms and suites. Standard rooms are 364 square feet with either a king-size bed or two queen-size beds. Many rooms have a day bed and will accommodate up to five people. In addition to the 460 standard hotel rooms there are 29 suites, ranging in size from 792-1,245 square feet. Cabana and poolside rooms are available to concierge level guests.
Handicap accessible rooms are available.
What types of views are available?
"Park View" rooms have a view of Disney California Adventure theme park. Pool view rooms overlook the third floor outdoor pool area. Standard view rooms are also available.
Are there any Smoking rooms?
The Pixar Place Hotel is a non-smoking hotel. Smoking is not permitted anywhere inside the hotel or its rooms, balconies, shops, restaurants or pool area. Smoking is only allowed in designated outdoor areas.
What types of amenities are offered?
Early Entry into Disneyland Park and Disney California Adventure Park
High speed internet access
Non-smoking hotel
Iron, ironing board, hairdryer and make-up mirror in each room.
Refrigerator
In-room coffee maker
In-room safe
Dual line phones with voicemail
Cribs and roll-away beds available upon request
Disabled-accessible rooms available.
On-property charging privileges
Complimentary merchandise delivery from theme parks
Room service
Valet parking
Morning newspaper
ATM
Babysitting referrals
Currency Exchange
Laundry Service and on-site Laundromat
Wheelchairs
Notary Public
Where can I park my car?
Valet parking is available for $35/day. Self-parking is $25/day – you may park in the parking garage adjacent to the hotel. You will not receive a parking permit – to exit the parking lot show your room key to the parking lot attendant in the kiosk.
What time is Check-in/Check-out?
Check-in time is 3:00 p.m., check-out time is 11:00 a.m. Express Checkout is available.
What kind of Concierge service is available?
Concierge rooms can be cabana, poolside, or penthouse rooms. The Concierge Lounge, located on the 2nd floor of the hotel, is open from 6:30 a.m. to 8:00 p.m. Cast Members at the Concierge desk can assist you in making dining arrangements or other plans.
Concierge service includes the following amenities:
Priority check-in
Vacation planning services prior to and during your visit
Continental breakfast, evening wine and cheese reception, nightly desserts. Beverages and fresh fruit available throughout the day.
Nightly turndown service
DVD players and complimentary movies
Are there special activities for kids?
Yes. There are specific activities such as crafts and storytelling sessions for children at the hotel, and they even have their own pool in the pool area.
How do I get to…?
Note: You can no longer access the Grand Californian by crossing Disneyland Drive at the crosswalk just outside the Paradise Pier Hotel.  This entrance is reserved for guests of the Grand Californian, and a valid room key is required.  To access Downtown Disney, Disneyland, or Disney California Adventure you must do it via Downtown Disney, using the entrance near the Disneyland Hotel.
Downtown Disney: Go out the back entrance of the hotel (towards the parking garage).  and follow the signs. You will pass by the Disneyland Hotel.
Disneyland: Either take the monorail from the Downtown Disney monorail station, or walk through Downtown Disney to the Main Entrance.
Grand Californian: From Downtown Disney, use the entrance to the Grand Californian located near the Disney Dress Shop.
Disney California Adventure: Walk through Downtown Disney to the Main Entrance.
Disneyland Hotel: Go out the back of the hotel  and follow the signs to the Disneyland Hotel.
Parking Garage: Exit the back of the hotel.
What is the Disneyland Monorail service like?
The Disneyland Monorail station is located at the end of Downtown Disney next to the Disneyland Hotel. Anyone wishing to ride the monorail must pass through the security checkpoint at the monorail station and must present a valid Disneyland ticket for entry, since passengers disembark at the Tomorrowland Station inside Disneyland park.
From the Downtown Disney station the monorail passes by Downtown Disney and the Grand Californian hotel, as well as the Main Entrance to Disneyland. As it approaches the Tomorrowland station it circles the Matterhorn and passes over the Finding Nemo Submarine Lagoon before stopping at the Tomorrowland station. The trip takes about 5 minutes.
At busier times of day, typically evening and park closing, Disney Resort guests receive priority boarding at the Tomorrowland Station upon showing their resort ID card.
Is morning coffee available?
In-room coffee makers are available upon request, or you may purchase coffee at the Sketch Pad Café, where you can grab coffee and other grab-and-go items.
Describe the restaurants at the Paradise Pier Hotel.
Great Maple — is a "Southern California-based modern American eatery [that] specializes in playful takes on upscale comfort food." It'll be opening a flagship restaurant on the ground floor of the hotel and will serve breakfast, lunch, and dinner all day.
Sketch Pad Café — will serve assorted pastries accompanied by a selection of coffee and tea.
Small Bytes — is a rooftop bar that will serve up salads, wraps, assorted cheese plates and more along with some signature beverages.
Pixar Place Hotel Restaurant Menus HERE
The many restaurants in the Disneyland Hotel complex and the Downtown Disney district are located nearby.
What about laundry facilities?
The hotel provides dry cleaning and laundry services. There are no guest laundry facilities at the Pixar Place Hotel, but guests may use the laundry facilities at the Disneyland Hotel, which is located at the Cove Beach and Pool area, next to the Team Mickey Workout room. Washers, dryers, change machine, soap dispenser and table and chairs are available.
Are there any special programs?
Upon check-in guests receive a schedule of hotel events. Some activities are open to anyone while others may require sign-up and/or paying an additional fee.
Typical activities include:
Morning Pilates session
Walking tours of the Grand Californian or Disneyland Hotels
Songs and Storytelling
"Learn to Draw" class
Is there high speed internet access?
Yes. Wireless access is available in each room. Internet access is free for hotel guests. Wireless access is also available in the following locations:
Pixar Place Hotel
Lounge
Small Bytes– Pool Bar
Business Center – 2nd Floor
Disneyland Hotel
The Lounge
Business Center – Magic Tower
E-Ticket Club – Dreams Tower
Grand Californian Hotel
The Great Hall
Hearthstone Lounge
Whitewater Snacks
Craftsman's Club – 6th Floor
What types of recreation are available?
The rooftop pool area is located above the convention center and must be accessed from the third floor of the hotel. In addition to the pool there is a large "roller coaster" water slide called "California Streamin'" and a spa. Pool and spa hours are 6:00 a.m. to 10:00 p.m. The slide is open from 11:00 a.m. to 7:00 p.m.
Arcade – Game arcade with a variety of games including Dance, Dance Revolution, Air Hockey, pinball, and virtual reality games. Located on lobby level along the hallway between the parking garage and the registration desk.
Mandara Spa, located at the Grand Californian, offers spa services including facials, massage therapy, body wraps, and manicures and pedicures. A tea ceremony is also available. Their YSPA Teen Program features treatments designed especially for teens. Advance appointments are recommended. A complete list of services is available at http://MandaraSpa.com.
Monster's University inspired Workout Room – located on the second floor and open to all hotel guests. Guests must have an injury waiver on file at the Front Desk for their key to be encoded to access the Workout Room. Available equipment includes treadmills, elliptical machines, LifeCycles and weight machines, as well as a selection of free weights.
Pixar Place Theater – A movie area just for kids where they can pull up a beach chair and watch Disney movies on a sandcastle TV. Located on lobby level between the parking garage and the registration desk.
What shops are available?
STOR-E — A playful take on the Pixar film name "WALL-E" — featuring Pixar-themed apparel and toys, plus more Disneyland Resort souvenirs and sundries.
Is there a "Resort Fee?"
The Disneyland Resort hotels used to charge a daily resort fee which covered newspaper delivery, local calls, self-parking, high speed internet access and use of the Fitness Center. Now all of that is included in the nightly room charge with the exception of self-parking, which is $20/day.
Are airline check-in/boarding pass printing services available?
Yes, at the business center located on the second floor.
What airport transportation options are available?
Taxi service from Orange County Airport (SNA) is about $40 plus tip, and from LAX about $90-$100 plus tip. Shuttle service (e.g. Super Shuttle, Disneyland Express) is available from a variety of providers for about $10.00-$14.00 one way to/from SNA and $15.00-$19.00 one way to/from LAX.
Address and phone numbers
Disney's Pixar Place Hotel
1717 S. Disneyland Dr.
Anaheim, California 92802
Hotel Operator: (714) 999-0990
Fax: (714) 776-5763
Reservations: 714-956-MICKEY (6425)
Disneyland Vacation Planning: 714-300-7526 ext 2
Mandara Spa: 714-300-7350
Pinocchio's Workshop: 714-635-2300