Disney Cruise Line Ships: Disney Wish – Everything You Need to Know
The Disney Wish is the newest Disney Cruise Line ship, sailing its maiden voyage in July 2022. The Wish is not only the shiniest of the fleet but packed with the latest in technology and cruise amenities.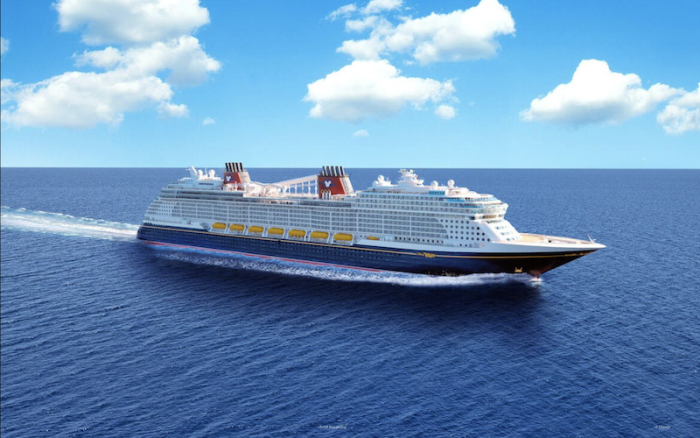 DINING
Dining Highlights
Arendelle: A Frozen Dining Adventure
The world's first Frozen-themed theatrical dining experience. You'll head to the kingdom of Arendelle to celebrate the engagement of Queen Anna and Kristoff. While you dine on Norwegian-inspired cuisine, enjoy musical performances from Olaf and Elsa.
Worlds of Marvel
Ant-Man and the Wasp feature here during "Avengers: Quantum Encounter," where you can check out the latest in superhero technology. You'll be able to use your own interactive Quantum Core at the dining table to "shrink and grow objects at the push of a button as you take part in an action-packed Avengers mission that unfolds around you." The menu here is inspired by Marvel locations from around the world.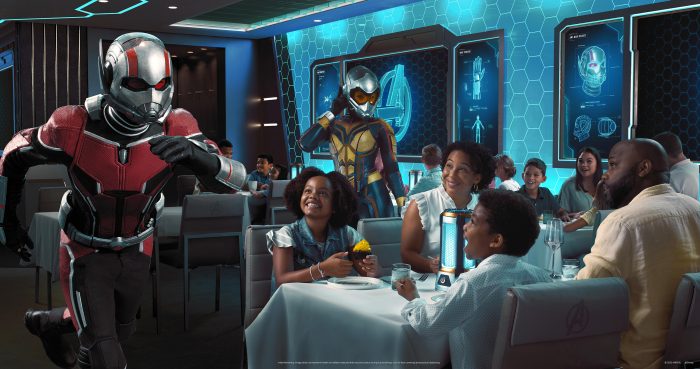 1923
This restaurant is named after the year that The Walt Disney Company was founded and the upscale dining room is decorated to match the glamour of old Hollywood. You'll dine surrounded by storyboards, props, and artwork that tell the history of animation while you enjoy a menu inspired by the state of California.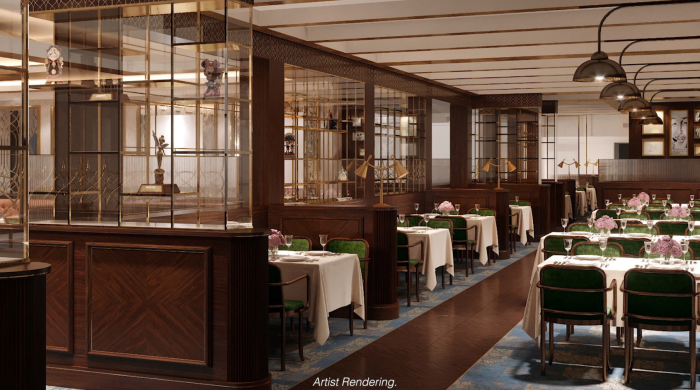 Inside Out: Joyful Sweets
If you really want to experience joy, visit this sweet shop themed to Pixar's Inside Out. It featured sculptures of the famous emotions and glowing memory orb light fixtures.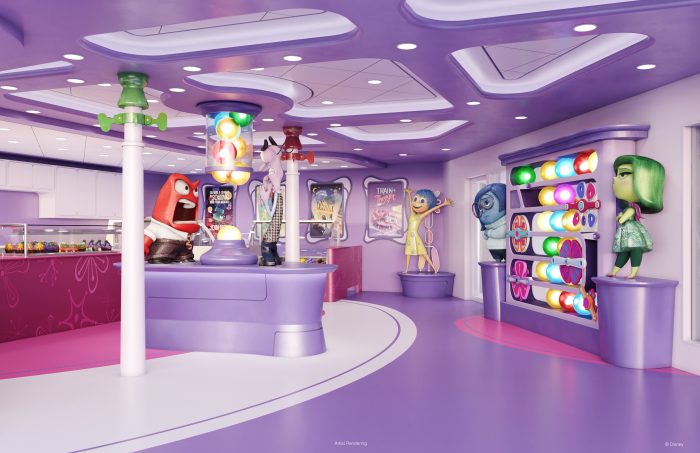 Marceline Market
Want something more casual? Head to Marceline Market where you'll have "an ever-changing menu of specialized offerings." There are 10 food stations and a beverage bar, along with both indoor and outdoor seating options. Here you'll have walk-around style dining for breakfast and lunch, followed by table service at dinnertime.
Hyperspace Lounge
This Star Wars-themed lounge is designed as a place for adults to kick back and enjoy a drink while surrounded by the sights and sounds of some of the galaxy's most notable destinations.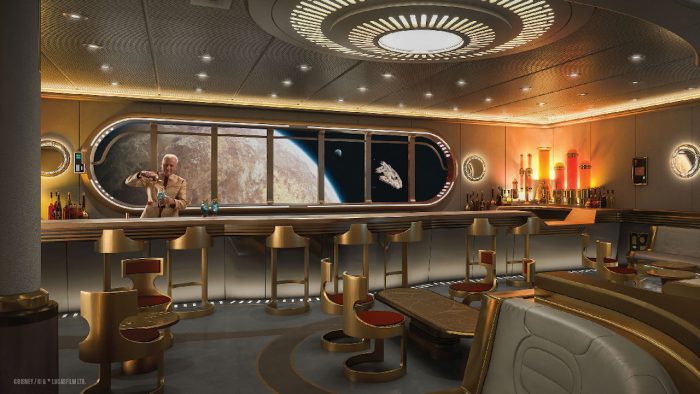 ENTERTAINMENT
Entertainment Highlights
Walt Disney Theater
The ship's main home for stage entertainment will be the new Walt Disney Theater, where multiple shows will be offered throughout your trip. The theater is designed to look like a magical forest.
Grand Hall Stage
The Disney Wish will be the first ship in the Disney Cruise Line fleet to have a stage in the atrium as well. Guests will gather there for theatrical performances throughout the day — you never know what you might find!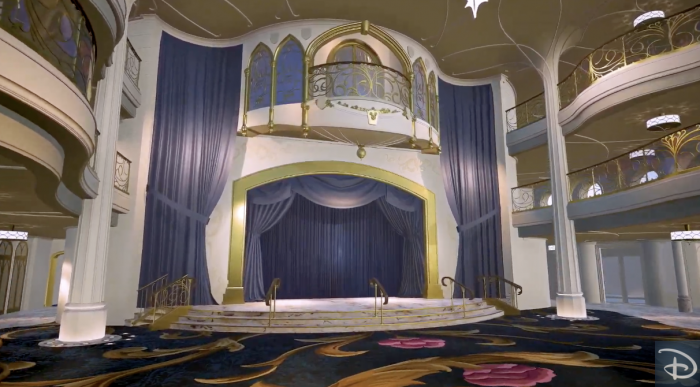 Luna
Luna is an all-new entertainment space with a huge two-story LED screen, a bar, and a stage. Luna will be the home of multiple different performances designed for the entire family.
Multiple Shows Available
Onboard, you'll be able to catch a variety of different shows. Some will be based on Disney movies, like Disney's Aladdin — A Musical Spectacular and the reimagined story of Disney The Little Mermaid, which will feature a contemporary retelling of the film's storyline.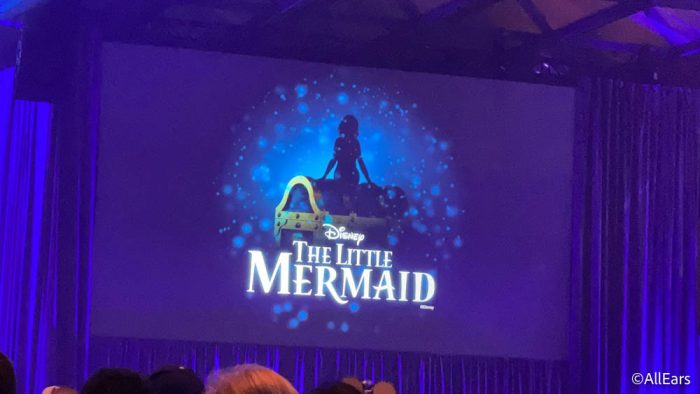 You'll also be able to watch Disney Seas the Adventure, where Captain Minnie hands over the helm to Goofy and he sets course into "uncharted" waters. Disney notes that "Along the way, Goofy will encounter a bevy of bold, brave and brilliant Disney and Pixar friends who encourage him to lead with his heart through rousing renditions of iconic Disney songs." Make sure to stop by and watch this one on the first night of your trip!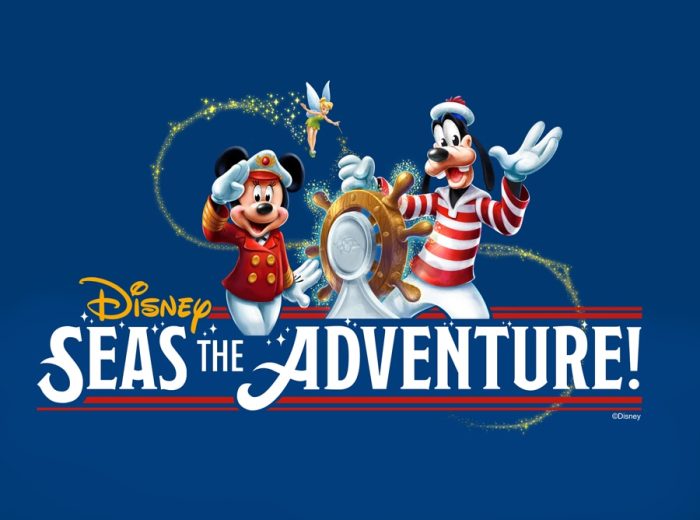 Cinemas
But that isn't all that you'll be able to watch! The ship is home to two cinemas, Wonderland and Neverland, where you can watch Disney movie premieres on the day that they are released. (And sometimes even earlier!)
Entertainment Hub
Onboard the ship, there's a brand-new entertainment hub called Luna, inspired by the Pixar short La Luna. During the day, it's a space where families can hang out, but at night it's adults-only. Luna will be home to a two-story screen wall and will feature a stage, bar, and seating. At night, it'll host live shows and interactive events.
Fireworks
And like other cruise ships, the Disney Wish will have its own specially-curated fireworks show to end the night. What a blast!
CHILDREN'S ACTIVITIES
Children's Activities Highlights
Toy Story Splash Zone
Looking for some time in the water? Your kids will be able to enjoy the Toy Story Splash Zone — the perfect place to play and cool off at the same time.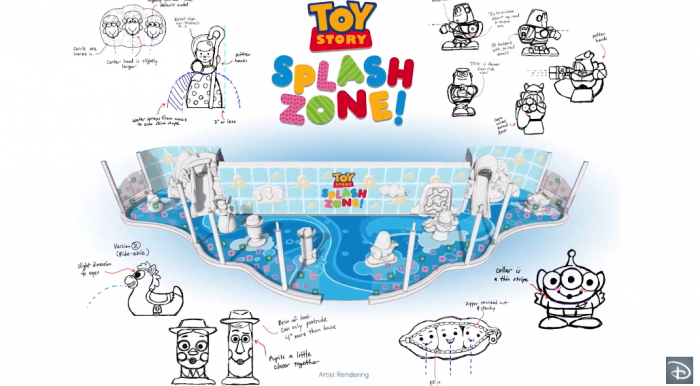 Disney Oceaneer's Club
One of the most popular places for kiddos to hang out will be at the reimagined Disney Oceaneer's Club — where there are three separate play areas with different themes. First up is the Marvel Superhero Academy, where kids can choose their own superhero suit and put it to the test, hanging out with favorite heroes along the way.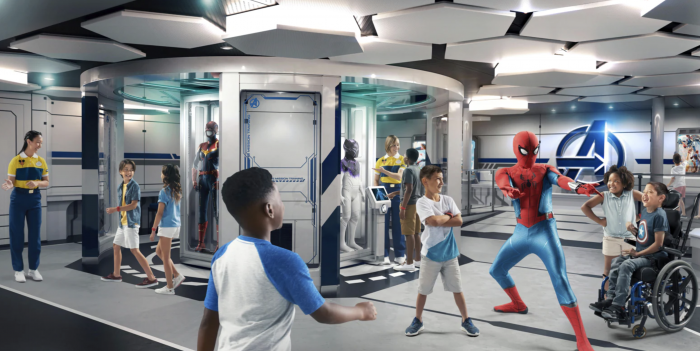 In the Fairytale Hall section of the club, you can visit Rapunzel's art studio, Belle's library, and Elsa and Anna's summer house. Little ones will be able to read, play, or paint with their beloved princesses.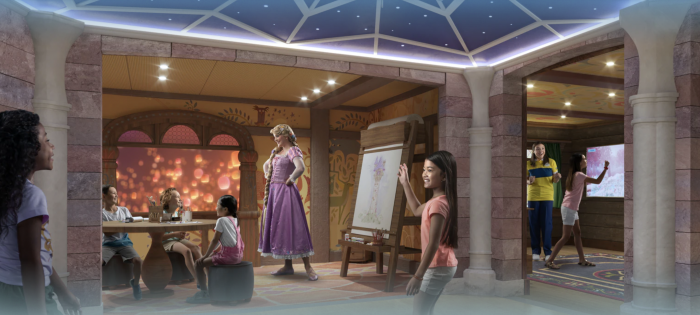 What's the third area? Well, it's the Walt Disney Imagineer Lab, where kids can learn all about the technology that makes Disney experiences happen. They'll get the chance to design their own rollercoaster and even take a virtual ride on it!
ACTIVITIES FOR THE WHOLE FAMILY
Family Activities Highlights
AquaMouse
This will be Disney's first-ever attraction-at-sea, featuring a new Mickey Mouse short called Scuba Scramble. It's somewhat like a water coaster, but also features show scenes, lighting, and special effects. The track itself is 760 feet and stretches around the upper deck!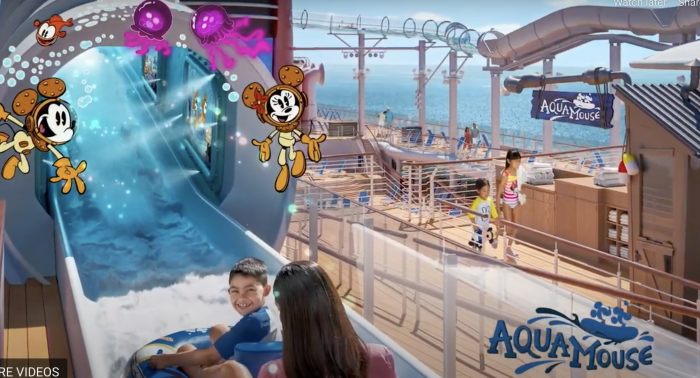 Hero Zone
A futuristic sports arena that's home to the Incredi-Games, a family challenge competition. Here, you'll compete in an obstacle course with a series of challenges, including the popular Jack-Jack's Incredible Diaper Dash from other Disney Cruise Line ships. The Hero Zone is also home to a free-play sports area for those who don't want to participate in the Incredi-Games.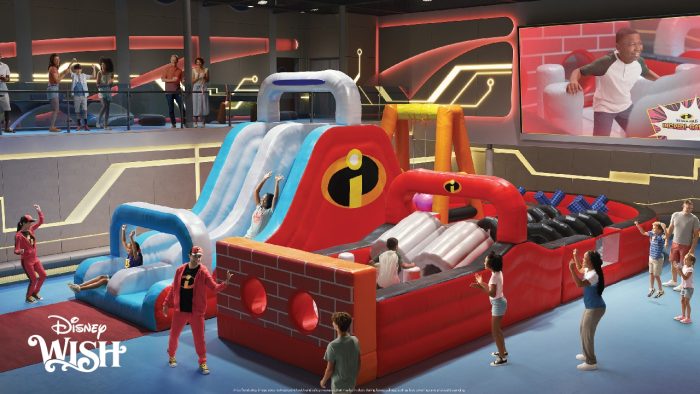 CABINS AND ACCOMMODATIONS
Disney Wish Staterooms Highlights
Regular Staterooms
The Disney Wish will be home to 1,254 staterooms, with 90% of them offering an ocean view. 70% of these rooms are home to a spacious verandah, and there will be 451 connecting doors to adjoining rooms for larger families.
There are four categories of staterooms:  Inside, Oceanview, Verandah, and Concierge. Each has different amenities and different themes/decor. The first three levels are all your basic staterooms, with Inside being the cheapest option and Verandah the most expensive.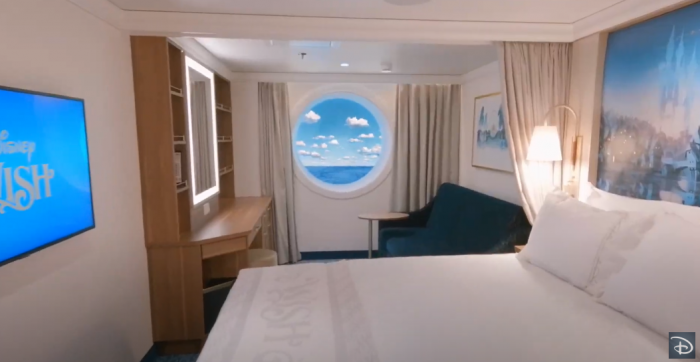 Each room has a connected bathroom, but the Verandah rooms offer a split bathroom. How nice!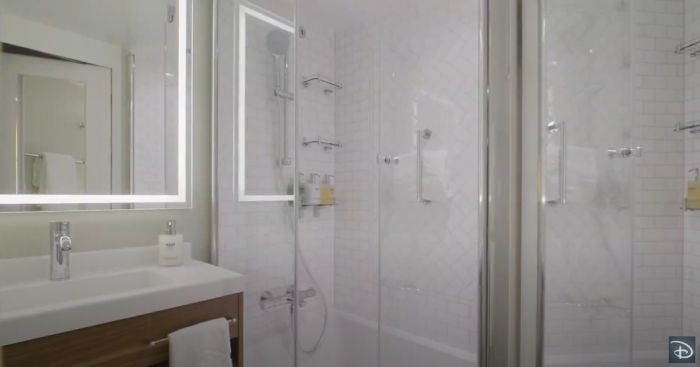 Upscale Accommodations
However, if you'd like to go extra fancy, you can opt to stay Concierge, with larger rooms and additional amenities. Some of these even go particularly over-the-top, like the Concierge 2-Story Royal Suite with Verandah or the  Concierge Wish Tower Suite.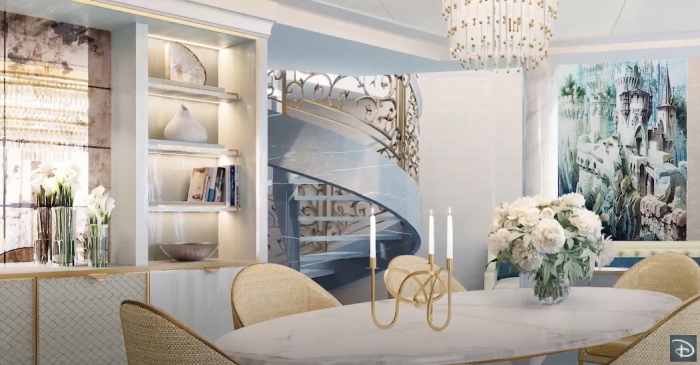 SPECIAL ARTICLES/REPORTS