Magic. Wonder. Dream. Fantasy. These are the names of Disney Cruise ships  that have taken guests on fantastical voyages across the seas since 1995.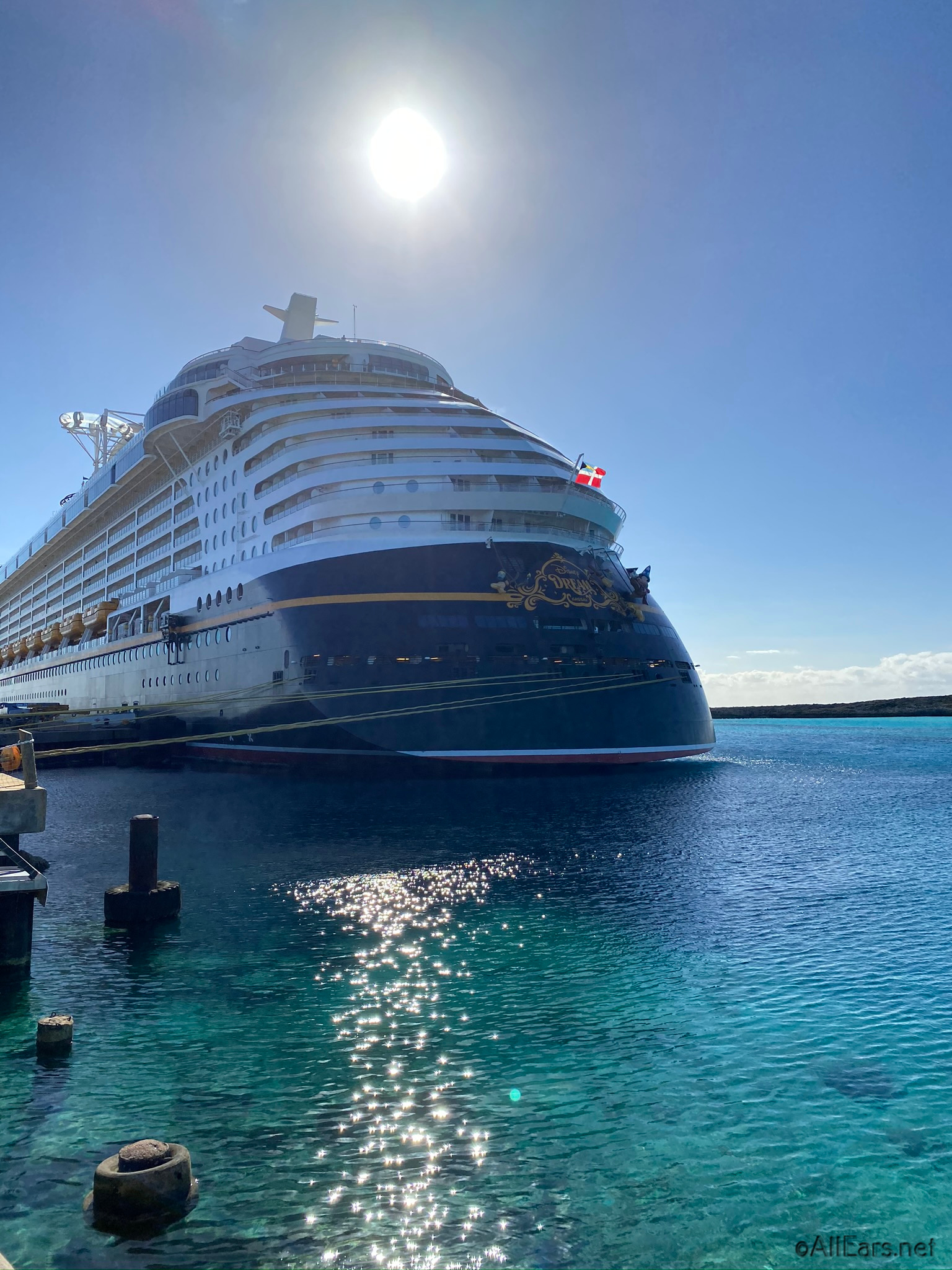 But it's almost time to add a fifth name to the lovely quartet above:
Wish.
The Disney Wish cruise ship has a lot in store for adventurers at heart — and we're so here for it.

Next summer, the Disney Wish will set sail from Port Canaveral, Florida, and take guests on 3- to 4-day journeys to Disney's private island, Castaway Cay, located in Nassau, Bahamas.
Though Castaway Cay can be accessed through Disney's other cruise ships, the Disney Wish has several new onboard features that'll make it the most unique and advanced Disney cruise line to date — and we can't wait to explore them all.
Food
One of the many reasons we love booking cruises? The food!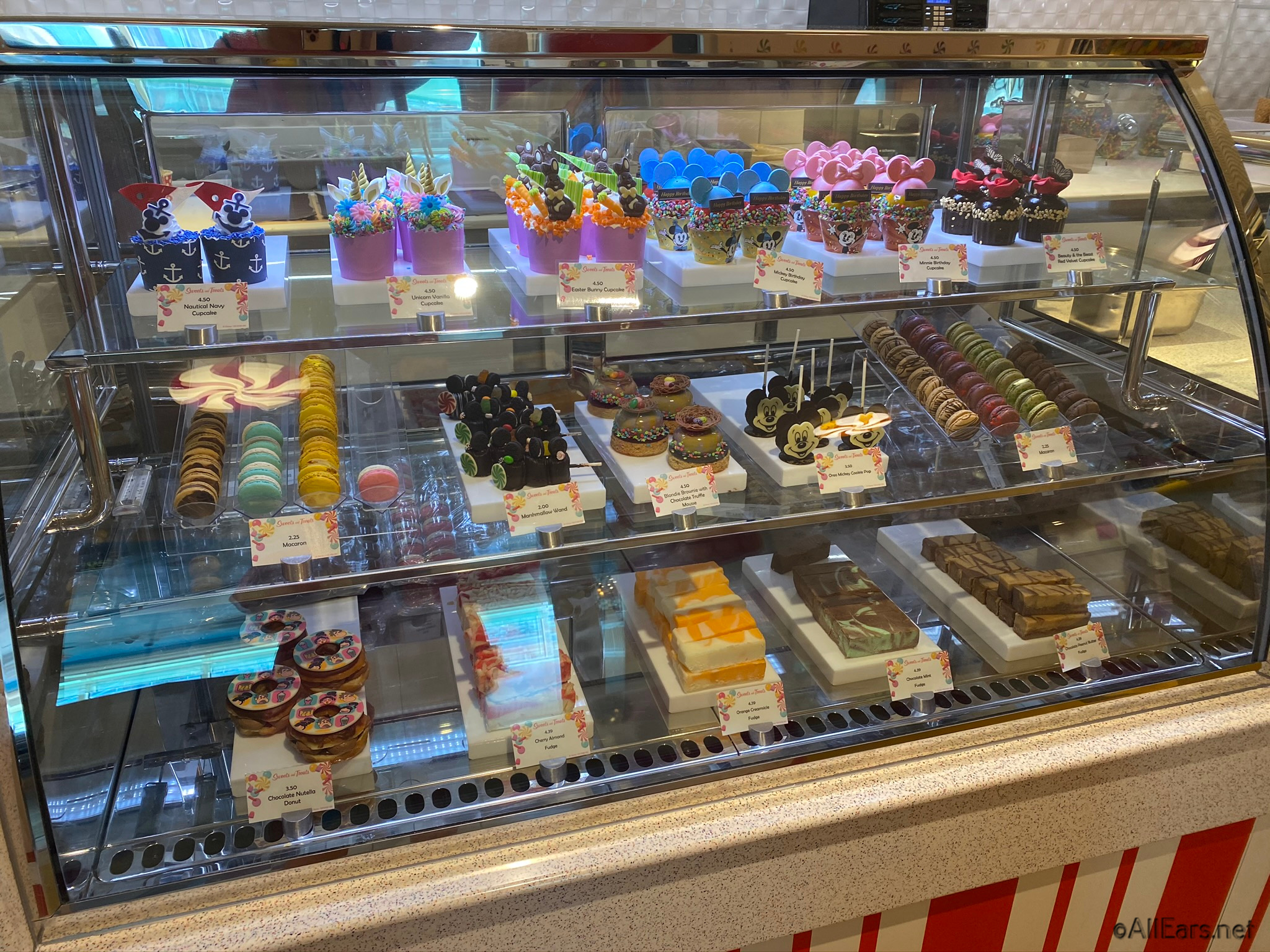 With the experience of a Disney cruise, guests enjoy a variety dining options without the extra cost. (Unless, of course, you decide to dine in one of the upscale restaurants for a romantic evening at sea…)
The Disney Wish will feature exclusive dining options for veteran and new cruisers alike.
Arendelle: A Frozen Dining Adventure
So how will the Disney Wish compete with Rapunzel's Royal Table over at the Disney Magic? Or Tiana's Place at the Wonder? By featuring an all-new Disney princess (or rather, Disney queen) dining experience!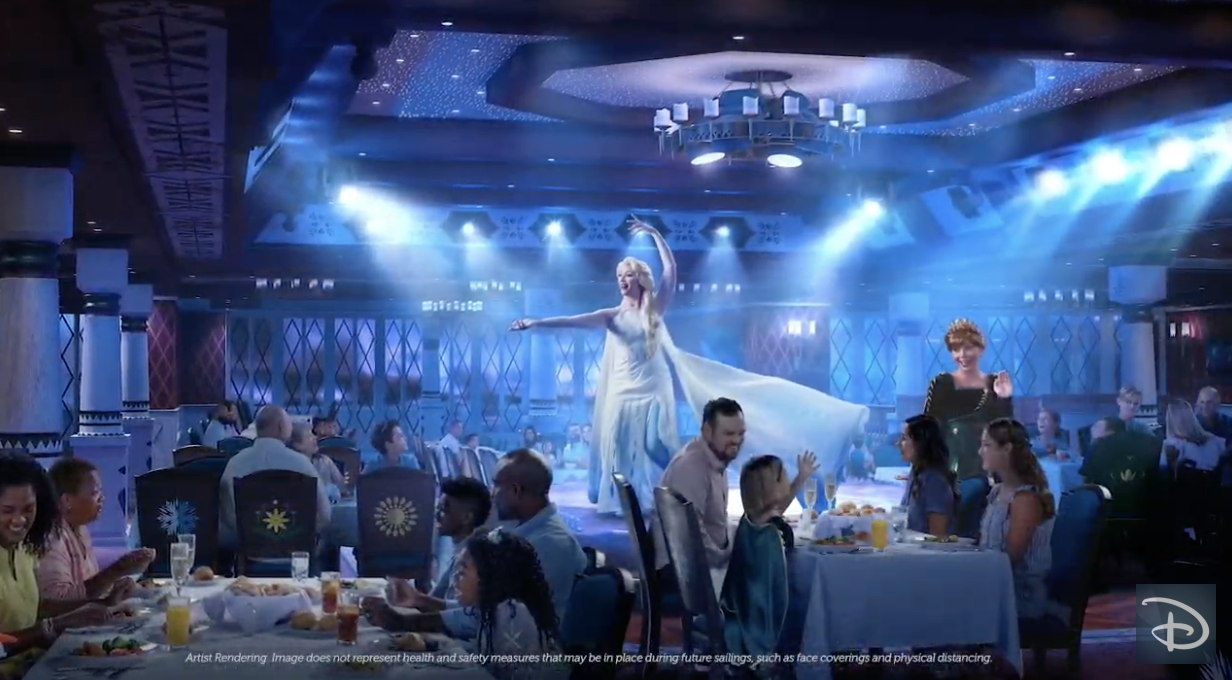 Arendelle: A Frozen Dining Adventure will have guests step inside Anna and Elsa's kingdom for a night of good food and merriment. (Psst: Anna and Kristoff are now engaged — and you get to be part of their celebration!)
From the concept art, the story and performance styles of the Frozen cast will most likely follow the same format as Rapunzel's Royal Table and Tiana's Place. The layout has a similar vibe too, where the show will happen in a central area while also allowing characters to roam freely around the dining room.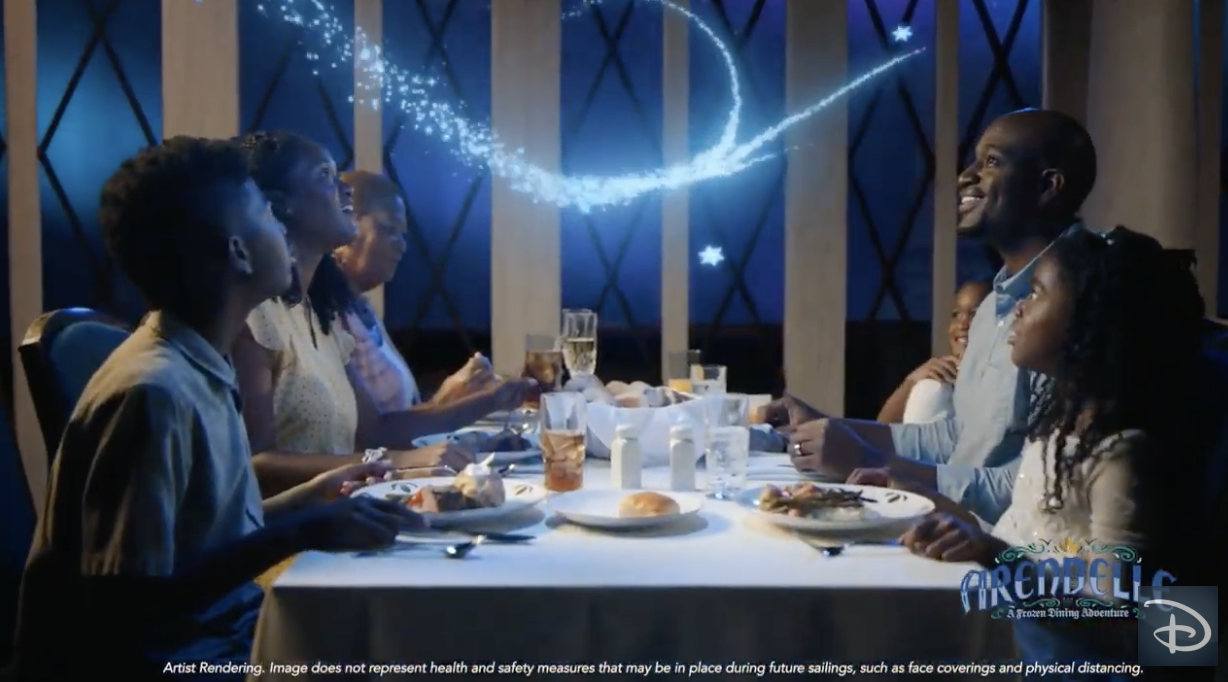 However, the dining options will be different than we've seen in the past and feature Norwegian foods that…Oaken created? (Sauna owner and chef? This man must be the jack of all trades.)
Worlds Of Marvel
We don't know much about this dining experience yet, but much like Arendelle's set-up, the Worlds of Marvel restaurant will also have interactive story elements.
Saving the day and getting to dine on unique "global cuisines?" Sounds like a win-win to us. We expect this restaurant to be extremely high tech and built using "Stark Technology." Again, we don't know much as of now, but we do know it'll be the first Marvel interactive dining experience of its kind.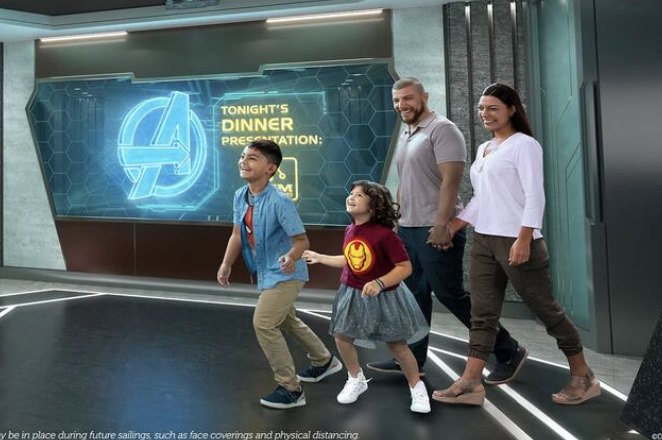 (Maybe they'll use items featured in Disney California Adventure's new land, Avengers Campus? Hmm…)
1923
The Disney Wish wants to take you back in time to the year 1923, when the Walt Disney Studio was born.
1923 is a dining experience you'll want to wear your best Roaring Twenties attire for (or maybe just something a little more sophisticated than your usual tourist shorts and t-shirt).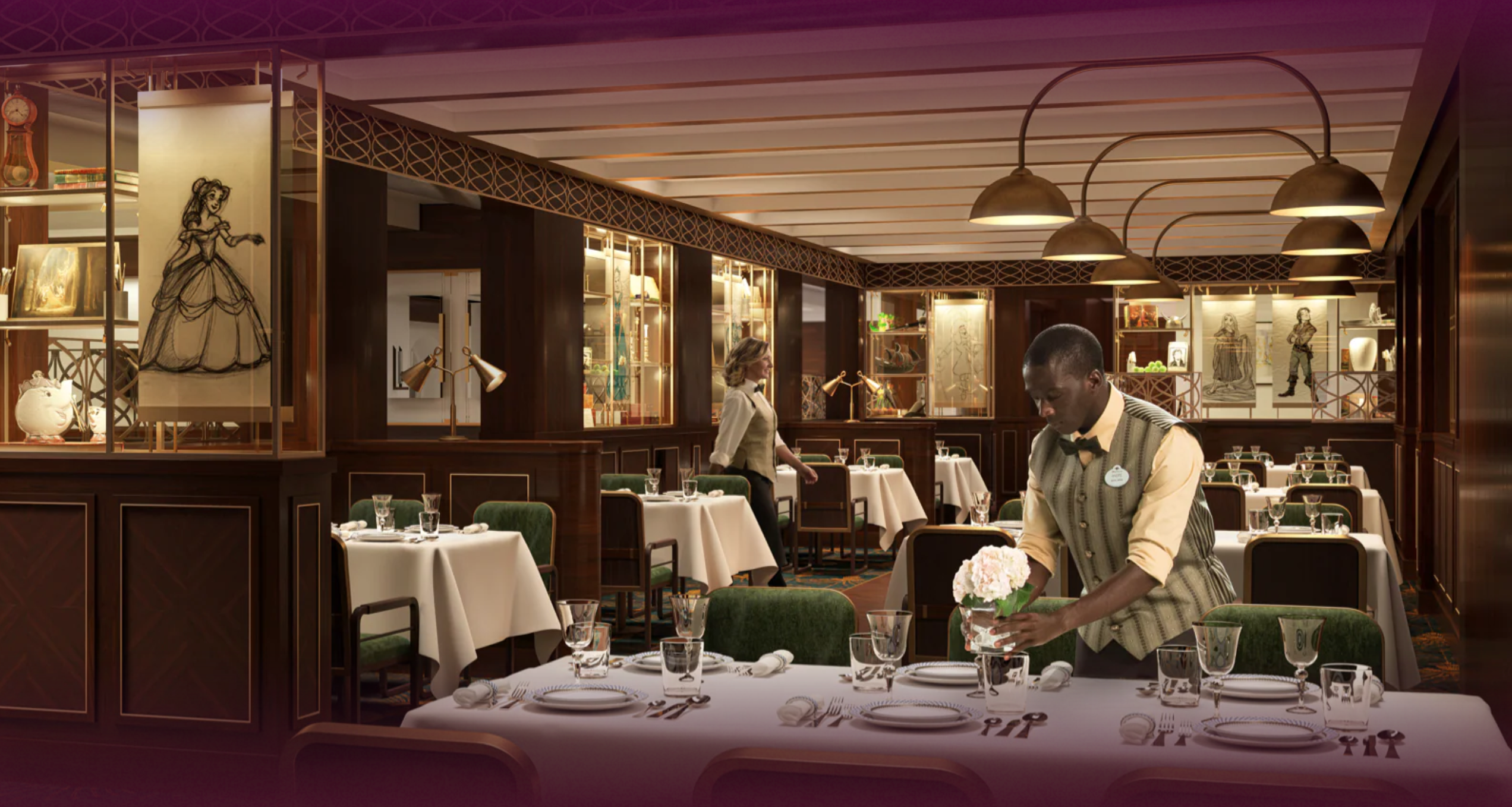 The restaurant has an "old Hollywood" vibe expressed through its green and gold color scheme. The menu will feature California-inspired flavors and showcase foods with fresh, local ingredients. Throughout the restaurant, you'll find pictures depicting the beginning, middle, and final steps of the Disney animation art process as well as props and other memorabilia celebrating the animators and their creations.
Shows
Disney always seems to find a way to provide guests with high-quality performances on both land and sea. Disney Wish is prepared to continue that legacy through its exclusive theater experiences.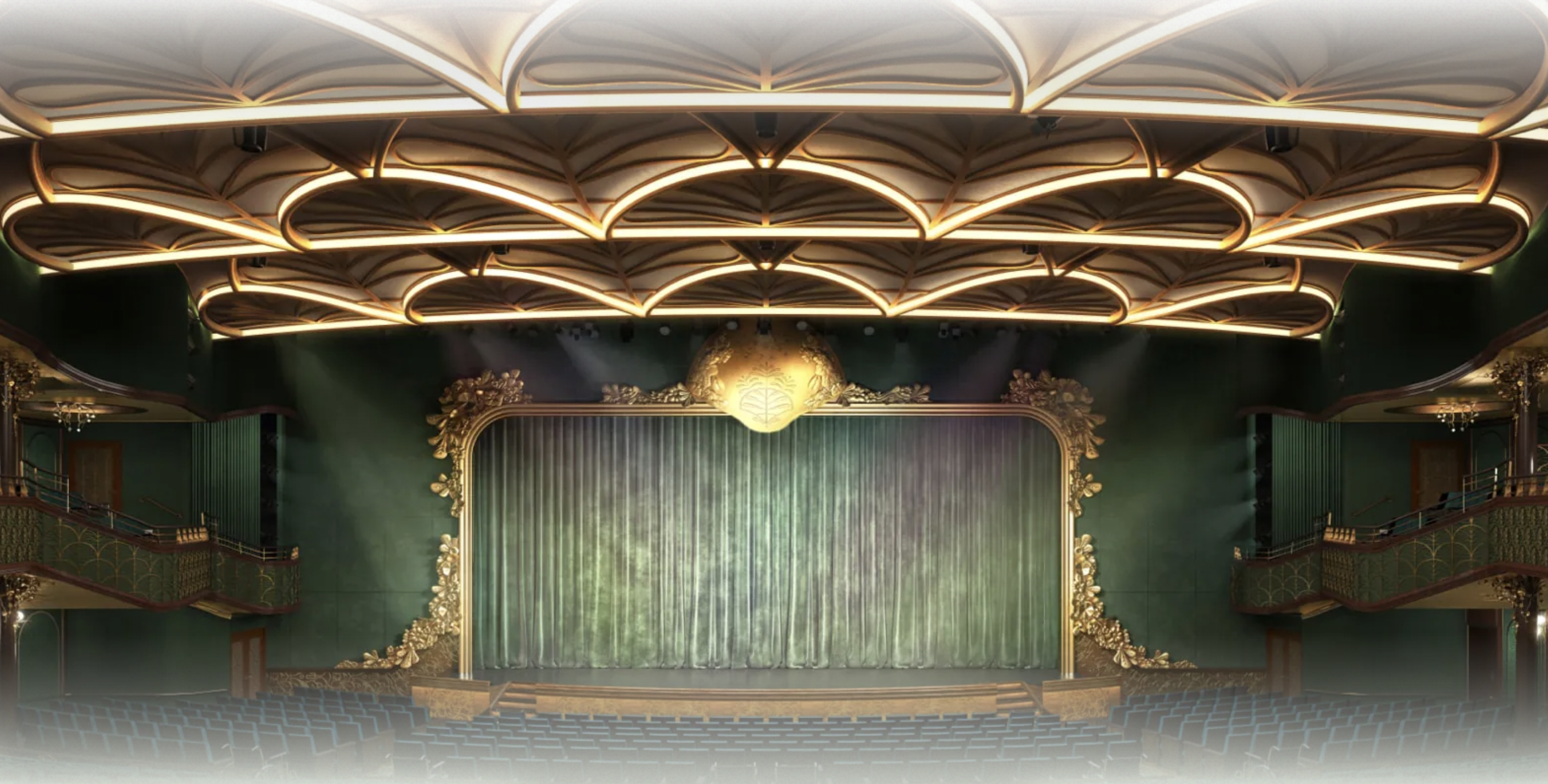 Let's give a quick shoutout to The Walt Disney Theatre — the Wish's Fantasia-themed stage that will bring new and old Disney tales to life.
Disney's Aladdin: A Musical Spectacular
If an Aladdin musical sounds familiar, that's because Disney's Aladdin: A Musical Spectacular has already made its debut on the Disney Fantasy and in Disney's California Adventure (before Frozen: Live at the Hyperion took its place). But we're still excited to see the production making its way over to the Disney Wish, too!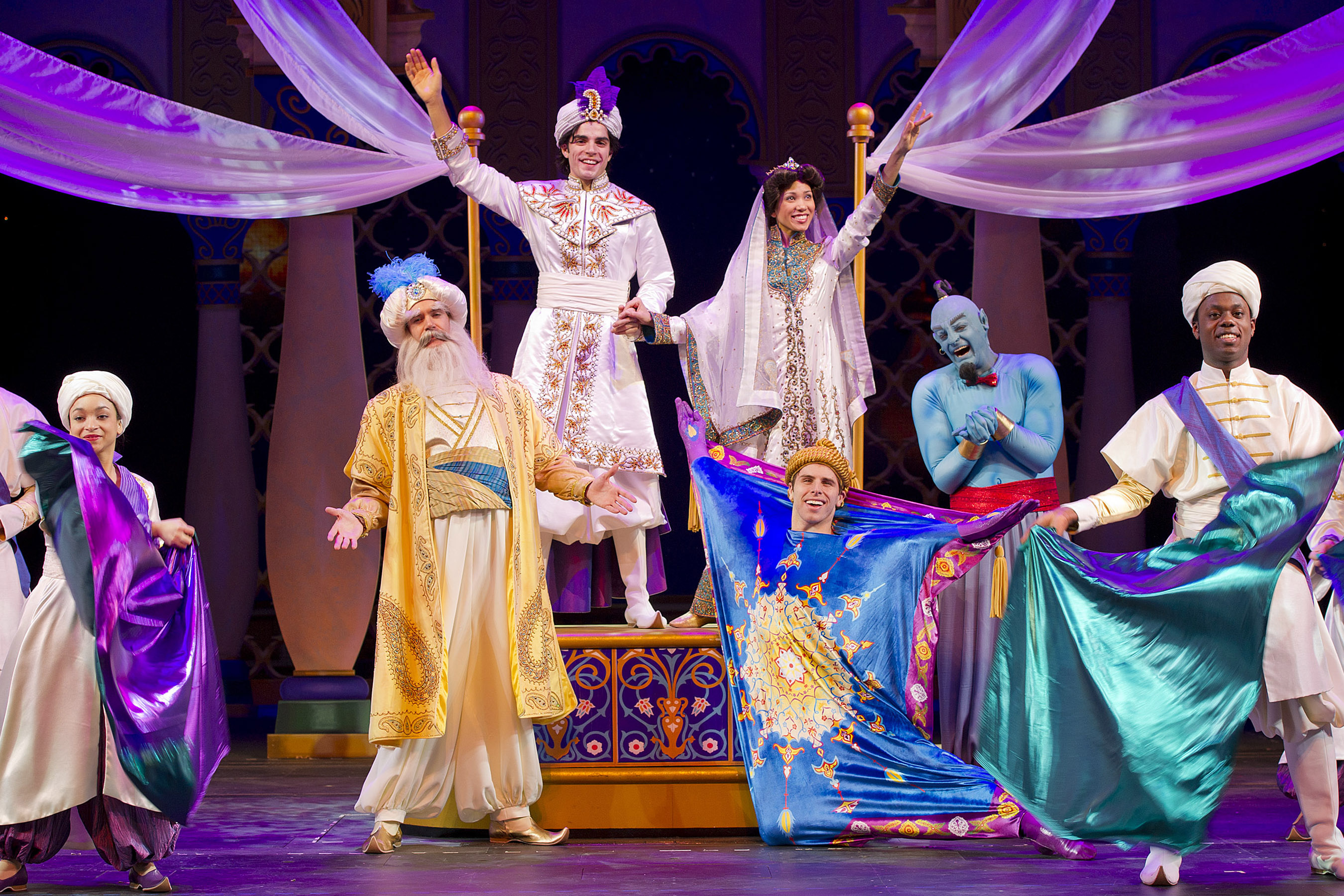 The musical's storyline is the same as the animated classic's, but the special effects and knockout talent take this production to a "whole new world."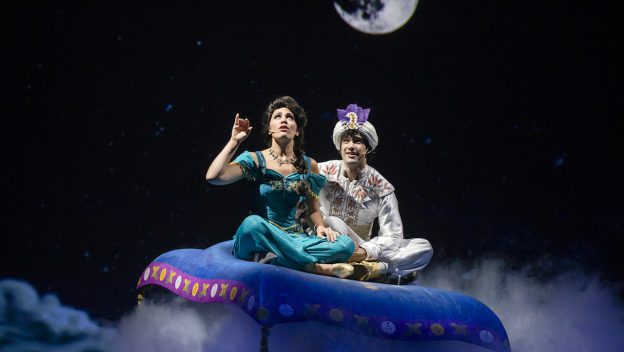 Along with the original scores and musical numbers we've grown up listening to on repeat, there's an original song added to this show called "To Be Free," sung by Genie during a vulnerable, tender moment in the production.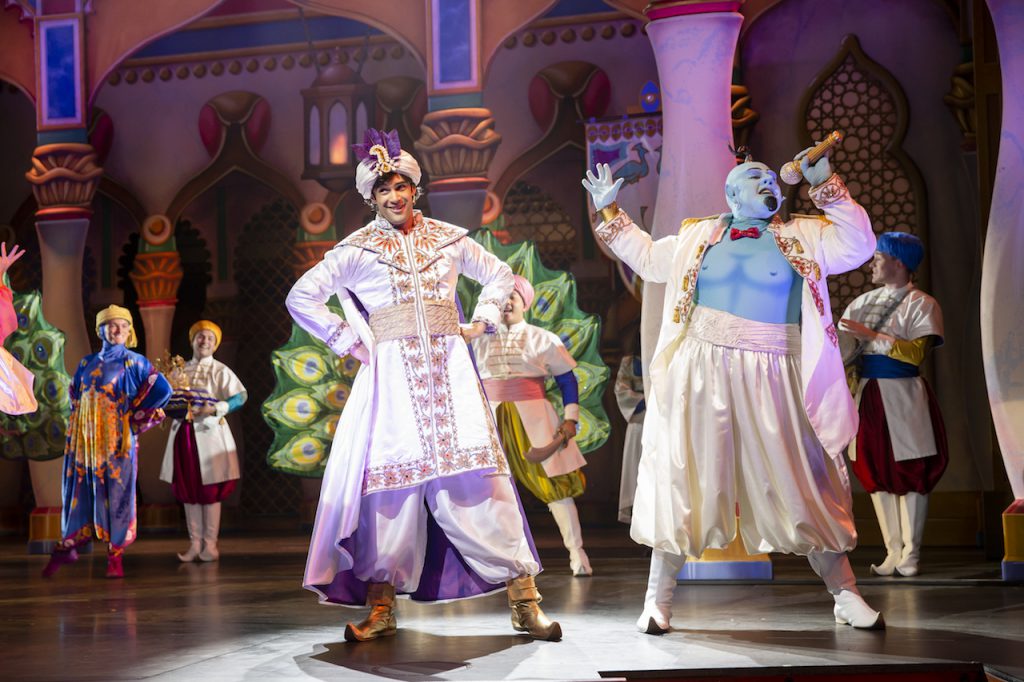 Speaking of Genie, the Genie performers we've seen on the Fantasy are Hilarious (with a capital 'H'). Time and again, they crack us up with their improvisation and punchy line delivery. We can't wait for Genie to make us belly-laugh again over at the Wish, too.
Two Brand-New Original Productions
What else can we expect to see performed in the Walt Disney Theatre? Disney's keeping this information pretty hush-hush for the time being. However, the Disney Cruise Line website promises that guests will be able to watch two never-before-seen productions while sailing on the Wish.
If these performances are anything like past original cruise line shows — such as Disney's Believe — then we're expecting a brilliant collaboration of heartwarming storylines and timeless Disney songs.
Kid Clubs
Kid Clubs on the Disney cruise lines are jam-packed with fun activities and incredible theming. It makes us a little jealous that we can't be kids again and join in on the fun.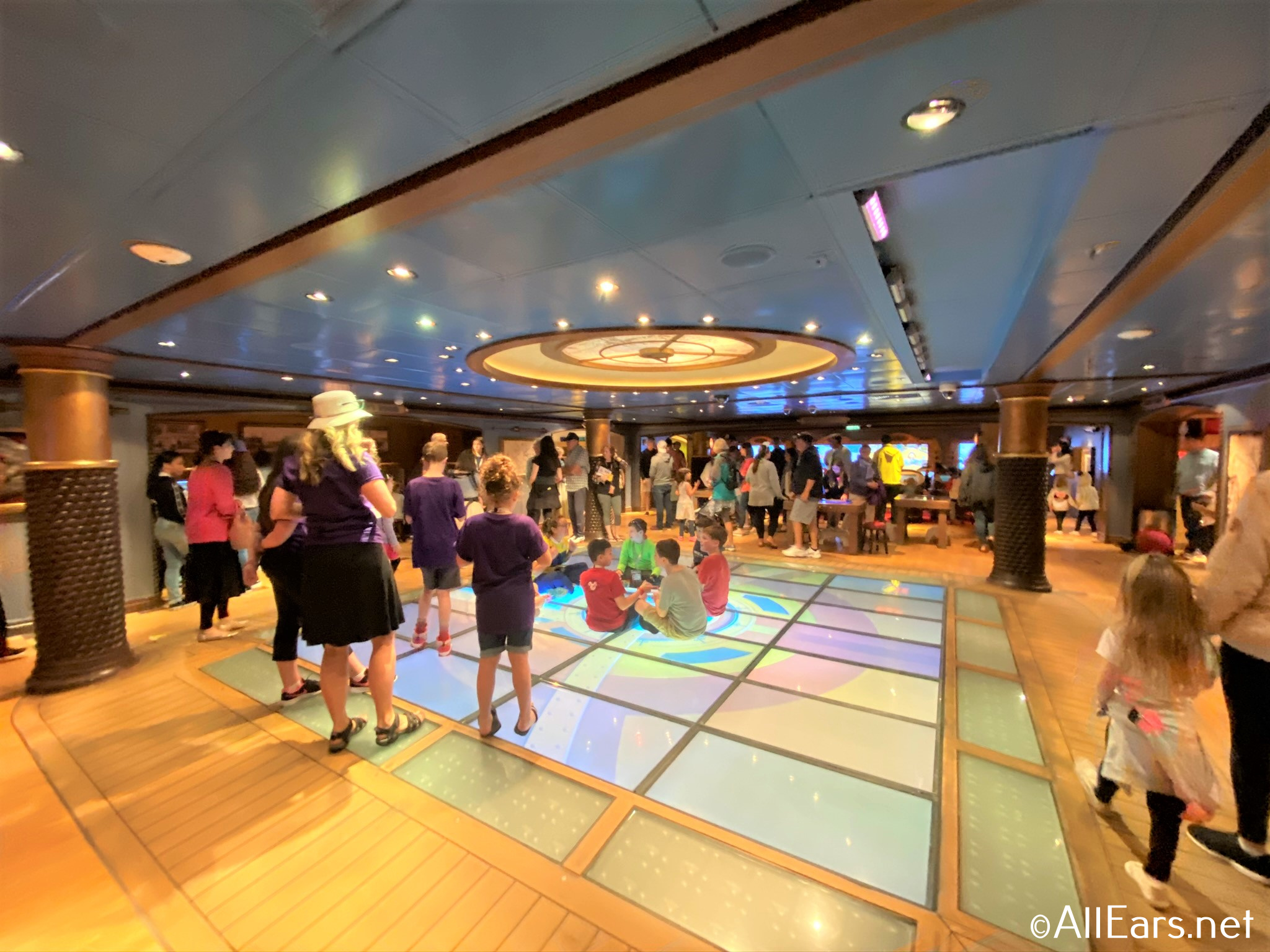 The Wish will feature new kid-exclusive areas that make us even more jealous than we already are.
Marvel Superhero Academy
The Marvel Superhero Academy has been a popular Kids Club across the Disney cruise lines — and now it's web-slinging its way over to the Wish.
Based on the Disney Cruise Line website, the Wish's Marvel Academy will stay true to the Marvel Academy brand, allowing kids to live out their superhero dreams by fighting alongside Marvel heroes, such as "Spider-Man, Black Panther, Ant-Man, and the Wasp."
Walt Disney Imagineering Lab
Young passengers aren't going to want to miss out on this never-before-seen Kids Club. In the Walt Disney Imagineering Lab, young guests will become the very people who create state-of-the-art experiences for our parks and cruises — Imagineers.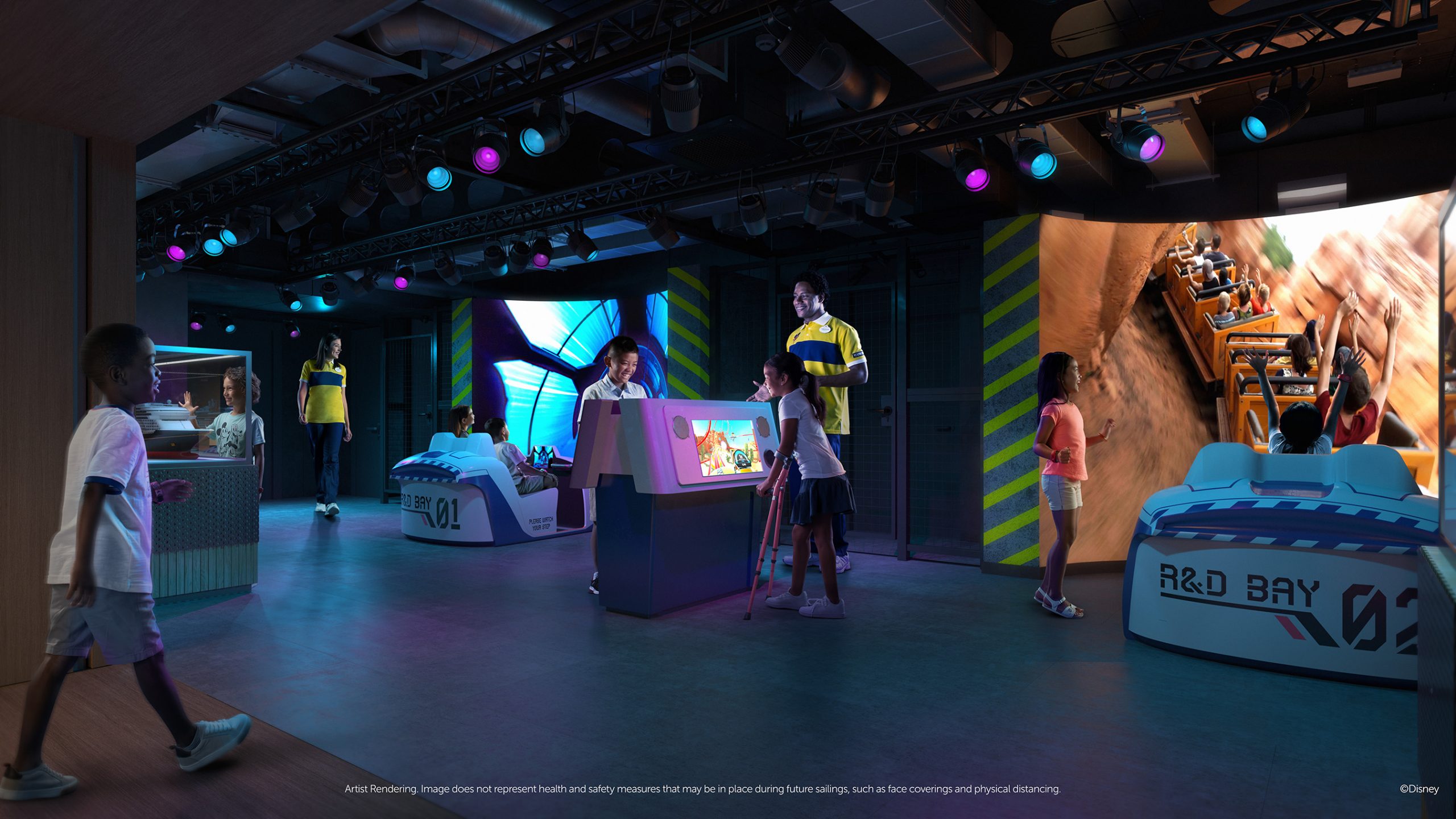 Not only will kids be able to learn about the creative processes behind their favorite rides and attractions, but they'll also get to create their own Disney ride. Based on Disney's concept art, once kids are finished with their designs, they'll  hop into a stationary ride vehicle and experience their creation virtually. How cool is that?
Fairytale Hall
Fairytale Hall is another all-new Kids Club where our favorite princesses (and ice queens) can be found.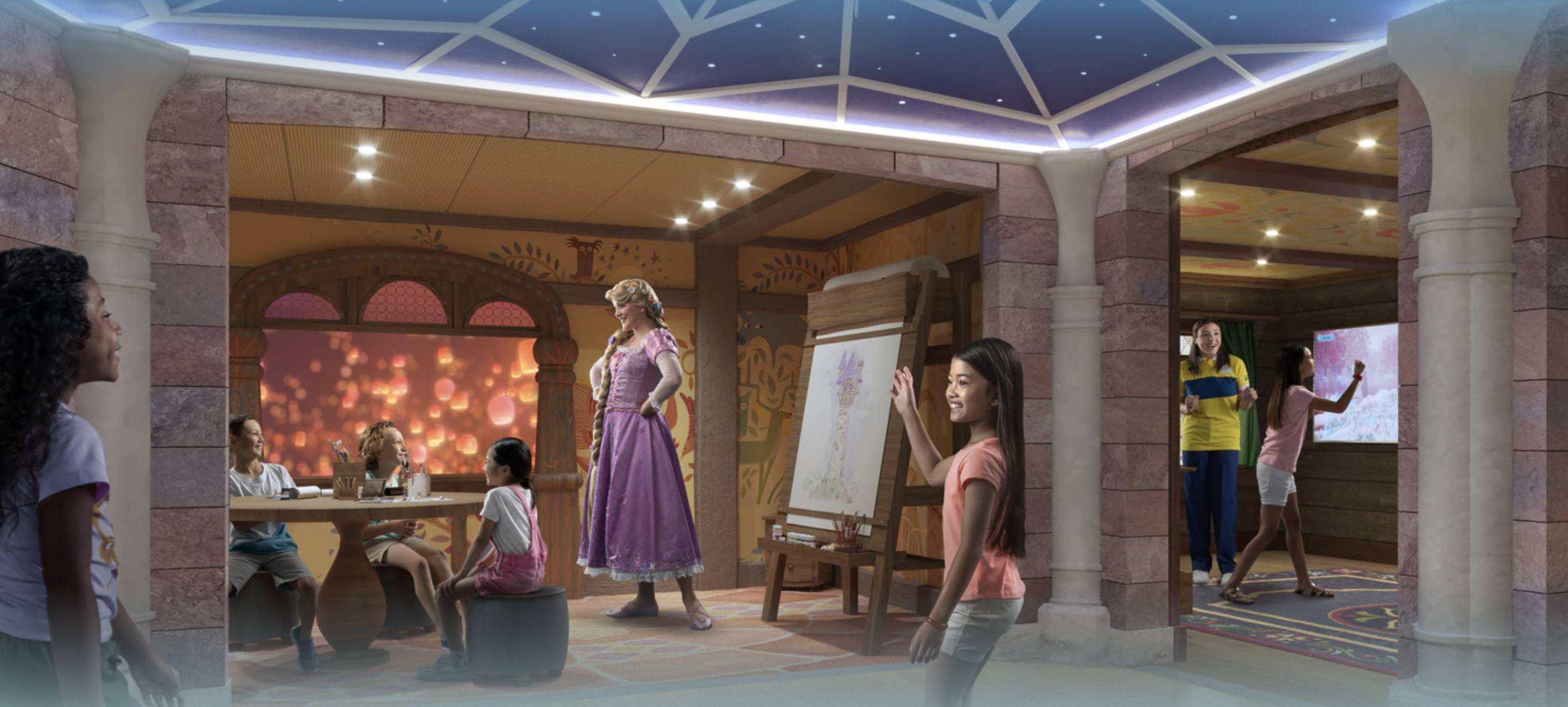 This will be a great option for kids who love crafting and creating. In Rapunzel's Art Studio, kids can design floating lanterns. (Okay, we don't think they'll actually float — but they'll still be cool to make!) And Belle's Library will give kids the chance to act out their favorite tales.
Can't forget about the ice queens! In Anna and Elsa's Sommerhaus, kids will be able to create their own "ice magic" (which might come in handy on those hot days at sea).
Adult Exclusives
While the young ones are off playing in one of the many kids-only sections of the ship, the adults can check out some exclusive cruise hangouts of their own.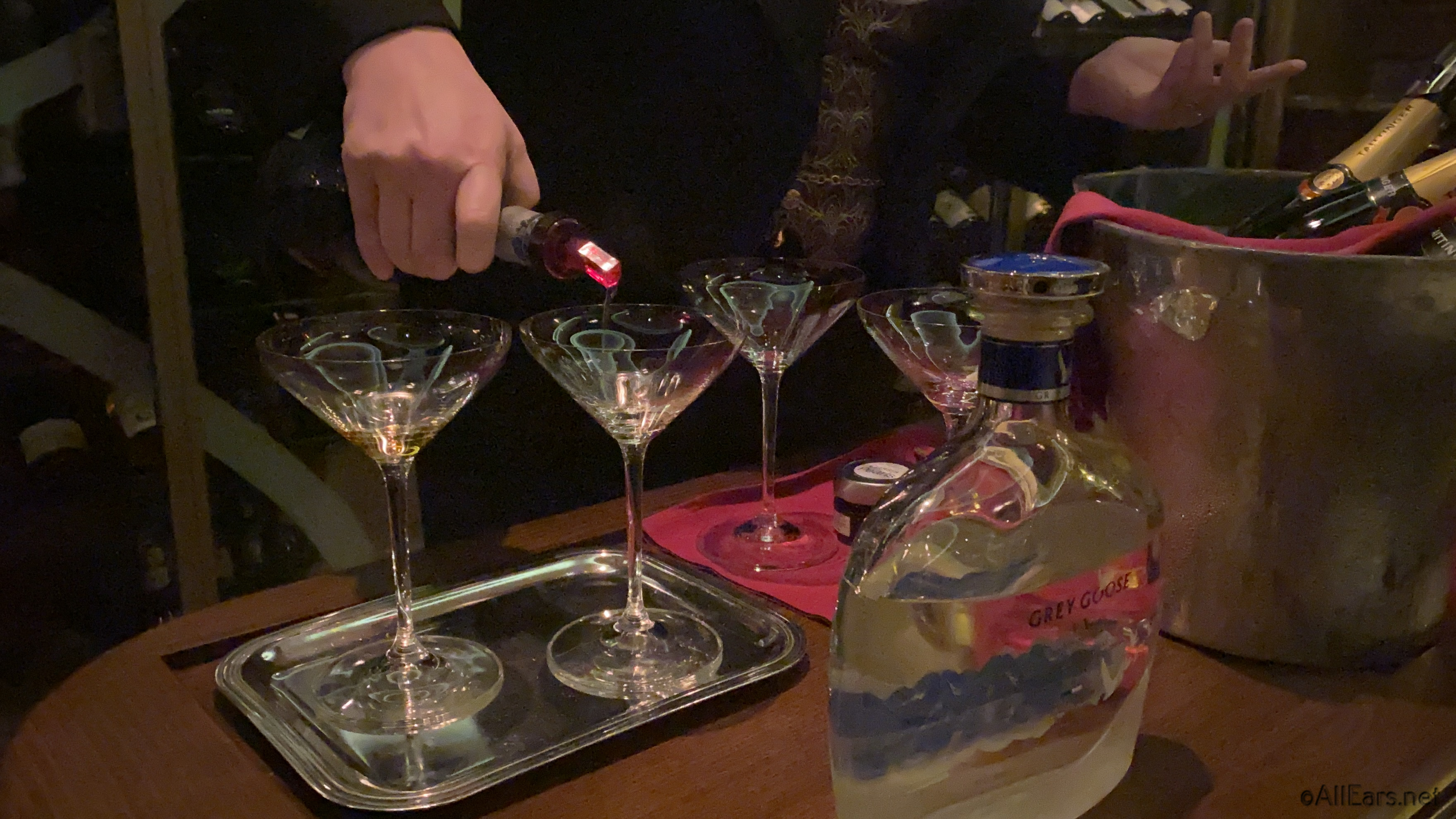 Disney has appropriately categorized these areas as "Adult Escapes."
Star Wars Hyperspace Lounge
By day, the Star Wars Hyperspace Lounge is a place for the whole family to enjoy. But by night, it's an adults-only getaway, featuring alcoholic beverages  inspired by the Star Wars franchise.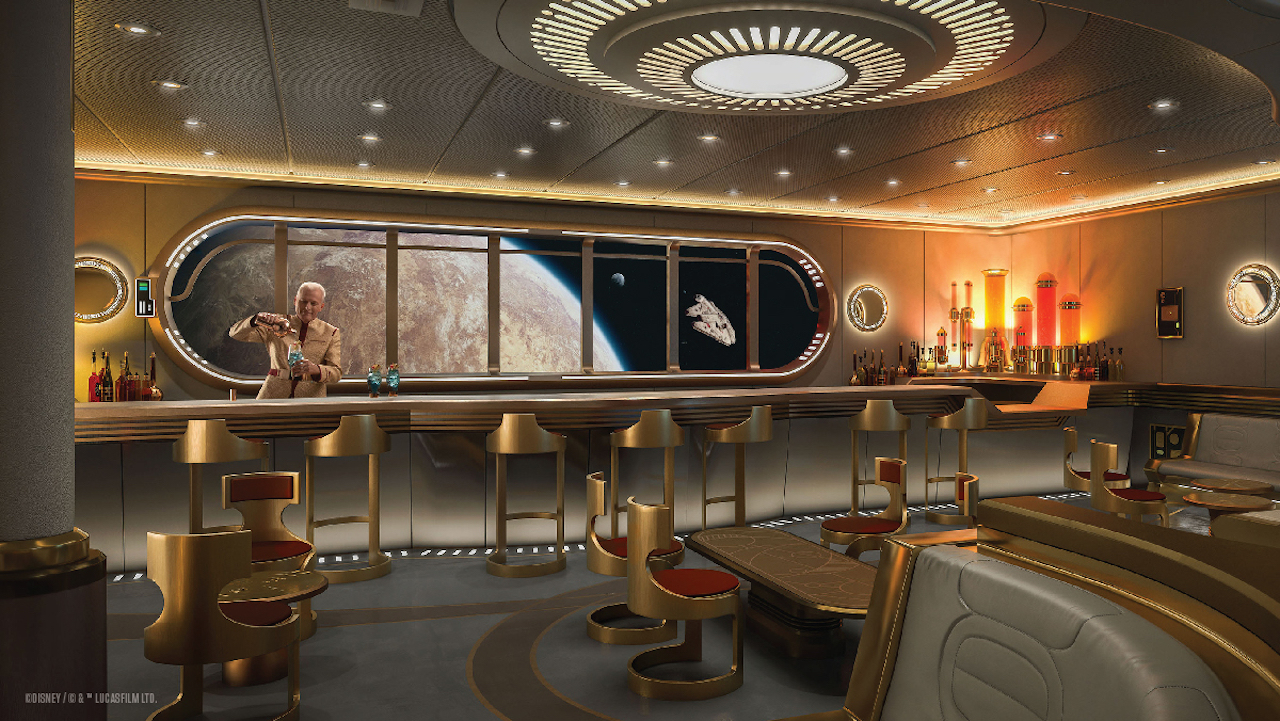 The concept art — dare we say it — is out of this world. The window featured in the concept art transitions in real-time, taking you across unique planets and galaxies.
Disney mentioned on their website that the adult beverages in this lounge will include interactive tasting experiences. We're wondering if it'll be similar to the interactive drinks that happen over at Trader Sam's?
Palo Steakhouse (And Other Beauty And The Beast Themed Areas)
It's Cogsworth's time to shine again. Palo is an adults-only, fine-dining experience that you can also experience on the other four Disney cruise lines. It features an Italian-inspired menu of delicacies and has an interior influenced by our favorite enchanted clock, Cogsworth.
But wait — there's more. There are two other adult-exclusive, Beauty and the Beast-themed areas that'll be available on the Disney Wish. The Rose is the second area — a lounge heavily influenced by the Beast's elegant castle design. Disney's website describes this area of the ship as a stylish place for "a pre-dinner aperitif or after-dinner cocktail."
The third Beauty and the Beast-themed area is Enchanté by Chef Arnaud Lallement, another fine-dining experience influenced by our favorite enchanted candlestick, Lumiere.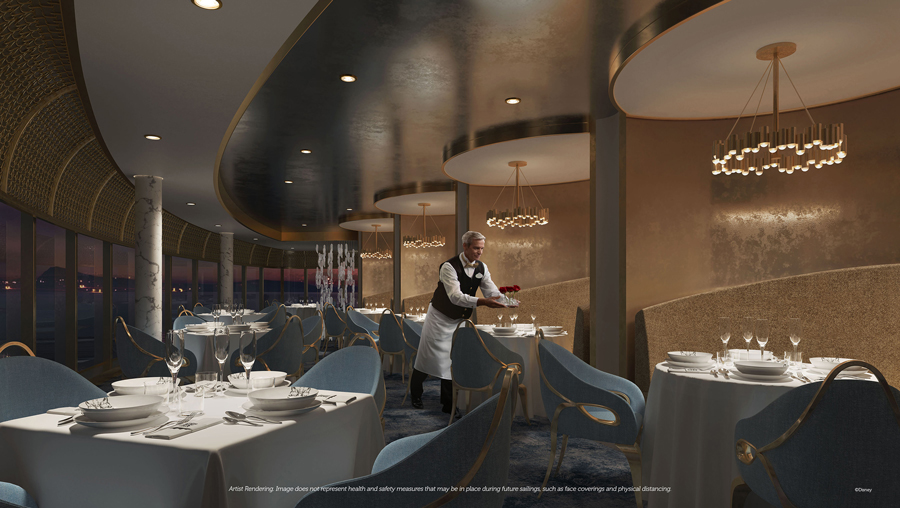 Looks like there might be a fine-dining competition afoot…
Water Activities
It wouldn't be a Disney cruise if you didn't spend a good chunk of time hopping from pool to pool or exploring a new island.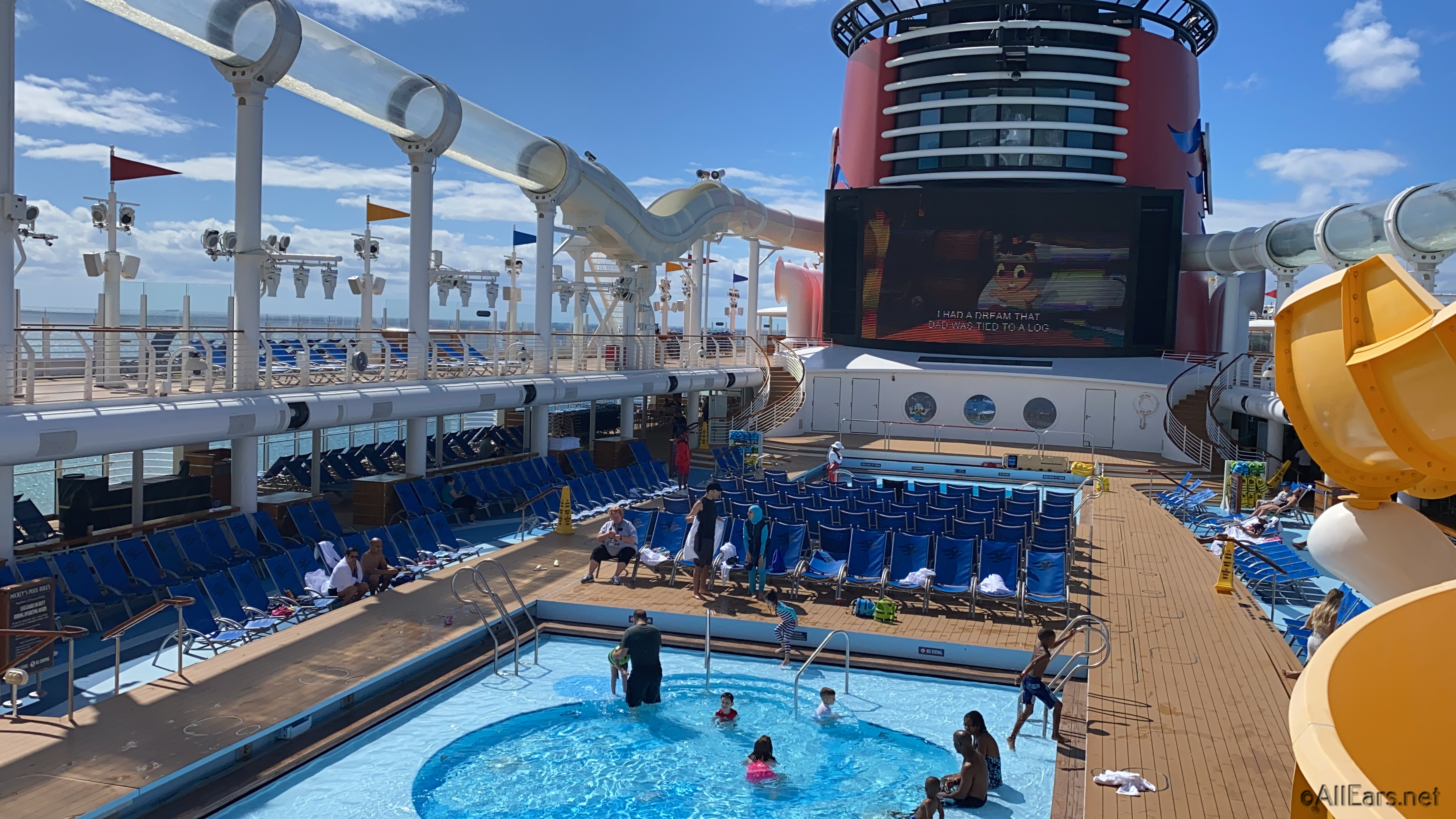 The Disney Wish will have ten different pools for you to jump into — which you can experience before, during, or after you've docked at Disney's private island, Castaway Cay.
But the Wish will also offer some unique water-based activities we haven't seen on the other cruises before (and one major water attraction that uses Disney Imagineering we haven't seen ever.)
Toy Story Splash Zone
Once again, Disney is shrinking us down to the size of a toy so that we can experience a new Toy Story area — the Toy Story Splash Zone. This splash pad is going to look like a giant bathtub, similar to the one featured in the Disney Pixar short, Partyasaurus Rex.
Although the target audience is for the younger kiddos, families can play together around the oversized bath toys and the Slide-a-Saurus Rex. There'll also be fun-themed areas within the "bathtub," showcasing our favorite cowboy and space ranger, Woody and Buzz.
AquaMouse
You know AquaDuck, the Donald-themed water coaster featured on the Disney Dream and Fantasy. But now it's time for AquaMouse: a Mickey and Minnie-themed water experience.
While riding this coaster, the AquaMouse will take you through a water-based Mickey and Minnie short called "Port Misadventures," complete with immersive show scenes and special effects triggered by the story.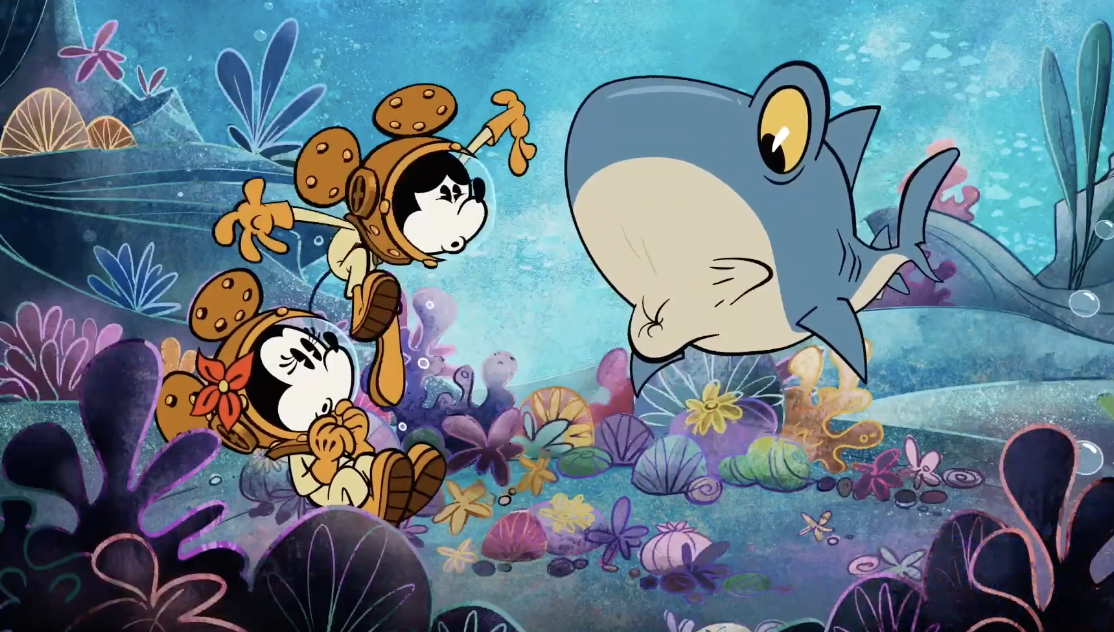 We're expecting a lot of laughs and wild antics from the Fab Five on their journey to Mermaid Lagoon!
The AquaMouse will have fantastic scenic views of the ocean below. And it'll spit riders out into a relaxing lazy river at the slide's conclusion. Yippee!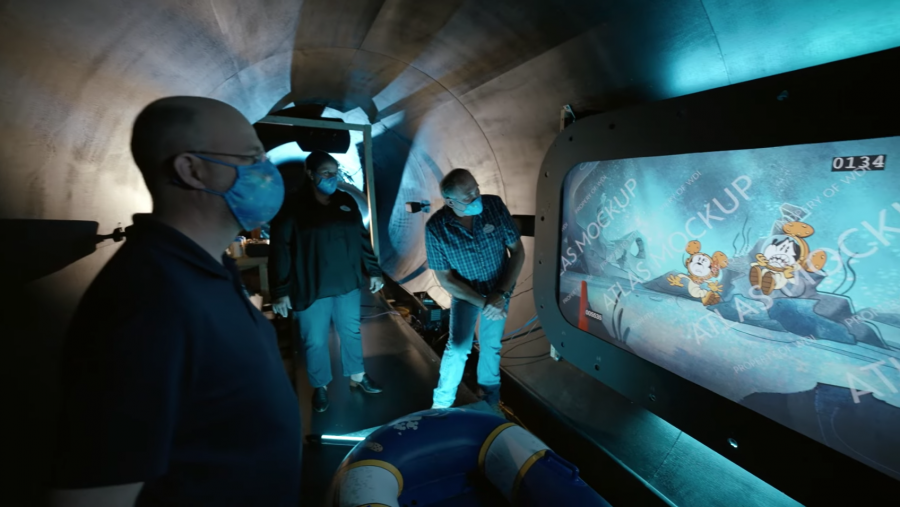 These are only a handful of things we're excited to experience on The Disney Wish. We also can't wait to sleep in one of those luxurious princess-themed staterooms,  try a cocktail at the poolside lounge, and watch the newest Disney films in the Peter Pan and Alice in Wonderland-inspired cinemas.
Can it be next summer yet? We're ready to set sail!
Looking for a chance to win a Disney Cruise vacation? Click here!
Which part of the Disney Wish are you looking forward to most? Let us know in the comments!
Join the AllEars.net Newsletter to stay on top of ALL the breaking Disney News! You'll also get access to AllEars tips, reviews, trivia, and MORE! Click here to Subscribe!