Universal Orlando Resort Transportation
If you're visiting the Universal Orlando Resort for the day or staying at one of their resort hotels, you'll want to know how to navigate around the parks and property.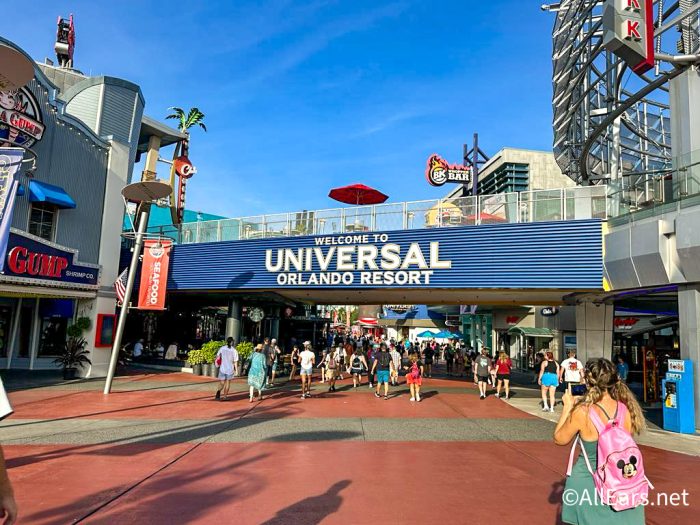 We will cover all the ways guests can travel around Universal Orlando Resort. If you don't find what you need, you can always arrange your own transportation. You may choose to rent a car, use a rideshare service, or book a car service (we recommend Happy Limo for a luxurious ride).
Universal Orlando Superstar Shuttle
First, you might need to find a way to get to the Universal Resort from the Orlando International Airport.  This Universal Superstar shuttle runs from Orlando International (MCO) to all 8 of the Universal Orlando Resort hotels and back in a continuous loop. It's a great way to ensure your departure and arrival is smooth and reliable.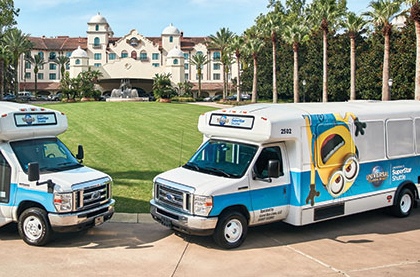 You'll have to book your reservation for the Superstar Shuttle in advance, and it's easiest to tack it onto your Universal Orlando vacation package. You can book a one-way trip (either to- or from- the airport), or you can book a round-trip reservation.  If you add it to your vacation package online, you'll be prompted to supply your flight information through a follow-up email. Or you can call Universal Guest Services to add it to an existing vacation package at (407) 224-4233.
Only guests staying at official Univeral Orlando resort hotels can book the Superstar Shuttle:
Universal' Aventura Hotel
Loews Sapphire Falls Resort
Loews Royal Pacific Resort
Loews Portofino Bay Hotel
Hard Rock Hotel
Universal's Aventura Hotel
Universal's Cabana Bay Beach Resort
Universal's Endless Summer Resort – Dockside Inn and Suites
Universal's Endless Summer Resort – Surfside Inn and Suites
This isn't a free service, but it is pretty reasonably priced.
Round Trip:
$39 per adult
$29 per child (ages 3-9)
Children under 2 and under ride free
One Way:
$23 per adult
$18 per child (ages 3-9)
Children under 2 and under ride free
Once you have your reservation on the Superstar Shuttle booked, Universal will send you a text a day or two before your trip confirming your plans and providing detailed directions for you once you land in Orlando. You'll receive a digital airport map with the exact location of where to go to find your shuttle. You must collect your luggage from baggage claim before boarding the shuttle.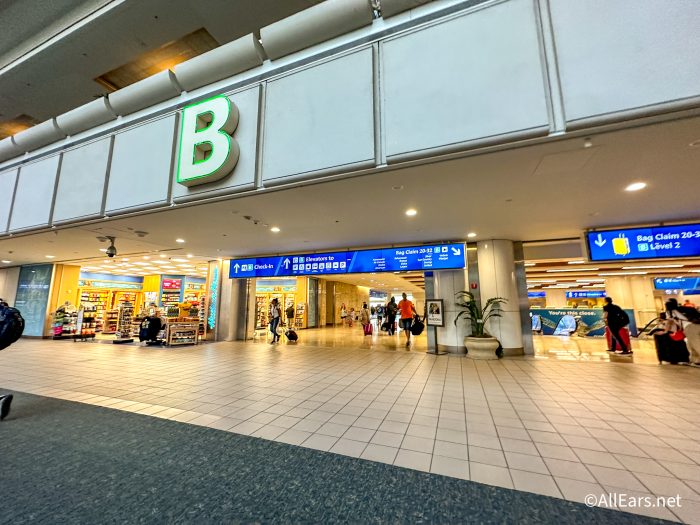 The shuttles are either full charter bus or a smaller travel charter bus, depending on how many passengers have reserved a ride. They are plush and air-conditioned for your 30-minute ride to your Universal Orlando resort hotel.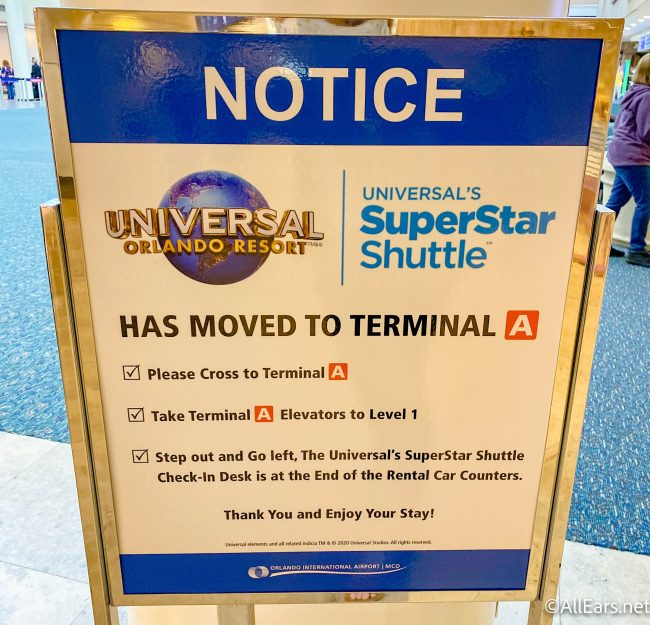 For your return trip, the Superstar Shuttle will drop you off at the same MCO location you were picked up from. The shuttles will usually pick up guests about three hours prior to their flight departure to ensure that you are at the airport with plenty of time to navigate through any traffic or back up at the ticket counter or security.
Universal Orlando Resort Transportation
Now that you have arrived at your vacation destination, you may want to know your options for getting around. Universal offers three main ways to navigate around its property:
Bus — Shuttle busses that pick up guests at designated stops and drops them off at CityWalk entrance.
Water Taxi — Small boat that picks up guests at certain resorts and drops them off near the theme park entrance.
Walkways — Scenic walkway that connects a few Universal Orlando Resort hotels to an exit near Islands of Adventure.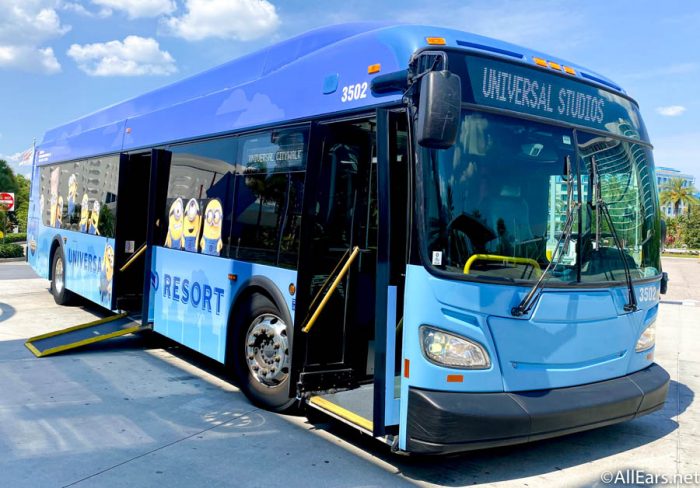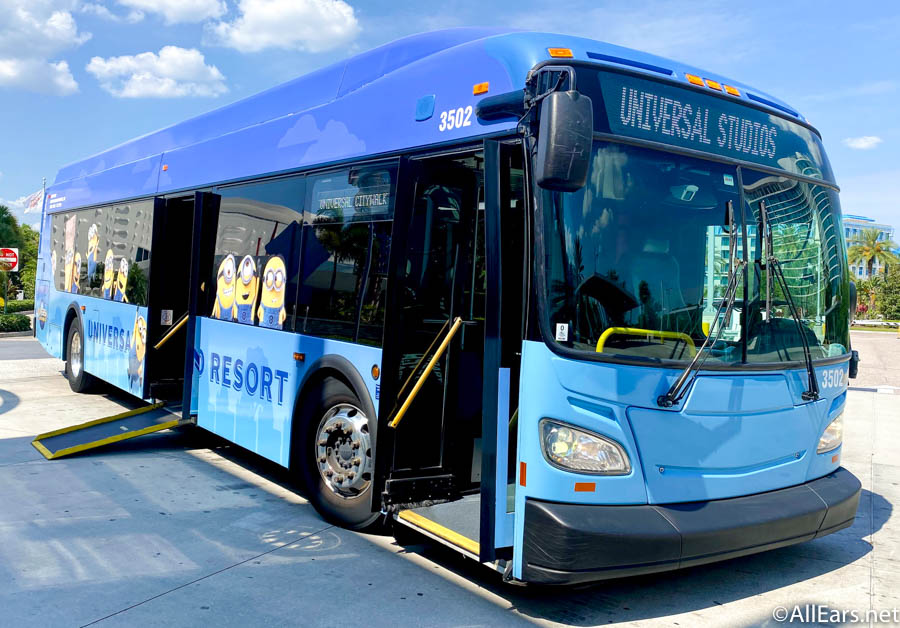 Universal Orlando Shuttle Buses
The Universal Shuttle Bus is the most widely used option of Universal Orlando transportation. Each hotel has Universal Studios free shuttle stations, where guests can pick up one of the rotating buses that stop periodically throughout the day. So whether you're staying at Endless Summer Resort or the Hard Rock Hotel, a Universal Bus you will have access to the Universal Bus.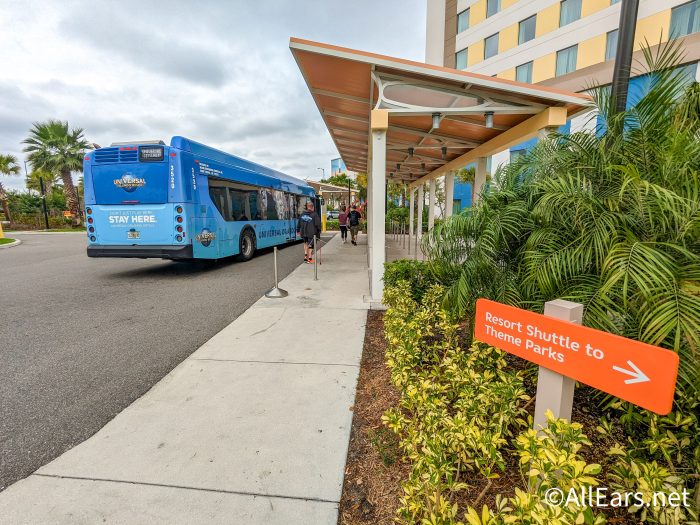 The buses begin picking up guests one hour prior to the park opening and run until CityWalk closes. Resort hotels that also offer Water Taxi transportation have less frequent shuttle runs.
Universal Endless Summer Resort (Dockside and Surfside Inn and Suites) – Shuttle buses arrive every 15 minutes
Aventura Hotel – Shuttle buses arrive every 15 minutes
Cabana Bay Beach Resort – Shuttle buses arrive every 15 minutes
Portofino Bay Hotel – Shuttle buses every 30 minutes
Hard Rock Hotel – Shuttle buses every 30 minutes
Royal Pacific Resort – Shuttle buses every 30 minutes
Sapphire Falls Resort – Shuttle buses every 30 minutes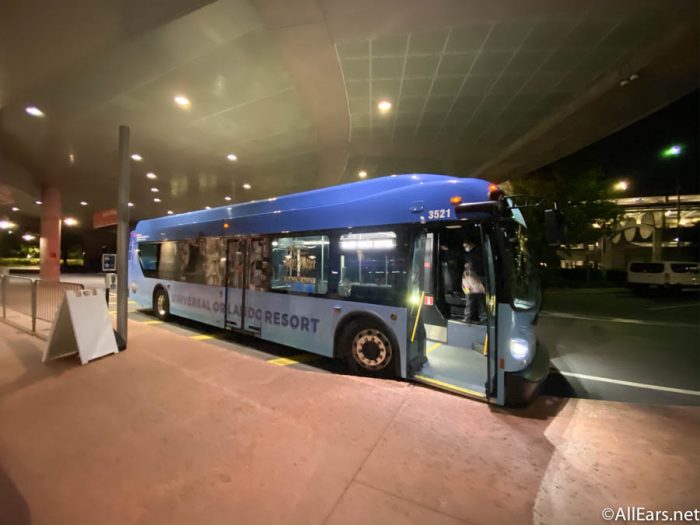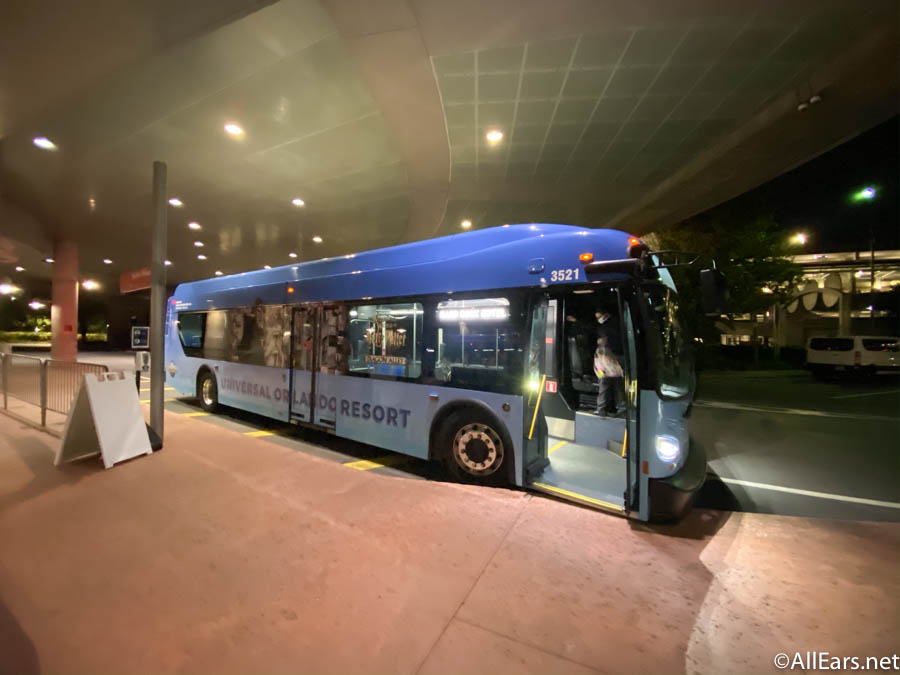 The Shuttle Bus to Universal Studios Orlando will pick guests up to take them either to the entrance of CityWalk or to Volcano Bay.
Universal Orlando Water Taxis
The Universal Orlando Water Taxi is a Universal Orlando transportation option for guests at Preferred hotel tiers or higher. Travel time from the resort to the park is usually less than ten minutes. The water taxi drop-offs are near the entrances of Universal Studios Florida and Islands of Adventure at CityWalk. This is the closest drop-off point in Universal Studios transportation. The water taxi operates during Early Park Admission hours. This is a big advantage for those taking advantage of the early admission perk.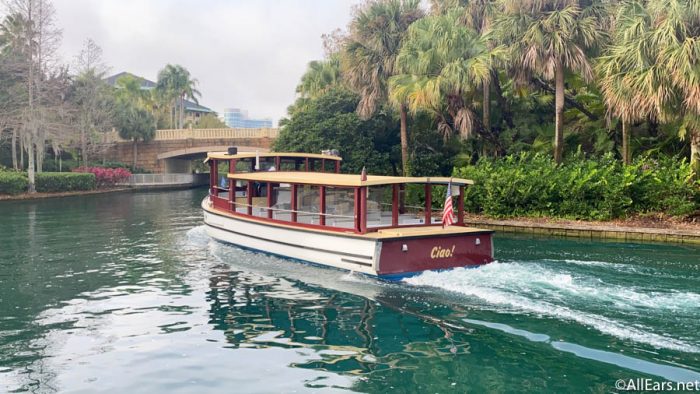 Loews Sapphire Falls Resort
Hard Rock Hotel
Loews Royal Pacific Resort
Each Universal Orlando Resort hotel has its own water taxi dock, where you will be subjected to a security screening before you board the boats. Each Universal Orlando water taxi can fit about 50 guests.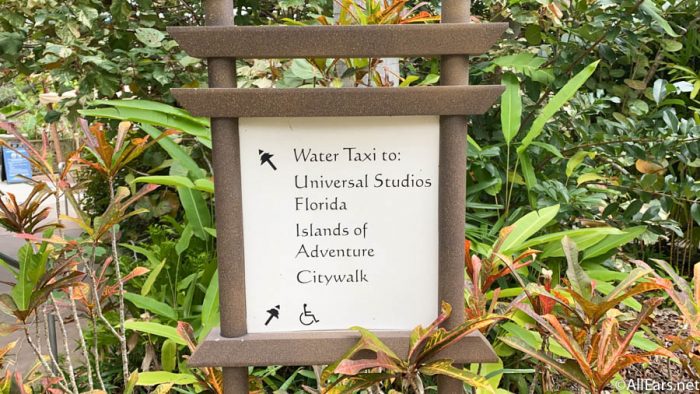 Universal Orlando Walkways
Shuttles, buses, and water taxis are all well and good, but sometimes you can't beat the efficiency of getting there on your own two feet. Either because you want to avoid the crush of a crowded vehicle, or you want to enjoy a serene stroll through the landscaped grounds of the Universal Resort. There's no need for a "reason" to enjoy the walkways around Universal property.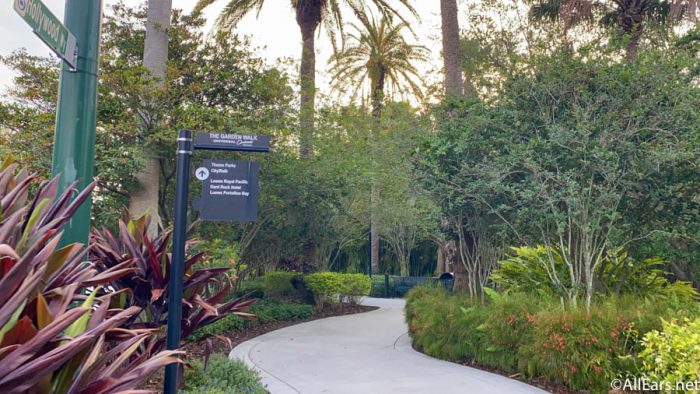 The most popular walking path is the Garden Walkway, which starts at Cabana Bay Beach Resort and passes Aventura, Royal Pacific, and Sapphire Falls on its way to CityWalk. The total walk will take you about 20 minutes, if you're starting at Cabana Bay and brings you into CityWalk, right by Jimmy Buffett's Margaritaville. There are signs all along the Garden Walkway so that you won't get lost. On top of it, there is beautiful lush landscaping along the whole trail, making for a gorgeous walk.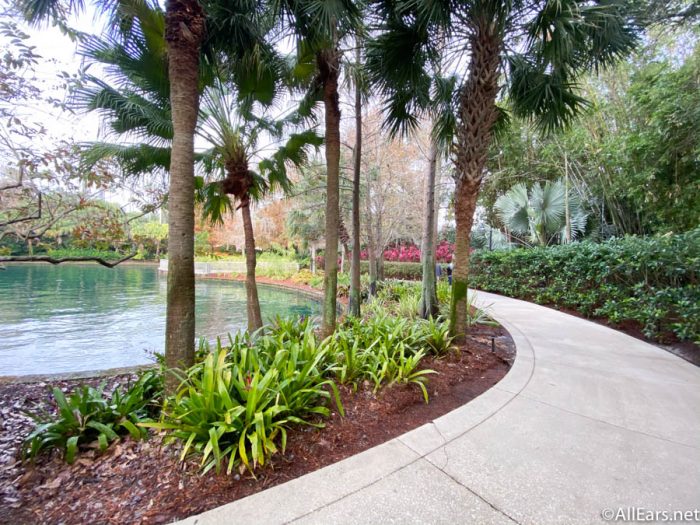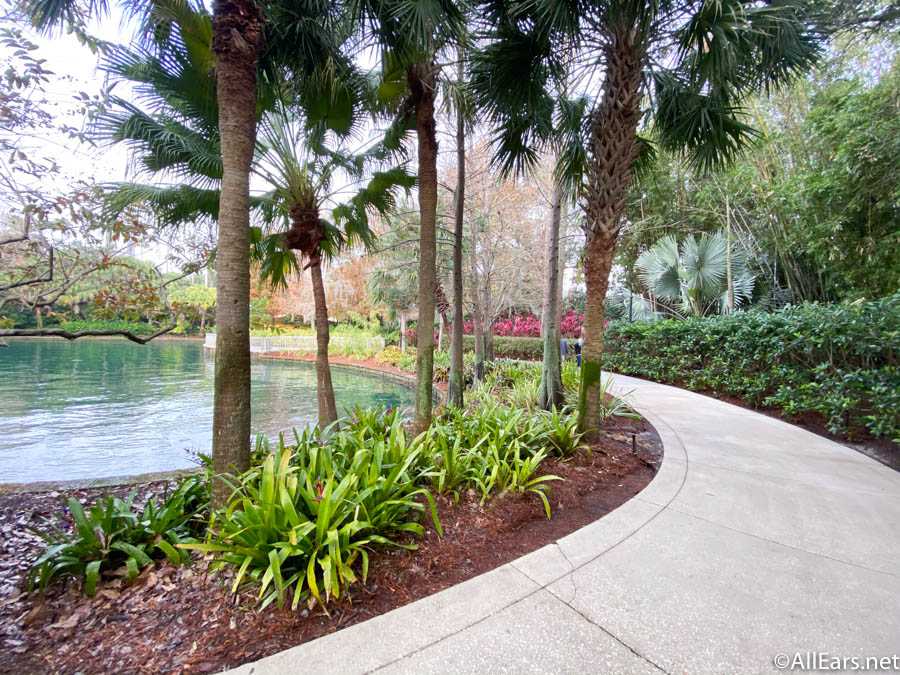 If you opt out of using Universal transportation for either Portofino Bay or Hard Rock Hotel, there is a paved sidewalk that brings guests right by the entrance of Universal Studios Florida. As for Endless Summer Resorts, they are the farthest from the parks, and you can use public sidewalks to cross the I-4 and head into the parks.
There are also walking paths that connect Cabana Bay, Aventura, and Sapphire Falls hotels right to Volcano Bay Waterpark.