All Events, Closures and Refurbishments at Walt Disney World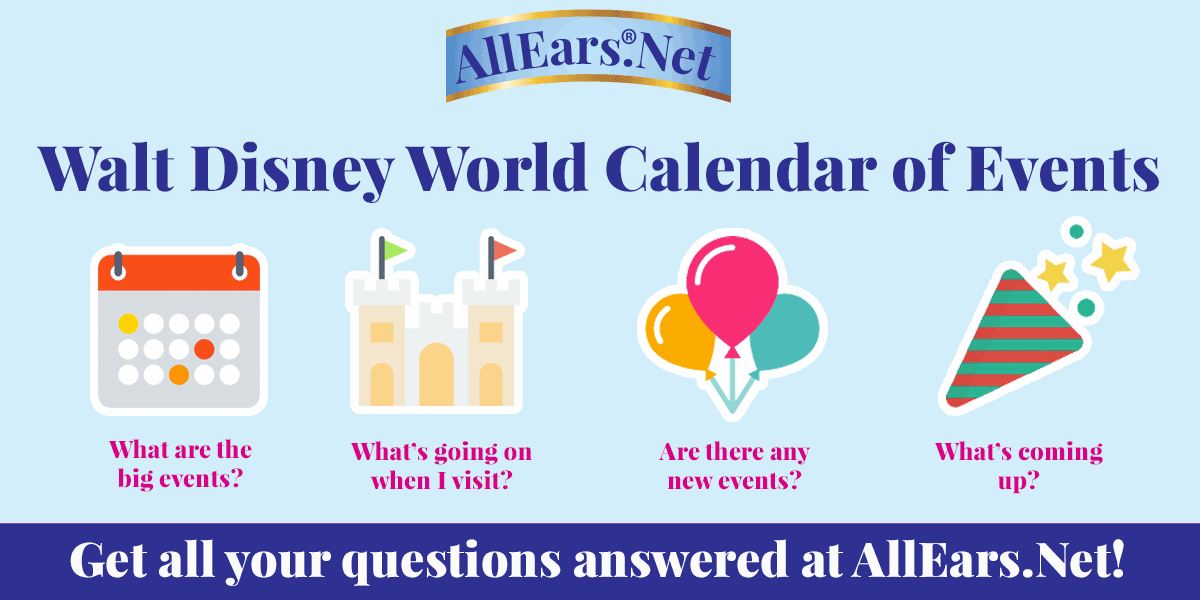 What's happening during your visit to Walt Disney World?
Check our Calendar of Events listing below.
This list shows what's going on in Walt Disney World throughout the year.
NOTE: This is UNOFFICIAL information and is subject to change without notice. Please call Walt Disney World directly to confirm all events, prices, and dates. While AllEars.net makes every effort to ensure this information is accurate, there are NO guarantees.
Looking for the schedule for Refurbishments and Attraction Closings? Click HERE.
Looking for past events? We archive events for two years HERE.
September 2021

July 2017 - Oct 2021
France Pavilion : Epcot
Remy's Ratatouille Adventure Similar to the 4-D attraction Ratatouille: The Adventure that opened at the Walt Disney Studios Park in Paris in 2014, guests will be able to shrink to Remy's size and scurry to safety in a dazzling chase across a kitchen with the sights, sounds and smells of Gusteau's legendary Parisian restaurant. The attraction will open in time for the 50th anniversary of Walt Disney World Resort in 2021.
Aug. 17 - 2021
Future World East : Epcot
Guardians of the Galaxy: Cosmic Rewind Opening in 2021, this Guardians of Galaxy themed coaster will be one of the longest enclosed roller coasters in the world and feature a brand-new ride system.
Aug. 17 - 2021
Tomorrowland : Magic Kingdom
TRON Lightcycle Power Run TRON Lightcycle Power Run is coaster-style attraction, in which riders board a train of two-wheeled Lightcycles. It offers access into the energy, lights and excitement of TRON's high-tech universe and is one of the most thrilling adventures.
Dec 2018 - TBD
Main Street USA : Magic Kingdom
Walt Disney World Railroad The Walt Disney World Railroad will cease running and will sit "in residence" at its Main Street Station while work progresses on the new Tron coaster coming to Tomorrowland in 2021. This will give guests the chance to have an up-close look at the railroad and take advantage of some unique photo opportunities.
Feb. 19 - 2021
Future World East : Epcot
PLAY Pavilion The Wonders of Life pavilion is being reimagined into the Play Pavilion, and will feature first-of-their-kind experiences devoted to playful fun. The Play Pavilion will take guests into an innovative, interactive city bursting with games and hands-on activities. Play Pavilion visitors will interact with Disney characters in an energetic metropolis unlike anything ever seen before at Epcot.
Mar 2019 - Oct 2021
France Pavilion : Epcot
La Creperie de Paris Scheduled to be built in an all-new location near the previously announced Remy's Ratatouille Adventure attraction, the new crêperie will feature the cuisine of celebrity chef Jérôme Bocuse, who is also responsible for the pavilion's Chefs de France and Monsieur Paul. There will also be a quick-service location attached.
May. 20 - March 2021
Epcot : Walt Disney World
Epcot Main Entrance Transformation Epcot's main entrance plaza will see changes that include new pathways, sweeping green spaces, and a newly re-imagined fountain. The new design will pay homage to the original park entrance with fresh takes on classic elements. The Leave A Legacy photos, currently in the entrance plaza, will move into a setting just outside the park's gateway.
Under construction - 2021
Epcot
Guardians of the Galaxy: Cosmic Rewind The Guardians of the Galaxy will be arriving in Epcot's Future World in 2021, and now we have a name for the ride: Guardians of the Galaxy: Cosmic Rewind. The ride will feature the first reverse launch into space! This thrilling, family-friendly attraction will feature a never-before-seen storytelling coaster that rotates to focus on the action – wherever it may be.
Under construction - 2021
Magic Kingdom : Walt Disney World
TRON Lightcycle Run TRON Lightcycle Run will be a coaster-style attraction, in which riders board a train of two-wheeled Lightcycles. It will sit in an entirely new area right next to Space Mountain at Magic Kingdom.
Under Construction - 2021
Epcot : Walt Disney World
PLAY! Pavilion Opens The PLAY! Pavilion will open in time for Walt Disney World's 50th anniversary. The pavilion will be an interactive metropolis and you will find a city filled with games, activities, and experiences that connect you with friends, family, and beloved Disney characters like never before.
April 2021 - Sep. 01
All Star Music Resort : Disney Resorts
Disney's Contemporary Resort

Disney will be refurbishing select Main Tower Guest Rooms at Disney's Contemporary Resort in a refurbishment starting in April 2021

April 2021 - Late September 2021
Disney Resorts : Walt Disney World
Disney's Contemporary Resort - Refurbishment
Jul. 15 - Nov. 20
Epcot : Walt Disney World
EPCOT International Food & Wine Festival
2021-07-06 - 2021-11-21
Epcot : Walt Disney World
2021 Epcot Food & Wine Festival
July 2021 - Late September 2021
Disney Resorts : Walt Disney World
The Wave...of American Flavors - Refurbishment
2021-08-10 - 2021-11-01
Magic Kingdom : Walt Disney World
2021 Disney After Hours Boo Bash
Aug. 10 - Oct. 31
Magic Kingdom : Walt Disney World
Disney After Hours BOO BASH On select nights only
Sep. 16
Disney Resorts : Walt Disney World
Disney's All-Star Music Resort Reopening

October 2021

Aug. 17 - 2021
Future World East : Epcot
Guardians of the Galaxy: Cosmic Rewind Opening in 2021, this Guardians of Galaxy themed coaster will be one of the longest enclosed roller coasters in the world and feature a brand-new ride system.
Aug. 17 - 2021
Tomorrowland : Magic Kingdom
TRON Lightcycle Power Run TRON Lightcycle Power Run is coaster-style attraction, in which riders board a train of two-wheeled Lightcycles. It offers access into the energy, lights and excitement of TRON's high-tech universe and is one of the most thrilling adventures.
Dec 2018 - TBD
Main Street USA : Magic Kingdom
Walt Disney World Railroad The Walt Disney World Railroad will cease running and will sit "in residence" at its Main Street Station while work progresses on the new Tron coaster coming to Tomorrowland in 2021. This will give guests the chance to have an up-close look at the railroad and take advantage of some unique photo opportunities.
Feb. 19 - 2021
Future World East : Epcot
PLAY Pavilion The Wonders of Life pavilion is being reimagined into the Play Pavilion, and will feature first-of-their-kind experiences devoted to playful fun. The Play Pavilion will take guests into an innovative, interactive city bursting with games and hands-on activities. Play Pavilion visitors will interact with Disney characters in an energetic metropolis unlike anything ever seen before at Epcot.
May. 20 - March 2021
Epcot : Walt Disney World
Epcot Main Entrance Transformation Epcot's main entrance plaza will see changes that include new pathways, sweeping green spaces, and a newly re-imagined fountain. The new design will pay homage to the original park entrance with fresh takes on classic elements. The Leave A Legacy photos, currently in the entrance plaza, will move into a setting just outside the park's gateway.
Under construction - 2021
Epcot
Guardians of the Galaxy: Cosmic Rewind The Guardians of the Galaxy will be arriving in Epcot's Future World in 2021, and now we have a name for the ride: Guardians of the Galaxy: Cosmic Rewind. The ride will feature the first reverse launch into space! This thrilling, family-friendly attraction will feature a never-before-seen storytelling coaster that rotates to focus on the action – wherever it may be.
Under construction - 2021
Magic Kingdom : Walt Disney World
TRON Lightcycle Run TRON Lightcycle Run will be a coaster-style attraction, in which riders board a train of two-wheeled Lightcycles. It will sit in an entirely new area right next to Space Mountain at Magic Kingdom.
Under Construction - 2021
Epcot : Walt Disney World
PLAY! Pavilion Opens The PLAY! Pavilion will open in time for Walt Disney World's 50th anniversary. The pavilion will be an interactive metropolis and you will find a city filled with games, activities, and experiences that connect you with friends, family, and beloved Disney characters like never before.
Jul. 15 - Nov. 20
Epcot : Walt Disney World
EPCOT International Food & Wine Festival
2021-07-06 - 2021-11-21
Epcot : Walt Disney World
2021 Epcot Food & Wine Festival
2021-08-10 - 2021-11-01
Magic Kingdom : Walt Disney World
2021 Disney After Hours Boo Bash
Aug. 10 - Oct. 31
Magic Kingdom : Walt Disney World
Disney After Hours BOO BASH On select nights only
Oct 1, 2021 - Apr 1, 2023
Disney's Hollywood Studios : Walt Disney World
Walt Disney World 50th Anniversary Across all 4 parks
Oct. 01
Epcot : Walt Disney World
Remy's Ratatouille Adventure - Grand Opening
Oct. 01
Epcot : Walt Disney World
La Crêperie de Paris - Grand Opening
Oct. 01
Epcot : Walt Disney World
Harmonious Nighttime Spectacular - Grand Opening
Oct. 01
Magic Kingdom : Walt Disney World
Enchantment Nighttime Spectacular - Grand Opening
Oct. 01
Disney's Animal Kingdom : Walt Disney World
Disney KiteTails - Grand Opening
Oct. 14
Disney Resorts : Walt Disney World
Disney's Port Orleans Resort - Riverside Reopening
Oct. 28
Disney Resorts : Walt Disney World
Disney's Port Orleans Resort - French Quarter Reopening
October 2021 - TBD
Magic Kingdom : Walt Disney World
Main Street Confectionery - Refurbishment

November 2021

Dec 2018 - TBD
Main Street USA : Magic Kingdom
Walt Disney World Railroad The Walt Disney World Railroad will cease running and will sit "in residence" at its Main Street Station while work progresses on the new Tron coaster coming to Tomorrowland in 2021. This will give guests the chance to have an up-close look at the railroad and take advantage of some unique photo opportunities.
Jul. 15 - Nov. 20
Epcot : Walt Disney World
EPCOT International Food & Wine Festival
2021-07-06 - 2021-11-21
Epcot : Walt Disney World
2021 Epcot Food & Wine Festival
Oct 1, 2021 - Apr 1, 2023
Disney's Hollywood Studios : Walt Disney World
Walt Disney World 50th Anniversary Across all 4 parks
October 2021 - TBD
Magic Kingdom : Walt Disney World
Main Street Confectionery - Refurbishment
November 1, 2021 - TBD
Disney's Animal Kingdom : Walt Disney World
Kali River Rapids
Nov. 04 - Nov. 07
Epcot : Walt Disney World
Disney Wine & Dine Half Marathon Weekend
Nov. 08 - Dec. 21
Magic Kingdom : Walt Disney World
Disney Very Merriest After Hours On select nights only
Nov. 26 - Dec. 30
Epcot : Walt Disney World
EPCOT International Festival of the Holidays

December 2021

Dec 2018 - TBD
Main Street USA : Magic Kingdom
Walt Disney World Railroad The Walt Disney World Railroad will cease running and will sit "in residence" at its Main Street Station while work progresses on the new Tron coaster coming to Tomorrowland in 2021. This will give guests the chance to have an up-close look at the railroad and take advantage of some unique photo opportunities.
Oct 1, 2021 - Apr 1, 2023
Disney's Hollywood Studios : Walt Disney World
Walt Disney World 50th Anniversary Across all 4 parks
October 2021 - TBD
Magic Kingdom : Walt Disney World
Main Street Confectionery - Refurbishment
November 1, 2021 - TBD
Disney's Animal Kingdom : Walt Disney World
Kali River Rapids
Nov. 08 - Dec. 21
Magic Kingdom : Walt Disney World
Disney Very Merriest After Hours On select nights only
Nov. 26 - Dec. 30
Epcot : Walt Disney World
EPCOT International Festival of the Holidays
Dec. 09
Disney Resorts : Walt Disney World
Disney's All-Star Sports Resort Reopening

January 2022

Dec 2018 - TBD
Main Street USA : Magic Kingdom
Walt Disney World Railroad The Walt Disney World Railroad will cease running and will sit "in residence" at its Main Street Station while work progresses on the new Tron coaster coming to Tomorrowland in 2021. This will give guests the chance to have an up-close look at the railroad and take advantage of some unique photo opportunities.
Oct 1, 2021 - Apr 1, 2023
Disney's Hollywood Studios : Walt Disney World
Walt Disney World 50th Anniversary Across all 4 parks
October 2021 - TBD
Magic Kingdom : Walt Disney World
Main Street Confectionery - Refurbishment
November 1, 2021 - TBD
Disney's Animal Kingdom : Walt Disney World
Kali River Rapids
Jan. 05 - Jan. 09
Epcot : Walt Disney World
Walt Disney World Marathon Weekend

February 2022

Dec 2018 - TBD
Main Street USA : Magic Kingdom
Walt Disney World Railroad The Walt Disney World Railroad will cease running and will sit "in residence" at its Main Street Station while work progresses on the new Tron coaster coming to Tomorrowland in 2021. This will give guests the chance to have an up-close look at the railroad and take advantage of some unique photo opportunities.
Oct 1, 2021 - Apr 1, 2023
Disney's Hollywood Studios : Walt Disney World
Walt Disney World 50th Anniversary Across all 4 parks
October 2021 - TBD
Magic Kingdom : Walt Disney World
Main Street Confectionery - Refurbishment
November 1, 2021 - TBD
Disney's Animal Kingdom : Walt Disney World
Kali River Rapids
Feb. 24 - Feb. 27
Epcot : Walt Disney World
Disney Princess Half Marathon Weekend

March 2022

Dec 2018 - TBD
Main Street USA : Magic Kingdom
Walt Disney World Railroad The Walt Disney World Railroad will cease running and will sit "in residence" at its Main Street Station while work progresses on the new Tron coaster coming to Tomorrowland in 2021. This will give guests the chance to have an up-close look at the railroad and take advantage of some unique photo opportunities.
Oct 1, 2021 - Apr 1, 2023
Disney's Hollywood Studios : Walt Disney World
Walt Disney World 50th Anniversary Across all 4 parks
October 2021 - TBD
Magic Kingdom : Walt Disney World
Main Street Confectionery - Refurbishment
November 1, 2021 - TBD
Disney's Animal Kingdom : Walt Disney World
Kali River Rapids

April 2022

Dec 2018 - TBD
Main Street USA : Magic Kingdom
Walt Disney World Railroad The Walt Disney World Railroad will cease running and will sit "in residence" at its Main Street Station while work progresses on the new Tron coaster coming to Tomorrowland in 2021. This will give guests the chance to have an up-close look at the railroad and take advantage of some unique photo opportunities.
Oct 1, 2021 - Apr 1, 2023
Disney's Hollywood Studios : Walt Disney World
Walt Disney World 50th Anniversary Across all 4 parks
October 2021 - TBD
Magic Kingdom : Walt Disney World
Main Street Confectionery - Refurbishment
November 1, 2021 - TBD
Disney's Animal Kingdom : Walt Disney World
Kali River Rapids
Mar. 31 - Apr. 03
Epcot : Walt Disney World
runDisney Springtime Surprise Weekend

May 2022

Dec 2018 - TBD
Main Street USA : Magic Kingdom
Walt Disney World Railroad The Walt Disney World Railroad will cease running and will sit "in residence" at its Main Street Station while work progresses on the new Tron coaster coming to Tomorrowland in 2021. This will give guests the chance to have an up-close look at the railroad and take advantage of some unique photo opportunities.
Oct 1, 2021 - Apr 1, 2023
Disney's Hollywood Studios : Walt Disney World
Walt Disney World 50th Anniversary Across all 4 parks
October 2021 - TBD
Magic Kingdom : Walt Disney World
Main Street Confectionery - Refurbishment

June 2022

Dec 2018 - TBD
Main Street USA : Magic Kingdom
Walt Disney World Railroad The Walt Disney World Railroad will cease running and will sit "in residence" at its Main Street Station while work progresses on the new Tron coaster coming to Tomorrowland in 2021. This will give guests the chance to have an up-close look at the railroad and take advantage of some unique photo opportunities.
Oct 1, 2021 - Apr 1, 2023
Disney's Hollywood Studios : Walt Disney World
Walt Disney World 50th Anniversary Across all 4 parks
October 2021 - TBD
Magic Kingdom : Walt Disney World
Main Street Confectionery - Refurbishment

July 2022

Dec 2018 - TBD
Main Street USA : Magic Kingdom
Walt Disney World Railroad The Walt Disney World Railroad will cease running and will sit "in residence" at its Main Street Station while work progresses on the new Tron coaster coming to Tomorrowland in 2021. This will give guests the chance to have an up-close look at the railroad and take advantage of some unique photo opportunities.
Oct 1, 2021 - Apr 1, 2023
Disney's Hollywood Studios : Walt Disney World
Walt Disney World 50th Anniversary Across all 4 parks
October 2021 - TBD
Magic Kingdom : Walt Disney World
Main Street Confectionery - Refurbishment

August 2022

Dec 2018 - TBD
Main Street USA : Magic Kingdom
Walt Disney World Railroad The Walt Disney World Railroad will cease running and will sit "in residence" at its Main Street Station while work progresses on the new Tron coaster coming to Tomorrowland in 2021. This will give guests the chance to have an up-close look at the railroad and take advantage of some unique photo opportunities.
Oct 1, 2021 - Apr 1, 2023
Disney's Hollywood Studios : Walt Disney World
Walt Disney World 50th Anniversary Across all 4 parks
October 2021 - TBD
Magic Kingdom : Walt Disney World
Main Street Confectionery - Refurbishment

September 2022

Dec 2018 - TBD
Main Street USA : Magic Kingdom
Walt Disney World Railroad The Walt Disney World Railroad will cease running and will sit "in residence" at its Main Street Station while work progresses on the new Tron coaster coming to Tomorrowland in 2021. This will give guests the chance to have an up-close look at the railroad and take advantage of some unique photo opportunities.
Oct 1, 2021 - Apr 1, 2023
Disney's Hollywood Studios : Walt Disney World
Walt Disney World 50th Anniversary Across all 4 parks
October 2021 - TBD
Magic Kingdom : Walt Disney World
Main Street Confectionery - Refurbishment

October 2022

Dec 2018 - TBD
Main Street USA : Magic Kingdom
Walt Disney World Railroad The Walt Disney World Railroad will cease running and will sit "in residence" at its Main Street Station while work progresses on the new Tron coaster coming to Tomorrowland in 2021. This will give guests the chance to have an up-close look at the railroad and take advantage of some unique photo opportunities.
Oct 1, 2021 - Apr 1, 2023
Disney's Hollywood Studios : Walt Disney World
Walt Disney World 50th Anniversary Across all 4 parks
October 2021 - TBD
Magic Kingdom : Walt Disney World
Main Street Confectionery - Refurbishment

November 2022

Dec 2018 - TBD
Main Street USA : Magic Kingdom
Walt Disney World Railroad The Walt Disney World Railroad will cease running and will sit "in residence" at its Main Street Station while work progresses on the new Tron coaster coming to Tomorrowland in 2021. This will give guests the chance to have an up-close look at the railroad and take advantage of some unique photo opportunities.
Oct 1, 2021 - Apr 1, 2023
Disney's Hollywood Studios : Walt Disney World
Walt Disney World 50th Anniversary Across all 4 parks
October 2021 - TBD
Magic Kingdom : Walt Disney World
Main Street Confectionery - Refurbishment

December 2022

Dec 2018 - TBD
Main Street USA : Magic Kingdom
Walt Disney World Railroad The Walt Disney World Railroad will cease running and will sit "in residence" at its Main Street Station while work progresses on the new Tron coaster coming to Tomorrowland in 2021. This will give guests the chance to have an up-close look at the railroad and take advantage of some unique photo opportunities.
Oct 1, 2021 - Apr 1, 2023
Disney's Hollywood Studios : Walt Disney World
Walt Disney World 50th Anniversary Across all 4 parks
October 2021 - TBD
Magic Kingdom : Walt Disney World
Main Street Confectionery - Refurbishment

January 2023

Dec 2018 - TBD
Main Street USA : Magic Kingdom
Walt Disney World Railroad The Walt Disney World Railroad will cease running and will sit "in residence" at its Main Street Station while work progresses on the new Tron coaster coming to Tomorrowland in 2021. This will give guests the chance to have an up-close look at the railroad and take advantage of some unique photo opportunities.
Oct 1, 2021 - Apr 1, 2023
Disney's Hollywood Studios : Walt Disney World
Walt Disney World 50th Anniversary Across all 4 parks
October 2021 - TBD
Magic Kingdom : Walt Disney World
Main Street Confectionery - Refurbishment

February 2023

Dec 2018 - TBD
Main Street USA : Magic Kingdom
Walt Disney World Railroad The Walt Disney World Railroad will cease running and will sit "in residence" at its Main Street Station while work progresses on the new Tron coaster coming to Tomorrowland in 2021. This will give guests the chance to have an up-close look at the railroad and take advantage of some unique photo opportunities.
Oct 1, 2021 - Apr 1, 2023
Disney's Hollywood Studios : Walt Disney World
Walt Disney World 50th Anniversary Across all 4 parks
October 2021 - TBD
Magic Kingdom : Walt Disney World
Main Street Confectionery - Refurbishment