Walt Disney World Calendar of Events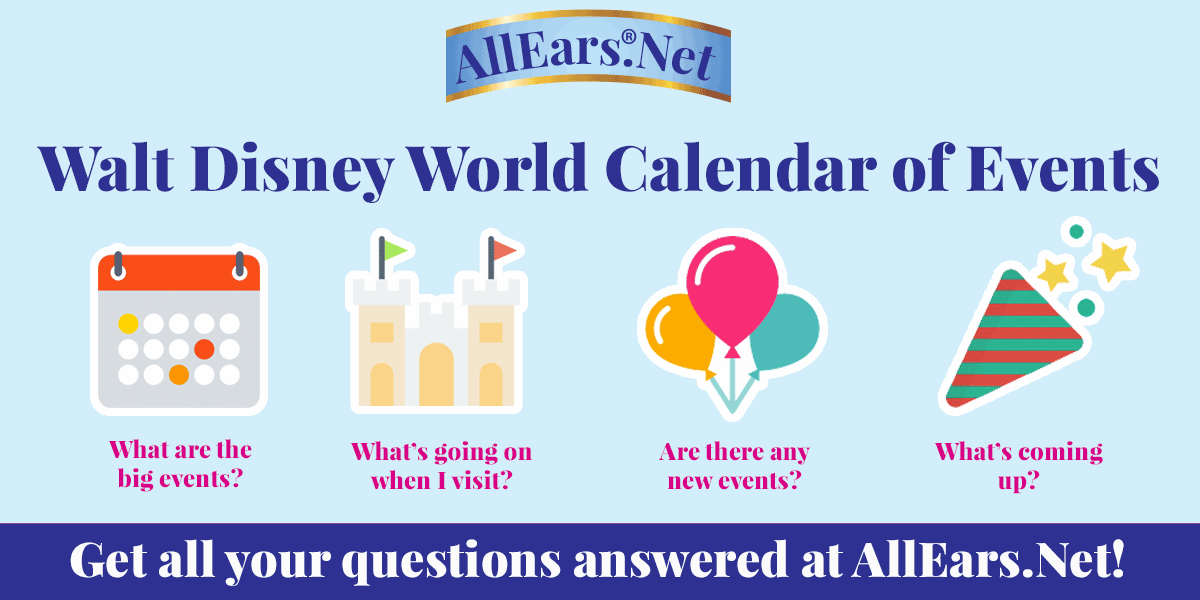 What's happening during your visit to Walt Disney World?
Check our Calendar of Events listing below.
This list shows what's going on in Walt Disney World throughout the year.
NOTE: This is UNOFFICIAL information and is subject to change without notice. Please call WDW directly to confirm all events, prices, and dates. While AllEars.net makes every effort to ensure this information is accurate, there are NO guarantees.
Looking for the schedule for Refurbishments and Attraction Closings? Click HERE.
Looking for past events? We archive events for two years HERE.
August 2020

2020 - 2020
Disney's Hollywood Studios : Toy Story Land
Roundup Rodeo BBQ Opens -- Toy Story Land will be getting a table service restaurant opening in 2020. The new location promises to be immersive, and something you can only experience through Toy Story.
2020 - 2020
Epcot : China Pavilion
Wondrous China Debuts -- The China pavilion will debut a new, completely seamless 360-degree digital format film in 2020 — a month or season for the debut has not been announced.
Unknown - Unknown
Epcot : France Pavilion
Remy's Ratatouille Adventure Attraction Opens -- Disneyland Paris' Ratatouille makes a trans-Atlantic trek to open its kitchen doors in the France pavilion next summer! Shrink down to the size of a rat, and get ready for adventure as you race around the kitchen!


Unknown - Unknown
Epcot : France Pavilion
La Creperie de Paris Restaurant Opens -- A brand new creperie will open in the France pavilion next summer. La Creperie de Paris will feature a menu inspired by the Brittany region of France. The new location will offer table service dining as well as a quick-service stop for guests craving sweet or savory crepes.
Unknown - Unknown
Epcot
HarmonioUS -- Epcot's new nighttime spectacular will be a celebration of the human story and human connectedness.

September 2020

2020 - 2020
Disney's Hollywood Studios : Toy Story Land
Roundup Rodeo BBQ Opens -- Toy Story Land will be getting a table service restaurant opening in 2020. The new location promises to be immersive, and something you can only experience through Toy Story.
2020 - 2020
Epcot : China Pavilion
Wondrous China Debuts -- The China pavilion will debut a new, completely seamless 360-degree digital format film in 2020 — a month or season for the debut has not been announced.
Unknown - Unknown
Epcot : France Pavilion
Remy's Ratatouille Adventure Attraction Opens -- Disneyland Paris' Ratatouille makes a trans-Atlantic trek to open its kitchen doors in the France pavilion next summer! Shrink down to the size of a rat, and get ready for adventure as you race around the kitchen!


Unknown - Unknown
Epcot : France Pavilion
La Creperie de Paris Restaurant Opens -- A brand new creperie will open in the France pavilion next summer. La Creperie de Paris will feature a menu inspired by the Brittany region of France. The new location will offer table service dining as well as a quick-service stop for guests craving sweet or savory crepes.
Unknown - Unknown
Epcot
HarmonioUS -- Epcot's new nighttime spectacular will be a celebration of the human story and human connectedness.

October 2020

2020 - 2020
Disney's Hollywood Studios : Toy Story Land
Roundup Rodeo BBQ Opens -- Toy Story Land will be getting a table service restaurant opening in 2020. The new location promises to be immersive, and something you can only experience through Toy Story.
2020 - 2020
Epcot : China Pavilion
Wondrous China Debuts -- The China pavilion will debut a new, completely seamless 360-degree digital format film in 2020 — a month or season for the debut has not been announced.
Unknown - Unknown
Epcot : France Pavilion
Remy's Ratatouille Adventure Attraction Opens -- Disneyland Paris' Ratatouille makes a trans-Atlantic trek to open its kitchen doors in the France pavilion next summer! Shrink down to the size of a rat, and get ready for adventure as you race around the kitchen!


Unknown - Unknown
Epcot : France Pavilion
La Creperie de Paris Restaurant Opens -- A brand new creperie will open in the France pavilion next summer. La Creperie de Paris will feature a menu inspired by the Brittany region of France. The new location will offer table service dining as well as a quick-service stop for guests craving sweet or savory crepes.
Unknown - Unknown
Epcot
HarmonioUS -- Epcot's new nighttime spectacular will be a celebration of the human story and human connectedness.

November 2020

2020 - 2020
Disney's Hollywood Studios : Toy Story Land
Roundup Rodeo BBQ Opens -- Toy Story Land will be getting a table service restaurant opening in 2020. The new location promises to be immersive, and something you can only experience through Toy Story.
2020 - 2020
Epcot : China Pavilion
Wondrous China Debuts -- The China pavilion will debut a new, completely seamless 360-degree digital format film in 2020 — a month or season for the debut has not been announced.
Unknown - Unknown
Epcot : France Pavilion
Remy's Ratatouille Adventure Attraction Opens -- Disneyland Paris' Ratatouille makes a trans-Atlantic trek to open its kitchen doors in the France pavilion next summer! Shrink down to the size of a rat, and get ready for adventure as you race around the kitchen!


Unknown - Unknown
Epcot : France Pavilion
La Creperie de Paris Restaurant Opens -- A brand new creperie will open in the France pavilion next summer. La Creperie de Paris will feature a menu inspired by the Brittany region of France. The new location will offer table service dining as well as a quick-service stop for guests craving sweet or savory crepes.
Unknown - Unknown
Epcot
HarmonioUS -- Epcot's new nighttime spectacular will be a celebration of the human story and human connectedness.
Fall 2020 - Fall 2020
ESPN Wide World of Sports
[Cancelled] Disney Wine & Dine Half Marathon Weekend
November 6 - November 7
Resort
[Cancelled] Walt Disney World Swan and Dolphin Food & Wine Classic

December 2020

2020 - 2020
Disney's Hollywood Studios : Toy Story Land
Roundup Rodeo BBQ Opens -- Toy Story Land will be getting a table service restaurant opening in 2020. The new location promises to be immersive, and something you can only experience through Toy Story.
2020 - 2020
Epcot : China Pavilion
Wondrous China Debuts -- The China pavilion will debut a new, completely seamless 360-degree digital format film in 2020 — a month or season for the debut has not been announced.
Unknown - Unknown
Epcot : France Pavilion
Remy's Ratatouille Adventure Attraction Opens -- Disneyland Paris' Ratatouille makes a trans-Atlantic trek to open its kitchen doors in the France pavilion next summer! Shrink down to the size of a rat, and get ready for adventure as you race around the kitchen!


Unknown - Unknown
Epcot : France Pavilion
La Creperie de Paris Restaurant Opens -- A brand new creperie will open in the France pavilion next summer. La Creperie de Paris will feature a menu inspired by the Brittany region of France. The new location will offer table service dining as well as a quick-service stop for guests craving sweet or savory crepes.
Unknown - Unknown
Epcot
HarmonioUS -- Epcot's new nighttime spectacular will be a celebration of the human story and human connectedness.

January 2021

Under construction - 2021
Magic Kingdom
TRON Lightcycle Run -- TRON Lightcycle Run will be a coaster-style attraction, in which riders board a train of two-wheeled Lightcycles. It will sit in an entirely new area right next to Space Mountain at Magic Kingdom.
Under Construction - 2021
Epcot
PLAY! Pavilion Opens -- The PLAY! Pavilion will open in time for Walt Disney World's 50th anniversary. The pavilion will be an interactive metropolis and you will find a city filled with games, activities, and experiences that connect you with friends, family, and beloved Disney characters like never before.
Under construction - 2021
Epcot
Guardians of the Galaxy: Cosmic Rewind -- The Guardians of the Galaxy will be arriving in Epcot's Future World in 2021, and now we have a name for the ride: Guardians of the Galaxy: Cosmic Rewind. The ride will feature the first reverse launch into space! This thrilling, family-friendly attraction will feature a never-before-seen storytelling coaster that rotates to focus on the action – wherever it may be.
Jan. 06 - Jan. 10
ESPN Wide World of Sports
Walt Disney World Marathon Weekend

February 2021

Under construction - 2021
Magic Kingdom
TRON Lightcycle Run -- TRON Lightcycle Run will be a coaster-style attraction, in which riders board a train of two-wheeled Lightcycles. It will sit in an entirely new area right next to Space Mountain at Magic Kingdom.
Under Construction - 2021
Epcot
PLAY! Pavilion Opens -- The PLAY! Pavilion will open in time for Walt Disney World's 50th anniversary. The pavilion will be an interactive metropolis and you will find a city filled with games, activities, and experiences that connect you with friends, family, and beloved Disney characters like never before.
Under construction - 2021
Epcot
Guardians of the Galaxy: Cosmic Rewind -- The Guardians of the Galaxy will be arriving in Epcot's Future World in 2021, and now we have a name for the ride: Guardians of the Galaxy: Cosmic Rewind. The ride will feature the first reverse launch into space! This thrilling, family-friendly attraction will feature a never-before-seen storytelling coaster that rotates to focus on the action – wherever it may be.
Feb. 18 - Feb. 21
ESPN Wide World of Sports
Disney Princess Half Marathon Weekend

March 2021

Under construction - 2021
Magic Kingdom
TRON Lightcycle Run -- TRON Lightcycle Run will be a coaster-style attraction, in which riders board a train of two-wheeled Lightcycles. It will sit in an entirely new area right next to Space Mountain at Magic Kingdom.
Under Construction - 2021
Epcot
PLAY! Pavilion Opens -- The PLAY! Pavilion will open in time for Walt Disney World's 50th anniversary. The pavilion will be an interactive metropolis and you will find a city filled with games, activities, and experiences that connect you with friends, family, and beloved Disney characters like never before.
Under construction - 2021
Epcot
Guardians of the Galaxy: Cosmic Rewind -- The Guardians of the Galaxy will be arriving in Epcot's Future World in 2021, and now we have a name for the ride: Guardians of the Galaxy: Cosmic Rewind. The ride will feature the first reverse launch into space! This thrilling, family-friendly attraction will feature a never-before-seen storytelling coaster that rotates to focus on the action – wherever it may be.

April 2021

Under construction - 2021
Magic Kingdom
TRON Lightcycle Run -- TRON Lightcycle Run will be a coaster-style attraction, in which riders board a train of two-wheeled Lightcycles. It will sit in an entirely new area right next to Space Mountain at Magic Kingdom.
Under Construction - 2021
Epcot
PLAY! Pavilion Opens -- The PLAY! Pavilion will open in time for Walt Disney World's 50th anniversary. The pavilion will be an interactive metropolis and you will find a city filled with games, activities, and experiences that connect you with friends, family, and beloved Disney characters like never before.
Under construction - 2021
Epcot
Guardians of the Galaxy: Cosmic Rewind -- The Guardians of the Galaxy will be arriving in Epcot's Future World in 2021, and now we have a name for the ride: Guardians of the Galaxy: Cosmic Rewind. The ride will feature the first reverse launch into space! This thrilling, family-friendly attraction will feature a never-before-seen storytelling coaster that rotates to focus on the action – wherever it may be.
Apr. 15 - Apr. 18
ESPN Wide World of Sports
Star Wars Rival Run Weekend

May 2021

Under construction - 2021
Magic Kingdom
TRON Lightcycle Run -- TRON Lightcycle Run will be a coaster-style attraction, in which riders board a train of two-wheeled Lightcycles. It will sit in an entirely new area right next to Space Mountain at Magic Kingdom.
Under Construction - 2021
Epcot
PLAY! Pavilion Opens -- The PLAY! Pavilion will open in time for Walt Disney World's 50th anniversary. The pavilion will be an interactive metropolis and you will find a city filled with games, activities, and experiences that connect you with friends, family, and beloved Disney characters like never before.
Under construction - 2021
Epcot
Guardians of the Galaxy: Cosmic Rewind -- The Guardians of the Galaxy will be arriving in Epcot's Future World in 2021, and now we have a name for the ride: Guardians of the Galaxy: Cosmic Rewind. The ride will feature the first reverse launch into space! This thrilling, family-friendly attraction will feature a never-before-seen storytelling coaster that rotates to focus on the action – wherever it may be.

June 2021

Under construction - 2021
Magic Kingdom
TRON Lightcycle Run -- TRON Lightcycle Run will be a coaster-style attraction, in which riders board a train of two-wheeled Lightcycles. It will sit in an entirely new area right next to Space Mountain at Magic Kingdom.
Under Construction - 2021
Epcot
PLAY! Pavilion Opens -- The PLAY! Pavilion will open in time for Walt Disney World's 50th anniversary. The pavilion will be an interactive metropolis and you will find a city filled with games, activities, and experiences that connect you with friends, family, and beloved Disney characters like never before.
Under construction - 2021
Epcot
Guardians of the Galaxy: Cosmic Rewind -- The Guardians of the Galaxy will be arriving in Epcot's Future World in 2021, and now we have a name for the ride: Guardians of the Galaxy: Cosmic Rewind. The ride will feature the first reverse launch into space! This thrilling, family-friendly attraction will feature a never-before-seen storytelling coaster that rotates to focus on the action – wherever it may be.

July 2021

Under construction - 2021
Magic Kingdom
TRON Lightcycle Run -- TRON Lightcycle Run will be a coaster-style attraction, in which riders board a train of two-wheeled Lightcycles. It will sit in an entirely new area right next to Space Mountain at Magic Kingdom.
Under Construction - 2021
Epcot
PLAY! Pavilion Opens -- The PLAY! Pavilion will open in time for Walt Disney World's 50th anniversary. The pavilion will be an interactive metropolis and you will find a city filled with games, activities, and experiences that connect you with friends, family, and beloved Disney characters like never before.
Under construction - 2021
Epcot
Guardians of the Galaxy: Cosmic Rewind -- The Guardians of the Galaxy will be arriving in Epcot's Future World in 2021, and now we have a name for the ride: Guardians of the Galaxy: Cosmic Rewind. The ride will feature the first reverse launch into space! This thrilling, family-friendly attraction will feature a never-before-seen storytelling coaster that rotates to focus on the action – wherever it may be.

August 2021

Under construction - 2021
Magic Kingdom
TRON Lightcycle Run -- TRON Lightcycle Run will be a coaster-style attraction, in which riders board a train of two-wheeled Lightcycles. It will sit in an entirely new area right next to Space Mountain at Magic Kingdom.
Under Construction - 2021
Epcot
PLAY! Pavilion Opens -- The PLAY! Pavilion will open in time for Walt Disney World's 50th anniversary. The pavilion will be an interactive metropolis and you will find a city filled with games, activities, and experiences that connect you with friends, family, and beloved Disney characters like never before.
Under construction - 2021
Epcot
Guardians of the Galaxy: Cosmic Rewind -- The Guardians of the Galaxy will be arriving in Epcot's Future World in 2021, and now we have a name for the ride: Guardians of the Galaxy: Cosmic Rewind. The ride will feature the first reverse launch into space! This thrilling, family-friendly attraction will feature a never-before-seen storytelling coaster that rotates to focus on the action – wherever it may be.

September 2021

Under construction - 2021
Magic Kingdom
TRON Lightcycle Run -- TRON Lightcycle Run will be a coaster-style attraction, in which riders board a train of two-wheeled Lightcycles. It will sit in an entirely new area right next to Space Mountain at Magic Kingdom.
Under Construction - 2021
Epcot
PLAY! Pavilion Opens -- The PLAY! Pavilion will open in time for Walt Disney World's 50th anniversary. The pavilion will be an interactive metropolis and you will find a city filled with games, activities, and experiences that connect you with friends, family, and beloved Disney characters like never before.
Under construction - 2021
Epcot
Guardians of the Galaxy: Cosmic Rewind -- The Guardians of the Galaxy will be arriving in Epcot's Future World in 2021, and now we have a name for the ride: Guardians of the Galaxy: Cosmic Rewind. The ride will feature the first reverse launch into space! This thrilling, family-friendly attraction will feature a never-before-seen storytelling coaster that rotates to focus on the action – wherever it may be.

October 2021

Under construction - 2021
Magic Kingdom
TRON Lightcycle Run -- TRON Lightcycle Run will be a coaster-style attraction, in which riders board a train of two-wheeled Lightcycles. It will sit in an entirely new area right next to Space Mountain at Magic Kingdom.
Under Construction - 2021
Epcot
PLAY! Pavilion Opens -- The PLAY! Pavilion will open in time for Walt Disney World's 50th anniversary. The pavilion will be an interactive metropolis and you will find a city filled with games, activities, and experiences that connect you with friends, family, and beloved Disney characters like never before.
Under construction - 2021
Epcot
Guardians of the Galaxy: Cosmic Rewind -- The Guardians of the Galaxy will be arriving in Epcot's Future World in 2021, and now we have a name for the ride: Guardians of the Galaxy: Cosmic Rewind. The ride will feature the first reverse launch into space! This thrilling, family-friendly attraction will feature a never-before-seen storytelling coaster that rotates to focus on the action – wherever it may be.

November 2021

No Events Announced for this Month Yet

December 2021

No Events Announced for this Month Yet

January 2022

No Events Announced for this Month Yet