MagicBands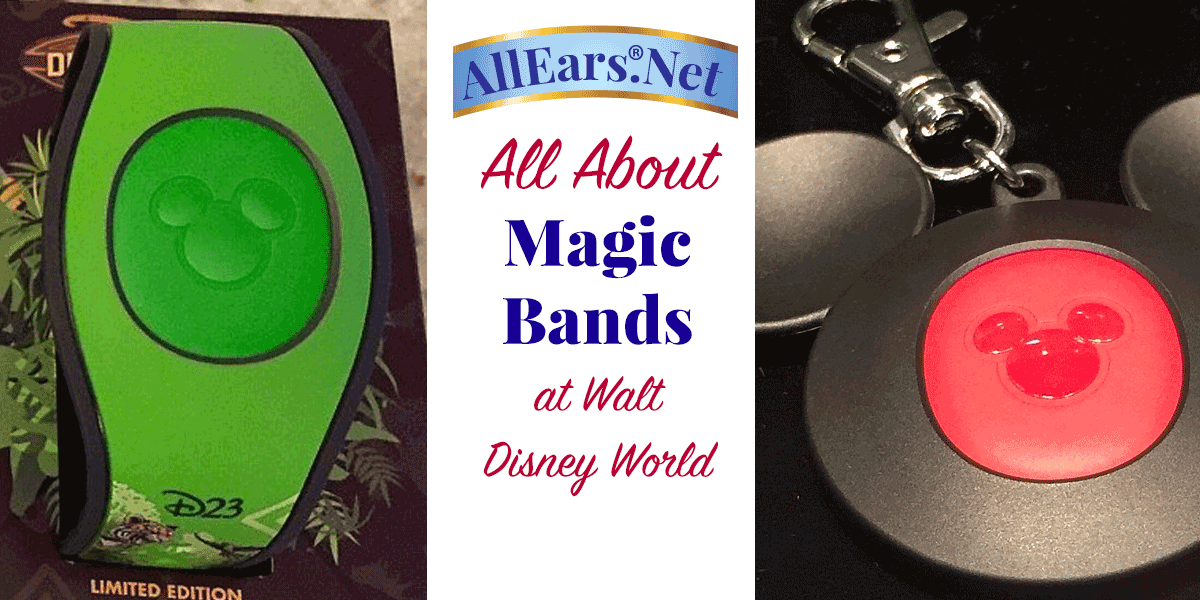 If you use FastPass+, MagicBands or My Disney Experience, please take a minute to share your thoughts in our Rate and Review section.
RELATED LINKS
What is a MagicBand?
Worn on the wrist, or carried in a special holder, the colorful MagicBand is an all-in-one device that connects all the vacation choices you make online with My Disney Experience.
You can use a MagicBand to enter a Disney Resort hotel room, buy food and merchandise, and enter Walt Disney World theme parks and water parks. Plus, the MagicBand provides FastPass+ access to all the experiences selected and serves as the connection to Disney's PhotoPass.
The original MagicBand could be worn only on your wrist. The next generation of the MagicBand — MagicBand 2 (pictured above) — was introduced in late 2016. MagicBand 2 features a new design, making it even more customizable and versatile, while maintaining the same convenience of the original MagicBand: the "gem" (center piece) of the band can be removed (with a tiny screwdriver) and put in an assortment of accessories so that it can be worn or carried in other ways than on the wrist.
What Does a MagicBand Look Like?
MagicBands are flexible plastic wristbands, resembling a watch or bracelet. The basic MagicBands come in a variety of colors: pink, blue, red, green, orange, gray, purple, and yellow. You can choose which color you prefer when you order them in your My Disney Experience (MDE) account.
There are also special colors such as black (introduced in 11/17), and brown and soft "millennial" pink (both introduced in late 12/17), as well as Graphic MagicBands and customized/personalized MagicBands. Read more about these MagicBands below.
How does it work?
MagicBands use Radio Frequency (RF) technology and can be read by short and long-range readers located at the Walt Disney World Resort.
Your MagicBand is linked to your My Disney Experience account, which holds all the information relating to your vacation: your hotel and dining reservations, Fastpass+ experiences, PhotoPass photos. Your MagicBand can also act as your Disney resort room key. Also, if you wish, you can associate a debit or credit card to your MagicBand so that you can use it to pay for your purchases.
To use the MagicBand to enter a theme park or water park, or to take advantage of your FastPass+, touch the Mickey head on the band to the Mickey symbol you'll find at the turnstile touch-points. When entering the park, you will also be required to place a finger on a scanner. When the light on the Mickey head turns green, you can enter the park.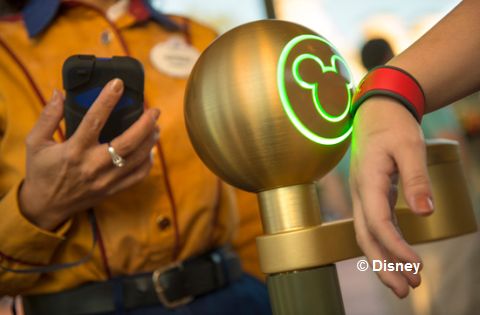 Similarly, when you wish to make a purchase using the MagicBand, you touch the Mickey to the device at the cash register, and then you enter your own Personal Identification Number (PIN).
To use your MagicBand to enter your Disney resort hotel room, touch the Mickey head on the band to the RFID reader located near your room door's handle.
TIP: If you have less flexible wrists, try fastening the band so that the Mickey head is on the inside of your wrist. This technique causes much less contortion than having to flip your wrist over for kiosks and other point of sale areas. Of course, with the new MagicBand 2, you can use the band's "gem" in a special carrier that won't require you to wear the band on your wrist.
Who can use a MagicBand?
Any Walt Disney World guest can use a MagicBand, however MagicBands are only available by purchase to "day guests" (that is, those who are not passholders, or are not staying at a Walt Disney World resort hotel).
How do I get a MagicBand?
If you are staying at a Walt Disney World Resort Hotel, you can customize and order your MagicBands online at least 10 days before your arrival at Walt Disney World Resort:
Create or sign into your Disney account.
If you have not already done so, link your reservation number to your Disney account.
Customize your MagicBands HERE.
NOTE: MagicBand orders cannot be shipped to all countries.
If you don't have time to order your MagicBands before your vacation, you may be able to obtain them once you arrive at your hotel, but you may not have your choice of color.
If you are a Passholder, you can also order a MagicBand, even if you are not staying at a Disney resort hotel. For instructions on ordering, see Kristin Ford's "how-to" blog HERE.
If you are not a Passholder and are not staying at a Disney resort hotel, Disney considers you to be a "day guest." MagicBands are not automatically shipped to you when you purchase your tickets, however you may purchase MagicBands at merchandise locations once your arrive at Walt Disney World.
You can also buy a retail MagicBand on Demand at various locations. These locations allow guests to customize their MagicBands, similar to the D-Tech on Demand boutique at the Marketplace Co-Op in Disney Springs. There are eight different colors available, including purple, as well as about 40 different graphics to apply to help customize your band. In addition to the artwork, the retail MagicBands can be personalized with a name printed on the outside. Once designed, the retail MagicBand is printed on the spot. The printers use UV ink that dries immediately and requires no cooling time. The custom retail MagicBand can be associated to your My Disney Experience account, or you can give it as a gift to friends or family. Price for a custom retail MagicBand is $21.95; with personalization the retail MagicBand is $29.95.
You may also buy MagicBands as gifts. (See below.)
NOTE: The "touch to pay" option (which entails linking a credit or debit card to the MagicBand) is not available for day guests.
How much do MagicBands cost?
If you are a Disney World Resort Hotel guest or an annual passholder there is NO extra charge for your MagicBand. They will be shipped to you after you order them, or will be available at your resort when you check in.
If you are not staying at a Disney Resort Hotel (known as a "day guest"), you are able to purchase a MagicBand if you wish.
Offsite guests (or anyone who wants a more interesting MagicBand) can order a MagicBand in advance from www.disneystore.com (from about $12.95 each for plain-colored bands, to $19.95 each for bands with character and other decorations, before taxes and delivery charges). Customized bands, and other Limited Edition Bands may cost up to $34.95. MagicBands can also be purchased at retail outlets throughout the Walt Disney World theme parks and Disney Springs.
I plan to buy a retail MagicBand. How do I link it to my MDE account?
When you buy a retail MagicBand, you are now eligible for a program called "Link-It Later." Retail MagicBands can be purchased by anyone, including guests who are not staying at a Walt Disney World Resort owned and operated hotel. Usually, you must present one of the following at the time of purchase to link a retail MagicBand: valid theme park admission, Memory Maker card or an active MagicBand. With the "Link-It Later" option, you will be able to purchase solid-colored MagicBands (available in seven colors) and link them to valid theme park admission at a future date. This new option allows you purchase MagicBands as gifts. Special "graphic" MagicBands like the ones featuring characters from Disney's "Frozen," can NOT be linked later at this time. "Link-It Later" is available in select retail locations at Walt Disney World Resort and participating off-site locations including Hotel Plaza Boulevard hotels in the Downtown Disney area, Disney liquidation stores in Florida, and the Disney merchandise shops at the Orlando International Airport. You can associate MagicBands using the "Link a MagicBand or Card" option in your My Disney Experience account.
I will be using an old admission ticket, the kind that is manually date-stamped without a magnetic strip. Can I still link that to my MagicBand?
When you enter the park, you will need to exchange your old ticket for a new plastic card with an RFID chip. That information can then be linked to the MagicBand. See a cast member at the park entrance for instructions.
My child is 2 years old and won't require an admission ticket. Does she need a MagicBand?
No, children who do not require admission media do not require a MagicBand.
Can I have multiple MagicBands at one time?
Theoretically, you should not need to have more than one MagicBand per person, however, you may have up to seven. You can manage your MagicBands, linking, activating or deactivating them, on the My Disney Experience website or via the mobile app.
My Disney Experience gives Walt Disney World guests the option of declining MagicBands if they already have an active MagicBand. To decline a band, sign into a My Disney Experience account and follow these steps: Click on "MagicBands and Cards" from the MDE pulldown menu. A list will appear showing all pending trips. Click on "Customize" for the trip or trip segment to be modified. A "Customize Your MagicBands" screen will appear. To cancel shipment of a MagicBand, click on the "Decline MagicBand" link on this screen. Users who manage MDE accounts for other family members or friends must decline MagicBands for each member. Guests scheduling split stays across multiple Walt Disney World resort must repeat this process for each individual reservation. Note that each individual's MagicBand(s) are linked to their My Disney Experience account. A single MagicBand can be re-used for multiple resort stays and even multiple vacations, as long as the band continues to function. The active transmitters embedded in Disney MagicBands are expected to last for a period of 2-3 years.
Where else can I use my MagicBand?
In addition to park entry, you can also use your MagicBand to identify yourself when you pass through theme park parking plazas, and when you enter a resort.
You can also use your MagicBand for your PhotoPass/Memory Maker photos, including animated magic shots. Animated magic shots are special videos that appear in your account after having your photo taken by a Disney PhotoPass photographer in select locations. They feature a still photo of the travel party overlaid with a video appearance by an animated character. All unexpired videos will be visible. Therefore, attraction videos and animated magic shots taken within the previous 45 days are included. All guests are able to view their videos via their My Disney Experience account, but a Memory Maker entitlement is required to download them.
Guests wearing or carrying active MagicBands will have certain attraction photos and videos automatically associated to their My Disney Experience accounts. Some of the attractions where this is available:
Buzz Lightyear's Space Ranger Spin, Space Mountain and Splash Mountain in the Magic Kingdom
Rock 'n' Roller Coaster Staring Aerosmith and The Twilight Zone Tower of Terror at Disney's Hollywood Studios
Test Track in Epcot
Dinosaur and Expedition Everest in Disney's Animal Kingdom
NOTE: Guests without MagicBands can associate attraction photos with RF-enabled media (e.g., park ticket or Memory Maker card) via new touch points at the photo preview walls.
What if I lose my MagicBand?
If you should lose your MagicBand, deactivate it using your My Disney Experience account online or on the mobile app so that no one else can use it. Notify Guest Relations or your hotel's Lobby Concierge if you are at Walt Disney World, and they should be able to issue a replacement band for you. If you are not at home when you notice you have lost your MagicBand, deactivate that band using MDE and order another. There may be a charge for the replacement.
Can I wear my MagicBand when I go swimming? What if I get it wet?
Your MagicBand is waterproof, so you can wear it swimming or even in the shower.
Is my personal data secure on my MagicBand?
MagicBands and RF cards are part of Disney's My Magic+. Disney says that MyMagic+ was built with extensive privacy controls from the outset and is completely voluntary. To further protect your privacy, your printed name appears on the inside of your customized band.
Learn more about Disney's privacy and data collection policies and how RF technology is used in MagicBands and cards HERE.
What if I don't want to use a MagicBand?
If you prefer to use a plastic RF card for admission/room entry instead of a MagicBand, simply request it at your Disney Resort hotel. The RF cards cannot be detected by long-range readers as the MagicBands can.
MagicBand 2 offers the option of removing the center piece of the band (the "gem"), which can then be inserted into other accessories that can be clipped to backpacks or otherwise worn not on the wrist.
Who can I contact if I have more questions about MagicBands?
Passholders who have questions about MyMagic+ can call (407) 560-7277.
All others call (407) 939-5277, visit Guest Relations at the theme parks, or Lobby Concierge at your Disney resort hotel.
What have guests said about MagicBands?
Many guests have enjoyed using MagicBands and find them very convenient. Read more about what AllEars.Net Readers are saying in our Rate and Review Section.