Walt Disney World Ticket FAQ
Walt Disney World offers a wide variety of ticket options. One of the biggest decisions you'll have to make when planning your trip to Walt Disney World is what type of ticket to purchase. First, some basics on tickets.
Walt Disney World Ticket Basics
Deciding What Type of Ticket to Purchase
Ticket Media and Prices
Where do I buy Tickets From
Disney Store Tickets
Unused Tickets
Upgrading WDW Tickets
Annual Passes
Mousecellaneous Questions
WDW TICKET BASICS
What do Walt Disney World tickets include?
Standard Theme Park Tickets provide entrance to a single theme park on a given day. You can upgrade to a Park Hopper (to visit more than one theme park on a given day) or to a Park Hopper Plus (to receive a varying amount of admissions to the so-called "minor gates" that consist of the water parks, Oak Trails Golf Course, Disney's miniature golf courses, and Wide World of Sports).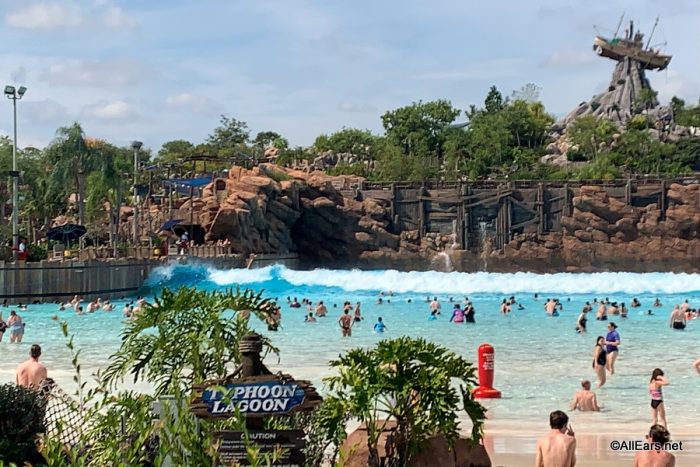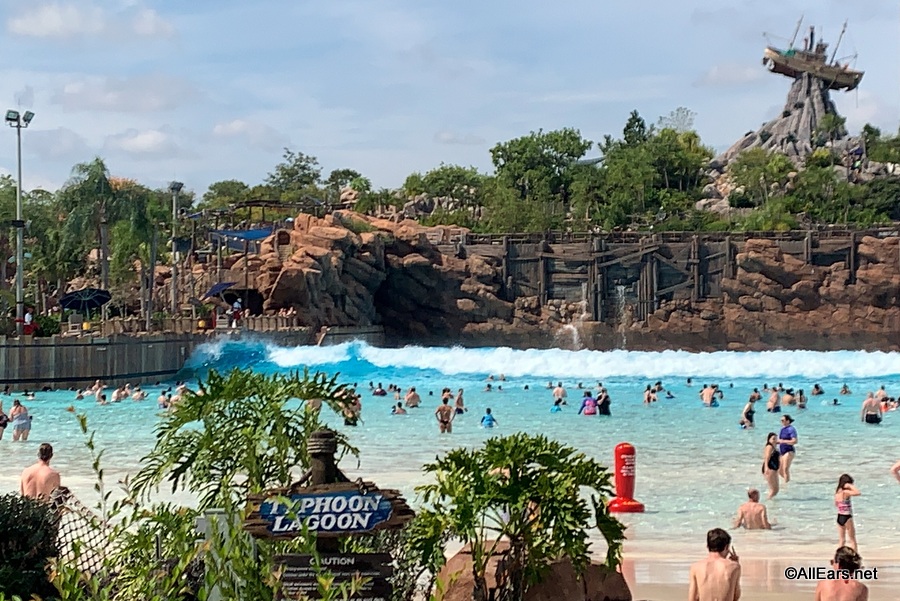 None of these tickets will provide admission to any of the special Disney events that are referred to as "Hard Ticket Events." Hard Ticket Events include experiences like Mickey's Very Merry Christmas Party and After Hours events.
Use of Disney transportation is included with admission.
What are Hard Ticket events?
Hard Ticket events are when a park closes early to the general public and reopens in the evening (or early morning) for a special themed event that requires a separate admission ticket but does not also require a regular park admission ticket.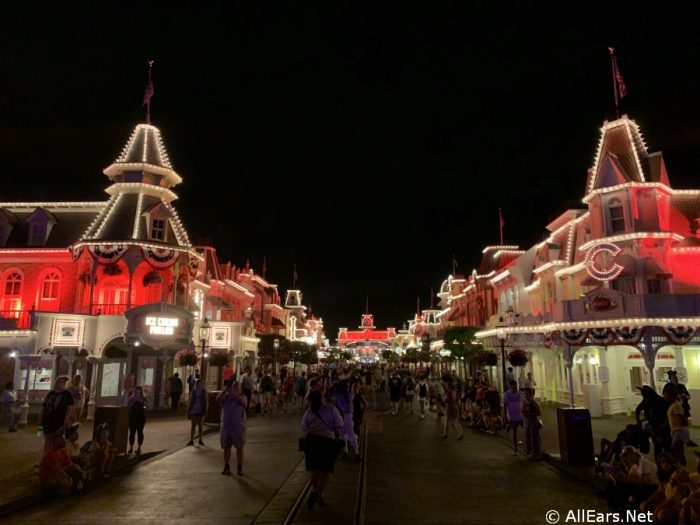 Examples of Hard Ticket events include: Mickey's Very Merry Christmas Party, Night of Joy, and Mickey's Not So Scary Halloween Party. When purchasing Hard Tickets, be sure to ask if there are Florida Resident, DVC, or Annual Passholder discounts available.
What about date-based ticket pricing? 
In 2018, Disney World moved to date-based ticket pricing. Date-based pricing essentially provides slightly reduced prices on dates that are perennially less crowded, therefore encouraging more guests to travel at those times.
The flip side is that peak times at the Parks tend to be more expensive than before date-based pricing was implemented.
Another change to tickets with the advent of date-based pricing was that tickets now must be used within a shorter time frame. In the past, tickets were good for 14 days from the date of first use; now, tickets must be used within a number of days determined by how many days of tickets you buy. For example, if you buy a four-day ticket, you have a window of seven days in which to use them all (rather than the 14 you used to have).
Check out our Date-Based Pricing FAQs here!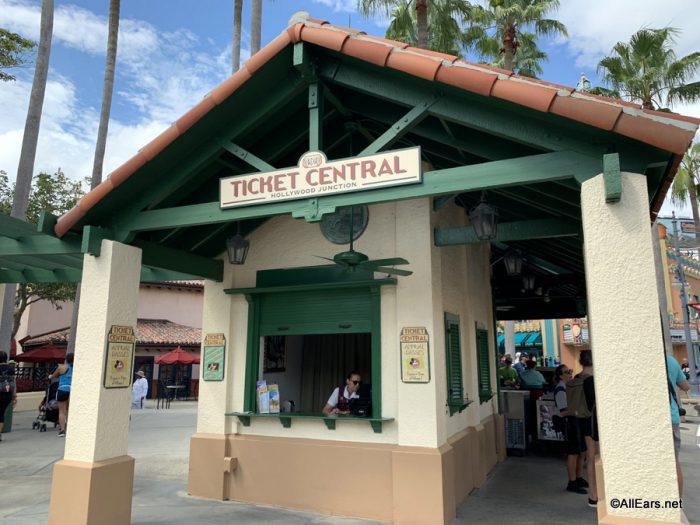 Are there adult and child tickets? How about Senior Citizen or Disabled Ticket prices?
Tickets are sold as "Guest 10+" for adult tickets or "Guest 3-9" for a child. Anyone under age three is free. There are no special tickets or discounts for the disabled or senior citizens.
Tickets are expensive — over $100 for one Standard Theme Park Ticket sometimes. Are there discounts of any kind? 
Discount programs and discounts are limited but currently are available on select ticket media that are offered to Florida residents, Disney Vacation Club (DVC) members, military personnel, or AAA members. AAA discounted tickets or packages are available to browse on AAA.com.
If you have an Annual Pass, always present it when purchasing a Walt Disney World ticket of any kind (i.e. Hard Ticket events) — you never know when a discount may apply.
Disney Vacation Club members can get discounts off the price of selected new or renewed Annual Passes. See our Disney Vacation Club Annual Passholder and Annual Passholder discounts FAQ for complete information.
There are also Florida resident specials (discussed in the Florida Resident Ticket section). Your admission media cost may also vary if you purchase a WDW package which includes park admissions.
Disney tickets may also be obtained at a slight discount from independent ticket wholesalers in the State of Florida. Keep in mind that these businesses are not part of Disney. They are independent entireties that set their own rules and prices. Do careful research before purchasing with a third party.
DECIDING WHAT TYPE OF TICKET TO PURCHASE
How do I go about deciding what type of ticket to buy?
Evaluate your travel plans and budget, and ask yourself these questions:  How many days do you plan to visit the major theme parks? How much of your budget do you want to spend or can you spend on admission to the parks? Do you want just enough admissions for this trip or do you want to buy some extras and save them for your next visit? How likely/often will you visit the Water Parks? Will you be returning to Disney World within the next twelve months?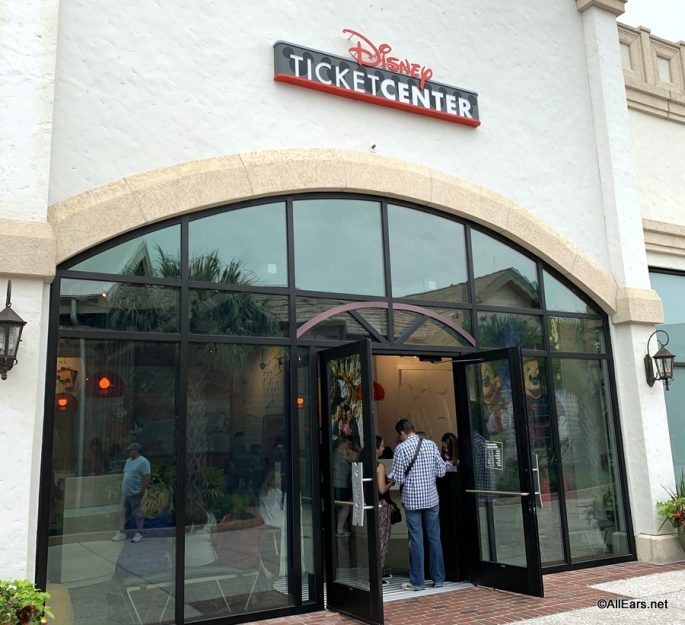 Weigh your answers to these questions carefully. And remember: what was a good deal in the past (like buying  multi-day tickets to spread out over two weeks) is no longer so flexible. And single-day tickets are now locked into a particular day, reducing flexibility for spontaneous visits, too.
Another factor to consider is how many days you'll be visiting the parks in a full calendar year. An Annual Pass may make sense if you plan next year's visit 1-2 weeks earlier so your Annual Pass is still valid, hence saving an entire trip's admissions cost. Visit our "break-even" analysis, When Does an Annual Pass Become Cost-Effective?, for more details about deciding if an AP is right for you.
What is a Park Hopper option?
Note: When Walt Disney World reopened in July 2020, the Disney Park Pass allowed only one Park per day entry. Park Hoppers are suspended. No date has yet been given for the resumption of Park Hoppers.
Park Hopper is an option on top of the Standard Theme Park Ticket. For an added fee, you can opt to get the Park Hopper and use it to 'hop' from park to park. For example, you can start the day rope-dropping Soarin' at Epcot, then 'hop' over to Hollywood Studios to experience Star Wars: Galaxy's Edge in the afternoon or evening. In fact, you can 'hop' to four parks if you so desire!
Park Hopper is a good option if you want to plan your park visits around things like Extra Magic Hours or if you know you'll need to leave a park earlier due to a Hard Ticket event that is happening at the park later in the day.
But if your park touring style is to head in at rope drop and play until park closing, Park Hopper likely won't be financially worth it for you.
What is Park Hopper Plus?
Park Hopper Plus is another upgrade to a Standard Theme Park Ticket. With this ticket option, you get to Park Hop plus gain one valid admission per day of purchased Standard Theme Park Ticket for one person to your choice of any one of the following:
Typhoon Lagoon
Blizzard Beach
ESPN's Wide World of Sports
A round of golf at Disney's Oak Trails Golf Course
A round of miniature golf at either Winter/Summerland or Fantasia Gardens
So that's potentially doubling the number of admissions for your trip. If you visit theme parks for four days and you've purchased Park Hopper Plus, you can then gain admission to water parks for four other days or mix it up and hit the water parks and play a couple days of golf. If you'll truly use the Plus options, you can get your money's worth with Park Hopper Plus — but you'll want to do the math to be sure it's a deal for you!
Some notes from Disney on the Plus options: 
A nine-hole round of golf is dependent upon you have a reserved tee time. Reach out to Disney by phone or online: (407) WDW-GOLF (407-939-4653) or visit disneyworldgolf.com.
You can only play one round of mini golf per day.
Water Parks are subject to closures due to weather, refurbishments, and guest capacity.
Wide World of Sports admission is only allowed when an event is scheduled; you can't just enter to wander around.
Some other things to bear in mind regarding Park Hopper Plus tickets:
Everything expires on a set number of days from first use (remember that change we mentioned above?). In the past, this was 14 days by default; now it varies depending how many days your Standard Theme Park Ticket is for.
Using a Park Hopper option does not use up a major park day from your pass.
But unlike the major park admissions on these tickets, you can only visit one place per Park Hopper Plus visit. No hopping is allowed on these visits.
Unlike the major park admissions, you are allowed to visit multiple Park Hopper Plus locations on any one day, but if you do, you will use up one Park Hopper Plus option for each place you visit.
Leaving and returning to the same park on the same day does not use an extra entry as readmissions are always allowed at the same park on any day. So you could splash around at Blizzard Beach in the morning (one admission), play some mini golf (second, separate admission), and return to Blizzard Beach to close out the day (reentering on the first admission — no separate admission charged).
Park Hopper Plus visits may or may not be used on the same days as you go to the major parks.
Reiterating: if you use a Park Hopper Plus visit on one day and do not go to a major park, you do not use up one of your major park admissions, just one of your Plus admissions.
Do I have to use my Park Hopper Plus options in different places, or can I go back to a place twice?
You can use them all at the same venue if you so desire. You have three limitations.
One is that you can only use it for one person. You cannot have a group of three use three options off your one pass.
The second one is that you will use a separate Plus option for each water park, Wide World of Sports admission, mini golf round, or Disney's Oak Trail golf course round you do on the same day. You are allowed to go to one, leave and return to the same one on a given day without burning a second admission, but you cannot park hop between the Park Hopper Plus venues like you can with the major park days.
You are limited to one round of mini golf per ticket per day.
TICKET MEDIA
Walt Disney World last increased Standard Theme Park prices in March 2019 and Annual Pass prices in June 2019. You can see a history of price increases here.
Beginning on January 2, 2005, Disney completely changed the way they sell all daily admission tickets. They introduced a new ticket called "Magic Your Way". These tickets are available to all on and off site guests. Now this ticket is called, more simply, the Standard Theme Park Ticket.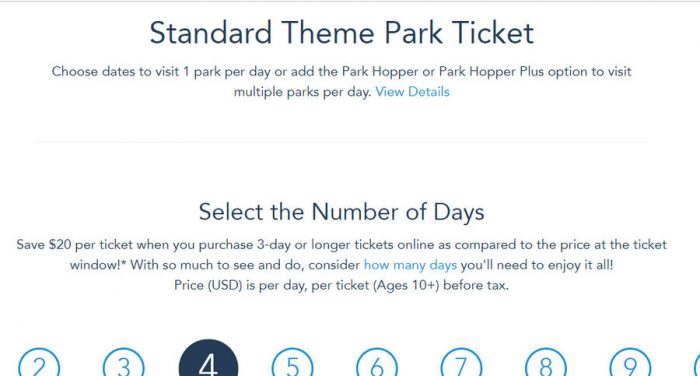 Tickets are available in lengths of 1 to 10 days. The Standard Theme Park Ticket is just one park admission per day — so no park hopping unless you upgrade to a Park Hopper or Park Hopper Plus.
If you plan far ahead and your plans change, you can add days to your ticket or subtract days from your ticket as needed. The pricing structure is set up so the longer the length of the ticket you buy, the lower the per day cost of each day becomes.
Note that with date-based pricing, you'll essentially pay a per-day price that is an average of the prices for the days you select on the calendar. So any changes you make to your dates can impact your per-day pricing significantly.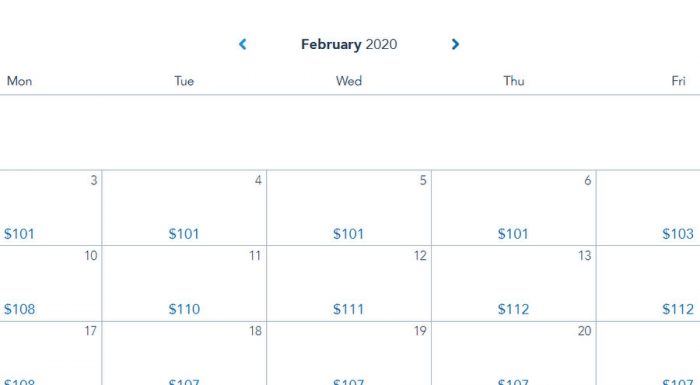 Note: Starting with the Parks' reopening in July 2020, biometric scans are no longer required for Park entry.
All ticket holders, regardless of age, must use the biometric scanners before entering a park no matter what ticket they have or whether they have the actual ticket (relatively rare these days) or (more commonly) are using their MagicBand. See our Finger Scans For Passes page for more information. Should the biometric scan fail, you will be asked for a photo ID before being allowed in.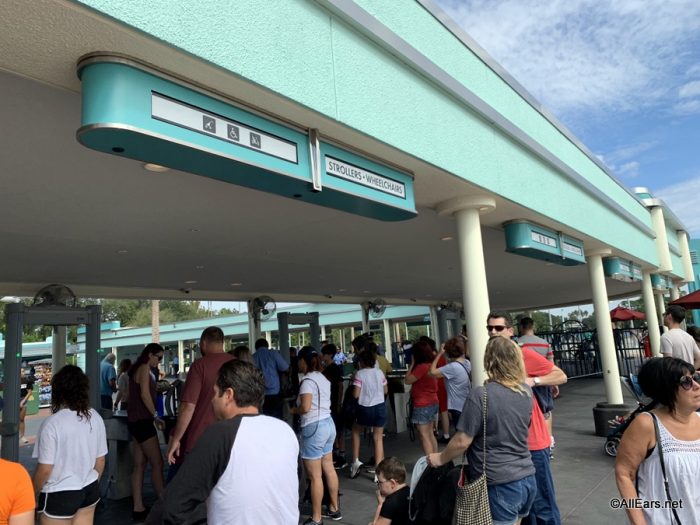 As you know, Park Hopping and Park Hopper Plus are available as add ons. They may be added at any time — so if you get to day three of your trip and decide you want to be able to park hop, you can add it. But there's a big caveat you'll want to be aware of: you will be charged the full rate of the add on regardless of how many admissions remain on the ticket. They are priced per ticket, not per day. So you can not just add Park Hopper for a day of your trip; you'll pay to add it to the full length of stay, even if you've already used up some of your days.
You may do the add ons at any Guest Relations location in the parks or Disney Springs or at the Lobby Concierge window at any Disney resort.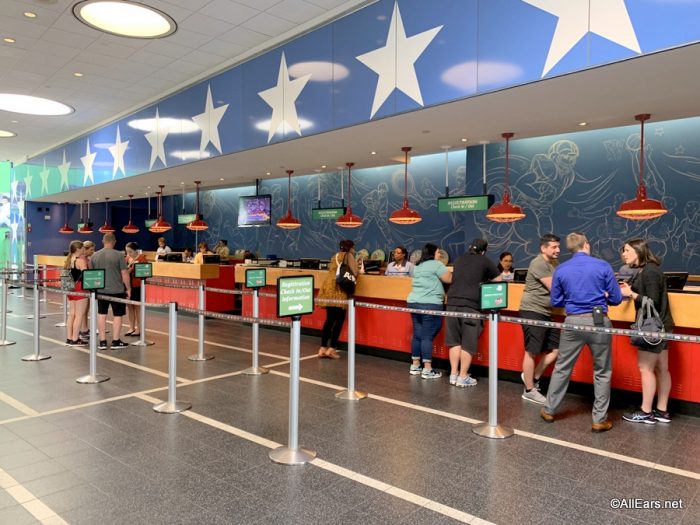 So you can now custom design the length and makeup of your theme park ticket with any of the following five options that best suit your needs:
One Day Standard Theme Park Tickets — See Prices
Base Ticket with Park Hopping add on — See Prices
Base Ticket with Park Hopper Plus add on — See Prices
Click here to see the latest on expiration dates depending on the length of your ticket.
See our Ticket Chart page for complete list of current prices including upgrades to Park Hopper and Park Hopper Plus.
Annual Pass Program
Annual Passes allow Passholders to visit the Parks whenever they wish (except for blockout dates where applicable), so long as they obtain a Disney Park Pass reservation for the day and Park they wish to visit. Passholders can Park Hop with their Passes.
Complimentary theme park parking is included in the price. Annual Passholders have other benefits described on our Annual Passholders page. There is a small discount when you renew your AP.
For Annual Pass pricing and benefits, click here!
PURCHASING TICKETS
Where can I purchase tickets?
Walt Disney World tickets can be purchased at:
Location:
Theme Park Tickets
Annual Pass (all types)
Platinum Plus Annual Pass
Water Park
Tickets
WWoS
Tickets

www.disney.com

1

Voucher

Voucher

407-WDISNEY

1

Voucher

Voucher

no
no
WDW Major Park
Ticket Booths

Active

Active

no
no
WDW Water Park
Ticket Booths

Active

Active

no
Wide World of Sports
Ticket Window
no
no
no
no
Guest Relations
Parks, Water Parks & DS

Active

6

Active

6
Lobby Concierge
at Resorts
no
no
The Disney Store 5

Voucher

Voucher

no
no
The Disney Store (FL Stores Only) 5

FL Resident Voucher

FL Resident Voucher

no
no
The Magic of Disney
Orlando Intl Airport2
no
no
no
no
Disney's EarPort
Orlando Int'l Airport2
no
no
no
no
Character Warehouse
Orlando Premium Outlet International (formerly Belz)2
no
no
no
no
Character Warehouse
Orlando Premium Outlet Vineland Avenue 2
no
no
no
no
LEGEND:
1 denotes a $5.00 shipping charge per order is added unless Will Call option is selected.
2 denotes does not sell Florida Resident passes.
5 denotes most Disney Stores only sell theme park tickets from 3-7 days in length. You can add any days or options to this ticket at WDW.
6 denotes that Guest Relations can also sell AP vouchers as well as active APs.
Tickets purchased from any Disney Store will be charged 6.5% Florida tax ONLY. There is no additional tax from your home state added. Actual tickets offered for sale at The Disney Store may vary from store to store.
Summary of Ticket Table Info:
Tickets can be purchased at:
Any ticket booth at a major WDW park (water park and Wide World of Sports tickets not available here)
Any ticket vending machine located at some parks, water parks and some Disney Resorts
Any Lobby Concierge desk at a Disney Resort Hotel or park.
Most U.S. Disney Stores (do not carry all tickets)
Online at http://disneyworld.disney.go.com/wdw/index – If you choose to have them mailed to your home, a $5.00 shipping charge per order is added. If you choose the Will Call option, there is no charge
By calling 1-407-W-DISNEY ($5.00 shipping charge per order added)
*at Disney's EarPort at Orlando International Airport
*at The Magic of Disney at Orlando International Airport
*at Character Warehouse at Orlando Premium Outlet International (formerly Belz) in Orlando
*at Character Warehouse at Orlando Premium Outlet Vineland Avenue Mall in Lake Buena Vista
* indicates locations that do not sell Florida Resident passes.
"Will Call" option available for online and telephone ticket purchases.
In September 2002, Disney began offering a new option in ticket purchasing: the Will Call option. There is no shipping, handling, or any extra charge on Will Call tickets.
How do I get these "Will Call" tickets?
Will Call orders are only available for pickup at the Walt Disney World Resort in Florida. Tickets can be picked up starting the day after your order. Upon arrival at Disney World, pick up your will call ticket order at any Theme Park ticket booth including water parks, at any Guest Relations location including Disney Springs, or at any Disney Resort Lobby Concierge.
With the MagicBand system, having the actual ticket media in hand is no longer required.
Please note that any Florida resident, seasonal, annual or premium annual passes cannot be picked up at the resorts, only at the Theme/Water Parks ticket booths or any Guest Relations. Please present your confirmation number along with a valid photo ID (e.g. driver's license, passport, or military ID), at any ticket sales location at one of these parks. The confirmation number is the only way that Lobby Concierge can retrieve your tickets. Without it, you will have to visit a Guest Relations location to pick up your tickets.
MOUSECELLANEOUS QUESTIONS
My aunt and uncle live in Florida. Can they buy my park tickets and give them to me as a present?
It depends on what they are buying you. If they purchase regular theme park tickets at full price, then yes they can. If they purchase a ticket that is only available to Florida Residents, then no, they can't. Florida Resident tickets are sold as vouchers when purchased by web or phone and can only be used by a Florida resident. They cannot be gifted to an out-of-stater. This voucher must be turned in at Guest Relations along with a valid Florida ID in order to be used. FL resident tickets purchased in person at WDW require a photo ID for each adult ticket. In the event an out-of-stater presents a Florida Resident voucher without a Florida ID, Disney will offer you a credit for the price of the Florida Resident ticket that you can apply towards the cost of purchasing a regular park admission media.
The first time the tickets are used the park gate turnstile will lock and the inside of the turnstile will give a "Check ID" message to the gate CM. If you cannot show Florida ID your ticket will likely be confiscated or you will be escorted to the Guest Relations window to pay the price difference.
Why does Disney sell a 10 day theme Park ticket with 10 Park Hopper Plus visits for a total of 20 admissions when the ticket expires in just 15 days? Doesn't that mean we have to double up on several days or lose some admissions somewhere?
Yes, it does. All multi-day theme park tickets will expire in a set number of days from first use. In order to use all the available entitlements on the 10 day ticket, you would have to "double up" by using a Park Hopper Plus admission and a theme park admission on some days.
Expiration dates as of 1/2020 are: 
1-Day Only the start date selected
2-Day Any 2 days within 4 days beginning on the start date (5 days for Park Hopper Plus)
3-Day Any 3 days within 5 days beginning on the start date (6 days for Park Hopper Plus)
4-Day Any 4 days within 7 days beginning on the start date (8 days for Park Hopper Plus)
5-Day Any 5 days within 8 days beginning on the start date (9 days for Park Hopper Plus)
6-Day Any 6 days within 9 days beginning on the start date (10 days for Park Hopper Plus)
7-Day Any 7 days within 10 days beginning on the start date (11 days for Park Hopper Plus)
8-Day Any 8 days within 12 days beginning on the start date (13 days for Park Hopper Plus)
9-Day Any 9 days within 13 days beginning on the start date (14 days for Park Hopper Plus)
10-Day Any 10 days within 14 days beginning on the start date (15 days for Park Hopper Plus)
Am I allowed to use two days off of my theme park base ticket (non-hopping) if I decide I want to go to a second park on the same day as the first?
No, you are not. The tickets are sold and the computer system is based on the number of days you have, not the number of park visits. Once you have used a non-park hopping ticket at any park, the computer system will not let you use it at another park on the same day. You are allowed to re-enter the same park you already went into later the same day.
I booked a package with Disney that includes multi-day theme park tickets, but I will be there several days before my check in date, staying off-site. Is there anyway I can use those tickets before I arrive at the Disney resort?
With the new My Disney Experience, it's very easy to do. Once your tickets are added to your MDE account, you can use your MagicBand to enter a park on any day of your visit.
Does Disney typically raise ticket prices at certain times of the year?
Disney used to raise Annual Pass prices in the fall and regular ticket prices in the spring. But the last few increases were done differently. Tickets increased the past few years in February or March. Be sure to visit our complete history of ticket increases page for a look at all price increases since 1971. There is really no accurate way of knowing when Disney will raise prices again.
Where can I find ticket price information?
Visit Disneyworld.com to see all the basics, and if you have questions, give Disney a call (or chat with them online).
Do I need photo ID to enter the parks?
Park entrance cast members can request a photo ID whenever they wish. The Theme Park tickets are tied to a name and a finger scan just like the annual or seasonal passes. Do not be surprised if you are asked for a photo ID if your finger scan doesn't work properly. Since your MagicBand is associated with each of your tickets, they can verify that it is you who is using the pass with the photo ID.
I just returned from Disney World and had to exchange my old ticket for the small credit card type ones with the RFID strip. You used to be able to tell how many days you had left on the old tickets. How do I tell when I park hop if I get "charged" for another day?
The new tickets keep track of the number of days on the computer system and not on the ticket itself. Basically the turnstiles only read the RFID information and don't write to it.
The turnstile reads the RFID info, looks up in its database the serial number, and determines whether or not you have been in today, whether or not it can let you in, and whether or not you have days remaining. After determining your eligibility, the computer will allow a green light with your finger scan.
The turnstile does not mark anything on your ticket to give you any idea as to the number of days remaining. Guest Relations can look up your ticket into the computer system and tell you how many days are left.
If I have a Theme Park Park Hopper Pass which allows me to enter and re-enter any park, do I need to get a hand stamp? For example, went to MK in the morning and Epcot at night. Did I really need to get a MK hand stamp since I have unlimited access with the pass?
For years, the hand stamp helped Disney World control the use of the pass. The hand stamp proved that the person with the hand stamp had actually been inside a park. Now, RFID and finger-scanning tickets don't need hand stamps because they have another way of proving that you used the ticket. They can safely assume that no other person could use your ticket.
I see advertisements and vendors selling discounted tickets to WDW in Orlando. Are these good deals?
There are legitimate licensed Florida ticket wholesalers who sell Disney tickets as well as tickets to most of the other Central Florida attractions at discounted prices.
However, you will find that some of these vendors are affiliated with time share businesses. To obtain the discounted tickets, you will be required to sit through and perhaps visit a time share location; which can take quite a lot of time.
Last updated: 02/20