Disney's Magical Express and Resort Airline Check-In
UPDATE: Disney's Magical Express will no longer be available starting January 1, 2022. Service will continue through December 31, 2021. Click here for more information.
Note: Beginning July 16, 2020, Magical Express will no long collect luggage from the baggage carousel. Guests will need to retrieve their luggage before heading to check-in at the Magical Express desk. Drivers will still load luggage into the motorcoach, and Bell Services will still help manage luggage at Resort entrances. Click here for more details.
In December 2004, Disney announced a new service called Disney's Magical Express. Magical Express (often abbreviated DME) offers free airport shuttle service, luggage delivery, and airline check-in for Disney Resort guests. The service began in May 2005 and continues to be a beloved complimentary perk of staying at a Disney Resort.
Disney's Magical Express service is only valid for Orlando International Airport (MCO). Resort Airline Check-in Service (see below) is only available for Resort guests flying with participating airlines.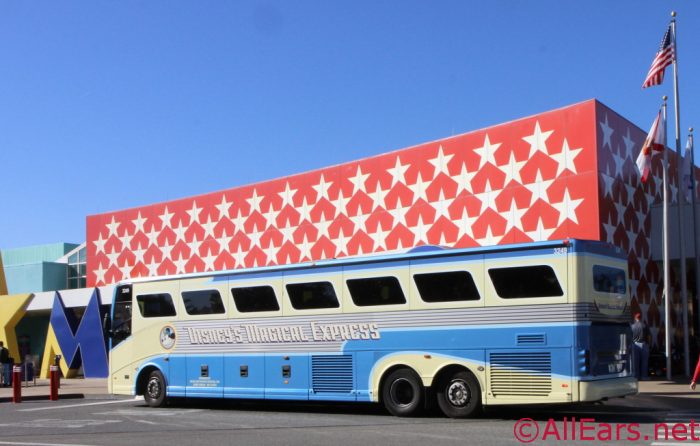 Click here to share YOUR Experiences with Magical Express!
How to book Disney's Magical Express:
Disney's Magical Express must be booked at least 10 days prior to arrival through DisneyWorld.com or by calling your travel agent. You can also book directly through Disney:
U.S. and Canada Reservations: (407) 939-1936
United Kingdom Reservations: 0800 16 90 730
International Guests should make reservations through the same travel agent or tour operator used to book the trip.
Be sure to have your Arriving Flight Number and time into the Orlando International Airport as well as your Departing Flight Number and time out of the Orlando International Airport when you make your reservation. You'll also need the name of the airline(s) you are flying.

We highly recommend booking this service a minimum of six weeks in advance!
NOTE: Guests must be 16 or older to travel unaccompanied on the Disney's Magical Express transportation service.
Before you leave home:
About 2-3 weeks before you arrive, you will receive in the mail an Airport Transportation Booklet containing general information and special (bright yellow!) Disney's Magical Express luggage tags for your bags.
Disney's Magical Express will mail only one luggage tag per person, as travelers are now flying with less luggage due to various changes by the airlines. If you need additional luggage tags, you can request them by contacting Disney's Magical Express at 866-599-0951.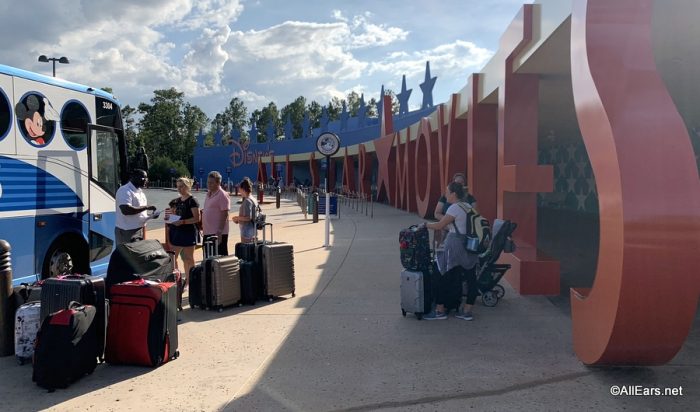 NOTE: Disney's Magical Express will only mail the Airport Transportation Booklet and luggage tags to guests located in the United States and Canada. If you are located in countries other than the United States and Canada you can still use the full extent of the Disney's Magical Express service, including the Resort luggage delivery. You will receive all the pertinent information, including transportation vouchers, upon check-in at the Disney's Magical Express Welcome Center at MCO. These vouchers are used for transportation to the Resort and then back to the airport.
When you depart from your home airport at the start of your trip:
Check your specially tagged luggage at your departure airport. If you did not receive luggage tags in advance, save those baggage claim numbers so you can provide them to Disney's Magical Express when you arrive at the Orlando airport.
NOTE: Do NOT pack MagicBands in checked luggage. They will be used to check in with Magical Express.
Arrival at MCO:
Upon arrival in Orlando, bypass airport baggage claim (if you're letting DME handle your luggage) and go directly to the Disney Airport Welcome Center (Level 1, "B" Side). Present your MagicBand or documents to check in with Magical Express.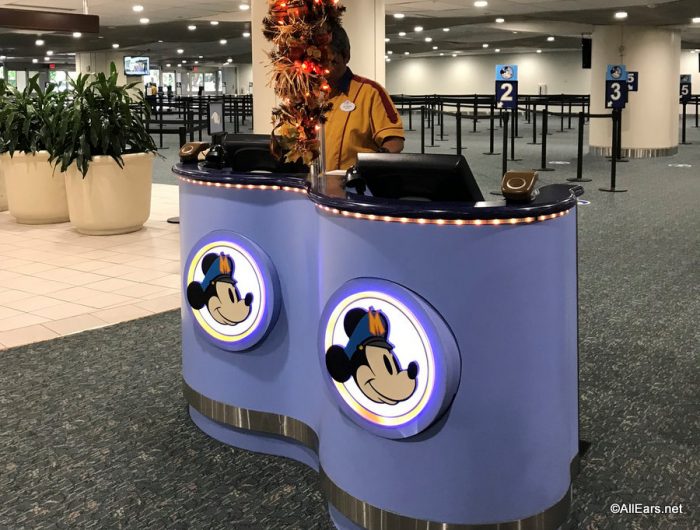 Disney's Magical Express offers luggage delivery service for arrivals to the Orlando International Airport between 5AM and 10PM. Guests arriving at the airport before 5AM or after 10PM will pick up their luggage at the baggage claim, make their way to the check-in desk, and take their bags with them to the Magical Express motorcoach. Their bags will travel on the motorcoach with them in a storage compartment under the bus. This will allow late-arriving guests using Magical Express to have more immediate access to their luggage. (Any travelers who wish to handle their own baggage any time of day will simply not use the yellow DME luggage tags and pick up their own luggage at baggage claim before heading to the check-in.)
Note: Car seats are not permitted on the motorcoaches and must be stowed underneath the motor coach.
When you check-in, you'll be sent to a designated line to wait to board your Magical Express motorcoach.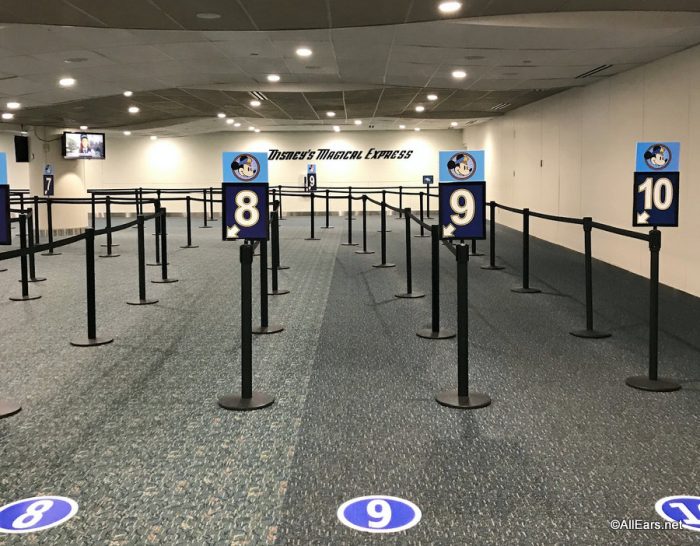 When it's your turn (this can take some time but not usually more than 20-30 minutes) you will board state-of-the-art motorcoaches that will take you to your Disney Resort.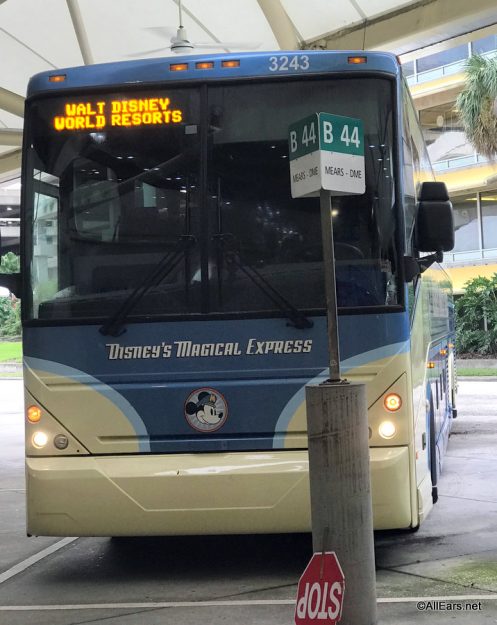 An on-board video is shown during the ride. This changed some years ago, but if it's your first or your fiftieth time watching it, it's fun and helps pass the time.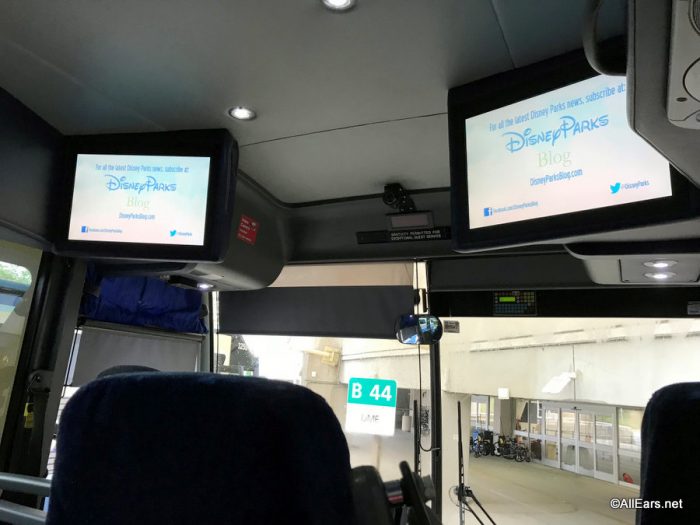 Your motor coach may make up to FOUR different stops at various Disney Resorts. Be aware that this means your trip to your Resort may take longer than just the distance between MCO and your Resort.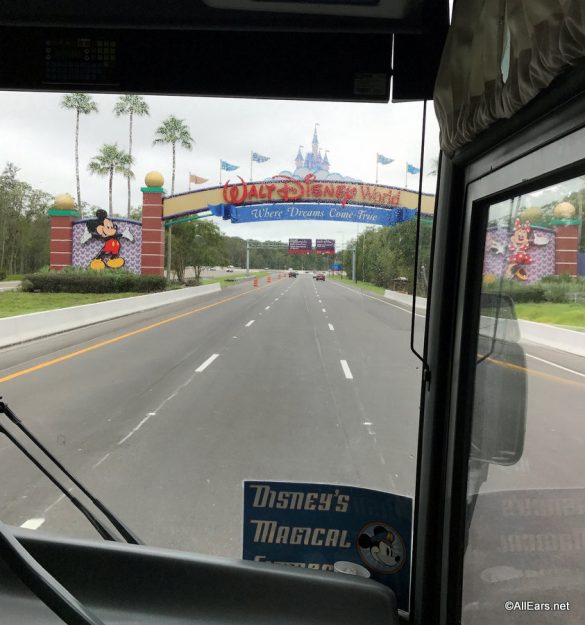 What happens to your luggage:
If you have tagged your luggage for DME or provided your baggage claim numbers to the Disney's Magical Express team at the check-in desk, a team of Disney representatives at the airport will pick up your luggage and transport it to your Disney Resort hotel room.
Your luggage will travel separately (not on your  motorcoach), and it may take up to three hours after you arrive at your Disney Resort hotel for your luggage to be delivered to your room. Please pack any valuables, medications, or anything you need immediately upon your arrival in Orlando in a carry-on bag, and have your MagicBand with you and easily accessible at the airport and when you arrive at your Disney Resort hotel. You do not need to be in your room to receive your luggage; if you are not in your room, it will be delivered and left in your room for you.
Note: International Visitors – If the Orlando International Airport is your first point of entry into the United States, you will follow the U.S. Customs & Border Protection process and claim your luggage upon disembarking the airplane. Once you have completed this process you will proceed to the main Terminal building where you will be met by a Disney Representative. Your luggage will be transferred to the Baggage Claim area, where Disney will collect it if tagged with Disney's Magical Express luggage tags. If you have already completed the US Customs & Border Protection process in another US city or before entering the US, you will proceed directly to the main Terminal building; and Disney will claim your luggage.
How Disney's Magical Express Departure service works (from your Disney Resort hotel):
You will be notified of your motor coach pick-up time and location the day prior to checkout. The day before your pick-up at your Resort, you will receive Transportation Notice hanging from the door handle of your Resort room.
Motorcoach pickup time is approximately four hours prior to your flight departure for domestic flights and for international flights. Bring your luggage to the Magical Express pickup point at your Resort, and present your Transportation Notice. MagicBands can not be used to go from the hotel to the Orlando airport; you need the paperwork provided to you the day before your departure.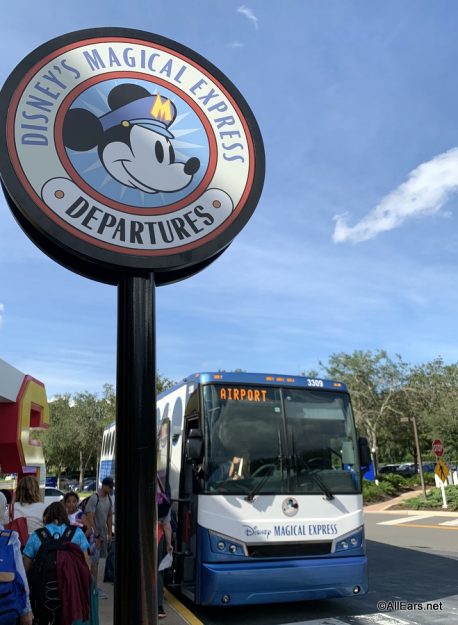 Disney's Magical Express has four drop-off locations in all four quadrants of the airport (Gates 1-29, 30-59, 60-99, and 100-129).
Note: Disney's Magical Express also assists you when it's time to depart. If you are flying one of the participating airlines, you can avoid airport check-in lines by checking your luggage and receiving your boarding pass before you leave your Disney hotel as described in the Resort Airline Check-In Service section below.
IMPORTANT NOTES
Travelers in wheelchairs can be accommodated on Magical Express. You must ask for wheelchair transport when you make your Magical Express reservation. Magical Express does not, however, provide wheelchairs at the airport.
Service animals are allowed on the motor coach to and from the airport as long as they are accompanied by the owner.
You don't have to book Magical Express round-trip; you can book one way, either to or from your Disney Resort hotel.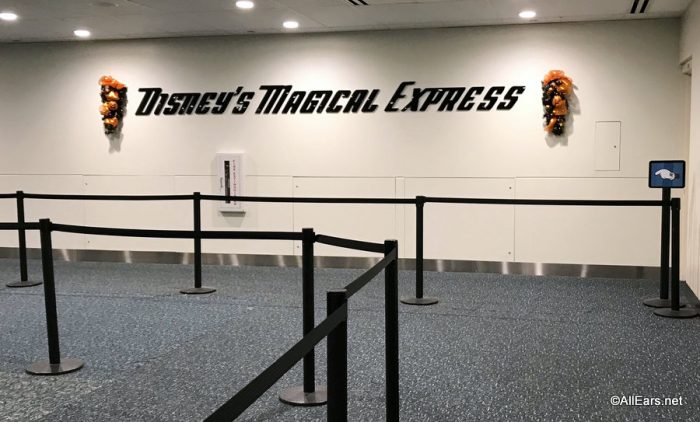 You can not book luggage transfer only. You must be on the motor coach to have your luggage transported.
Your luggage will not be transferred separately to the airport as it was on the inbound service from the airport to the Resort. However, you may request Bell Services or Luggage Assistance to help with your luggage when you board Magical Express to return to MCO.
If you do not have your flight information and wish to make a Magical Express reservation, you may do so. Don't forget to let them know your flight information once it is confirmed!
If your flight information changes, call Disney to update the correct info.
If you miss your flight or it is significantly delayed to Orlando, call Disney's Magical Express Guest Services at (866) 599-0951. Disney Representatives can retrieve your luggage if it arrives at MCO before you do and confirm your arrival before transferring the luggage to your Resort.
You may be able to use the service upon arrival at the Orlando International Airport if it's possible to accommodate you. If you decide to do this be sure to pick up your luggage from baggage claim yourself, then head to the Magical Express check-in desk to see if you can be accommodated.
Resort guests should contact Disney's Magical Express Guest Services at (866) 599-0951 with questions.
Resort Airline Check-In Service
Resort Airline Check-In Service at your Disney Resort is available if you are flying domestically (including Puerto Rico) on the following airlines:
Alaska Airlines
American Airlines
Delta Air Lines (U.S. Domestic Flights Only)
JetBlue Airways
Southwest Airlines
United Airlines
This service allows you to check your luggage and receive your airline boarding passes right at your Resort on the day of your departure.
This service is separate from Magical Express. You do not have to participate in Magical Express to utilize the Resort Airline Check-in Service.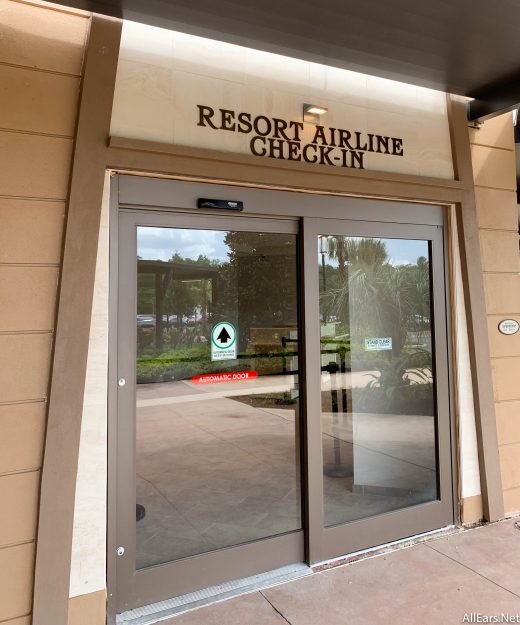 Each Disney Resort has a dedicated Check-In Desk located in or near the lobby or near the outside entrance to the Resort. If you can't locate the Resort Airline Check-in Desk, ask at the front desk.
The desks are open every day from 5AM to noon. You can check in no more than 12 hours and no fewer than three hours prior to your scheduled flight departure time.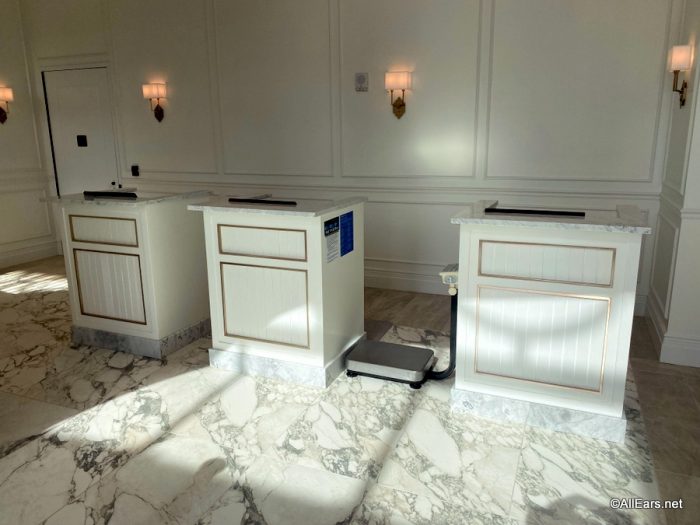 A parent or guardian may check in for all family members traveling together on a domestic flight. All guests must be present at check-in for international flights. You must present a government-issued photo ID (e.g., driver's license, passport for international travel, Military ID).
Note: Due to security procedures, some travelers may be required by the airline to check in at the airport and may not be able to use the Resort Airline Check-In service.
The Resort Airline Check-In desks can provide some of the same services and information as the airline ticket counters at the airport, including checking seat assignments and verifying flight information and status. The Resort Airline Check-In Desks cannot make any changes to flight arrangements or make new flight reservations.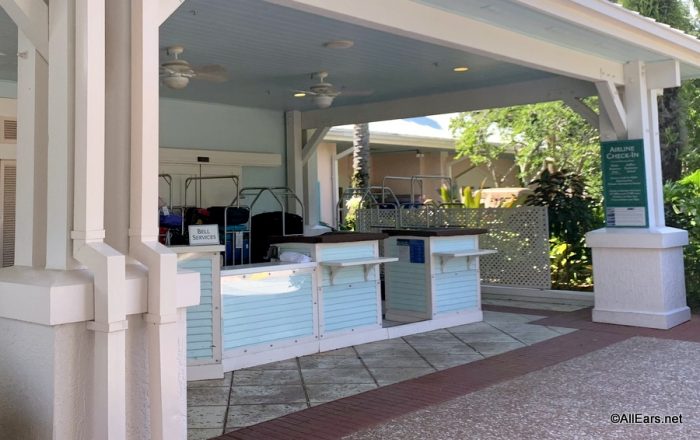 The airline check-in service is not provided by Disney. A third-party company approved by the Transportation Security Administration (TSA) operates the Resort Airline Check-In on behalf of the participating airlines.
Note: Some guests have reported a wait of more than 30 minutes at the Resort Airline check-in desk during peak times. If you are within three hours of your departure time, you should bypass this service and get your boarding passes at the airport.
Exceptions to using Airline Check-In at your Resort:
This service is also not offered for the Walt Disney World Swan and Dolphin, Shades of Green, or Disney Springs Area Resorts.
It is not valid for Disney's Vero Beach Resort and Disney's Hilton Head Island Resort.
Who is really providing this service? In addition to partners at Orlando International Airport, Walt Disney World developed this innovative service in conjunction with private and public sector leaders including: the Mears Transportation Group, the largest provider of ground transportation to the Walt Disney World Resort; BAGS Inc., the provider and innovator in off-airport passenger check-in services for the hotel, convention, cruise and airline industries; ARINC Incorporated, a leading global provider of technology systems for airports and airlines; the Transportation Security Administration; and airline partners.