Walt Disney World Transportation: Skyliner
The Disney Skyliner gondola system is the newest and latest transportation system at Walt Disney World, which opened on September 29, 2019.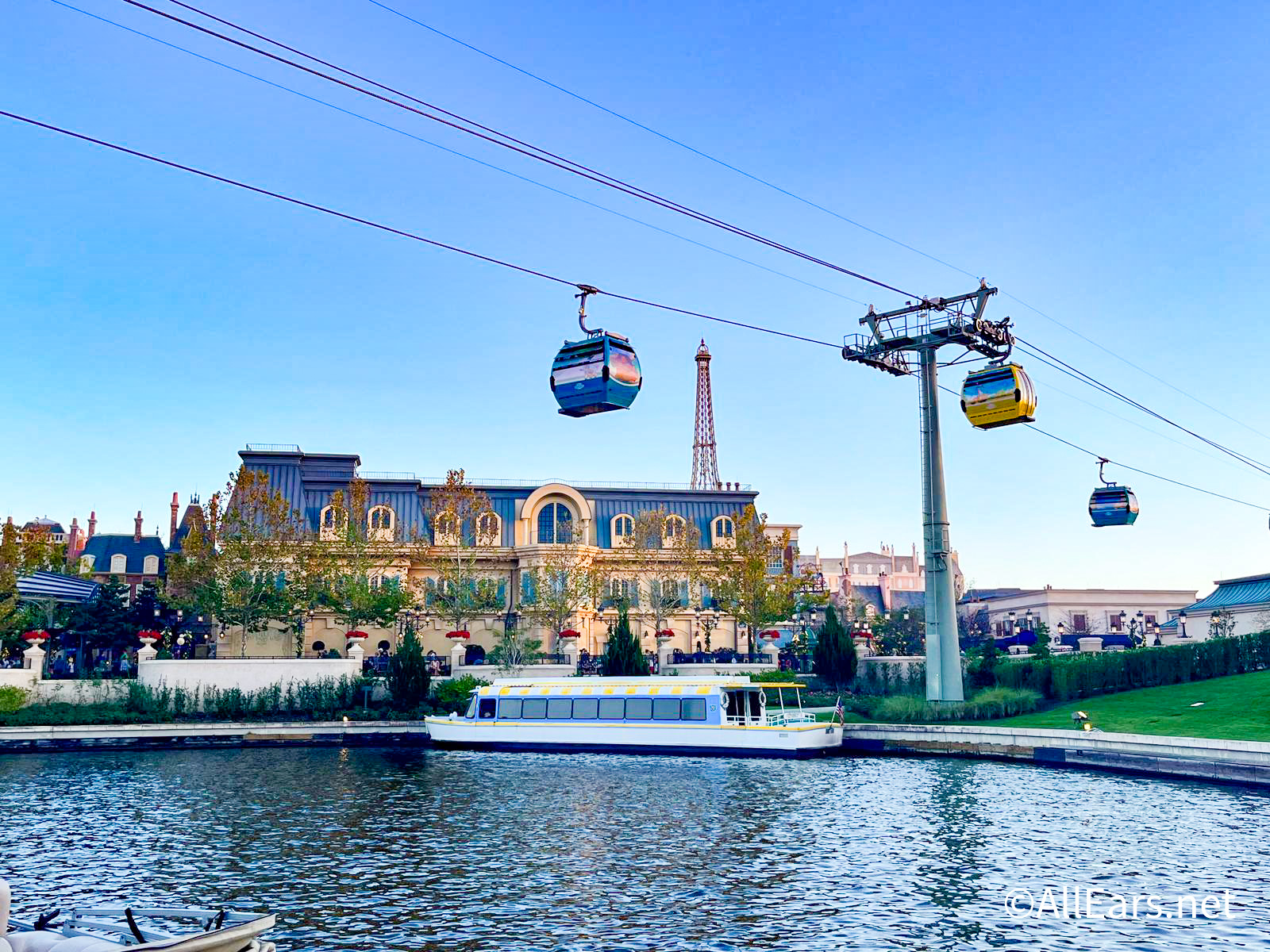 Skyliner Facts: What You Need to Know!
This new transportation connects Art of Animation and Pop Century Resorts (on Generation Gap Bridge), Disney's Riviera Resort (Resort opening December 16), and Caribbean Beach Resort (the Skyliner's hub) with Disney's Hollywood Studios and EPCOT's International Gateway.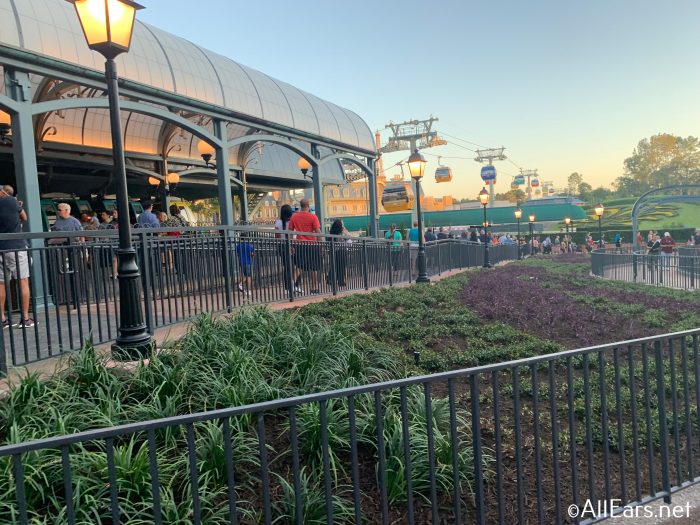 The Skyliner operates over 300 gondolas in eight bright colors. Some gondolas are wrapped with character art, including classics like Mickey and Minnie and the Hitchhiking Ghosts and newer faces like Coco and Moana.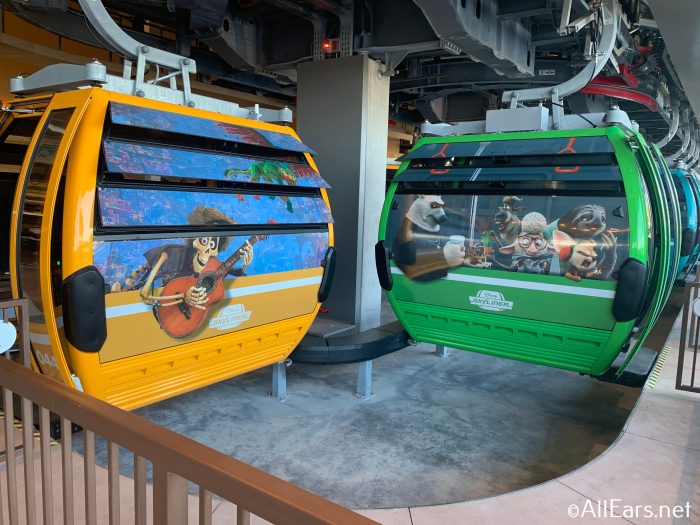 Skyliner travels at speeds up to 11MPH and at heights up to 60 feet. There are three lines coming and going from Skyliner's hub at Caribbean Beach Resort. The three lines end at Hollywood Studios, EPCOT (via Riviera), and Art of Animation/Pop Century. You can learn more about the Skyliner Resorts and their routes HERE.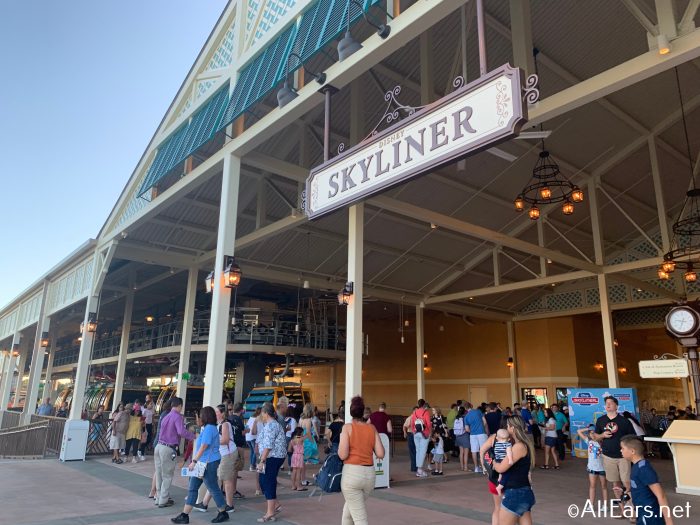 Travel times vary between stops.
Caribbean Beach to Hollywood Studios — 4-5 minutes
Caribbean Beach to Art of Animation/Pop Century — 5 minutes
Caribbean Beach to Riviera Resort — 2-3 minutes
Riviera Resort to Epcot (no transfer) — 9-10 minutes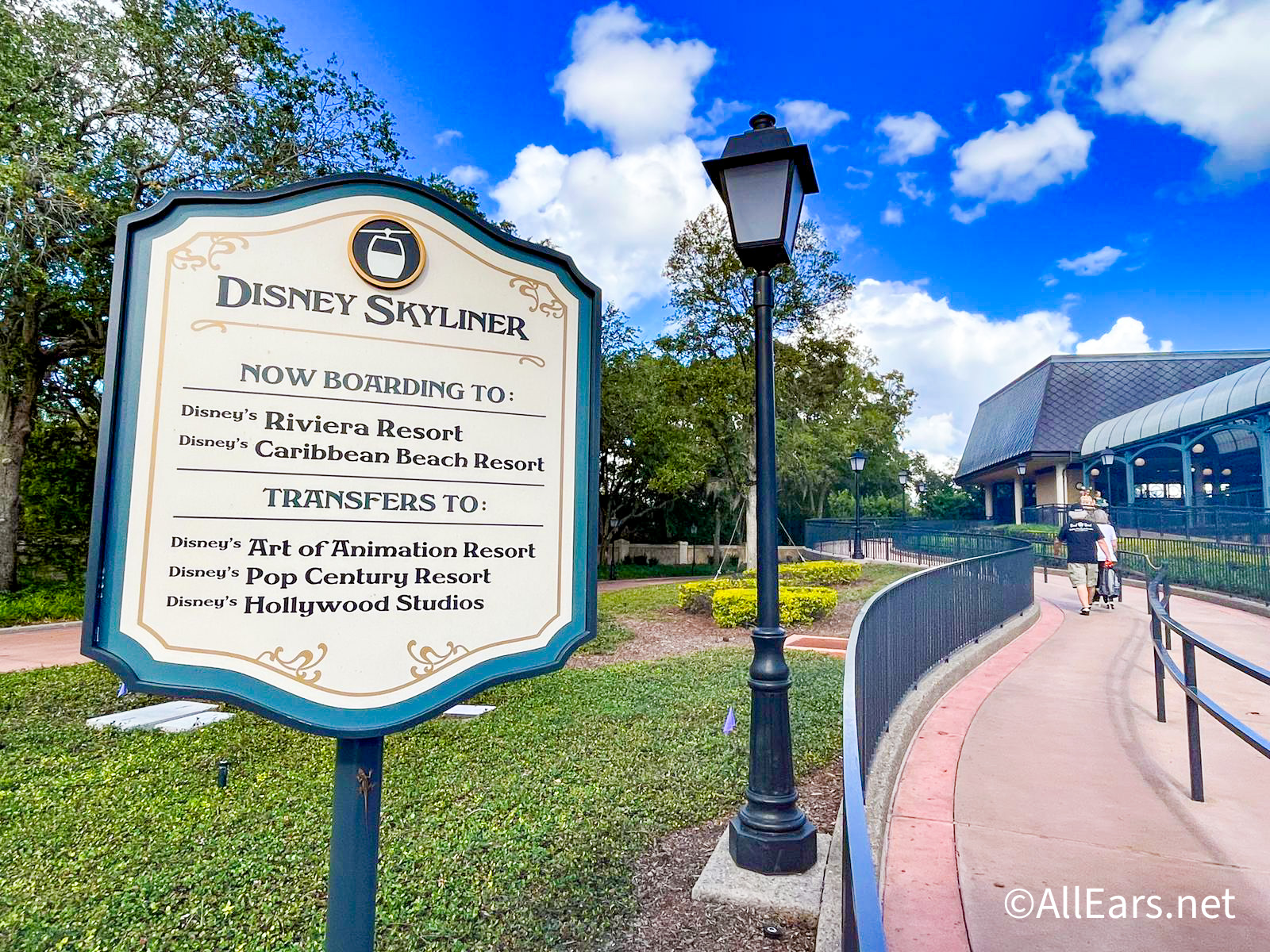 Remember that if you're transferring from one line to another, you'll do so at Caribbean Beach Resort. Queues for transfers are relatively close together for easy access, but you'll still need to join the queue for the line, not a separate transfer queue. Add those times up (and allow time to wait in line to board) for total travel times.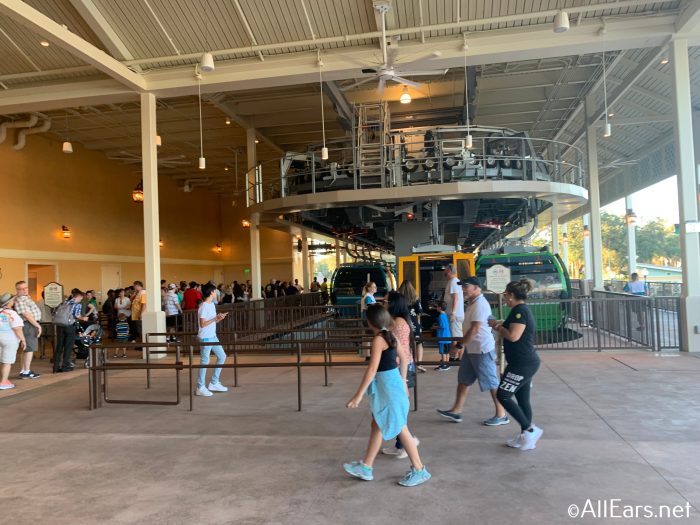 Note that if you are using a wheelchair or ECV or require a stopped Skyliner for boarding, there are separate queues for this. A designated section adjacent to the line will allow gondolas to stop so guests can board safely. When guests are loaded, the gondola will be added to the main line and proceed with the rest of the gondolas.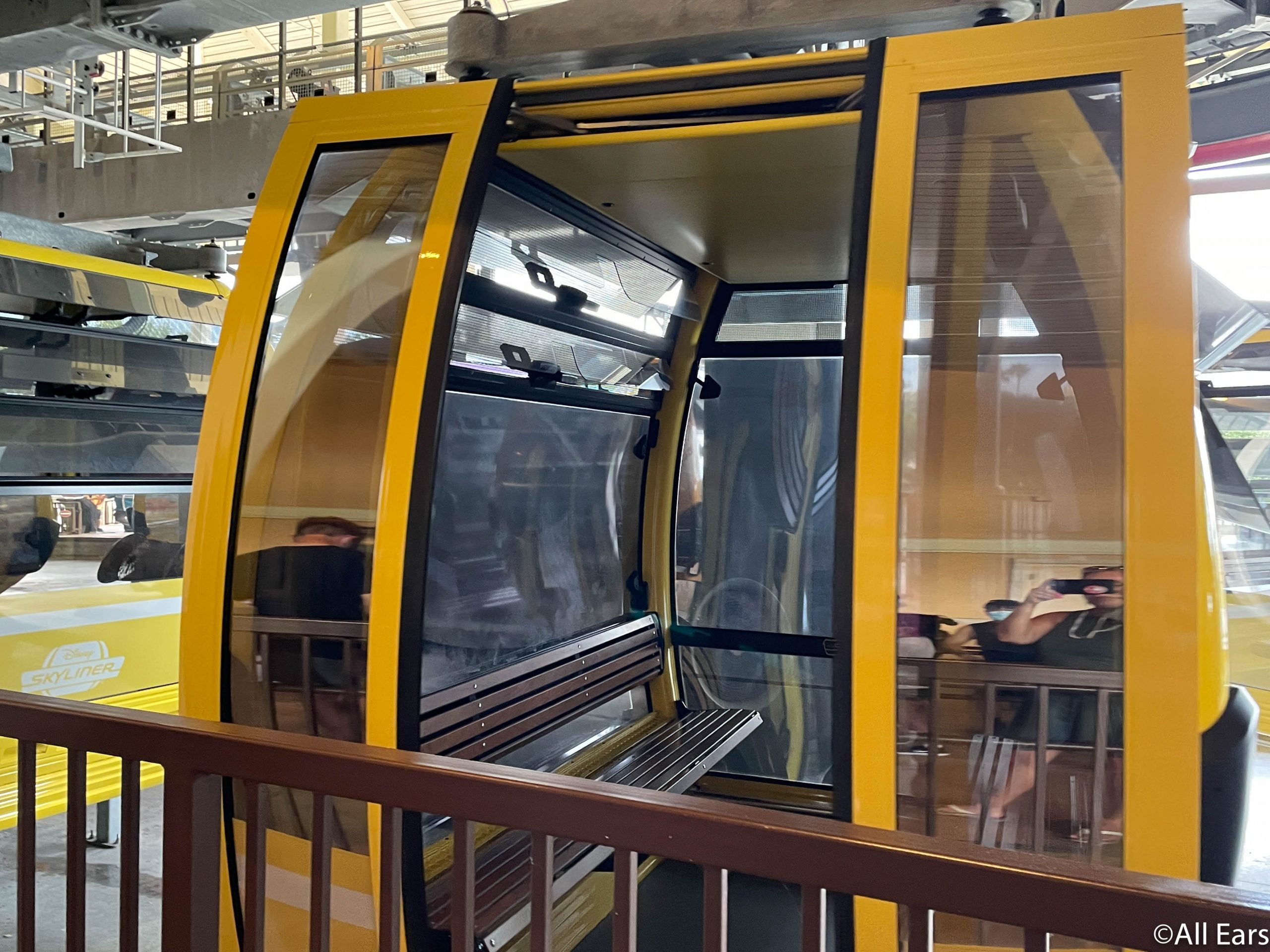 Amenities at each of the Skyliner stations include restrooms and a Joffrey's coffee stand at the Skyliner hub at Caribbean Beach Resort. You may even spot a special "Flight" beverage unique to this Skyliner Joffrey's, it's traditionally been the Toffee Flight Latte.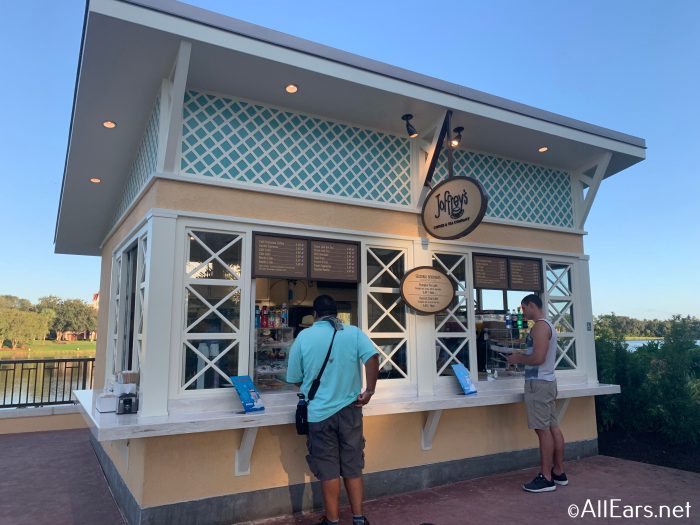 Gliding through the sky toward with a coffee and pastry in hand seems like a pretty stellar way to start your Disney day.
Skyliner Gondola Details and Information
Skyliner gondolas can hold up to ten passengers without a wheelchair, ECV, or stroller on board. With one of these, capacity drops to six passengers. Strollers can remain open with a child riding in them as long as they fall within the maximum size requirements: 30″ x 48″.
Seating on Skyliner is on two wooden benches that face inward. There are no seatbelts. Riders are instructed to remain seated.
Safety information is inside the cabin, and there's an Emergency Call Box should riders need assistance while in flight.
Skyliner gondolas are not air-conditioned. Cross-ventilation is the method by which they mitigate the heat of central Florida.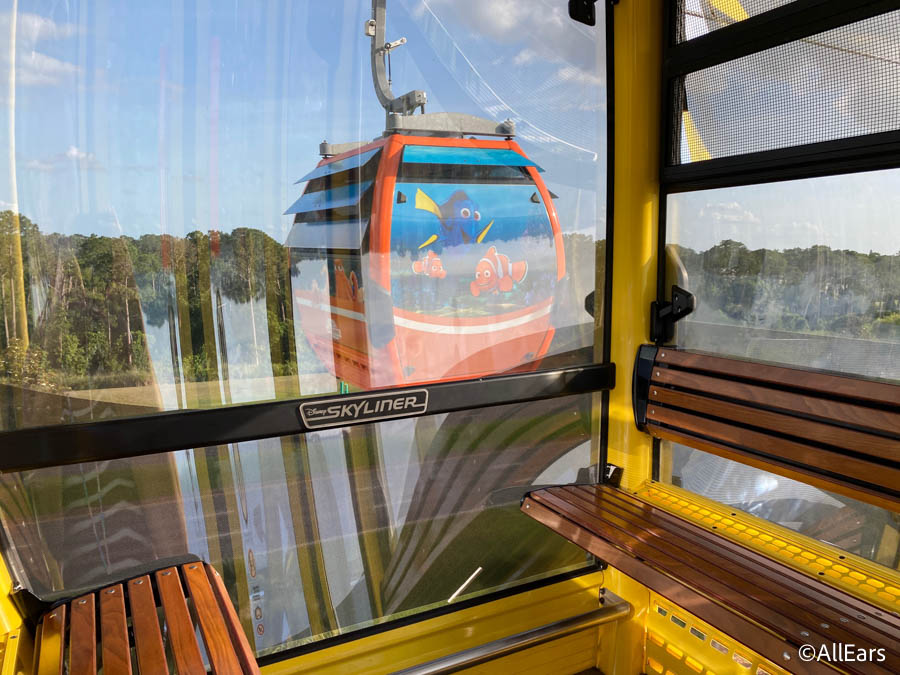 We found the vented windows to be sufficient when the gondola was in motion. However, when stopped for several minutes, the heat does rise inside the gondola.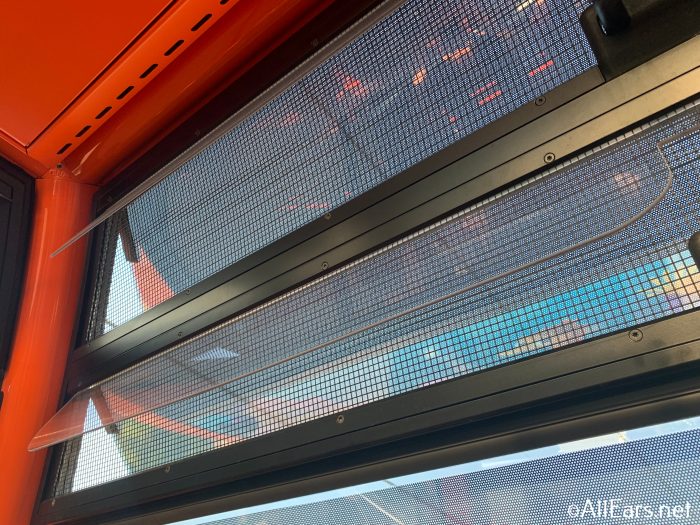 For safety, when there is inclement weather, the Skyliner will close until it is safe to resume operation. If you are at a park, you'll need to seek alternative transportation to get to your final destination.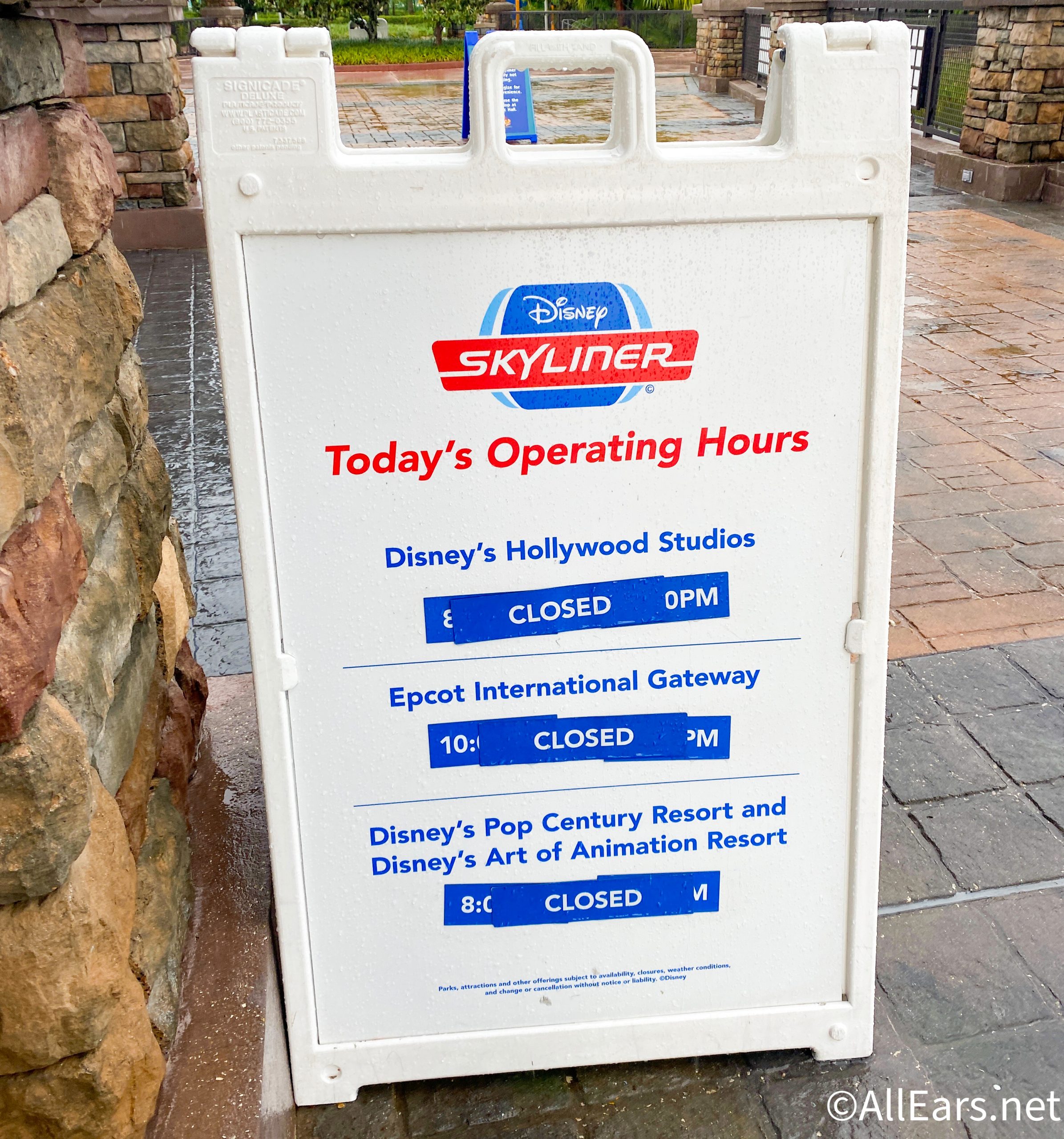 And if you are at a resort, signs will be posted to route you to your other transportation option.
Disney Skyliner Views
One of the biggest draws from taking flight on Skyliner is for the one-of-a-kind views riders will get as they sail over Walt Disney World. Here are some of our favorites.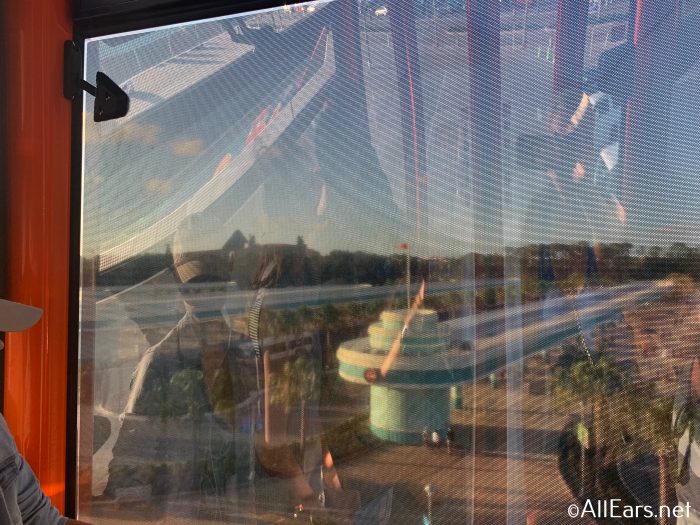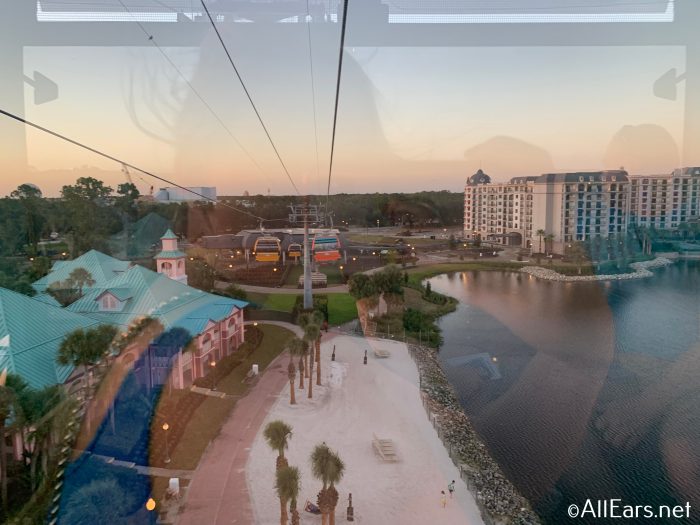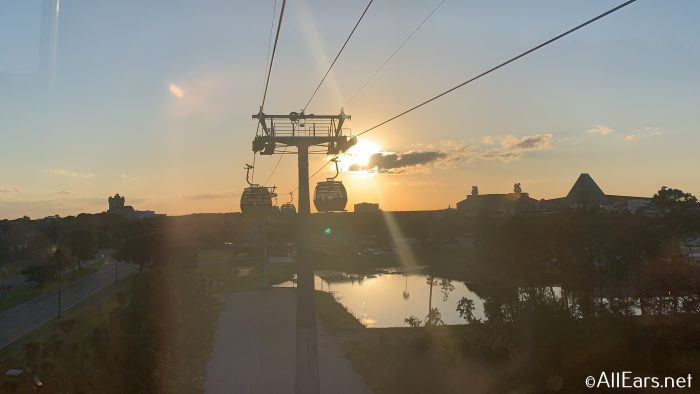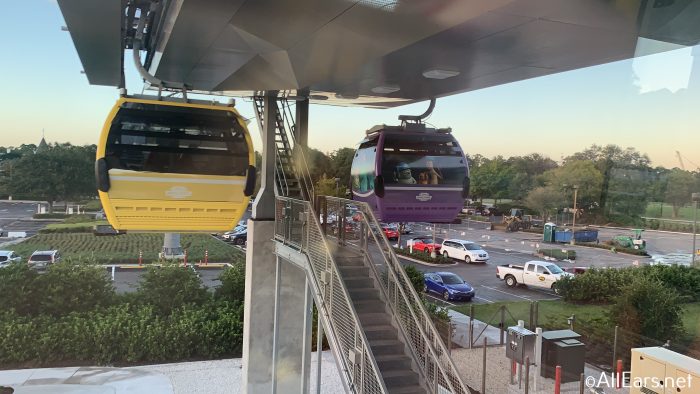 Get more information about Disney transportation below!
For more details about the Disney Skyliner, check out these posts: