Walt Disney World's Transportation and Ticket Center (TTC)
Walt Disney World's Transportation and Ticket Center (TTC) is an important spot in the World. Whether you're parking your car for a day at Magic Kingdom, connecting to Epcot, or passing through en route to the Monorail loop Resorts, TTC is a familiar location for nearly all Disney World guests.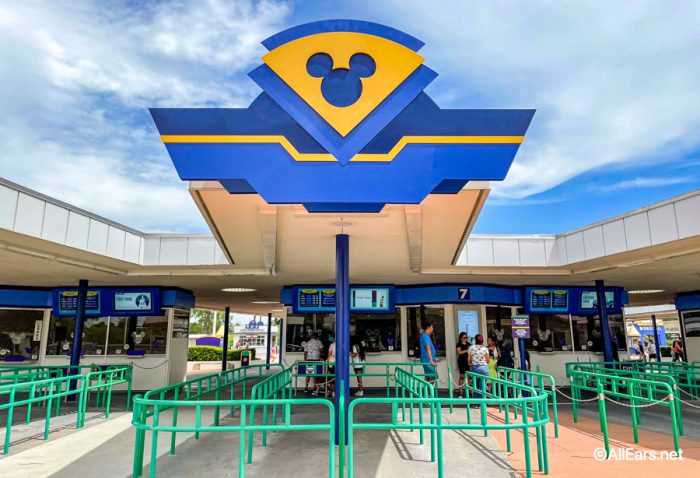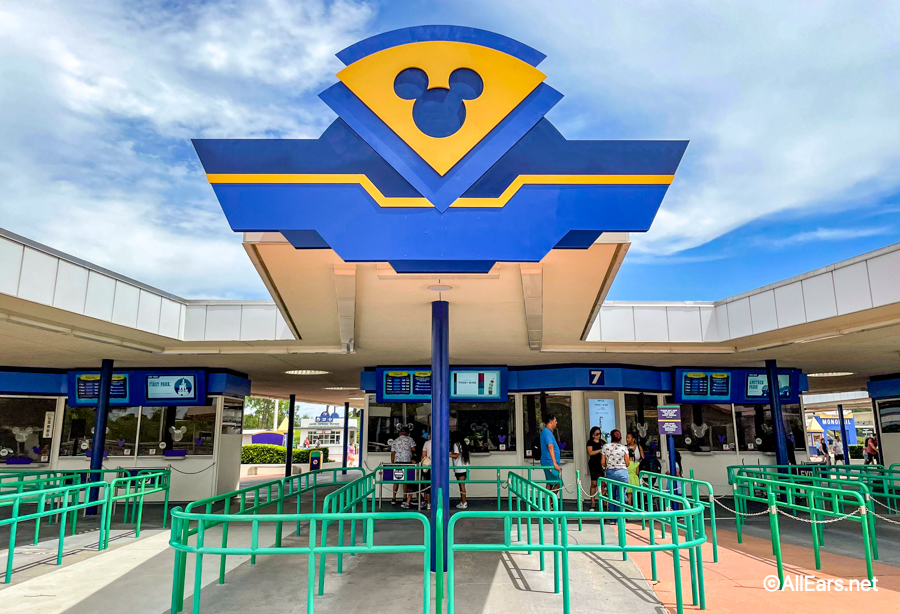 Monorail Service at TTC
One of the most common reasons for visiting the TTC is the Monorail. The TTC is a hub for the Monorail's three lines:
Guests parking at Magic Kingdom are actually parking at TTC. They then take the Express Monorail directly to Magic Kingdom. The Resort Monorail takes guests to Magic Kingdom along a line that also stops at the Monorail Resorts (Polynesian, Grand Floridian, and Contemporary).
Guests looking to Park-hop from Magic Kingdom to Epcot will use the Monorail, transferring to the Epcot line at TTC.
Guests staying at the Monorail Resorts will access Epcot via TTC and pass through TTC going to or coming back from Magic Kingdom.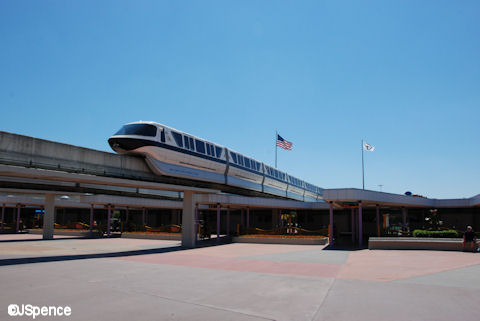 Parking at TTC
Guests who are driving to Magic Kingdom will park at TTC; there is no lot closer to Magic Kingdom. Trams are used at the Magic Kingdom parking lot to carry guests to the TTC where they can ride to Magic Kingdom on the Monorail or on the Ferryboat.
Ferryboat Service at TTC
Ferryboats run between Magic Kingdom and the TTC for those opting not to take the Monorail (or for times when the Monorail is not operational). Ferryboats arrive at 10-20 minute intervals but don't have a regular schedule. They hold lots of guests, but there is limited bench seating, so don't be surprised if you have to stand during your journey across Seven Seas Lagoon. The Ferryboat has two levels and can provide some lovely views for your commute between TTC and Magic Kingdom.
 Bus Service at TTC
The only buses servicing guests at the TTC are those from non-Disney-owned properties. Shuttles from off-site hotels, charter buses, and the Lynx public transportation buses are examples of buses that use the Transportation and Ticket Center. If you need information about bus service at TTC, there is a Bus Information office near the bus stop.
Note that Disney used to provide buses from Magic Kingdom to the other three Parks from TTC. That service is now provided by the expanded Magic Kingdom bus stop which is at the immediate entrance of Magic Kingdom. Occasionally, during times with the highest crowd levels, Disney may provide a bus to Magic Kingdom from TTC, thus providing guests with three methods for getting to the park: ferryboat, Monorail, and bus.
Rideshare and Taxis at TTC
Guests using popular rideshares (like Uber or Lyft) or taxis to arrive at or depart from Magic Kingdom will catch their rides at TTC. The designated area for this is near the bus stops at TTC.
Note that TTC you could choose to be dropped off at a Monorail Resort and get the Monorail from the Resort to Magic Kingdom instead, but whether this saves you time will vary depending on many variables.
Also note that if you choose to hail a Minnie Van — a Disney-owned rideshare that operates through the Lyft app — you will be picked up or dropped off at Magic Kingdom's entrance. This is one of the advantages to using a Minnie Van versus Uber or traditional Lyft.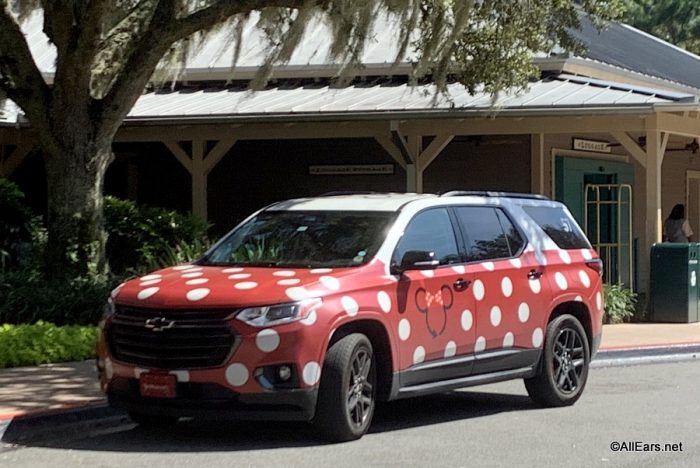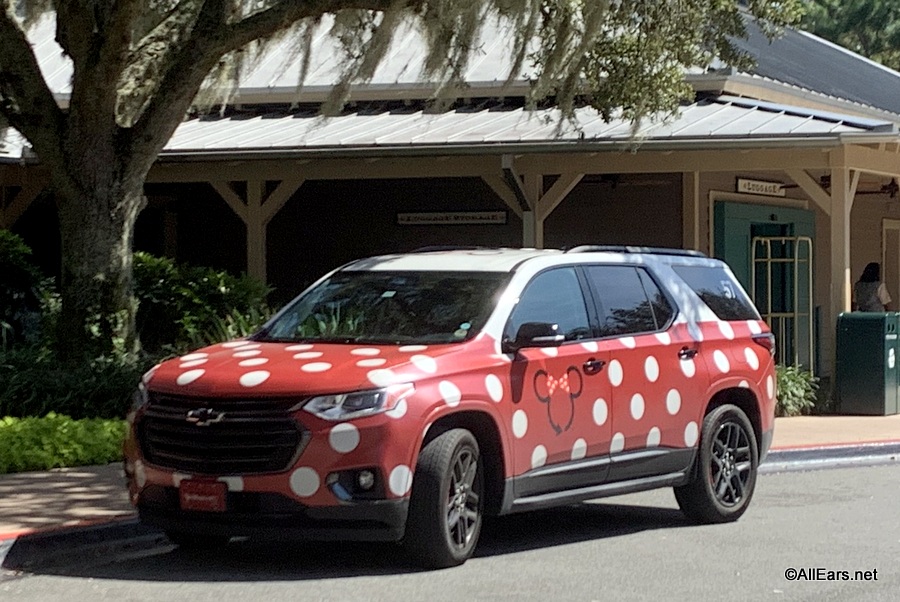 Pedestrian Access at TTC
Only one Resort has walkable access to the TTC: Disney's Polynesian Resort. Guests at this Resort can access the Resort Monorail at the Great Ceremonial House or walk to TTC to catch a Ferryboat or Monorail to Magic Kingdom, a Monorail to Epcot, or (if for some reason they prefer to do so) the Resort Monorail to the Grand Floridian or Contemporary Resorts.
Services and Amenities at TTC
There are limited services and amenities at the Transportation and Ticket Center aside from the obvious transportation systems.
Perhaps unsurprisingly, there are ticket booths at the TTC. These are staffed by cast members who can assist with any ticketing concerns or questions you might have.
TTC also has its own dedicated security and bag check, so guests heading to Magic Kingdom will have their bags checked and be screened by security at the TTC rather than at the entrance of the Park.
There is a beverage and snack kiosk at the TTC serving coffee and pastries. Offerings are very limited here, but they'll suffice if you're desperate and want to get something before you arrive at your next destination. Alternatively, you can also purchase a soft drink from vending machines at TTC.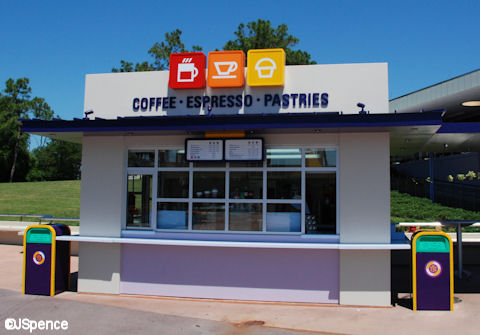 A small gift shop called Mickey's Gift Station sells packaged treats like candy and cookies. Plus you'll find basic merchandise like a limited selection of hats, tee shirts, and souvenirs. Guests can also sometimes find child care gear here like umbrella strollers and stroller accessories. (You'll also find a little AC in here — the only real spot to grab some of that on a hot day.)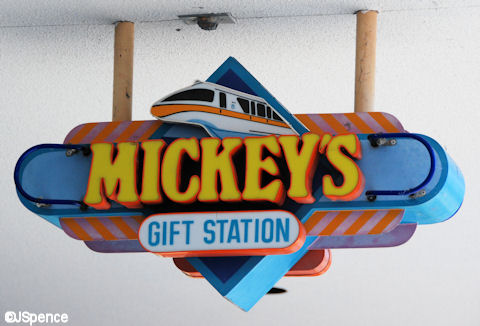 TTC also has ATMs for those looking to procure some cash en route to their next destination.
Guests in need will also find a restroom at TTC.
And for those guests who plan to rent a wheelchair in the Park, TTC has temporary wheelchairs you can use only to and from TTC and the Monorails. You will not be allowed to bring them away from the Monorail stations or into the Parks.