All Events, Closures and Refurbishments at Disneyland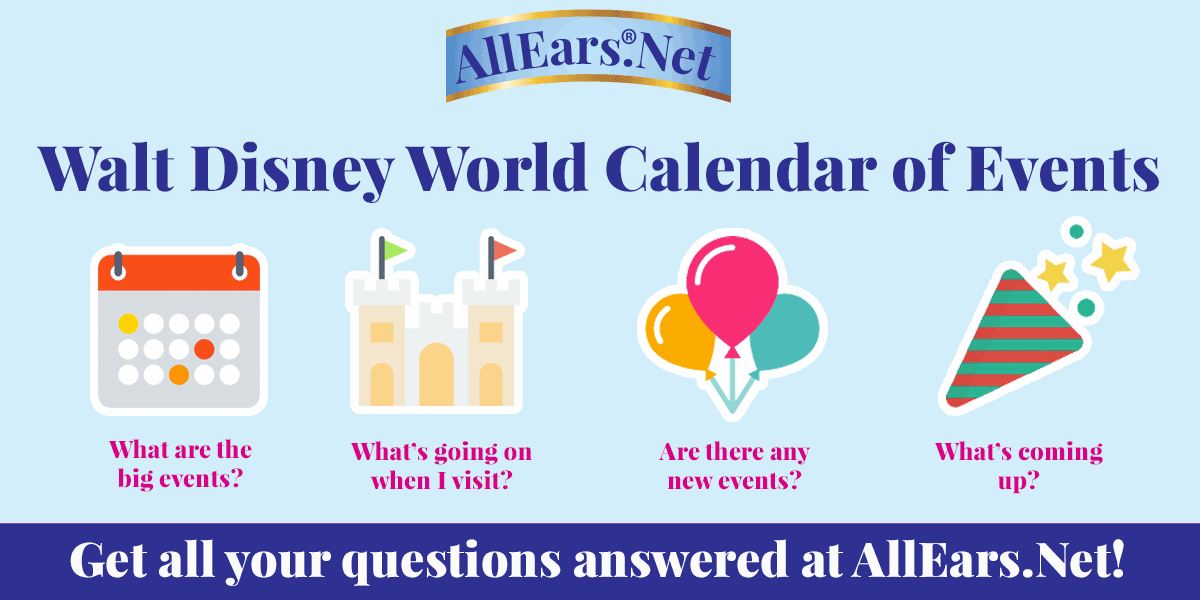 What's happening during your visit to Disneyland?
Check our Calendar of Events listing below.
This list shows what's going on in Disneyland throughout the year.
NOTE: This is UNOFFICIAL information and is subject to change without notice. Please call Disneyland directly to confirm all events, prices, and dates. While AllEars.net makes every effort to ensure this information is accurate, there are NO guarantees.
Looking for the schedule for Refurbishments and Attraction Closings? Click HERE.
Looking for past events? We archive events for two years HERE.
March 2023

Mar. 9 - March 19, 2023
Disneyland Park : Disneyland Resort
Mickey's Toontown Mickey's Toontown will close on March 9th, 2022 to make way for a completely reimagined land featuring new attractions, activities, and entertainment. The new land is set to debut in early 2023 and will be a larger space for both "spontaneous family play and parental relaxation."
April 3rd - Jul. 01
Disneyland Park : Disneyland Resort
Big Thunder Mountain Railroad Big Thunder Mountain Railroad will close for refurbishment starting April 3rd, 2023. A reopening date has not been announced at this time.
2023/03/03 - 2023/04/26
Disney California Adventure : Disneyland Resort
2023 Disney California Adventure Food & Wine Festival
April 17, 2023 - Re-opening date not yet available.
Fantasyland : Disneyland Park
Matterhorn Bobsleds Starting April 17th, 2023, the Matterhorn Bobsleds will be CLOSED for refurbishment at Disneyland Resort. Disney hasn't announced when the Matterhorn Bobsleds will reopen post-refurbishment. The Disneyland refurbishment calendar currently only goes through April 21st, 2023, and the ride continues to be listed as closed for refurbishment on that date.

April 2023

Mar. 9 - March 19, 2023
Disneyland Park : Disneyland Resort
Mickey's Toontown Mickey's Toontown will close on March 9th, 2022 to make way for a completely reimagined land featuring new attractions, activities, and entertainment. The new land is set to debut in early 2023 and will be a larger space for both "spontaneous family play and parental relaxation."
April 3rd - Jul. 01
Disneyland Park : Disneyland Resort
Big Thunder Mountain Railroad Big Thunder Mountain Railroad will close for refurbishment starting April 3rd, 2023. A reopening date has not been announced at this time.
2023/03/03 - 2023/04/26
Disney California Adventure : Disneyland Resort
2023 Disney California Adventure Food & Wine Festival
April 17, 2023 - Re-opening date not yet available.
Fantasyland : Disneyland Park
Matterhorn Bobsleds Starting April 17th, 2023, the Matterhorn Bobsleds will be CLOSED for refurbishment at Disneyland Resort. Disney hasn't announced when the Matterhorn Bobsleds will reopen post-refurbishment. The Disneyland refurbishment calendar currently only goes through April 21st, 2023, and the ride continues to be listed as closed for refurbishment on that date.

May 2023

Mar. 9 - March 19, 2023
Disneyland Park : Disneyland Resort
Mickey's Toontown Mickey's Toontown will close on March 9th, 2022 to make way for a completely reimagined land featuring new attractions, activities, and entertainment. The new land is set to debut in early 2023 and will be a larger space for both "spontaneous family play and parental relaxation."
April 3rd - Jul. 01
Disneyland Park : Disneyland Resort
Big Thunder Mountain Railroad Big Thunder Mountain Railroad will close for refurbishment starting April 3rd, 2023. A reopening date has not been announced at this time.
April 17, 2023 - Re-opening date not yet available.
Fantasyland : Disneyland Park
Matterhorn Bobsleds Starting April 17th, 2023, the Matterhorn Bobsleds will be CLOSED for refurbishment at Disneyland Resort. Disney hasn't announced when the Matterhorn Bobsleds will reopen post-refurbishment. The Disneyland refurbishment calendar currently only goes through April 21st, 2023, and the ride continues to be listed as closed for refurbishment on that date.

June 2023

Mar. 9 - March 19, 2023
Disneyland Park : Disneyland Resort
Mickey's Toontown Mickey's Toontown will close on March 9th, 2022 to make way for a completely reimagined land featuring new attractions, activities, and entertainment. The new land is set to debut in early 2023 and will be a larger space for both "spontaneous family play and parental relaxation."
April 3rd - Jul. 01
Disneyland Park : Disneyland Resort
Big Thunder Mountain Railroad Big Thunder Mountain Railroad will close for refurbishment starting April 3rd, 2023. A reopening date has not been announced at this time.
April 17, 2023 - Re-opening date not yet available.
Fantasyland : Disneyland Park
Matterhorn Bobsleds Starting April 17th, 2023, the Matterhorn Bobsleds will be CLOSED for refurbishment at Disneyland Resort. Disney hasn't announced when the Matterhorn Bobsleds will reopen post-refurbishment. The Disneyland refurbishment calendar currently only goes through April 21st, 2023, and the ride continues to be listed as closed for refurbishment on that date.

July 2023

Mar. 9 - March 19, 2023
Disneyland Park : Disneyland Resort
Mickey's Toontown Mickey's Toontown will close on March 9th, 2022 to make way for a completely reimagined land featuring new attractions, activities, and entertainment. The new land is set to debut in early 2023 and will be a larger space for both "spontaneous family play and parental relaxation."
April 3rd - Jul. 01
Disneyland Park : Disneyland Resort
Big Thunder Mountain Railroad Big Thunder Mountain Railroad will close for refurbishment starting April 3rd, 2023. A reopening date has not been announced at this time.
April 17, 2023 - Re-opening date not yet available.
Fantasyland : Disneyland Park
Matterhorn Bobsleds Starting April 17th, 2023, the Matterhorn Bobsleds will be CLOSED for refurbishment at Disneyland Resort. Disney hasn't announced when the Matterhorn Bobsleds will reopen post-refurbishment. The Disneyland refurbishment calendar currently only goes through April 21st, 2023, and the ride continues to be listed as closed for refurbishment on that date.

August 2023

Mar. 9 - March 19, 2023
Disneyland Park : Disneyland Resort
Mickey's Toontown Mickey's Toontown will close on March 9th, 2022 to make way for a completely reimagined land featuring new attractions, activities, and entertainment. The new land is set to debut in early 2023 and will be a larger space for both "spontaneous family play and parental relaxation."
April 17, 2023 - Re-opening date not yet available.
Fantasyland : Disneyland Park
Matterhorn Bobsleds Starting April 17th, 2023, the Matterhorn Bobsleds will be CLOSED for refurbishment at Disneyland Resort. Disney hasn't announced when the Matterhorn Bobsleds will reopen post-refurbishment. The Disneyland refurbishment calendar currently only goes through April 21st, 2023, and the ride continues to be listed as closed for refurbishment on that date.

September 2023

Mar. 9 - March 19, 2023
Disneyland Park : Disneyland Resort
Mickey's Toontown Mickey's Toontown will close on March 9th, 2022 to make way for a completely reimagined land featuring new attractions, activities, and entertainment. The new land is set to debut in early 2023 and will be a larger space for both "spontaneous family play and parental relaxation."
April 17, 2023 - Re-opening date not yet available.
Fantasyland : Disneyland Park
Matterhorn Bobsleds Starting April 17th, 2023, the Matterhorn Bobsleds will be CLOSED for refurbishment at Disneyland Resort. Disney hasn't announced when the Matterhorn Bobsleds will reopen post-refurbishment. The Disneyland refurbishment calendar currently only goes through April 21st, 2023, and the ride continues to be listed as closed for refurbishment on that date.

October 2023

Mar. 9 - March 19, 2023
Disneyland Park : Disneyland Resort
Mickey's Toontown Mickey's Toontown will close on March 9th, 2022 to make way for a completely reimagined land featuring new attractions, activities, and entertainment. The new land is set to debut in early 2023 and will be a larger space for both "spontaneous family play and parental relaxation."
April 17, 2023 - Re-opening date not yet available.
Fantasyland : Disneyland Park
Matterhorn Bobsleds Starting April 17th, 2023, the Matterhorn Bobsleds will be CLOSED for refurbishment at Disneyland Resort. Disney hasn't announced when the Matterhorn Bobsleds will reopen post-refurbishment. The Disneyland refurbishment calendar currently only goes through April 21st, 2023, and the ride continues to be listed as closed for refurbishment on that date.

November 2023

Mar. 9 - March 19, 2023
Disneyland Park : Disneyland Resort
Mickey's Toontown Mickey's Toontown will close on March 9th, 2022 to make way for a completely reimagined land featuring new attractions, activities, and entertainment. The new land is set to debut in early 2023 and will be a larger space for both "spontaneous family play and parental relaxation."
April 17, 2023 - Re-opening date not yet available.
Fantasyland : Disneyland Park
Matterhorn Bobsleds Starting April 17th, 2023, the Matterhorn Bobsleds will be CLOSED for refurbishment at Disneyland Resort. Disney hasn't announced when the Matterhorn Bobsleds will reopen post-refurbishment. The Disneyland refurbishment calendar currently only goes through April 21st, 2023, and the ride continues to be listed as closed for refurbishment on that date.

December 2023

Mar. 9 - March 19, 2023
Disneyland Park : Disneyland Resort
Mickey's Toontown Mickey's Toontown will close on March 9th, 2022 to make way for a completely reimagined land featuring new attractions, activities, and entertainment. The new land is set to debut in early 2023 and will be a larger space for both "spontaneous family play and parental relaxation."
April 17, 2023 - Re-opening date not yet available.
Fantasyland : Disneyland Park
Matterhorn Bobsleds Starting April 17th, 2023, the Matterhorn Bobsleds will be CLOSED for refurbishment at Disneyland Resort. Disney hasn't announced when the Matterhorn Bobsleds will reopen post-refurbishment. The Disneyland refurbishment calendar currently only goes through April 21st, 2023, and the ride continues to be listed as closed for refurbishment on that date.

January 2024

No Events Announced for this Month Yet

February 2024

No Events Announced for this Month Yet

March 2024

No Events Announced for this Month Yet

April 2024

No Events Announced for this Month Yet

May 2024

No Events Announced for this Month Yet

June 2024

No Events Announced for this Month Yet

July 2024

No Events Announced for this Month Yet

August 2024

No Events Announced for this Month Yet