Disney FastPass+
Update: As of May 28, 2020, Walt Disney World is cancelling all pre-booked FastPass+ selections "for the time being". Disney states that this is an effort to use "queue space to manage capacity" as the Parks reopen. We will update when more information is released.
Walt Disney World's FastPass+ system can be a real timesaver — if you know how to maximize it! Find out everything you need to know about FastPass+ below!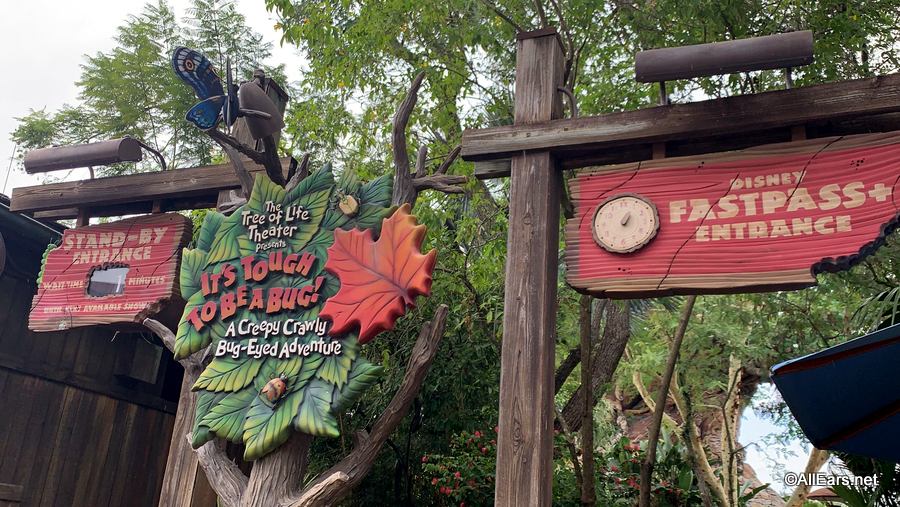 What is FastPass+?
FastPass+ is Disney's innovative system designed to reduce long waits at attractions.
The original FastPass was introduced in 1999. It was essentially a timed ticket that allowed you to spend your time elsewhere instead of waiting in line. You returned to the attraction, show, or ride at the time stated on your FastPass to bypass the standby line. You can read more about the original FastPass system here.
In 2013, Walt Disney World began rolling out the new "FastPass+" service. With FastPass+, Disney resort guests can select three FastPass+ attractions and/or entertainment experiences per day (all in the same park) through the My Disney Experience website and mobile app.
This can be done before leaving home or after you've arrived at Walt Disney World, and you can also make changes on the go pending availability. You are able to reserve fireworks and parade viewing areas, shows, Disney character greetings and more, in addition to favorite attractions.
Disney's FastPass+ service is included with theme park admission. And while guests are limited to three FastPass+ reservations made in advance, you can add more FastPasses throughout the day at any park you want — more on that in a bit!
Can anyone take advantage of FastPass+?
Yes. All park guests — including those staying at Disney resorts, passholders, AND day guests using Magic Bands or Magic Your Way passes can use FastPass+ without an additional fee. However, only Disney resort guests who already have purchased and registered their tickets can schedule FastPass+ times using the My Disney Experience (MDE) website or mobile app up to 60 days in advance of their visit to the parks.
Offsite guests, day guests, and passholders can schedule FastPass+ times 30 days in advance of their visit, using either MDE or the in-park FastPass+ kiosks.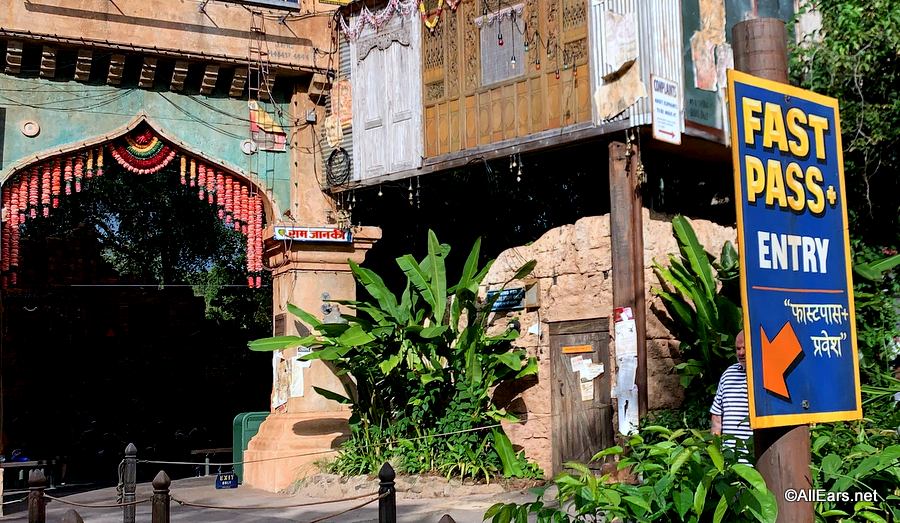 Day guests are NOT issued MagicBands when they purchase a ticket, but they can purchase a MagicBand and link their theme park admission to it if they prefer that over using their RF-enabled theme park admission tickets. MagicBands are available for purchase at Walt Disney World merchandise locations (and online at ShopDisney!) in a variety of styles and colors. Basic colors are purple, pink, blue, red, green, orange, gray, and yellow, and there are more MagicBand designs to appeal to just about everyone!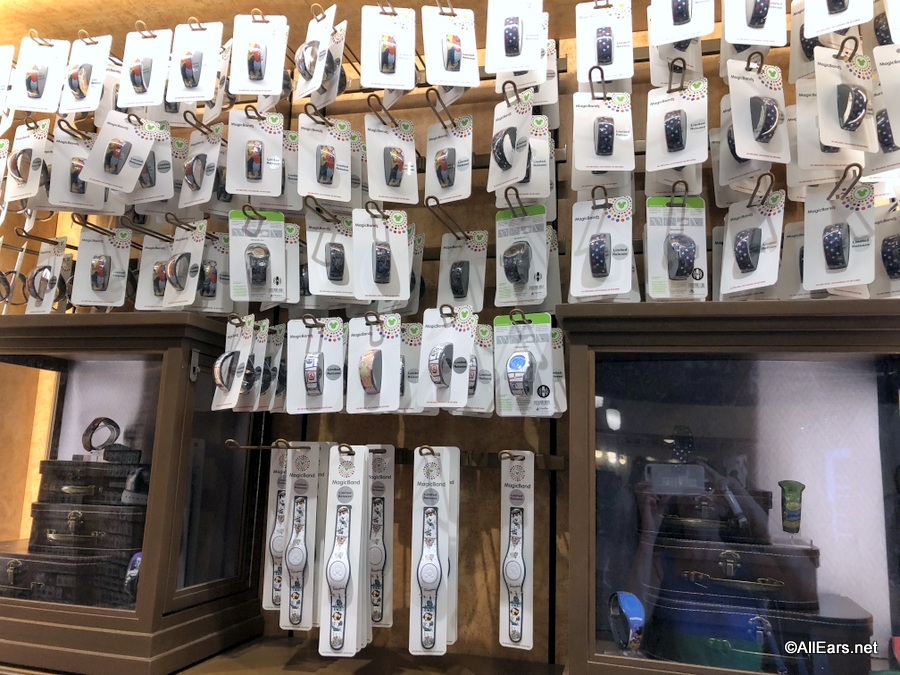 After a MagicBand is purchased, a cast member will link the guest's admission media (or other RF media, such as an existing MagicBand or Memory Maker card) to it. If the guest's ticket is already linked to his/her My Disney Experience account, all of the plans, such as tickets, dining reservations, and FastPass+ selections, will be linked to their new MagicBand. The "touch to pay" option (which entails linking a credit or debit card to the MagicBand) is not available for day guests, however.
How much does FastPass+ cost?
FastPass+ is included in your admission to the park. There is NO extra charge to use the system.
How does it work?
FastPass+ is essentially a "virtual" queuing system — guests using FastPass+ are entered into a virtual queue at an attraction that saves their space in line. They return to the attraction when their hour-long ride window opens.
To obtain FastPass+ using the My Disney Experience website or mobile app:
Log in to your MDE account. (See Disney's official site HERE for how to create a MDE account.)
Make sure your park tickets are linked to your account.
Once logged in, hover the cursor over the MY DISNEY EXPERIENCE link

on the right side of the top navigation bar.

Under the heading Plan and Manage, select FastPass+, then:

Select the day you want to make plans for.
Select Make your FP+ Selections.
Select the members of your party you will be making plans for.
Select the park you will be visiting.
NOTE: You can begin booking FastPass+ selections at 7AM ET daily.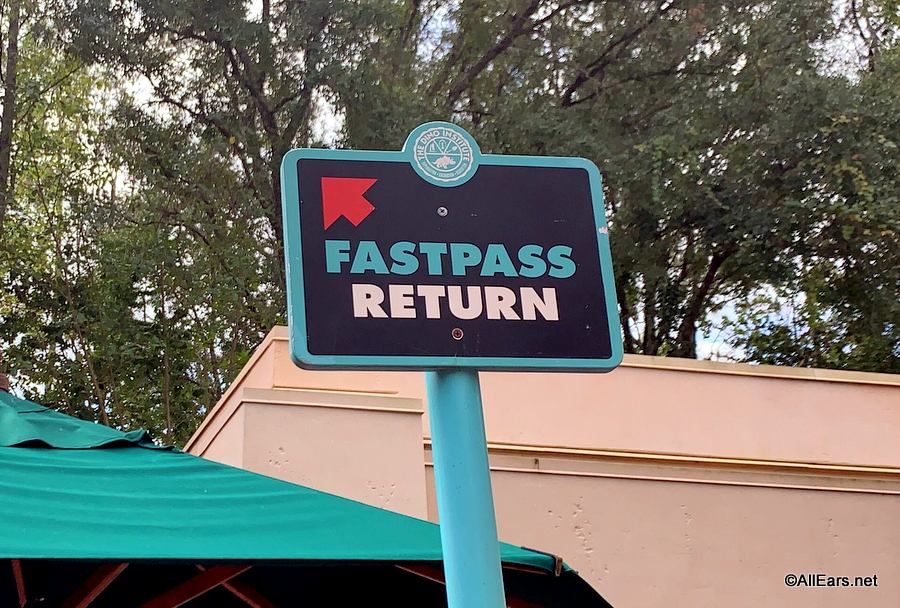 To obtain FastPass+ using the in-park kiosks:
Once you arrive at the park, if you have a paper ticket you must exchange it for a plastic card ticket with an RFID chip. NOTE: Keep these chips away from magnets and cell phones, as they can erase the encoded information. You'll also be given a flyer explaining the FastPass+ scheduling process.The flyer will also detail your FastPass+ attraction options.
Go to a FastPass+ kiosk.
TIP:

At park opening, the FastPass+ kiosks nearest to the park entrance are very crowded, but there are plenty of open kiosks if you walk further into the park.

If you do not already have a My Disney Experience account set up, at the kiosk you will first ADD each person's ticket info and their names. You will save a lot of time by setting up your account and linking the tickets in advance!
NOTE: EACH PERSON (over age 3) NEEDS A FastPass+ RESERVATION!
TIP: Write each name on each plastic card ticket if they are not already on the admission tickets.
After entering the information for each member of your party, pick three FastPass+ attractions and times for the day. It doesn't matter if everyone in your party wants to do different things. This is the first step: Choosing what the majority will want to do.
Go back to each name and CHANGE the FastPass+ if they do not want to do what the majority is doing.
At any time, any one of your party can now go up to a kiosk and change one, or everyone's, choice or times.
TIP: Once you have your times set up, take a photo of the screen. Your selections will also show up on your MDE account. For a sample of the confirmation screen, click HERE. You also can choose to have the FastPass+ times emailed to you. You may also want to write your FastPass+ times down, in case your phone battery dies.
Once your FastPass+ time has arrived, go to the attraction. When you approach, you will see two clocks. The first one will tell you how long the STANDBY ENTRANCE wait time is, if you got in line right at that moment. The other clock tells the actual time, so that FastPass+ users know if they are eligible for entry.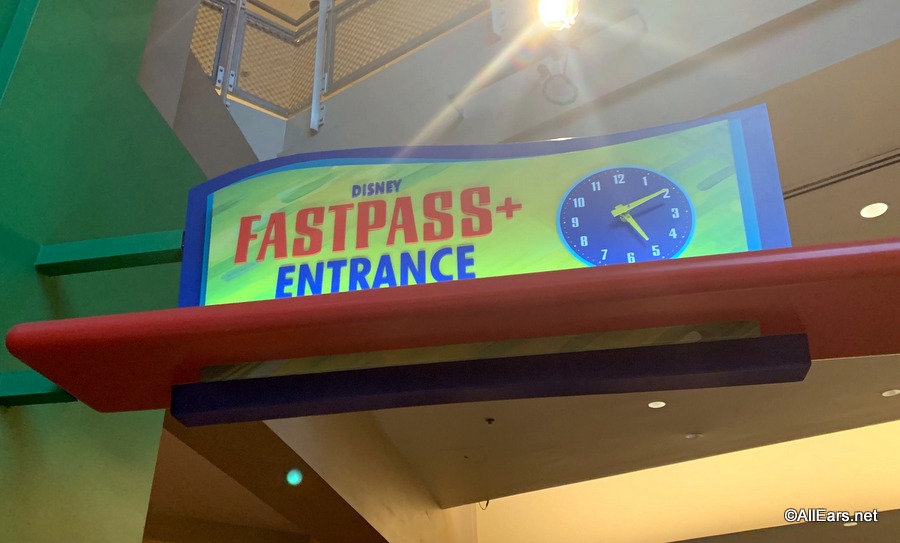 Get in the line for FastPass+ holders (FastPass+ RETURN). MAKE SURE to arrive within your FastPass+ window! You can typically use the FastPass+ if you arrive 5 minutes before the window starts and up to 15 minutes after it closes. Be sure to have your MagicBand wristband or plastic admission ticket with the RFID chip ready to be scanned. Further along the queue, you will have to scan your MagicBand or RFID ticket again.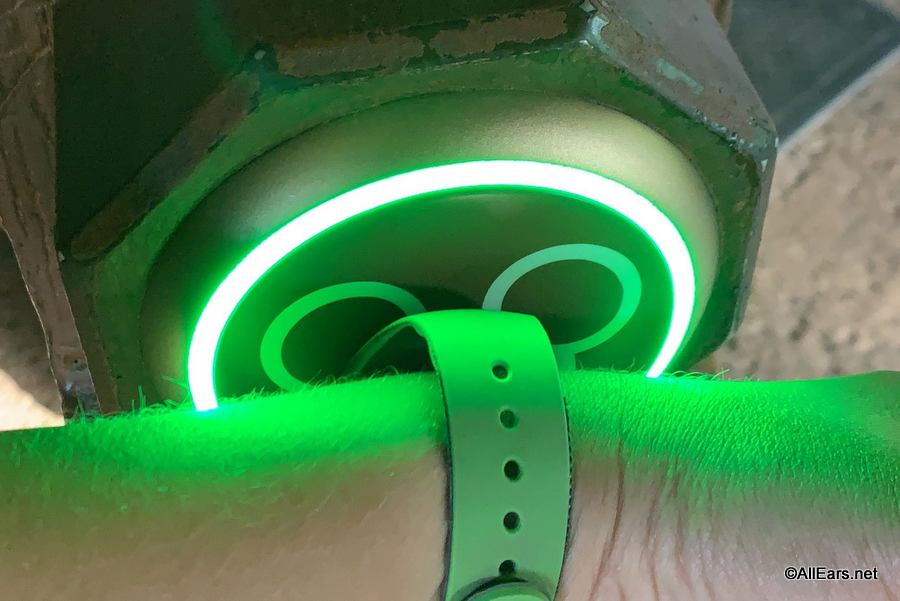 Even if you only want to see the preshow and have no intention of getting on the ride/attraction, if you want to go with your party through the FastPass+ line you WILL need to have scheduled a FastPass+ time.
If you are doing the Child Swap — Both you and your child NEED FastPass+! EXCEPTION: If your child is under 3 and was admitted to the park for free, you do not need FastPass+ for them.
What about peak attendance times? Are the waits longer? Does FastPass+ still work?
If the FastPass+ system works the way it should, wait times to board attractions should usually be under five minutes but not exceed ten minutes (unless there was a recent attraction downtime or other unusual situation).
But in reality, FastPass+ wait times are regularly 15 minutes or longer — even during periods considered non-peak. Still, in those circumstances, FastPass still tends to be faster than the Standby queue.
During peak periods when there are more guests in the parks, wait times could be longer. This is because all FastPasses may have been reserved, whereas on non-peak days there may be remaining FastPasses in the system. Know that if you will be visiting on peak days, you may not be able to obtain the exact times you wish to schedule your FastPass+ attractions. You'll likely need to be flexible or keep watching for FastPass times that may open up.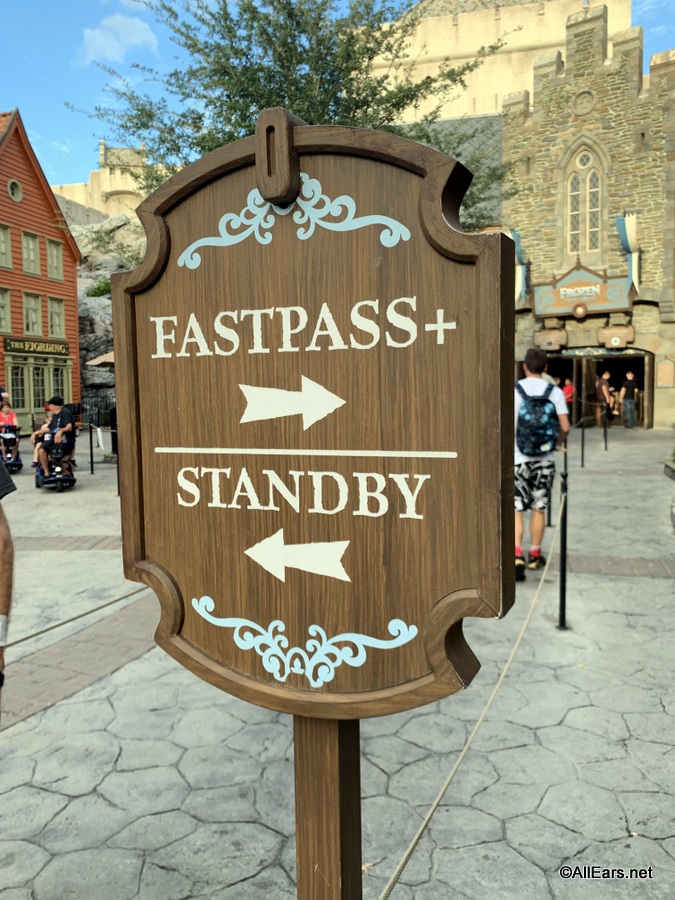 Are there cast members at the FastPass+ attractions to handle questions, problems, etc.?
Yes, Cast Members are usually located near the FastPass+ kiosks and at the FastPass+ attraction entrances to assist you with questions or problems.
My child is two years old and won't require an admission ticket. Do I need to schedule FastPass+ for her?
No, children who do not require admission media enter with the accompanying adult at the appropriate time. There should also always be a cast member nearby the FastPass+ kiosks or attractions if there is any question.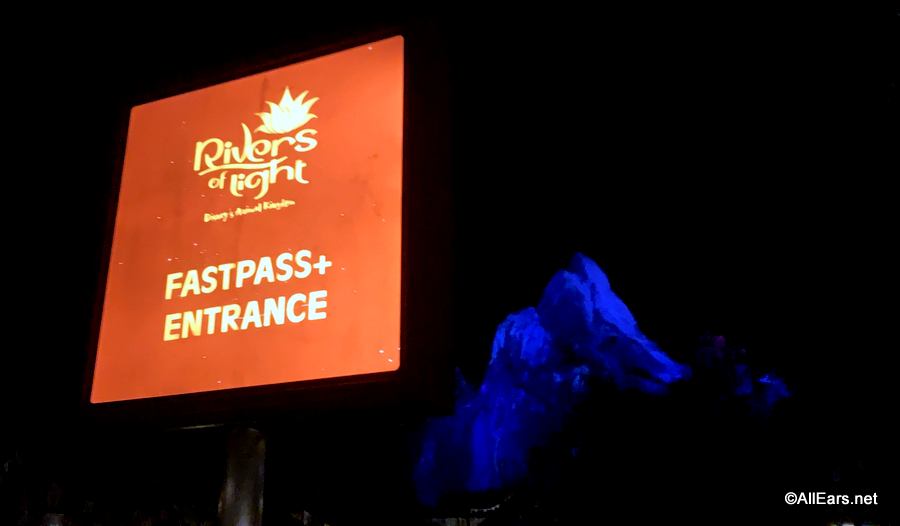 What happens if the ride breaks down or goes off-line?
If an experience is not operating or is unavailable during your FastPass+ arrival window, you will receive an alternative FastPass+ selection. Guests using My Disney Experience to make FastPass+ selections who have opted for messaging will be notified by email that an attraction they selected is not available. You will then see a list of alternate FastPass+ selections to choose from.
If the FastPass+ was for between 1 and 2PM can it be used after 2PM or does it expire?
The FastPass+ expires expires 15 minutes after the close of your window, giving you a short grace period, unless the attraction has been closed for some reason for an extended period of time.
Can I have multiple FastPass+ scheduled at one time?
Yes. Currently, the system is set to allow you to schedule up to three FastPass+ attractions at a time. These FastPass+ can all be scheduled in advance of your visit to the park using the My Disney Experience website or mobile app. You may also use the in-park kiosks to schedule same-day FastPass+ experiences as described above.
So I am limited to Three FastPass+ per day?
No, once you use all three of your FastPass+, you may visit a FastPass+ Kiosk in the park or use the MDE mobile app to obtain another FastPass+. Once you use that FP+ you can get another, and another after that, and so on.
Click below to watch Molly use over 25 FastPasses in a single day!
Can I Park Hop with FastPass+?
Yes, once you have used your three scheduled FastPass+ in a particular park, you may go to another park. Once at that park, visit a FastPass+ Kiosk or use the MDE mobile app (even prior to arriving in the park) to obtain a new FastPass+. You may only get one FP+ at a time after you use your first three.
If I have a FastPass+ for Space Mountain for 1 to 2PM, can I ride Space Mountain as many times as I want using FastPass+ in between those hours?
Are there FastPass+ kiosks located throughout the parks?
Yes, there are multiple FastPass+ kiosks throughout the parks. They are not located near the individual attractions as they were in this past, however.
Where are the In-Park FastPass+ Kiosks located?
In Magic Kingdom
— in Fantasyland, next to Mickey's PhilharMagic
— in New Fantasyland, near the train station just under the Big Top
— in Liberty Square, around the corner from Sleepy Hollow
— in Tomorrowland, across from Monsters Inc. Laugh Floor
In Animal Kingdom
— Primeval Whirl
— Kali River Rapids
— Dinosaur
— Expedition Everest
— Kilimanjaro Safari
— Island Mercantile
— Disney Outfitters
In Disney's Hollywood Studios
— Pixar Place
— Corner of Hollywood and Sunset
— End of Sunset, just before Tower of Terror
— Near entrance to Muppet Vision 3D
In Epcot
— Innoventions West Breezeway near Epcot Character Spot
— Innoventions East Breezeway near Electric Umbrella
— Tip Board
— International Gateway
NOTE: Locations are subject to change.
What attractions are FastPass+ Attractions?
You will find the FastPass+ attractions listed on the MDE website or mobile app. There will also be a list of available attractions on flyers in the theme parks at the in-park FastPass+ kiosks. The Park Guide Maps will also indicate which attractions are FastPass+ attractions. You can also ask any Cast Member or inquire at Lobby Concierge in your Disney resort hotel.
There is no guarantee you will be able to obtain the FastPass+ that you want, especially for very popular attractions/shows during peak times.
These are the FastPass+ attractions at each of the theme parks:
In Magic Kingdom
"it's a small world"
Big Thunder Mountain Railroad
Buzz Lightyear's Space Ranger Spin
Dumbo the Flying Elephant
Enchanted Tales with Belle
Haunted Mansion
Jungle Cruise
Mad Tea Party
Meet Ariel at Her Grotto
Meet Cinderella and Elena at Princess Fairytale Hall
Meet Rapunzel and Tiana at Princess Fairytale Hall
Meet Mickey Mouse at Town Square Theater
Meet Tinker Bell at Town Square Theater
Mickey's PhilharMagic
Monsters, Inc. Laugh Floor
Peter Pan's Flight
Pirates of the Caribbean
Seven Dwarfs Mine Train
Space Mountain
Splash Mountain
The Barnstormer
The Magic Carpets of Aladdin
The Many Adventures of Winnie the Pooh
Tomorrowland Speedway
Under the Sea ~ Journey of The Little Mermaid
In Epcot
You can select one Tier 1 attraction and then two Tier 2 attractions when choosing your initial three FP+ for a day.
Tier 1
Frozen Ever After
Epcot Forever
Soarin' Around the World
Test Track
Tier 2
Disney and Pixar Short Film Festival
Journey Into Imagination with Figment
Living with the Land
Mission: SPACE
Spaceship Earth
The Seas with Nemo and Friends
Turtle Talk with Crush
In Disney's Hollywood Studios
You can select one Tier 1 attraction and then two Tier 2 attractions when choosing your initial three FP+ for a day.
Tier 1
Millenium Falcon: Smuggler's Run
Slinky Dog Dash
Mickey and Minnie's Runaway Railway (starting March 4th)
Alien Swirling Saucers
Toy Story Mania
Rock 'n' Roller Coaster Starring Aerosmith
The Twilight Zone Tower of Terror
Beauty and the Beast-Live on Stage
Fantasmic!
Disney Junior Dance Party
For the First Time in Forever: A Frozen Sing-Along Celebration
Indiana Jones Epic Stunt Spectacular
MuppetVision 3D
Star Tours
Voyage of the Little Mermaid
In Animal Kingdom
You can select one Tier 1 attraction and then two Tier 2 attractions when choosing your initial three FP+ for a day.
Tier 1
Avatar Flight of Passage
Na'vi River Journey
Tier 2
Animation Experience at Conservation Station
DINOSAUR
Expedition Everest
Festival of the Lion King
Finding Nemo – The Musical
It's Tough to be a Bug!
Kali River Rapids
Kilimanjaro Safaris
Meet Favorite Disney Pals at Adventurers Outpost
Primeval Whirl
Rivers of Light
UP! A Great Bird Adventure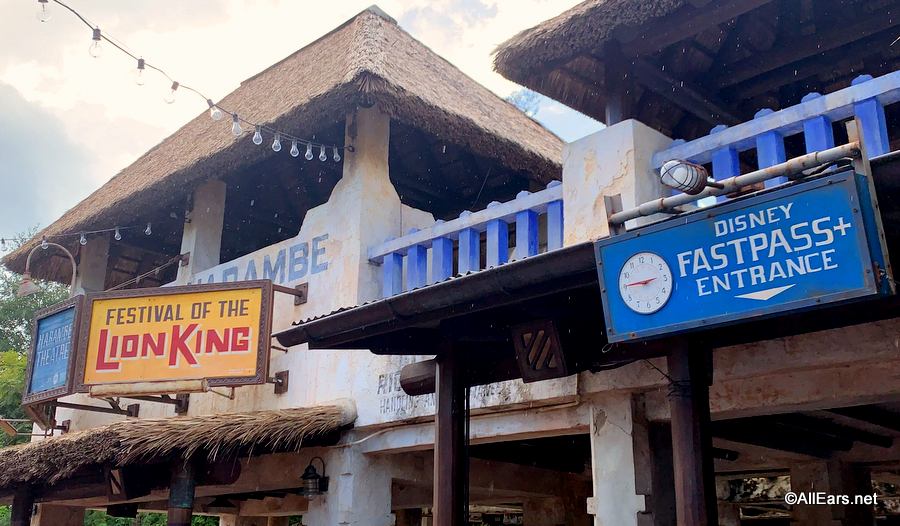 Once I make my FastPass+ choices, do I have options for times?
Yes. You are able to choose individual FastPass+ experiences and times. This means you have more control over choosing your FP+ times and no longer need to make all of your selections for the day at the same time. You will be able to modify on your Desktop or in the My Disney Experience app. Once you click on Modify you will be given options for other available times (if they are available).
Do I have to wait at all if I have a FastPass+?
Yes, FastPass+ holders may have to wait in the FastPass+ line for the attraction. The key is, you won't have to wait AS LONG as if you stood in the regular standby line.
Is FastPass+ issued during the entire time the park is open?
FastPass+ may not be issued all day long for every attraction, although the ability to make FastPass+ arrangements is available all day via the My Disney Experience website and mobile app. FastPass+ is NOT available during hard ticket events like Mickey's Very Merry Christmas Party.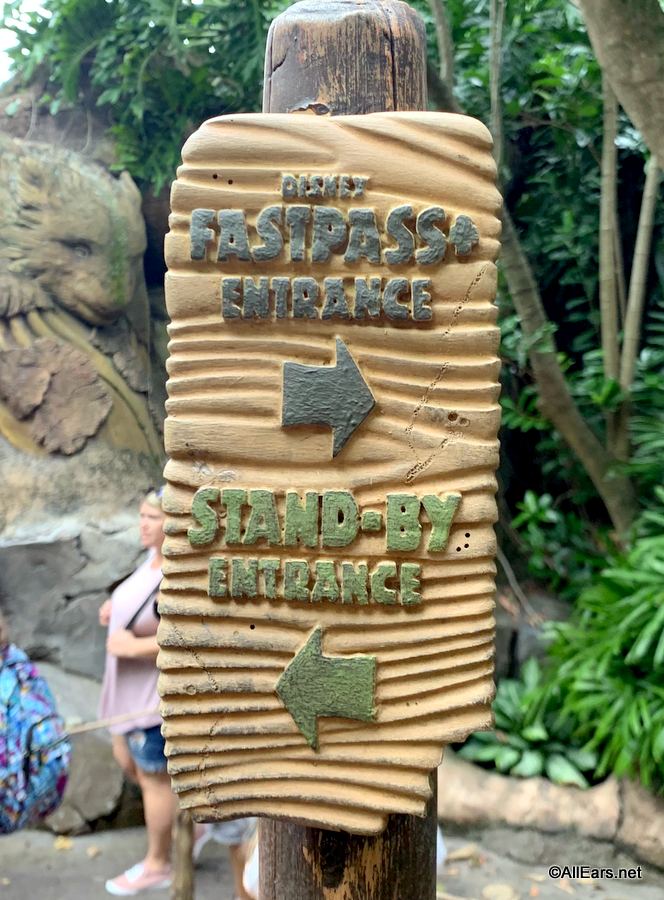 What happens if I have a FastPass+ and I am unable to make it to the attraction in time? Can I change it to at another attraction or another time?

Using the My Disney Experience website or mobile app, you can make changes throughout the day to reschedule your FastPass+ choices. You may also be able to make changes using the FastPass+ kiosks in the parks.
Can I cancel just ONE FastPass+ or do I have to cancel all for that day?
I will be using an old admission ticket, the kind that is manually date-stamped without a magnetic strip. How do I get a FastPass+?
When you enter the park, you will need to exchange your old ticket for a new plastic card with an RFID chip. See a cast member at the park entrance for instructions.
What are people saying about FastPass+?
Many guests have enjoyed the ability to plan their days in advance using FastPass+, while others find it too restrictive.