Disney California Adventure Overview
To all who come to this place of dreams… Welcome!
Disney California Adventure celebrates the
spirit of optimism and the promise of endless
opportunities, ignited by the imaginations of
daring dreamers such as Walt Disney and those
like him who forever changed – and were forever
changed by – the Golden State. This unique place
embraces the richness and diversity of California…
its land, its people, its stories and, above all,
the dreamers it continues to inspire.
— Rededication
read by Robert A. Iger, CEO,
The Walt Disney Company on June 15, 2012.
What's New?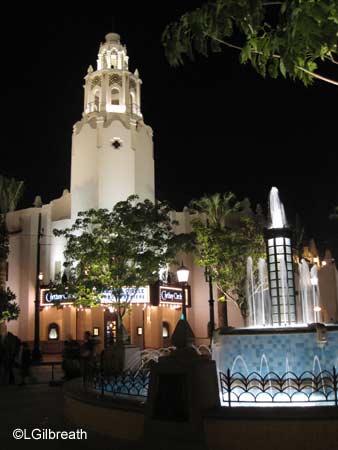 Disney California Food and Wine Festival returns from March 3rd to April 25th, 2023. Over a dozen Festival Marketplaces will showcase foods and beverages inspired by California cuisine. This year's Festival will include family-friendly seminars, culinary demonstrations, and live musical entertainment.
Mickey & Minnie's Runaway Railway opened in Mickey's Toontown on January 27th, 2023.
What's Next?
Mickey's Toontown is undergoing a major transformation and will reopen to guests in Spring 2023.
Downtown Disney is in the process of a multi-year transformation that will add new restaurants, shopping, and an open lawn.
Paradise Pier Hotel will be re-themed to the Pixar Place Hotel with a Pixar theme.
Avengers Campus will be expanding to include the multiverse, which will also add a new attraction. No timeline has been announced for this project yet.
San Fransokyo Square will take over Pacific Wharf. The transformation will be complete in Summer 2023 with all of the classic Pacific Wharf dining favorites and adding a new Port of San Fransokyo Cerveceria.
OVERVIEW
Upon entering Disney California Adventure guests find themselves on Buena Vista Street, a busy street reminiscent of Los Angeles as it might have been when a young Walt Disney first arrived in the 1920s. At the end of the street is the iconic Carthay Circle Restaurant, modeled after the Carthay Circle Theater where Snow White and the Seven Dwarfs premiered in 1937. At Fiddler, Fifer, and Practical Cafe guests can enjoy baked goods and sandwiches along with their favorite Starbucks beverages.
Though not the classic spoke design, pathways from Carthay Circle lead to the other areas of the park:
Hollywood Land – A pair of decorative archways stand on either side of the street at the entrance to this Hollywood-themed area. The names of shops and restaurants are clever plays on words, like "Award Weiners" and "Schmoozies". The Disney Jr. Theater is located here, as is the Hyperion Theater, where Frozen – Live at the Hyperion, a Broadway musical-style version of the hit movie, is presented on stage. On the lighter side take a tour of Monstropolis in Monsters Inc., Mike and Sulley to the Rescue. The Animation Building houses several different activities – chat with a turtle, learn to draw a Disney character, or play in the Sorceror's Workshop. Younger guests will enjoy seeing their favorite TV characters come to life in the Disney Junior Dance Party! show.
Cars Land Inspired by the Disney*Pixar film "Cars," Cars Land brings the animated world of Radiator Springs to life. Guests will find themselves walking down Route 66 past familiar places like Mater's Junkyard, Sally's Cozy Cone Motel, Flo's V8 Cafe, and Ramone's House of Body Art. In town are two attractions, Mater's Junkyard Jamboree, where baby tractors pull guests in trailers as they whirl and dance to Mater's jukebox, and Luigi's Rollickin' Roadsters: Luigi's Italian cousins invite guests to join them as they demonstrate some of the traditional dances from their homeland. Behind the town is Cars Land's E-ticket attraction, Radiator Springs Racers, where cars race side-by-side through the spectacular Ornament Valley. Hungry guests can fill their tanks at Fillmore's Taste-in, Sally's Cozy Cones, and Flo's V8 Cafe.
Grizzly Peak Airfield hosts one of the park's signature attractions: Soarin' Around the World. This simulated hang glider ride takes guests "soarin'" on an aerial tour of spectacular sights all over the world. Smokejumpers Grill serves burgers and fries.
In the Grizzly Peak Recreation Area take a whitewater raft ride on Grizzly River Run. You WILL get wet! Kids will enjoy testing their climbing, tracking, swinging and other skills at the Redwood Creek Challenge Trail, where they can become Wilderness Explorer Scouts and meet "UP" stars Russell and Dug.
Paradise Gardens Park, on the north side of Paradise Bay, features a number of attractions and amusements reminiscent of those found in classic seaside amusement parks, like the aircar ride The Golden Zephyr, Goofy's Sky School, Jumpin' Jellyfish, and Silly Symphony Swings. Guests can also go "under the sea" and experience classic scenes from the movie on The Little Mermaid – Ariel's Undersea Adventure. The spectacular nighttime show World of Color, takes place in the waters of Paradise Bay. Dining opportunities include seasonal specialties from Paradise Garden Grill, and pizza and pasta dishes from Boardwalk Pizza and Pasta. Corn dogs and hot dogs are available at Corn Dog Castle.
Pixar Pier is the newest area, on the south side of Paradise Bay. There are four new neighborhoods inspired by beloved Pixar stories: Incredibles Park, Toy Story Boardwalk, Pixar Promenade, and Inside Out Headquarters. The signature attraction is the Incredicoaster, an exciting roller coaster ride featuring the "Incredible" Parr family. Jessie's Critter Carousel, inspired by Jessie's animal friends from "Woody's Roundup" is now located in the Toy Story Boardwalk neighborhood of Pixar Pier, not far from the popular Toy Story Midway Mania attraction, with a wild ride-through as you play popular midway games with your favorite Disney*Pixar characters. The Pixar Pal-A-Round, a deceptively thrilling Ferris wheel, is also located in that area. Dining is available at the Lamplight Lounge, featuring signature cocktails and gastropub cuisine, and food kiosks like Poultry Palace and Angry Dogs. To satisfy the sweet tooth, there's ice cream, cookies, and churros from Adorable Snowman Frosted Treats, Jack-Jack's Cookie Num Nums, and Señor Buzz Churros. Guests can stroll the promenade and try their luck at classic Pixar-themed boardwalk games like WALL-E Space Race, La Luna Star Catchers, Heimlich's Candy Corn Toss, and Bullseye Stallion Stampede.
At the Pacific Wharf, soon to be reimagined into San Fransokyo Square in Summer 2023,  area guests can sample a variety of cuisines, from al fresco Italian at Wine Country Trattoria to soups and salads in sourdough bread bowls from The Pacific Wharf Cafe, Mexican entrees from Cocina Cucamonga, and Chinese food from The Lucky Fortune Cookery. A variety of frozen and other sweet treats are available at Ghirardelli Soda Fountain and Chocolate Shop.
Avengers Campus opened on June 4th, 2021.  This Marvel-themed land occupies the previous home of "A Bug's Land." The signature attraction is Web Slingers: A Spider-Man Adventure, where guests must help sling webs alongside Spider-Man, and the Collector's Fortress hosts the Guardians of the Galaxy – Mission: BREAKOUT! attraction, located near the Hyperion. Guests can also enjoy the Doctor Strange Mystic Arts show as well as Dora Milaje Training Sessions, and don't forget to catch the Spider-Man Stuntronic above Avengers Campus. Next to the Quintet that is docked on the rooftop of the Avengers HQ building, the Marvel Character Rooftop Stunt Show takes place periodically. For food, dine at Pym Test Kitchen, or grab some craft beers and cocktails from Pym Tasting Lab. Shawarma Palace is home to chicken and plant-based falafel, and Terran Treats is a cart serving up sweet treats. There are currently future plans for an expansion that would add a second attraction to the land.
If you have comments or tips to share with others about touring Disney California Adventure, please email us. Thank you.