Tomorrowland Transit Authority PeopleMover Tomorrowland Magic Kingdom
Tomorrowland Transit Authority PeopleMover Highlights:
Slow moving ride above Tomorrowland
See a giant model of Walt Disney's original concept of Epcot
A great attraction to relax and sit back for a few minutes!
INTRODUCTION
Look up as you make your way through the Tomorrowland area that includes Buzz Lightyear's Space Ranger Spin, Space Mountain, and Astro Orbiter, and those blue cars you see gliding by are part of the Tomorrowland Transit Authority PeopleMover! This slow moving ride takes you on a relaxing journey throughout the land.
ATTRACTION
Take a 10-minute journey around and through Tomorrowland, seated in a omnimover transportation system. Using linear induction motors, the vehicles glide with ease in an environmentally safe manner.
To reach the loading platform you will step onto a moving conveyor belt that is at a steep incline. The loading platform moves at the same speed as the vehicles, so you can step inside easily. Each vehicle can seat four, two riding forward and two riding backward.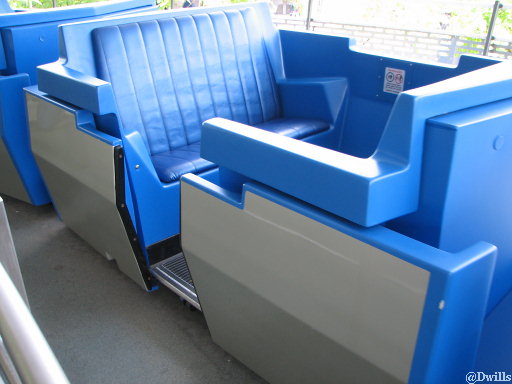 Although the taking of photos is difficult, since you're constantly moving, the view is exceptional. You'll get a great view of Tomorrowland, especially Tomorrowland Speedway, and Cinderella Castle. You'll also go inside Space Mountain and Buzz Lightyear Space Ranger Spin — plus you'll ride past a huge model of Walt Disney's original concept for the city of the future, which is Epcot's inspirtation.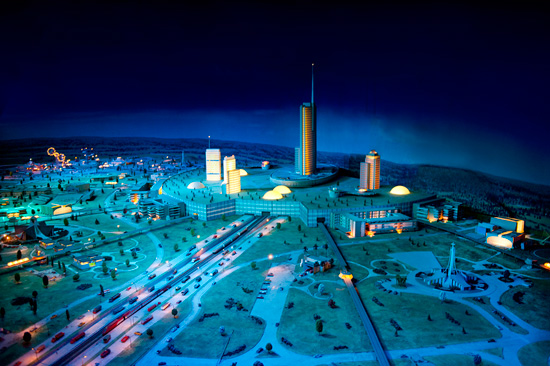 RIDE LOGISTICS
There is no height requirement for the PeopleMover. There is also not usually a long wait!
You must be ambulatory to board this ride.
Handheld Captioning Devices from Guest Services can be used here.
This ride is also great at night when the park is all lit up.
DINING
The Tomorrowland Transit Authority People Mover sits atop the Launching Pad, where you will find snacks and an assortment of beverages.
Magic Kingdom Restaurants at a Glance
Menus from around the World
INTERESTING FACTS
The ride opened on July 1, 1975, as the WEDway PeopleMover. When Tomorrowland received a "face lift" to the "Future that Never Was," the attraction was renamed the Tomorrowland Transit Authority and reopened on June 11, 1994.
This ride's name was changed from Tomorrowland Transit Authority to Tomorrowland Transit Authority PeopleMover as of August 5, 2010.
The ride underwent a renovation in 2009, concurrent with a rehab of Space Mountain. When the ride reopened in October 2009, it had a new audio track, which did not include the old jokes about keeping your forward facing tentacles inside your vehicle, or "paging Mr. Tom Morrow" to give his party on Saturn a ring. The narrative is now in a young man's voice and he points out the various sights along the way. For example, as you pass the Carousel of Progress, a brief description of this attraction is presented. This is in keeping with the original PeopleMover at Disneyland. Read about the previous version of the attraction, and see a video that includes the old audio track HERE.
Walt Disney's 20th Century vision for the future (a model city) can be seen along the way. Some believe this was tied closely to Walt's own vision for Epcot Center.
Each section has five cars that travel at 10 feet per second except at the loading and unloading station where it travels at 2.7 feet per second.