Strollers at Walt Disney World FAQ
If you're heading to Walt Disney World with a little one in tow — or even a not-so little one — you're probably giving some thought to what to do about a stroller. Should you bring your own? Rent one? If renting, from whom? How much does it cost? What do I do if I'm park-hopping?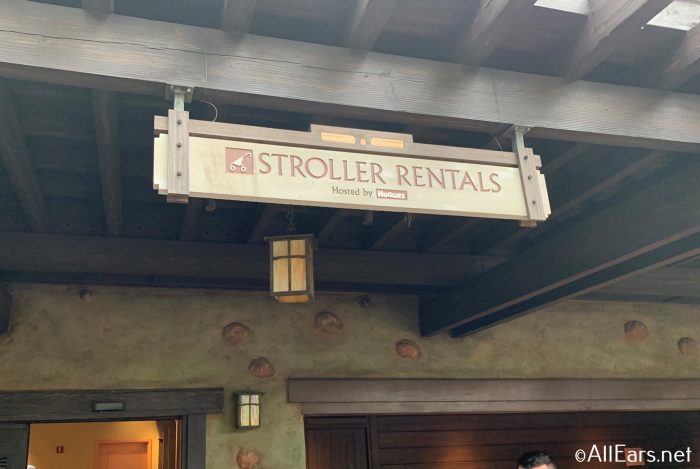 Touring the World with a stroller is a necessary part of a Walt Disney World vacation with kids, so we're answering your stroller-related questions below! 
Do I need a stroller at Walt Disney World?
If you're visiting Walt Disney World with a young kid — think: five or under but possibly up to seven or eight, depending on your child — you'll need to consider this question thoughtfully. It's a highly personal decision because only you know how your child will handle walking many miles each day. But here are some things to consider.
If you just did a loop around Magic Kingdom, covering all the major thoroughfares, you would walk over two miles. This does not include back-tracking or crossing the Park or walking into and out of rides or from one ride to the next. A typical Magic Kingdom day will actually rack up over ten miles easily.
A full loop around Epcot's Future World and World Showcase is nearly three miles — again, a simple loop with no added steps. A typical day walking at Epcot is easily ten miles or more.
Disney's Hollywood Studios is in the two mile range if you're just walking a loop through the Park, but add lots of back and forth meandering, moving from attraction to attraction, etc. and you're looking at closer to ten miles.
Though it's only a 2.5+ mile loop, Animal Kingdom tends to feel like a lot more miles (especially in the heat without a ton of indoor, air conditioned respite). Expect to tick off at least ten miles at the youngest Park, too.
This is after the walk from your Resort room to the bus stop or other transportation, the walk from transportation to the entrance of the Parks, and the extra steps needed for bathroom breaks, snack stops, and any other short jaunts that add up throughout the day.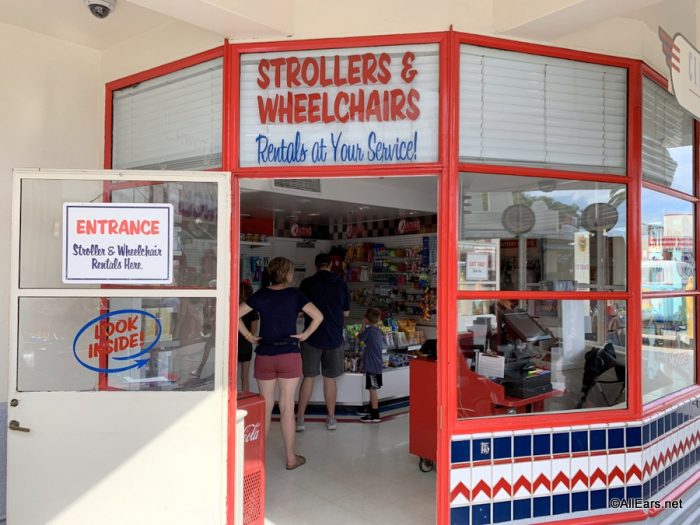 This is all to say that little legs are going to get tired, even if they're usually running tireless circles around you all day at home. And while there are breaks in the walking (like whilst standing in line for rides and attractions or sitting for shows), there's no doubt it's a tiring trip for guests of all ages — including the littlest ones.
Taking into consideration all of the pressures put on the kids in your party, you'll have to decide whether a stroller is needed or not.
Can I rent a stroller at Disney?
You sure can! Renting a stroller at Disney World is pretty simple. There are stroller rental locations near the entrances inside each park.
At Magic Kingdom, stroller rentals are under the Main Street Railroad Station.
At Epcot, stroller rentals are available to the left of Spaceship Earth as you enter the main gate and in the International Gateway Guest Relations.
At Disney's Hollywood Studios, stroller rentals are to the right at Oscar's as you enter the Park.
At Disney's Animal Kingdom, you'll find stroller rentals to the right upon entering the Park and prior to entering the Oasis.
Disney Springs also has stroller rentals. They're near the bus stop between the Coca Cola Store and Wolfgang Puck's Bar & Grill.
How much are stroller rentals?
Stroller Rentals cost $15 per day for a single stroller and $31 per day for a double stroller. You can get a slightly discounted price by renting for length-of-stay rather than day-to-day. Length of stay prices are $13 for a single and $27 for a double. Note that if you're renting a stroller at Disney Springs, you'll be charged a $100 refundable deposit, too.
How does the length of stay rental work?
You'll rent for your length of stay and pre-pay for your full stay on the day you begin the rental receipt. You'll need to keep your stroller rental and show it each time you need a stroller.
Do I need a single or a double stroller?
The most straightforward answer is that if you've got one child who needs a stroller, go with a single. If you've got two who need a stroller — or one who definitely does and one who might — get a double. Note, though, that if you've got an older kid who might want to be able to stretch out (or curl up), a double might make more sense.
Disney also notes that single strollers are for a child 50lbs. or less, while double strollers are for children 100lbs. or less.
What are the strollers like?
All strollers are hard plastic with 4 wheels and all parks have the same exact strollers.
Disney has tested out some softer strollers that would likely feel more familiar to most kids. For now, the testing has concluded and not been expanded, but soft strollers could be added in the future.
What do I do if I want to park hop?
When you're park hopping, you'll need to leave the rental strollers at the Park you're in. When you arrive at your next Park, head straight to the stroller rental location and show your rental receipt. If they have strollers available, you'll soon be on your way.
What if there's an issue and I need a replacement stroller during the day?
If your stroller stops working properly or walks off with another guest or suffers some other issue, you can return to the stroller rental location to get a replacement. Again, show your rental receipt, and cast members will help you get a replacement.
You may also find first come, first serve replacements (not initial rentals, though!) at the following locations:
At Magic Kingdom

Trading Post in Frontierland
Tomorrowland Arcade in Tomorrowland

At Epcot

Germany (Glas und Porzellan)

At Animal Kingdom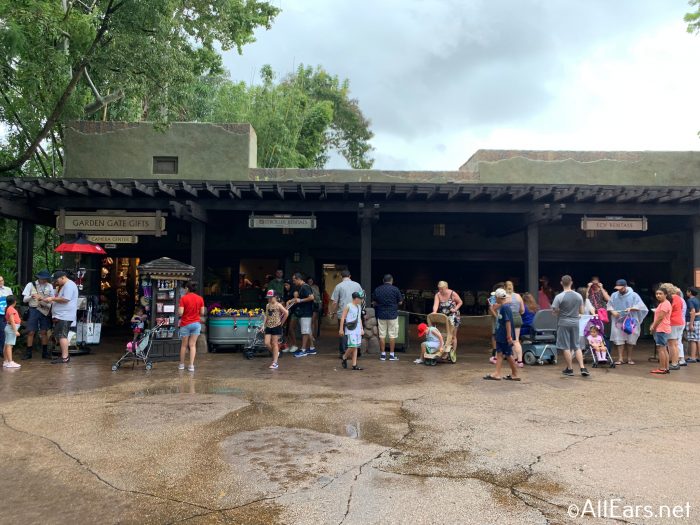 Is it safe to leave my stroller outside an attraction?
Strollers are not allowed inside attractions, so you'll have to park it in a designated area. You won't want to leave anything of value in your stroller. Many people do leave their diaper bags (or bags with extra supplies) in their parked strollers. You will need to Park your stroller during the day (there are designated parking areas in various locations throughout the Parks), so be prepared with a stroller cover or poncho in case of rain.
What if I want to rent with an outside company?
Several third-party companies rent strollers in the vicinity of Walt Disney World. Disney World has partnered exclusively with ScooterBug. This impacts drop-off and pick-up mostly.
In the past, Disney cast members at the Resorts could and would accept stroller rentals for guests. This was great because you didn't need to be present when your rental arrived; you could just be living your best Disney life and return to find your stroller had been accepted and stored by Disney bell services.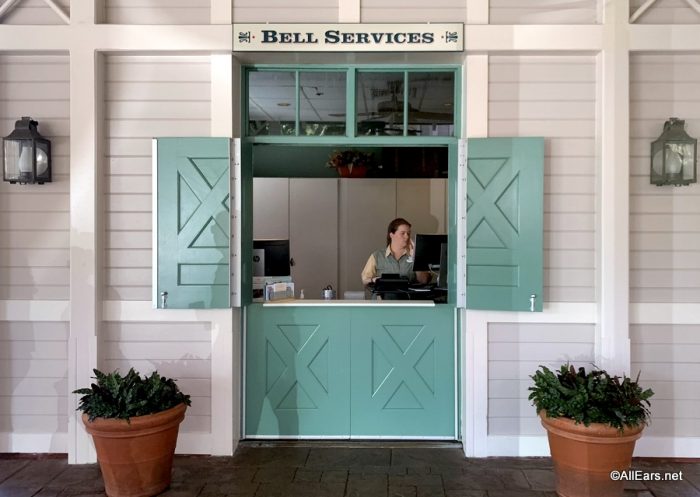 This is still the case for ScooterBug rentals only. Now, if you rent from a different third-party rental company, you will need to arrange with that company to be present for stroller drop-off and stroller pick-up.
What about bringing my own stroller?
Some families prefer to bring their own strollers. For starters, the family stroller is more familiar to kids, and they may be more comfortable (and more likely to nap) in a stroller that they know already. Plus, parents already know how much stuff they can pack into their own strollers, so it can help ease your mind.
Note that Disney implemented new policies regarding strollers in 2019. In our experience, these policies are not universally implemented, but here's the info so you'll be prepared:
Strollers must be no larger than 31″ x 52″.
Stroller wagons are no longer allowed.
If you fly with your own stroller, most airlines will allow you to bring it all the way to the gate, where you'll fold it and have it gate-checked with a tag so you can pick it up plane-side as you disembark.
Anything else I should know?
Disney Cast Members can and will move your stroller from where you *parked* it according to crowds. Tying a scarf or balloon to your stroller will help you locate it more quickly.
If you rent a Disney stroller, it'll be tough to spot in the sea of other rentals in the stroller parking areas. Also tie something distinctive to it so you can find it easily.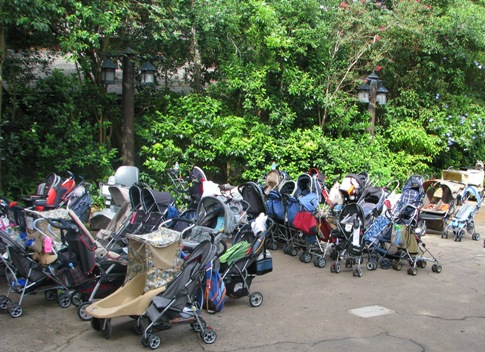 Most strollers can be rolled onto the Monorails; be sure to lock the wheels securely. On the "Friendship" boats at Epcot and the boats from Port Orleans to Disney Springs , the stroller can be rolled on, but you will be asked to carry your child for safety reasons. Strollers must be folded and carried on all other Disney transportation.
On the boat from the Wilderness Lodge to the Magic Kingdom, you will be asked to take your child out of the stroller.
You may *stroll* into all park entrances and through security. Kids can remain seated. Expect your stroller to be checked at bag check.
Usually, though not guaranteed, strollers have "free" rental when you attend the special Halloween and Christmas parties at the Magic Kingdom (once the party begins).
Be aware that in June, during "Love Bug" season, the bugs love to hide out in the strollers!!! These are harmless black bugs, but they are very annoying.
If your stroller rider is a special needs guest who would benefit from a Disability Access Service card or staying in his/her stroller through ride queues, check in at Guest Relations when you arrive at the Park to get proper documentation to do that.

Comments? Errors? Omissions?
Things that should be added? General comments?