AllEars Parents' Guide to Walt Disney World's Animal Kingdom with Kids
You're planning a trip to Walt Disney World with your kids in tow! Congratulations!
Disney's Animal Kingdom is the World's youngest park. It opened in 1998 bringing messages of conservation, adventure, and respect for the natural world. Animal Kingdom has changed quite a bit over the years, and now it offers nighttime entertainment, thrilling rides, and enhanced shows and experiences for the whole family.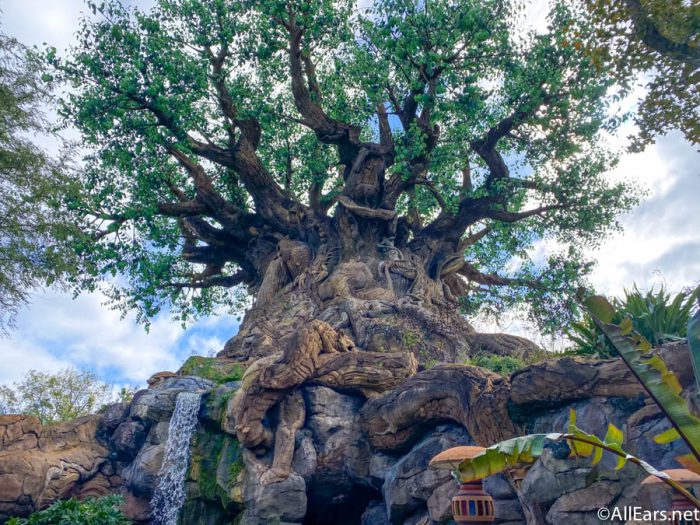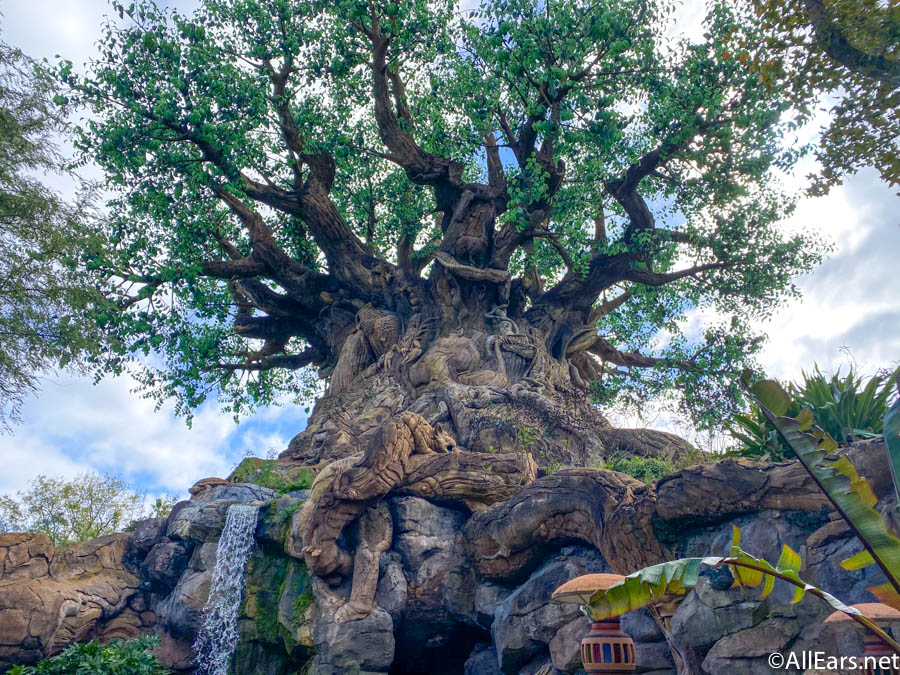 To help you navigate this Park, we're sharing tips, suggestions, and handy information to help you make the most of your visit in two categories: Animal Kingdom Logistics and Animal Kingdom Attractions. Each of these categories is packed with info and links to other helpful posts and pages right here on AllEars.
Here's your
Parents' Guide to Walt Disney World's Disney's Animal Kingdom with kids!
Guide to Animal Kingdom Logistics
Calendar of Events
To know what special events are on the calendar during your visit, check out our Calendar of Events. We update this searchable calendar throughout the year, including Epcot festival openings, start dates for new nighttime spectaculars, restaurant and attraction openings, After Hours events, and more.
Search by month and year to get an overview of what to expect — then get your kids psyched for all the fun!
Animal Kingdom Baby Care Center
If you're traveling with really little ones, you'll want to familiarize yourself with the Baby Care Center offerings at Walt Disney World. Every Park has a Baby Care Center. Animal Kingdom's Baby Care Center is located to the right and slightly behind Creature Comforts on Discovery Island.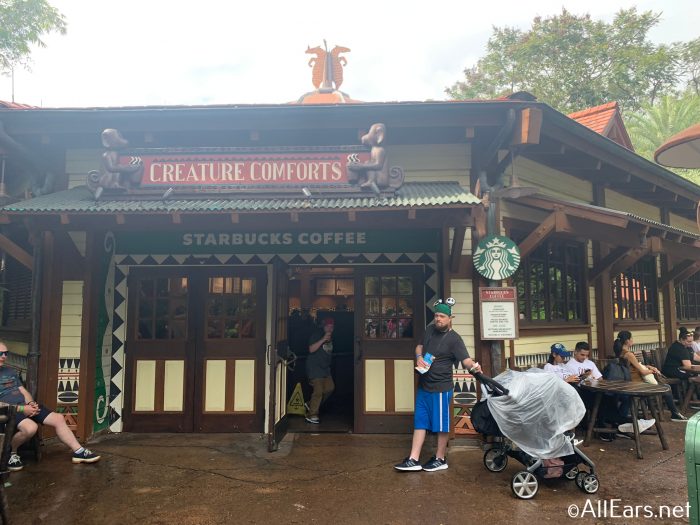 Baby Care Centers have all the basics: baby food and formula, diapers, simple clothing, wipes, etc. But because it's also adjacent to the First Aid Center, you'll also find items for older guests (adults and older kids) like basic over the counter medications, bottled beverages, etc.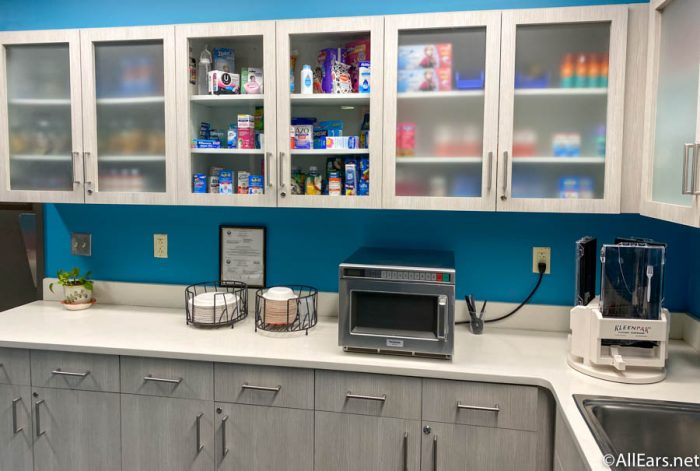 Baby Care Center Infant Essentials in EPCOT's Baby Care Center
But Baby Care Centers don't stop with items you can purchase (or sometimes get for free, like a single diaper). They also provide quiet spaces for nursing and changing. And if you've got a little one (or even an older kid) who needs a place to decompress, this is an excellent place to do that.
Animal Kingdom First Aid
Like the Baby Care Centers, First Aid Centers in the Parks are excellent resources for families. Found adjacent to Baby Care Centers, First Aid Centers are staffed with nurses and provide everything from single-dose pain medication to professionals to take your vitals when you're feeling under the weather.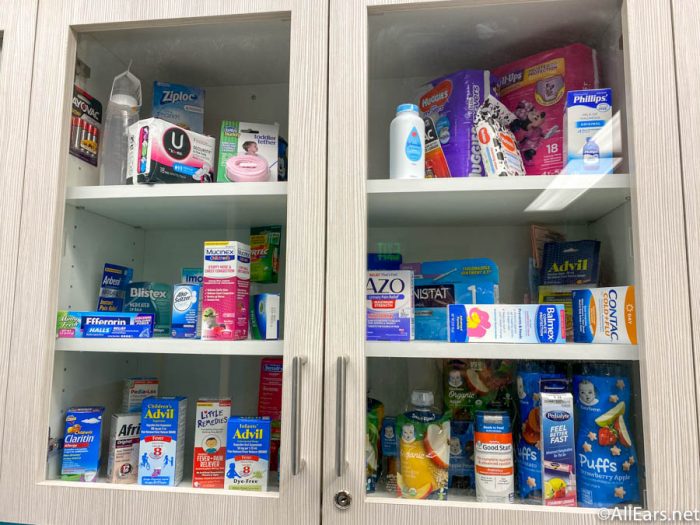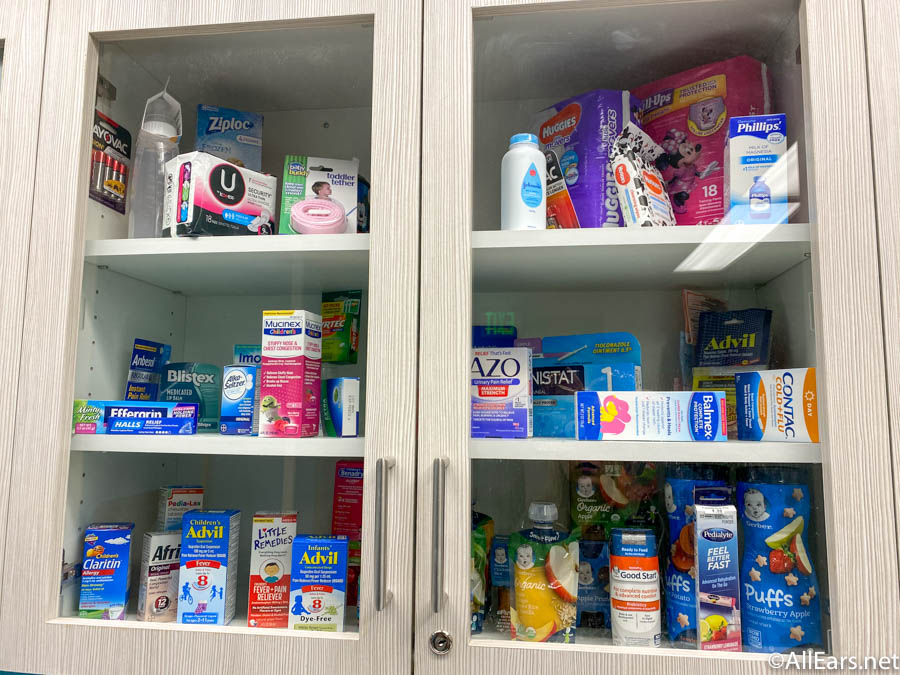 Stroller Rentals and Policies
When you're visiting Walt Disney World with kids, it's natural to wonder if you should bring or rent a stroller — even if your kid doesn't normally use one in your 'real life'. Disney World is huge, and the amount of walking you and the kids will do on any given day is highly unusual and flat-out exhausting.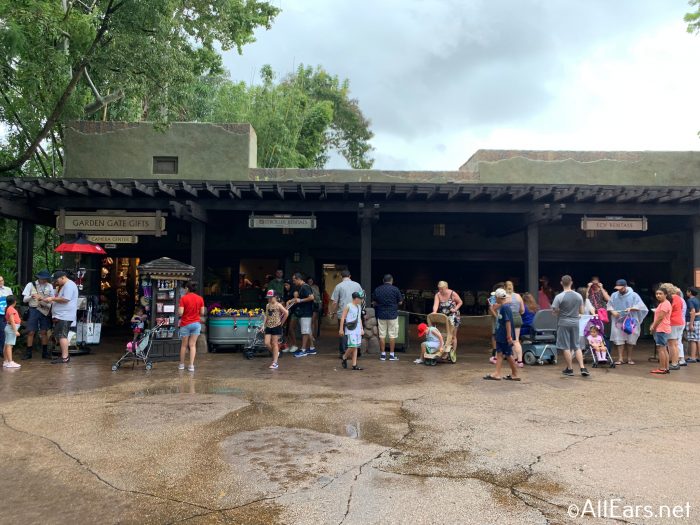 We've gathered lots of Stroller FAQs here, but let's go over some basics. You can bring your own stroller, rent from Disney in the Parks (and Disney Springs), or rent from a third party. If you rent Disney's strollers, your options are single or double strollers that are crafted from heavy-duty plastic.
You can rent a stroller for a single day or your length-of-stay (for a small per day discount).
There are benefits and drawbacks to all three stroller options (it can be a pain to use your own stroller on Disney transportation vehicles, the rentals are unfamiliar and perhaps uncomfortable, third party rentals often require you to be at your Resort for delivery, etc.), so you'll need to consider lots of variables when making your decision.
If you do choose to bring your own stroller, be sure to check the size. In 2019, Disney Parks implemented new stroller size and style requirements, and while it's not enforced throughout the property, it can be at any time. Your stroller needs to be 31″ x 52″, and you can no longer use a wagon-style stroller.
Animal Kingdom Walking Distances
We're including some estimated walking distances into and around the Park to give you an idea of how much walking you'll do.
.26 miles: the furthest bus stop gate to Park entrance
1.37 miles: closed loop around the whole Park (excluding Maharajah Jungle Trek, Gorilla Falls Exploration Trail, and Discovery Island)
Keep in mind: the closed loop around Animal Kingdom does not include any back tracking, walks into or out of attractions, diversions along Animal Kingdom's many trails, walks to find a bathroom, stops for dining or rides — it's just the total if you took a nonstop stroll from Park entrance in the Oasis around in a circle including Pandora, Africa, Asia, and Dino Land USA. A typical day at Animal Kingdom will easily wrack up ten miles (and sometimes 20,000+ steps) in a single day.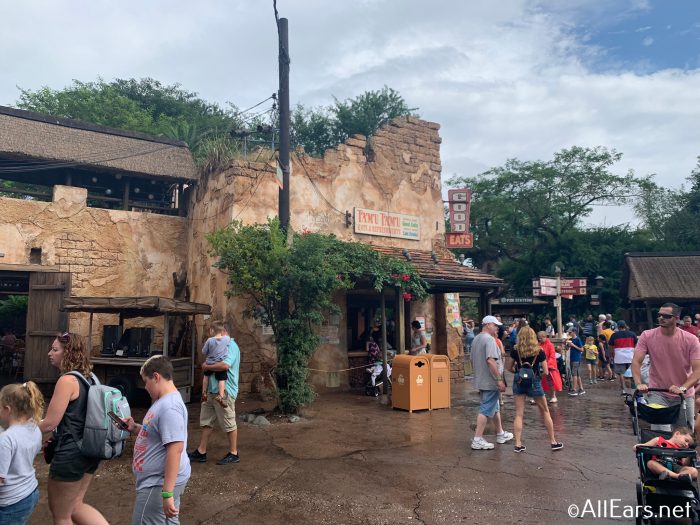 The furthest bus stop gate is just over a quarter of a mile from the front entrance of the Park, but it will feel a lot longer at the end of a full, tiring day in the Park.
Animal Kingdom Lost and Found
If you lose any of your personal items during a day at Animal Kingdom — we're talking your cell phone, a hat, your child's favorite stuffed animal, your wallet — know that Animal Kingdom has a dedicated lost and found. Animal Kingdom's lost and found is connected to Guest Relations. You'll find Guest Relations to the left (near the lockers) as you enter the Park.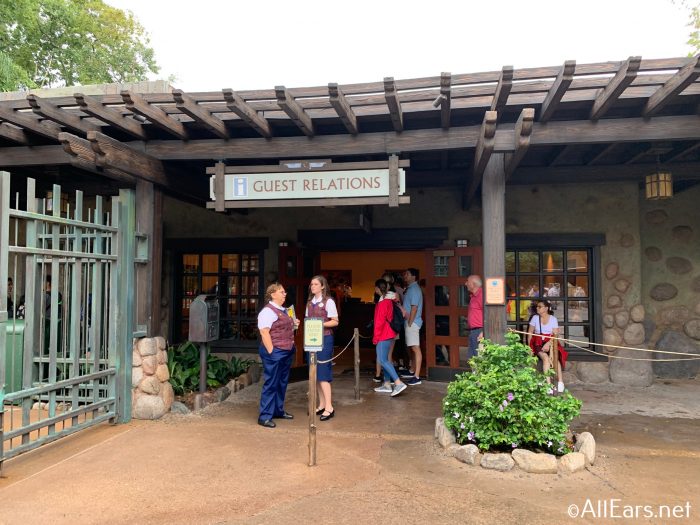 Here's what to do if you realize you lost something.
If you know where you lost it, return to that location. Talk to Cast Members on site there to see if the item was turned in or found.
If you know you left it in the storage pouch on a ride or at your table in a restaurant or someplace specific, let the CM know that, too. In some cases, they may allow you to wait until the vehicle you were in comes back so you can check it out.
If your item was not located, you'll want to check at Lost and Found in Guest Relations. Here they'll search for your item (don't worry — they're super organized so the search should only take minutes). If it's not there, you have one more step.
You'll need to fill out a lost item form on ChargerBack.com/DisneyWorld. This is a third party Disney uses to manage lost and found inquiries. Once you've submitted your form, you'll hear back from Disney within 48 hours.
Lost Children (or Lost Parents)
At Animal Kingdom, it's no small feat to keep your family together at all times (especially with so many interesting trails and exhibits to explore!), and when a child gets lost, it's natural for panic to set in fast.
We're not going to minimize the intensity of this experience; it can be overwhelming. But the Cast Members at Walt Disney World do a tremendous job of handling these incredibly emotional experiences.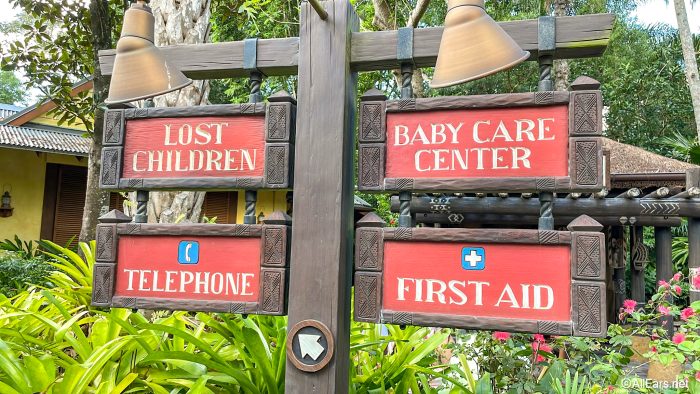 Before you even leave home, prepare a bit for this possibility, and the situation (should it arise) will be resolved very quickly. If your child is old enough to remember their parents' names and phone numbers, talk to them beforehand about how to identify a Cast Member and what to tell them: "I'm lost. My parent is ______. Their phone number is ______. "
If your child is too young to recall this information, prepare by having your phone number and name somewhere on the kid. You could write the info discreetly on your child's MagicBand, have temporary tattoos or rubber bracelets made with the info, or find another creative option online (parents have lots of great ideas!).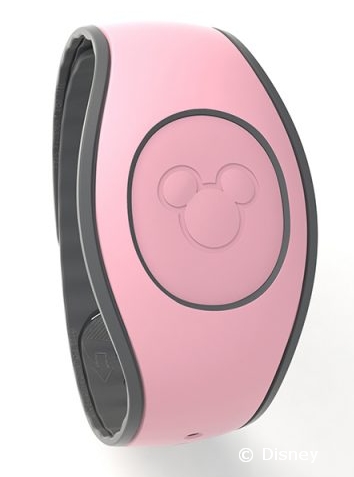 Another way to prepare is to take your child's or your children's pictures each morning you enter a Park so you'll have an accurate photo of them each day. When Cast Members are looking for your little one, they'll know exactly what clothing or identifiable features they have.
When you realize your child is lost, find the nearest Cast Member and explain the situation. If you have a second adult in your group, one of you should stay right where you are while the other goes with the CM to search. The Cast Member will contact Lost Children in the Park to see if the child is there and to leave a report. All available CMs in the vicinity will be activated to search for the child, too, so it's not just the two of you.
When a Cast Member locates your child (or when your kid asks a CM for help), the CM will stay with your child until you are reunited. This may happen when your child or the CM he or she is with calls you. Or it may happen when the CM who's with your found child contacts the CM who's with you. The reunion may happen nearby if your child hasn't gotten to far away, or it may happen at the Baby Care Center, where a Cast Member will wait with your found child until you arrive.
Cast Members are trained to handle these situations calmly and efficiently. It may not help you to know that if you're ever experiencing a lost kiddo situation, but know, too, that whoever finds your child will also be trained to help him or her feel safe and secure. They'll likely even refer to the kid's "lost parents" so the child won't feel badly about being lost.
Where to Go if Your Child Needs a Nap
If your child (or children) need a nap but you're not able to head back to your Resort or hotel, there are some quiet spots in Animal Kingdom where you can find relative quiet. Baby Care Centers are great spots to rest, and even if your child isn't a baby anymore, these spaces are likely still available to them. If the Baby Care Center is full of, well, babies, see if the First Aid Center has a quiet space you can rest for a short time.
Other quiet spots can include out-of-the-way tables in restaurants not during meal time (meal times are busy and noisy, but also you don't want to claim a table that might be needed for actual diners). On a more mild day weather-wise, you can find relaxing outdoor seating adjacent to Flame Tree Barbecue. For indoor seating, you'll want to go to Satu'li Canteen (though you may need to make a purchase in order to gain entry to the indoor dining space).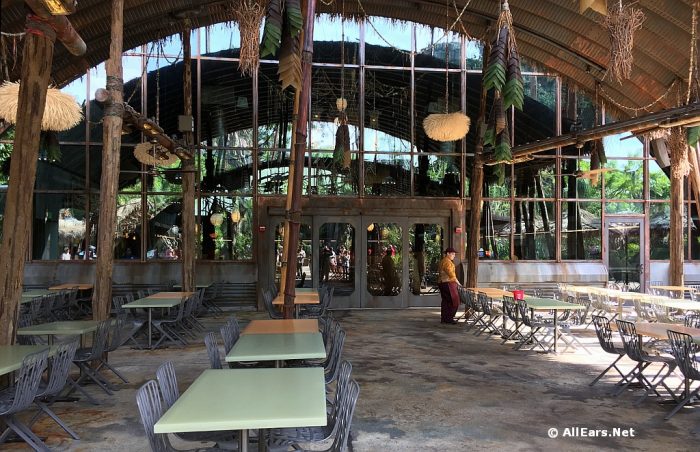 Restrooms are also typically a bit off the beaten path, and you'll often find benches (and maybe even some shade!) if you're lucky! There's decent seating and some shade behind Yak & Yeti Local Foods Cafe in Asia that would be a great place to relax for a bit. (Grab some Fried Rice to munch on while your kiddo snags some zzzzzzs!)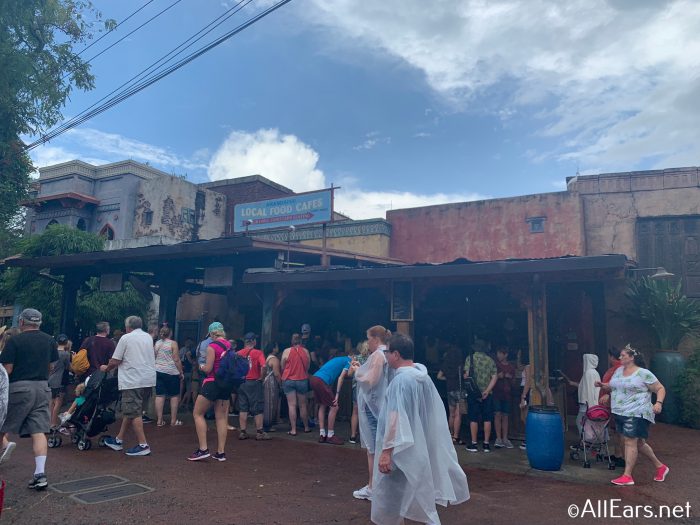 Of course, if you're not averse to getting some extra steps in, you can always get your child comfy in the stroller and just walk around for a bit. Maybe grab a drink along the way and just enjoy your surroundings. If you're visiting with your own personal stroller, this may be the ideal option.
Restroom MVPs
When you're traveling the World with little ones (or big ones with little bladders), knowing where to find the best restrooms can be some seriously valuable information. Here are our Restroom MVPs.
We're big fans of the Pizzafari Restrooms. These are located inside the building where the Quick Service restaurant is located, but you don't have to enter the restaurant proper in order to use these restrooms. The big reason we love this spot? You can pop in here before you enter Harambe, where the restrooms closer to Kilimanjaro Safaris are always busy.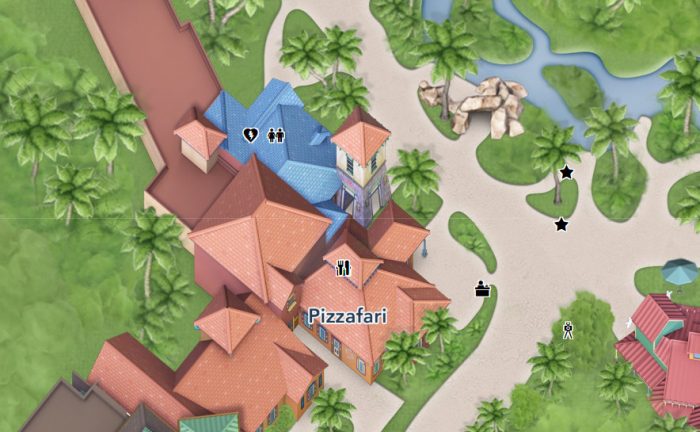 When you're exploring the other side of the Park, you'll find some tucked-away restrooms near Finding Nemo — the Musical. Just beware to avoid this area when a show is letting out (and, to a lesser degree, when guests are filtering in).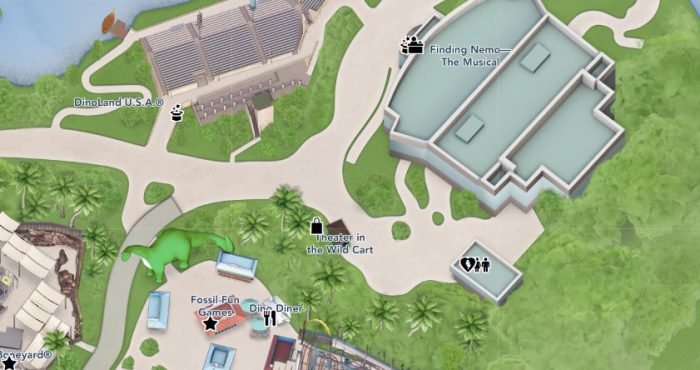 Another off-the-beaten-path option is the restrooms in the far corner of Dino Land, USA, near Chester & Hester's Dinosaur Treasures. Bonus: when you're done, you can browse the kitschy little shop!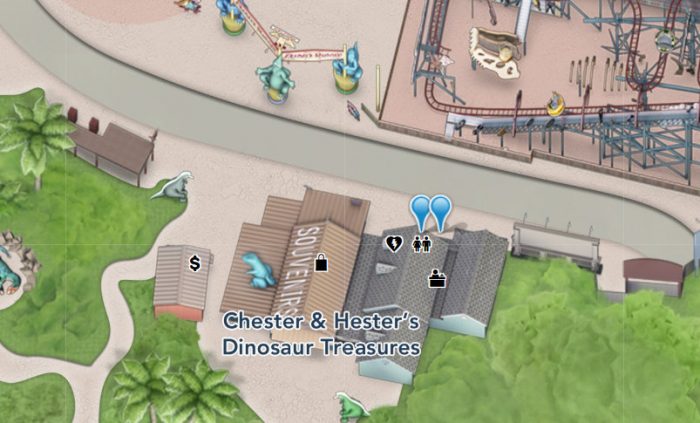 Of course, the best restroom is the one you need when you really need it. Click here to visit Disney World's interactive map of restrooms! And be sure to have My Disney Experience loaded on your phone. You can use it to search for the nearest restrooms anywhere you are in the World — and you can get walking directions to get you there.
And here's a list of Walt Disney World's companion restrooms in case you want to make a note of those, too.
Best (Non-Attraction) Places to Chill Out
If the Florida heat has got the best of you, you'll need to act fast to find some relief — and that can be a challenge at Animal Kingdom. We'll cover the best attractions for cooling off in the next section, but for now, let's talk about some non-attractions places to chill out.
Though outdoor, the walking trails in Africa (Gorilla Falls Exploration Trail) and Asia (Maharajah Jungle Trek) have some decent (and picturesque) shady areas, water fountains so you can hydrate and refill your reusable water bottles, and covered exhibits with some AC or fans circulating air.
Gorilla Falls Exploration Trail
Rafiki's Planet Watch is another (sort of) non-attraction location to cool off. For starters, you'll get there on the open-air Wildlife Express Train, which is a fun way to catch a manufactured breeze. From here you'll even see a bit into the backstage area (like the rhino house), so if you're curious about the workings of Animal Kingdom, it's a fun peek.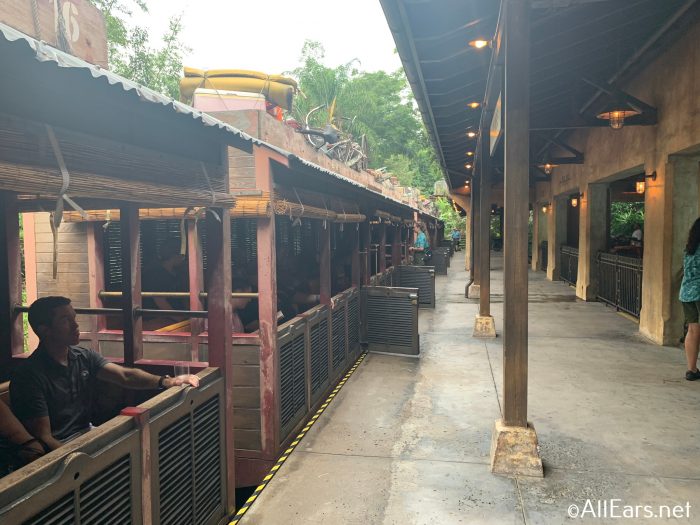 Once you arrive at Rafiki's Planet Watch, you'll be able to observe veterinarians in action (check the Times Guide for the schedule), participate in the Animation Experience, and enjoy some AC. Head back outside for the Affection Section to make some new animal friends!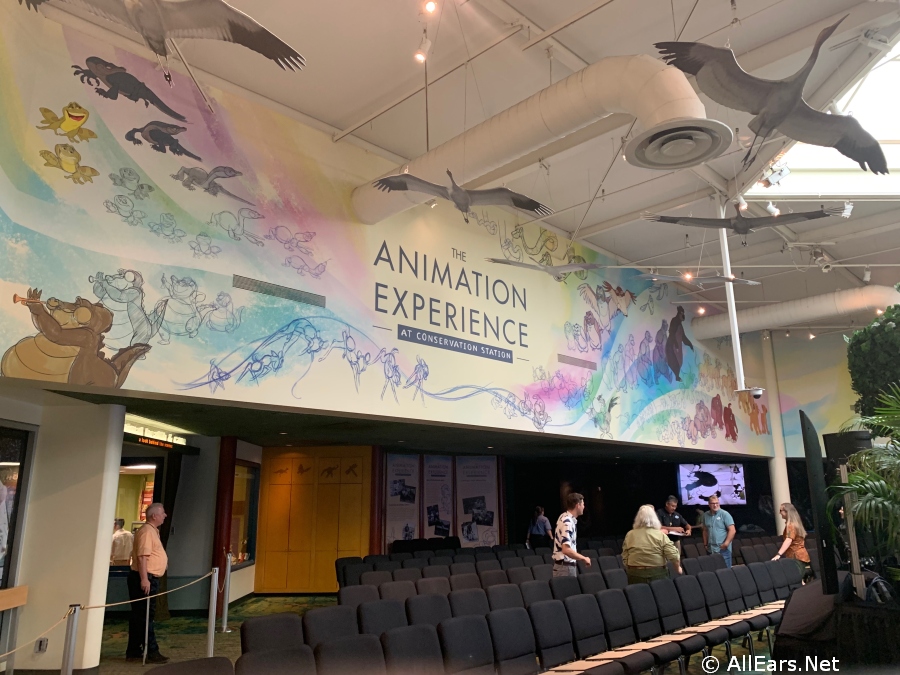 Package Pick-Up/Delivery
If your kids are shopping 'til you think you'll drop, you don't have to worry about lugging around their magical treasure. Animal Kingdom offers Package Pick-Up and Package Delivery (if you're staying on-site and have more than 24 hours left in your stay).
Merchandise locations can package and transport your purchased items to the Package Pick-Up, which is located at Garden Gate Gifts near the front entrance of the Park (on your right as you enter, near stroller rentals). You'll pick up your packages on your way out of the Park and carry them back to wherever you head next (Resort, hotel, house rental, airport, etc.).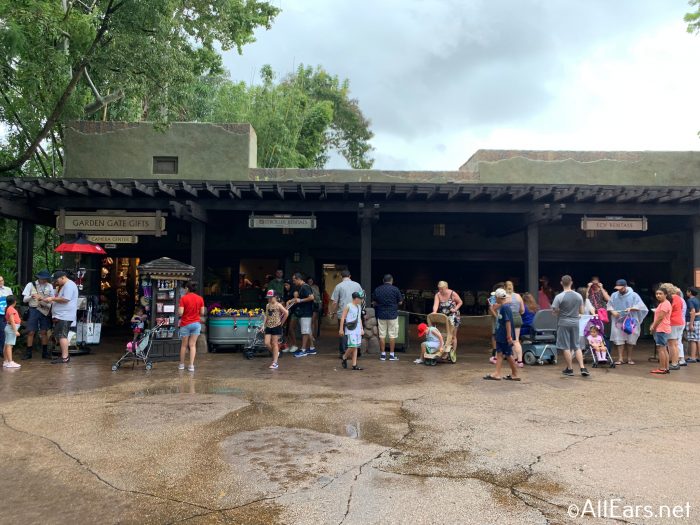 If you want to avoid carrying them back to your Disney Resort, you can opt to have your purchases delivered to your Resort. You'll still need to pick them up when you get back to your Resort, but it saves you a lot of schlepping. Note that you need to have more than 24 hours left on your stay to use delivery.

Guide to Animal Kingdom Attractions
Here we're going to share insights, information, and tips for navigating and enjoying Animal Kingdom's attractions with kids.
Ride Closures and Refurbishments
One variable you'll want to keep in mind when you're planning your Walt Disney World vacation is the ride closures and refurbishments. Luckily, we have a filter-able database for that! Click here to check out the page. You can search by Park and by date, and this info can change at any time (thanks, Disney!), so check back frequently as you're planning your trips!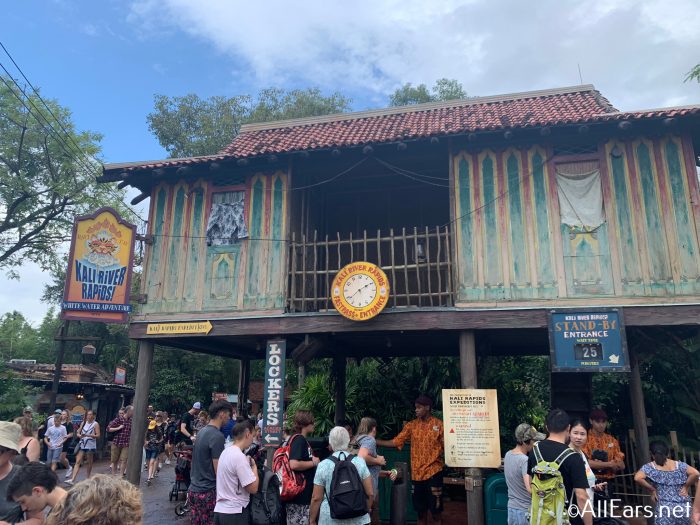 Ride Heights and Safety Information
We've collected information about ride height and safety information for each of the parks (theme and water) at Walt Disney World. Click here to review this information.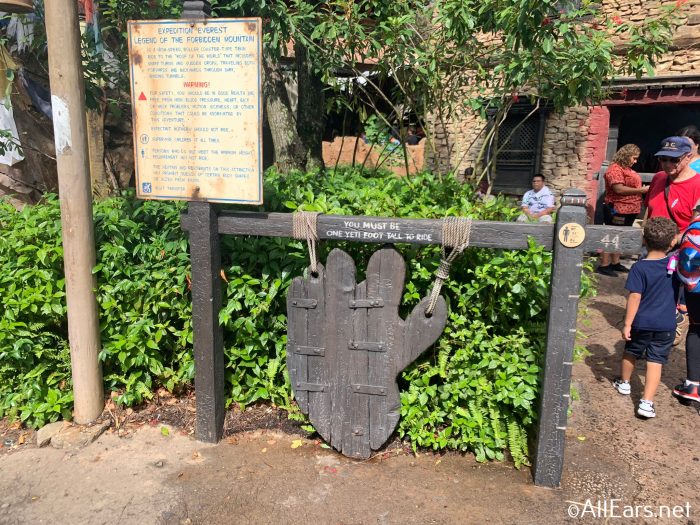 If you're looking for tips on the best rides without height requirements, click here!
And if you know your kiddo's height, we've arranged Walt Disney World height requirements by size here!
Best Attractions with Short Waits
Despite your meticulous planning, you're still going to have to wait in some lines for attractions at some point. We've got tips on the best attractions that tend to have shorter waits (relatively speaking). Click here to check those out!
Best Attraction Queues
And while we're talking about (sometimes long) waits in line, we've also highlighted the best attraction queues here. One of our Animal Kingdom favorites: Flight of Passage! Though you'll definitely want to try to get an Individual Lightning Lane pass for this popular attraction, if you happen to have to go through the queue, it's packed with interesting stuff!
Best Places (on Attractions) to Chill Out
That Florida heat has gotten to you again, and it's time to chill out — this time on or in an attraction. Animal Kingdom does have some great shows in which to take a break from the heat. Our favorite, hands down, is Festival of the Lion King, which has an enclosed, air conditioned theater. Note that if you've got young kids who won't be able to ride many of Animal Kingdom's attractions due to height restrictions, shows are your best bet for cooling off.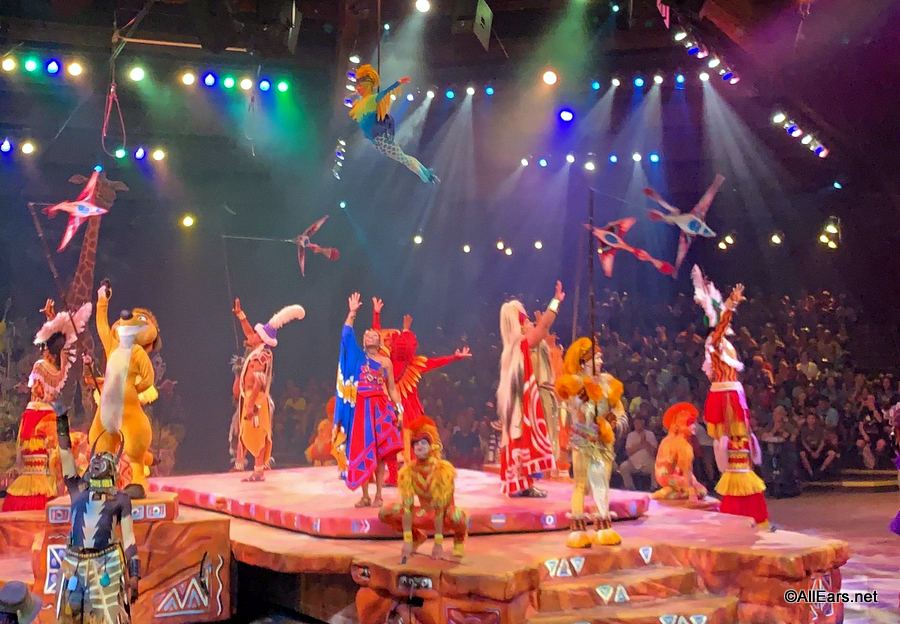 If you need a potentially long respite from the notorious Animal Kingdom heat, jump in the (mostly indoor) Flight of Passage queue, which rarely squeaks under an hour. Or enjoy Dinosaur, which has an interesting (mostly) indoor queue and offers a chance to cool off while simultaneously raising your heart rate.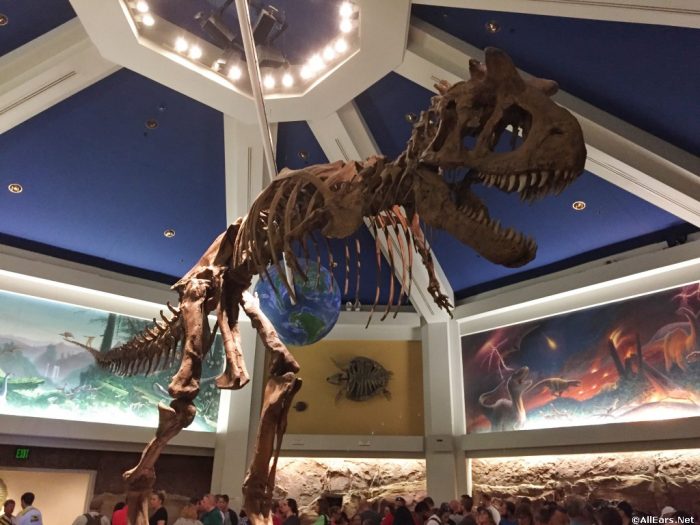 Though Kilimanjaro Safaris is an open-air queue and attraction, there are strategically-placed fans in the queue and decent breezes when your ride vehicle is in motion.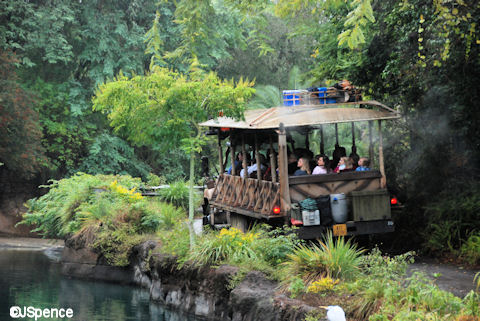 Single Rider Lines at Animal Kingdom
Animal Kingdom has only one ride with a single rider line: Expedition Everest. Guests ages 7 and up can choose to use the single rider line in order to expedite their wait for the attraction.
If you're a party of two or more using single rider, know that you will not be in a car together, though you could potentially be in a train together.
Where to Meet Characters at Animal Kingdom
If your kids are excited to meet some of their favorite characters in real life, Animal Kingdom is a great place to do it! We've assembled a list of characters who have regular and sporadic meet-and-greets in the Park. Click here to find out where to meet your favorites!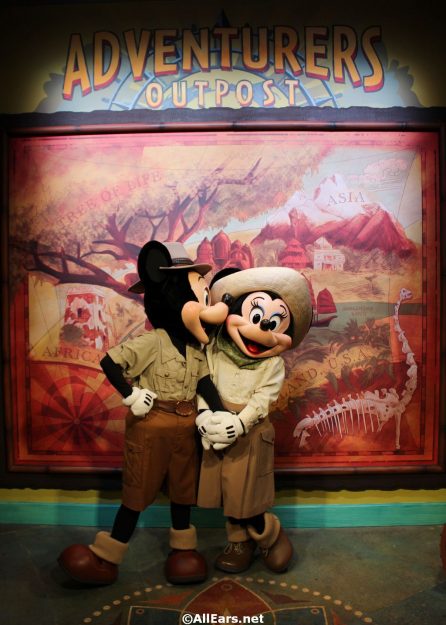 For answers to Frequently Asked Questions about character meet-and-greets at Walt Disney World, click here!
Parade Tips
Animal Kingdom doesn't have a parade.
Nighttime at Animal Kingdom Tips
Make time for the Tree of Life Awakening each night. This on-going show brings a beautiful new perspective to the Park's iconic Tree of Life. It's not to be missed.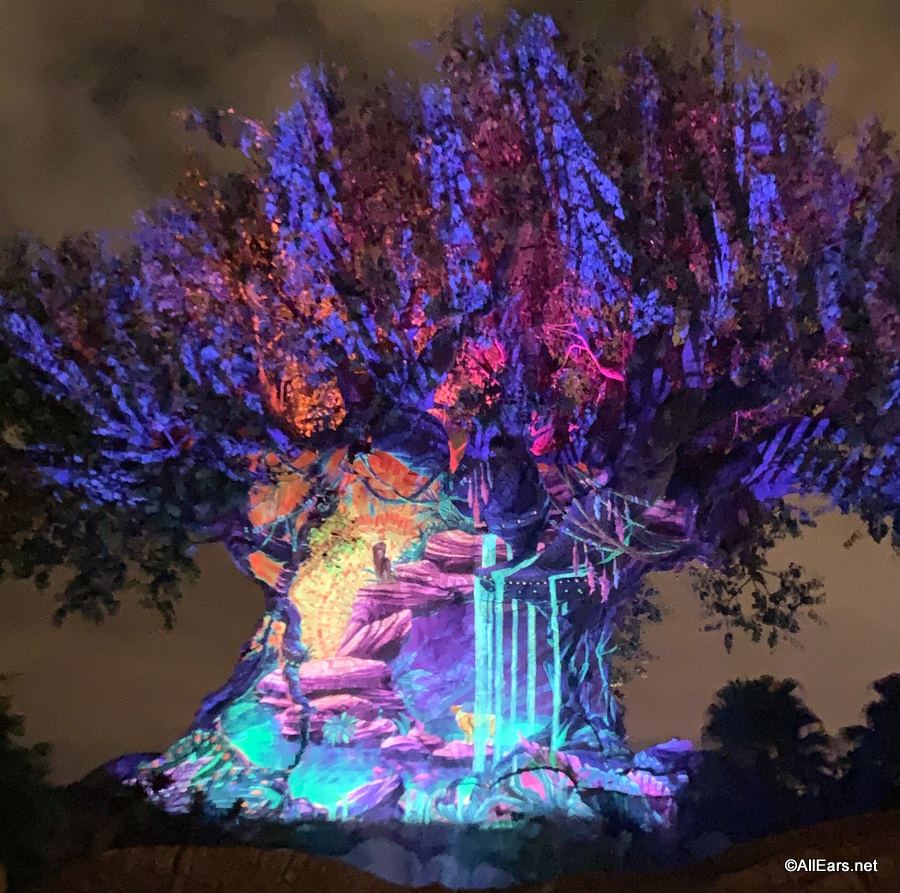 You'll also want to try to fit in a stroll through Pandora — The World of AVATAR during your Animal Kingdom night. The land comes to life with bioluminescent light, and it's an extremely cool way to see the land.
Brush up on even more planning tips at the links below!