Walt Disney World Character Meet and Greet FAQs
Whether you're meeting and greeting your favorite Walt Disney World friends for the first time or the fiftieth, it's a one-of-a-kind experience you just can't get anywhere else. And we're answering all of your Character Meet and Greet FAQs so you can have the best time ever!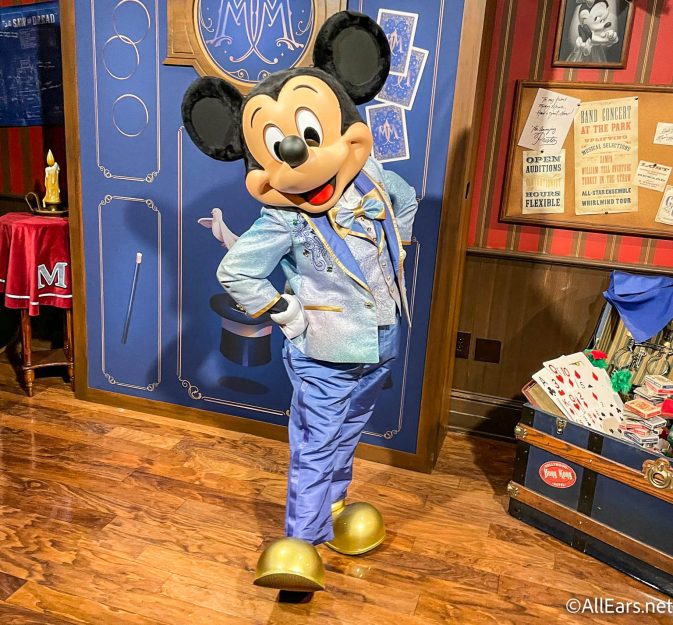 FEATURED LINKS
Tracking Down Those Characters
You're in the park and on a mission — gotta find those characters. Gone are the times when your day would include a couple of unexpected character meets. Between guests clamoring to see their favorites and the parks being more crowded, character meet-and-greets are much more organized. In fact, you can get a Genie+ Lightning Lane Pass for a number of character meet-and-greets!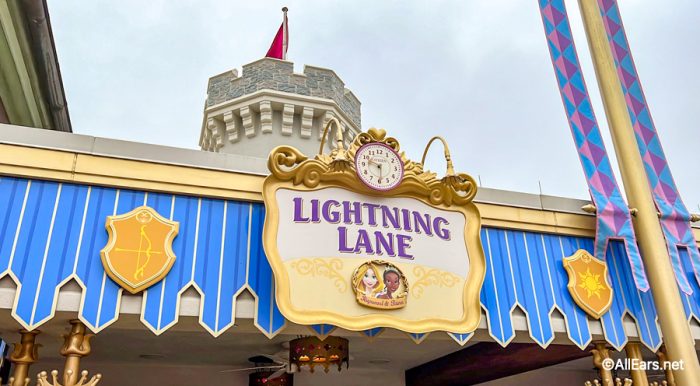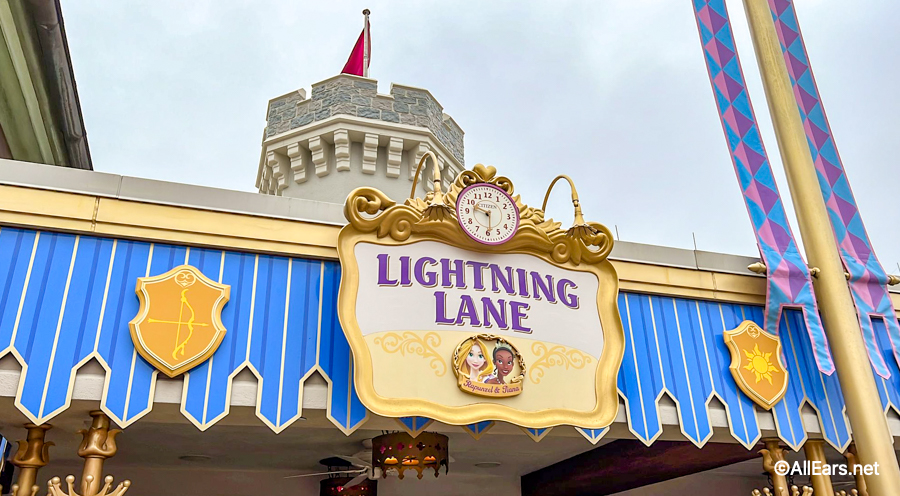 So how do you find the Characters?
For those characters you must see, we recommend purchasing Genie+ or reserving a Character Meal.
Use the My Disney Experience app to find up-to-the-minute character meet info.
Read the Times Guide. Each of the four theme parks (Disney's Animal Kingdom, EPCOT, Magic Kingdom, and Disney's Hollywood Studios) provide Times Guides that include character greeting times and locations.
Check out the AllEars Characters at a Glance for all four parks!
Use Guest Relations. Guest Relations at the parks are very helpful, and they can see where everyone will be making appearances. If your child has been aching for a photo with Donald Duck, when you arrive at the park in the morning, your best bet would be to go to Guest Relations.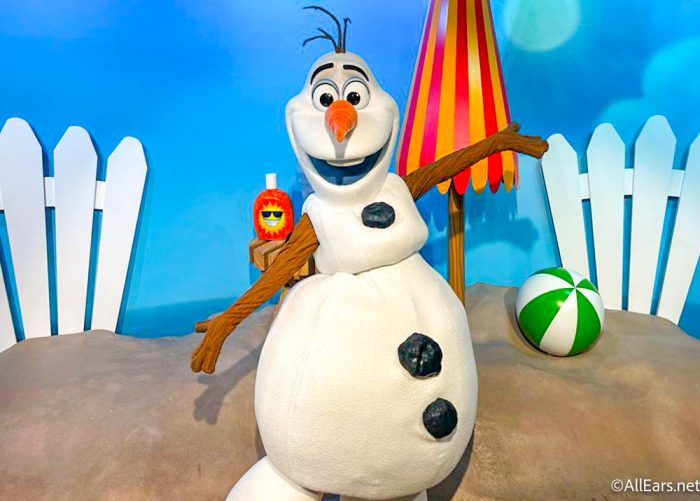 EPCOT BONUS: There are three areas in Epcot where you MAY occasionally find characters that are "in rehearsal." Places to watch include: 1) International Gateway area near the shops; 2) American Adventure off to the left near the huge gate as you face the pavilion; or 3) World Showplace.
Hollywood Studios BONUS: Along Hollywood and Sunset Boulevard you may find the Citizens of Hollywood. These amazing folks have been bringing their own version of laughter to the Studios for many years. If you see them, go and interact, have yourself a fun time! (Note that the Citizens of Hollywood have not yet returned to Disney World following the 2020 closures.)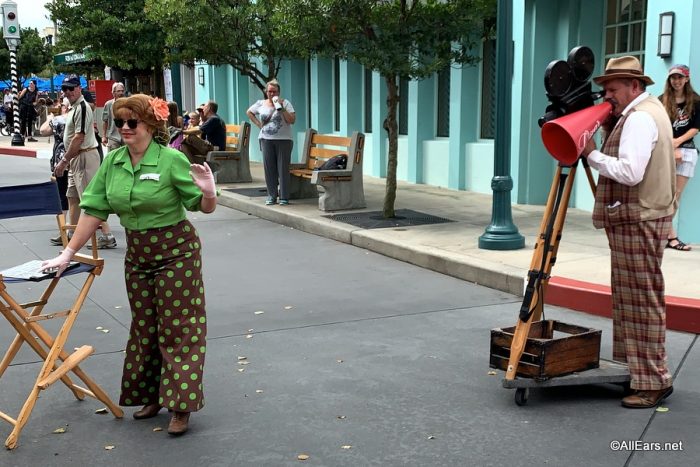 Disney Visa BONUS: Special Disney Visa Credit Card Character Experiences at EPCOT and Disney's Hollywood Studios. You MUST present your Disney Visa Credit Card for entrance!
Epcot: Look for the character experience at the Imagination Pavilion area, to the left of the Pixar Film Festival. A special character experience is sometimes available from 1PM to 7PM.
Disney's Hollywood Studios: A special Imperial Encounter can sometimes b found inside the Star Wars: Launch Bay, ask Cast Members to direct you from 11AM to 4PM.
Which characters are available via Genie+?
Magic Kingdom: Mickey and Minnie Mouse (Town Square Theater); Cinderella and a visiting princess (Princess Fairytale Hall); Tiana and a visiting princess (Princess Fairytale Hall)
Animal Kingdom: Mickey and Minnie (Adventurers Outpost)
Epcot: None
Disney's Hollywood Studios: Olaf (Celebrity Spotlight); Darth Vader, Chewbacca, and BB-8 (Star Wars: Launch Bay) — Coming to Genie+ on July 17th,  2022
What happens next?
Lining Up
Okay, you've found your desired character, now what? You'll get in line (the Lightning Lane line, if you used Genie+!) and wait. Posted wait times (onsite and on My Disney Experience) can help you know how much time you're likely to wait.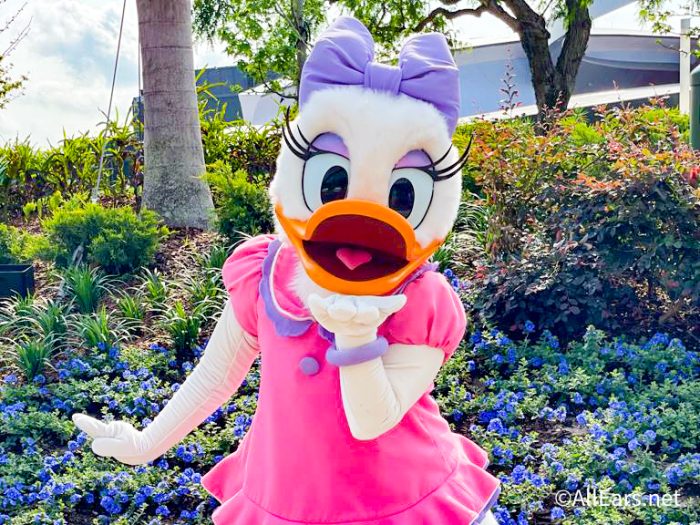 In some cases, you may wait through a short break where the character leaves the on-stage meet area and retreats backstage. This is a necessary break for the characters and usually isn't too long. If you leave the line, you'll have to start back at the end when they return to meet.
If you're not sure where the line starts, ask a cast member for assistance.
Getting Ready
While you're in line, get ready for your meet-and-greet. That means having pens ready (pop those caps off!), autograph books open, cameras ready, and video cameras rolling. You'll also want to have your MagicBand available so you can scan it for PhotoPass (even if you're not partaking in PhotoPass, you'll still scan it into your account).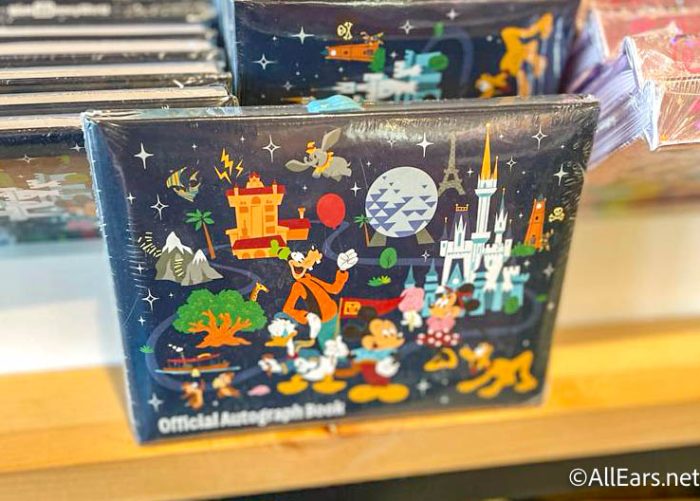 In some locations, you may find automated boxes that take your PhotoPass pics. Don't forget to scan your band at the kiosk to link the images to your account!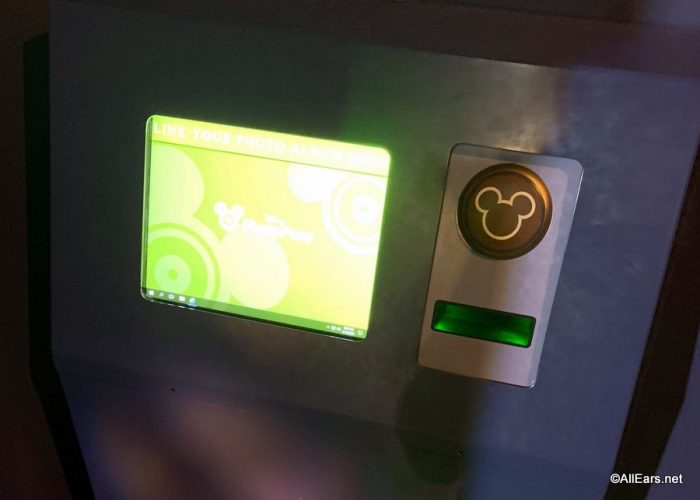 Tip: Don't forget to put your name and cell number in the autograph book. You'd be surprised how many are lost.
Note: Some characters have gloves on. Ink pens are best for autograph books and other regular paper products, and Sharpie sells a felt tip writer that is "fat" and good for autographing most items in the hat, shirt, poster category. It comes in blue, black, and other colors, and the wider body makes it easier for some characters to hold.
Being Flexible
Some of the cutest pictures I've seen have been of a small child staring up in wonder at the life-sized Winnie the Pooh standing over him/her. In other words, not every picture has to have everyone looking at the camera. Sometimes a child will not look at you, no matter how long you sit there like a stuck record: "Honey, look here. Look up at Mommy. Look at the camera. Sweetie, say cheese. Look up for the picture. Honey…"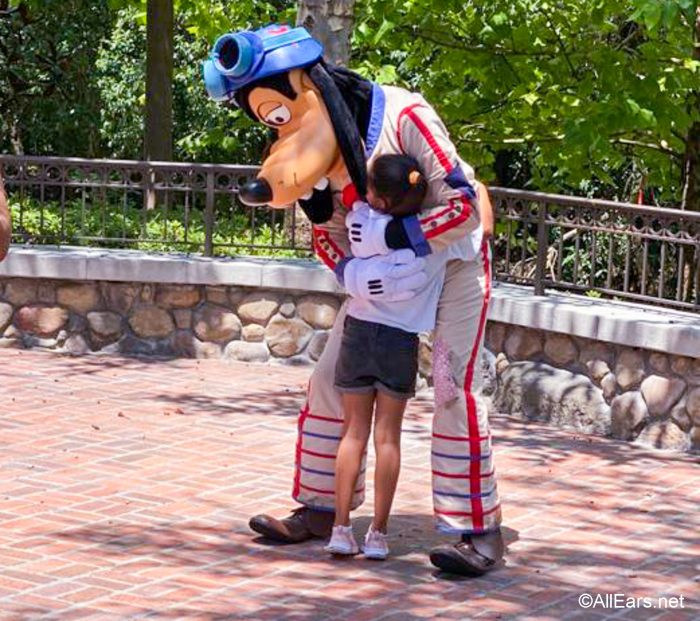 Also, do not force your child to meet a character that scares him/her. If your child is frightened, do you really want a picture of a terrified child in tears, just so you can "prove" they saw Mickey?
Listening to the Character Greeter
When they say Minnie is going to be back in 5-10 minutes after she powders her nose, that means just that: she will be back soon. Don't ruin your day by causing a scene. Curiously, this is more often the parents than the children, in our experience.
Being Nice
I must admit, Pluto sure does look like a walking jungle gym. Everything from his ears, nose, and tongue down to his tail are easy to hang on to. But these characters have to be safe and in good shape for meeting so many people every day. Be nice to them. Pluto does like getting scratched behind the ears. Donald loves to get kisses on the beak. Tigger loves to bounce! But no one wants to be attacked or overwhelmed.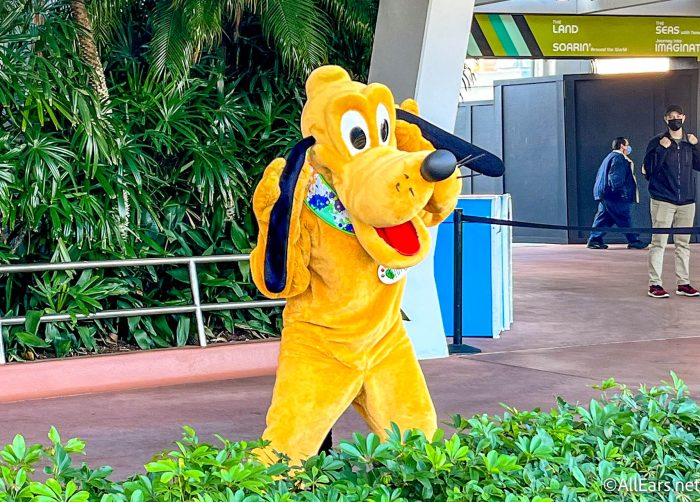 Signing clothing
Yes, the characters will likely do it. However, do not wear the item of clothing you wish to have signed. The characters cannot sign anything while it is being worn. Please also note that a ballpoint pen does not write well on a t-shirt. Hats are good to have signed, just remember that having a blue pen and writing on blue fabric isn't the easiest to do. If you want hats or any cloth signed, markers will work best, especially Sharpies (which come in a variety of colors). These work great on banners and photos, too!
What can characters do (and not do) during a meet?
Group Photos
In meets where there are two or more characters near each other, you will sometimes hear someone ask if they can get a picture of two or more characters together. 99% of the time, the answer is no. The reasoning is that once one picture is taken like that, everyone is going to want one like that. Unfortunately, while this makes for a lot of cute pictures, it also makes for a lot of unhappy kids who encounter more extensive waits. Getting one picture with each character is a lot faster.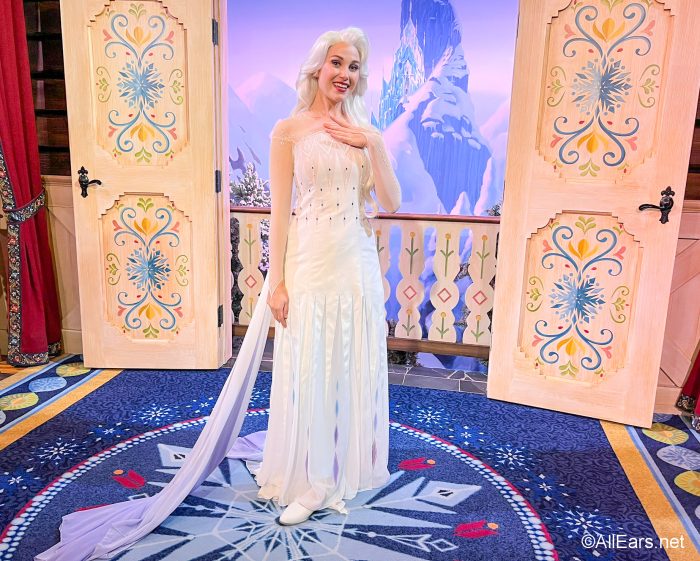 Holding Children
"Can [insert character name here] hold my child?" No. Nope, sorry, no way. The characters can be a little… clumsy. You really don't want Pooh dropping your child, no matter how cute the picture would be beforehand. But in some cases, the character might be able to sit on the floor and have your child on their lap.
CAUTION:
MAGIC SPOILERS AHEAD

. Please do not let small children (or big kids who still believe) read!

I'm not sure why people feel the need to ask these questions, but they do. These questions are heard every day, many times a day. In the hopes of avoiding seeing those precious little faces fall when they overhear some adult bent on crushing the magic, we're answering some grown-up character questions. 
Is it hot in there?
Yes. In a word, yes. Costumes do not have personal air conditioning units inside. But this is why the characters are only out for short times — from 20 to 45 minutes, depending on location and time of year. When Pluto has to go get a drink, please let him go. He will be right back.
Is it heavy?
Depends on which character. Look at what they're wearing. Beast wears a bit more than oh, say, Minnie. But suffice to say her dress and headpiece are a bit heavier than your t-shirt, shorts, and fanny pack.
Are you a boy or a girl in there?
This one never fails to baffle the AllEars team. But in the interest of answering questions, look at body size and guess. Looking at Goofy, how many females do you know around six feet tall? The same goes for the mice. Know many small-frame, five-foot guys? As for the middle-range characters, you never know. Please don't try to squeeze the arms or hands to feel body size. Obey common courtesies of personal space.
READERS Share Their Tips:
We've been to Disney World almost every year since my son was 4 and have gone to a character meal that has Tigger each time. Of course pictures with the characters have been taken. Not only do they help record the great times we've had, but I've put together a collage showing my son going from barely waist high on his orange-striped friend to being a bit past Tigger's shoulder. We're going this year in December and even though he'll be 15, he's still game for that "hey mom!" picture! Liz Myrato
We have the character sign on the right-side page of my children's Disney autograph book (this requires handing the book to the character open to the page that you want signed and the book in an upright manner). Then we take a picture of our child with the character. At home, I glue the picture of the character and my daughter or son next to the autograph. The autograph books become their scrapbooks of the Disney trip. We already have many books complete (way too much time spent getting autographs 🙂 ) and the kids really enjoy looking back at them. A positive side effect to this is that the face Characters make a big deal out of seeing "themselves" in a previous photo. (Debi Starr)
This was the neatest thing I have brought to Disney so far in our four trips. It is a book called "Disney Junior Encyclopedia of Animated Characters." Each character has his/her own page and a picture with a short story. The characters love it and make such a big deal over it. Most of the speaking characters spent a lot of extra time with my 8-year-old Emily and some even read their own stories with her. Cinderella read the evil stepsisters page to my daughter to show how mean they were to her. Will NEVER go again without it. Don't forget LARGE markers, as they are eaiser for Characters with gloves to hold on to. Makes a great coffee table book afterward and saves a lot of money on multiple autograph books. – Craig Chambers
Our 4 year old daughter has just had a really super time in Orlando. She met loads of characters and also danced in parades. I think the highlight for her was when Mickey actually spoke to her in a parade when she was dressed as Minnie mouse,the outfit was a really good buy for her!! (Mike Millard )
I noticed that you suggest a fat pen for the character autographs. I want to suggest fat crayons because those work as well. I used them to get an autograph book signed for me, my niece and my friend's daughter. Its much easier for the characters who wear hand pieces to sign their name (I got a couple of thanks for that.) Another thing is you don't have to worry about the colors running out of ink. I suggest the Penway crayons because they are available at Walgreens and they are always on sale. Crayola has the My First Pack of crayons reasonable too. I had forgotten to get a crayons before I left and thought about it when I was in Florida. Let me tell you, crayons are hard to find in August). (Donella)
Picture books with pictures of the characters were great and very original, the characters loved them. We used index cards to slide in and out easily. (The Perceys)
Since my son is too young for an autograph book, we brought 8″x10″ photo mats for the characters to sign. I bought two, one for Chef Mickey's and one for Crystal Palace, and markers for the characters to use. Once I got home, I put a picture for our group at the restaurants and they are now proudly displayed in our home. It is a great way to display the autographs and a wonderful way to remember the magic with my son. – Megan P.
Since my 4 year old daughter was most interested in meeting characters, my big tip would be to go to the character meals at odd hours.
The autograph books are a great idea. At first I thought they kind of held the lines up, but they are a great incentive for those timid kids (like my daughter) to go up to the characters, and a wonderful keepsake. She still thumbs through hers daily. Plus, the characters sign their names in keeping with their characters, i.e. Aladdin signs in swooshy arab-esque letters like the movie logo, The Queen of Hearts carries a red pen and will only sign in red, Eeyore draws a little rain cloud, etc. A lot of fun. (Doug)
---
Cute Stories
My son's never to be forgotten experience with Snow White. Upon seeing Snow White he immediately grabbed his autograph book and headed for her line. For a 5 year old I was amazed how patient he was. When it was his turn Snow White noted that he had all of the Seven Dwarfs pins and Snow Whites as well. She asked him "do you know all of their names?" He replied "Yes" and then proceeded to identify each one. At that Snow White remarked that "Anyone that names all of the Dwarfs gets a kiss from Snow White". With that, she kissed his forehead leaving a tremendous lipstick kiss. He REFUSED to wash his forehead for 4 days! (Ken Brown)
As we waited in line for Jafar, I commented that he (Jafar) seemed to be grouchy. When Jafar reached for the autograph book, we got a big surprise when he snatched it out of my son's hand. I said that I thought that he (Jafar) needed a nap. Jafar then placed me in a corner and back up to me so that I could not get out. All of the children, parents and greeters were laughing. My mother begged and pleaded with Jafar to set me free. He made gestures to the crowd that I didn't smell very good which also got a big reaction from the crowd. He did finally let me go, but not without shaking his finger at me. We have great photo memories of that moment and I believe that it is one that I will never forget. (Tina Marie Reed)
I had 2 15 year olds on this trip. They felt it was inappropriate to stand in the long lines for the popular characters, when there were so many little children patiently waiting. So they ended up a lot in the villain lines. The best by far was the Evil Queen from Snow White. When someone would say Smile for a picture she would reply, "I don't have to smile. I am beautiful." She would ask little girls why they didn't curtsy. And didn't their parents teach them the correct way to greet a queen. Kelly and Sarah had the Princess Autograph books from the Disney Store. There are pictures of the princesses on every page. They decided quickly to draw horns and a mustache on Snow White. When the Queen took their autographs, she laughed and said she liked their style. They would have a place in her castle if they ever wanted to work for the most beautiful queen in the kingdom. (Marty Martin)
When my daughter was waiting in line to get Cruella's autograph she was watching closely as Cruella was doing things like signing and dropping pens and books on the ground etc. Her only comment was "She really is mean". When her turn finally came and Cruella was signing her book she asked her "Haven't you had your coffee today?" Cruella cracked a smile and had to turn away. Her response to my daughter was "Did you dress yourself today?" My daughter said of course I did I'm a big girl. This was the highlight of her trip. (DM5300)