Disneyland Resort Dining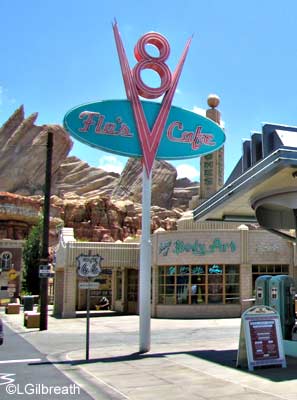 The Disneyland
Resort has a variety of dining experiences available – from counter
service to character meals to elegant table service. There's something
to please just about every palate or pocketbook.
Want to meet the Disney characters? You can dine with Goofy and friends, Chip & Dale, and Minnie
and friends.
Are you looking for a unique atmosphere? Try the Blue Bayou at
Disneyland, located inside the Pirates of the Caribbean attraction, and
watch the fireflies as the boats float by. Or Splitsville
Luxury Lanes in Downtown Disney where you can eat and
bowl. Do you have to have a Mickey waffle? The Carnation Cafe on Main Street will start your day off right. Do you want something fast?
Burgers, pizza, salads, sandwiches, and even grilled kabobs are available.
Are you celebrating a special event? Napa Rose at the Grand Californian
will provide a memorable dining experience.
What's
on the menu? | Do I need reservations? |
Where are the characters? |
What if I have special dietary needs? | Can
I get any discounts?
WHAT'S ON THE MENU?
One of the
best ways to tell if the restaurant is right for you is to take a look
at the menu. AllEarsNet.com has current menus, including prices,
from most of the dining locations at the Disneyland Resort that can help
you decide. Visit the main Disneyland
Resort Menus page to peruse your dining options.
CAN
I MAKE RESERVATIONS?
The answer to that is yes and no. For table service restaurants, Disneyland
does not accept reservations, instead they offer something called "Priority
Seating." (NOTE: Even though Walt Disney World in Orlando recently
switched to the more conventional term "Advanced Dining Reservations,"
Disneyland still calls them "Priority Seatings.") You are told
to check in at the restaurant's podium at least 5-10 minutes prior to
your seating time, and will receive the next available table for your
party size. Depending on how busy the restaurant is, you may still have
to wait 5-15 minutes before you are seated. You can make your Priority
Seating for all Disney and Downtown Disney restaurants
by calling 714-781-DINE (3463) up to 60 days in advance. You may
also make them on-site at Guest Services at the theme parks and the Disney
hotels. Phone lines are open from 8 a.m. to 9:00 p.m. Pacific time.
Be aware that Disneyland Dining does not provide a confirmation
number for Priority Seating arrangements – frequent WDW
visitors may find that a bit disconcerting.
Though Disneyland Dining may make note of special requests
(such as waterside seating at Blue Bayou), please note that
they are simply requests and NOT guaranteed. Mention
them at the podium when you check in, but be aware that any special
requests
are likely to increase your wait time, probably significantly.
NOTE: All Disneyland Resort restaurants are NON-smoking.
WHERE ARE THE
CHARACTERS?
Children (and some adults!) love dining with the Disney characters. We
highly recommend Priority Seating for character meals to avoid
disappointment. The current character meal locations are the Plaza
Inn at Disneyland, Goofy's Kitchen at The Disneyland Hotel, Storyteller's Cafe at
the Grand Californian, and the PCH Grill at the Paradise Pier.
WHAT
IF I HAVE SPECIAL DIETARY CONSIDERATIONS? Most table service restaurants at the Disneyland Resort can accommodate
special diets, including kosher, vegetarian, and medical diets. You should
request this service at least 24 hours in advance, or at the time you
make your Priority Seating, by calling 714-781-DINE (3463).
CAN
I GET ANY DISCOUNTS?
Annual passholders receive a discount at most counter service and table
service restaurants (minimum purchase required). Disney Vacation
Club members and Disney Visa Card Holders
receive a 10% discount at
almost all table and counter service restaurants
throughout the Disneyland Resort.
---
If you have
comments or tips to share with others about touring Disneyland, please
email us. Thank you.