Avengers Campus at Disney California Adventure
Avengers assemble! Disney California Adventure's newest land is where guests can interact with their favorite Marvel superheroes and sling their very own Spider-Man webs. Here's everything you need to know.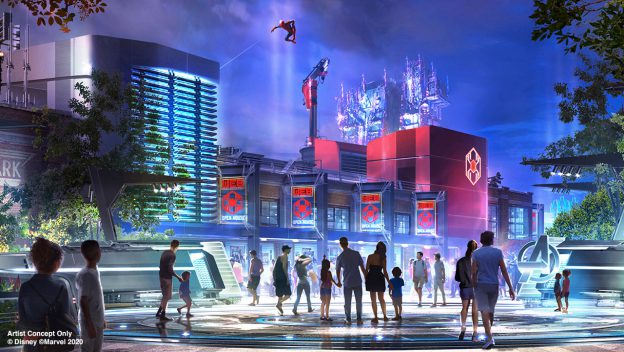 Introduction | Attractions and Entertainment | Dining | Characters
INTRODUCTION
When you visit Avengers Campus you become part of an interconnected story that includes California Adventure, Disneyland Paris, and Hong Kong Disneyland. On each campus the Avengers will be looking for and recruiting people to join them.
A second phase of openings will follow in the future at Disney California Adventure
ATTRACTIONS AND ENTERTAINMENT
Web Slingers: A Spider-Man Adventure: Spider-Man based attraction that allows guests to use gesture control to help sling webs alongside Spider-Man. The attraction utilizes brand new technology that can "identify 60x movements a second". This will allow guests to reach out their hands and sling webs just like Spider-Man.
Doctor Strange Mystic Arts: Doctor Strange will host an outdoor stage show, with special effects and projections that will simulate his Sanctum Sanctorum. During the show, the hero will train recruits in the mystic arts, teaching guests how to bend the laws of time and space.
Disney Imagineers have also teased that, during the show, Doctor Strange could use a mystical portal to transport other Marvel heroes and villains to the stage.
Dora Milaje Training Sessions: Young guests will have the chance to join the Dora Milaje, the elite group of female warriors who make up Wakanda's royal guard.
The leader of the Dora Milaje, General Okoye, leads the encounter, with daily training sessions taking place in the courtyard of Avengers Campus. The new entertainment show will be similar to the Jedi Training Academy at Tomorrowland in Disneyland, and Hollywood Studios at Disney World.
Spider-Man Stuntronic: A Spider-Man stunt robot will be swinging and flipping above Avengers Campus, and will be visible from various places throughout the land.
Marvel Character Rooftop Stunt Show: Marvel superheroes and villains will go head-to-head in a stunt show performed next to a Quintet that will be docked on the rooftop of the Avengers HQ building. The building, which will serve as the future home of the Avengers E-Ticket attraction, will feature the stunt show on the second and third levels.
In the show, some of your favorite heroes such as Black Widow, Black Panther and Captain America will fight Taskmaster, the primary villain of the new Marvel-themed land. The show will feature stunts performed with swords, shields, and martial arts weapons.
Opening as Part of Phase Two
Avengers E-Ticket Attraction: Phase Two has an as-of-yet unannounced opening date, but will include a massive E-ticket attraction where guests will take part in a battle alongside the Avengers.
PLACES TO DINE
Pym Test Kitchen: Inspired by Ant Man, Pym Test Kitchen offers food that had been "shrunk or enlarged by Pym particles". Some of these options include a massive 14-inch Quantum Pretzel, or the Not So Little Chicken Sandwich, which features a humungous piece of fried chicken between two normal-sized buns.

Pym Tasting Lab: Located adjacent to Pym Test Kitchen, Pym Tasting Lab serves up craft beers and cocktails. There are a range of craft beers on tap, which are poured from a reverse draft system where the glass fills from the bottom up!
Shawarma Palace: After the Battle of New York in the first Avengers film, the gang sat down for schwarma, so it only makes sense that it would be included at Avengers Campus! The cart will feature both chicken shawarma, as well as an Impossible Victory Falafel for a plant-based option.
Terran Treats: Located over by Guardians of the Galaxy: Mission BREAKOUT!, this cart will be serving up sweet treats in a variety of bright colors and flavors.
Restaurants At A Glance
Menus From the Disneyland Resort
CHARACTERS
Avengers Campus will feature a wide-variety of different characters, both superhero and villains!
If you have comments or tips to share with others about touring Disney California Adventure, please email us. Thank you.