There's a ton of new Avengers Campus info coming out today! We're learning everything about the new land from the opening date, to the attractions and merch we can expect!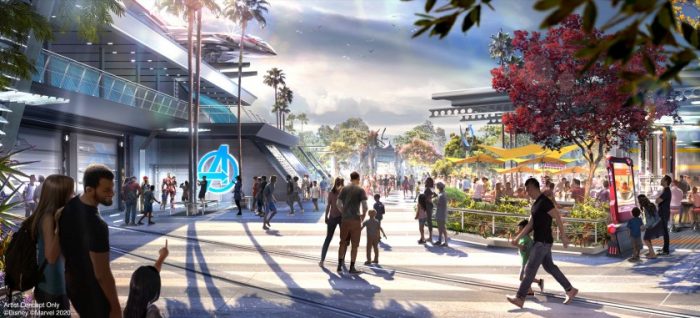 One thing we're also psyched to hear about? The dining!
We've got some serious new info about the dining to be offered in the new land. Of course, we knew that Pym Test Kitchen would offer food that had been shrunk or enlarged by Pym particles (à la Ant-Man and the Wasp).
According to the Los Angeles Times, the menu will have a lot of humor behind it, with giant pretzels and paninis, incorrectly sized sandwiches, and more! You'll even be able to see food shrinking and growing in the theming within the restaurant.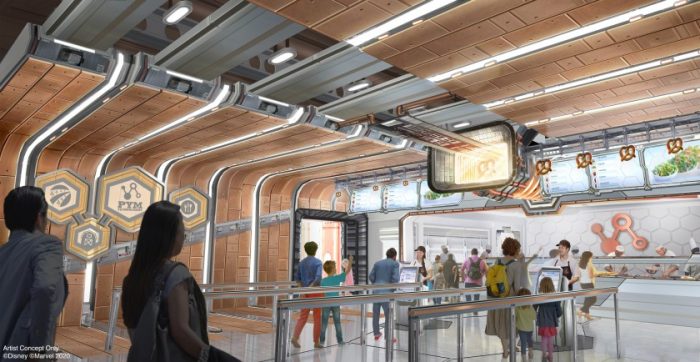 According to Eater, the menu may change, but so far some of the stand-outs from the menu that we know about include the Quantum Pretzel (measuring in at a massive 14 inches)! This giant delight comes served with mustard and a beer cheese dipping sauce (which features California IPA, sharp cheddar, mozzarella, a hint of mustard).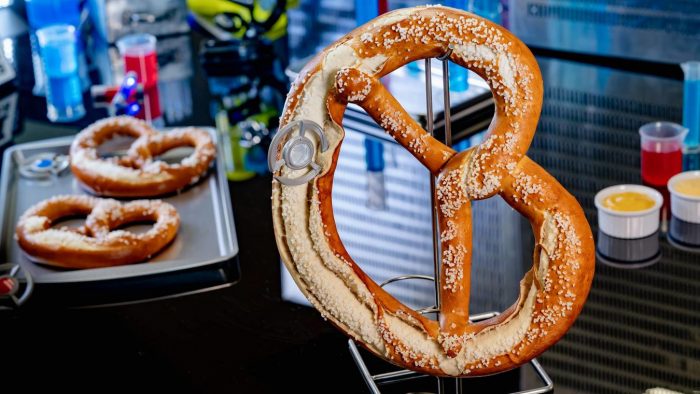 The Tray-sized PYM-ini, which is a humungous tray-sized panini featuring toasted focaccia with salami, rosemary ham, provolone, sun-dried tomato mayonnaise and arugula with marinara dipping sauce. Kids can also enjoy a more child-friendly version, the Teeny Pym-ini, which is ham, provolone cheese, a touch of mayonnaise, and focaccia.
Then there's the wonky Not So Little Chicken Sandwich! The tiny bun barely covers the giant fried chicken breast, which is topped with teriyaki and red chili sauces, pickled cabbage slaw and crispy vegetable dusted potato bites.
For kids, there's also the smaller Subatomic Sandwich, which doesn't have any sauce on it, so kids can choose their own at the condiment station.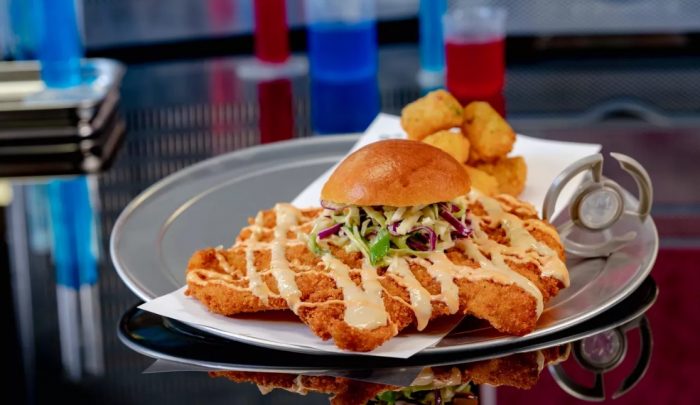 If you're looking to avoid meat, you can also enjoy the Impossible Spoonful, which features plant-based large and micro meatballs, served in a super-sized spoon with a tiny fork. Kids can choose from a milder option, which comes with a milder sauce.
There's also the Superb Sandwich, with peanut butter, banana, smoked bacon, and strawberry jelly, served with a banana smoothie shot and vegetable dusted potato bites.
According to Marvel, Kids can choose a deconstructed version, which includes peanut butter severed in a Petri dish, with strawberry jelly, two slices of Pym bread, and fruit.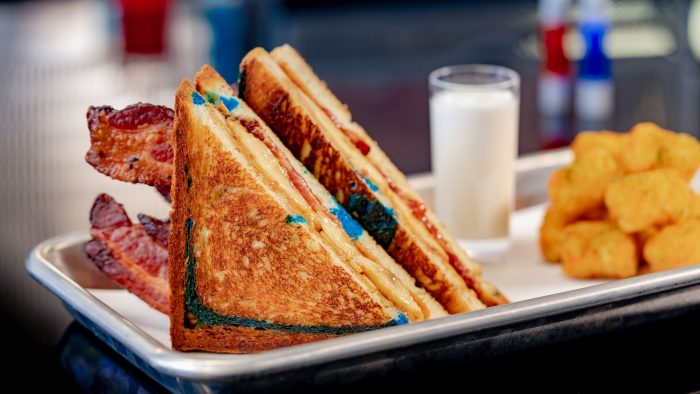 The Kitchen will be accompanied by an outdoor bar called Pym Tasting Lab that will serve four different beer cocktails, hard seltzers, and other alcoholic drinks in fun beakers. What makes this spot so fun is that the craft beers on tap will be poured through a reverse draft system, meaning the glass fills from the bottom up! Remember when Doctor Strange refilled Thor's beer in Thor: Ragnorak? Apparently, the effect is quite similar!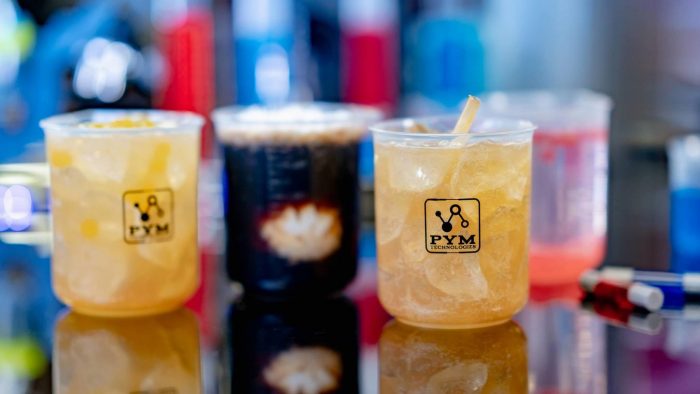 Some of the cocktail options include:
X-Periment: Patron Silver Tequila, Lime Juice, Habanero, and Mango Syrup, garnished with Mango flavored Popping Pearls.
Molecular Meltdown: Garage Brewing Marshmallow Milk Stout with Vanilla Ice Cream and topped with Mini Marshmallows.
Honey Buzz: Plymouth Gin, Lemon Juice, Honey Premium Syrup, Elysian Space Dust, IPA and a Honey edible Straw.
PARTICLE FIZZ: Endless Summer, Hard Seltzer with Cherry flavored Pearls.
There's also The Regulator, made with Patron Silver Tequila, Lime Juice, Habanero, and Mango Syrup, Golden Road Mango Cart Wheat Ale, and topped with Mango-flavored Popping Pearls.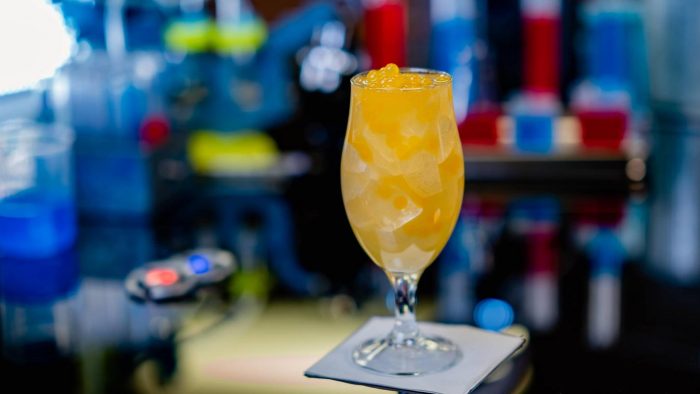 Along with cocktails, you'll also be able to enjoy small snacks here, such as popcorn, pretzels, and honey-roasted peanuts.
But, the kids can also enjoy the Pym Tasting Lab! Pictured here are the Proton PB&J on the left, which features lemonade with flavors of strawberry and peanut butter. On the right, there's the Pingo Doce, a park-exclusive beverage featuring lime and vanilla. Marvel fans will recognize the name from the Pingo Doce Bottling Company that Bruce Banner once took a job at! Both Pym locations will launch with Mobile Order, too, and will also bring DCA it's first Coca-Cola Freestyle Machine.
But the Pym Test Kitchen isn't the only place to get your grub on. Two new carts will be joining the land. One will be the Shawarma Palace cart, based on one of the most famous Avengers end-credit scenes. The cart will feature two items — New York's Tastiest, which is a classic shawarma spiced chicken, with garlic sauce, a warm wrap and a dipping sauce featuring tahini, lemon, garlic, and a pickled vegetable.
For a non-meat option, there's also the Impossible Victory Falafel, which features falafel, Kalamata olives, mint, garlic sauce, hummus, crispy cauliflower, and a tofu dipping sauce.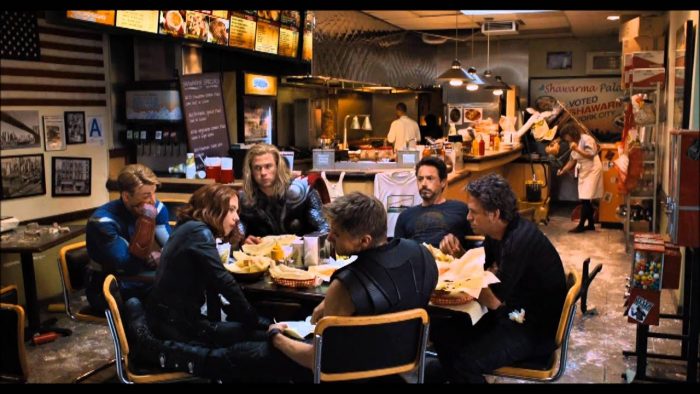 The other new cart will be Terran Treats, themed to the nearby Guardians of the Galaxy Mission Breakout! ride. They'll serve up colorful treats such as the Sweet Spiral Ration Churros, which will be available in unique flavors and colors.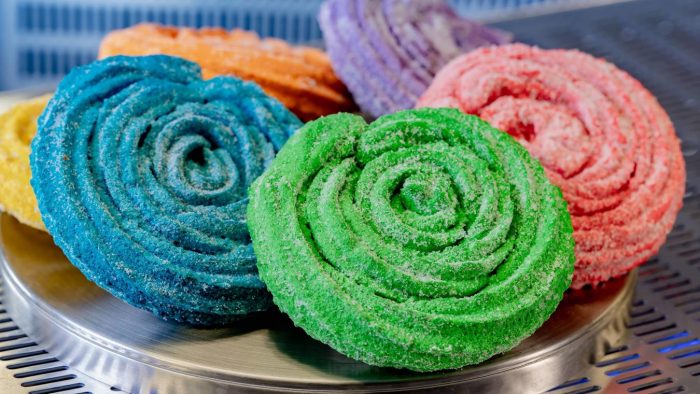 They will also serve the Cosmic Cream Orb, which is a crispy cream puff with whipped raspberry cheesecake mousse. While it's pictured here in purple, apparently it won't always be that color depending on when you visit!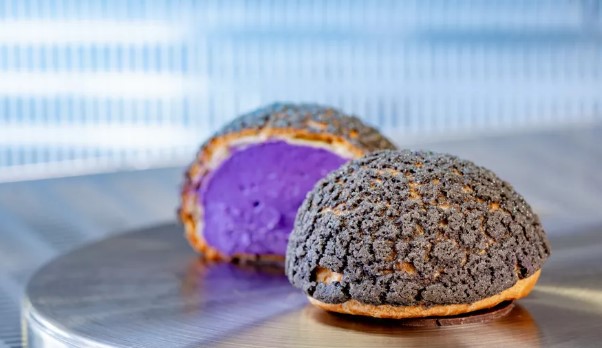 This is big, big news for the upcoming land and we are so excited we got to learn all this today! We can't decide if we're more pumped for giant pretzels or the Shawarma Cart!
What are you most looking forward to eating at Avengers Campus? Tell us in the comments!
Join the AllEars.net Newsletter to stay on top of ALL the breaking Disney News! You'll also get access to AllEars tips, reviews, trivia, and MORE! Click here to Subscribe!