Minnie Van Service Resort Transportation

On July 31, 2017 the Minnie Van Service began operations at Walt Disney World. Originally the service provided transportation within the Walt Disney World Resort limits, but it is now also available for transportation to/from Orlando International Airport. The service may expand soon to include transportation to/from Disney Cruise Line's Terminal at Port Canaveral.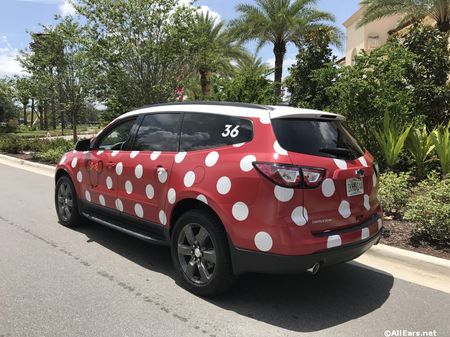 The procedure for booking differs depending on your destination as described below.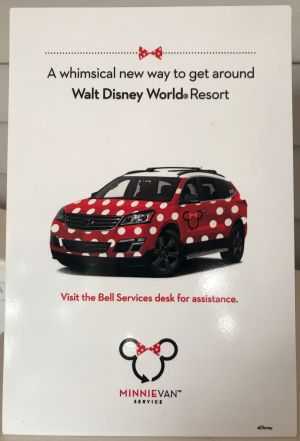 The vehicles are Chevy Traverse vans and are driven by Disney cast members. Each seats a maximum of six passengers. Each Minnie Van can hold up to eight medium-sized suitcases. Up to three complimentary car seats can also be provided and ADA accessible vehicles are available.
According to reader Beth: "The wheelchair accessible "Minnie Vans" have a lift in the rear to accommodate a wheelchair or scooter. Seating capacity is reduced in these vans due to the lift. While I did not use one, cast members recommended requesting one well in advance as they are not always available."
AROUND THE WALT DISNEY WORLD RESORT: Using the LYFT app on your mobile device, you can order the polka-dotted vehicle, which will take you to and from anywhere on Walt Disney World property. To use this service around Walt Disney World:
1. Download the Lyft app and open it on your mobile device.
2. Confirm your current pickup location.
3. Enter your Walt Disney World Resort destination and tap "Request."
The app will display a map tracking the vehicle en route and give you an identifying vehicle number to help you spot your car.
Prices vary based on distance traveled from pick-up location to requested destination. You'll see the total cost and pay for the service through the Lyft app.
The service is available between 6:30 a.m. and 12:30 a.m. (Hours subject to change.)
TO/FROM ORLANDO INTERNATIONAL AIRPORT: As of August 2018, the Minnie Van service is also available to Orlando International Airport for a fee of $150 one way. This service does not operate through the Lyft app, however. You must call 407-WDW-PLAY or (407) 939-7529 to book. You can make arrangements up to six months in advance. The shuttle service is available for flight arrivals from 7 a.m. to 10 p.m., and for flight departures from 9 a.m. to midnight. Rides may be booked until 11:59 p.m. the night prior to arrival.
When using the Minnie Vans for airport pick-up, note that the pick-up location is near the baggage claim escalators.
When using the Minnie Vans for departures, request a pick-up at least two hours prior to your flight departure time for domestic flights, at least three hours prior to flight departure if flying internationally.
Even though shuttle vans can accommodate up to eight medium-sized suitcases, you can also check your bags in advance at Resort Airport Services/Check-In before you depart. You cannot send your bags separately on Disney's Magical Express.
TO/FROM DISNEY CRUISE LINE'S TERMINAL AT PORT CANAVERAL: The service may expand soon to include transportation to/from Disney Cruise Line's Terminal at Port Canaveral.
Minnie Van service is not available for: the Walt Disney World Swan Hotel, Walt Disney World Dolphin Hotel, Four Seasons Orlando, Disney Springs Resort Area Hotels, Walt Disney World Gateway Hotels and Walt Disney World Good Neighbor Hotels.
CANCELLATION POLICY: Cancellations made within 24 hours of pick-up time will forfeit a refund.
Have you used the Minnie Van Service yet? Let us know what you think!