Walt Disney World Transportation: Minnie Vans

On July 31, 2017, the Minnie Van service began operating at Walt Disney World. Minnie Vans are a pay-per-ride service allows guests to travel efficiently in style — polka dots, of course.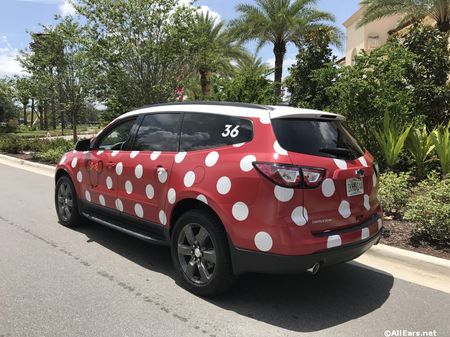 Minnie Van Service
Minnie Vans are a rideshare offering that's powered by the Lyft app. Disney Cast Members drive the  Disney-owned and Disney-operated Minnie Vans, providing Disney-level service (and often some great stories and tips!).
When the Minnie Van program began, it provided transportation only within the Walt Disney World Resort limits, but guests can now request transportation to and from Orlando International Airport (MCO).
Minnie Van Service Availability at Resorts
Walt Disney World Resort hotels
Walt Disney World Swan and Dolphin Hotels
Four Seasons Resort Orlando at Walt Disney World
Shades of Green
Disney Springs Area Resorts
Hilton Orlando Bonnet Creek
Waldorf Astoria Orlando
Wyndham Grand Orlando Resort Bonnet Creek
Wyndham Bonnet Creek Resort
SpringHill Suites Orlando at Flamingo Crossings
TownPlace Suites Orlando at Flamingo Crossings
Booking a Minnie Van
The procedure for booking differs depending on whether you're traveling within Walt Disney World property or to/from Orlando International Airport.
Around Walt Disney World Resort
Open the Lyft app on your phone while on-site at Walt Disney World.
Confirm your pick-up location.
Tap "Select Minnie Van." If you don't see Minnie Van immediately on the screen, try swiping through vehicle types until is appears.
Track your vehicle in the app, noting the vehicle number so you'll know when it arrives.
To and From Orlando International Airport (MCO)
Call (407) WDW-PLAY or (407) 939-7529 for a one-way or round-trip reservation. Have your flight information handy.
You can make arrangements up to six months in advance for arrivals and departures. Rides may be booked until 11:59PM the night prior to arrival.
For domestic departures, reserve a pick-up time that is at least two hours before your flight. For international departures, allow at least three hours.
Minnie Vans are available for flight arrivals from 7AM to 10PM and for flight departures from 9AM to midnight.
Minnie Van pick-ups for arrivals at MCO are near the baggage claim escalators.
Note: When using the Minnie Vans for airport pick-up, note that the pick-up location is near the baggage claim escalators.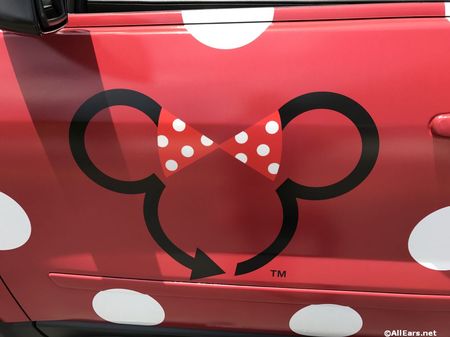 Minnie Van Pricing
For travel on Walt Disney World property:
Minnie Van pricing was a flat fee when the service debuted in 2017, but the price now depends on the distance traveled from pick-up to drop-off. The Lyft app will display the total cost. Payment is accepted through the app.
Also in the beginning Cast Members could not accept tips for driving Minnie Vans. At present, that policy appears to have changed, and Cast Members who drive Minnie Vans are now allowed to accept tips in cash or via the Lyft app. Tips are not required.
For travel to and from MCO: 
Pricing for one-way Minnie Van trips to or from MCO cost $155 (tip not included).
Minnie Van Operating Times
Typically, Minnie Van service is available between 6:30AM and 12:30AM (hours subject to change).
Minnie Van service to and from Orlando International Airport is available for flights 7AM to 10PM (for arrivals) and for flights 9AM to midnight (for departures).
Rides may be booked until 11:59 p.m. the night prior to arrival.
Minnie Van Logistics
Minnie Vans can accommodate up to eight medium-sized pieces of luggage. You can check your bags in advance at the Resort Airport Services desk in your Resort, but bags must travel with you to the airport.
Minnie Vans on Disney property offer up to two complimentary car seats.
Minnie Vans to or from MCO offer up to three complimentary car seats.
Minnie Vans offer power cords to charge electronic devices during your ride.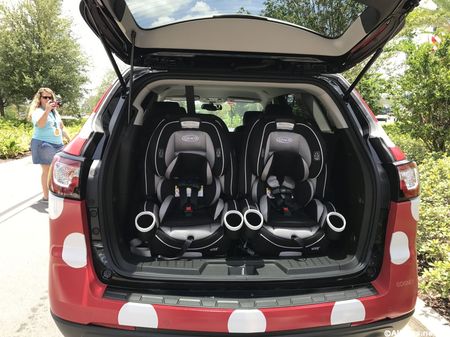 Minnie Van Vehicle Types
Minnie Vans aren't exactly vans. They're Chevy Traverse SUVs that seat a maximum of six passengers and hold a maximum of eight pieces of medium size luggage.
Minnie Van Accessible Vehicles
ADA-accessible Minnie Vans are available but require a different process to request one. Accessibility requests can be made by calling (407) 828-3500. Requests can be made 45-60 minutes in advance of when you need a ride, and wait times for your vehicle may be longer.
Accessible Minnie Vans are Ford Transit 350 vehicles. Accessible vehicles accommodate standard wheelchairs, ECVs, and motorized scooters. They can only accommodate three additional riders because these vans also offer lifts that take up some space inside the vehicle.
Accessible Minnie Van rides may be charged to your Resort hotel room or paid for via your MagicBand (subject to change).
Learn more about Disney World transportation at the links below!