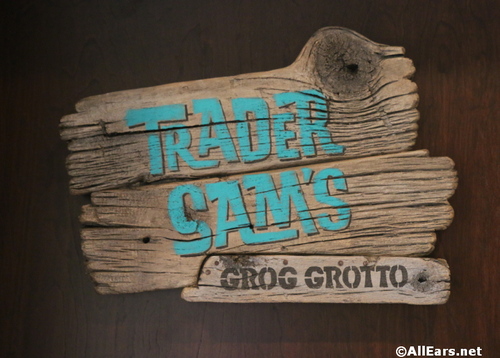 Even before Trader Sam's Grog Grotto opened at Disney's Polynesian Village Resort, there was lots of buzz on social media. March 28th was the beginning of the soft opening and hundreds of folks waited in the bright sunshine to be one of the first inside! I've been told some waited up to 5 hours to get in that first day.
Naturally, I had to go see what all the excitement was about but wasn't about to wait hours; so we went this past Sunday evening. Even more than 2 months after it has opened, lines still form.
Here's a photo of the line from 3:30pm the day I visited – it's all outside!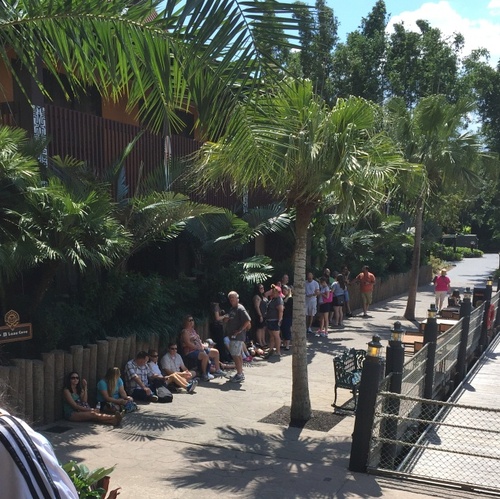 When we arrived at the check-in podium at 5:30pm we were told there was an hour wait.
One of the nice things is that you can put your name on the wait list and receive a pager that will let you know when space has opened for you. You have the option to go outside to Trader Sam's Tiki Terrace and can hang out there until the pager goes off or wander around the hotel. (Caution, the pager did not work in the Kona Cafe on the 2nd floor).
No worries if your time has past, when you arrive you will be the next party of your size allowed inside. The lounge itself, where all the amazing themed fun takes place, only allows 50 people in at a time. It is important to note that doesn't mean you'll have a seat, just you will be allowed inside.
At Trader Sam's Tiki Terrace (located outdoors) there is seating for 82 people and it has its own music. The menu is the same as inside, except for one important item — outside you can order a Dole Whip with rum!!! We did not visit the terrace on this trip.
As soon as you enter this mystic tiki bar, you are immediately transported to another place. The dimly lit lounge has over 1,200 artifacts as well as special effects — trust me it is noisy!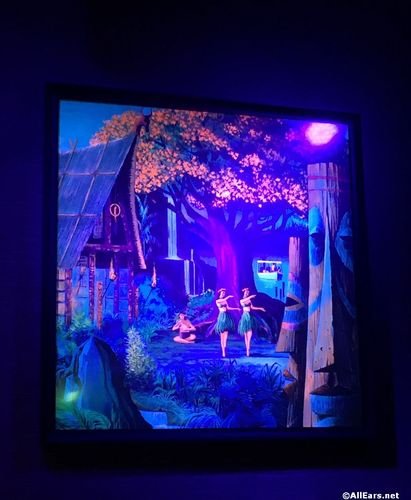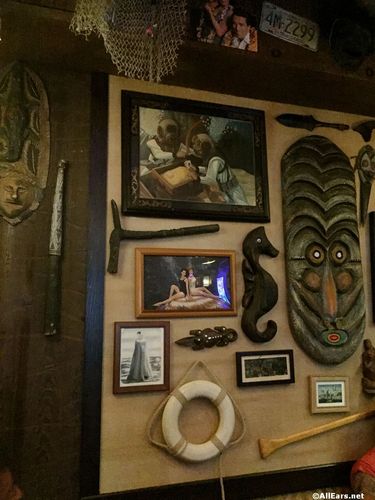 This is not the place to come for a quiet drink and intimate conversation. Volcanoes erupt, Skippers don goggles and swim around the lounge, bells ring and much frivolity ensues.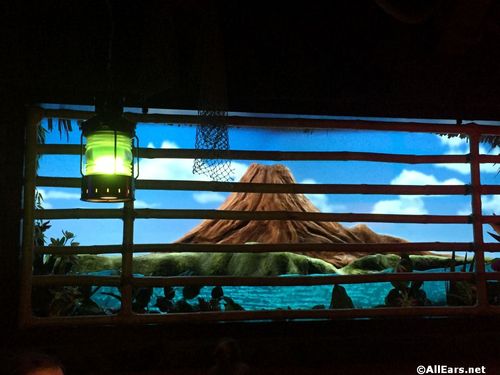 The "Skippers" are quite lively and with an energetic crowd, the place is hopping with energy. The more people that order the specialty drinks, the more lively the Skippers (and the special effects) become! During our visit there was a large party that every 10 or 15 minutes would sing a Disney song and the entire place joined in!
In addition to the exotic drink selections the tiki bar serves beer and wine. Sorry, no vermouth for martini drinkers.
Our group experienced the Tiki Tiki Tiki Rum (pictured below), Castaway Crush, Dark & Tropical Stormy, and the Polynesian Pearl. A few drinks come in specialty mugs making the purchase price quite hefty (upwards of $50 for some). In fact, one of the only things I didn't like about Trader Sam's is that there are no prices on the menu for the specialty drinks or mugs! Drinks are pricey!
Having just come from dinner, we did not partake in the small plates available for purchase. You'll find chicken lettuce cups, Hawaiian poke, kalua pork tacos, pan-fried dumplings, even corn-battered Portuguese sausages. The small plates range in price from $8.49 to $14.99.
A tiny bit reminiscent of the closed Adventurer's Club from Pleasure Island, but more so much more! While there is no Colonial, there is the Uh-Oa! warrior that makes quite a fuss when that drink is ordered!
We stayed for about 2 hours and all of us had a great time. Definitely a place to come with friends! We decided on our next visit, we would try to stay at WDW somewhere so we don't have to worry about driving home!
An important note, when visiting Trader Sam's with your own vehicle, you may need to park at the Ticket and Transportation Center and walk to the Polynesian from there.
Trader Sam's is open from 4:00pm to Midnight. Last call for food is around 11:30pm. Families are welcome until 8:00pm, when the inside lounge becomes adults only. Families can move out to the terrace if they wish. We thought this was handled very nicely when at 7:50pm, a bell rang and one of the Skippers announced that Junior Skippers would need to depart by 8:00pm.
If you are a fan of the Enchanted Tiki Bar at Disneyland the main difference of the two is the time era. California is based in the late 30s and Trader Sam's Grog Grotto era is the 60s.
Oh and no flash photography please – it disturbs the Uh-Oa 🙂
For the full menu and more photographs visit our Trader Sam's Grog Grotto Page!
For a sneak peek inside (including some of the special effects) and to learn about the food and beverage program, here is a video I took during a media preview in March: