Disney Springs Dining
There's no shortage of incredible places to dine in Disney Springs. Whether you're looking for a table service meal from an award-winning chef, a sweet treat from a French patisserie, or creative quick service you can't find elsewhere, Disney Springs has what you want.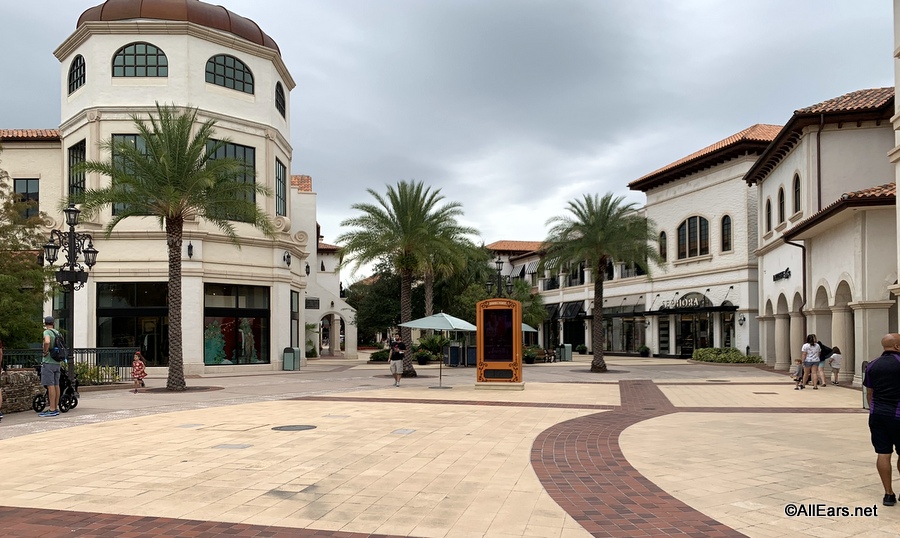 Here you'll find information on dining options in each of Disney Springs' four neighborhoods. Click below to jump the neighborhood you want to visit, or scroll through them all to see all of your options!
Happy dining in Disney Springs!
Disney Springs Marketplace
4 Rivers Cantina Barbacoa Food Truck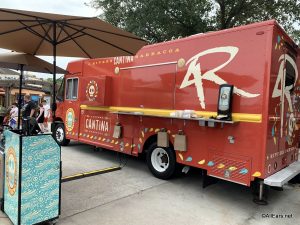 4 Rivers Cantina Barbacoa Food Truck is one of several food trucks in Disney Springs. 4 Rivers is operated by the geniuses of Mexican-inspired food at 4 Rivers Smokehouse. Learn more about 4 Rivers Cantina Barbacoa Food Truck here!
Aristocrepes
This specialty kiosk started out as a reliable place to pick up flavor-filled crepes, but Artistocrepes' offerings have expanded to the popular and funky bubble waffles! Hours here can be hit-or-miss, so check them before you head for the Springs!
B.B. Wolf's Sausage Co.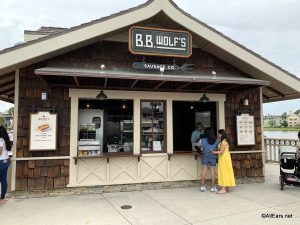 This snack stand in Disney Springs' Marketplace offers up a variety of mini and full-size sausages and hot dogs topped with traditional and creative garnishes. B.B. Wolf's also offers a plant-based sausage and drinks like beer, fountain beverages, and cocktails.
Dockside Margaritas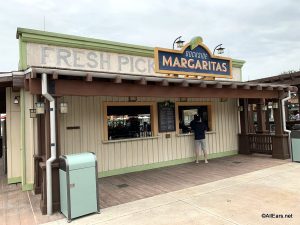 This counter service spot pours out some flavorful libations! Order a beer or a margarita on the rocks or frozen: whatever you like!
Earl of Sandwich
This quick service spot is a popular place to order a famed warm or cold sandwich. Earl's Holiday Sandwich is a big hit year-round, full of turkey, stuffing, and cranberry sauce. And the sweet treats here are satisfying, too.
Ghirardelli Soda Fountain and Chocolate Shop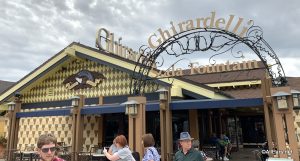 Ghirardelli is a must-do for lots of Disney Springs guests. Whether you're picking up a pack of chocolate squares or ordering up one of their famous (for a reason!!) sundaes, Ghirardelli will satisfy any sweet tooth!
Joffrey's Handcrafted Smoothies Kiosk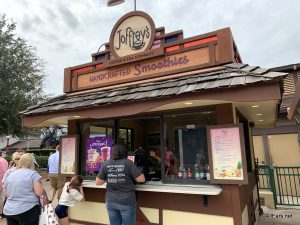 Grab a pick-me-up in smoothie form at the Joffrey's Handcrafted Smoothies kiosk in Marketplace! You can even grab hot drinks — like hot chocolate and some limited coffee options — here, too!
Marketplace Snacks
Marketplace Snacks is a convenient location to grab a bunch of your favorites: nachos, hot dogs, Mickey Ice Cream bars, and more! And if you've got a craving for an iconic Dole Whip, you'll find that here, too!
Lava Lounge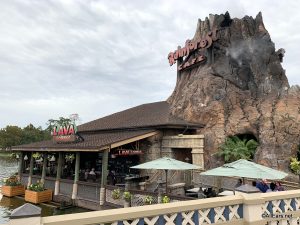 Lava Lounge is attached the Disney Springs' Rainforest Cafe and provides not just the option for exotic (and ordinary) drinks but also the ability to order off the restaurant's full menu.
Rainforest Cafe
From the time the host tells you "your safari is about to begin", you know Rainforest Cafe is a unique place to dine. The restaurant is themed to feel as though diners are in the rainforest, with audio-animatronic animals tucked in amongst the foliage and a storm that passes through the dining room regularly.
Starbucks at Disney Springs Marketplace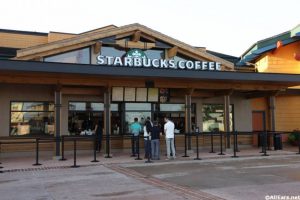 Need your caffeine fix before hitting up World of Disney? There's a Starbucks at Disney Springs Marketplace for that! You'll find your favorites here as well as seasonal and promotional offerings.
Sunshine Churros
In  need of a churro at Walt Disney World? Check out Sunshine Churros in Disney Springs! There are two locations, so it's easy to grab a traditional or loaded churro (or two or three!).
T-Rex Cafe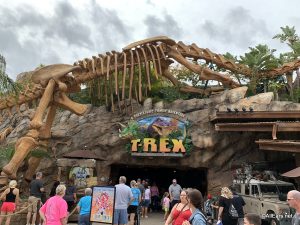 Talk about a wild meal! T-Rex diners sit amongst robotic dinosaurs and experience periodic meteor showers while dining on stick-to-your-ribs dishes. This highly-themed restaurant can be a little intense for young diners, so prepare to be dazzled (or terrified).
Wetzel's Pretzels at Disney Springs Marketplace
A warm Wetzel's Pretzel is a great walking-around-Disney Springs snack that the whole family can share. Find a few varieties of pretzels here, and throw back a beverage here, too.
Disney Springs The Landing
The Basket at Wine Bar George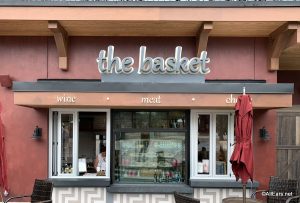 This grab-and-go window is the quick service branch of Wine Bar George. Guests can pick up picnic-ready eats like specialty cheese and crackers, olives and hummus, and chicken skewers. Quality wine is also available here.
The BOATHOUSE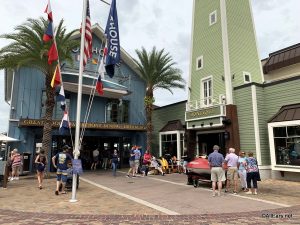 This signature table service restaurant is a nautically-themed place to order up fish, steak, salads, or the popular Gibsons "Sandwich King" Award Winning Burger! Fancy a unique activity after your meal? You'll find Disney Springs' amphibious vehicles, Amphicars, here, too!
Chef Art Smith's Homecomin'
If you're looking for southern comfort food in Disney Springs, Chef Art Smith's Homecomin' will fit the bill. The star of the menu is the Chef's famous fried chicken, but other items — like sides of mac and cheese and starters of hush puppies — are also popular with diners.
Cookes of Dublin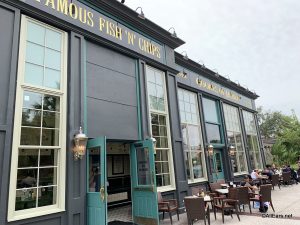 Cookes of Dublin is a quick service option adjacent to the popular Raglan Road Irish Pub & Dining Room. Cookes serves up burgers and sandwiches with an Irish twist. Can't get a reservation for Raglan Road but must have your Dubliner cheese melted on a burger? You've got Cookes!
The Edison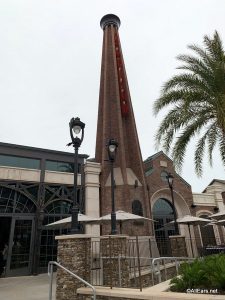 This table service spot has a lot going on. It's a restaurant featuring some over-the-top cuisine like bacon hanging from a clothesline. It's a got a lounge atmosphere with multiple bars. And at night — just for the grown ups — The Edison offers adult entertainment like dancers and illusionists!
Enzo's HIdeaway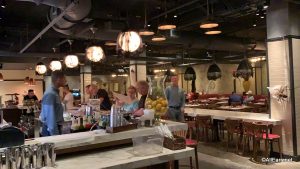 Enzo's Hideaway Tunnel Bar is a speakeasy located right in Disney Springs! Order up some pricey and thoughtfully-crafted cocktails and a table of Italian-inspired eats for a tasty (but not so clandestine) night out!
Erin McKenna's Bakery NYC
For tasty sweet treats like cupcakes, cookies, and donuts, Erin McKenna's Bakery NYC fits the bill — but it does a lot more than that. Every treat at the Bakery is free of allergens like egg, flour, and milk. Eating baked goods that are gluten free and/or vegan has never been so easy!
Gideon's Bakehouse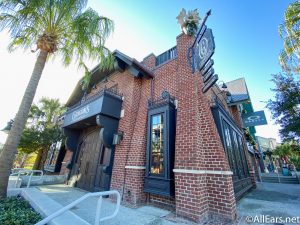 Gideon's Bakehouse turns out incredible sweet treats, with their iconic loaded cookies being a total crowd-pleaser. From traditional flavors like Chocolate Chip to specialty tastes like Coffee Cake, these cookies are not to be missed!
Jock Lindsey's Hangar Bar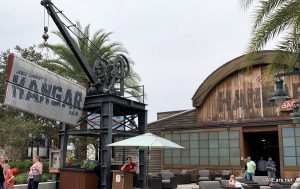 If you're a fan of the Indiana Jones franchise, you've got to stop into Jock Lindsey's Hangar Bar. The drinks and upscale bar food are creatively named with subtle (and not-so-subtle)  movie references, and there are nods to the film all over the place. It's a destination for Indy fans!
Joffrey's Coffee & Tea Company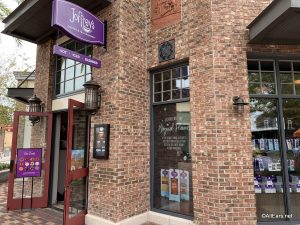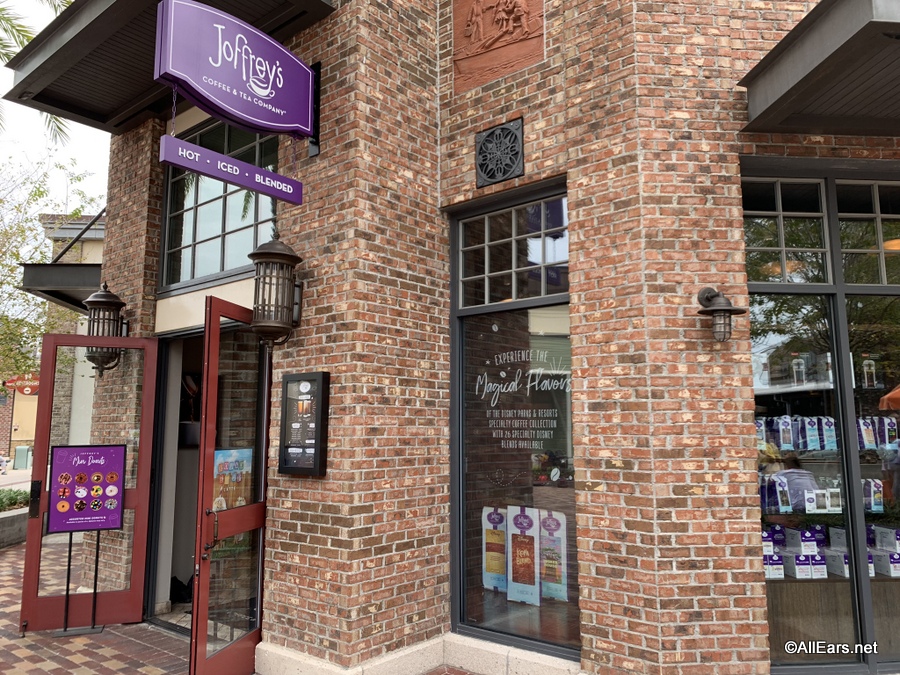 This Joffrey's location in The Landing serves up coffee in multiple forms: hot, cold, Nitro, and topped with character art! Tea fans can grab a cuppa here, too!
Maria & Enzo's Ristorante
This "converted airline terminal" is a vast space with colorful accents, lots of seating, and an energetic vibe. Maria & Enzo's Ristorante serves up Italian favorites like chicken Parmesan and lasagna in an upscale setting.
Morimoto Asia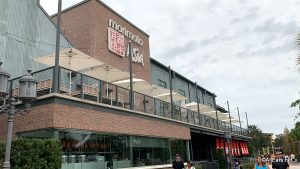 This upscale Asian eatery is helmed by internationally-acclaimed chef Masaharu Morimoto. Select from pan-Asian specialties or splurge on Wagyu beef!
Morimoto Asia Street Food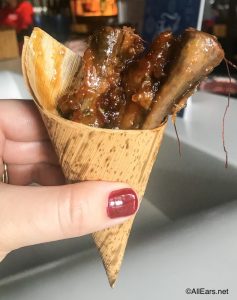 Don't have time (or an ADR) for Morimoto Asia? Step on over to Street Food, the quick service window adjacent to the restaurant proper. You'll find equally high-quality eats that you can grab and go!
Paddlefish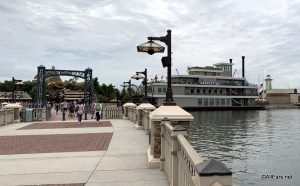 Paddlefish has the distinctly unique quality of being a restaurant on a boat! Diners select from seafood, like Lobster Corn Dogs, and enjoy views from multiple levels of dining — including a rooftop deck!
Paradiso 37
Head over to P37 for eats inspired by the Americas! Crazy Corn and Canadian Poutine (that's nothing like Canadian Poutine) are favorites at this oft-overlooked table service spot!
Pizza Ponte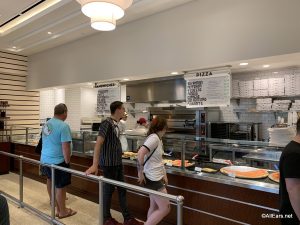 Pizza Ponte is the quick service pizza arm of Maria & Enzo's Ristorante and Enzo's Hideaway Tunnel Bar. Pies are sold by the slice here, and toppings vary from simple cheese to more exotic and creative.
Raglan Road Irish Pub & Restaurant
Raglan Road Irish Pub & Restaurant merges traditional Irish dishes and ingredients with a modern take on food. Fish & Chips is a staple here, but the menu is huge with salads, burgers, cheese dip, and more.
STK Orlando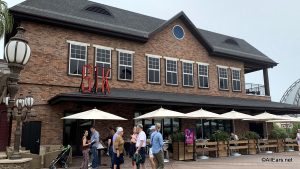 This upscale, energetic steakhouse is a hotbed of activity when the sun goes down. Music is blasted into the dining room and enjoyed in the outdoor seating area, too.
Terralina Crafted Italian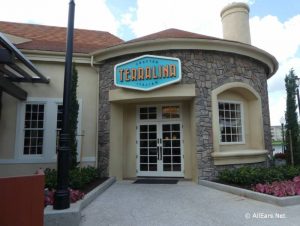 The brainchild of Chef Tony Mantuano, Terralina Crafted Italian offers classic Italian dishes with a few unexpected twists like fried Spaghetti Fritters. The red sauce here is delicious, and if you're looking for classic Italian food, you'll find it here!
Vivoli il Gelato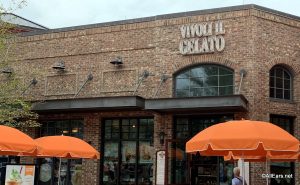 This sweet spot serves up gelato and a whole bunch of creative dishes. These include waffle sandwiches, loaded sundaes, and pressed sandwiches (full of gelato, of course). Check the seasonal options when you stop in.
Wine Bar George — A Restaurant & Bar
Helmed by Master Sommelier George Milliot, Wine Bar George serves upscale bar food and an extensive menu of carefully selected wines from around the world. Occasional special events here help wine fans to learn from the masters.
Disney Springs Town Center
Amorette's Patisserie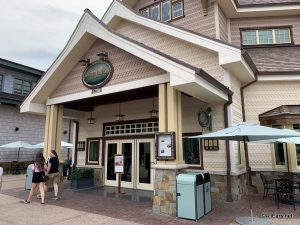 Amorette's Patisserie brings the craft of French patisserie to Disney Springs! Find signature dome cakes, delicate pastries, and some of the finest sweet treats available in the World.
Blaze Fast-Fire'd Pizza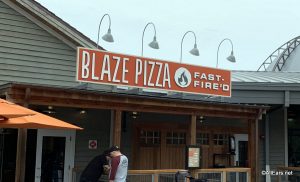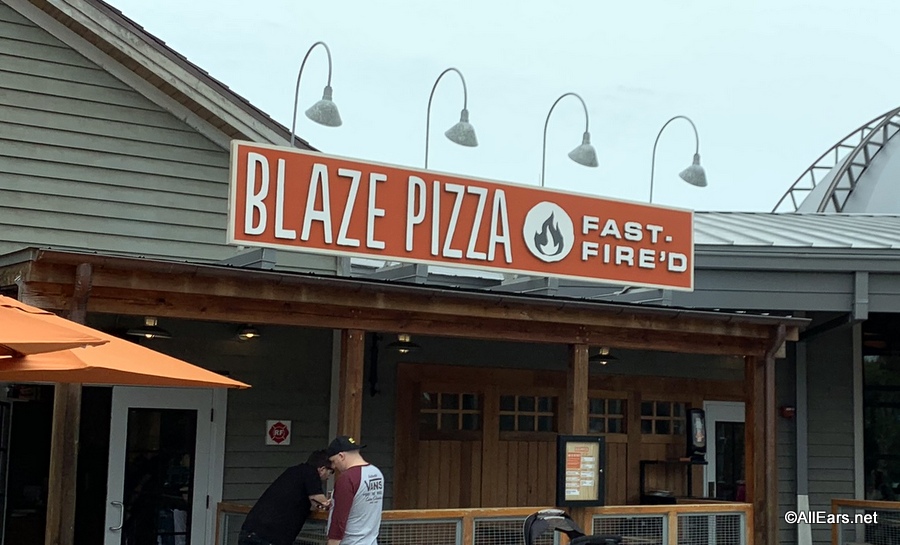 This design-your-own pizza spot is known for making pies at Blaze-ing speed — 90 seconds in the oven! Fresh ingredients you select yourself and options for those with dietary needs makes Blaze a popular place to grab a slice!
Chicken Guy!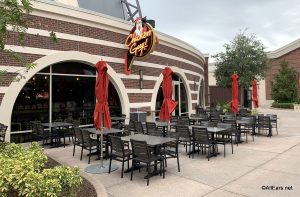 Chicken Guy! is a quick service option from celebrity chef Guy Fieri. This spot is known for chicken strips that come fried or grilled and over twenty epic sauces! Guests can also dig into loaded French fries and satisfying salads.
Coca-Cola Store Rooftop Beverage Bar
The rooftop bar at the Coca Cola Store brings international soft drinks to central Florida with soda flights, cocktails, and even the oft-maligned Beverly drink made iconic by Epcot's Club Cool.
D-Luxe Burger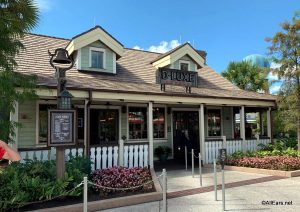 This popular burger joint is a fast-casual (quick service) dining spot that serves up a signature blend of beef and delicious flavor combinations on top. They've also got creative plant-based and chicken options, too! And don't skip the milkshakes.
Daily Poutine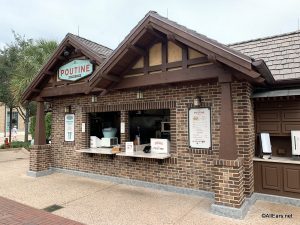 Whether you like your Canadian French fry delicacy traditional — topped with brown gravy and cheese curds — or with a twist — like seasonal turkey and cranberries — Daily Poutine has a bowl for everyone!
Frontera Cocina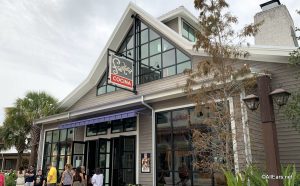 Frontera Cocina is helmed by world-renowned chef Rick Bayless. The restaurant brings his signature focus on the traditional and diverse cuisine of Mexico. Frontera also creates seasonal and regional menus that highlight dishes from particular areas of the country. Don't miss the guacamole (with or without grasshoppers!).
Planet Hollywood
This famed table service spot has had a renovation in recent years, and the menu got a little love, too. But diners can still count on heavy, satisfying eats in large portions and the Hollywood memorabilia they've come to expect from Planet Hollywood.
The Polite Pig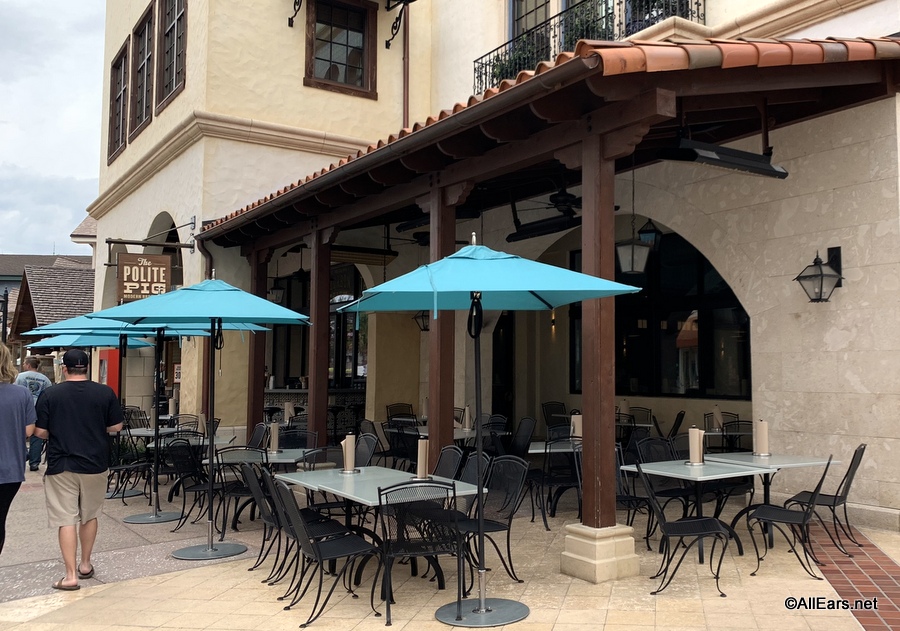 The Polite Pig is owned and operated by locally-beloved chefs and serves up smoked meats, flavorful sides, and loads of personality. Don't skip the Brussels sprouts or the brisket!
Sprinkles Cupcakes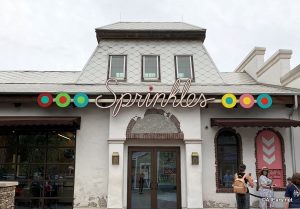 Sprinkles is credited with opening the first cupcake shop, and they've brought their popular confections to Disney Springs. Find traditional flavor combinations and seasonal delights. And don't miss the cookies and ice cream, too!
Stargazers Bar
Stargazers Bar is located on the first flood of Planet Hollywood and offers Florida craft beers, specialty cocktails, and the opportunity to relax and listen to some live music and entertainment!
Wolfgang Puck Bar & Grill
This table service restaurant serves up stellar eats from the spot's titular celebrity chef, Wolfgang Puck. Find new takes on American and world cuisines, and enjoy a beer or cocktail, too!
Disney Springs West Side
AMC Disney Springs 24 Dine-In Theaters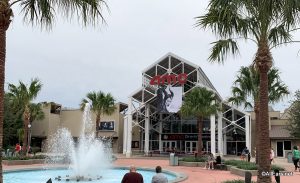 AMC's Disney Springs West Side location offers an option to dine-in while you enjoy the show on the big screen! Choose from eats like burgers, flatbreads, salads, and more or order a cocktail to sip through the movie!
Beatrix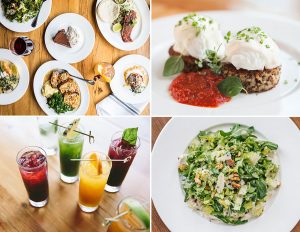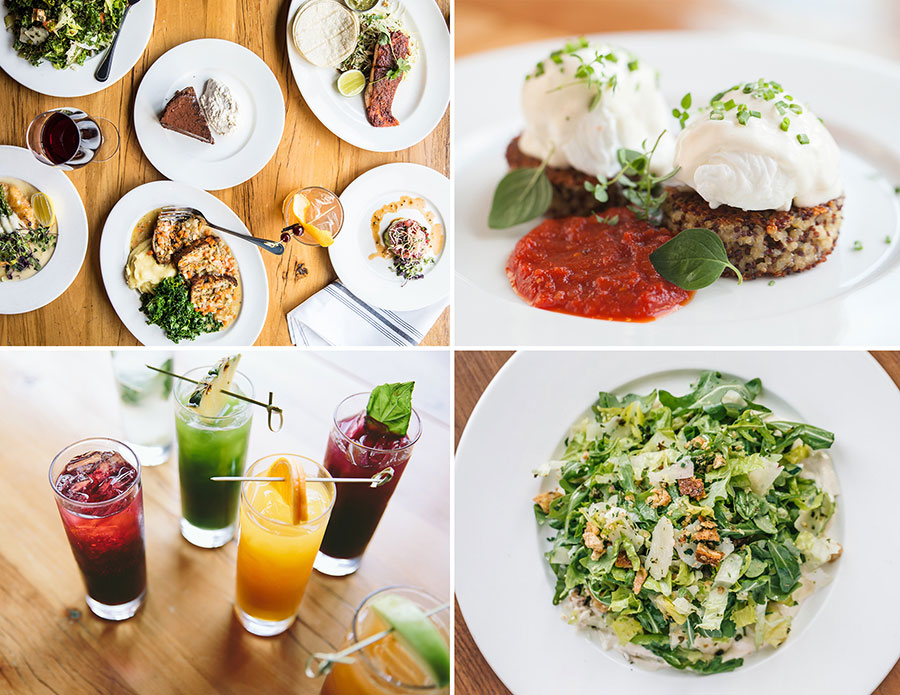 Beatrix is expected to open in Disney Springs' West Side in 2021. When it does, the newest addition to the national franchise promises to bring delicious and healthy offerings to the World.
City Works Eatery & Pour House
City Works Eatery & Pour House is dishes out burgers, apps, and more to accompany several dozen beers and craft brews!
Everglazed Donuts & Cold Brew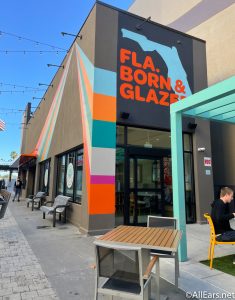 Everglazed Donuts & Cold Brew opened in early-2021 and serves up stellar donuts the likes of which most diners have never seen. Topped with candy, edible glitter, cereal, and more, you're going to want to get yourself a bunch of these beauties to snack on.
Disney Food Trucks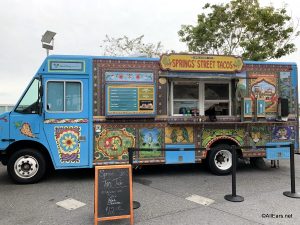 Disney Springs' food trucks are usually stationed at Exposition Park in the West Side, and those looking for a quick bite can typically find three trucks: Springs' Street Tacos, Cookie Dough and Everything Sweet, and Mac & Cheese. Grab one bite, or try 'em all!
Haagen-Dazs Kiosk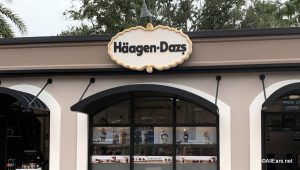 Need a quick ice cream fix? In West Side, Haagen-Dazs serves up all of your favorite frozen treats!
House of Blues Restaurant & Bar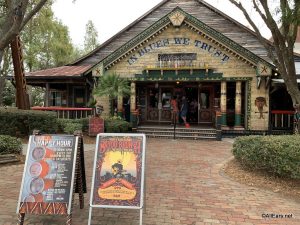 House of Blues Restaurant & Bar is the place to go in West Side for live music, southern-style eats, and some charming decor. It's a great spot for an adults-night-out in the Springs!
House of Blues — the Front Porch and the Smokehouse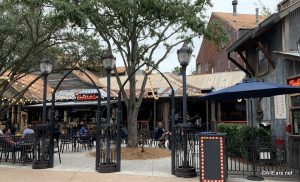 This is the outdoor seating and quick smokehouse arm of House of Blues, and it's a delicious option if you're not looking to dine in the restaurant proper but still want to rock out to so live beats!
Jaleo by Jose Andres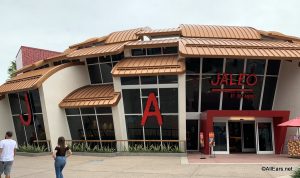 Jaleo by renowned chef Jose Andres is a Spanish-inspired restaurant that serves up flavorful dishes like the table service spot's signature Paella. Tapas is another signature offering and invites guests to share, connect, and enjoy.
Joffrey's Handcrafted Smoothies
Joffrey's Handcrafted Smoothies in West Side offers a menu like that in Marketplace: smoothies, primarily, with a few other options included. You'll even find a few cocktails!
Pepe by Jose Andres
Pepe is a quick service space attached to Jaleo. Pepe serves up Spanish flavors in traditional forms — like sandwiches on pan de cristal. The menu is limited, but if you want to try the Spanish chef's inspired cuisine without an ADR, this is how you do it.
Splitsville Dining Room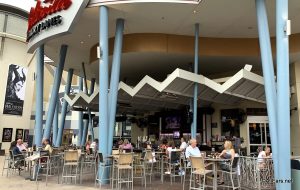 Believe it or not, Splitsville — Disney Springs' bowling alley — is a great place to grab a casual bite! Order up some pizza, a burger, or a bunch of apps, and you're good to go!
Starbucks at Disney Springs West Side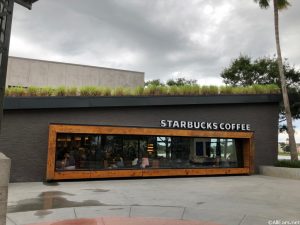 If you find yourself in need of a cup of joe in the West Side, Starbucks has a location here, too!
Sunshine Churros
In  need of a churro at Walt Disney World? Check out Sunshine Churros in Disney Springs! There are two locations, so it's easy to grab a traditional or loaded churro (or two or three!).
Wetzel's Pretzels in Disney Springs West Side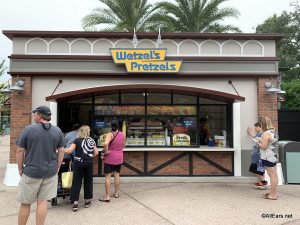 The West Side location of Wetzel's Pretzels means you're never too far from your favorite twisty carbs!
YeSake Kiosk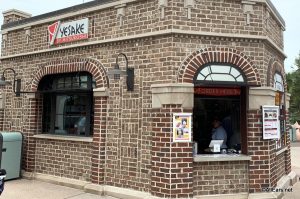 This small counter service window has a small menu of sake (of course) and Japanese-inspired treats and eats like rice bowls, teriyaki, buns, and more!