It's the time of year for giving and Picture This! Photo Blogger Scott Thomas has donated FOUR beautiful prints (18″ x 24″) on canvas to help me raise funds and awareness in the fight against breast cancer.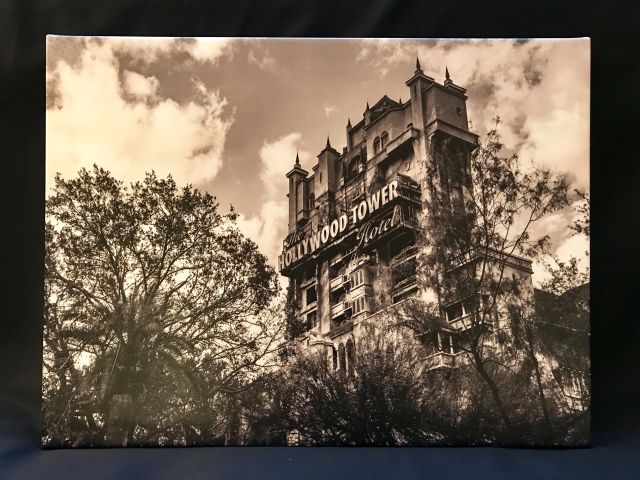 I will be auctioning off these prints over the next few days, via this blog.
As I have done in the past,  your entire winning bid is a charity donation to:  FORCE:  Improving the Lives of individuals and Families affected by hereditary breast, ovarian and related cancers.
Each auction starts at $50 and bids increase in $10 increments.
The photos do NOT do justice to these beautiful prints (taken with my iPhone).
There will be 2 (two) days of auctions. 
First auction begins at 8:30 a.m. EASTERN on Wednesday, December 5, 2018 and closes Friday December 7 at midnight.

#1A  Sepia Tone Hollywood Tower of Terror (shown above)
#1B Epcot Flower and Garden Festival with Monorail (below)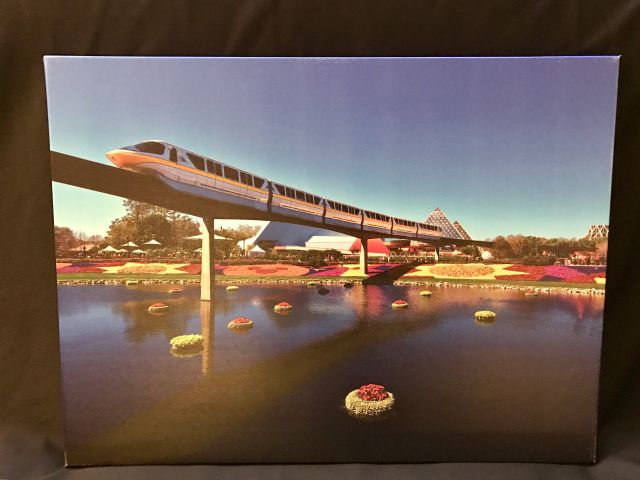 The second auction begins 8 a.m. Eastern on Thursday, December 6, 2018 and closes Saturday, December 8 at midnight.
#2A Mickey and Minnie's Float from Mickey's Very Merry Christmas Parade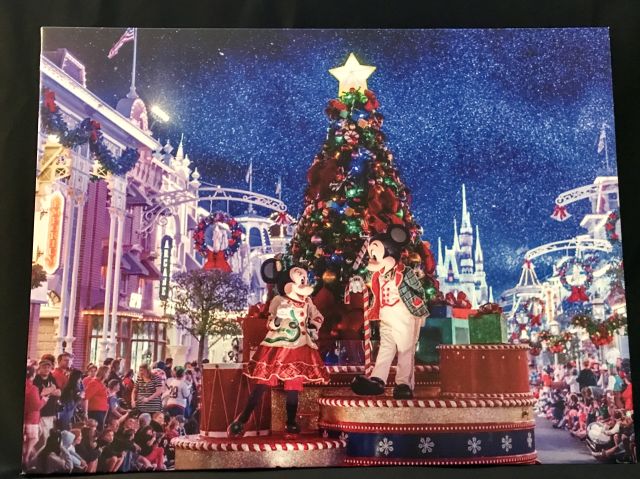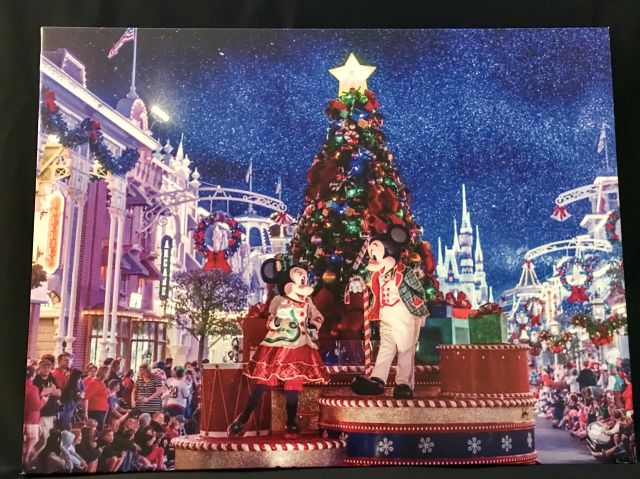 #2B Evening photo of Animal Kingdom's Tree of Life from the nighttime Awakenings show featuring the lion.
My heartfelt thanks to Scott Thomas for his generous donation.
HOW IT WORKS:

TO BID: You must click on the comment link and enter your full name and email address, as well as your bid amount in the comments box. (NOTE: Your email address will NOT show up online.)
By bidding you agree to all rules set forth below! Please read carefully BEFORE you bid!
AUCTION RULES:
1. Each auction will have a number  #1A (first print) #1B (second print) and so on.
2. To bid, you must click on the comment link and enter your full name and email address, as well as your bid amount in the comments box. (NOTE: Your email address will NOT show up online.) I will approve the comments so you can see what the current bid is. Once a few bids have been made, only the current high bid will be visible.
NOTE: You may bid more than once if you decide to up your current bid or if you've been outbid and wish to bid higher.
3. Each auction will have a definite end time and date. No comments/bids will be accepted after that time. All times stated will be Eastern Time.
4. If you have questions about the item, chances are others do, too. Just post your question as a comment.
5. The winning bidder will be notified via email with details on how to make the donation to my online FORCE account. The winning bidder will have 36 hours to respond to the winner email confirmation and make the online donation. Should the online donation not be made within 36 hours of the auction close, the bid will be considered abandoned and the second-highest bidder will be offered the item at the highest bid price. If that person does not respond within 36 hours or declines, the item will go back in the "bin" for a future auction.
6. SHIPPING: Each item will be shipped by UPS ground to US addresses only with insurance and tracking.
PLEASE KEEP IN MIND: This is a FUNDRAISER! It is not a flea market. Bid minimums will be set based on the purchase price of the item where applicable.
VERY IMPORTANT: All bids/sales are final. There are NO RETURNS and NO REFUNDS (even if UPS fails to deliver your package for any reason).
In case of duplicate high bids, the earliest time-stamped bid will prevail.
Deb Wills will be the final arbiter of any and all disputes. All decisions are final. Please remember this is a fundraiser! By bidding you agree to all the rules and any rule not covered will be determined by Deb Wills as the final word.
Ask your questions in the comment section below!