Water Parks
Tours
Sports-Related
Activities
Community/
Gatherings
Other Fun Things
SeaWorld Orlando
Writers' Corner
Orlando Area
Information
Archives
Disney Springs
(ABOVE: Disney Springs Model on Display at the D23 Expo August 2013)
On March 14, 2013, the Walt Disney World Resort announced that Downtown Disney would be transformed into Disney Springs. Read the official press release HERE.
Construction Updates:
UPDATE NOVEMBER 2014: There are a number of developments to report as the evolution of Downtown Disney into Disney Springs continues. The first of two parking garages, the West Garage, will open in phases for guests beginning November 20. The Springs Bottling Co. sign has been installed above the future location of Morimoto Asia restaurant and the Waterview Stage is now open and offering nightly entertainment. (Check the times guides for specifics.) Later this month the Food Trucks Exposition Park located on the West Side will open. The Food Trucks will serve a variety of items, from chicken waffles to tandoori spice shrimp. Look for additional seating in that area as well. In addition, in the area that will eventually be called The Landing, there is a new Pedestrian Walkway between the restaurants Portobello and Paradiso 37. Later this month the walkway will be complete and will provide direct access to the West Side.
MAY 2014:

The Landing area of Disney Springs will be rededicated and opened in early 2015.
The first phase of roadwork construction has begun, with lane closures scheduled as much as possible for off-peak hours to minimize impacts to the guest experience. Buena Vista Drive will expand from seven to 10 lanes, with a dedicated bus lane. Two parking garages and two pedestrian bridges also will be added, as well as an I-4 Interchange that will offer direct access to and from Downtown Disney/Disney Springs.
As part of the Disney Springs expansion, Downtown Disney parking lots H-K (near West Side locations such as AMC Theatres and House of Blues) closed to make room for a parking garage expected to open in late 2014. To compensate for the closed areas, "overflow" parking areas have been designated and will be open most Fridays, Saturdays and Sundays, as well as holidays, special events and other busy days throughout the next few years of the expansion project. Overflow lots include those at Team Disney, Casting and SunTrust. Signage along Buena Vista Drive will direct guests to parking areas. Shuttles will operate from 5 p.m. to 3 a.m. on days that overflow parking is open to transport guests between Team Disney and Downtown Disney West Side near Cirque du Soleil. If you have reservations at a Downtown Disney location, be sure to allow ample time for parking under these new conditions.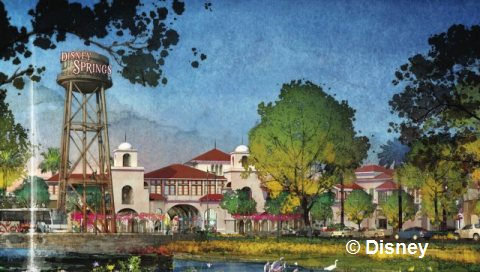 Original Press Release Information March 14, 2013
Disney Springs will feature an eclectic and contemporary mix from Disney and other noteworthy brands. From boutique shops to unique flagship anchor stores, guests will be able to explore a variety of shopping, dining and entertainment experiences and discover options unlike any other currently available in Central Florida.
"Disney Springs will be a timeless, vibrant place where Walt Disney World guests and local residents can relax, shop, dine and be entertained in an imaginative setting where they'll instantly feel at home," said Tom Staggs, chairman of Walt Disney Parks and Resorts. "Featuring distinctive brands, world-class restaurants and unforgettable entertainment, Disney Springs will be brought to life with the same focus on storytelling and attention to detail that goes into our theme parks, resorts and cruise ships, resulting in a welcoming space that only Disney could create."
Disney Springs will double the number of shops, restaurants and other venues for guests to explore, resulting in more than 150 establishments. In addition, Staggs noted, Central Florida stands to benefit from the expansion with more jobs, tax revenues and business opportunities.
Drawing inspiration from Florida's waterfront towns and natural beauty, Disney Springs will include four outdoor neighborhoods interconnected by a flowing spring and vibrant lakefront. In addition to a new gateway with a signature water tower and grand entry, the destination will feature:
-- The Town Center, which offers a sophisticated mix of shopping and dining along with a promenade where guests can relax, refresh and reconnect.
-- A colorful and thriving commercial district called The Landing with inspired dining and beautiful waterfront views.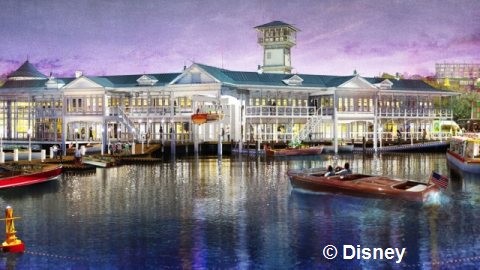 The family-friendly Marketplace that will continue to delight guests of all ages by combining new experiences, such as an over-the-water pedestrian causeway, along with classic Disney favorites, including an expanded World of Disney store.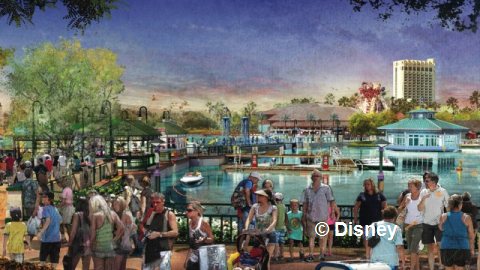 A West Side that provides an exuberant atmosphere with lively entertainment, along with a series of new elevated spaces that provide both shade and an overlook to the activity below.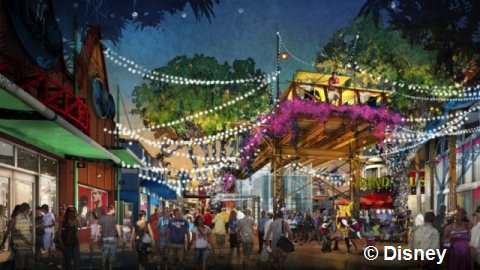 Collectively, these efforts will not only have an impact within Walt Disney World, but will also have an economic ripple effect on Central Florida. The project will create an estimated 1,200 construction jobs and nearly 4,000 operational roles.
Disney will share more details on specific experiences coming to Disney Springs in the future. Construction is slated to begin next month with new areas opening in phases. Disney Springs is expected to be complete in 2016