Water Parks
Tours and
Special Experiences
Sports-Related
Activities
Community/
Gatherings
Other Fun Things
SeaWorld Orlando
Writers' Corner
Orlando Area
Information
Archives
Disney Springs
(formerly Downtown Disney)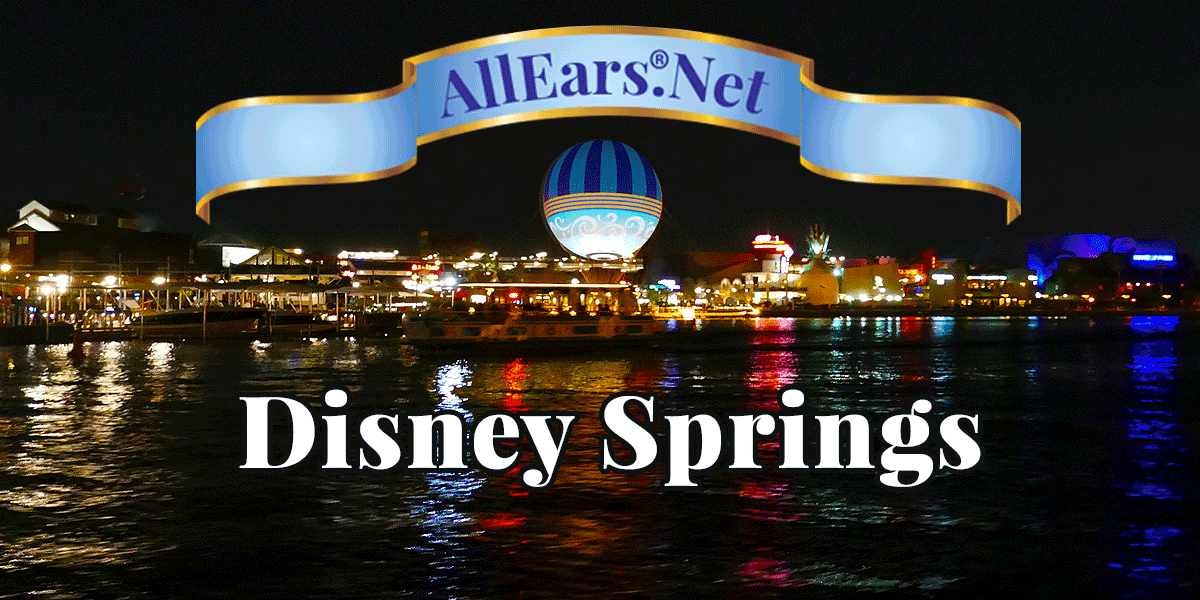 Disney Springs, the entertainment, dining, and shopping complex at Walt Disney World resort, is made up of four distinct "neighborhoods": The Marketplace, The Landing, the West Side and the Town Center.
Disney Springs has twice the number of shops, restaurants and other venues as the former Downtown Disney, resulting in more than 150 establishments.
Drawing inspiration from Florida's waterfront towns and natural beauty, Disney Springs includes four outdoor neighborhoods interconnected by a flowing spring and lakefront.
In addition to a new gateway with a signature water tower and grand entry there are:
-- The Town Center, which offers a sophisticated mix of shopping and dining along with a promenade where guests can relax, refresh and reconnect. The Town Center section was the last to open -- about half of its shops debuted on May 15, 2016, with others following throughout the year afterward.
-- A colorful and thriving commercial district called The Landing with inspired dining and beautiful waterfront views. The Landing opened in stages in 2015.
-- The family-friendly Marketplace that will continue to delight guests of all ages by combining new experiences, such as an over-the-water pedestrian causeway, along with classic Disney favorites, including an expanded World of Disney store.
-- A West Side that provides an exuberant atmosphere with lively entertainment, along with a series of new elevated spaces that provide both shade and an overlook to the activity below.
Disney Springs continues to feature such diverse shops as World of Disney, Lego Imagination Center and the Art of Disney. Unique entertainment is also available at Cirque du Soleil and Splitsville.
There is no admission fee to Disney Springs.
Resort Guests can get to the Disney Springs by taking Disney Transportation:
Disney World Bus: From any Disney resort, take the bus marked Disney Springs. From Fort Wilderness, the Disney Springs bus operates from the Outpost Depot. There is no direct bus transportation serving Disney Springs from any theme park or from the Transportation and Ticket Center. Check at your resort to see what time the bus for Disney Springs operates. General hours for buses are 8 a.m. to 2 a.m.
There is one bus depot once you arrive at Disney Springs and it is located by the Town Center, near the Lime parking garage. During the afternoon, don't be surprised if your bus stops at other locations also, such as Typhoon Lagoon.
By Boat: If you're staying at Old Key West or Saratoga Springs, you have the option of taking the DVC Ferry to the Disney Springs area. (Be sure to check times of the last boat back to your hotel, sometimes these end early.) There is also boat service to Port Orleans Riverside and French Quarter.

On Foot: Only the resorts in the Disney Hotel Plaza area and Saratoga Springs are close enough for a reasonable walk. The paths are marked.

By Cab: Valet or Bell Services at any Disney hotel will be glad to call a cab for you. At the Swan and Dolphin, Valet Services will have a Mears car take you to Disney Springs for about $16 + gratuity.

By Car: Disney Springs is located on Buena Vista Drive, not far from I-4. From the Magic Kingdom Resorts: Follow World Drive south to Epcot Center Dr. Heading east on Epcot Center drive, follow it to Buena Vista Drive and head east. You'll pass Typhoon Lagoon and Disney Springs will be on the left. Your best bet is to bear right at the Typhoon Lagoon traffic light and enter the Orange multi-level parking garage. From the Epcot Resorts: Exit your resort onto Buena Vista Drive and head east.
HOURS OF OPERATION
Disney Springs is open 10 a.m. to midnight. Individual shop and restaurant operating hours may vary and change by season.
Cirque Du Soleil Theater
Shows at 6 p.m. and 9 p.m. Tuesday - Saturday