Disney Springs Marketplace
Once known as the Lake Buena Vista Shopping Village, Disney Springs Marketplace is a full size outdoor shopping and dining experience. More than 20 venues comprise the Marketplace with everything from the Rainforest Café to the ultimate Disney merchandise store, World of Disney. The Waterside Stage, across from World of Disney, occasionally has live entertainment.
Kids love the Magical Water Fountain near Once Upon a Toy. There is also a smaller play fountain near Disney's Days of Christmas. It's a great place to cool off in the heat. Be sure and bring a towel or change of clothes.
Also for kids is the Marketplace Carousel and Marketplace Train Express, located on either side of Disney's Pin Traders.
There are specialty carts throughout the Marketplace which offer such things as silhouettes, caricatures, temporary tattoos, left handed merchandise, belts, jewelry and more.

DINING
| | |
| --- | --- |
| | Earl of Sandwich -- Opened in March 2004 on the site of the former Gourmet Pantry, this outlet of the national chain offers an assortment of sandwiches, salads, and baked goods. |
| Ghirardelli Ice Cream & Chocolate Shop -- San Francisco's famous chocolate maker comes East with a soda fountain featuring its world-famous hot fudge sundae. Arguably the best Hot Fudge Sundae on Disney property can be found here! It's quiet here after 10 p.m. if you want to stop by for a late dessert or snack. Shop open 9:30 a.m. to 11 p.m., Soda Fountain open 10:30 a.m. to midnight. | |
| | Marketplace Snacks -- Kiosk serving up snacks, like hot dogs and popcorn, as well as beverages. |
| | Starbucks -- The first of two Disney Springs Starbucks locations opened on May 19, 2014. It was built in an unused space just outside World of Disney. |
| | Rainforest Café -- A unique dining experience that puts you in the middle of an Amazon rainforest! Live birds, animated gorillas, cheetahs and a tropical rainstorm will accent your lunch or dinner! You can also sit at the bar (take a look at the bar stools!) The Cafe also has a merchandise shop with all kinds of logo items. Seating is limited to 500. Be sure to check out the Safari Club if you dine more than once a year at Rainforest Cafe! Opens 11:30am and closes 11:00pm or midnight depending on season. At the rear of the restaurant overlooking the water sits Lava Lounge. |
| T-Rex: A Prehistoric Family Adventure - opened October 14, 2008. A themed, interactive restaurant that boasts life-size animated dinosaurs, a fossil dig site, waterfalls, and a 26-foot-high lava wall. Enjoy pizza, pasta, burgers, sandwiches, seafood, chicken, steak, salads and soup. T-Rex Cafe also boasts the first-ever Build-A-Dino by Build-A-Bear Workshop. Hours: 11am to 11pm. | |
| Wolfgang Puck Express - Get a gourmet start to the day with unique breakfast plates, artisan lunch and dinner specials, as well as an exciting kids menu. | |
| | Aristocrepes - Located behind Goofy's Candy Co. on the Village Causeway. Specialty crepes like beef with horseradish cream, red onion, baby spinach and sharp Cheddar; vegetarian with pickled beets, goat cheese, candied pecans and baby greens; turkey with Brie, dried cranberries and Dijon spread; or smoked salmon with cream cheese, capers, onion and "everything bagel" topping, and more. Opens at 4:00 p.m. Opened May 22, 2016 |
Dockside Margaritas is a laid-back, waterfront margarita bar located across from The Marketplace Co-Op. There are live performers from 2:30-10:30 p.m. on Sunday through Thursday and 12:30-10:30 p.m. on Friday and Saturday.
SHOPS
Arribas Brothers -- The Arribas Brothers imported full-lead crystal shop. Artists engrave and decorate custom designs and perform the 700-year-old tradition of glassblowing.Many Swarovski items available with Disney themes! You will find very unique Disney merchandise for sale. Check out the beautiful Sword and Armor collection in this store. Eurospain stores are also located on Main Street in the Magic Kingdom and in the Mexican Marketplace in Epcot.

SOUVENIR TIP: A Glass Slipper is available from $9.50 for a mini to $27.50. For a unique Disney collectible that won't break your wallet, check out the Disney glassware that you can have engraved with your name, prices start at $10.50.




Art of Disney -- A beautiful gallery of limited edition animation art and Disney collectibles including the WDCC (Walt Disney Classic Collectible) pieces. Take 15 minutes to cool off and dream.The Art of Disney Gallery also has locations in Epcot's Future World and at the Animal Kingdom.

SOUVENIR TIP: There are a number of reproduction posters of the attractions in the Magic Kingdom. Unframed they are $20




Basin - homemade soaps, shampoos, facials, body masks and more premade or made to order. Custom made scents begin at $3.95. Massage bars include assorted scents for $5.99 and $6.99. Bath salts are $3.95 per tube. (opened early 2003)

Build-A-Dino Store -- located in T-Rex featuring dinosaur themed educational displays and merchandise. Build-A-Dino is just like the national Build-A-Bear bears. Opened October 14, 2008.





Disney's Days of Christmas - Enjoy holiday shopping year 'round Disney style. Features holiday ornaments, animated figurines and more. Radko ornaments, Sorcerer Mickey items and Disney Character Stockings are all for sale. The other Disney Christmas shop is located in Liberty Square in the Magic Kingdom.





Disney's Design-A-Tee Shop sponsored by Hanes opened November 12, 2008 on the site formerly occupied by Disney's Wonderful World of Memories. Located behind Disney's Days of Christmas, this store allows guests to create personalized T-shirts. This is a joint venture between the Hanes Company and Disney.

Disney's Pin Traders - The ultimate pin-purchasing-and-trading location.

SOUVENIR TIP: Make your own photo pins start at $15 for 1 pin and a small sheet of stickers.




Disney's Wonderful World of Memories -- capture the memories of a lifetime with photo albums and stationary.

Goofy's Candy Company opened Spring 2005 in an expanded form in the former Disney at Home store. The new shop features an interactive show kitchen filled with unique and tasty confections.

LEGO Imagination Center -- Expanded in early 2011. From the makers of the world's best-selling construction toys, the LEGO Imagination Center showcases LEGO models that include a larger-than-life dinosaur family, a 30-foot sea serpent, an alien family with spaceship and a group of construction workers "building" the store. Great photo opportunities!

SOUVENIR TIP: There are great postcards here of the Lego Store Orlando and Star Wars Legos for 39 cents. Also available is the Lego Imagination Center pin (approximately $5).




LittleMissMatched -- Originally opened November 2009 in Disney Springs West Side; relocated to the Marketplace in April 2011. The shop sells colorful mismatched socks, gloves, pajamas, other clothing, bedding, and more. For more about the store, visit LittleMissMatched.com.




Marketplace Fun Finds -- Took over the former Pooh's Corner location in March 2011. The shop offers guests unique Disney gifts at great prices.

Mickey's Pantry -- featuring an assortment of Disney home and kitchen products.

Once Upon A Toy - A great store for kids of all ages! New Disney-themed offerings, popular Hasbro items, and classic games and toys with a Walt Disney World twist. Mr. Potato Head with colorful Disney theme park accessories, a version of the classic detective game Clue set inside Disney's Haunted Mansion attraction, Lincoln Logs, Play Dough, Star Tours action figures from the "Star Wars"-inspired attraction and more. There is even an automated package delivery kiosk to expedite service at the cash register.

SOUVENIR TIPS: You can fill a box with Mr. Potato Head body and parts for one price!

"Build Your Own Lightsaber" -- Guests can build custom Star Wars lightsabers with thousands of unique possibilities. The experience takes guests through nine steps in which they choose every part of their lightsaber. Each lightsaber features authentic Star Wars sound effects, and guests can select colored crystals and filters to cast the legendary glow of the lightsaber blade (purple, green, red or blue). Once complete, guests proceed to checkout where they receive batteries to power up their creation and a store-exclusive Jedi or Sith pin. No matter how elaborate the design -- guests can even create the double-bladed lightsaber like the one made famous by the evil Sith apprentice, Darth Maul -- each completed lightsaber is $19.95.




The Spice and Tea Exchange -- located inside Mickey's Pantry near Earl of Sandwich, featuring high quality spices, herbs, specialty blends, salts, sugars, teas and accessories from the finest purveyors in the world.

TrenD -- a stylish boutique with designer flair and eclectic offerings opens in March 2009. The urban-inspired specialty store is a one-of-a-kind, hip destination for fashion-conscious shoppers seeking trendy apparel and novel accessories. Offerings include organic loungewear, embroidered handbags, jeweled sunglasses and trendy accessories set among stylish art and unique furnishings. The eclectic environment offers a raw and unfinished feel with jeweled chandeliers, distinct fixtures and mod furnishings. Much of the merchandise will not be available anywhere else at Disney Springs. Designers such as Kidada Jones, Tarina Tarantino and Roxy will showcase their artistry – blending it with Disney-inspired creations. TrenD is in a 2,500-square-foot venue near Pin Traders and Once Upon A Toy. The space previously was used by Summer Sands.

Rainforest Café Retail Village -- located inside Rainforest Café, it features jungle themed clothing and collectibles.

Bibbidi Bobbidi Boutique -- In April 2006, to celebrate World of Disney's 10th anniversary, The Bibbidi Bobbidi Boutique salon was added to World of Disney. It transforms little girls into Disney princesses with hairstyling, make-up, and manicures with the help of a "Fairy Godmother-in-Training." The Fairy Godmother herself "owns" the new Boutique, which offers a menu of salon services designed to pamper princesses age 3 - 12. In June 2016, this shop moved into its own building behind Once Upon A Toy. Visit the Bibbidi Bobbidi Boutique page for details.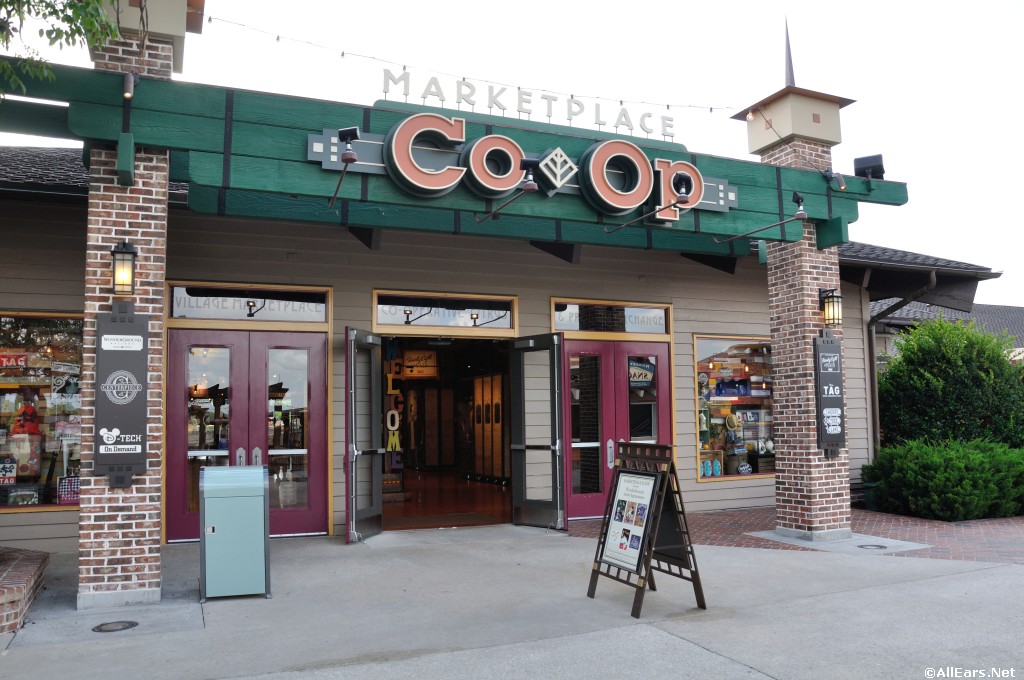 Marketplace Co-op -- Unique store featuring six shops under one roof which opened June 6, 2014. This new retail space is on the site of the former Team Mickey spot in the Marketplace and serves as a "testing space for new Disney retail concepts, shops and products," housing six small boutique-type shops under one roof.
Read Deb Koma's Marketplace Co-op Preview - Includes Video and Photos.
Current sections are:
Cherry Tree Lane - Accessories for the sophisticated woman with a passion for scarves, shoes, bags and jewelry. Features Dooney & Bourke, Vera Bradley and other name brands.
D-Tech on Demand - A place to personalize and customize your own electronic accessories.
Twenty-Eight & Main - An exclusive collection for the discerning gentleman. From short and long-sleeved shirts to wall art and accessories, Twenty Eight & Main delves deep into the vintage logos and art that have delighted Disney fans for almost a century.
Centerpiece - Home product for Guests that want a splash of Disney in their room furnishings, textiles and everyday wares.
TAG - Disney-inspired travel accessories and gear such as toiletry bags, passport wallets, jewelry organizers, neck pillows, travel cups, and suitcases.
WonderGround Gallery -- prints, mugs, magnets, postcards and more from various artists originally featured in the California location. Also features gallery showings and in-store appearances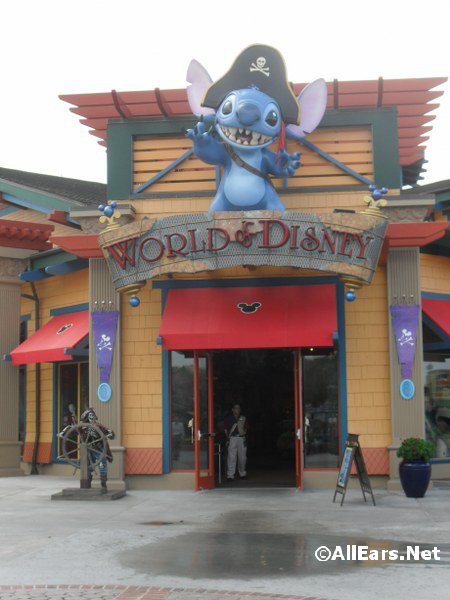 World of Disney -- The largest Disney character merchandise store with just about anything Mickey Mouse you can think of! The World of Disney store is HUGE! It is very easy to get separated and/or lost in the store. Keep close watch of your children. When you enter, pick out a landmark so you can more easily find your way out.
TIP: At the entrances you will often find a Cast Member greeter who will be happy to give you a Disney sticker to wear and direct you towards what you are looking for.
Each of the areas has its own theme:
The Magic Room -- Adult sleepwear, slippers and bath items

The Princess Room (formerly the Wonderland Room) -- Children's apparel and souvenirs, books, videos and plush toys. This room was rethemed as part of the store's 10th anniversary in 2006. It now is built to resemble a great hall of a castle, and is dedicated to the classic fairy tale stories of Disney Princesses and Princes. Other features include an Audio-Animatronics princess who sings to guests, and interactive stations where little girls can create their own tiaras and wands, fill jewelry boxes and purchase princess make-up kits. We have photos HERE.

The Enchanted Dining Room -- Candy, gourmet foods, housewares and more

The Adventure Room (formerly The Exotic Animal Room) -- Men's clothing, ties, boxers and hosiery. This room was rethemed as part of the shop's 10th anniversary in 2006 and now features a pirate theme, with many detailed scenes decorating the area. Young heroes and heroines can fill treasure chests and skulls with pirate plunder, create their own seafaring hat and interact with an Audio-Animatronics pirate named Rusty Blade and his talking parrot pal, Pollyanna. The latest Disney video games also fuel the imaginations of young adventurers. We have photos HERE.
The Villains Room -- Disney watches, jewelry, clocks, collectibles and decorative gifts
The Map Room -- Disney souvenirs, stationery, decorative figurines, photo albums and personalized items, books and media.

The Carnival Room -- Disney heroine costumes, children's sleepwear, dolls, children's bath and body line

The Bird Room -- Women's apparel collection
The Snow White Room -- Infant and toddler apparel, children's bedding, baby books and baby plush toys
Great Hall -- Souvenirs and popular T-shirts, sweatshirts and adult apparel
Rotunda - 4 Park Logo Merchandise
Great Hall Accessories - Backpacks, baseball caps, novelty hats, sunglasses and luggage
Kiosks
| | |
| --- | --- |
| Curl's Bungalow - Located on the Village Causeway that connects T-Rex are to Rainforest Cafe area. Features items like shoes (which can be hand painted)m backpacksm sunglasses, etc. from Curl by Sammy Duval. This shop opened December 23, 2015. | Just Plumerias -- Located on the Village Causeway that connects T-Rex are to Rainforest Cafe area. Grow your own Hawaiian lei flowers anywhere in the world. This shop opened February 12, 2015. |
| Icon Jewelry by Bico - Located on the Village Causeway that connects T-Rex are to Rainforest Cafe area. Concepts like Love and Friendship, Protection, Strength and Luck are represented in pieces crafted from hand-polished fine grade pewter and enhanced with fine materials like Swarovski Crystals, New Guinea Rosewood and genuine leather. The best part ... you can customize your jewelry just the way you like. This shop opened February 12, 2015. | Kate & Leo -- Located on the Village Causeway. Items designed to evoke a world of curiosity, creativity and imagination, you'll find travel games, magnetic story boards, beautiful art supplies and more, no batteries required. This shop opened February 12, 2015. |
| Pearl Factory - Located near Dockside Margaritas. Choose an oyster, pick a ring or necklace from over 135 settings and watch us build your unique jewelry. | Happy Hound -- Located near Dockside Margaritas. Everything you need to bring your best friend a special gift from Walt Disney World. |
| Ring Carvers - Located in front of the Carousel. Rings made to order. | Lefty's, The Left Handed Store -- Located near Dockside Margaritas. Everything you need for a left handed person. Scissors, oven mitts, t-shirts and more. Opened December 23, 2009. |
| Silhouette Portraits - Located near the Carousel. Hand cut silhouette portraits in minutes. This cart began operating in 1989. | Genuine Leather Goods -- Located behind LittleMissMatched. Belts, wallets, etc. |
| Caricatures - Located between Marketplace Co-op and Ghirardelli. Black and White or color. One to three persons. | Face Painting -- Located between Marketplace Co-op and Ghirardelli. |
| Henna Body Art - Located between Ghirardelli and World of Disney. Temporary henna tattoos for men and women. | Eyecatchers - Suncatchers |
MISCELLANEOUS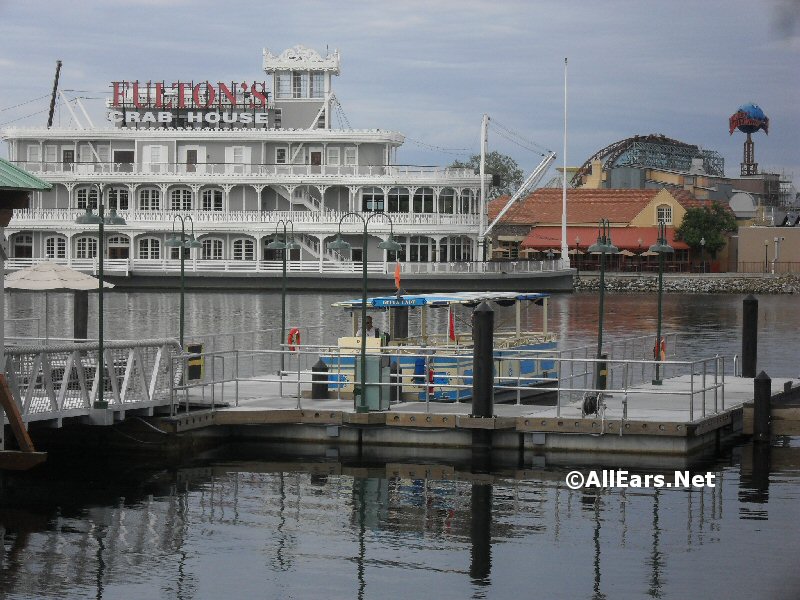 The Marketplace has a boat dock (pictured above) where guests can get a boat to The West Side or Disney's Port Orleans French Quarter or Disney's Port Orleans Riverside.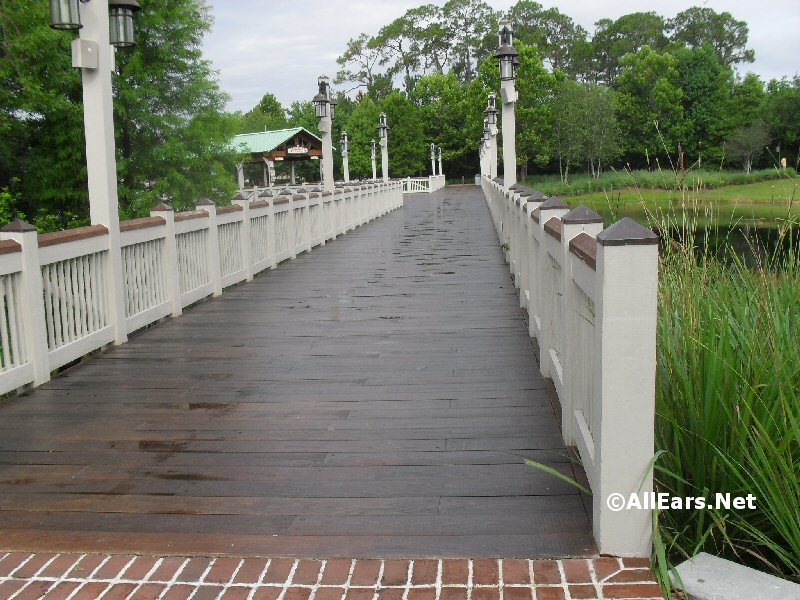 Right next to the boat dock is a walkway that leads to and from Disney's Saratoga Springs Resort & Spa.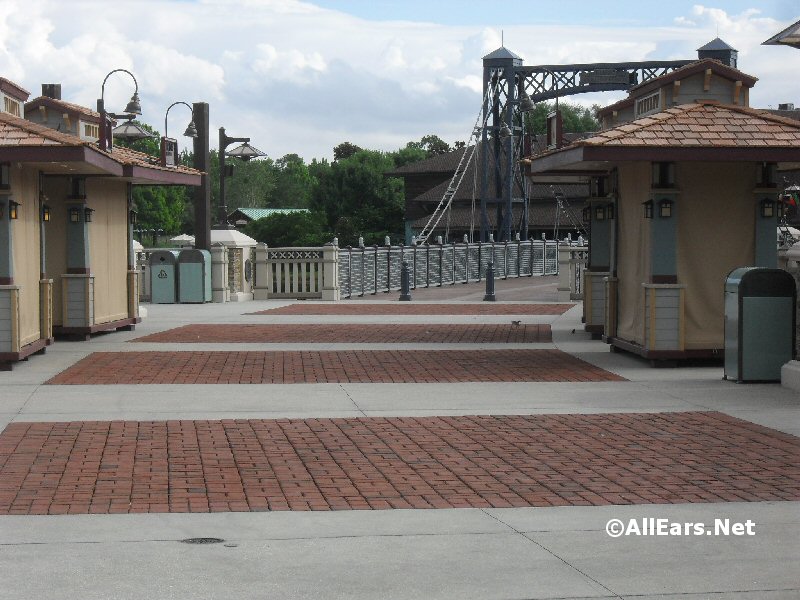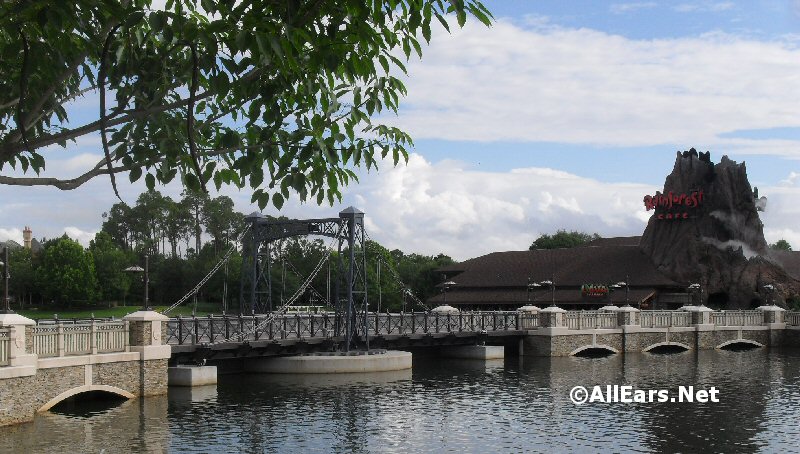 There is a new walkway named the Village Causeway (pictured above) that directly connects The Marketplace to The Landing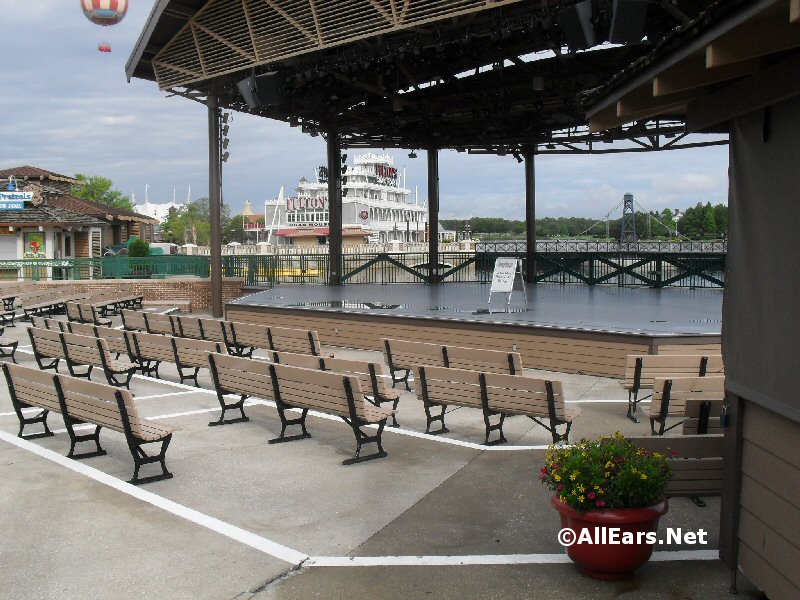 The Waterside Stage is located directly in front of World of Disney and offers different types of entertainment seasonally.