Annual Events
Water Parks
Tours
Sports-Related Activities
Other Fun Things
Photography
Specialty Cruises
Writers' Corner
AllEars.Net
Feature Writers
Orlando Area Information
Bibbidi Bobbidi Boutique

Disney Springs Marketplace
and
Magic Kingdom
The Bibbidi Bobbidi Boutiques at Walt Disney World and Disneyland Resorts have a new Disney Frozen Package for guests ages 3-12. This new package includes a choice of Anna hairstyling with costume or Elsa hairstyling with costume. Guests will also receive shimmering makeup, face gem, nail polish, a Princess sash, a Princess cinch bag, and a 12-inch Olaf plush. If guests already have an Anna or Elsa dress, they may select the Disney Frozen Crown Package which includes Anna or Elsa hairstyle with braided hair piece and sparkling snowflake hair accessories, along with the other items in the Disney Frozen Package. To make your reservation starting September 25, call 714-781-STYLE (714-781-7895) for Disneyland Resort or 407-WDW-STYLE (407-939-7895) for Walt Disney World Resort. Guests must be accompanied by an adult age 18 or older during the entire experience. No discounts apply unless otherwise noted. Reservations can be made up to 180 days prior arrival. A valid accepted credit card number is required at the time of booking; $10 cancellation fee will be applied for all no-shows or if reservation is cancelled within 24 hours of experience. All prices, package components, costumes, accessories, hairstyles and information contained herein are subject to change without notice. (Separate theme park admission may be required.)
Beginning September 15, 2015, Bibbidi Bobbidi Boutique will become the Bibbidi Bobbidi "Boo-tique" as it offers a Minnie Mouse "witch"-inspired look through November 1 (or while supplies last). The Halloween Minnie Mouse transformation package includes: choice of hairstyle, shimmering makeup, face gems, nail polish, a Princess sash and cinch sack, plus Halloween Minnie Mouse costume and matching headband. NOTE: Transformations are only available for children ages 3-12. Bibbidi Bobbidi Boutique photo package is sold separately, based on availability. Package is available at the Bibbidi Bobbidi Boutique at the World of Disney Store in Marketplace or inside Cinderella Castle in the Magic Kingdom (separate theme park admission required for the latter). Make your appointment by calling 407-WDW-STYLE (407-939-7895). (At Disneyland Resort in California, this package will be offered at Bibbidi Bobbidi Boutique in Fantasyland inside Disneyland park. Separate theme park admission required. Call 714-781-STYLE [714-781-7895] to book.)
INTRODUCTION: On April 5, 2006, the World of Disney at Downtown Disney Marketplace marked its 10th anniversary with the Grand Opening of the Bibbiddi Bobbiddi Boutique, Princess Room, and an interactive Adventure Room. The boutique salon transforms little girls into Disney princesses with hairstyling, make-up, and manicures.
The Bibbidi Bobbidi Boutique opened a second location in the Magic Kingdom in Cinderella Castle in September 2007.
Services and prices are as follows.
These are the main hairstyles available:

Disney Diva -- Hair is pulled back, and a little ponytail hairpiece is added, teased on top, and decorated with hair accessories (shown at below right).
Pop Princess -- A funky look with little braids, a colorful hairpiece and Mickey shaped clips.Fairytale Princess -- Hair is swept up to the top of the head and crowned with a tiara for a smooth, classic look.
Color Star --Adds color to the hair.
Once you choose your hairstyle, choose your package:
COACH: includes Hair Style, Shimmering Makeup, Princess Sash and tote: $54.95
CROWN: includes Hair Style, Shimmering Makeup, Nail polish, Princess Sash and tote: $59.95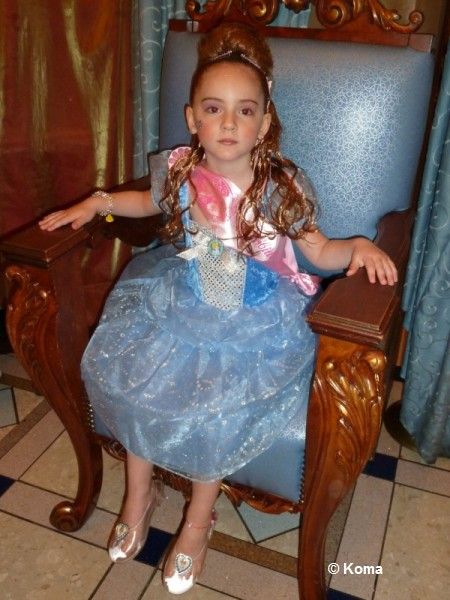 COURTYARD: shimmering makeup, nail polish, Princess sash and tote, face gems, Bibbidi Bobbidi Boutique T-shirt and tutu. (The Bibbidi Bobbidi Boutique T-shirt will be available in youth sizes from S to XL and adult sizes S to XL. The Bibbidi Bobbidi Boutique tutu will be available in two sizes, small and medium.) $94.95.
CASTLE: includes Hair Style, Shimmering Makeup, face gems, Nail polish, Princess Sash and tote, Princess Costume plus accessories, and Imaging Package, which includes 1 - 6x8 and 4 - 4x6 photos in princess-themed photo holder: Price range is $189.95 - $239.95 + tax.
NOTE: Price range is determined by the choice of Princess costume and shoes.
KNIGHT PACKAGE: Includes hairstyling with gel, confetti, as well as a sword and shield. $15.95.
"SOFIA THE FIRST" --
At the Bibbidi Bobbidi Boutique inside the World of Disney store in Downtown Disney Marketplace: Inspired by the hit Disney Junior television show, this package includes "Sofia the First" hairstyling, shimmering makeup, nail polish, face gem, Princess sash, Princess cinch bag, a crown and hair bow. This package does NOT include a costume. The Sofia the First Package costs $64.95.
IMAGING PACKAGE ADD-ON --
includes 1 6" x 8" and 4 4" x 6" photos in a special holder for $$32.95 plus tax.
Some general rules for all little girls and boys:
-- Children must be between the ages of 3 to12 and must be accompanied by an adult.
-- Hair must be freshly clean and brushed out (no tangles)
-- Hair must be free of all styling aids/products like gels, mousse, hair spray, barettes, etc.
-- Fingernails must be clean and free of all nail polish/decals.
-- Child must bring their own brush/comb with them for the Fairy Godmother to use
-- Scalp must be free and clear of any "conditions" or irritations for the last 30 days
Hours of operation:

Bibbidi Bobbidi Boutique's Downtown Disney location is open 9:30 a.m. - 6 p.m. daily (last appointment will be at 5:30 p.m.), seven days a week.

The Magic Kingdom salon is open every day 8 a.m.-7 p.m. (Theme park admission is required for the Magic Kingdom location.)
Walk-ins are accepted; however, appointments are strongly encouraged by calling 407-WDW-DINE or WDW-STYLE (939-7895) as far as 180 days in advance.
NOTE: A valid credit card number is required at time of booking. A $10 cancellation fee will be applied for all no-shows or if reservation is cancelled within 24 hours of experience.


PHOTOS OF THE MAGIC KINGDOM LOCATION:
PHOTOS OF THE DOWNTOWN DISNEY LOCATION: