If you've taken a little one to a Bibbidi Bobbidi Boutique before (or even been there yourself), you know what a wonderful experience it can be.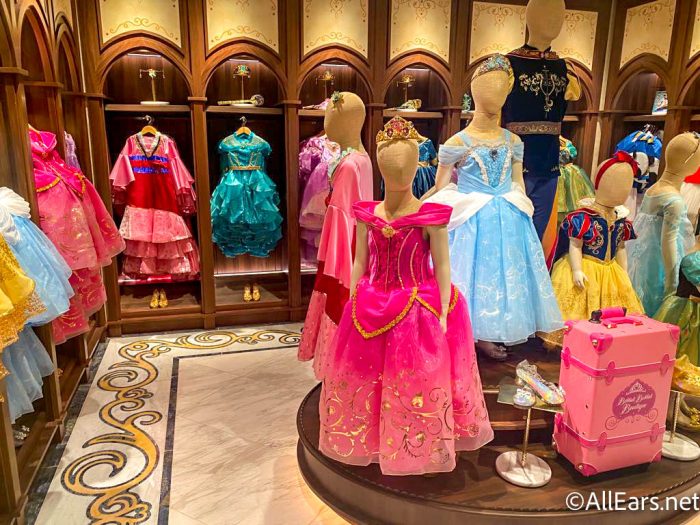 Kids are given the chance to transform into a prince or princess with the help of the loveliest of Cast Members, creating a memorable experience that can become the highlight of the trip! But did you know that these real-life fairy godparents can be found not only on the land but on the seas as well?
Disney Cruise Line Basics
Disney Cruise Line isn't your average cruise line — along with the chance to explore far-off destinations guests also enjoy all of the excitement and charm of a Disney-themed vacation.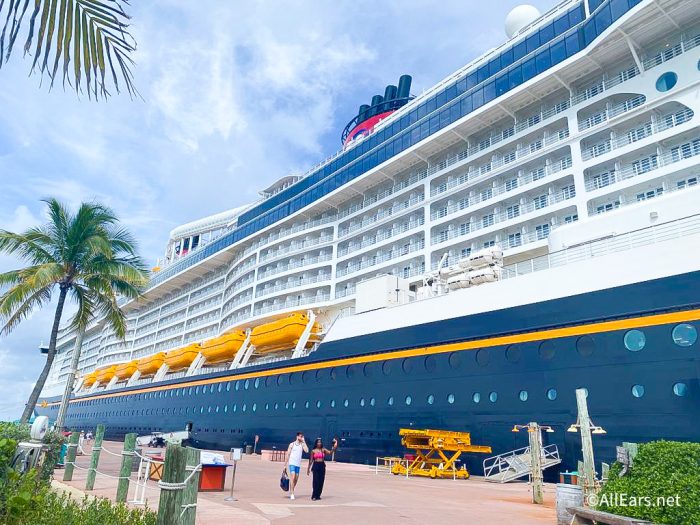 If you've never taken a Disney cruise, check out our post about the 10 things you won't know until AFTER your first Disney Cruise. You can also see our MANY videos on Disney Cruise Line:
Besides many other activities, Disney Cruise Line brought Bibbidi Bobbidi Boutiques out of the parks so the makeovers don't have to stop once you set sail.
Bibbidi Bobbidi at Sea
You are sure to find a cruise fitting your needs that also has a Bibbidi Bobbidi Boutique — several of their ships have them! You can find these salons on the Disney Wish, Disney Dream, Disney Fantasy, Disney Magic, and Disney Wonder.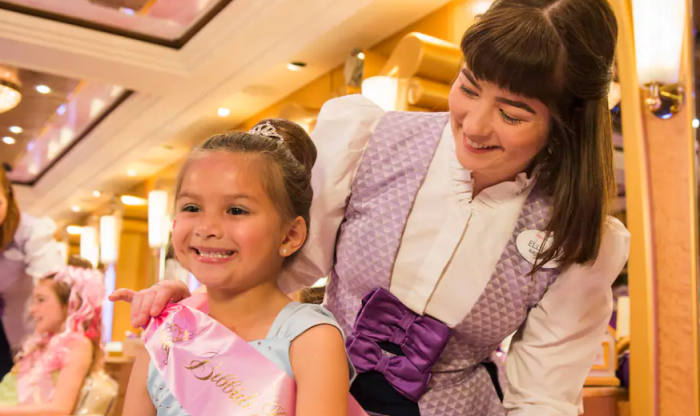 Each one has the same amenities you know and love, including hairstyling, costumes, makeup, and more. Kids can pick from a variety of makeovers (including a swashbuckling pirate look!) and enjoy being pampered as they're transformed into a character from a storybook.
Package Options & Prices
There are plenty of package options to fit a variety of budgets. They also offer themed packages inspired by specific characters, like Princess Anna or Queen Elsa.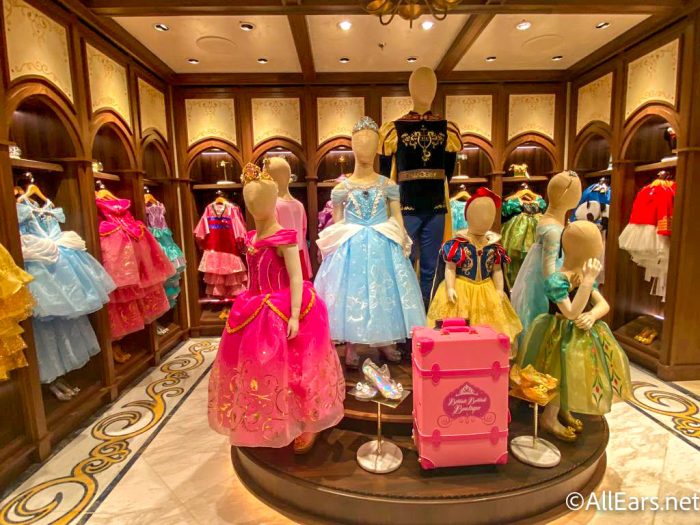 The appointment length will vary by package so keep that in mind when planning. You can pick the package that best suits your family's needs, whether it's a simple sprucing up or a full-blown royal treatment.
Deluxe Carriage Package
Price: $99.95
Hairstyling
Shimmering makeup and face gem
Princess sash and cinch sack
Nail polish
Bibbidi Bobbidi Boutique T-shirt
Castle Package
Price: $199.95
Hairstyling
Shimmering makeup and face gem
Princess necklace, sash and cinch sack
Nail polish
Disney Princess gown of your choice
Coordinating accessories
Disney Frozen Package
Price: $179.95
Choice of Anna or Elsa hairstyling with braided hairpiece
Choice of Anna or Elsa gown
Sparkling snowflake hair accessories
Face gem
Princess sash and cinch sack
Nail polish
Olaf ornament
Princess Signature Package
Price: $450.00
Hairstyling
Shimmering makeup and face gem
Princess sash and cinch sack
Nail polish
Disney Princess gown made with heirloom-quality fabrics—and featuring intricate design details that tell the story of the princess
High-quality crystal tiara with box
Organza garment bag and satin hanger
Royal Knight Costume Package
Price: $99.95
Knight costume
Knight backpack
Hairstyling with gel
Mighty sword and shield
Confetti
Making a Reservation
Ready to schedule a makeover? There are two ways you can make your reservation: either before or after setting sail. To make your appointment before embarkation, sign into your My Reservations account on the Disney Cruise Line website. Navigate to "My Disney Cruise," then click "Onboard Fun." There you'll see the option to schedule an appointment. You will need to have a fully-paid cruise reservation to book, and the timelines for booking ahead are as follows:
First-Time Guests: 75 days prior to sail date
Silver Castaway Club Members: 90 days prior to sail date
Gold Castaway Club Members: 105 days prior to sail date
Concierge Guests and Platinum Castaway Club Members: 120 days prior to sail date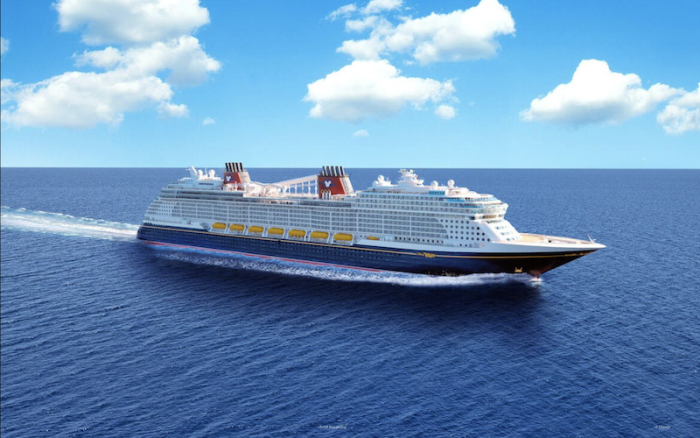 If you would rather wait, you can still make your reservation during your cruise, although availability isn't guaranteed. To book, just head over to the Bibbidi Bobbidi Boutique on your ship to check their schedule and see if there are any openings — easy peasy! If you need to make any changes to your appointment prior to embarkation you can do so online up to 3 days before you set sail. For cancelations, you'll have to give notice at least 24 hours in advance or your on-board account will be charged $10 per appointment.
Preparing for Your Appointment
Okay, so you've decided on a package, you've made your appointment, and you're all aboard your cruise! Now what? There are a few things you'll need to do ahead of your salon visit to ensure you have the best experience possible.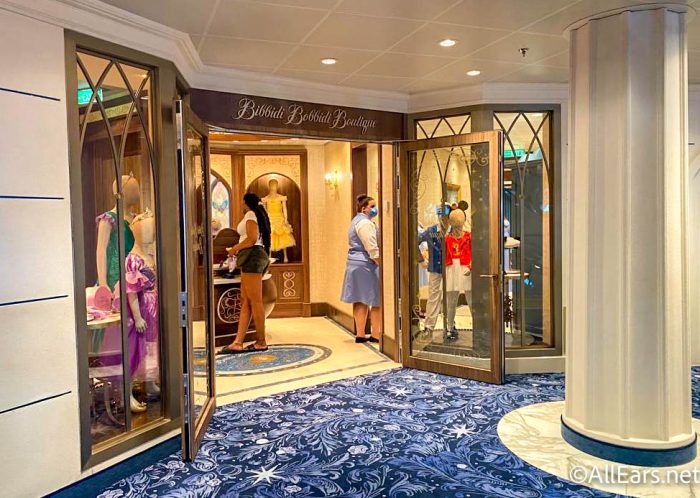 Disney requests that each child is properly groomed before their reservation. Hair should be combed, brushed, and detangled and nails need to be clean and bare if receiving nail polish. Kids must also be free of any scalp or skin conditions for at least 30 days prior to their appointment. A guardian aged 18 or older must accompany anyone under the age of 18, including anyone not included on the reservation. You should also plan to arrive at check-in 15 minutes ahead of the scheduled appointment time.
Disney Cruise Line Exclusive Experiences
There are a few experiences you will only find on the Disney Cruise Line, and they are themed perfectly! Make a reservation for their Captain Mickey Costume Package, which includes hairstyling with gel and confetti, a Captain cinch sack, and a Captain Mickey costume and hat. This experience is $149.95 and also comes with an autograph book and pen!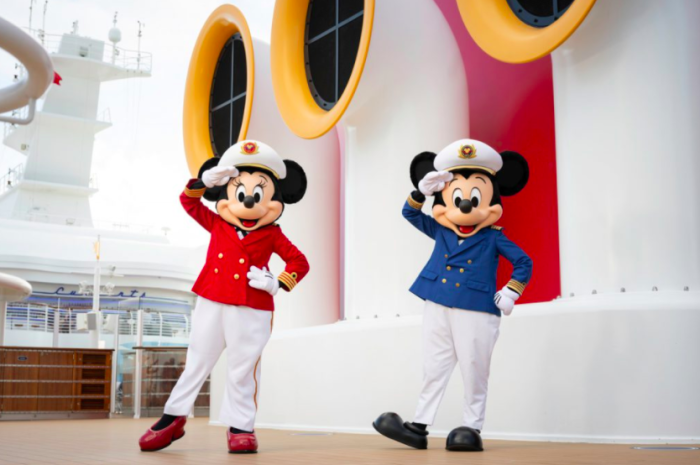 Disney cruises are also where you can take part in Pirate Party Night. To go with this themed party, on days when a Pirate Party Night is taking place you can book a variety of pirate-inspired makeovers at the Bibbidi Bobbidi Boutique to prepare for the festivities!
Their Pirates League packages will take about 30 minutes to put together, and Disney recommends only booking for kids ages 3 and up.
Pirate Costume (Youth)
Price: $199.95
Choice of pirate costume
Treasure chest cinch bag
Coin necklace
Telescope
Makeup application
Shoulder parrot
Bandana, eye patch and earring
Sword
Swashbuckle
Price: $99.95
Makeup application
Pirate vest and waist belt
Shoulder parrot
Bandana, eye patch and earring
Sword
Pirate Makeup and Accessories
Price: $59.95
Makeup application
Treasure chest cinch bag
Coin necklace
Bandana, eye patch and earring
Sword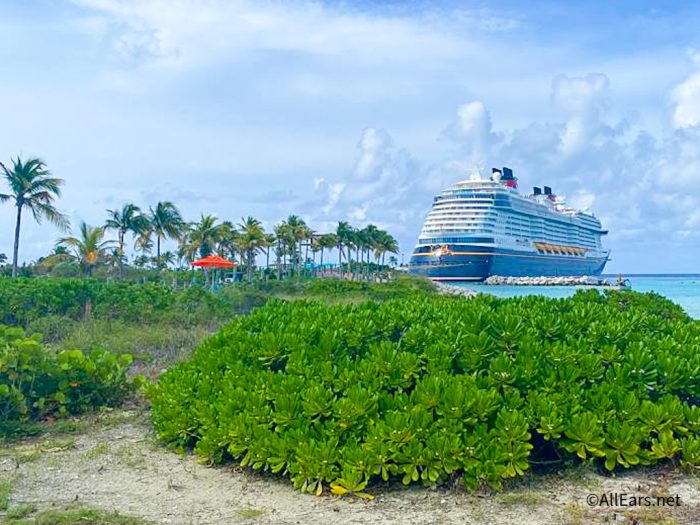 If you're a frequent visitor to the Disney parks who has never taken a Disney Cruise before, this might just convince you to go! Stay tuned to our site for more helpful tips you can use on your future Disney vacations.
Last year we took a trip on Disney's newest ship, the Wish. Watch this video to see what it's like on board!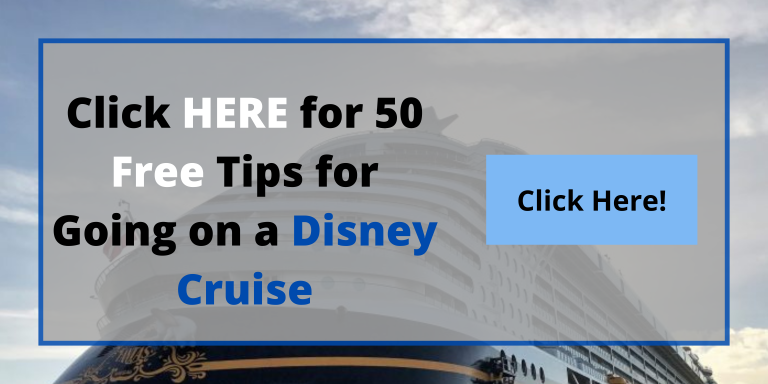 If they had a Bibbidi Bobbidi Boutique for adults, which character would you want your makeover to be inspired by? Comment your choice below!