Okay, you've done your homework. You've researched each restaurant, activity, and amenity at every port of call and onboard the vessel of your very first Disney Cruise Line ship.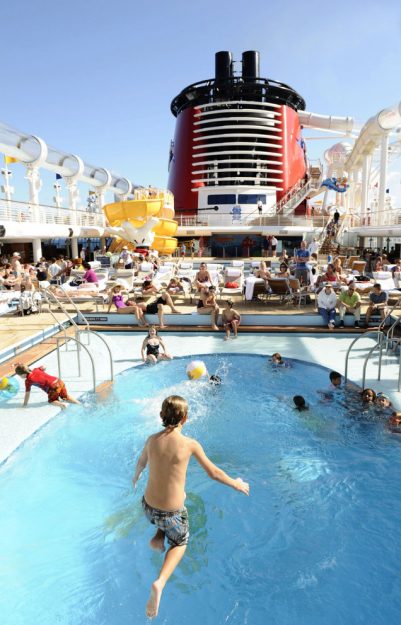 But there are plenty of things the guidebooks don't tell you that you just won't know until AFTER you experience your first Disney Cruise. Or at least that would've been the case — until now!
Here's our list of the top 10 Disney Cruise Line tips and tricks you really need to know before you go!
Complimentary Room Service
Having snacks and beverages brought to your room is completely FREE on the Disney Cruise Line, but many folks don't do it. We especially love ordering room service for breakfast (which we enjoy out on our private veranda!), and it couldn't be any simpler — you don't even have to pick up the phone! In your room, you'll find a door hanger with a breakfast menu to fill out the night before. Just check off the boxes of what items you'd like sent up to your room and give a 30-minute window of time you'd like them delivered by. Then you simply hang it on your door and your food will 'magically' arrive the next morning! This is a great way to grab a quick bite or that much-needed cup of coffee (they actually give you an entire carafe!) while the rest of the fam is snoozing. Once everyone's awake, head up to Cabanas for your second — and much larger hot breakfast — at the buffet!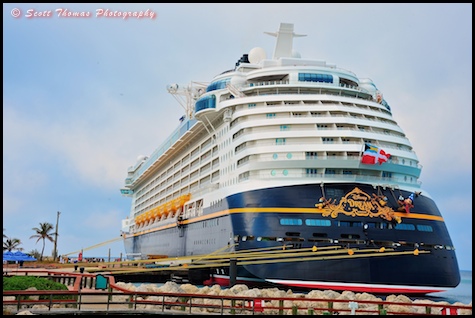 You Don't Have to Disembark at Ports of Call
Some families enjoy leaving for shore excursions when the ship docks while other folks like to soak in the peace and tranquillity that comes with having fewer people onboard the ship at ports of call. You'll get a good feel for if you're a person who likes to disembark (or one who likes to stay on!) after your first cruise. Or maybe you'll find out you like both! While we can't imagine not getting off at Castaway Cay (Disney's gorgeous private island!), we can see how getting off in Nassau could harsh some folks' vacation mellow! The vibe and energy of the bustling city can feel a little hectic — especially after a long, calm day at sea!
Family Beach on Castaway Cay, The Bahamas
How Much You'll Love The Crew
Sure, the food and entertainment on Disney cruises are great, but one of the things we love most about cruising is the Disney Cruise Line crew. These hardworking guys and gals seriously bust their humps to make sure every guest has what they need for their perfect vacay. Their tireless efforts at keeping the ship immaculate, tasty food coming in droves, and attentiveness to every detail and aspect of your guest experience will make you feel so extravagantly relaxed and cared for. It will be hard to go back to your normal life afterward!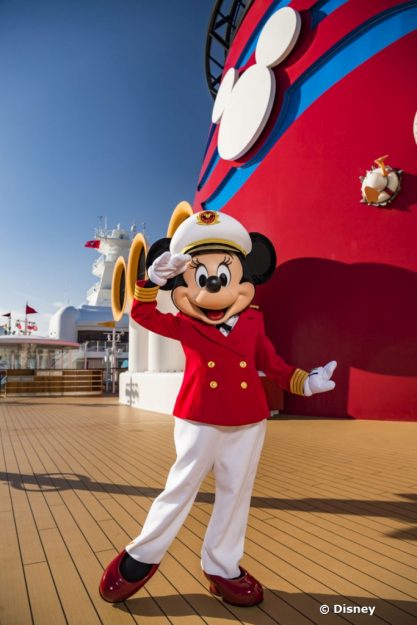 Cove Bar Rewards Card
If you like really, REALLY good coffee, you'll want to hit up the Cove Bar!  Each of the Disney Cruise Line ships has one, and while you'll have to pay extra for their speciality coffee drinks (regular coffee is free) to us it's worth the upcharge. Trust us — their cold brew is exceptionally good! And even though their beverages will cost ya, their prices are very reasonable compared to what you're used to paying for espresso drinks at most coffee shops. In fact, this is true of most things you'll find onboard that aren't complimentary: they're much cheaper than what you'd typically pay for them in the Disney Parks and likely rival purchases you make in your regular life! Plus, make sure to ask your server for the Cove Bar rewards card — after purchasing five coffee drinks, you'll get your sixth one on the house!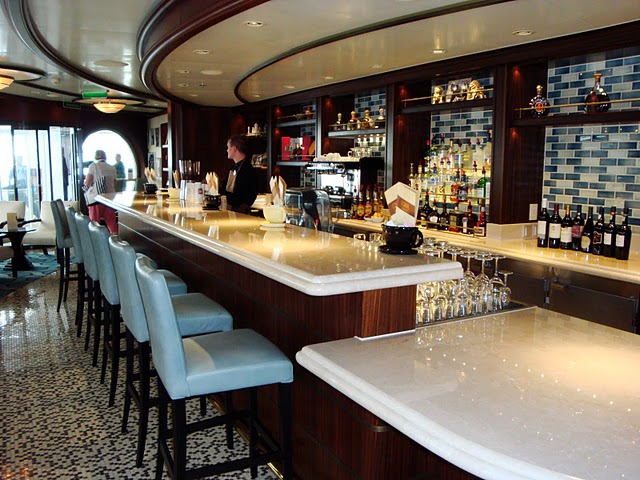 Drink of the Day
While most cocktails on the ship and on Castaway Cay cost around $10, ask the bartender what the Drink of the Day is. It's an unpublished, secret discount drink (usually selected from the regular cocktail menu) that you can get for $5. But since this info isn't printed anywhere, many folks don't know about it! And even if you don't like the Drink of the Day on that specific day, the next day it'll be different, so make sure you keep asking!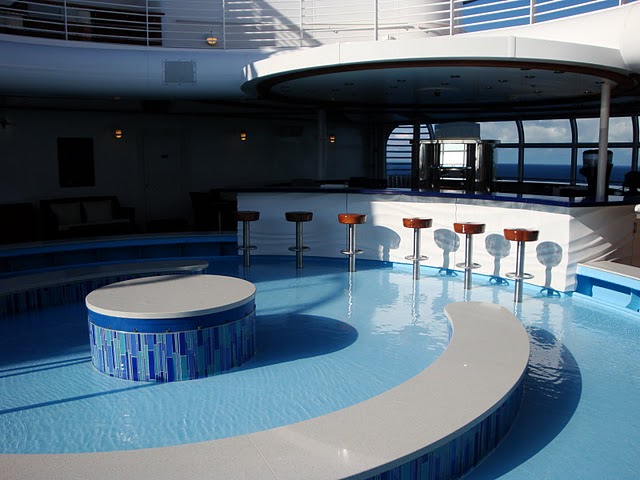 Tips for Rotational Dining
Disney Cruise Line uses rotational dining to serve passengers dinner at each of the ship's signature restaurants throughout the duration of the cruise. And while you'll be assigned to either the early or late seating, you'll be eating with the same people at your table each night and have the same servers every time you dine. For some folks, this is a lot of fun and adds to their dining experience on board.
But maybe you'd rather eat earlier or later than your assigned mealtime — or maybe you don't like eating with strangers! For us, the rotational dining can feel like it takes a really, really long time and we'd rather be out having fun on the ship! Whatever your reason, if you want to forgo an evening (or two, or three!) of rotational dining, you can choose to eat dinner at Cabanas instead.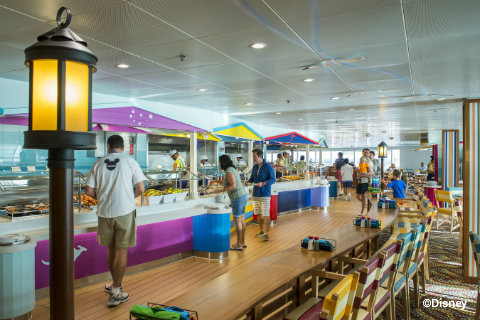 Offering a breakfast and lunch buffet during the day, at night Cabanas becomes a sit-down restaurant serving a "best of" selection of appetizers, entrees and desserts from each of the ship's various menus. You can walk right up to Cabanas at any time without a reservation and enjoy a meal — served a little faster than than the one you'd get at your rotational dining spot. Plus, you'll get to enjoy a private table all to yourselves. As much as we love meeting new folks at our rotational dinner table, sometimes it's nice to just sup with the folks you originally came on the cruise with!
Pirate Night
Most Disney Cruises hold an event at sea called Pirate Night. While it's mostly for little kids, this special evening can be a lot of fun for all ages — especially when the night ends with the special pirate-themed fireworks show! Plus, all the servers at each restaurant wear special "pirate" costumes, and you'll see a lot of pint-sized swashbucklers bounding through the deck's hallways.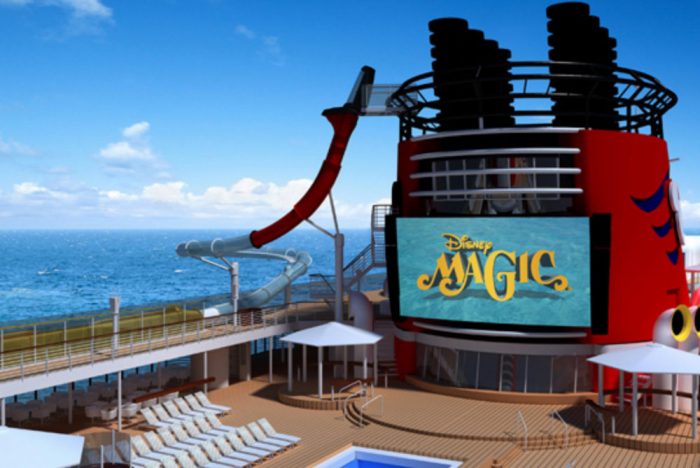 That being said, Pirate Night can be a bit intense for adults traveling without kids. If a pirate's life just isn't for you, we'd recommend making a dining reservation at Palo — or sticking close to your room! But DO head up to the top deck to watch the fireworks!
How to Handle Seasickness
If you've never been on a cruise before, you might be wondering how you'll react to the ship's movements. We always come well-prepared with all methods and remedies just in case. While most of the time you won't feel the ship moving, sometimes you hit some rough patches and might be wishing you had some seasickness wristbands — which surprisingly work really well! We've also used herbal motion sickness patches and herbal non-drowsy motion sickness pills which do the trick nicely. Of course, if you forget any of this stuff, it's available for purchase onboard at the ship's gift shops.
Serenity Bay
What can we say about Castaway Cay? It's a wonderful tropical paradise — especially the secluded adult oasis on the far end of the island known as Serenity Bay. It's a long trek to make on foot, but you can take the island's tram from Pelican Point to get there and save yourself some steps (and relief from the sun!) And when it's lunchtime, Serenity Bay has its own third, secret "Cookie's" which serves STEAK!! The rest of the food is the standard fare you'll find at Cookies and Cookies, Too. Serenity Bay is a little slice of heaven — be sure to check it out if your ship docks at Castaway Cay!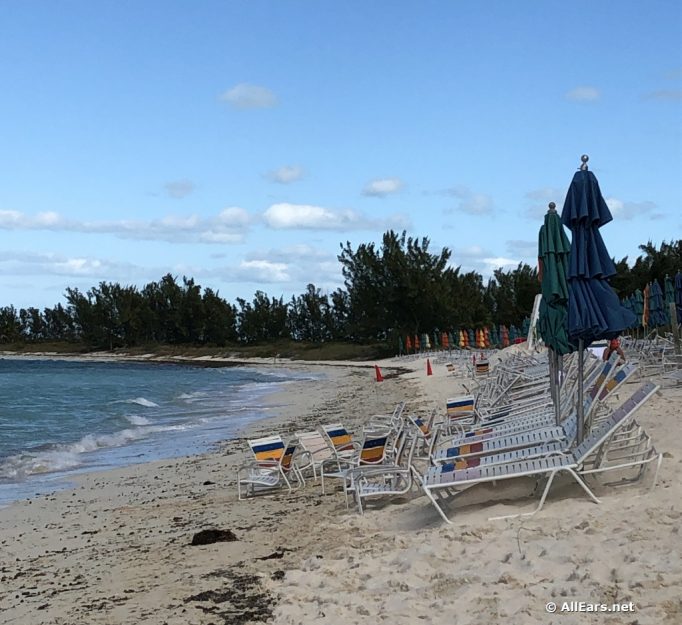 Entertainment
From movies to stage shows, live music, in-room Disney films on-demand, and SOOO much more (we didn't even mention pools, bars, lounges, or the spa!), it's hard to know how to spend what little time you and your family have while onboard the ship. Our best advice is to make the most of your time doing what you love. If you love taking naps, take a nap! If you wanna see a movie, see a movie! Sure you can nap or watch a film at home, but for some reason, even normal stuff feels a lot more fun when you're on a cruise!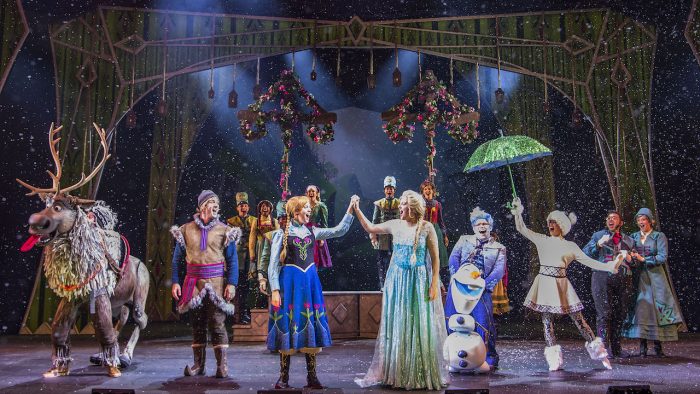 Reading a good book or relaxing in one of the spa's ceramic loungers will feel like the best thing ever — just doing nothing is bliss for some people! And if you're traveling with a group of people who don't all want to do the same thing, that's okay, too! On a Disney Cruise it's easy for everyone to do their own thing — whatever that may be! Just enjoy the time you have with your loved ones without the distraction of phones and wi-fi! Have fun unplugging, relaxing, and exploring on your first Disney cruise!
Have you enjoyed a Disney Cruise? Tell us your favorite tips for making the most of your voyage at sea. 
Want to share your experiences in an AllEars reader review (or see what other readers have to say)? You can do that below!