Disney's Magical Express is a complimentary motorcoach transportation system that magically whisks Walt Disney World Resort hotel guests from Orlando International Airport (MCO) to Disney Resort hotels.
Disney's Magical Express is touted as one of the greatest benefits of being a Disney Resort hotel guest, but is it really the best way to get to Walt Disney World Resort from Orlando International Airport?
Let's weigh our options…
Disney's Magical Express
Disney's Magical Express is a complimentary service for guests of Disney Resort hotels. When you book your Walt Disney World Resort stay, you can schedule a Magical Express ride from the airport to the Resort. Right off the bat, this service is helping you save money because you won't need to pay for an alternative mode of transport like a rideshare, third party shuttle, or car rental.
Disney's Magical Express also offers complimentary luggage delivery directly to Disney Resort hotel rooms if you want, too.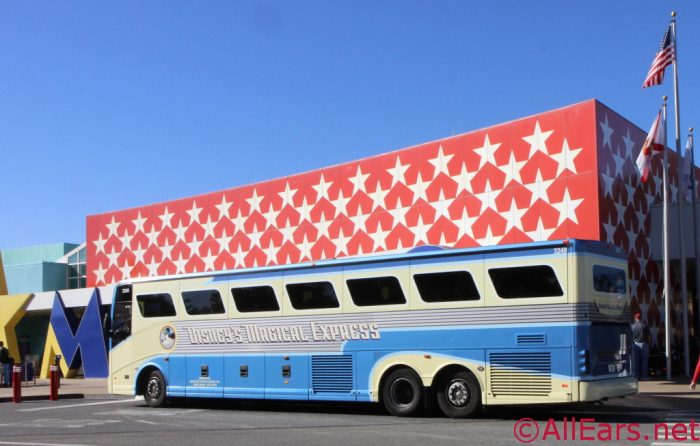 When you reserve Disney's Magical Express, your Walt Disney World vacation begins the moment you deplane your aircraft. Domestic passengers can bypass baggage claim entirely if they arrive during luggage delivery service hours (more on that later) and have affixed the correct luggage tags (provided by Magical Express).
Guests also enjoy a free ride back to MCO on the day they check out from their Disney Resort hotel.
As if that weren't enough, Guests utilizing Disney's Magical Service can use the airport check-in counters located at the Disney Resort hotels — bypassing airport and luggage check-in at MCO. They'll even print your boarding passes for you!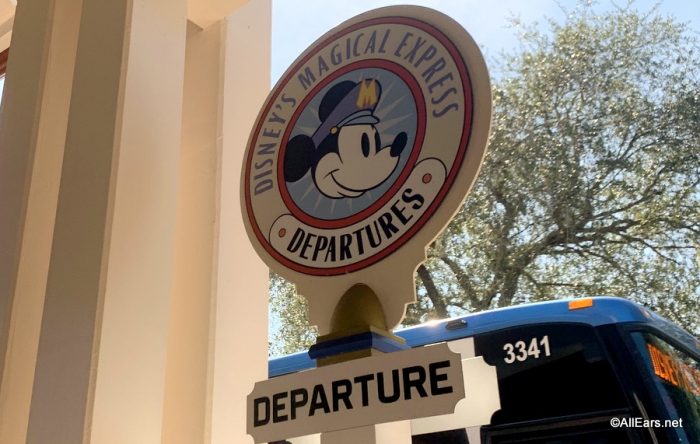 One thing that many guests don't like about Disney's Magical Express is that pick-up times for return rides are scheduled four hours in advance of their flights for both domestic and international flights. They feel this really cuts down on the time they can spend in Walt Disney World on the last day of their vacation.
In Disney's defense, this is done to guarantee that Guests arrive to the airport on time for their flights. Disney's Magical Express is convenient, but definitely not the fastest option.
Are you flying in late? That's okay! Disney's Magical Express runs 24 hours a day. However, luggage delivery service does NOT run from 10PM to 5AM, so if you arrive after 10PM, you must visit the baggage claim area to claim and transport your own luggage to your Disney's Magical Express motorcoach.
Another drawback of Disney's Magical Express that's luggage-related is that it can sometimes take time for your luggage to be delivered to your room even during daytime hours when the baggage delivery is conducted. Ways to mitigate this issue include claiming your own baggage before boarding Magical Express and bringing it to your room yourself or packing things you'll need right away (like a bathing suit or park supplies) in your carry-on so you're not stuck waiting for your bag.
Disney's Minnie Van Service
Disney's Minnie Van Service is a newer Walt Disney World transportation service.
It offers Disney-owned and -operated vehicles which can accommodate up to six guests, offers up to two complimentary car seats, and can fit six pieces of medium-sized luggage.
If you are traveling with little ones, you can arrange for your Minnie Van to have two car seats (free of charge), and all Minnie Vans come equipped with electronic device charging ports.
Minnie Vans are driven by Cast Members. In fact, one of my favorite things about Minnie Van service is the Cast Members themselves. They are highly knowledgeable, love to engage in Disney conversation, and can share a magical soundtrack of Disney tunes with their riders!
The Minnie Van Airport Service only operates between 6AM and 11:59PM and can be booked up until 11:59PM the night before MCO arrival. Minnie Vans are booked through the Lyft rideshare app.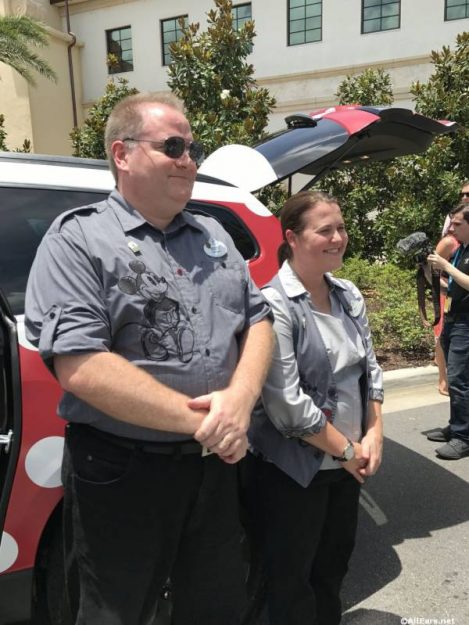 One way service to or from MCO will currently run you $150 before gratuity. Essentially, if you decide to use Minnie Van Airport Service for traveling both ways, you will be spending upward of $300, and you will handle your own baggage. Hot diggity dog, that's a hard pill to swallow for this budget-conscious mama.
Rental Cars
I think we all know how rental cars work, but I'm adding them to this list because they are definitely an option to consider. Rental Cars are usually priced on a "per-day" basis, and this price per day depends on the size of the vehicle you choose and the time of the year you are traveling. Car rental fees can add up very quickly. Additionally, car rental check-in areas at MCO are normally busy.
Most "budget" vehicles for 5 passengers start at about $35/per day during the "off-season" and $60+/per day during peak travel seasons. When you factor in all of the additional costs (insurance, tolls, car seat rentals), you're looking at a large chunk of your vacation budget going toward your transportation. Plus, you'll have to pay to park your rental car at your Disney Resort, too.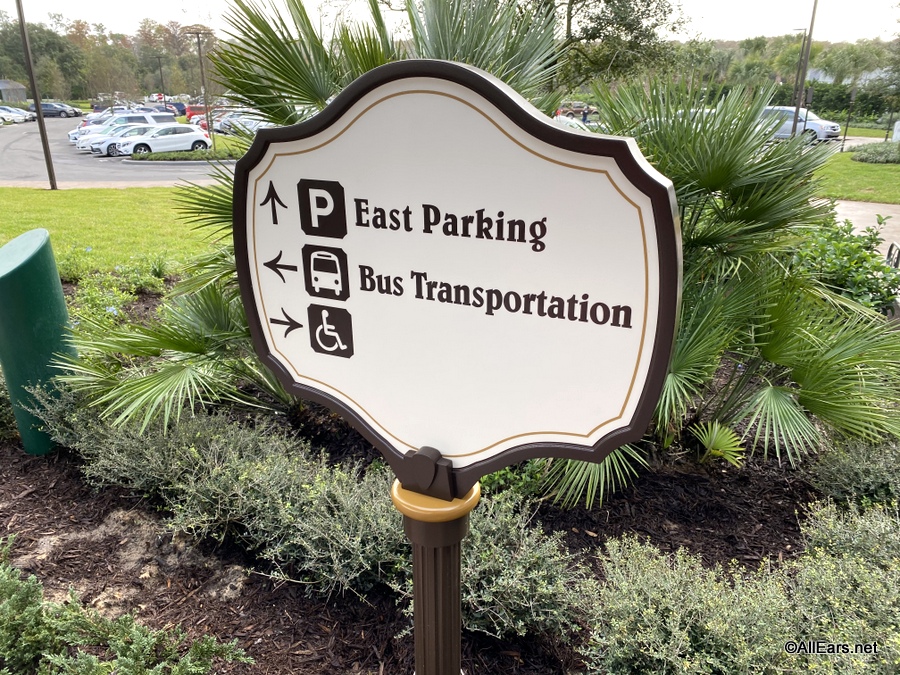 A huge advantage of renting a car is that you can get to and from the airport, and around Walt Disney World Resort, a lot quicker. This is a great option for very independent (and slightly impatient) guests who want to take complete control of their transportation to, from, and around Walt Disney World Resort.
Private Car/Limo Service
Private car, van, and limo services are available for guests who want luxury and typically speedy service and those who are traveling with large groups.
In fact, AllEars partners with a reliable, insured private vehicle service provider called Happy Limousine. Happy Limousine has everything from town cars to 28-passenger minibuses. They offer appropriate options for those traveling with very large groups.
As an example of pricing, Happy Limousine currently provides round-trip minivan transportation to and from MCO for $182.00 — a considerable savings from Disney's Minnie Van Service (but still a lot more than the free Magical Express).
Uber/Lyft — Ride Sharing Services
I've found that Uber/Lyft is a great option for those wanting private transportation but not at the cost of Minnie Van Airport Service or private car service. Of the many "paid transportation services", Uber/Lyft will probably be your most affordable transportation option to and from MCO.
Most Uber/Lyft rides from MCO to Walt Disney World will cost approximately $30-45, but please keep in mind that this cost will fluctuate depending on the time of day and current traffic conditions.
You'll also find your vehicle choices will be more limited. Guests with little ones may not be able to secure a car seat, so I rarely recommend this option to families traveling with children.
Final Thoughts
Who Disney's Magical Express is for:
Guests who want to save money and maximize their travel budget.
Guests who want their luggage delivered directly to their Disney Resort hotel room.
Guests flying into MCO late at night.
Guests with large families.
Who Disney's Magical Express is NOT for:
Guests who want to arrive at their Disney Resort hotel rather quickly.
Guests who do not want to wait in lines at the airport.
Guests who want to spend as much time as possible in Walt Disney World on the last day of their vacation.
Guests flying into airports other than MCO.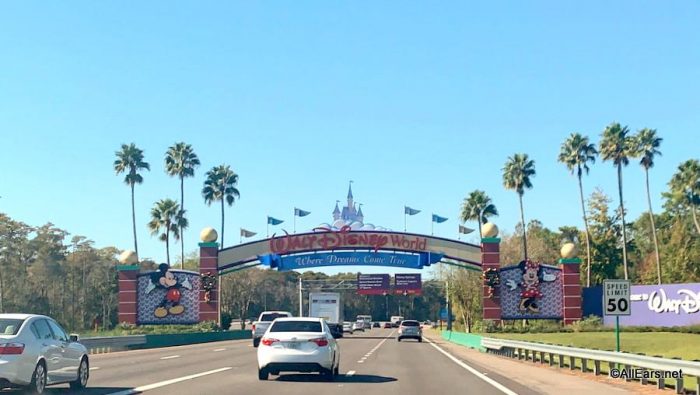 Of course, while I like to take advantage of Disney's Magical Express and recommend it for most travelers, you'll have to decide for yourself whether or not the service is right for your vacation.
If you're curious what AllEars readers have to say about Disney's Magical Express, click below to read reviews. And leave one of your own to help others make their decisions, too! 
Join the AllEars.net Newsletter to stay on top of ALL the breaking Disney News! You'll also get access to AllEars tips, reviews, trivia, and MORE! Click here to Subscribe!