Disney Cruise Line: Marvel Day at Sea – Everything You Need to Know
Guests looking to help save the day will fit right in on a Marvel Day at Sea. Jump, swing, and soar with heroes like Captain America, Spider-Man, Iron Man, and Black Panther. Available on select 5-night cruises from Miami to The Bahamas and the Western Caribbean.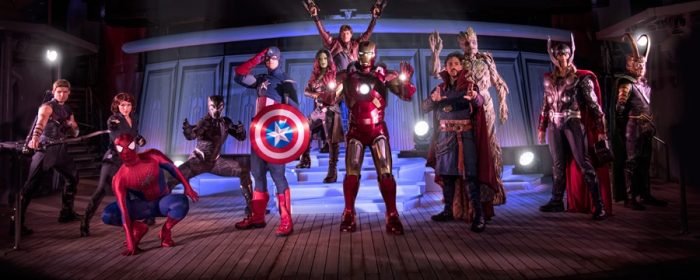 Character Encounters
Guests can find heroes like Iron Man and Black Panther during posed photo ops, but that's not all. Throughout the ship, you may be lucky enough to come across Captain America, Thor, Loki, Doctor Strange, Black Widow, Hawkeye, Star-Lord, Gamora, or Captain Marvel.
Heroes-in-Training
Kids participating in the Oceaneer Club can find their inner super hero as Marvel's best come to help out with the Marvel Super Hero Academy.
Entertainment
Two different super hero stage shows await guests during Marvel Days at Sea: a grand extravaganza featuring dozens of heroes and a USO show featuring Captain America.  For a fun twist, there is also a Super Celebration with Mickey and friends where they don the costumes of their favorite heroes.