Dining Options on the Disney Dream
Eating on a Disney Cruise ship is always a pleasure, and the Disney Dream has some amazing dining options. Here is a look at all of the restaurants, bars, and snack stands onboard.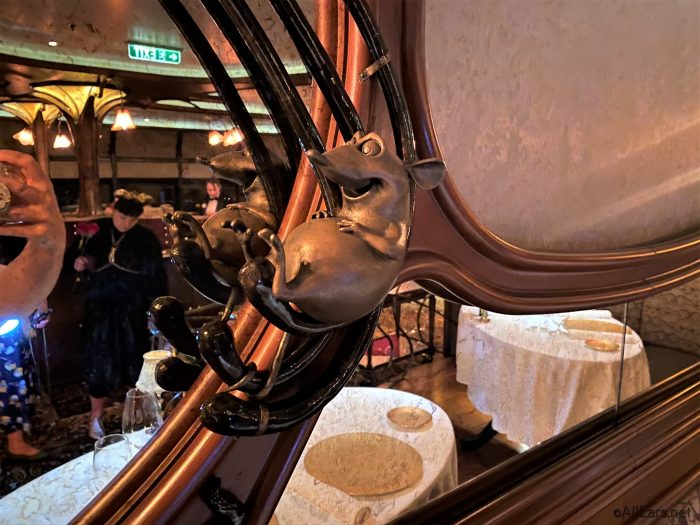 Rotational Main Dining
Rather than a static main dining room, Disney Cruise Line rotates guests between multiple dining options. The schedule is fixed and the wait staff rotates with the guests to build a familiarity. These restaurants are included in the cruise price.
Animator's Palate
Animator's Palate is an innovative restaurant where the show is drawings coming to life on screens all around you. Undersea Magic immerses diners in the world of Finding Nemo.
Royal Palace
At breakfast and lunch, Royal palace offers another sit-down option. Dinnertime features French and continental cuisine in the opulence of the classic Disney fairytales Cinderella, Snow White and the Seven Dwarfs, Sleeping Beauty and Beauty and the Beast.
Enchanted Garden
Enchanted Garden is open for breakfast, lunch, dinner. The cuisine is American for breakfast and lunch, but the restaurant becomes French-inspired at dinner. As guests enjoy their meal the restaurant changes as flowers bloom and the "sky" fades from day to night.
Specialty Dining
There are three specialty dining venues onboard the Disney Dream. These are extra-special experiences that cost extra.
Remy
Remy is adults only and adheres to a strict dress code. Jackets for men (or collared shirt for brunch) are required and no jeans, shorts, capri pants, sneakers, or open toed shoes.
The cuisine is fantastic French fare and reservations are required. The price is $125 for a prix fixe dinner and $105 extra for wine pairings. Brunch is $75 with a $30 extra charge for champagne pairings.
Palo
Fine Italian fare is served in the adults-only Palo. The price is $45 for a prix fixe dinner, $59 with a wine pairing.
Royal Court Royal Tea
Children ages 3-12 can partake in a special tea party with Disney characters. Children get gifts including a jewelry box, tiara, bracelet, necklace, a Cinderella doll, and autograph book. Alternatively they can opt for a package including a cinch bag, sword, shield, pins, Duffy plush, and autograph book.
The price for the Royal Tea is $220 for children and $69 for adults. Adults do not receive the additional gifts.
Table Service Dining
Cabanas
Cabanas is the closest thing to a buffet-style restaurant found on the Disney Dream. For breakfast and lunch, guests can order freshly-made food at 10 different stations. At dinner, the restaurant becomes table service.
Quick Service Dining
Flo's Cafe
Flo's contains three different stations: Luigi's Pizza, Tow Mater's Grill, and Fillmore's Favorites. Between them guests can grab burgers, pizza, salads, sandwiches, and more.
Snacks
Vanellope's Sweets & Treats
A large dessert shop serving gelato, baked goods, and candy.
Eye Scream Treats
A wide selection of ice cream.
Frozone Treats
A great spot for poolside smoothies.
Preludes
The snack bar outside of the Walt Disney Theatre serving quick bites like cookies, candy, and popcorn.
Senses Juice Bar
Near Senses Spa, guests can enjoy juices and other blended beverages.
Room Service
Available for breakfast or snacks 24 hours a day. Included in the cruise price.