Disney Springs
The Landing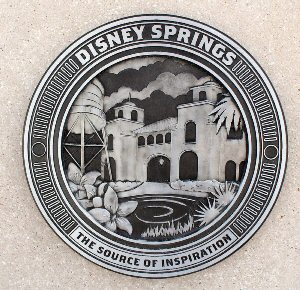 The Landing at Disney Springs stands on the land that formerly was the Pleasure Island complex. On March 14, 2013, the Walt Disney World Resort announced that Downtown Disney would be transformed into Disney Springs.
The Landing is designed to be a colorful and thriving commercial district with inspired dining and beautiful waterfront views and unique shopping experiences.
DINING
On the Marketplace side of The Landing are Portobello Country Italian Trattoria, Paddlefish, and The BOATHOUSE. On the West Side end is Paradiso 37 and STK.
The BOATHOUSE is an upscale, waterfront dining experience. The restaurant has nautically themed dining rooms, three bars (including one on the water), guided Amiphicar rides, and a lunch and dinner menu featuring sandwiches, chops, steaks and seafood.
Portobello Country Italian Trattoria -- across from Paddlefish, and also run by Levy Corporation, recently underwent a renovation to become an Italian trattoria. The menu has shifted from traditional Italian fare to food inspired by regional Italian destinations such as Milan, Tuscany and Rome. Hours usually 11:30am - 4:00pm and 5:00pm to 11:00pm. Reservations suggested.

Paddlefish -- focuses on seafood, serving a variety of fish as well as crab legs, local stone crabs and blue crab. The new venue's decor is completely different from Fulton's "turn-of-the-century riverboat" theme, and is more like a luxurious, modern yacht. The restaurant is open seven days a week, with separate lunch and dinner menus.

Morimoto Asia opened on September 30, 2015. The first pan-Asian restaurant from celebrity Chef Masaharu Morimoto, featuring flavors from across the continent. This Disney Springs dining destination showcases traditions like Peking duck carving, and dim sum. Morimoto Asia's eye-catching, 36-foot-tall, two-story layout includes lounges, dining spaces, and an exhibition kitchen that allows guests a behind-the-scenes glimpse of the culinary action. The second-level sushi bar and lounge has a separate entrance.

You can read our readers' reviews HERE.

Lunch Menu
Dinner Menu
Dessert Menu
Children's Dinner Menu
Forbidden Lounge - Snacks

Homecomin' - Florida Kitchen and Shine Bar by Chef Art Smith showcases farm-to-fork cuisine inspired by the Sunshine State. The menu will feature Southern favorites like homemade pimento cheese, deviled eggs, low country shrimp and grits, and fried chicken. Opened July 12, 2016

You can read our readers' reviews HERE.

Raglan Road Irish Pub and Restaurant opened in October 2005. (Click HERE for more photos!) The new venue, located on the site of the former Pleasure Island Jazz Company, offers traditional Irish fare prepared with a "modern flair." Menu items include: rack of lamb on Irish stew consommé, Sea Leek (oven-baked fillet of sea bass served on a fondue of leeks), and Kevin's Kudos (oven-roasted loin of bacon served with braised cabbage and creamed potato). The restaurant, which holds 600, is decorated with custom furnishings designed and built in Ireland by Irish craftspeople, as well as with Irish antiques and "bric-a-brac."

You can read our readers' reviews HERE.

Lunch Menu
Dinner Menu
Children's Lunch/Dinner Menu
Brunch Menu


Cooke's of Dublin, right next to Raglan Road, serves carry-out fish and chips, tasty pies and more.

Located between Raglan Road and Cooke's of Dublin is a small, outdoor bar called The Hole in the Wall Pub.

Paradiso 37, a restaurant and bar featuring cuisine from North, South and Central America, opened in May at Pleasure Island at Downtown Disney. The menu represents the 37 countries of the Americas, plus an international wine bar, 37 varieties of tequila and 10 signature frozen margaritas. The new concept was developed by Orlando-based E-Brands Restaurant Group, which currently owns and operates Timpano Chophouse, Samba Room, Taqueria Canonita, Aquaknox, David Burke and other restaurants in a number of locations across the United States. The restaurant features nightly entertainment and is open daily from 11 a.m. until late night.

Jock Lindsey's Hangar Bar - Tucked in between Paradiso 37 and the BOATHOUSE, Jock Lindsey's features unique cocktails and small plates. Ardent fans of the "Indiana Jones" films may recognize Jock Lindsey as Indy's frequent pilot; he's also the owner of a pet snake named Reggie. In the main room, guests discover an expansive bar, aviation decor filling the room, vintage travel posters covering the walls and correspondence between Jock, Indy and their fellow adventurers on display. Guests can eat, drink and be merry outside as well, in Jock's old steamboat, now in permanent dry dock and aptly named "Reggie;" and in nearby seating on the adjacent deck. Jock Lindsey's Hangar Bar opened in September 2015.




Erin McKenna's Bakery NYC - This location offers the same unsurpassed vegan, gluten-free menu as its flagship bakery in New York City, and its sister bakery in Los Angeles. Look for a full selection of award-winning donuts, cupcakes, cookies, bagels (with vegan butter!), and other savory items daily. This shop opened February 22, 2015.

The Ganachery showcases hand-crafted chocolate. The star of the show is a custom-made ganache, Disney's own recipe for a luxurious mixture of melted chocolate and cream. The signature flavor is dark chocolate with a note of Florida orange. All of the flavors fall into four categories: Spices, such a chipotle; Classic, such as orange, vanilla and caramel; Trendy, such as matcha yuzu chocolate; and Fruit, such as passion fruit and calamansi. You'll never think of chocolate the same after you visit. This shop opened on December 15, 2015.

Vivoli Gelateria - The gelato at Vivoli is made with fresh, top-quality ingredients using the exact same recipes from the original shop in Florence, Italy. In addition to their signature gelato, Vivioli Gelateria also serves traditional Italian panini, biscotti, espresso and tarts.

The Tea Trader's Cafe by Joffrey's - featuring teas from the finest tea gardens around the globe. You can order loose leaf teas prepared in many ways: steeped hot, iced, blended, spirited, and even edible (in the form of delicious cookies and treats). Special loose-leaf teas and herbal infusions are blended on site daily and available for purchase to take home. This shop opened on July 3, 2015.

STK Orlando -- Featuring rooftop dining with scenic views, the restaurant boasts both indoor and outdoor seating on two levels, a bistro, bar, private dining room and a fire pit. With a sleek and contemporary design, STK is known for its high-energy fine dining experience. Opened on May 25, 2016.

Haagen-Dazs -- gourmet ice cream. The original West Side location opened early 2003 and closed on October 19, 2013 to be replaced by Starbucks. The previoous kiosk location was right across from Cirque du Soleil and opened May 19, 2014. The current location in The Landing opened on May 15, 2016.

Wetzel's Pretzels -- features gourmet pretzels and more.

The original West Side location opened early 2003 and closed on October 19, 2013 to be replaced by Starbucks. The kiosk location was then moved across from Cirque du Soleil and opened May 19, 2014. The current location in The Landing opened on May 15, 2016.

Joffrey's Coffee and Tea -- features coffee, tea, hot chocolate and smoothies.

Opened on May 15, 2016.

YeSake: At this unique kiosk, try a Sake Cosmo Freeze or Sake Bourbon Slush among other offerings. Global eats range from the Great Wall with Chinese-style pulled pork to a Sombrero with ground beef, pico de gallo, guacamole, cheese and corn chips. Cold beer too. Opened May 15, 2016

Florida Snow Company: Shaved ice and bottled beverages. Located near T-Rex in Riverboat Square in The Landing
Shopping
| | |
| --- | --- |
| Erwin Pearl offers the latest in fashion jewelry. This shop opened on April 10, 2015. | Apex by Sunglass Hut - designed with the athlete, sports and outdoor enthusiast in mind, this shop utilizes innovative technology, such as the Apex Smart Mirror, to help guests find the best choice in sport sunglasses. This shop opened on January 30, 2015. |
| The Art of Shaving - offers premium grooming essentials for the modern man. The location also has a team of shaving specialists who offer advice to guests on proper grooming techniques. Appointments for a haircut or shave are suggested. This shop opened February 4, 2015. | Sanuk - creatively inspired footwear designed with non-traditional materials like yoga-mats. This shop opened February 9, 2015. |
| Sound Lion - the latest technology in headphones, earbuds, speakers, and other digital sound and music products can be found in this shop. They also provide education in digital music applications that improve the listening lifestyle. This shop opened February 16, 2015. | Chapel Hats - specializes in fashionable hats and headwear for guests of all ages. The location carries just about any style of hat including fedoras, sun hats, floppy hats, outdoors hats, kid's hats and more. This shop opened January 30, 2015. |
| Havaianas - offering "Make Your Own Havaianas" and "Embellish Your Own Havaianas," this store features a large assortment of Havaianas sandals for women, men and children, plus kids' rain boots. This shop opened February 25, 2015. | Shop for Ireland -- Authentic Irish collectibles, clothing and more. Located in the Raglan Road building. |
Kiosks
| | |
| --- | --- |
| Set The Bar - From bottle openers to flasks, shot glasses to copper mugs, this is a perfect perch to find the latest "must-haves" to transform your Saturday-night at-home-cocktail-hour into a truly sensational soiree. Located at Riverboat Square in The Landing. This shop opened in October, 2015. | Sublime -- Unique cards, gift candles, magnets, books and plaques. Located at Riverboat Square in The Landing. This shop opened in October, 2015. |
| Savannah Bee Company - At this eco-friendly stand, you'll discover a colony of honeybee-inspired gifts and products made from locally grown, all-natural honey including delicious artisanal varieties and luxurious body care goods. Located at Riverboat Square in The Landing. This shop opened May 15, 2016. | Filthy Rich -- Showcases celebrity-inspired jewelry at far-less-than-Beverly-Hills prices. The location specializes in authentic replicas of iconic jewelry and accessories worn by past legends of the silver screen and current celebrity style icons.. Located at Riverboat Square in The Landing. This shop opened May 15, 2016. |
| Duncan Yo-Yo's - At this cart one can find the perfect yo-yo as well as get instructions on how to use it. Located at Riverboat Square in The Landing. This shop opened December 18, 2013. | Eyecatchers -- Unusual wind chines and other things that move with the wind. Located at Riverboat Square in The Landing. |
| Chapel Hats Kiosk - Headwear for every member of the family. Located behind STK. | Game Day Gear -- Jerseys and caps for sports fans. Located behind STK. |