AllEars® Newsletter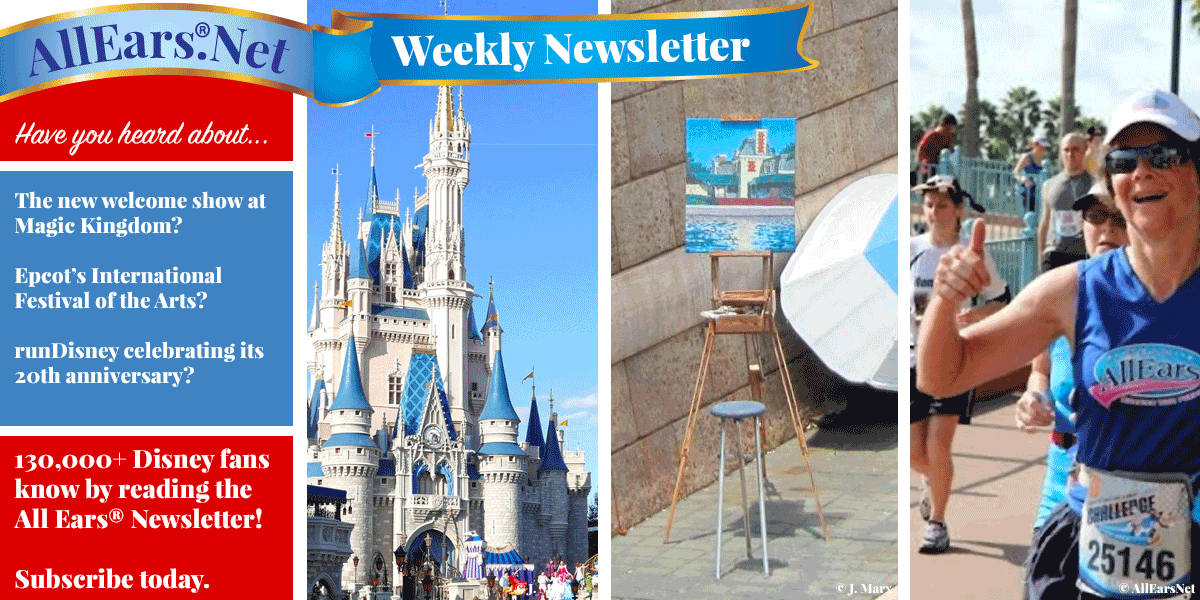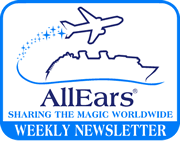 WELCOME TO THE HOME OF AllEars®, an unofficial electronic newsletter about The Walt Disney World Resort in Orlando, Florida, published weekly in conjunction with AllEars.Net.
Established September 1999
Library of Congress ISSN:1533-0753
AllEars® is delivered FREE each week to about 123,000 subscribers who share an interest in the Walt Disney World resort in Orlando, Florida. You should be one of them! Sign up today!
Click here to start receiving AllEars®, the FREE weekly electronic newsletter with the most current, accurate and comprehensive information for folks interested in Walt Disney World. Each AllEars® newsletter is chock full of facts, helpful tips and, of course, the latest Walt Disney World news, as well as restaurant and resort reviews, previews, interviews, snippets of timely information and insightful, entertaining guest columns.
Once you've subscribed, don't forget to set your preferences to receive our special promotional mailing called EARS THE DEAL™. A few times each month, we'll send you a bonus email with money-saving offers and promotions for Walt Disney World and the Orlando area, exclusive to you, our AllEars® subscribers! (Click HERE for instructions on subscribing to Ears the Deal™!)
To get a taste of what AllEars® has to offer each and every week, click on the links below — these tidbits are from our September 2018 "WDW Bits and Bites" issue:
---
STEP BACK IN TIME
by Joan L. Feder
AllEars® Staff Writer
Join us on our monthly journey into the past as we step back in time and explore the history of Walt Disney World and the Walt Disney Company. This time we travel to September 2008 when the night club lights of Pleasure Island went out for the last time.
Pleasure Island opened on May 1, 1989, in the area that is now The Landing at Disney Springs. According to Disney legend, Pleasure Island was developed by 19th century shipping magnate Merriweather Adam Pleasure, and included factories, warehouses and lofts. Pleasure was lost at sea in 1939, and his lazy sons soon ran the island into the ground. Imagineers repurposed these empty buildings into a nighttime entertainment area aimed mostly at adults.
Pleasure Island was initially a ticketed attraction with shops, movie theaters and night clubs. The area went through many changes over the nearly two decades it was open. Over the years, several of the night clubs' themes were revamped. By 2004, an admission ticket was no longer necessary, guests could wander the Island, paying to get into each individual club instead. In 2005, Pleasure Island's renowned nightly "New Year's Eve" fireworks, which began in 1990, came to an end. Finally, on June 27, 2008, Disney announced that Pleasure Island would be reimagined.
The night clubs at that time included Motion, which featured music videos, the BET Soundstage Club, an R&B/hip-hop dance club, and 8TRAX, which had a 1970s and '80s theme. Three of the original clubs also remained: The Mannequin Dance Palace, with its revolving dance floor and human "mannequins"; The Comedy Warehouse, home to the satirical musical, Forbidden Disney ("SuperConcientiousFriendlyDisneyWorldEmployees" anyone?); and finally, a 1930s British explorers' society, the beloved Adventurers Club. Packed with artifacts from its members' journeys, it featured live performers, audience participation and audio-animatronics. Guests were greeted with an exuberant cry of "kungaloosh," a multi-purpose word that was also the club's signature drink.
Despite an online petition that garnered 2,750 signatures in 72 hours, the Adventurers Club closed, along with the others, on September 27, 2008. That evening, a capacity crowd enjoyed live entertainment and one last "New Year's Eve" fireworks show. By morning many of the clubs' signs were painted over or removed. The area was slated to become "Hyperion Wharf," a warehouse district with an early 20th century nautical theme, set to open in 2013. Instead, it became the central area of Disney Springs and reopened in April 2015.
Pleasure Island is gone, but the Adventurers Club lives on in several locations. Its tribal masks are at the Explorers Club at Hong Kong Disneyland. References to the Adventurers Club can be found at both Aulani in Hawaii and the Polynesian Village Resort. The Skipper Canteen at Magic Kingdom has a display case of fezzes worn by the Society of Explorers and Adventurers (a topic for another day) including the one owned by Merriweather Pleasure. They also give you a chance to sound like a member of the Adventurers Club once more — just order their signature dessert, which goes by the name of Kungaloosh!
RELATED LINKS
Pleasure Island Archives
Adventurers Club Archives
Skipper Canteen
The Society of Explorers and Adventurers

---
MAGICAL MOMENTS
Each month, we like to share a few heart-warming Magical Moments brought to us by the amazing Disney cast members!
Tina: Our family had a multi-generational Disney trip in June. Our ages ranged from 19 to 76, and we had a great time. On day four of our eight-day vacation, we had advanced dining reservations at one of our favorite restaurants, 50's Prime Time Cafe. We had reservations for 2 p.m., but weren't seated until 2:30. The manager came over and gave us two free baskets of onion rings and offered an apology. No problem, we were a party of 10 and understood with that large of a party there were bound to be some delays. The manager then returned with 10 Fastpasses for us to use at any park (with a few ride restrictions) any time during our stay. Needless to say we were extremely happy with our treatment at the most Magical Place on Earth!
James T.: On a recent trip to the World, our group had reservations at Teppan Edo. Our extended family was a group of 17 adults and children. The staff at Teppan Edo was incredible. Our group consisted of adults, teens, pre-teens, and five children under the age of 6. They managed to seat us at the same time with tables facing each other. I feel the task of taking drink orders, fielding a hundred questions, and keeping the young ones occupied and happy was beyond what I expected. Smiles never left the faces of the staff. Kudos to the manager, Kimi, who orchestrated all of this without missing a beat. This was at the beginning of our stay, and made a positive impression for the rest of our family vacation.
-=-=-=-=-=–=-=-=-=-=-=-=-=-=-=
We just bet you have a story to tell about an unforgettable moment during your Disney vacation! Please send your favorite memory for inclusion in a future AllEars® to our Contact Us page.
Thank you all for sharing!
---
ARCHIVES
Feature Archives
Missed the last issue of AllEars®? Or just want to re-read that feature on cruises again? You'll find a listing of past AllEars® newsletter features here.
Tips Archives
We have a searchable database of all the tips that appear in our newsletters. Take a look at the archive of our helpful ideas here!

If you want to receive the rest of the AllEars® news and other juicy bits of timely WDW information, you must be a subscriber! Why not sign up now?
---
Copyright – Disclaimer – Reprint – Contact
©1999-2018, All Rights Reserved. AllEarsNet LLC.
AllEarsNet LLC owns and operates AllEars.Net (allears.net), the AllEars® weekly newsletter and its promotional newsletter Ears the Deal™. AllEars.Net, AllEars® and Ears the Deal™ are not affiliated with, authorized or endorsed by, or in any way officially connected with, The Walt Disney Company, Disney Enterprises, Inc., or any of their affiliates. For official Disney information, visit http://www.disney.com
For prompt replies to questions or comments about this newsletter or info that appears on AllEars.Net, send a query using our feedback form.
NOTE: No parts of this newsletter may be reprinted without prior written permission from AllEarsNet LLC and AllEars.Net.
Advertisements appearing in AllEars® are paid advertisements and are not meant as an endorsement by AllEarsNet LLC, AllEars® or AllEars.Net.
---
READER FEEDBACK
We are nothing without our readers! Please drop us a line and let us know what you're thinking! We can't wait to hear from you. Use our handy Feedback Form to reach us. See what others are saying about us here!
Want to write for us? Please take a minute to read our Writer's Guidelines!
-o-o-o-o-o-o-o-o-o-o-o-
Editor's Note: This story/information was accurate when it was published. Please be sure to confirm all current rates, information and other details before planning your trip.