Disneyland Resort News
Walt Disney World News
Site News
News Around Disneyland
News Filters:
---
Disneyland Resort Diamond Celebration Begins May 22!
January 29, 2015
Three sensational new nighttime spectaculars will dazzle guests at the Disneyland Resort when the Diamond Celebration begins Friday, May 22, 2015. Nighttime will glitter as never before when the latest technology and immersive special effects lift the "Paint the Night" parade and "Disneyland Forever" fireworks spectacular beyond anything seen in the past at Disneyland Park. In Disney California Adventure Park, a new "World of Color" show featuring Mickey Mouse will tell the story of Walt Disney and the Happiest Place on Earth through fountains, film, animation, a stirring musical score and amazing visual surprises.
Related Links:
-- Disneyland Forever Clip Testing the Main Street Projections
-- 60th Announcement Event Report
-- 60th Anniversary Press Conference Video
-- 60th Anniversary Celebrations Announcement Ceremony Video

Inaugural Star Wars Half Marathon Weekend Report
January 27, 2015
When runDisney announced that there would be a Star Wars Half Marathon Weekend at Disneyland in January 2015 there was a great disturbance in the Force, as though thousands of runners screamed for joy. When the event went on sale to the public in all race events were sold out in less than two hours.

The race weekend runs from January 15-18. Events include the Health and Fitness Expo Thursday-Saturday, the Star Wars 5K on Friday, the Star Wars 10K and Kids Races on Saturday, and the Half Marathon on Sunday. Runners participating in both the 10K and the Half Marathon have the opportunity to take on the Rebel Challenge, and earn an additional medal for completing both races.
Update on Disneyland Renovation Projects
January 27, 2015
Since this is the off season once again I focus on the refurbishments going on around the parks in this post, the full picture set includes my usual assortment of pictures as I roamed the parks. You can definitely tell it is off season by the list of closures, and more are on the way.
Disneyland Renovation Projects Update
January 23, 2015
This picture set takes a look the state of some of the renovation projects going on around the resort.
Freeze the Night - DCA
January 15, 2015
Freeze the Night is part of the Frozen Fun that runs through April 30 at the Disneyland Resort. Freeze the Night event that takes place each evening in the Hollywood Land Backlot area of Disney California Adventure.
Frozen Fun at the Disneyland Resort
January 15, 2015
In this posting I will take a look at the Frozen Fun that runs through April 30. Pieces of this event have been open since December -- Arendelle was added to Storybook Land back on December 19 and there were soft openings of the other components over the days that followed. I covered Storybook Land in my December 19 postings. Below you will find pictures/video of the Hollywood Land changes for the event and the Sing-Along.
Arendelle Added to Storybook Land
January 15, 2015
Frozen Fun officially starts January 7, but a preview of the offerings was scheduled to start on December 20. As of Friday only one piece was ready to go and that was the Arendelle addition to Storybook Land. The rest of the offerings were still being worked on at the time
Three Kings Day at Disneyland Through January 6th
January 03, 2015
This weekend, January 2-6, 2015, Disney California Adventure will once again finish off its popular "Disney ¡Viva Navidad!" event with its annual Three Kings Day Finale. Interviews and photos!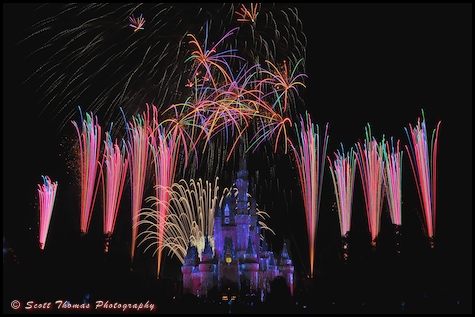 Happy New Year!
December 29, 2014
Here's to a great 2015!
Related Links:
-- Osborne Family Spectacle of Dancing Lights Tips
-- Celebrate New Year's Eve Outside the Parks
-- Gingerbread House at the Contemporary
-- New Year's Eve Festivities Around the World
-- Horticulture's Roll in Decorating - Interview
-- "Frozen Holiday Wish" Castle Lighting Show Photos and Video

VOTE: In Our Year-End Photo of the Week Poll
December 27, 2014
It's that time again!

Which AllEars.Net Photo of the Week
was the most magical for YOU in 2014?

Cast your vote and let us know!

~Visit the 2014 Photo of the Week photo gallery.

~Choose your favorite photo.

~Visit our online poll to cast your vote for your favorite.

~Please submit ONE vote only!

~Voting ends at 11:59 p.m. Eastern on Sunday, January 4, 2015!

We'll post the results in an upcoming issue of the AllEars Weekly Newsletter!

The regular Photo of the Week resumes in 2015!

Thanks for your input!
Disneyland Resort Photo Update with Candlelight Processional
December 17, 2014
Guest photographer Jason of disneygeek.com visited the Disneyland Resort on December 6 and shares photos and short videos from the trip, including images from this year's Candlelight Processional with guest narrator Beau Bridges.
Frozen Fun Sneak Peek Opens in Disney California Adventure December 20!
December 05, 2014
The Disneyland Resort celebrates the opening of spectacular new "Frozen Fun" beginning Wednesday, Jan. 7, 2015, featuring magical adventures with characters from the Walt Disney Pictures blockbuster film. Guests at Disney California Adventure Park will be able to meet Anna and Elsa in a new location, sing along with the "Frozen" soundtrack, play in the snow, meet Olaf the snowman and "chill out" at a nighttime, family dance party.

A sneak peek of many of the live experiences begins Saturday, Dec. 20, in Disney California Adventure and a new "Frozen"-themed show opens in Disneyland Park Jan. 7, 2015.
Related Links:
-- VIDEO: Other Holiday Happenings at Disneyland
-- VIDEO: Viva Navidad at Disneyland
-- VIDEO: Disneyland Holiday Treats
-- VIDEO: "Frozen Fun" Details
-- VIDEO: Meeting Olaf with a Warm Hug

Disneyland Resort Holiday Decoration Photos and Videos
November 24, 2014
Contributing photographer Jason of disneygeek.com shares photos and short from his visit to the Disneyland parks on Friday, November 14, 2014.
Holidaytime at Disneyland
November 15, 2014
November 13th marked this year's arrival of the holiday season to the Disneyland Resort! To kick it off, the ceremonial lighting of "it's a small world" took place, World of Color Winter Dreams debuted, and a Christmas Fantasy" parade ran for its 20th year, celebrating its anniversary with the addition of "Frozen" princesses Anna and Elsa. Read about these and more holiday activities in the blog!
Disneyland Photo Walk 11/7/14
November 12, 2014
Contributing photographer Jason of disneygeek.com sends us these photos from his trip to the parks on Friday, November 7, 2014. Christmas officially kicks off at the Disneyland Resort next weekend, but this week most of the decorations are up and some of the entertainment starts.
New Fantasmic Viewing Options
November 07, 2014
Disneyland guests will have new viewing options for the ever popular Fantasmic beginning December 12th. There will be reserved and standby viewing as well as new dining packages.
Disneyland's Amazing Carved and Painted Pumpkins
October 14, 2014
The Halloween Carnival at Big Thunder Ranch Jamboree celebrates Disneyland in California with a variety of activities including a creative display of painted and carved Disney-themed pumpkins. Along with many favorites such as Jack and Sally, the Little Mermaid, Haunted Mansion, and regular Disney favorites, comes pumpkins from Frozen with Anna, Elsa and Olaf. The display beings in mid-September when Halloween Time is rolled out and continues through October.
Disneyland Photo Walkabout 10/10/14
October 14, 2014
Jason is back with his weekly walk around the Disneyland Resort showing what's new and what's changing.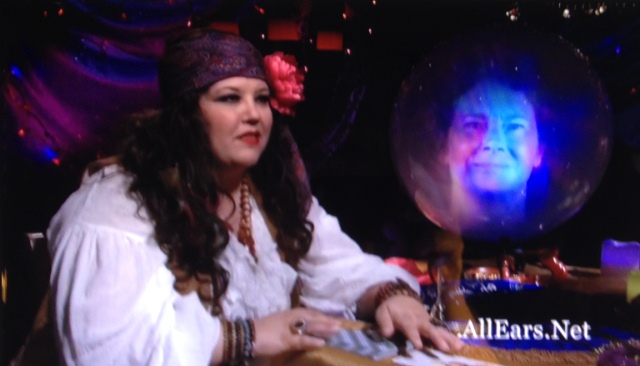 Disneyland Fortune Teller Reveals Halloween Messages
October 06, 2014
It's Halloween Time at Disneyland, and AllEars.Net's Laura Gilbreath is summoned by fortune teller Ivana Mystic.
Disneyland Resort Walk-Around and Big Hero 6 Preview
September 30, 2014
Contributing photographer Jason of disneygeek.com paid a visit to the Disneyland Resort on September 26, 2014, which included a stop at the Big Hero 6 preview in the Magic Eye Theater in Tomorrowland.