Disneyland Resort
Walt Disney World
Disney Cruise Line
Site News
News Around Disneyland
News Filters:
---
Two Original Disneyland Attractions Close for Updates
January 15, 2018
Two original Disneyland park attractions closed as of January 8 to receive updates: The horse-drawn streetcar track on Main Street, U.S.A., will be replaced in its entirety, which means the Main Street, U.S.A. vehicles will not be operating during this time. While sections of the Main Street, U.S.A., track have been replaced before, this complete replacement will incorporate new brickwork that will enhance the look of the thoroughfare. Dumbo will move the location of its queue and erect a new shade structure. It will also receive a coat of fresh paint. Main Street, U.S.A., vehicles and Dumbo the Flying Elephant will reopen in late winter and early spring, respectively.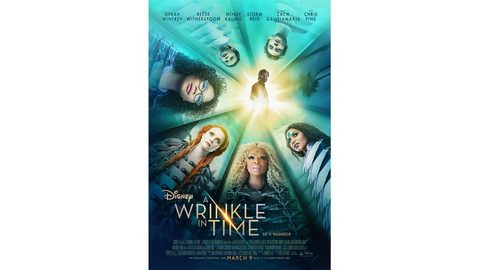 DCA to Show Preview of "A Wrinkle in Time"
January 14, 2018
A short preview of "A Wrinkle in Time" will be presented in 3D with special in-theater effects at the Sunset Showcase Theater at Disney California Adventure starting February 9.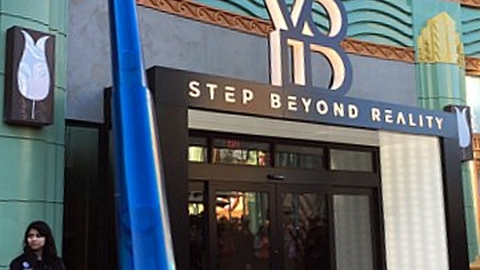 Star Wars: Secret of the Empire Now Open at Disneyland
January 13, 2018
Recently "Star Wars: Secrets of the Empire" opened at a new VOID Experience Center in Downtown Disney at the Disneyland Resort. It is a hyper-reality, multi-sensory experience created in tandem by Lucasfilm's ILMxLAB and The VOID to immerse you in the Star Wars universe.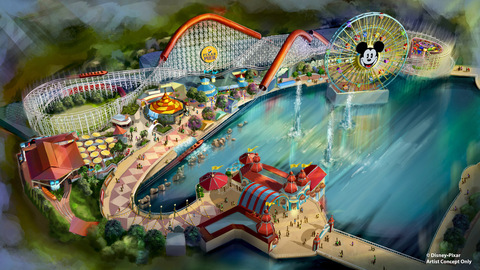 Portions of Paradise Pier Closing Jan 8 for Transformation
January 06, 2018
At Disney California Adventure, the following attractions and restaurants close on January 8 as Paradise Pier transforms into Pixar Pier, opening this summer:

Ariel's Grotto and Cove Bar
California Screamin'
Games of the Boardwalk
Mickey's Fun Wheel
Point Mugu Tattoo
Sideshow Shirts
Treasures in Paradise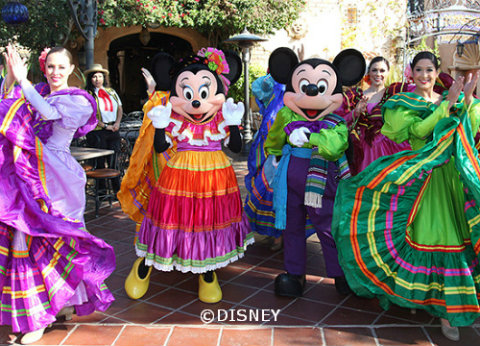 DCA Celebrates Three Kings Day Jan 4-7
January 04, 2018
Three Kings Day will be celebrated at Disney California Adventure from January 4-7. Festivities will take place in the Paradise Garden area, and include displays, traditional food items, and craft activities for kids.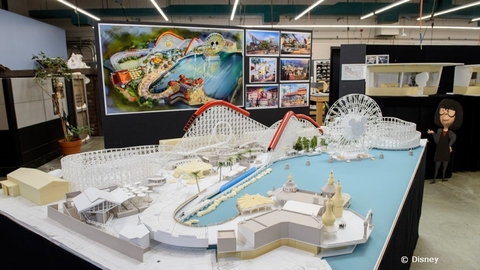 Model of DCA's Pixar Pier Revealed
December 21, 2017
Disney Parks Blog has revealed a first look at a working model of the new Pixar Pier, the upcoming transformation of Disney California Adventure's Paradise Pier. Featuring newly themed attractions, foods and merchandise, this area will introduce new neighborhoods representing beloved Pixar stories. The neighborhood inspired by "The Incredibles" will be anchored by the Incredicoaster, which will feature a new mid-century-modern-style loading area inspired by the Parr family home as seen in the upcoming "Incredibles 2." Another of the neighborhoods will be a celebration of many favorite Pixar stories. In this neighborhood, each of the 24 gondolas on what is now Mickey's Fun Wheel will feature different pairs of Pixar pals, and at the Games of the Boardwalk, all of the midway games will be inspired by characters from films such as "a bug's life," "WALL-E" and the Pixar short "La Luna." Pixar Pier will open summer 2018, during the first-ever Pixar Fest celebration, which begins April 13. The celebration will include the new "Together Forever - A Pixar Nighttime Spectacular" fireworks display, as well as the return of Pixar Play Parade and "Paint the Night" parade.

Disney Parks Magical Christmas Celebration to Air on Dec 25
December 21, 2017
Dec. 25: CHRISTMAS DAY! The "Disney Parks Magical Christmas Celebration" will present a celebrity showcase of seasonal sights, performances and traditions, including the beloved Christmas Day parade, from 10 a.m. to Noon EST on The ABC Television Network. Tony Award-winning actress Idina Menzel, who voiced the character Elsa in the blockbuster, "Frozen," will sing the Disney classic, "When You Wish Upon a Star." Other performers include Jason Derulo, Fifth Harmony, Ciara, Fitz and the Tantrums and Lea Michele.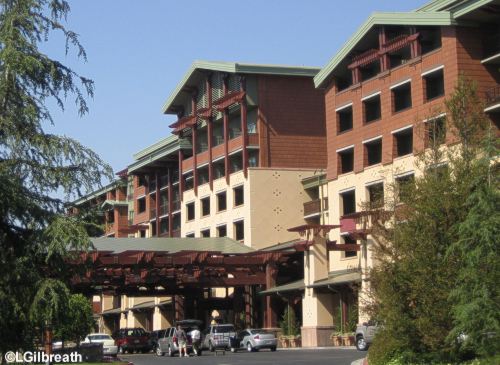 Grand Californian Resort Receives New Concierge Lounge
December 18, 2017
The Veranda, the new concierge lounge at Disney's Grand Californian Resort and Spa, recently opened to guests. The lounge is located on the sixth floor, where it has windows and a balcony with a view of Downtown Disney and the Disneyland fireworks. The new design is inspired by the work of Charles Rennie Mackintosh, especially his Willow Tea rooms in Glasgow.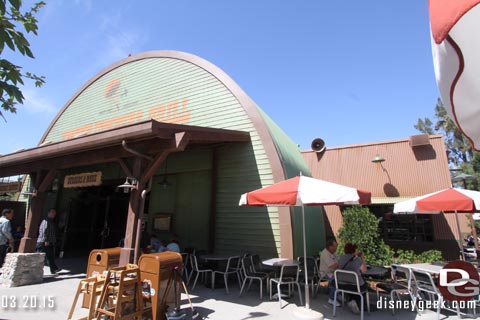 Smokejumpers Grill at DCA Updates Menu
December 12, 2017
Smokejumpers Grill in Disney California Adventure recently updated its menu. Changes include a new vegetarian offering: BBQ Jackfruit Sandwich with Bear Paw slaw on toasted ciabatta. The Chili Cheeseburger has been updated with a new bison-black bean chili, and there's a new Spicy Buffalo Chicken Sandwich with blue cheese sauce and avocado ranch. All entrees include choice of new waffle-cut fries or onion rings. For the kids there's a new Chicken Skewer, a Mickey Check Meal. New dessert options include a S'more with marshmallow and chocolate brownie, and a Cobbler Shake.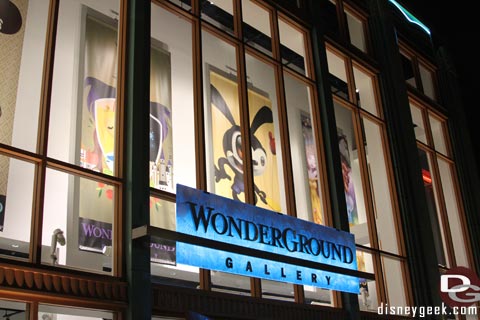 Jackie Huang Showcasing Creations at WonderGround Gallery
December 11, 2017
WonderGround Gallery December Artist-in-Residence is paper artist Jackie Huang. She will be showcasing her newest creations, as well as returning favorites, at the Downtown Disney District location from 5 to 9 p.m. on the following dates: Dec.8-9; Dec. 15-16; Dec. 23.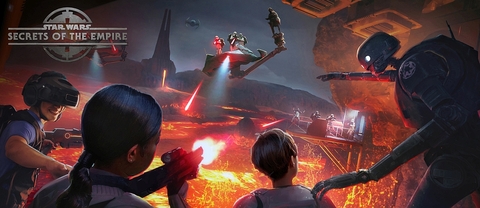 New Offerings Coming to Disneyland's Downtown District in 2018
December 11, 2017
New dining, retail and entertainment experiences are coming to Downtown Disney in early 2018. Star Wars: Secrets of the Empire opens on January 5; Splitsville Luxury Lanes, which will offer bowling, dining, and entertainment, opens in early 2018; and the D-Street store will close on January 2 and reopen in early 2018 with a new selection of Disney-themed home goods, including products that change with the season.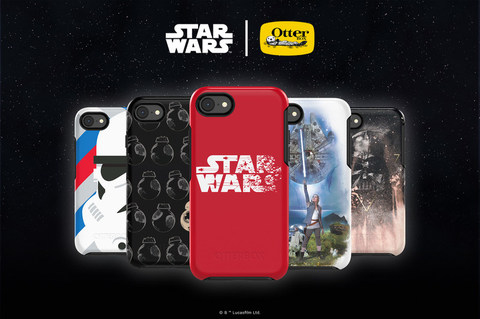 OtterBox Introduces the Star Wars Collection Cases
December 11, 2017
As previously announced, OtterBox has entered into an agreement with Disney as the "Official Protective Case" of Walt Disney World Resort and Disneyland Resort. Disney-themed OtterBox cases were revealed several weeks ago. Now, Symmetry Series Star Wars Collection cases are available at otterbox.com for iPhone 8 and iPhone 7, for $44.95; and iPhone 8 Plus and iPhone 7 Plus, for $54.95. For more information, visit otterbox.com.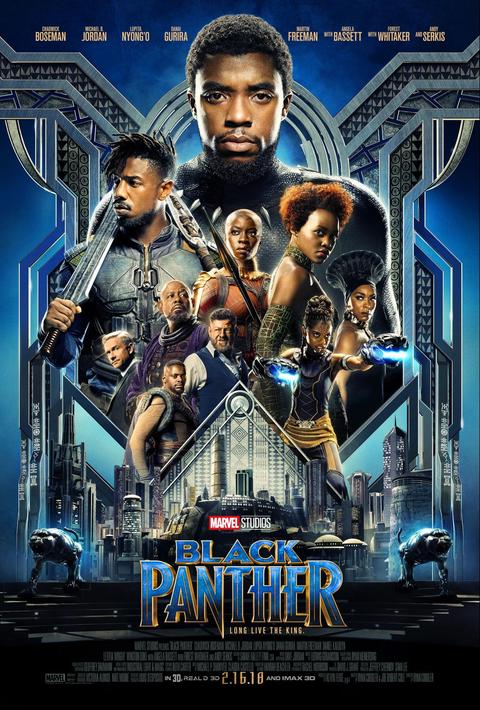 Meet and Greet with Marvel's Black Panther Coming to DCA
December 10, 2017
A character meet and greet with Marvel's Black Panther, the king of Wakanda, will be coming to Disney California Adventure for a limited time in early 2018.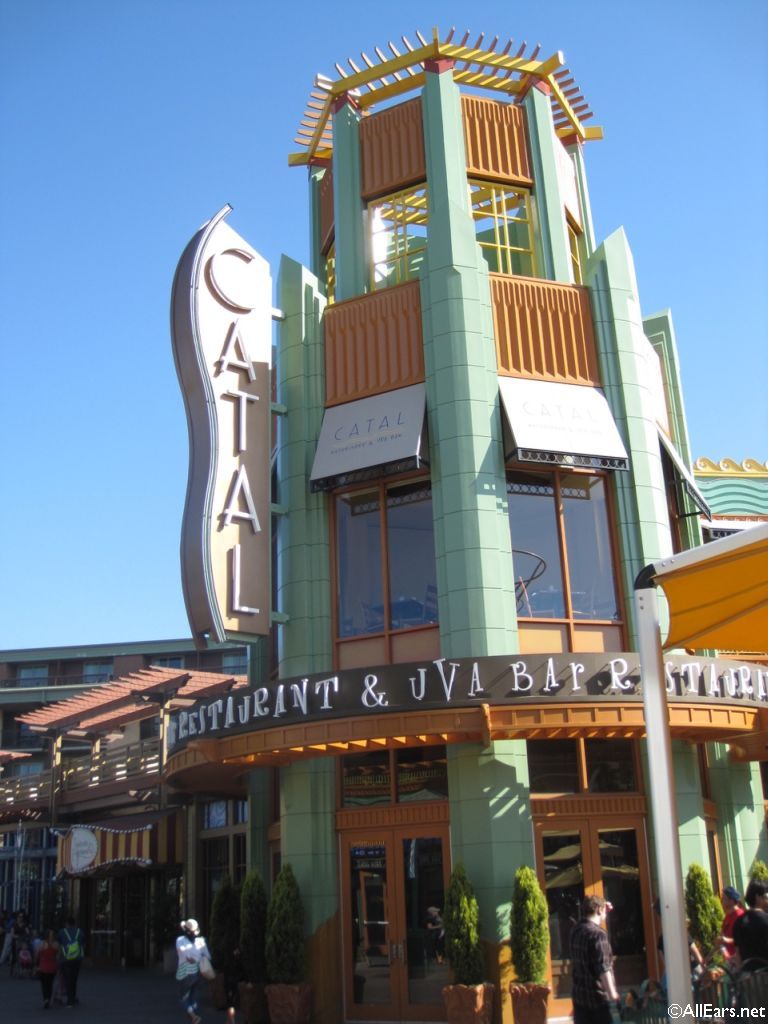 Catal Hosting Breakfast with Santa
December 10, 2017
Catal Restaurant, in the Downtown Disney District, will host Breakfast with Santa. Most dates are sold out but reservations are still available for December 10, 21, and 22. Tickets are $75 for adults and $30 for kids 3-10. The event includes a family-style breakfast, pictures with Santa, carolers, stockings for each child, and a hot cocoa cart. All kids will receive a Build-A-Bear Workshop teddy bear from Santa himself. Call (714) 781-DINE (3463) between 7 a.m. and 9 p.m. daily (Pacific Time) for more information.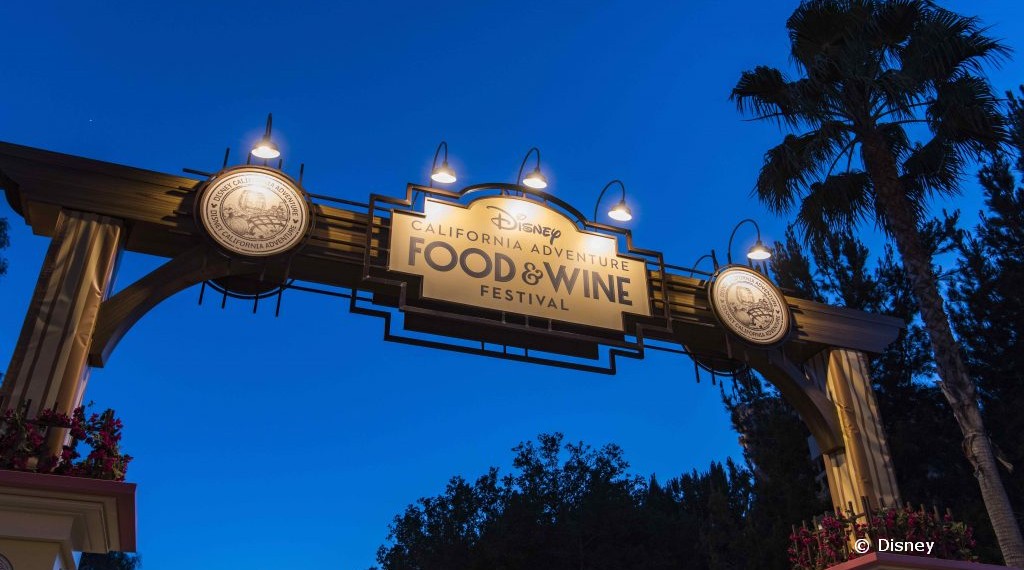 DCA Food and Wine Festival Expands to Six Weeks in 2018
December 07, 2017
Disney California Adventure Food and Wine Festival returns to the Disneyland Resort March 2 to April 12, 2018. Presentations and demonstrations will feature celebrity chefs such as Robert Irvine, Alexandra Guarnaschelli and Shaun O'Neale.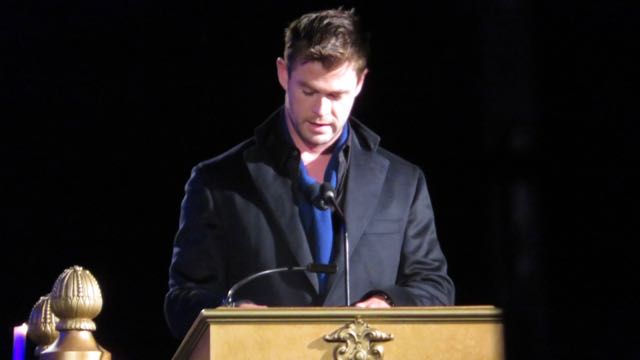 Candlelight Processional with Chris Hemsworth
December 07, 2017
The 2017 Candlelight Processional was held at Disneyland on December 2 and 3. This year's celebrity guest narrator was Chris Hemsworth (Thor in the Marvel movies).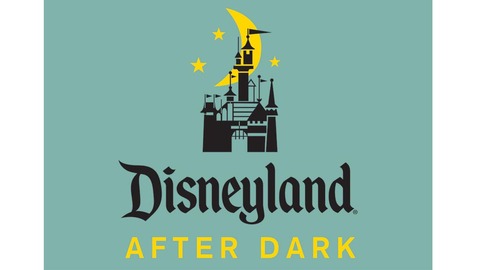 Disneyland After Dark- Throwback Nite Event Tickets on Sale
December 07, 2017
More details are available on the upcoming "Disneyland After Dark - Throwback Nite" event to be held on Jan. 18, 2018. Tickets are $95; they go on sale to annual passholders on Nov. 30, and to the general public on Dec. 7. The park will be open to party-goers from 8 p.m. to 1 a.m. Guests can enter the park at 6 p.m. using their party ticket. Classic attractions like Pirates of the Caribbean, Jungle Cruise, Peter Pan's Flight, and "it's a small world" will be available, as well as meet and greets with "classic personalities." Entertainment around the park includes a 1960s tribute band, a jazz/swing band, and a DJ. In addition there will be a "song-filled sail" on the Mark Twain as it travels around the Rivers of America. The "Fantasy in the Sky" fireworks spectacular returns. Special food and merchandise will also be available. Guests are encouraged to dress in their best 1955- era fashion and pose at some of the special photo locations -- unlimited PhotoPass downloads are included.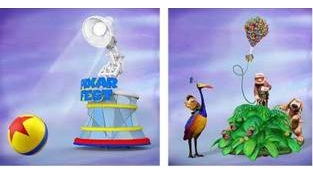 Pixar Play Parade Returns with New Elements
December 06, 2017
Pixar Play Parade returns April 13 to the Disneyland Resort -- this time, at Disneyland park! Part of the limited-time Pixar Fest celebration, this delightful parade will bring even more of your favorite Pixar stories to life with the addition of three new story elements.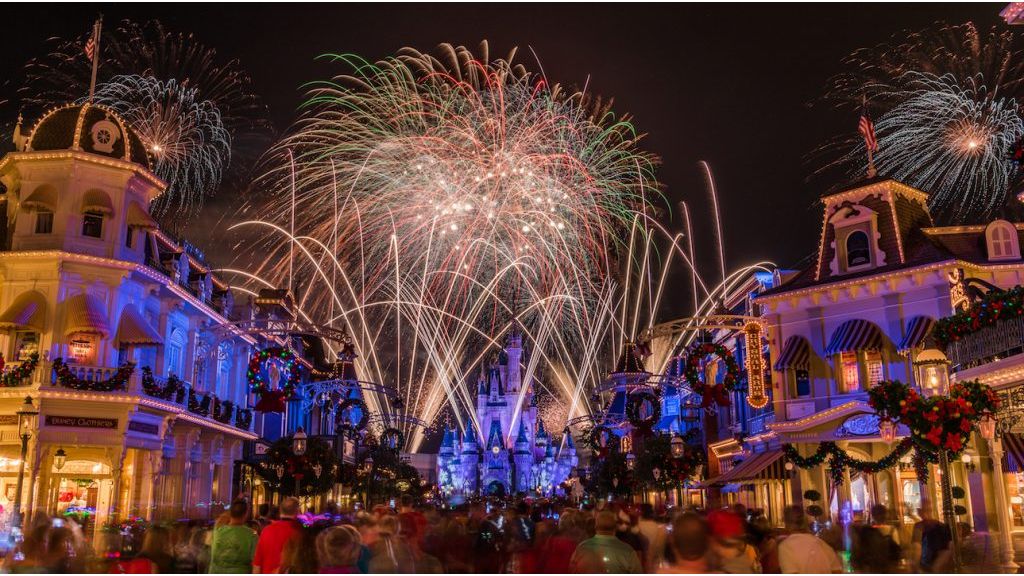 12 Days of Disney Parks Christmas Series Announcements!
December 04, 2017
Beginning tomorrow, we're launching our first-ever 12 Days of Disney Parks Christmas here on the blog featuring daily updates on exciting new offerings coming to Walt Disney Parks and Resorts in 2018 and beyond.
River Belle Terrace Reopens After Refurbishment
December 03, 2017
The River Belle Terrace restaurant has reopened at Disneyland after a lengthy refurbishment, which transformed it from a buffeteria to a table-service restaurant. The restaurant serves lunch and dinner, and offers a Fantasmic! dining package.