Disneyland Resort
Walt Disney World
Disney Cruise Line
Site News
News Around Disneyland
News Filters:
---
Photo Update from Disneyland Resort: 8/28/15
September 03, 2015
Guest Photographer Jason of disneygeek.com took a walk around the Disneyland Resort on August 28 and sent in these photos looking at the projects and changes around the parks, as well as some Disneyland Forever pictures from in front of Sleeping Beauty Castle and the first signs of Halloween.
D23 EXPO 2015
August 13, 2015
The AllEars.Net Team will be covering the D23 Expo 2015, which runs August 14-16 at the Anaheim Convention Center. Watch for updates on breaking news on Twitter, Instagram and Periscope!
Related Links:
-- Movies and Parks and Once Upon a Time
-- Disney Legends and Imagineers, Old and New
-- Fall Merchandise for Tweens
-- Disney Citizenship Aims to Inspire Families
-- Frozen Ever After in Epcot's Norway
-- D23 Expo Recap
-- Family Experience at D23 Expo
-- Tips for Attending the Expo
-- Pandora the World of AVATAR
-- Follow AllEars.Net on Social Media
-- News from the D23 EXPO Live Action Film Presentation
-- Transitioning Animal Kingdom to a Night Time Experience VIDEO
-- News from the Animation Presentation
-- Star Wars Land, Toy Story Land for Disney's Hollywood Studios Among the Exciting Announcements for Disney Parks and Resorts!
-- Tour the Walt Disney Archives Exhibit VIDEO
-- TRON Lightspeed Racers Preview Video
-- Preview Day Highlights
-- Latest D23 EXPO 2015 Announcements

Photo Update from 7/31/15
August 04, 2015
Another photo update on Disneyland Entertainment.
Disneyland's Photo Pass +
August 04, 2015
For many, if not most, vacationers, photos are among the most cherished souvenirs from their travels. That certainly is true of guests on Disney vacations, myself included. And now that we are going to Disneyland for the first time, I have been planning for these photos - choosing outfits and iconic locations and making character-dining reservations.

The first decision I made was whether we wanted to purchase PhotoPass+, a product that allows you to buy all the professional photos you have taken in the parks for one price.
Packing Tips for a Disneyland Vacation
August 04, 2015
I feel like a novice Disney traveler now that I'm preparing to pack for our first trip to Disneyland and D23 in August. I have to figure out what we will need in an unfamiliar hotel room and theme parks for an extended stay. And it's a lot of stuff for four people!

I have never been to Anaheim, but from what I can tell, the weather this time of the year is just slightly cooler than Orlando during the day.
Planning a Visit to Disneyland!
July 30, 2015
We're going to Disneyland (for the first time) this summer! Those words are just as magical to my family as any other, even though we are Florida residents and spend a lot of time at Walt Disney World.

Sure, there are some duplicate attractions, but there is a lot we haven't experienced, which means we can't wait to hit the turnstiles! We want to make the most of this special visit to the West Coast, so we are preparing to be theme-park commandos -- visitors who have a touring plan to make the most of their limited time on vacation at a Disney theme park.

As a veteran of the Orlando parks, I was prepared to research which Disney hotels have the best pools for the kids and jump on the dining reservations at 180 days out from our visit. But, guess what? It's a whole different vacation plan out in California; my years of planning here in Orlando don't overlap much with how things are done in Anaheim. It's been a learning experience for me. With the D23 Expo in Anaheim on the horizon, I thought other Walt Disney World veterans might be planning a first-time visit to Disneyland, too, so I'd like to share what knowledge I've gained.
We Were There! For Disneyland's 60th!
July 21, 2015
Disneyland celebrated its 60th birthday on Friday, July 17, 2015. Jason of disneygeek.com and AllEars.Net's Laura Gilbreath, along with thousands of other Disneyland fans, were there to help celebrate.
Happy 60th Disneyland!
July 17, 2015
Disneyland marked its 60th anniversary officially on July 17, 2015! Sixty years ago, Walt Disney dedicated his dream project: Disneyland - a land beyond the boundaries of the motion pictures with which he'd made his reputation, a park where families and guests of all ages could be immersed in worlds of fantasy and adventure.

As part of its Diamond Celebration, the Disneyland Resort honored 60 years of that dream by announcing "Million Dollar Dazzle" at a ceremony at Sleeping Beauty Castle. Each month during the Disneyland Resort Diamond Celebration, the Million Dollar Dazzle Crew will surprise one or more local nonprofits that exemplify Walt Disney Parks and Resorts' Better Together philosophy with a $60,000 gift, totaling more than $1 million. Girl Scouts of Orange County was surprised with the first gift. The funds will support the organization's Comadres outreach program that helps the Girl Scout experience transcend language and cultural barriers for girls in low-income neighborhoods.
A Day in Disneyland
July 09, 2015
Laura and Lee visited Disneyland on Friday, July 3, hoping to see the All-American College Band and some of the 4th of July festivities.
Peter Pan's Flight Reopens
July 09, 2015
Guest photographer Jason of disneygeek.com shares photos from his recent trip to Disneyland, including pictures of the recently refurbished Peter Pan's Flight and the US Air Force Honor Guard.
A Look at the Grand Californian and Downtown Disney District
June 30, 2015
Contributing photographer Jason of disneygeek.com sends us these photos from his trip on Friday, June 26, 2015. This picture set takes a look around the Grand Californian and Downtown Disney District.
"Disneyland Forever" from a New Viewpoint
June 30, 2015
Contributing photographer Jason of disneygeek.com sends us these photos from his trip to the Disneyland Resort parks on Friday, June 26, 2015 -- he takes a look at Disneyland Forever as viewed from the Small World Mall area.
Latest Photo Update from Disneyland Resort
June 19, 2015
Contributing photographer Jason of disneygeek.com sends us these photos from his trip to the Disneyland parks
Paint the Night - Disneylands New Parade VIDEO
June 19, 2015
Paint the Night is Disneyland's new nighttime parade. It brings the electrical parade into the 21st century with 1.5 million LED lights, all under computer control. The parade features floats, Disney characters, imaginative costumes, animation, light and choreography, and a bouncy soundtrack that might stay in your head for a while. Don't say I didn't warn you.
Fantasmic! and World of Color Dining Packages
June 04, 2015
Laura Gilbreath shares a report on the special dining packages that offer preferred viewing for two of Disneyland Resort's new shows: World of Color - Celebrate!, and Disneyland Forever (from the Rivers of America). She also has some other thoughts on recent Disneyland Dining.
Disneyland Kicks Off 60th Anniversary Celebration
May 22, 2015
The Disneyland Resort Diamond Celebration begins Friday, May 22, 2015, celebrating 60 years of Disney magic with three new nighttime spectaculars, dazzling decor and an exciting sweepstakes that will award authentic diamonds and one-of-a-kind prizes to some lucky guests.

Nighttime will glitter as never before with three, sensational shows that expand the 60-year tradition of innovative and immersive storytelling: the brilliant, high-energy "Paint the Night" parade and "Disneyland Forever" fireworks spectacular at Disneyland Park, and the all-new "World of Color - Celebrate! The Wonderful World of Walt Disney" at Disney California Adventure Park. In "World of Color - Celebrate!," Mickey Mouse and award-winning actor Neil Patrick Harris will tell the story of Walt Disney and the Happiest Place on Earth with film, animation, music and spectacular fountains.
Related Links:
-- Disneyland Forever: Disney in the Sky with Diamonds!
-- RECAP Disneyland's 60th Kick off AllEarsNet TV #38
-- Paint the Night In-depth Blog
-- Up All Night at Disneyland's 24 Hour Party
-- VIDEO: Paint the Night - Disneyland's New Parade
-- VIDEO: Disneyland Forever Fireworks from Main Street
-- VIDEO: Disneyland Forever Fireworks from Fantasmic Viewing Area
-- Mad Tea Party Returns for Summer 2015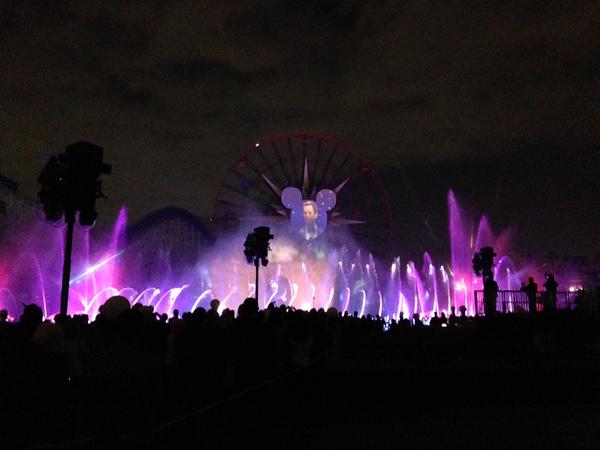 World of Color Celebrate VIDEO
May 21, 2015
A brand new World of Color show debuted last night at Disney California Adventure called Celebrate. It is a tribute to Walt Disney and Disneyland.
New Nighttime Spectaculars Plus Disneyland's Magic
May 21, 2015
Three new nighttime spectaculars will dazzle guests as the Disneyland Resort launches its Diamond Celebration Friday, May 22, 2015. The fun and festivities will begin with a 24-hour party that kicks off the summer travel season.

World of Color Celebrate Report
May 21, 2015
Our team is in Disneyland checking out everything new for the 60th anniversary. Here is Laura's take on the new World of Color - Celebrate
Disneyland Resort Photo Update: May 8, 2015
May 16, 2015
Contributing photographer Jason of disneygeek.com sends us these photos from his trip to the Disneyland parks on Friday, May 8, 2015.