Disneyland Resort News
Walt Disney World News
Site News
News Around Disneyland
News Filters:
---
Disneyland Resort Photo Update
May 17, 2013
Jason's weekly walk about at the Disneyland Resort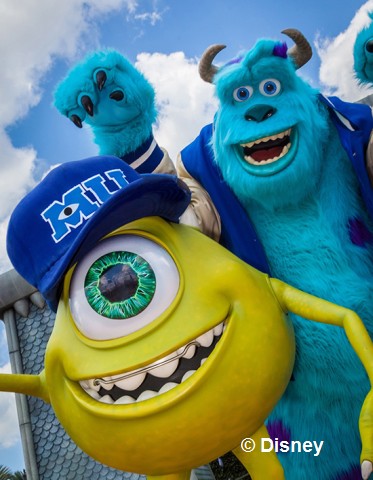 Monstrous Summer 24-Hour All-Nighter at Disneyland Resort
May 17, 2013
From 6 a.m. on May 24 to 6 a.m. on May 25, enjoy all the monster-themed madness inside Magic Kingdom park at Walt Disney World Resort in Florida, as well as Disneyland park and Disney California Adventure park in California. From special entertainment and monstrous merchandise to frightening food and boo-verages, this "All-Nighter" is shaping up to be one scary good time!

Everything kicks-off with special opening moments in front of the parks, leading up to park opening at 6 a.m., and then you're off and running for 24 hours of fun!

At Disneyland Resort, the fun spreads out across two Disney Parks! Disney California Adventure park is having a Hollywood Viewing Party, screening "Monsters, Inc." inside Muppets Theater and hosting Mad T Party outside in Hollywood Land. Both start at 9 p.m. and continue through the night. Elsewhere, the "Monsters University" gang will be out and about with the new MU float from the Pixar Play Parade, happy to pose for pictures with you.

Disneyland park celebrates with a Disney Character Pajama Party, starting after midnight in Mickey's Toontown with classic Disney cartoons, a Mickey Mouse Party Zone with DJ and activities for kids, plus goodies available for purchase, like hot chocolate, milk and cookies and other treats. Over in Tomorrowland, there will be Star Wars characters to meet and the TLT "Monstrous" Dance Club at Tomorrowland Terrace, where you can keep the party going from midnight to 5:30 a.m. During the All-Nighter, the Royal Theatre at Fantasy Faire hosts a Royal Swing Ball, with a live band from 10 p.m. - 1:40 a.m., and beginning June 15 the "Jump, Jive, Boogie Swing Party" will return to the Royal Theatre for select nights during the summer. Keep an eye on the calendar page on Disneyland.com for dates and information.
Iron Man Tech presented by Stark Industries @ Disneyland Innoventions
April 17, 2013
A new exhibit opened at Innoventions this weekend. Iron Man Tech presented by Stark Industries. This exhibit is being listed as part of the Limited Time Magic promotion.
Long Lost Friends Week Report
April 17, 2013
Disney's Limited Time Magic offering at Disneyland for the week of April 8-14 was Long Lost Friends Week. Prior to the event guests were able to participate in an online poll to select the characters that would appear at the Big Thunder Ranch Jamboree. It included characters from both classic and more contemporary Disney animated cartoons and features.
Disneyland Resort Photo Update 4/5
April 09, 2013
The latest photo walk of Disneyland, Disney California Adventure and the rest of the resort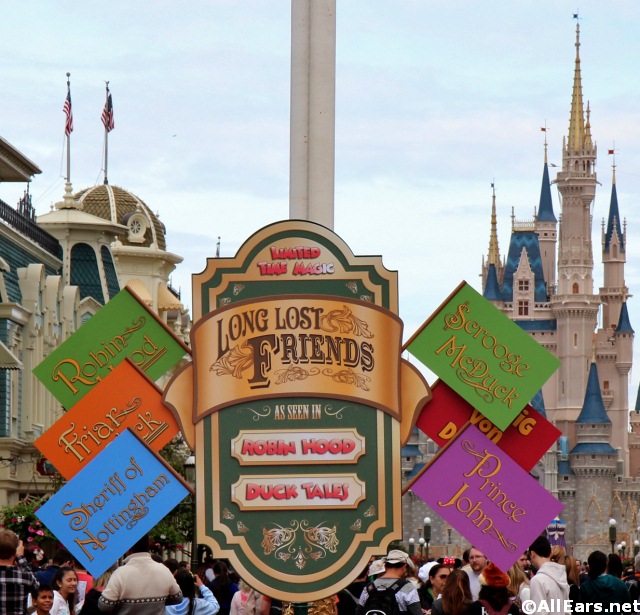 Long Lost Friends Week April 8-14th
April 05, 2013
Disneyland gets Long Lost Friends Week! You could meet Robin Hood, Ludwig Von Drake… even the Three Little Pigs! Visit Disneyland Park to find out, and be sure to sample some long-lost favorite foods too, including Monte Cristo Strips and Zany Cotton Candy!
Dave Smith and Easter Egg Hunt - LTM Report
March 25, 2013
1) At Disney California Adventure there was a Vinylmation Easter Egg Hunt going on this week.

You buy the map for $4.95 (no discounts) from one of several stores around the park and then go off to find the eggs. Once you are done you head to Elias & Co to redeem your prize. It is an honor system event. There are no cast members with the eggs. As I walked the park there were a good number of guests participating and all I overheard/observed seemed to be having a good time.

2) The other Limited Time Magic Event today was for Disneyland Annual Passholders at the Opera House, a special presentation by Dave Smith.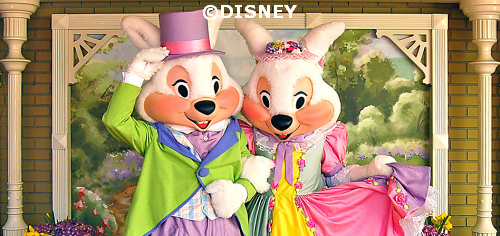 Spring Fling Limited Time Magic 3/25-3/31
March 23, 2013
Character Egg Hunt - Disney California Adventure - March 18-24

Search for "hidden eggs" themed as Disney characters in Disney California Adventure, purchase a special Limited Time Magic Eggs-sperience map ($4.95) and find all the eggs. Once complete return to Elias & Co. for a surprise. Eggs-sperience maps can be purchased at Elias & Co, Oswald's, Radiator Springs Curios, Tower Hotel Gifts and Treasures in Paradise.
Disneyland Resort Photo Update
March 15, 2013
The latest photo walk from Disneyland Resort.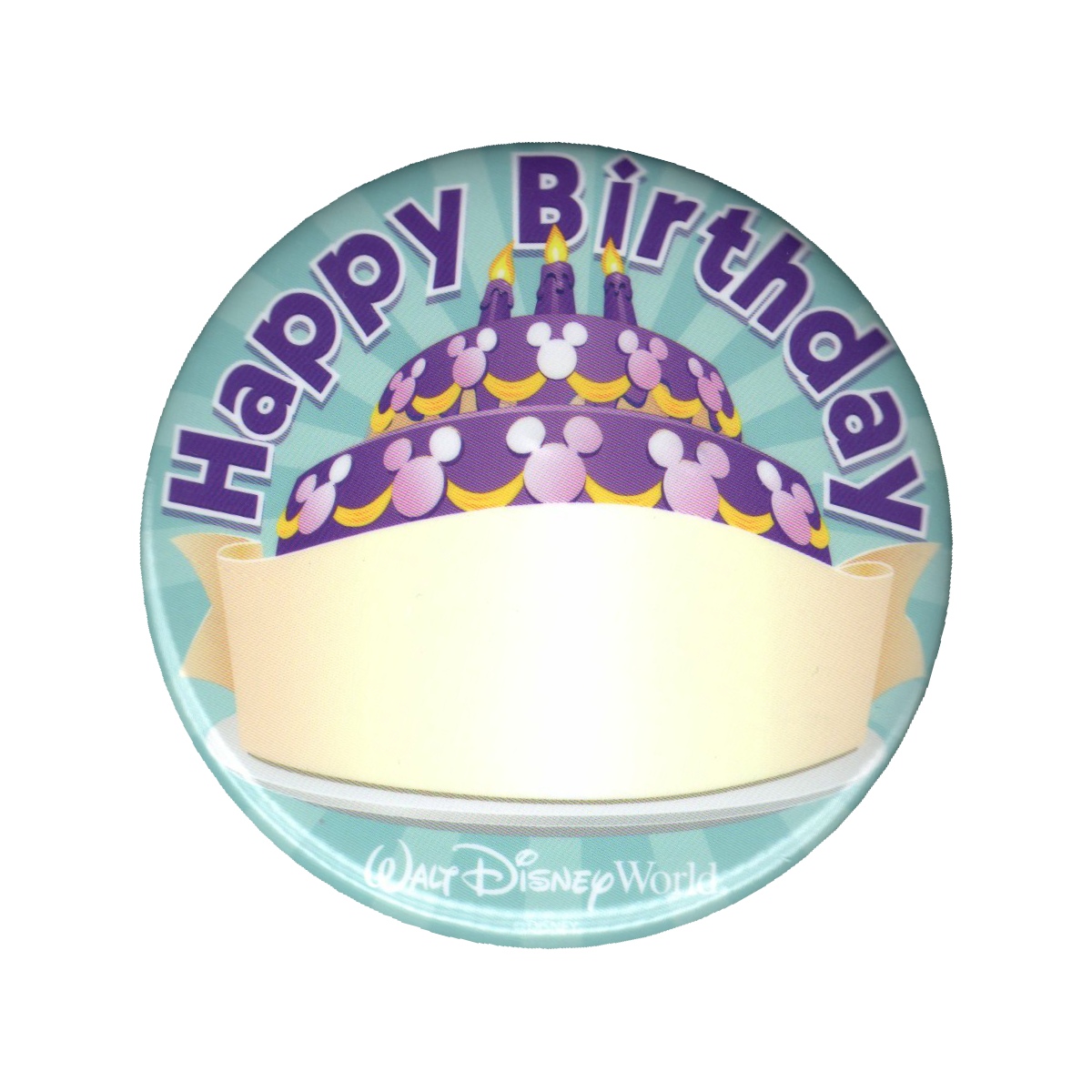 Celebrate Your Child's Birthday at WDW
March 13, 2013
Celebrating a child's birthday at Walt Disney World can be as simple or as elaborate as the family chooses, but in every case, you can count on cast members making the day special! We've updated our fact sheet on birthday celebrations!
Fantasy Faire - Here Come the Girls!
March 07, 2013
Taking the place of the former Carnation Plaza Gardens on the West side of the Hub, Fantasy Faire represents a small village attached to the castle. As a tribute to the structure it replaced, a crest with the plaza initials is found on one of the buildings.
Presidents's Week Special Voices of Liberty Shows
February 24, 2013
The Voices of Liberty were performing in the Main Street Opera House, in honor of Presidents Day, as part of this week's Limited Time Magic. The Voices of Liberty's special show for the week included presidential quotes, highlights and some different songs than their normal set.
Disneyland Photo Update
February 18, 2013
Contributing photographer Jason of disneygeek.com sends us these photos from his trip to the parks on Friday, February 15, 2013. To kick off the President's Day weekend I spent Friday afternoon/evening at the Disneyland Resort. It was one of those winter days where you are reminded how nice Southern California is, the temperature crept up to the low 80s and there was a pleasant breeze most of the day. The crowds at the parks were on the heavy side due to the holiday weekend and great weather.
Limited Time Magic: True Love Week Feb. 11-17
February 14, 2013
Love is in the air at Walt Disney World Resort as fairytale princesses find true love with their princes, and "happily ever after" becomes reality. It all happens during True Love Week February 11-17, 2013 at Walt Disney World Resort.

The weeklong love fest is all part of Limited Time Magic at Disney Parks. During True Love Week, a tapestry of romance is woven throughout the resort -- from limited- time Valentine's merchandise and special entertainment, to romantic dinners for two and new themed photo locations offering greetings with beloved Disney sweethearts, all for a limited-time only.
Thanks for the Memories Tony Baxter!
February 07, 2013
Last week, Tony Baxter, Senior Vice President, Creative Development, Walt Disney Imagineering, announced his departure from his full-time position at WDI.
Disneyland - Mickey and the Magical Map and Fantasy Faire Preview
February 01, 2013
The new Disneyland Fantasy Faire, where guests can meet, interact, and learn the stories of the Disney princesses, is under construction in the former Carnation Plaza Gardens area of Disneyland. I had the opportunity to preview the new area, which is scheduled to open on March 12, 2013.

Fantasy Faire is located at the end of Main Street between Frontierland and Sleeping Beauty Castle. As you can see in these photos there is still quite a bit of work to be done before opening, but the basic structures are there. This is the exterior of Royal Hall; the Princess meet-and-greet area is inside. The unfinished pedestal in front will be the location of the Tangled Tower sculpture. Rapunzel's hair will appear to be wrapped around it, and at night her hair will light up with twinkling lights.
New Orleans Bayou Bash - LTM
January 28, 2013
The New Orleans Bayou Bash has returned as part of Limited Time Magic on weekends through February 12.
Fantasy Faire Exhibit Opens
January 22, 2013
On January 19th the Blue Sky Cellar exhibit entitled Walt Disney Imagineering presents Fantasy Faire opened.
Disneyland Resort Photo Update
January 20, 2013
Contributing photographer Jason of disneygeek.com sends us these photos from his trip to the parks on Friday, January 11, 2013. The holidays have been put away for another year, as his photos indicate, plus he includes a brief video from the Golden Horseshow tribute, part of Limited Time Magic.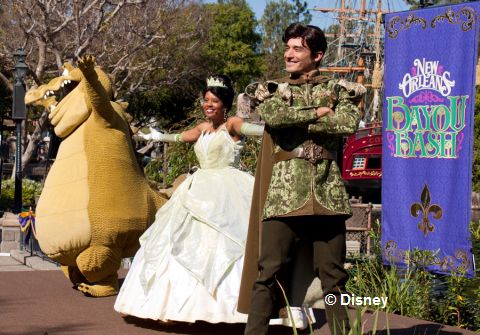 Limited Time Magic Updates!
January 11, 2013
Happy Lunar New Year Celebration from February 8-11 Eateries in Pacific Wharf in Disney California Adventure will feature special Asian-inspired treats.

Disneyland announces the return of New Orleans Bayou Bash! - this year, part of Limited Time Magic.

New Orleans Square will be decked out for a party, and so will some of your favorite Disney friends! New Orleans Bayou Bash! will come alive in New Orleans Square from 10 a.m.-6 p.m. on the following dates: January 18-21
January 25-27
February 1-3
February 8-12