Walt Disney World News
Disney Cruise Line
Disneyland Resort
SeaWorld Orlando
Site News
News Around the World
News Filters:
---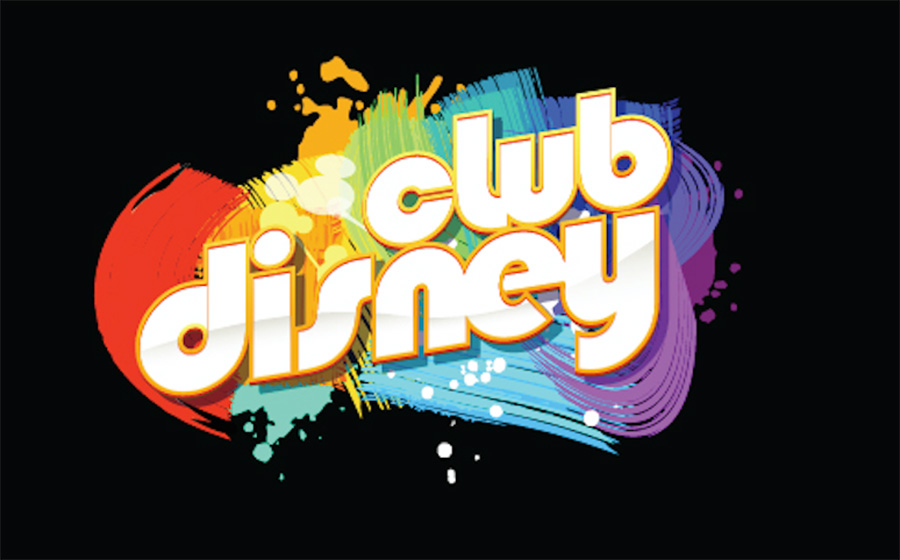 Sunset Showcase Opens in December with Club Disney
October 12, 2015
An all-new special event venue, Sunset Showcase, opens later in 2015 on Sunset Boulevard at Disney's Hollywood Studios. This entertainment showplace has been custom designed to host a variety of different experiences over time. The premier engagement at the new Sunset Showcase will be Club Disney, which will feature a DJ, dance party, seating area and snack station. It is set to open on December 5.
Chef Art Smith's Florida-Inspired Restaurant Coming to Disney Springs in 2016
October 09, 2015
Celebrity Chef Art Smith is bringing a taste of real Florida to a new restaurant opening in summer 2016 at Disney Springs. Homecoming: Florida Kitchen and Southern Shine will showcase the cuisine of Chef Smith, who was born and reared in the town of Jasper, Fla., on the Florida-Georgia border.
Collectibles for a Cause: Great Disney Items - Total Final Bid Directly to Avon Breast Cancer Total Raised So Far: $1,370
October 08, 2015
October is Breast Cancer Awareness month and 29-year Survivor Deb Wills is auctioning off some of her personal collection to raise funds to fight the disease. Your ENTIRE Winning bid is a direct charity donation to Deb's Avon Walk Account.
Related Links:
-- #1 Frozen Themed Room Decor - Finished! $120 Raised!
-- #3 Press Event Merchandise LIVE - Ends 10/13/15 NOON
-- #5 Lot of Disney Parks and Resort Buttons LIVE - Ends 10/14/15 Noon
-- #2 Disney Vacation Club Merchandise FINAL HOURS Ends Noon Today!
-- #4 Walt Disney Imagineering Merchandise Lot LIVE Ends 10/13/15 noon
-- Auction #6 Lot of Color Eyes and Ears LIVE Ends 10/15/15 Noon

Halloween Time at Disneyland Resort
October 06, 2015
Friday was Laura Gilbreath's first opportunity to experience Halloween Time at the Disneyland Resort this year. Now all the Halloween activities take place in Disneyland. She shares her photos and thought on the 2015 events.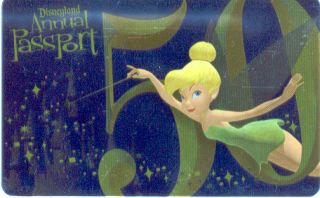 Disneyland Annual Pass Structure Changed; Prices Increased!
October 06, 2015
As of October 5, 2015, the Disneyland Resort restructured its annual passport system, including adding new passport types, eliminating the Premium Passport, and charging a hefty price increase. The prices of regular single- and multi-day tickets did not change.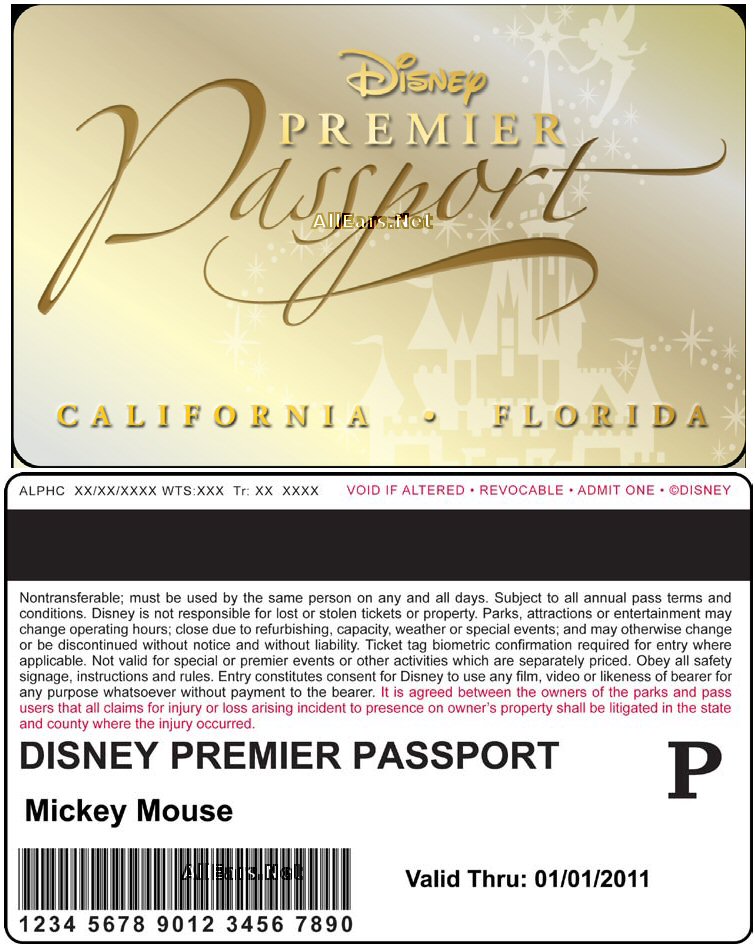 Families Dealing with new Annual Pass Prices
October 05, 2015
On Sunday, Disney fans woke up to the news that Walt Disney World and Disneyland had announced a restructuring of its annual pass programs. Of course, prices have increased, but some of the benefits and the names of the passes have changed as well, which can be a bit confusing. Today, I'm sifting through the details because my family and I renew our Walt Disney World passes next month, so we have to decide which passes make sense for our use in the coming year. Perhaps my comparisons and reasoning will resonate with you, too.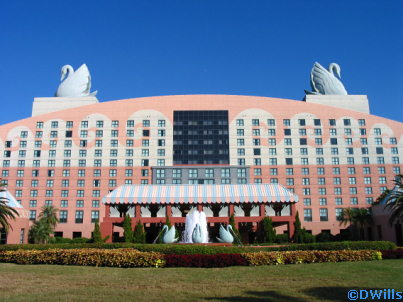 Resort Services Package Price Increases at Swan and Dolphin
October 04, 2015
The Walt Disney World Swan and Dolphin mandatory resort services package is now (as of Oct 1) $25 per day plus tax.

The Resort Service Package includes in room High-Speed unlimited access, 2 bottles of water daily, Unlimited access to full-service health club, Unlimited domestic long distance (US Mainland) and local calls, Tennis equipment and access to lighted courts, and Seasonal pool and recreational activities. Note there is 24 hour access to the Dolphin Health Club facility.

Annual and Seasonal Pass/Tables in Wonderland Price Increases
October 04, 2015
Walt Disney World has announced a number of price increases that go into effect today, October 4, 2015.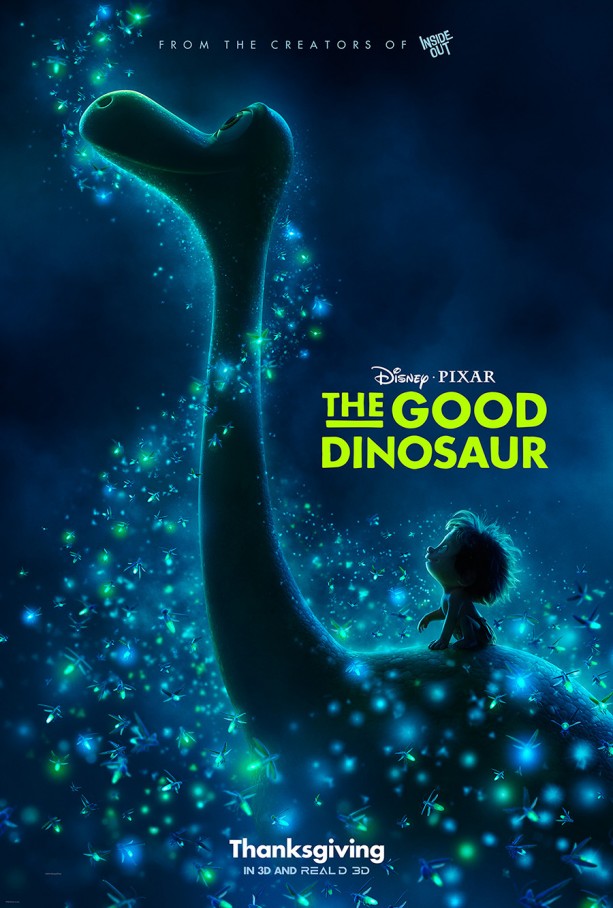 The Good Dinosaur Previews in Parks 10/16
October 03, 2015
Imagine if the asteroid that forever changed life on Earth missed the planet completely and giant dinosaurs never became extinct. That's the premise behind Disney Pixar's epic adventure, "The Good Dinosaur," coming to theaters this Thanksgiving.

Beginning October 16, guests visiting Disney Parks will be able to catch a preview of scenes from "The Good Dinosaur" in sneak peeks planned for Disney California Adventure park and Disney's Hollywood Studios.
Downtown Disney Transforms to Disney Springs - Name Change Ceremony - Jock Lindsey's Hangar Bar and Morimoto Asia
October 03, 2015
Downtown Disney has been in transformation for over two years, with a slew of new restaurants and shops opening over the past months. Signage has also been added through the past year with the moniker Disney Springs, but that name is now official as of yesterday, September 29th, 2015.

This past week has seen the opening of two new venues. Last week, the already extremely popular Jock Lindsey's Hangar Bar opened to rave reviews. We were the first in the door when it opened to the public, and we had the opportunity to go back during a media event that included a visit to not only Jock Lindsey's, but also the new Morimoto Asia. In between the two restaurants, we attended a brief ceremony to cap off the Disney Springs name change.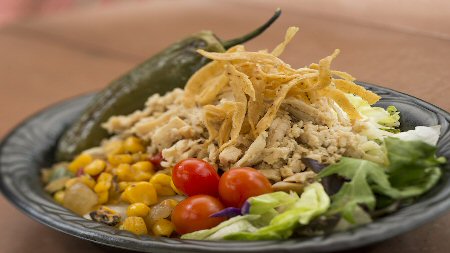 Pecos Bill's Debuts Tex-Mex Menu!
October 03, 2015
Pecos Bill's in the Magic Kingdom's Frontierland debuted a new Tex-Mex menu on October 1. New entrees include rice bowls and burritos with your choice of beef, chicken, or veggies. Fajitas sizzle with delicious steak or chicken. For a lighter option, there's a Southwest Chicken Salad. Fans of Pecos Bill's fixin's bar needn't worry -- it's back with tasty sauces, salsas, peppers, onions, cheese and more.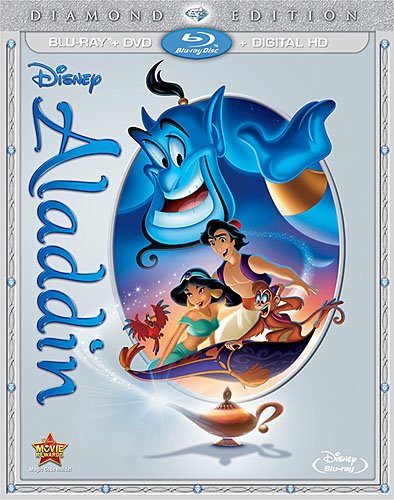 Aladdin Diamond Edition Now Available
October 03, 2015
The Aladdin Diamond Edition is now available on Digital HD and Disney Movies Anywhere. It will be released as part of a physical Blu-ray combo pack on October 13. The new release comes with a number of special bonus features, including one that spotlights some of the outtakes from Robin Williams's recording sessions as the Genie. You can watch the Aladdin Bonus Trailer HERE.
Say Goodbye to Duffy the Disney Bear October 3
October 02, 2015
Duffy the Disney Bear's last day to greet guests in his special home in Epcot will be October 3.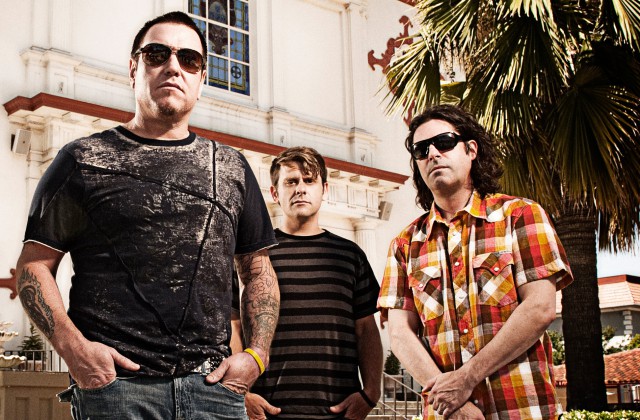 Starship and Smash Mouth Perform at Eat to the Beat
October 01, 2015
This week's Eat to the Beat concert performers:
Starship: October 2-4, 2015
Smash Mouth: October 5-7, 2015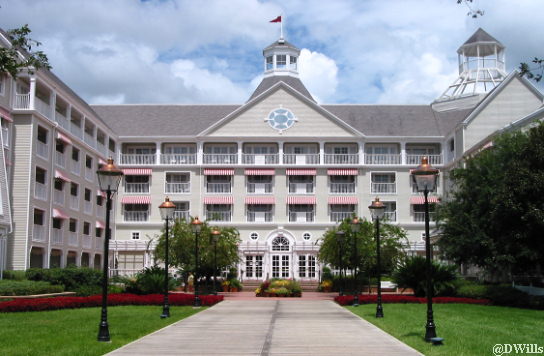 New Package Discounts Announced
October 01, 2015
NEW SPECIAL PACKAGE: Guests planning trips between December 13-19, 2015 and January 2-March 7, 2016, may save up to $500 on a 5-night/6-day room, ticket and dining plan package for a family of four at select Disney resort hotels. NOTE: This offer must be booked by December 23, 2015. Also, you may be able to save up to 25 percent on rooms at select Disney resort hotels January 2-April 13, 2016. For details call Disney at (407) 827-5268 or contact one of the travel professionals at MouseFanTravel.com.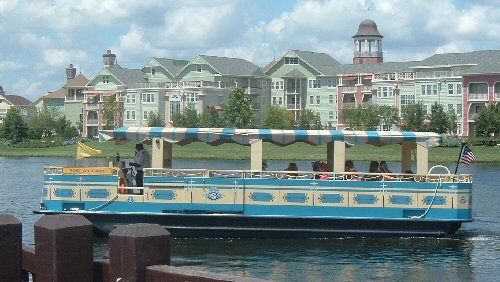 Disney Springs Boat Dock Reopens
October 01, 2015
The former Pleasure Island boat dock (now Disney Springs' The Landing) located between Jock Lindsey's Hangar Bar and Paradiso 37 has reopened. This dock serves as the drop-off and pick-up point for boat service to both Old Key West Resort and Saratoga Springs Resort and Spa. Service to the two resorts is provided between the hours of 10:30 a.m. to 11:30 p.m. daily. Old Key West boats are identified by a yellow flag, Saratoga Springs boats have a blue flag. Disney Springs also provides internal water taxi service between all three docks located in the Marketplace, West Side and The Landing.
Night of Joy Moves to ESPN Wide World of Sports Complex
October 01, 2015
Disney's Night of Joy 2016 concerts will be hosted in indoor and outdoor venues at ESPN Wide World of Sports Complex, instead of at the Magic Kingdom as they have been for many years. This new venue will allow more guests to attend the event, regardless of the weather. Night of Joy guests will still get admission to Magic Kingdom as part of the experience and will be provided dedicated transportation between Magic Kingdom and the Sports Complex.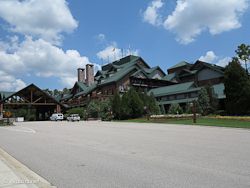 Waterfront Cabins Confirmed for Wilderness Lodge
October 01, 2015
Disney Vacation Club has issued a press release confirming plans to add new waterfront cabins and deluxe accommodations at Disney's Wilderness Lodge. The planned project, when completed, will be the 14th Disney Vacation Club development and the second at Wilderness Lodge. Current plans call for the resort to feature deluxe accommodations, including waterfront cabins. In addition to the Disney Vacation Club project, other guest areas within Disney's Wilderness Lodge are scheduled to undergo substantial enhancements and refurbishment, including new recreation and food and beverage options. More information and project details will be shared at a later date.
DVC Thanksgiving Day Feast Returns
October 01, 2015
The member-exclusive Thanksgiving Day feast returns for a second year with new features and an adjusted price point. It will be held on Thursday, November 26, 2015 from 3 to 5 p.m. in the Fantasia Ballroom at Disney's Contemporary Resort. The event also features live entertainment and Disney characters dressed in colonial attire. Every family will receive a complimentary photo with the characters. Published prices are $68.80 per adult (age 10+) and $30.50 for ages 3-9. These rates do not include tax or gratuity. Reservations are now being accepted via DVC Member Services.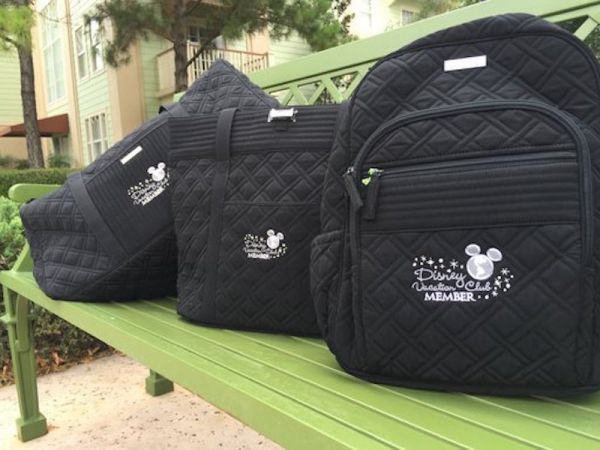 Price Reduced on DVC Exclusive Bags
October 01, 2015
The online Disney Store has marked down prices by 25 percent on each of the five exclusive Disney Vacation Club handbags from designers Dooney and Bourke and Vera Bradley that were released earlier this year. DVC members save an additional 10 percent, along with Disney Store's usually free shipping offer for orders over $75. Use code SHIPMAGIC for free shipping of any order over $75. Quantities are limited and prices may change at any time. Purchases are limited to two of each item per order. Additional details are displayed on the item page at the Disney Store.