Walt Disney World News
Disney Cruise Line
Disneyland Resort
SeaWorld Orlando
Site News
News Around the World
News Filters:
---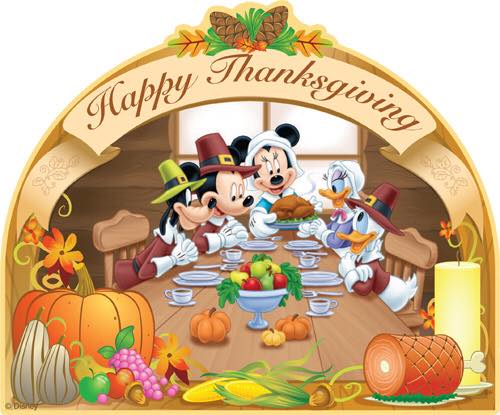 Happy Thanksgiving
November 27, 2014
Happy Thanksgiving Everyone!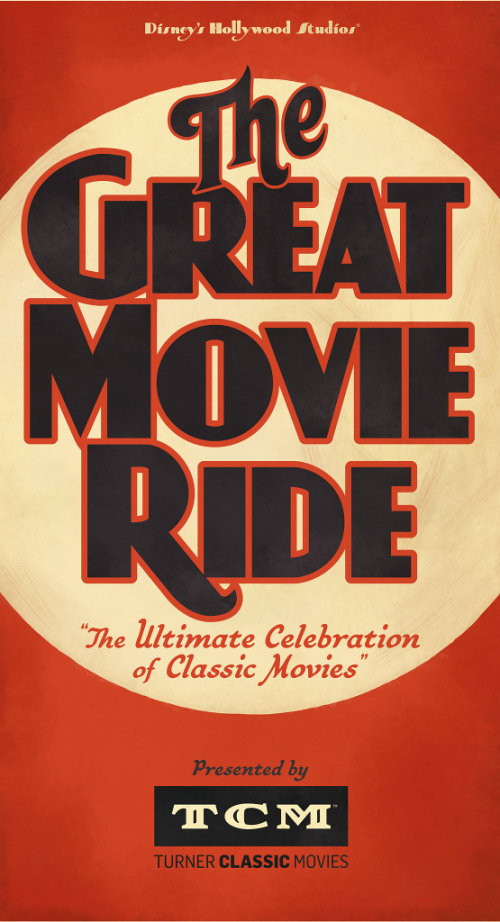 Turner Classic Movies and Disney Team Up - Press Release
November 26, 2014
Turner Classic Movies to sponsor the Great Movie Ride at Disney's Hollywood Studios
Disneyland Resort Holiday Decoration Photos and Videos
November 24, 2014
Contributing photographer Jason of disneygeek.com shares photos and short from his visit to the Disneyland parks on Friday, November 14, 2014.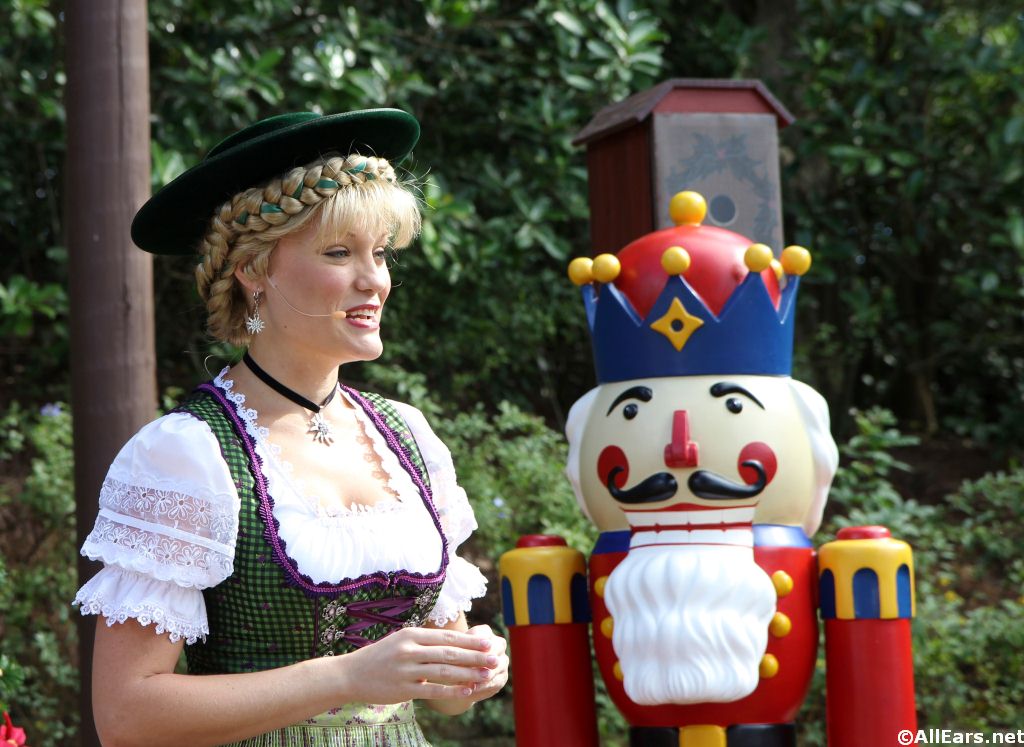 More Details on Epcot's Holidays Around the World Changes - Interview with Disney Show Director Marsha Jackson Randolph
November 19, 2014
Epcot's Holidays Around the World storytellers and traditions have three new acts in 2014. New shows will appear in Mexico and China and a new storyteller will appear in Morocco. All Ears interviewed Disney Show Director, Marsha Jackson-Randolph to learn more information about the new acts.
Holidaytime at Disneyland
November 15, 2014
November 13th marked this year's arrival of the holiday season to the Disneyland Resort! To kick it off, the ceremonial lighting of "it's a small world" took place, World of Color Winter Dreams debuted, and a Christmas Fantasy" parade ran for its 20th year, celebrating its anniversary with the addition of "Frozen" princesses Anna and Elsa. Read about these and more holiday activities in the blog!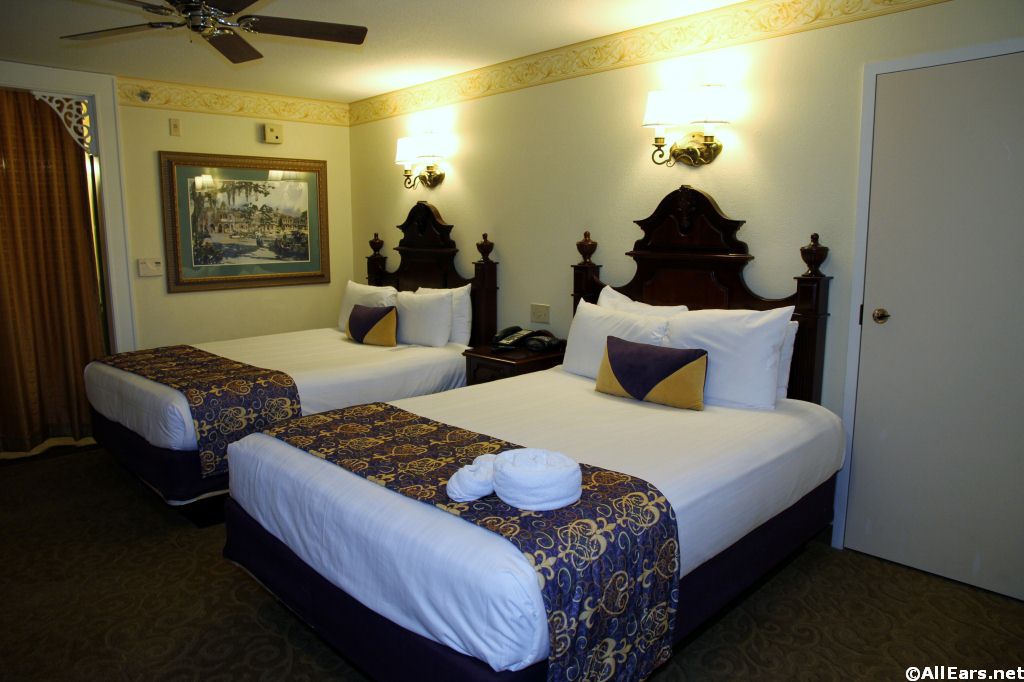 Port Orleans French Quarter Room Photos
November 14, 2014
Tour a room at the French Quarter!
Epcot's Holidays Around the World Entertainment Changes
November 14, 2014
The Disney Parks Blog has announced new live entertainment coming to Holidays Around the World in Epcot.
2015 Flower and Garden Festival News
November 13, 2014
Spring is months away, but the folks at Walt Disney World have been planning since last spring. Here's a look at what's new at the 2015 Festival.
Cinderella's Royal Table Relocates During Renovations
November 13, 2014
Cinderella's Royal Table moves from Cinderella Castle to Citricos at the Grand Floridian during restaurant renovations January 5 - March 2015. Check out the menu and much more.
Big Hero 6 Review No Spoilers
November 12, 2014
There's no doubt that Walt Disney Animation Studios' newest production, "Big Hero 6," is going to be an instant hit. After all, it takes the action of the Marvel comic on which it is loosely based and pairs it with the emotional storytelling for which Disney is known.
Big Hero 6 Review Spoilers
November 12, 2014
"Big Hero 6" tells the exciting action story of young robotics prodigy Hiro Hamada who, with the help of the adorable robot Baymax, his friends GoGo Tamago, Wasabi, Honey Lemon, and Fred, forms the superhero team Big Hero 6. Together, they use their powers to try to fight the mysterious villain Yokai and bring it to justice. THIS REVIEW CONTAINS SOME SPOILERS
Disneyland Photo Walk 11/7/14
November 12, 2014
Contributing photographer Jason of disneygeek.com sends us these photos from his trip to the parks on Friday, November 7, 2014. Christmas officially kicks off at the Disneyland Resort next weekend, but this week most of the decorations are up and some of the entertainment starts.
Memories of River Country
November 12, 2014
I have many wonderful Disney memories, picked up over the years during all those magical trips to the sunny south. But I've also racked up a few Disney regrets. This blog is about one of those regrets!

I never made it to Disney's first water-park, River Country . . .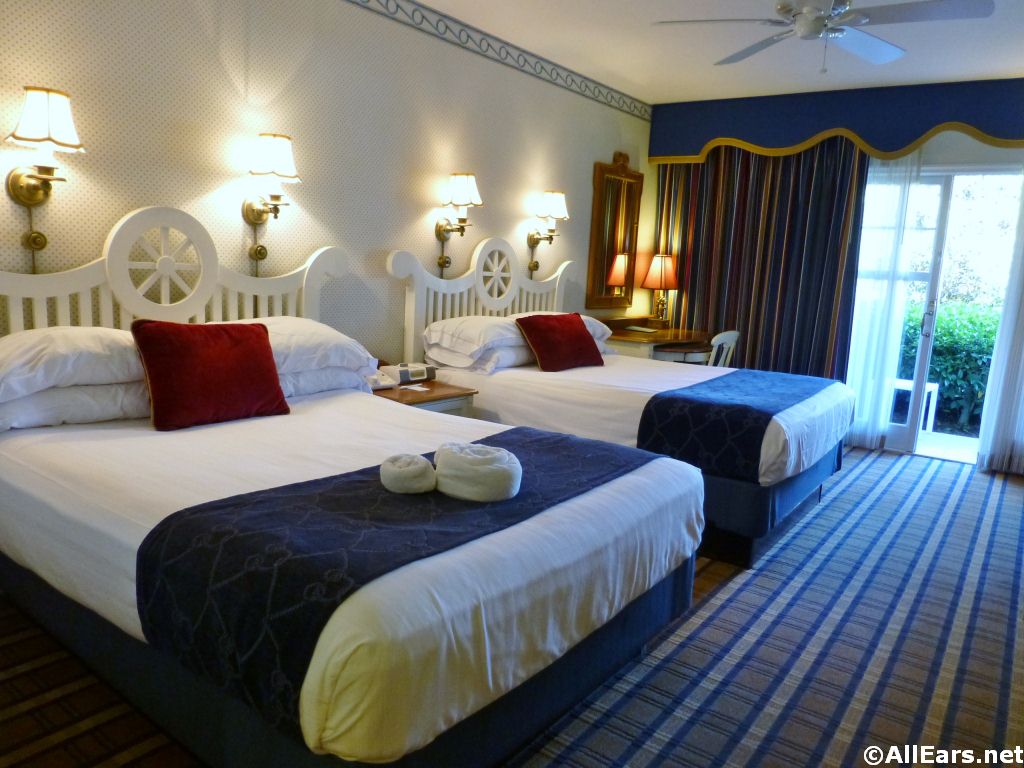 Yacht Club Standard Room Photos
November 09, 2014
Photographs of a standard room at Disney's Yacht Club Resort
"Frozen Holiday Wish" Castle Lighting Show Photos and Video
November 07, 2014
"A Frozen Holiday Wish" features Anna and Elsa in an all-new show on the Castle Forecourt Stage for the holidays. With special appearances by rugged mountain man Kristoff and lovable snowman Olaf, the show culminates in Queen Elsa using her incredible powers to present a gift to everyone in the kingdom, transforming Cinderella Castle into a glimmering ice palace for the holidays. "A Frozen Holiday Wish" debuted November 5 and is presented nightly through December 31, 2014. Olaf has never appeared as a walk around character before in Walt Disney World.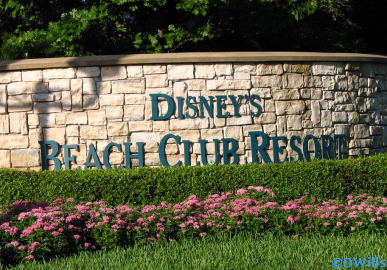 Beach Club Standard Room Video
November 07, 2014
This video is of a tour of the standard room at Disney Beach Club Resort, located in walking distance of both Epcot and Disney's Hollywood Studios. The Beach Club is styled after the New England seaside at the turn of the century and the seashore theme is evident throughout. The resort is joined in the center with the Yacht Club. Together they share Stormalong Bay and transportation facilities.
New Fantasmic Viewing Options
November 07, 2014
Disneyland guests will have new viewing options for the ever popular Fantasmic beginning December 12th. There will be reserved and standby viewing as well as new dining packages.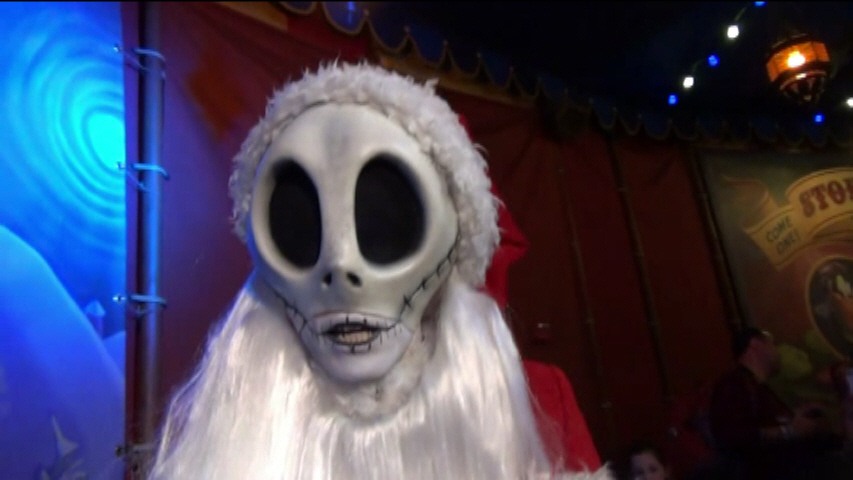 Mickey's Very Merry Christmas Party
November 06, 2014
2014 Mickey's Very Merry Christmas Party is a special night of holiday entertainment in the Magic Kingdom that includes: A Frozen Holiday Wish ; Mickey's Once Upon a Christmastime Parade featuring Santa Claus; special Holiday Wishes - Celebrate the Spirit of the Season Fireworks; Celebrate the Season Castle Stage Show; snow on Main Street, U.S.A.; complimentary hot cocoa and cookies. Your ticket to the party allows you to enter the Magic Kingdom as early as 4:00pm. The party runs from 7 p.m. to midnight
Related Links:
-- MVMCP Tips and Highlights AllEarsNet TV
-- Maximize Your Family Experience
-- Celebrate the Magic Castle Show
-- Mickey's Once Upon a Christmastime Parade Photo Gallery
-- Frozen Holiday Celebrations
-- 2014 MVMCP Guide Map
-- Holiday Wishes Video
-- Sandy Claws aka Jack Skellington Meet Video
-- Totally Tomorrowland Christmas Show
-- Elsa's Icy Shield - MVMCP Sorcerers Card

Big Hero 6 Press Conference
November 06, 2014
In preparation for opening, the studio held a screening and press conference with the film's voice cast, directors, and producer, along with the producer for "Feast," the animated short preceding "Big Hero 6" in theaters.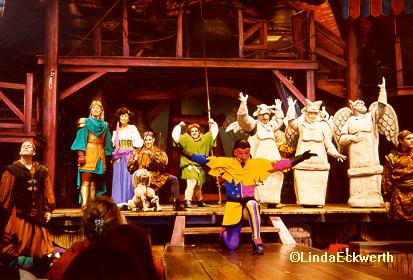 Hunchback of Notre Dame Musical
November 06, 2014
The Hunchback of Notre Dame opens at the La Jolla Playhouse on November 9, though it is currently in preview. It features music by Alan Menken and Stephen Schwartz, book by Peter Parnell, and is directed by Scott Schwartz (son of Stephen Schwartz). Lee and I saw the fourth preview performance on October 30.

It's very much like the Disney movie, though it is much darker, as it pulls in a few more elements from the original novel by Victor Hugo. More adult themes, and not recommended for children under the age of 12.