Walt Disney World News
Disney Cruise Line
Disneyland Resort
SeaWorld Orlando
Site News
News Around the World
News Filters:
---
Disneyland Candlelight Processional 2013
December 11, 2013
Disneyland's tradition of the Candlelight Processional, featuring a massed choir performing Christmas music, began in 1958. Unlike Epcot, it is only performed on two nights, typically the first weekend of December, making it more of a challenge to see. (Last year it was performed on 20 nights, but they did not repeat that this year.) Some people arrive at park opening to stake out their spots for the processional at 5:30 in the evening!
Disneyland Photo Update
December 11, 2013
Contributing photographer Jason of disneygeek.com sends us these photos from his trip to the parks on Saturday, December 7, 2013.
Review: Marty Sklar's Dream It!
December 11, 2013
Disney Editions has just released "Dream It! Do It! My Half-Century Creating Disney's Magic Kingdoms," an engaging and informative book by Marty Sklar, Disney Legend and longtime leader of Walt Disney Imagineering. With introductions by Ray Bradbury and Richard M. Sherman, and a number of interesting photographs, the book is sure to delight all kinds of Disney fans.
Meet Frozen's Anna and Elsa
December 11, 2013
Meet Princess Anna and Queen Elsa from Disney's Frozen! They are appearing for a limited time in Epcot's Norway.
Wilderness Lodge Holiday Decor Video
December 10, 2013
Walt Disney World decks all the halls, and resorts and theme parks with holiday decorations. The decoration at Wilderness Lodge do not disappoint, they are some of the most beautiful resort decorations. Take a tour of the Wilderness Lodge and the Villas at the Wilderness Lodge.
A Disney Christmas Village
December 09, 2013
Many years ago my sister began creating a monster. She took a liking to Department 56 "Dickens Village" pieces and each year she gave us a new one as a Christmas gift.

The collection grew year by year and soon we had a complete intersection . . . then two . . . so they became part of our Christmas tradition. Each year we put up our Dickens Village for the holidays.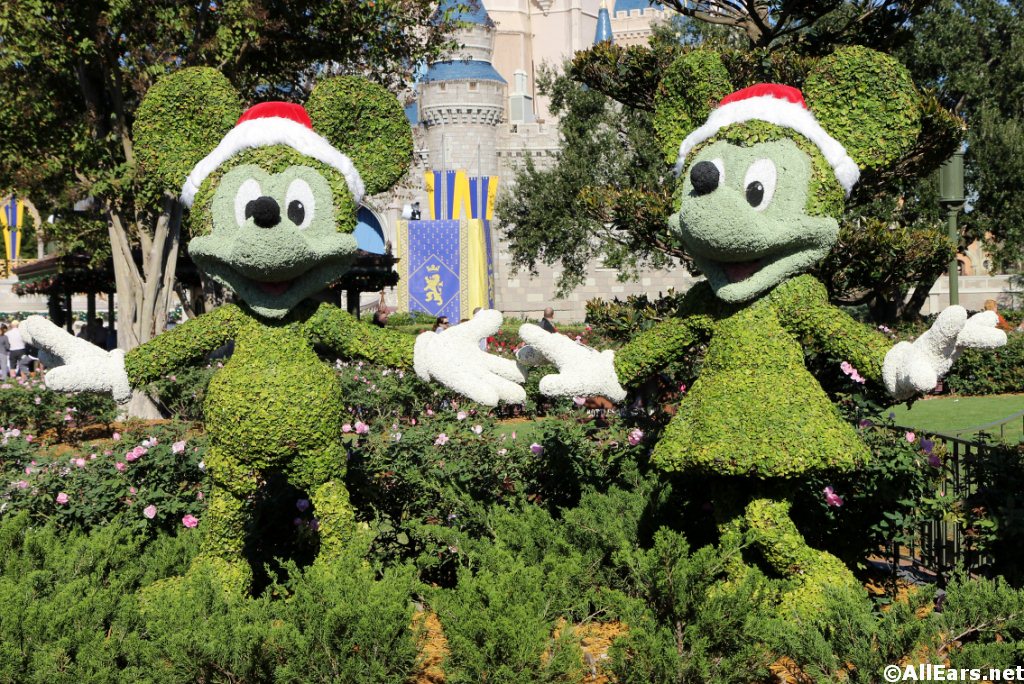 Holiday Happenings at WDW
December 03, 2013
Walt Disney World celebrates the season at all four theme parks and Downtown Disney. There are special decorations, entertainment, parades and shows. AllEars.net has complete coverage of all the holidays festivities at Walt Disney World!
Related Links:
-- Helga and the Nutcracker
-- Celebrate Japan's O-Shogatsu
-- Spirit of Kwanzaa
-- Finding Santa
-- Learn About Pere Noel
-- Tour the Gingerbread House at the Grand Floridian
-- The Story of Hanukkah
-- Epcot Storytellers
-- Holiday Videos
-- VIDEO: Holiday Castle Lighting Ceremony
-- Holidays Around Epcot Tips
-- Osborne Spectacle of Dancing Lights Tips
-- Mickey's Jingle Jungle Parade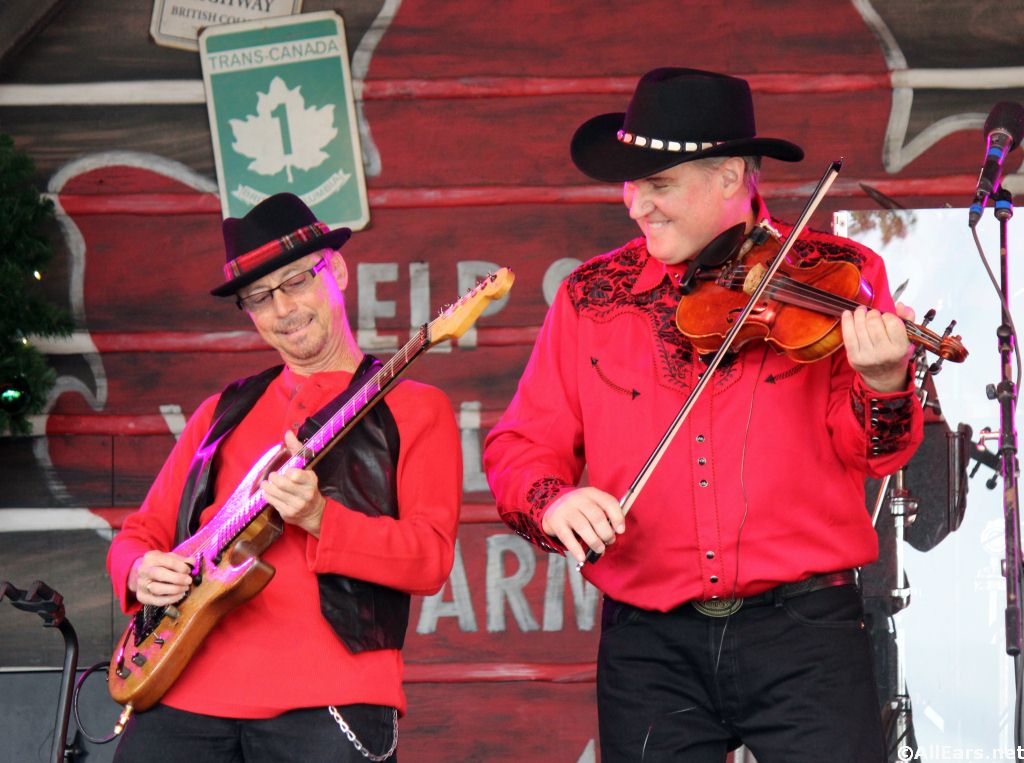 Canadian Holiday Voyageurs Photos
December 01, 2013
New this year to Epcot's Holidays Around the World are the Canadian Holiday Voyageurs!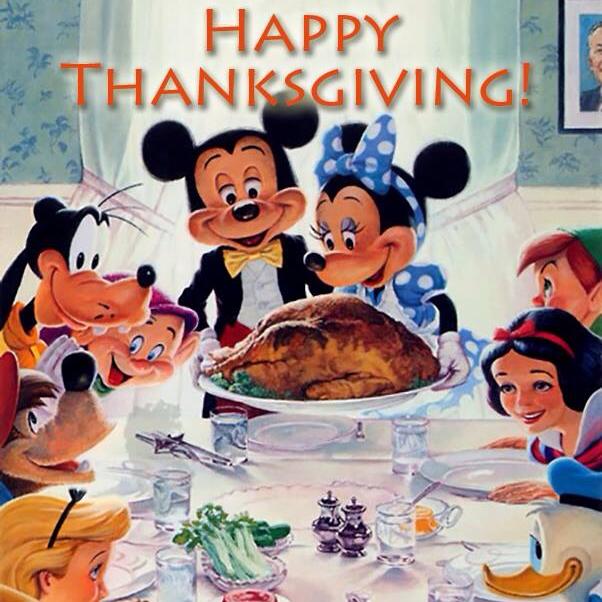 Happy Thanksgiving
November 28, 2013
Everyone at AllEars.net wishes you and your families a Very Happy Thanksgiving!!!
Cost Savings Deals from Seaworld
November 28, 2013
Like the other big theme parks in Central Florida, SeaWorld Orlando is a busy place during the holidays. And not only does the marine park have plenty of special experiences for guests, it also offers quite a few money-saving deals for visitors and residents alike during this holiday season.
Sweet Treats Gingerbread House Boardwalk Video
November 27, 2013
This year the Boardwalk Resort has a new Gingerbread House called "Sweet Treats" with hidden mickeys and not so hidden mickeys. Take a tour
ARG! Pirates Invade the Disney Magic!
November 27, 2013
It's Pirate Night on the Disney Magic Cruise Ship. Good and bad pirates roam the ship. We talk with Chip and Dale, Captain Mickey, Stitch and Mr. Smee and Captain Hook to see which side they are on. See who are the good pirates with Captain Mickey and who are the bad pirates with Captain Hook!
Minnie's New Dressing Room Meet and Greet
November 27, 2013
Visit Minnie Mouse in her posh dressing room at Disney's Hollywood Studios. Tucked away in the Magic of Animation Character area in the Drawing Room. Currently there are no signs to indicate she is there. The dressing room is full of memorabilia from movie posters, to oscars, photographs and much more. Be sure to check out all the posters in the queue area!
Disney Infinity - New Characters for Holidays
November 22, 2013
For many Disney Infinity fans, this weekend just might be more exciting than Black Friday. Don't expect to skip the lines, though, unless you pre-ordered the gaming merchandise being released soon.

Several eagerly anticipated pieces are being released, including the first official Disney Princess character and several other popular female figures. Today, players can purchase Rapunzel from "Tangled" (a Wal-Mart exclusive) and Ralph from "Wreck-It Ralph" (a Best Buy exclusive). On Sunday, everyone's favorite computer-game glitch, Vanellope von Schweetz, will be released only at Target. And on Tuesday, the day before "Frozen" hits theaters, a toy pack with the movie's characters, Anna and Elsa, and two related power discs will be available in stores.
Running with a "Bus Driver"
November 22, 2013
The Bus is a group of runners who develop an identity over the life of the race, setting a pace and tone that get the whole group across the finish line. And unlike the pacesetter in a pace group whose sole purpose is to get people across the line at a specific time, the Bus Driver's sole purpose is getting everyone through to the final destination... before the cut-off. Besides having to run their own race, the Bus Driver often becomes responsible for the races of others.

This past Wine & Dine race at Epcot, 12 of us Team Allears Members were fortunate enough to form our own bus for the race. Rich Gairing was the Bus Driver who got us all to our final destination.
Disney's Frozen
November 22, 2013
From the studio behind 2010's "Tangled" and this year's "Wreck-It Ralph," Walt Disney Animation Studios presents "Frozen," the coolest comedy-adventure ever to hit the big screen. When a prophecy traps a kingdom in eternal winter, Anna (voice of Kristen Bell), a fearless optimist, teams up with extreme mountain man Kristoff and his sidekick reindeer Sven on an epic journey to find Anna's sister Elsa (voice of Idina Menzel), the Snow Queen, and put an end to her icy spell. Encountering mystical trolls, a funny snowman named Olaf, Everest-like extremes and magic at every turn, Anna and Kristoff battle the elements in a race to save the kingdom from destruction.
Related Links:
-- Frozen Characters in the Parks
-- Spoiler-Free Review
-- A Tale of Two Princesses
-- Celebrate the Magic - Frozen Video
-- World of Color Winter Dreams Debuts!
-- The White Carpet Event
-- Sneak Peek Walt Disney Animation Studios Part 1
-- Sneak Peek Walt Disney Animation Studios Part 2

Remembering Diane Disney Miller
November 21, 2013
Jim Korkis remembers Diane Disney Miller.
Spice Road Table to Open Soon in Epcot
November 18, 2013
Spice Road Table is set to open soon in the Morocco pavilion in Epcot's World Showcase. The restaurant will offer a variety of Moroccan small plates and specialty drinks. Regional flavors from the Mediterranean are highlighted, along with a scenic view of the World Showcase lagoon in front of the Morocco pavilion. With 120 outdoor terrace seats, the inside will seat 60 with cozy booths, Moroccan light fixtures, tilework, tapestries and art representing Morocco's indigenous Berber tribes.
Experience the Flavors of Africa at Jiko
November 14, 2013
A visit to Animal Kingdom Lodge is a truly immersive experience. This resort, quite possibly better than any other at Disney World, completely transports Guests to an entirely different world. While its open savannah with its array of animals gets much of the attention, Animal Kingdom Lodge has so much more to offer. The resort is truly a celebration of African culture and this is reflected as soon as Guests enter into the awe-inspiring lobby.

Of course, no cultural experience would be complete without showcasing the cuisine and Animal Kingdom Lodge delivers with three tremendous full service restaurants. With Sanaa at Kidani Village and Boma and Jiko at Jambo House, visitors to Animal Kingdom Lodge have no shortage of dining options to choose from. Each of these restaurants provides their own unique twist on African cuisine and has something different to offer, but it is Jiko that stands out as the resort's Signature dining option.
Mickey's Very Merry Christmas Party
November 14, 2013
Mickey's Very Merry Christmas Party 2013 has begun. We have tips, videos and photos of the fun event!
Related Links:
-- Tips for Making the Most of the Party
-- 2013 Party Guidemap
-- VIDEO: Holiday Wishes
-- Mickey's Christmas Parade Video
-- VIDEO: Once Upon a Christmastime Parade
-- The Notorious Banjo Brothers and Bob Video
-- VIDEO: Tomorrowland Christmas Show