General Info
Attraction Info
Parades and Shows
News
January
February/
March
Spring
April
May
June/July
August
September
October
NovemberDecember
OTHER THEME
PARKS
Walt Disney World
Theme Park News
News Filters:
---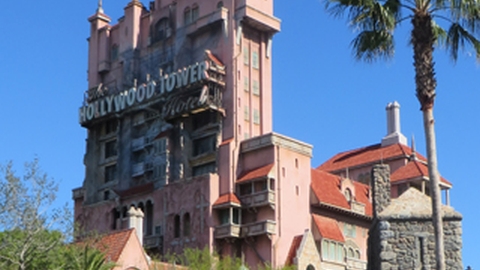 Still Terrifying After All These Years: A Look Back at the Tower of Terror
August 16, 2018
Blogger Gary Cruise reflects on his first ride in the Twilight Zone Tower of Terror, back in November 1999. By that time the tower had been terrorizing Disney guests for more than five years.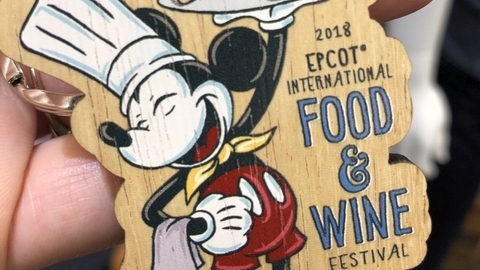 2018 Food and Wine Festival Merchandise and More!
August 13, 2018
The 2018 Epcot International Food and Wine Festival, which starts Aug. 30, features tons of new merchandise, with lines featuring Chef Mickey, Chef Remy from Ratatouille, and of course Figment!
Related Links:
-- Everything Else That's New for the Epcot Food and Wine Festival

TRON Construction Underway; Causes Some Ride Disruptions
August 11, 2018
Construction on the new Tron coaster attraction in Walt Disney World's Magic Kingdom, adjacent to Tomorrowland's Space Mountain, is well underway. Its progress is causing the temporary disruption of the operation of several existing attractions. Both the Walt Disney World Railroad and the Tomorrowland Speedway will close temporarily during the work. The Tron attraction is set to debut in time for Walt Disney World's 50th anniversary in 2021.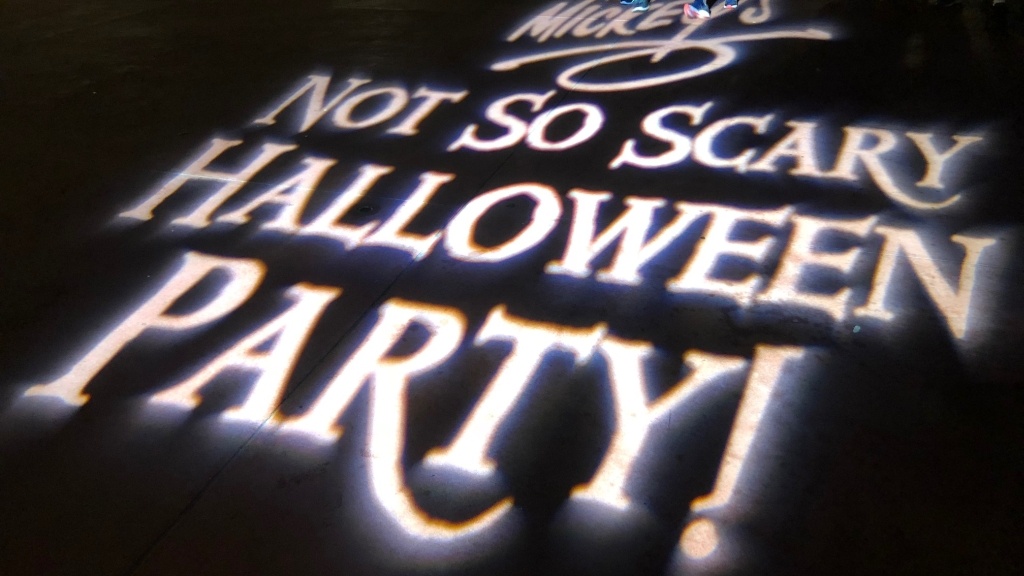 What You Need to Know About Mickey's Not-So-Scary Halloween Party in 2018!
August 09, 2018
Mickey's Not-So-Scary Halloween party nights begin at the Magic Kingdom on Friday, Aug. 17. This year, there will be additional experiences to make the evening even more special, like new lighting and effects on the Mad Tea Party and interactive pirates on Pirates of the Caribbean. Special Halloween goodies and merchandise will also be available.
Related Links:
-- 2018 Halloween Party Guide Map!
-- Grim Grinning Ghosts and More at First 2018 Mickey's Not-So-Scary Halloween Party
-- Special Halloween Merchandise Unveiled
-- Halloween Treats Abound in the Magic Kingdom and Not-So-Scary Parties!
-- Halloween 2018 Brings Spooky Specialty Items to Disney Parks
-- Halloween Refillable Mug at Walt Disney World

AllEars.Net Kingdom Strollers Search and Surprise Giveaway!
August 09, 2018
Here at AllEars.Net we're so excited to partner with Kingdom Strollers as our recommended stroller rental agency in Walt Disney World. And this weekend, we want to do a little something special for one lucky Kingdom Strollers family! We'll be in the parks on Sunday morning, August 12, for our first-ever "AllEars.Net Kingdom Strollers Search and Surprise!" giveaway. Follow us and keep an eye on our social media channels -- Twitter, Facebook, and Instagram -- to see the search LIVE! At the end of the search, we'll give a magical surprise to one lucky Kingdom Strollers family!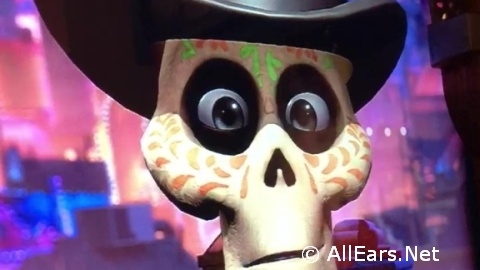 Make Yourself into a Dia de Muertos Skeleton at Epcot's Mexico Pavilion
August 03, 2018
Walking through the Mexico pavilion yesterday, we stumbled across this new hands-on activity that's part of the "Remember Me" La Celebracion del Dia de Muertos exhibit in the pavilion's gallery. The new Mirror de los Muertos allows you to turn yourself into a "Day of the Dead" skeleton-like creature, just like those featured in Disney-Pixar's film, "Coco."
Vampirina Coming to Disney's Hollywood Studios
August 02, 2018
Vampirina, a young vampire-like girl who has moved from Transylvania and is now attending school in the human world, will soon be making appearances at Walt Disney World Resort. "Vee" will join breakfast at Hollywood and Vine's Disney Junior Play 'n Dine as of September 30. Later in the fall Vampirina will be a part of the character meet-and-greets in Disney's Hollywood Studios' Animation Courtyard. And when the new "Disney Junior Dance Party!" opens in that theme park, she'll be part of that show as well.
Limited Time Reserved Seating at Festival of the Lion King
August 02, 2018
Starting August 2, you can purchase a Signature Dining Event Package that includes a meal at Tiffins Restaurant followed by special VIP seating at one of the most popular shows at Walt Disney World. This event package is available from August 13 through November 21, 2018.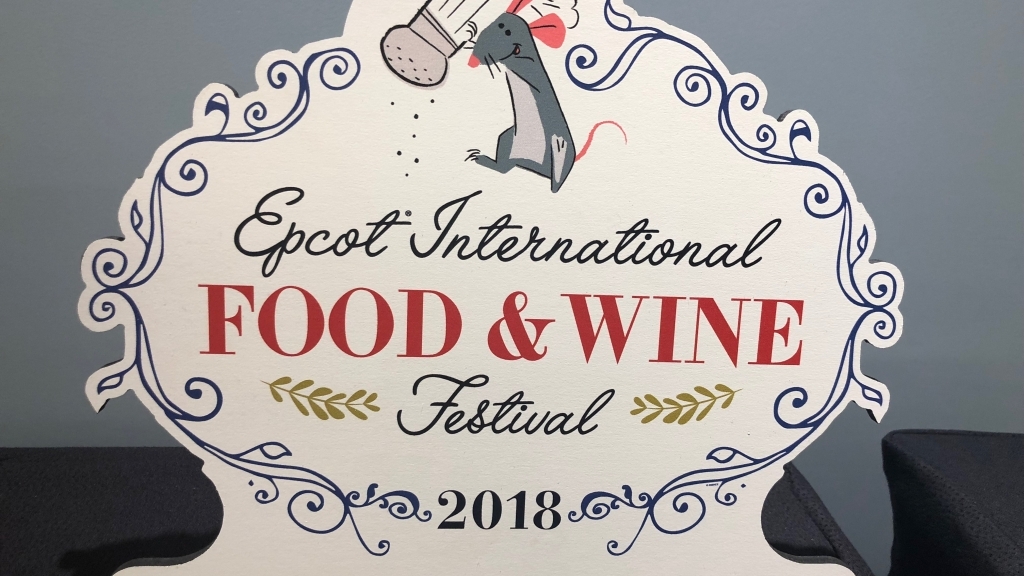 Global Marketplace Menus for 2018 Epcot Food and Wine Festival!
August 01, 2018
Menus for the global marketplaces that will be featured as part of the 2018 Epcot International Food and Wine Festival have been released. The 23rd annual festival starts August 30 and runs for 75 days, until November 12.
Related Links:
-- Preview Time: 2018 Food and Wine Festival Marketplace Items!
-- Listing of Gluten/Wheat-Friendly and Vegetarian Marketplace Items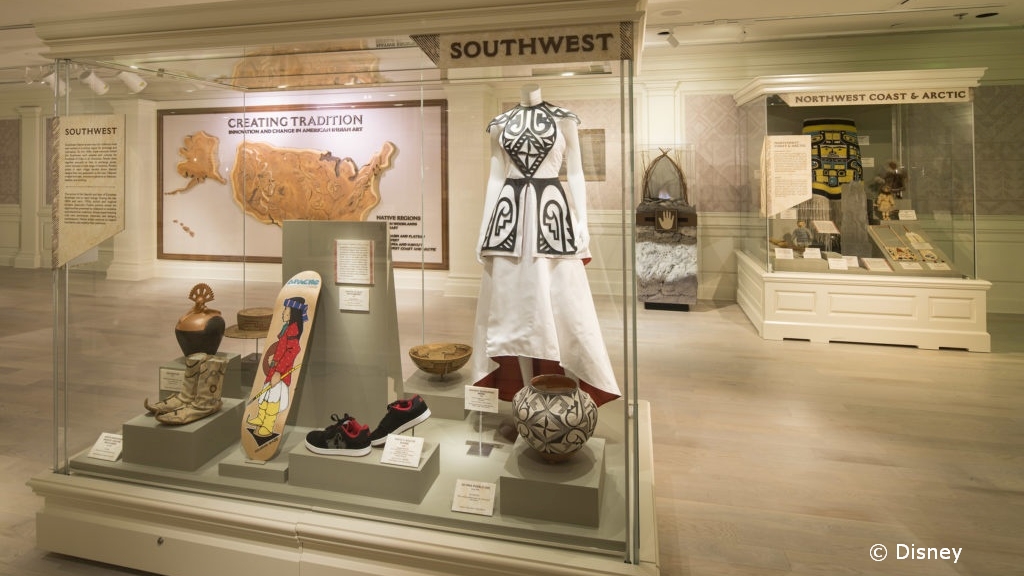 New Exhibit Opens in Epcot's American Heritage Gallery
July 31, 2018
The American Heritage Gallery inside The American Adventure pavilion reopened on July 27 with a new art exhibition called "Creating Tradition: Innovation and Change in American Indian Art." The exhibition displays the work of contemporary Native artists alongside artifacts from centuries past, demonstrating how ancestral craftsmanship influences modern generations. The 89 pieces on display represent 40 different American Indian tribes from seven geographic regions across the United States.
Orange Bird Featured on Special Halloween Sorcerers of the Magic Kingdom Card
July 31, 2018
Attendees at this year's Mickey's Not-So-Scary Halloween Party in the Magic Kingdom will be able to pick up a special event-exclusive Sorcerers of the Magic Kingdom card featuring the Florida Orange Bird.
Menu Mania: A Recap of What's Changed in our Menus
July 28, 2018
Each week in the AllEars Newsletter, we tell you that we are continually updating our dining database, and we give you a few highlights. But maybe you're wondering what exactly that means.

In a nutshell, it means that each and every week we are gathering menus from various Walt Disney World restaurants and then updating them on our site. We are also adding photos of the menu items as we go, not to mention photos of the dining locations themselves. Sometimes we even add videos!

We thought you might find it of interest to see exactly what has changed each week, so we've decided to present you with a weekly recap diving into a little more detail.
Disney Announces Plans to Reduce Plastic Waste
July 26, 2018
Today, the Walt Disney Company announced that it will eliminate single-use straws and plastic stirrers at all of its owned and operated locations worldwide by mid-2019. The company estimates that this will result in a reduction of more than 175 million straws and 13 million stirrers annually.
Preview: What's New for This Holiday Season
July 20, 2018
Walt Disney World held a special "Christmas in July" event for media to share a preview of what will be new in the parks this coming holiday season.
Tiffins Fixed Price Lunch + New Eats in Disney's Animal Kingdom
July 18, 2018
Disney's Animal Kingdom recently announced the new Pizzafari Family-Style Dining Experience, which allow you to make reservations for table-service dinner at this normally quick-service location. Here's even more food news for the theme park, starting with a new fixed-price lunch menu at Tiffins Restaurant.
Rivers of Light Dessert Party to Start Aug. 6
July 17, 2018
Disney's Animal Kingdom will soon debut a new Rivers of Light Dessert Party, which offers a buffet of Animal Kingdom-themed desserts, snacks, and drinks followed by reserved VIP seating for the theme park's nighttime show, Rivers of Light. The new experience will take place on select nights starting on Monday, August 6, 2018. Price (which includes tax) is $79 for adults and $47 for children and must be paid for in full at the time of booking. Make reservations starting today online at disneyworld.com or call 407 WDW-DINE (407 939-3463).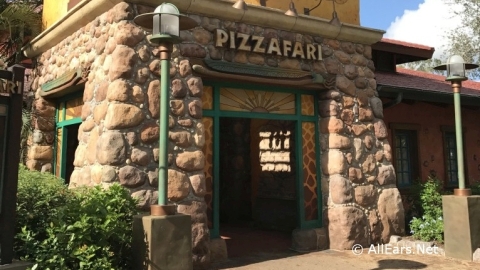 Reservations Now Open for Pizzafari Family-Style Dining
July 17, 2018
Reservations are now open for a new dining experience coming to Pizzafari in Disney's Animal Kingdom starting July 31. The brand-new Pizzafari Family-Style Dining Experience will allow you to experience table service dining at the counter service venue. But don't worry -- Pizzafari will still also act as a quick-service location, if that's what you'd prefer.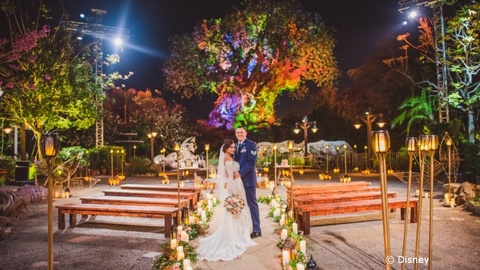 Tree of Life Now Available as Wedding Venue
July 15, 2018
The Tree of Life at Disney's Animal Kingdom is the newest venue available to couples looking to "tie the knot" at Walt Disney World. Disney's Fairy Tale Weddings & Honeymoons calls the park icon "the picture-perfect backdrop for a memorable wedding." Beyond Disney's well-known Wedding Pavilion, other possible settings for Disney World weddings include Fort Wilderness Resort and Campground with views of Seven Seas Lagoon, in front of Cinderella Castle at the Magic Kingdom, and the Chinese Theatre at Disney's Hollywood Studios.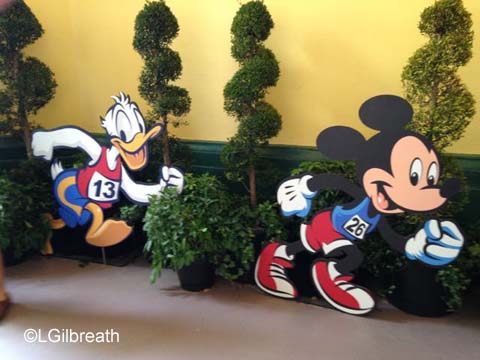 Early Registration for 2019 Marathon Weekend Begins July 17
July 14, 2018
Early registration for the events of Walt Disney World's Marathon Weekend in 2019 opens to Annual Passholders, DVC Members, and Golden Oak residents on Tuesday, July 17 at noon Eastern time. General registration begins on Thursday, July 19, also at noon Eastern. Visit rundisney.com for details.
Focus on Epcot: Overlooked "Attractions"
July 11, 2018
As regular readers of the AllEars newsletter know, we occasionally like to take a look at what we call the "Overlooked Attractions" around the parks and resorts. Those little things that make you detour from your beeline to the thrill rides, the additional touches that demonstrate Disney's well-known attention to detail and make Walt Disney World the fascinating place that it is. So much has changed at Epcot over the last few years, that I felt it was time to update our list of that park's overlooked attractions.