General Info
Attraction Info
Parades and Shows
News
January
February/
March
Spring
April
May
JuneJuly
August
September
October
NovemberDecember
OTHER THEME
PARKS
Walt Disney World
Theme Park News
News Filters:
---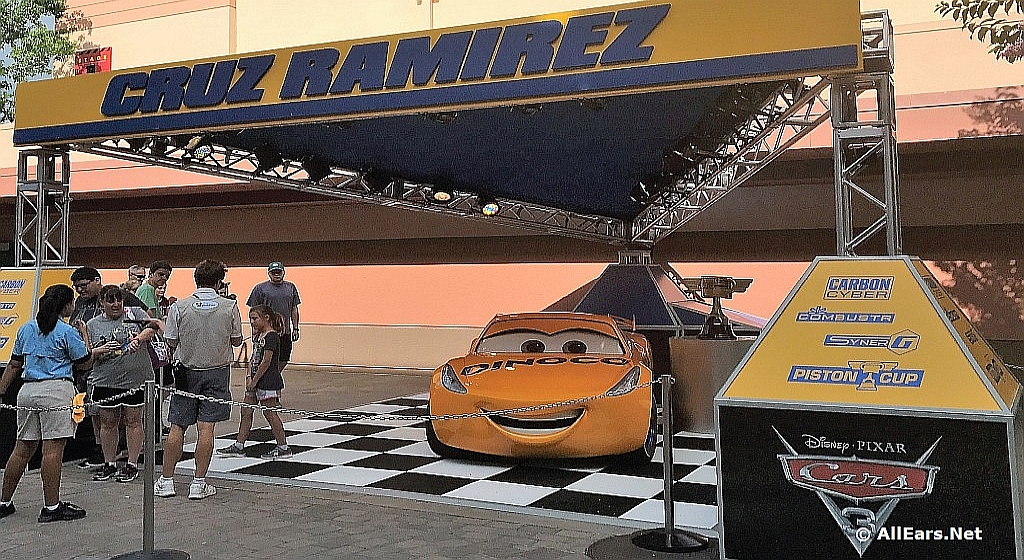 Character Meet and Greets at Disney's Hollywood Studios
June 24, 2017
One of the fun things about Disney's Hollywood Studios is the unique character meet-and-greet opportunities. Some of the characters are regulars (like Chewbacca and Kylo Ren, Buzz and Woody), but others are around for a very limited time. Recently we headed to the Studios and the first order of business were the special characters!
2017 Eat to the Beat Concerts Announced!
June 22, 2017
The full schedule of musical acts performing during the 2017 Epcot International Food and Wine Festival has been released. The concerts, known as the Eat to the Beat Concert Series, will be performed nightly at the America Gardens Theatre in Epcot's World Showcase at 5:30, 6:45, and 8 p.m. The concerts are included with your theme park admission.
PhotoPass Capturing On-Ride Photos at Pirates of the Caribbean
June 21, 2017
As of yesterday, June 19, Disney PhotoPass Service is taking photos of guests at Pirates of the Caribbean at Magic Kingdom. As you prepare to exit a haunted grotto, a Disney PhotoPass camera will capture your image, which will be automatically associated to your My Disney Experience account if you are wearing an active MagicBand. Your photo can be viewed at MyDisneyPhotoPass.com and in the My Disney Experience mobile app, where you can download or purchase it.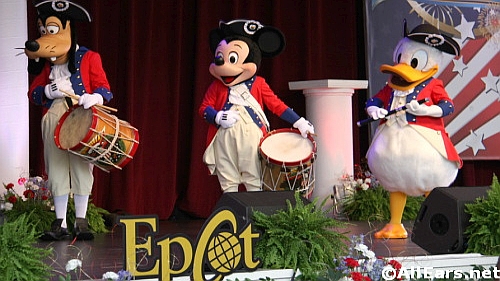 Disney World Announces Fourth of July Entertainment Schedule
June 21, 2017
Walt Disney World has announced its entertainment schedule for the upcoming Fourth of July holiday:
-- Disney's Celebrate America! A Fourth of July Concert in the Sky: Magic Kingdom Park commemorates the Fourth with brilliant fireworks choreographed to patriotic music on both July 3 and July 4 at 9 p.m.
-- IllumiNations: Reflections of Earth: This nightly Epcot favorite adds a patriotic twist to the show, with a special laser light finale celebrating America at 9 p.m. on July 4.
-- "Star Wars: A Galactic Spectacular" at Disney's Hollywood Studios takes to the sky at 9:30 p.m.
-- Rivers of Light: Disney's Animal Kingdom's newest nighttime show has two showings, 9:15 p.m. and 10:30 p.m.
Other Independence Day fun and entertainment includes:
-- The Voices of Liberty a cappella group will perform traditional Americana tunes during a 4th of July Concert on the America Gardens Theatre stage at 5:30, 6:45 and 8 p.m. The American Music Machine will perform pop hits at noon, 1, 2, 3 and 3:50 p.m.
-- Disney Characters all dressed up to celebrate America's birthday will be meeting visitors throughout the day at the American Adventure Pavilion at Epcot.
-- The Muppets Present... Great Moments in History: Miss Piggy, Kermit, Fozzie Bear and friends reenact famous moments in American history in a whimsical way. The live show is performed daily in Liberty Square.

Park Maps, Guides for Guests with Disabilities
June 21, 2017
Here are the latest Walt Disney World theme park guide maps, as well as the guides for guests with disabilities.
2018 Dining Plan Includes Alcoholic Beverages
June 21, 2017
Walt Disney World 2018 vacation packages went on sale today, June 20. Along with that, Disney has released updated information for its 2018 Dining Plans. One of the biggest changes to next year's dining plans is the inclusion of certain alcoholic beverages. Other specialty beverages have also been included in the plans. For guests with a vacation package that includes a Disney Dining Plan:
-- Those over the age of 21 can choose either one single serving non-alcoholic beverage (including specialty beverages where offered) or one single serving mixed cocktail, beer, or wine. A single-serving non-alcoholic beverage includes items such as: artisanal milkshakes; fresh smoothies; premium hot chocolates; soda, coffee, or tea. A single-serving alcoholic beverage includes items such as: beer or cider; wine or sangria; mixed drinks and specialty cocktails (some exceptions apply).
-- Those under the age of 21 can choose a single serving non-alcoholic beverage as described above.
These beverages are included with a table-service or quick-service meal entitlement, not individually.
In addition, prices for the 2018 dining plans are as follows:
-- Quick-Service Dining Plan is $52.49 per night per adult; $21.75 per night per child age 3-9
-- Basic Dining Plan is $75.49 per night per adult; $25.80 per night per child age 3-9
-- Deluxe Dining Plan is $116.24 per night per adult; $39.90 per night per child age 3-9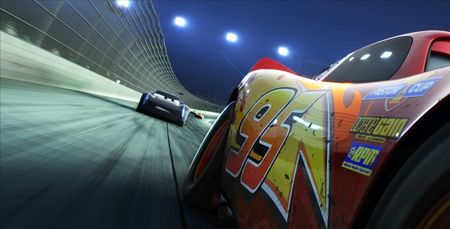 Cars 3-Themed Merchandise Coming to Disney Parks
June 15, 2017
New Cars 3-themed merchandise is coming to Disney Parks in conjunction with the June 16 release of the 3D film. Items include a Lightning McQueen graphic t-shirt, two open edition pins, and a limited edition retail MagicBand 2 (edition size 2,000) presented in a specially designed box. Guests will also find die-cast cars, playsets, and other Cars-themed toys.
2017 Dining Discounts Summary
June 15, 2017
Here's an updated chart in PDF form summarizing the various dining discounts (DVC, AP, Tables in Wonderland, etc.) available around Walt Disney World as of June 2017.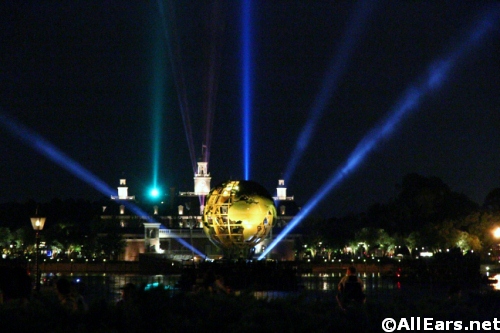 Frozen Ever After Dessert Party Debuts July 17
June 15, 2017
Reservations are now open for the brand-new Frozen Ever After Dessert Party, which offers reserved seating for the fireworks spectacular "IllumiNations: Reflections of Earth," along with delicious desserts and a special opportunity to enjoy the Frozen Ever After attraction in the Norway pavilion. Starting July 17, 2017, the party, which will take place in World Showcase Plaza East overlooking World Showcase Lagoon, will feature decor, drinks, desserts and snacks inspired by the film Frozen. Adults 21 years and older will be able to enjoy alcoholic beverages such as a pina colada, margarita or "Summertime Punch," a refreshing blend of prickly pear syrup, vodka, lemonade and ginger ale. After IllumiNations, guests will be escorted to the Norway pavilion for a special ride on Frozen Ever After. Cost is $79 for guests ages 10 and above, $47 for ages 3 to 9 -- tax and gratuity included. Reservations can be made by visiting DisneyWorld.com/dine or by calling 407-WDW-DINE.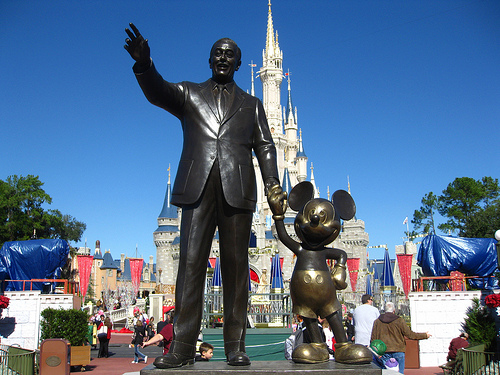 2018 Vacation Packages Available for Booking June 20
June 14, 2017
The 2018 Walt Disney Travel Company vacation packages for Walt Disney World Resort will be available to book beginning June 20, 2017. These packages will be valid for arrivals January 1 through December 31, 2018. Note that the last date of your vacation cannot be booked more than 499 days in the future.
Halloween and Christmas Dessert Party Tickets Now Available
June 14, 2017
Tickets are now available for dessert parties for the nights of Mickey's Not-So-Scary Halloween Party and Mickey's Very Merry Christmas Party. The dessert parties include specially themed sweets, non-alcoholic beverages, and reserved viewing for the nightly fireworks at the Tomorrowland Terrace Restaurant. The cost is $79 for adults and $47 for children ages 3 to 9 (tax not included). For reservations, book online or by calling (407) 939-3463. Note that a separate ticket to either the Halloween or Christmas Party is also required and is not included in the price of the dessert party.

In addition, reservations can now be made for table-service dining at Be Our Guest Restaurant, Cinderella's Royal Table and The Crystal Palace for times during Mickey's Not-So-Scary Halloween Party, which takes place select nights beginning August 25 through November 1.

Mobile Orders Extending to More Quick-Service Restaurants
June 01, 2017
As reported last week, the new Satu'li Canteen in Pandora - The World of Avatar will be offering Mobile Ordering via the My Disney Experience app on your mobile device. Satu'li Canteen is the only restaurant that will accept mobile orders now, but more Animal Kingdom quick-service restaurants -- Pizzafari, Flame Tree Barbecue and Restaurantosaurus -- will be added during the summer. Mobile Order will be available at other fast casual and quick service locations across Walt Disney World Resort soon after.
Pandora - The World of Avatar Opens!
May 28, 2017
Pandora - The World of Avatar officially opened at Disney's Animal Kingdom on Saturday, May 27, 2017! This new land provides eco-tourists the opportunity to join Alpha Centauri Expeditions (ACE) for the transformational experience of a lifetime -- filled with unforgettable expeditions, floating mountains, a bioluminescent forest, winged mountain banshees and more. All around its enormous floating mountains, you'll quickly uncover the valley's one-of-a-kind dining and shopping experiences-along with sights, sounds and experiences that include:

Exotic plants that come to life with beautiful bioluminescence each night;
A Na'vi-built drum circle, containing instruments playable by all;
Na'vi totems and other cultural items found throughout the land;
Brand-new Wilderness Explorers challenges and badges to collect.

Attractions in the new land include Avatar Flight of Passage, which lets you soar on the back of a banshee (height requirement 44 inches) and the Na'vi River Journey, a family-friendly gentle boat ride for all ages.
Related Links:
-- Pandora Costumes - First Look!
-- Avatar: Flight of Passage Ride - What You Need to Know
-- First Impressions: Pandora - The World of Avatar
-- Pandora's Windtraders: Interactive, Creative Gifts
-- VIDEO: ACE Guide at Pandora
-- PREVIEW: Valley of Mo'ara Photo Gallery
-- VIDEO: Na'vi River Journey's Shaman of Songs
-- VIDEO: Na'vi River Journey Preview
-- VIDEO: Avatar Flight of Passage Standby Queue
-- Avatar Flight of Passage
-- Avatar Flight of Passage Photo Gallery
-- Satu'li Canteen Menu
-- Explore the Magic of Nature in a Distant World
-- Na'vi River Journey Photo Gallery
-- More Details Emerge on Pandora's Satu'li Canteen
-- Na'vi River Journey
-- REVIEW: Satu'li Canteen Lunch
-- Pandora's Culinary Story
-- Parents' Guide to Pandora
-- Mobile Ordering for Satu'li Canteen
-- D23 Summer Issue Features Pandora
-- Theming of Pandora - The World of Avatar
-- Satu'li Canteen Breakfast Menu
-- Preview Map: Pandora - The World of Avatar
-- Pongu Pongu Menu and Photos
-- Shopping at Windtraders at Pandora - The World of Avatar
-- VIDEO: Avatar Flight of Passage "Pre-Show"
-- RATE AND REVIEW: Let Us Know What You Think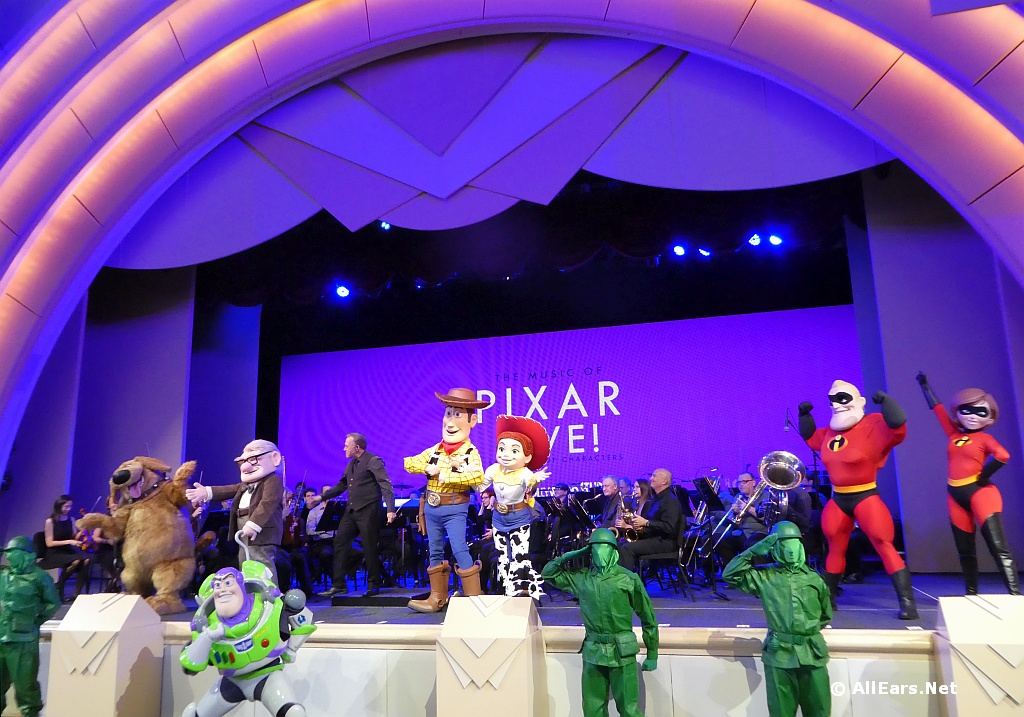 The Music of Pixar Live Starts Limited Run
May 26, 2017
From May 26 to August 27, 2017, Theater of the Stars will be home to "The Music of Pixar Live," a celebration of the music, animation and characters of Pixar films. Featuring fun character moments and brilliant animated scenes on large video screens, a full orchestra performs selections of the stirring soundtracks from films such as "Toy Story," "Up," "Finding Nemo," "Finding Dory," "The Incredibles" and "Cars." The show will be performed three times nightly, and special dining packages are available.
Mickey Mouse Celebration Cake Now Available for Ordering
May 19, 2017
Beginning May 17, a brand-new Mickey Mouse celebration cake can be ordered at any Walt Disney World Resort owned and operated table-service restaurant. The cake is available in either chocolate or white chocolate, and can be decorated with a special message of "Happy Birthday" or "Congratulations" on the chocolate ears. Each cake serves 4 to 6 guests, and costs $35 plus tax and gratuity. Celebration cakes can be added to a new or existing dining reservation starting May 17 by calling 407-WDW-DINE or by inquiring in person at a Walt Disney World Resort concierge desk or restaurant podium. Booking ahead is encouraged, as same-day quantities are limited.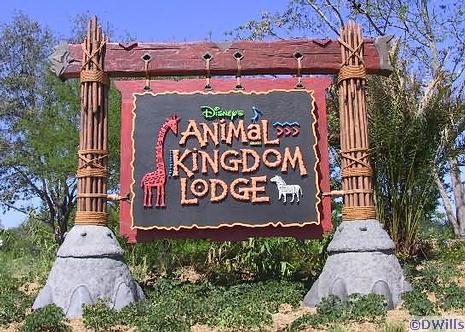 Red River Hog Piglets Born at Animal Kingdom Lodge
May 18, 2017
Several weeks ago, Chloe, a red river hog at Disney's Animal Kingdom Lodge, gave birth to two male piglets. The piglets will remain backstage with their mother until they grow a bit, but guests who have recently participated in the Sense of Africa program at Disney's Animal Kingdom Lodge have been able to see the piglets up close.

New Pricing Structure for 2017 Night of Joy
May 18, 2017
There is a new pricing structure for this year's Night of Joy, the two-night Christian music event coming to ESPN Wide World of Sports this September 8 and 9. Event guests will be able to buy a concert-only ticket or a concert-plus-theme-park combination ticket for either evening. There will also be an option to buy a concert-only ticket for both nights.
- Single-night concert-only tickets will be $45 plus tax in advance.
- Two-night concert-only tickets will be $69 plus tax in advance.
- Add-on a one-day Walt Disney World theme park ticket for $62 plus tax.
There also will be premium seating packages available for an extra charge; groups of 10 or more will be able to get discounted tickets. Tickets will go on sale in early June.

iCan the Showbot Appearing in Tomorrowland
May 15, 2017
There is a new "intergalactic visitor" interacting with guests in Tomorrowland in the Magic Kingdom. Called iCan the Showbot, he can be found rolling around the area between Space Mountain and the People Mover periodically throughout the day.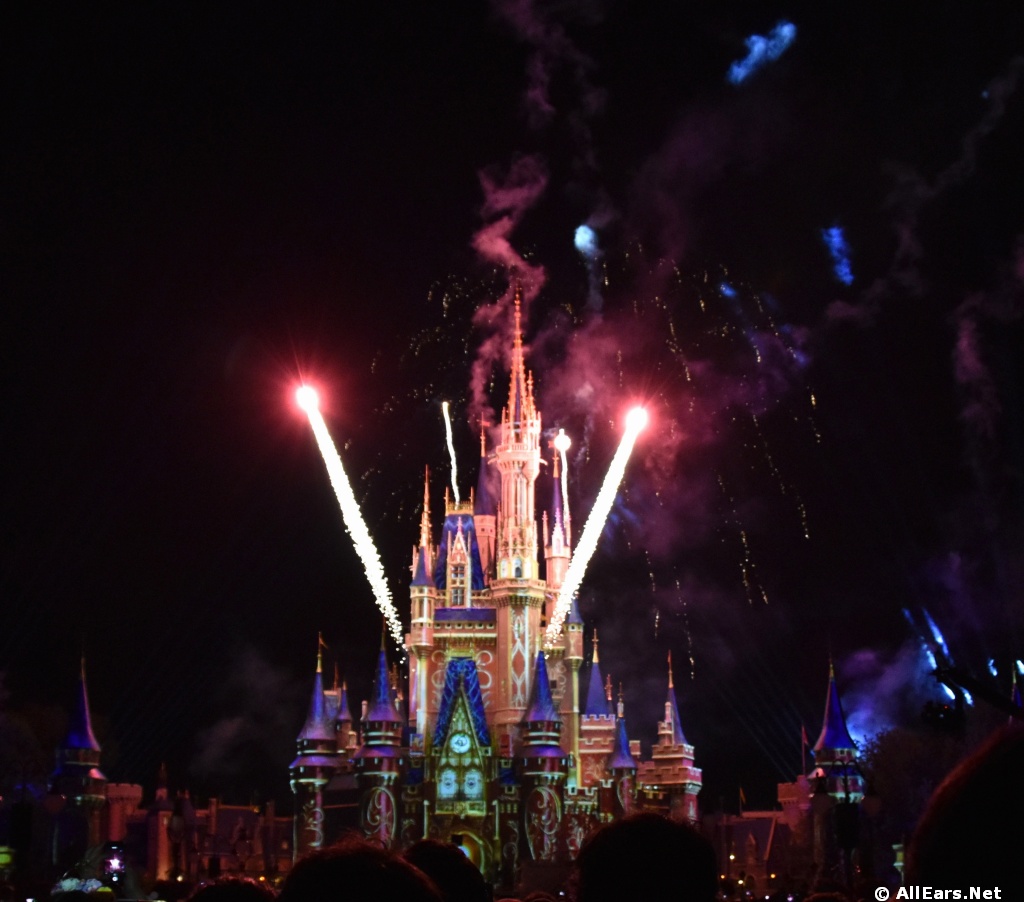 PHOTOS: Happily Ever After Fireworks Show
May 15, 2017
The new Magic Kingdom fireworks show, Happily Ever After, debuted on May 12, 2017. It replaced the long-running Wishes. In addition to fireworks, the stunning new nighttime extravaganza features more lasers, lights and projections than any Disney show before it. "Happily Ever After" takes guests on an inspiring journey filled with heart, humor and emotion. The 18-minute spectacle features scenes from classic Disney films such as "The Little Mermaid" and "Aladdin" to modern blockbusters "Moana" and "Zootopia."
Guardians of the Galaxy Meet-and-Greet Now at One Man's Dream
May 12, 2017
The Moana meet-and-greet location in the back of the One Man's Dream attraction at Disney's Hollywood Studios has closed. The space now hosts a meet-and-greet featuring Star-Lord and Baby Groot from the new film, Guardians of the Galaxy, Vol. 2. Check your times guide for the schedule of appearances.