General Info
Attraction Info
Parades and Shows
News
January
February/
March
Spring
April
May
June
July
August
September
October
November
December
OTHER THEME
PARKS
Walt Disney World
Theme Park News
News Filters:
---
Star Wars Weekends 2014 Details!
April 23, 2014
2014 Star Wars Weekends will be held every weekend (Friday, Saturday and Sunday) from May 16-June 15, 2014.
Related Links:
-- Celebrity Appearances Announced!
-- Feel the Force Premium Package

Seven Dwarfs Mine Train - Actors Filming Commercial Video
April 23, 2014
The Seven Dwarfs Mine Train was on the tracks April 22, 2014 with passengers onboard. Disney was filming a commercial. Watch the video!
Celebrate Earth Day April 22
April 21, 2014
To celebrate Earth Day, Walt Disney World is bringing back popular activities from past years -- and adding a few surprises -- at the resort on Tuesday.

The biggest celebration, Party for the Planet, takes place at Animal Kingdom, and the activities are included with regular admission to the theme park. As guests enter the park, they will again see displays of wildlife-friendly backyard habitats and be encouraged to collect a free postcard. The postcards are a visual reminder of where to find the Earth Day activities and, in years past, guests were invited to mail them for free at several special mailboxes located throughout Animal Kingdom.
Seven Dwarfs Mine Train Testing Video: April 16
April 17, 2014
The Seven Dwarfs Mine Train attraction nears completion. This new video shows the trains being tested and more detail to the area. The Seven Dwarfs Mine Train is the final component of the New Fantasyland expansion and is projected to open late April/early May 2014.

Flowers and Gardens? Not Me!
April 13, 2014
Epcot Flower and Garden Festival.

To me, that usually means hibernation until the fun festival - Epcot's Food and Wine Festival - opens. There's a good reason for that. I am not an outdoorsy kind of guy. Give me an indoor project like tearing out a wall or updating a kitchen and I'm all over it. Can't get started fast enough. But give me a yard project like planting flowers or landscaping and I'll put it off until it snows... and I live in Florida in the winter.
A little knowledge is a powerful thing.
"it's a small world" 50th Anniversary Celebration
April 11, 2014
We have coast to coast coverage of the Disney Parks 50th Anniversary Celebration of "it's a small world". Interviews, photographs and videos!
Epcot Announces After-Hours Wind Down
April 11, 2014
Have you ever wanted to hang out at Epcot after IllumiNations but you have to leave the park?

From April 17 - September 15 you'll now be able to wind down at La Cava del Tequila (Mexico), Spice Road Table (Morocco), Tutto Gusto (Italy) or the Rose and Crown (United Kingdom) frpm 9:20pm - 11:00pm.

Each location will have small bites to taste pared with a beverage flight! The cost is $35, plus tax and gratuity. You must make a reservation at www.disneyworld.com/spring, call 407-WDW-DINE or stop by Epcot Guest Relations.
Disney Season: Summer 2014
April 08, 2014
Walt Disney World Resort guests have plenty of ways to show their Disney Side this summer -- a bi-coastal all-night party, expanded Star Wars Weekends offerings, special events and new openings are just a few of the new things happening around the "World" this summer.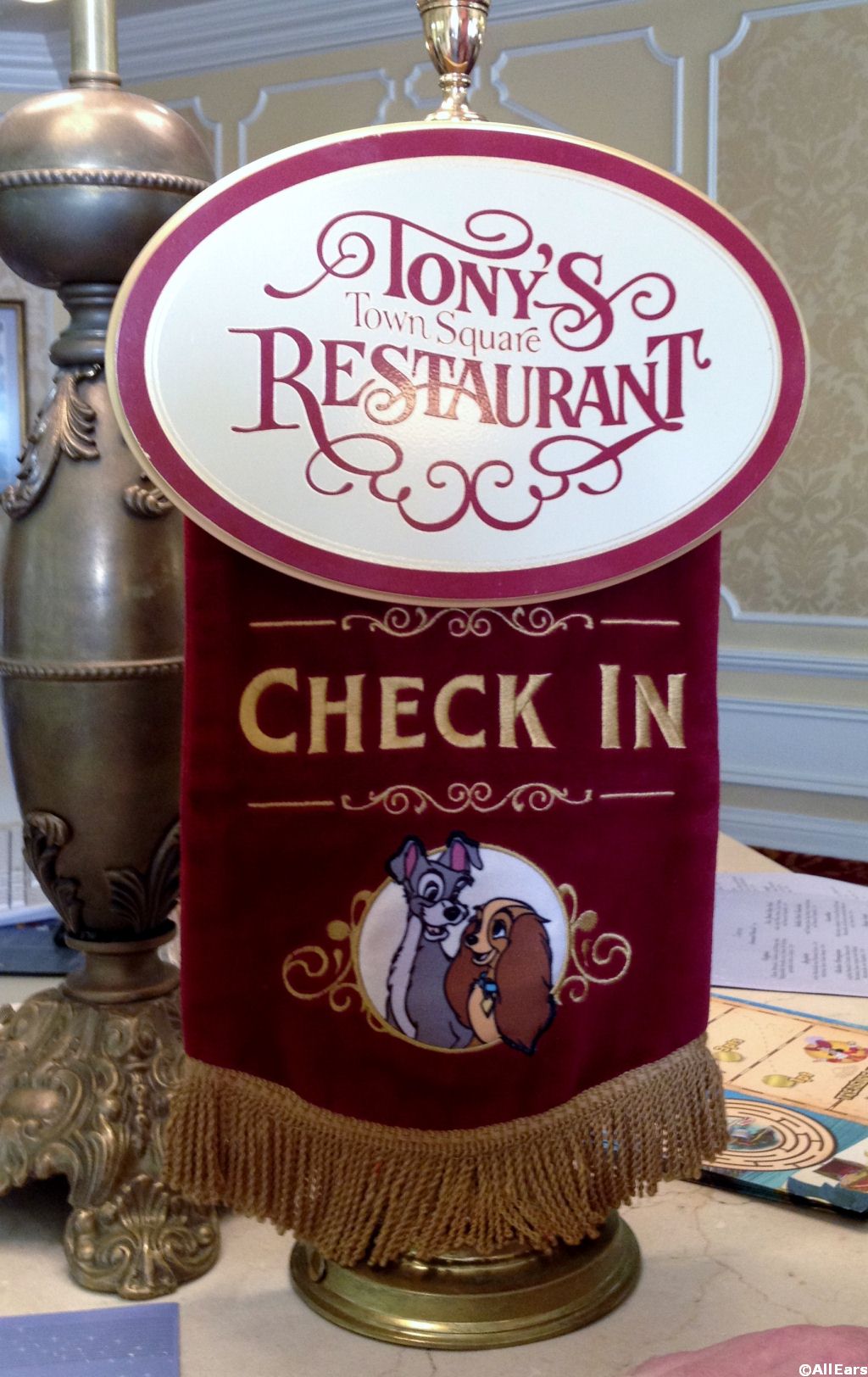 Tony's Town Square Updated Photos and Menus
April 05, 2014
Updated Tony's Town Square page with lots of food photos and restaurant pics, plus updated menus!
Character Dining - Garden Grill
April 02, 2014
Despite the countless times I have visited Epcot's Land pavilion, the Garden Grill Restaurant was one of the few Epcot dining locations to which I had never been. Many a time, when walking past to go ride Soarin' or Living with the Land, I have commented on how this was a restaurant that I really wanted to try. However, for one reason or another, I continually put it off. This might have been due to the fact that there are so many restaurants at Epcot which I really enjoy or the simple fact that the Garden Grill is only open for dinner and its limited operating hours make reservations a little harder to come by. Whatever the reason, I finally decided to give the Garden Grill a try and I went in not really knowing what to expect. I knew that the dining room rotated, dinner was served family-style, and that it was a character dining experience, but that was about it. After having finally dined there, I can say that the Garden Grill surpassed my expectations and might actually be my new top location when it comes to character dining.
Changes Coming to FastPass+
April 02, 2014
Tom Staggs announced on the Disney Parks Blog that they are hearing guest feedback and are planning some changes to FastPass+
Parking Fee Increases
March 31, 2014
Fees for theme park parking rose $2.00 and the fee for valet parking at resort hotels rose $5.00. The current cost of parking is now:

Automobile, Limo or Motorcycle $17
Camper, RV or Trailer $18
Bus or Tractor Trailer $21
Valet parking at Walt Disney World Resorts $20

Special Star Wars Dining Experiences!
March 26, 2014
Great news for Star Wars fans! Beginning March 26, two new dining experiences will be available for booking for Star Wars Weekends from May 4 to June 15, 2014.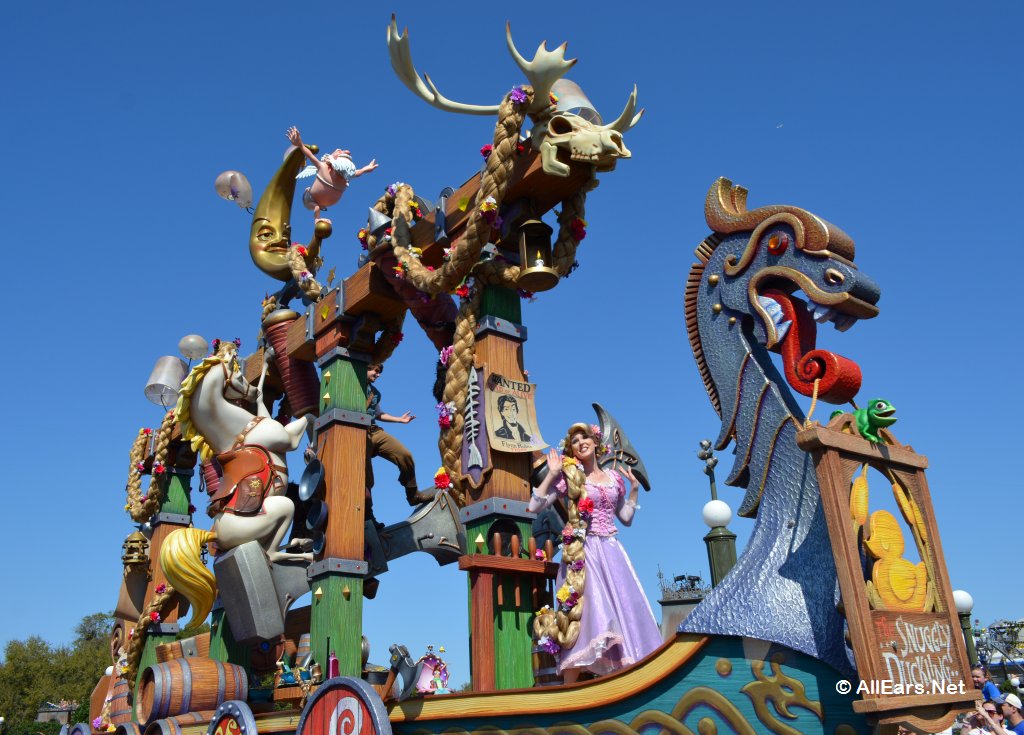 Fantasy of Festival Parade Details- Plus Bonus **Full Media Performance**
March 25, 2014
The media was treated to a special performance of the Fantasy of Festival Parade, lasting about 15 minutes. There have been a few changes since. This video has the complete parade performance
Changing Face of World Showcase Dining
March 25, 2014
I have been enjoying watching the transformation of the "cuisine scene" that's been taking place around Epcot's World Showcase over the last few years. World Showcase has been updating its restaurants, in some cases wisely taking advantage of the beautiful water views that World Showcase Lagoon affords. This review discusses Spice Road Table and Tutto Gusto Wine Cellar.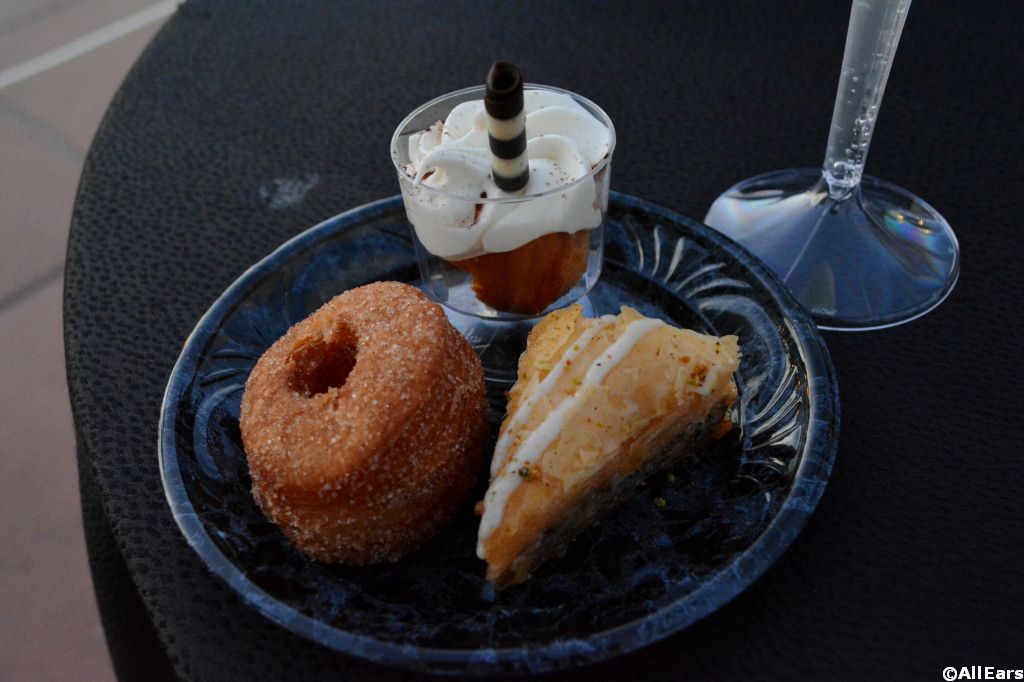 IllumiNations Sparkling Dessert Party - Video and Photographs
March 25, 2014
Epcot began offering a special IllumiNations dessert party on March 15, 2014. The party is offered on Wednesday, Friday and Saturday from 7:45 to 9:20 p.m. at Showplace Plaza (between the two shops).
Epcot Egg-Stravaganza Returns April 10-20
March 22, 2014
Have fun exploring the parks hunting for 'eggs' that portray Disney characters! Record your discoveries by placing the corresponding sticker on the specially themed Egg-stravaganza map to represent that location. Maps and stickers can be purchased for $4.95, plus tax at Epcot - Heritage Manor (American Adventure Pavilion), Disney Traders, International Gateway, Pin Central and Port of Entry.
Seven Dwarfs Mine Train Video Update - New Props, More Landscaping
March 22, 2014
This detailed tour shows additional props, landscaping and the new logo. Filmed March 20, 2014. Train testing footage previously filmed.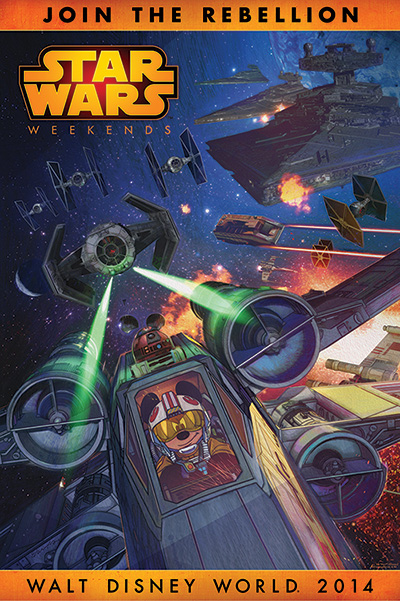 Mark Hamill to Attend Star Wars Weekends June 6-8!
March 20, 2014
Mark Hamill, the actor who brought Luke Skywalker to life in the original Star Wars films, will appear at this year's Star Wars Weekends. Hamill, who has never appeared at this Disney event before, will be one of the celebrity guests for Weekend IV, June 6-8, 2014. Fans can see him in the daily "Legends of the Force" Star Wars-themed motorcade and in a featured talk show. Hamill's appearances will most likely be a very popular gathering place for members of the Empire and the Rebellion, so be sure to arrive early. More details about the event will be announced soon.


Seven Dwarfs Mine Train Nears Completion
March 19, 2014
Blogger Kristin Ford discusses the status of the New Fantasyland attraction and it's possible opening date.