General Info
Attraction Info
Parades and Shows
News
January
February/
March
Spring
April
May
JuneJuly
August
September
October
NovemberDecember
OTHER THEME
PARKS
Walt Disney World
Theme Park News
News Filters:
---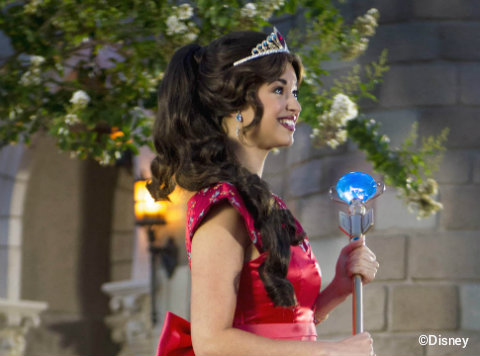 Bibbidi Bobbidi Boutique Now Offering Elena Package
April 26, 2017
A Princess Elena of Avalor package is now available at the Bibbidi Bobbibi Boutique at both Disney Springs and Magic Kingdom. Both locations have Princess Elena's dress, crown and more accessories. The complete Princess Elena of Avalor package, including the princess's trademark red gown, hairstyling, sash, crown, wand and make-up costs $215.95 (tax included). Call (407) WDW-STYLE/(407) 939-7895 for reservations and additional details.
A Trip to Central Lost and Found
April 21, 2017
If you ever lose an item while at Walt Disney World, what do you do? And how can you recover it? AllEars.Net's Deb Koma recently had the chance to find out, first-hand, as she paid a visit to Central Lost and Found.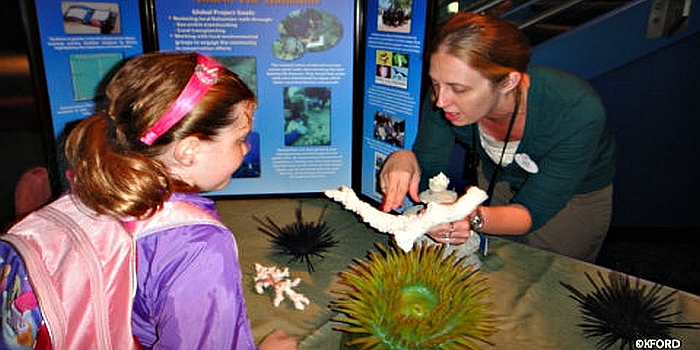 Celebrate Earth Day at Animal Kingdom and Epcot
April 20, 2017
Saturday is Earth Day, and Walt Disney World is celebrating!

Animal Kingdom is marking April 22, which is also the theme park's birthday, with its annual Party for the Planet. This year, however, the celebration will be expanded to three days: April 21 through 23.
BB-8 Now at Star Wars Launch Bay
April 20, 2017
BB-8, the loyal droid from Star Wars: The Force Awakens, has begun greeting guests at the park's Star Wars Launch Bay. BB-8 appears in addition to the previously established meet-and-greets for Kylo Ren and Chewbacca.
Dark Side Half Marathon Weekend Scheduled April 20-23
April 19, 2017
Star Wars - The Dark Side Half Marathon Weekend events take place at Walt Disney World this Thursday-Sunday. Events include the Health and Fitness Expo, 5K, 10K, Kids Races and Half Marathon. Many runners will be attempting the Dark Side Challenge by running both the 10K and the half marathon. Those who ran the Star Wars - The Light Side Half Marathon at Disneyland in January will earn their Millennium Falcon Kessel Run Challenge medal upon completing the Dark Side Half Marathon. There are new race courses for the 10K and Half Marathons this year -- both start at the Magic Kingdom parking lot and end at Epcot. Blogger Kristin Ford shares tips for those participating in and spectating the events.
Disney World Celebrates Earth Day April 21-23
April 19, 2017
APRIL 21-23, EARTH DAY CELEBRATIONS:
-- Disney's Animal Kingdom will observe Earth Day (April 22), with a special "Party for the Planet" weekend April 21-23. The weekend will feature special educational encounters throughout the park presented by Disneynature.
-- Meet Jiminy Cricket at Rafiki's Planet Watch Friday and Saturday, April 21 and 22.
-- Epcot International Flower and Garden Festival - Meet Disney's Animals, Science and Environment Cast and conservation specialists April 21-23 as they discuss Disney's conservation efforts to support butterflies, migratory birds, sea turtles and monkeys, as well as demonstrate some ways they are accomplishing this work.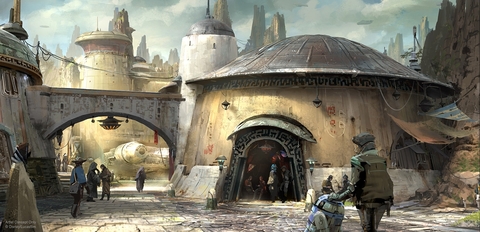 More Details Revealed About Star Wars-Themed Lands
April 19, 2017
Last week, during a panel discussion at Star Wars Celebration in Orlando, representatives from Lucasfilm and Walt Disney Imagineering discussed their partnership and shared details about the new Star Wars-themed lands being created at Disneyland and Walt Disney World Resorts. The panel, Star Wars and Disney Parks: A Galaxy in the Making, featured an exclusive video that gave some insight to this collaboration. The team shared new details about the story behind this mysterious destination somewhere on the Outer Rim -- lying on the edge of the Unknown Regions: The remote village was once a busy crossroads along the old sub-lightspeed trade routes, but the prominence of the outpost has been bypassed with the rise of hyperspace travel. Now home to those who prefer less attention, it has become a thriving port for smugglers, rogue traders and adventurers traveling between the frontier and uncharted space. It's also a convenient safe-haven for others intent on avoiding the expanding reach of the First Order. Unusual characters from across the galaxy have landed here, preferring the "no questions asked" environment as well as easy access to exotic supplies and an abundant supply of ready rogues looking to join a crew for their next adventure. In addition to news about the Star Wars Lands, it was also revealed that Star Tours - The Adventures Continue (at both Disneyland and Walt Disney World) would be adding scenes later this year from the upcoming film Star Wars: The Last Jedi. This new Star Tours adventure will take guests to the planet of Crait in the middle of an epic battle and will be "like nothing that frequent Starspeeder travelers have ever seen." The Star Wars-themed lands are scheduled to open in 2019.
Lighted Flower Lantern Prop Available at China PhotoPass Location
April 17, 2017
The China Pavilion in Epcot's World Showcase is now offering a new photo prop from Disney PhotoPass Service. Every evening beginning at 7:30 p.m. (weather permitting), a Disney PhotoPass photographer stationed at the China Pavilion will offer this special prop, which is looks like a lighted flower lantern, that you can include in your photos. You can purchase photos taken with this prop individually or receive unlimited digital downloads of all your vacation photos from Disney PhotoPass Service by purchasing Memory Maker before, during or after your visit to Walt Disney World Resort. A MagicBand is required to receive certain attraction photos and other digital content.
EDITOR'S NOTE: This new photo op is similar to one that was introduced recently at Rapunzel's tower in the Magic Kingdom. You can read more about that photo op HERE.

Caring for Giants - A Close Look at Some Big Friends
April 17, 2017
Deb, Linda and Jeanine recently experienced the Caring for Giants tour. We think most folks will love it.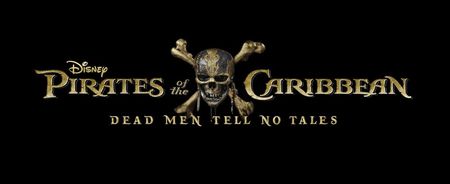 Sneak Preview of Pirates of the Caribbean: Dead Men Tell No Tales
April 14, 2017
Beginning April 21, guests will be able to preview scenes from the upcoming film "Pirates of the Caribbean: Dead Men Tell No Tales" at Walt Disney World Resort, Disneyland Resort, and on the Disney Cruise Line.
-- At Disney's Hollywood Studios, guests will get to see this advance look at clips from the film as part of the One Man's Dream attraction.
-- At Disney California Adventure park, the preview of "Pirates of the Caribbean: Dead Men Tell No Tales" will be presented in 3D with special in-theater effects at the Sunset Showcase Theater in Hollywood Land.
-- On Disney Cruise Line, you can enjoy a sneak peek aboard all four ships in the fleet, on select sailings this summer.
"Pirates of the Caribbean: Dead Men Tell No Tales" in 3D will be released in theaters across the U.S. on May 26, and will also premiere at sea aboard the ships of Disney Cruise Line on that date.

Seniors at Walt Disney World: Senior Slow-down
April 13, 2017
AllEars Guest Writer Ruth Moreland returns with another feature on "Seniors at Walt Disney World," talking about the natural slowing down many of us experience.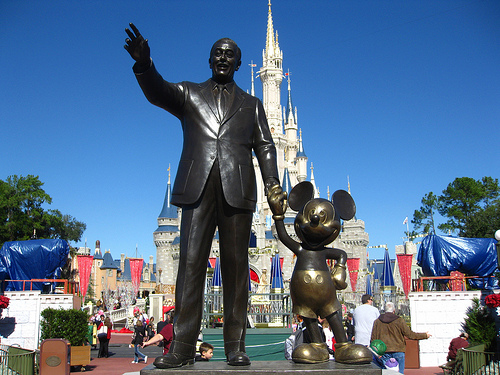 Disney World Holding Online Spring Hiring Event
April 12, 2017
Walt Disney World Resort is looking to hire for more than 1,000 positions during its Online Spring Hiring Event. A variety of full-time and part-time positions are available at all four Walt Disney World theme parks, two water parks, the ESPN Wide World of Sports Complex, Disney Springs and more than 20 Resort Hotels. Candidates are encouraged to apply online for a wide range of roles, such as quick service food and beverage, lifeguards, parking attendants, culinary, bus drivers and much more. For more information about the current openings at Walt Disney World Resort, including full role descriptions or to apply online, visit www.WaltDisneyWorld.jobs.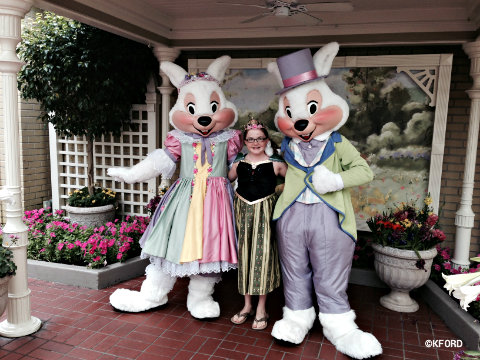 Meet the Easter Bunny at Magic Kingdom Until April 16
April 12, 2017
Mr. and Mrs. Easter Bunny host a meet-and-greet in the Magic Kingdom's Town Square Courtyard now until April 16, from 9 a.m. to 6 p.m. each day.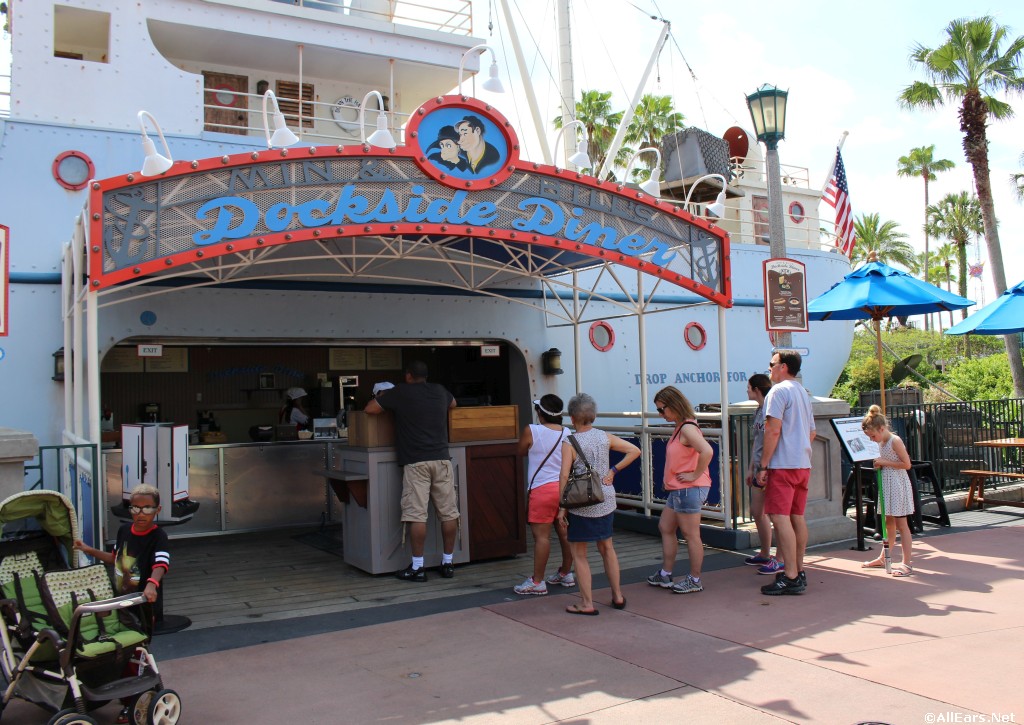 New Breakfast Menu Now Available at Min and Bill's
April 09, 2017
A new breakfast menu is now available at Min and Bill's Dockside Diner in Disney's Hollywood Studios. Items include breakfast burritos, cinnamon rolls, bagels and coffee. Breakfast is served seasonally and on days with Extra Magic Hours.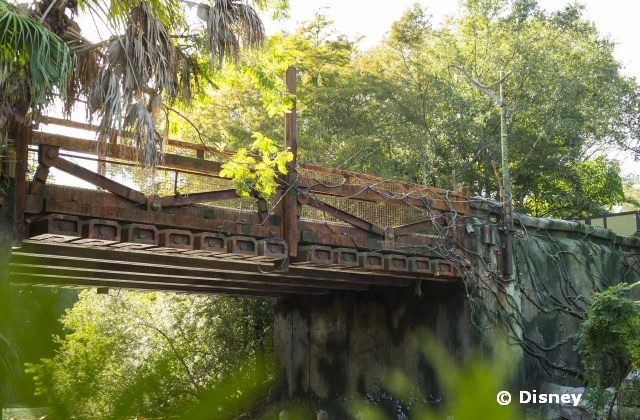 Previews of the Na'vi Translator Shared by Disney Parks Blog
April 07, 2017
Disney Parks Blog shared a sneak preview of the new Na'vi Translator, a helpful tool that will teach guests how to pronounce 90 Na'vi words using interchangeable translation cards. The device also lights up at night, which makes it perfect for nighttime explorations on Pandora. The Na'vi Translator set will come packaged with 15 translation cards. The device has a clasp that extends up to 12-inches and can be attached to a belt or backpack. Additional translation cards will be sold in trading card packs, each containing eight randomly selected cards. There are some common cards such as Nouns (Blue) and Adjectives (Purple). Other cards will be less common to find in the trading packs including Animals (Orange), Phrases (Aqua), and Landscapes (Tan). The rarest cards are Plants (Green) and Gear (Yellow). Look for the Na'vi Translator in Windtraders on Pandora this summer.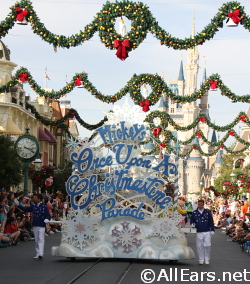 2017 Mickey's Very Merry Christmas Party Dates
April 06, 2017
Disney has announced the dates for 2017 Mickey's Very Merry Christmas Party.
2017 Mickey's Not So Scary Halloween Party Dates
April 06, 2017
Disney has announced the dates for this year's Mickey's Not So Scary Halloween Party
Blue Angels to Fly Over Main Street Thursday
April 04, 2017
APRIL 6: This coming Thursday morning, between 9:30 and 10 a.m., the U.S. Navy Blue Angels are scheduled to fly over Main Street U.S.A. The Blue Angels are expected to make two passes above the Magic Kingdom. In 2015, the Blue Angels performed similar flyovers to the cheers of thousands of guests at the theme park. Then, Six F/A-18 Hornet jets roared down Main Street U.S.A. at more than 250 miles an hour on a first pass before executing what is called a Delta Break over Cinderella Castle.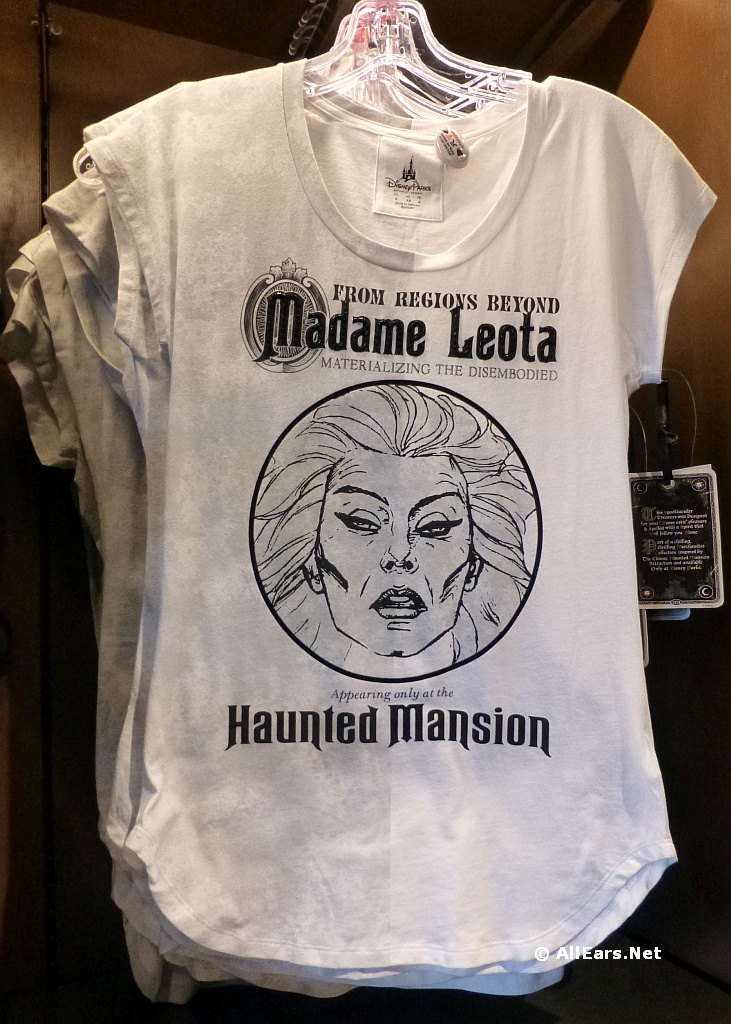 How and Where to Shop at Walt Disney World
March 31, 2017
AllEars Feature writer Autumn Hilden shares her shopping "to dos". Shopping at Disney World can be one of the greatest or one of the most frustrating parts about your Disney vacation. It's a great way to bring home some of the magic of your trip, but oftentimes the merchandise just isn't what you're looking for: it's always the same from trip to trip and store to store, it isn't unique in the spectrum of possibilities, it's not your style, or it just doesn't call to you. So how do you get your hands on that "it" piece you're always looking for at Disney World but never finding? Hint: it's not by going to Disney Springs.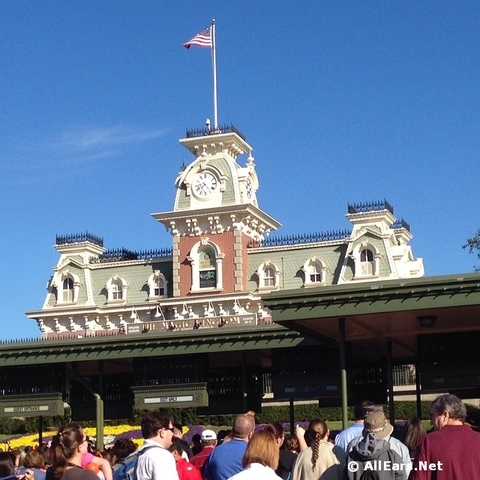 Changes to Magic Kingdom Security Procedures
March 29, 2017
As of April 3, 2017, metal detectors and security bag checks have been put in place at the Transportation and Ticket Center (TTC). Guests who go through the security checks at the TTC and then travel to the Magic Kingdom via the monorail or ferry will not need to go through security at the park entrance again. Guests arriving at the Magic Kingdom via some other transportation, such as on foot or by buses, will have to go through security bag checks and metal detectors, however. Also, guests staying at Disney's Contemporary, Grand Floridian and Polynesian Village resorts who take the Resort Monorail will go through security at the hotel's monorail stations.