Mermaid Lagoon is the one port at Tokyo DisneySea that caters to young children.
That's not to say that teenagers and adults won't get a smile from the whimsical atmosphere, but the attractions are simple and geared towards the little ones.
The exterior of Mermaid Lagoon looks like Ariel's underwater kingdom. Spiraling towers, in a rainbow of colors, reach to the sky. Seashells abound and interesting rock formations weave their way from grotto to tide pool. Numerous waterfalls complete the setting.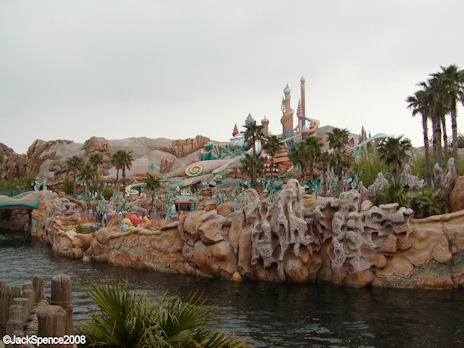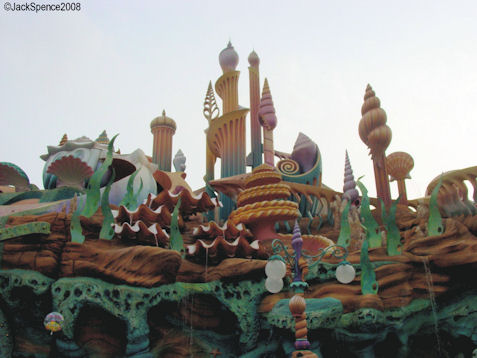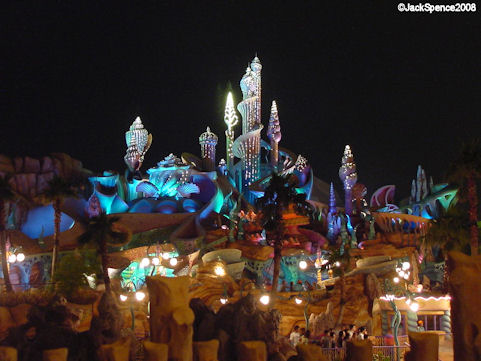 Look closely at the tile work, you just might find the Little Mermaid gang and a hidden Mickey.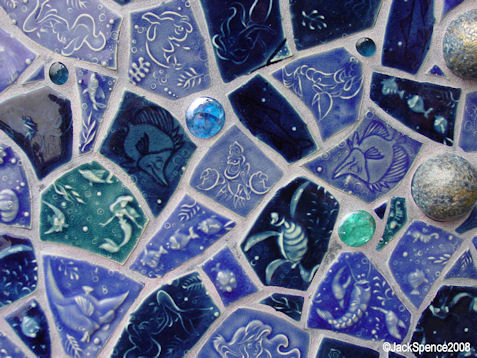 Before entering Triton's Kingdom, let's first explore the two attractions outside of his underwater lair. The first is Flounder's Flying Fish Coaster. This is a "kiddy" coaster comparable to "The Barnstormer at Goofy's Wiseacre Farm" in the Magic Kingdom in Florida. This is a visually appealing attraction.
You board a coaster that looks like Flounder – well, Flounder if he'd been flattened by an iron. The coaster is bright yellow and travels on a track of blue, to resemble the sea. This 60-second ride makes several spins around a rock formation and over a variety of plants that are supposed to be reminiscent of the ocean floor. There is a nice viewing spot so as one parent rides with their child, the other can snap some great pictures.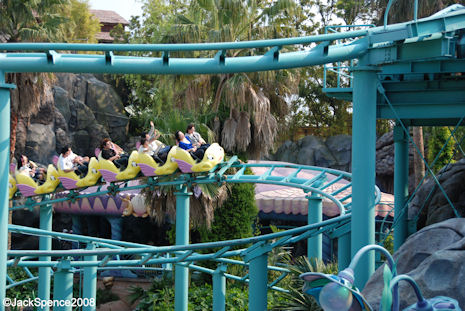 The other outdoor attraction is Scuttle's Scooters. On this attraction you board "Sand Crabs" built for two. Your journey takes you round and round and up and down. And if that's not enough, your Crab Shells also rotate this way and that with each revolution. Overhead, Scuttle keeps a watchful eye on the activities. Although this is a tame ride, if you're prone to motion sickness, I'd skip this one.
It always amazes me when I get home from a vacation and look at my pictures. No matter how many I take (hundreds), I still miss things and Scuttle's Scooters is something I missed. Here's the best I have. Sorry.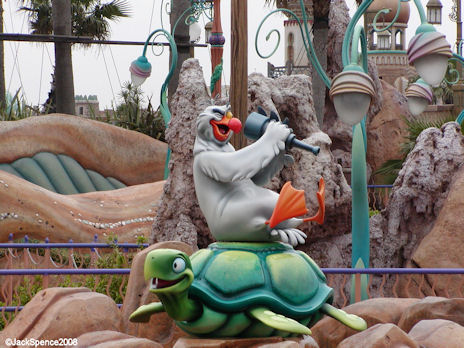 Now it's time to go deep "Under the Sea" and enter Triton's Kingdom.
You enter a cave-like opening and come face-to-face with Triton being pulled in his carriage by two dolphins. From here, you continue down a ramp as you venture further beneath the sea. Occasional openings in the rocks give you a glimpse of his kingdom below.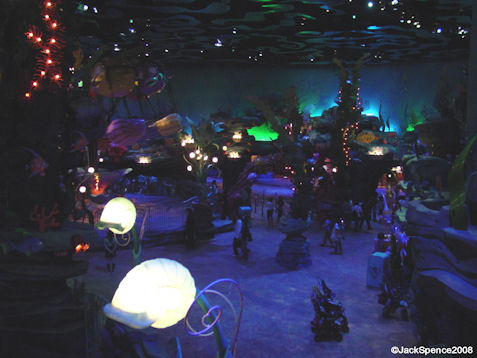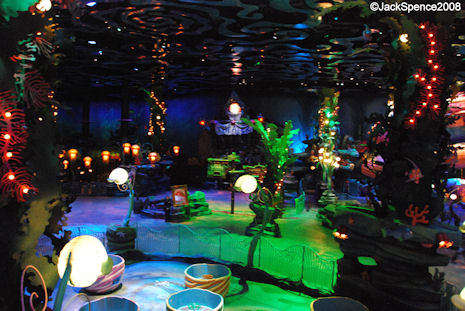 Your adventure begins once you reach the ocean floor. Dark blue walls, purple floors, and green vegetation, combined with numerous lighting effects create a fanciful feeling of being beneath the sea. Once again, the attractions here are intended for the young.
Jumpin' Jellyfish is a cute ride that relies more on atmosphere than thrills. Here, two guests sit in a seashell suspended from the tentacles of the giant jellyfish. The ride consists of the jellyfish rising and falling slowly. The best seats are near the front of the attraction as this will give you a better view of Triton's Kingdom.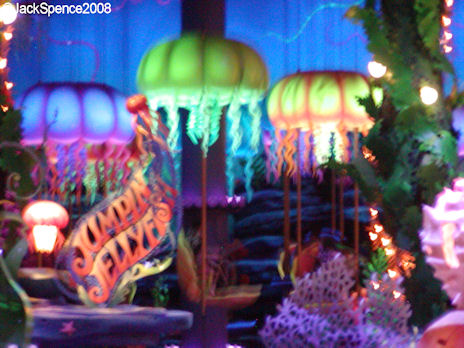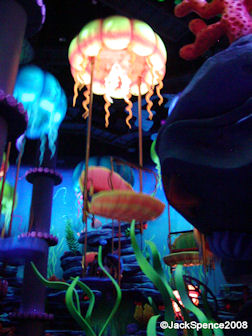 The next attraction is Blowfish Balloon Race. On this ride, guests sit in a four-person carriage, suspended beneath a colorful blowfish – or should I say, hot-air-balloon blowfish. When the blowfish begin their circular race, they "float" up into the air and centrifugal force pushes your carriage outward. Once again, the thrill is mild, but perfect for children.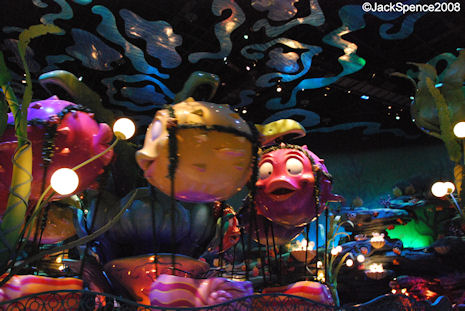 The Whirlpool is a reworking of the Mad Tea Party in Fantasyland. But instead of riding in teacups, you ride in kelp cups (huh?). Six, four-passenger kelp cups move in a figure eight while the spinning is controlled by a wheel in the middle of your cup. The capacity for this attraction is low so lines can be long. Definitely not for anyone who doesn't like to spin.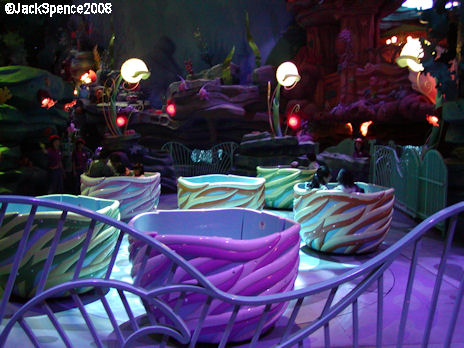 Like most of Mermaid Lagoon, Ariel's Playground is also for the children, although adults are welcome. Here, they can explore a number of vignettes from Disney's animated film The Little Mermaid. See a statue of Prince Eric. Explore a dark cave. Watch Grimsby get seasick. This is a great spot for little ones to wear off some energy.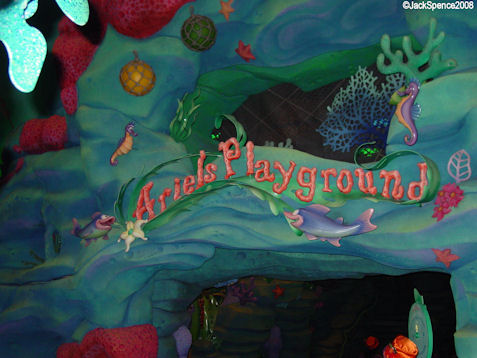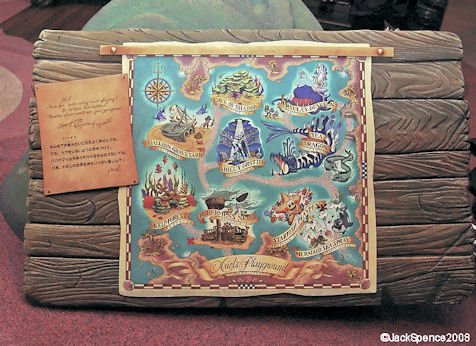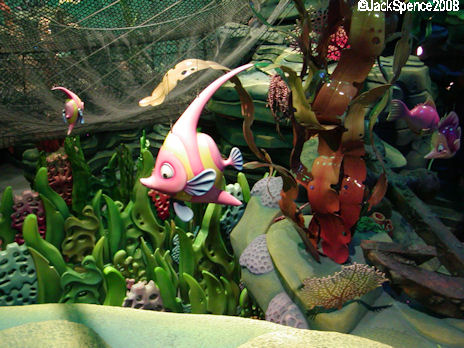 The one attraction in Mermaid Lagoon that adults will enjoy as much as their children is a live show called Under the Sea presented in the Mermaid Lagoon Theater. This production is presented "in the round" and a good deal of it is presented overhead, affording everyone an excellent seat. Live performances, large puppets, and audioanimatronics are combined to recreate an abbreviated telling of the Little Mermaid. The acrobatics of Ariel swimming through the ocean are amazing and the puppetry of Sebastian the Crab is inventive. This is a very popular show and lines tend to be long.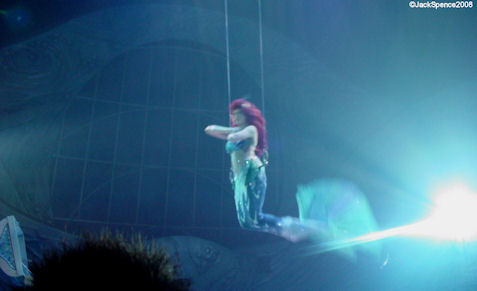 If you get hungry while in Mermaid Lagoon, stop for a bite to eat at Sebastian's Calypso Kitchen. This is a counter service restaurant specializing in pizzas and calzones, many with seafood toppings.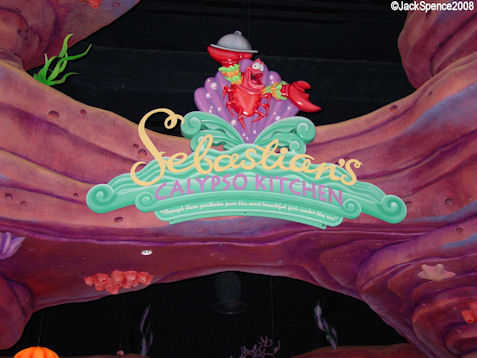 One of the cutest shops you'll every see is the Sleepy Whale Shoppe. As you might expect, much of the merchandise sold here has a Little Mermaid theme.
Mermaid Lagoon has a number of very cute signs.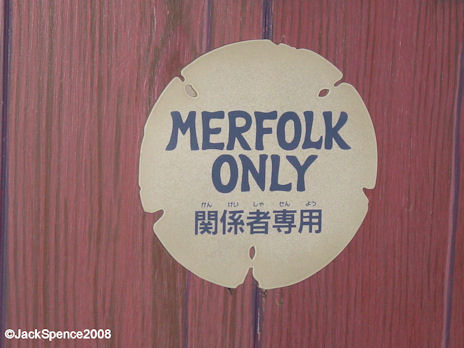 Mermaid Lagoon is another option I'd like to see Disney consider for the unused land that used to be the "20,000 Leagues Under The Sea" attraction in the Magic Kingdom. This would be a perfect fit for Fantasyland.
Next stop, Mysterious Island.